Going to the beach with some money and a telephone maybe and going for a swim or surfing has always been a challenge and you normally had to leave your stuff unprotected on the beach (or go without them to the beach in the first place). But Nigel and Franklin launched on kickstarter platform a new and interesting concept: adventure underwear with 100% superfine Australian merino wool featuring two hidden pockets (certified waterproof!) aimed at backpackers and travelers as "The Death of Money Belts". And actually it is a really interesting travel underwear concept!
Now this is quite an interesting concept, I might add, and I have to admit it is good to see they picked a high quality fabric: a ultra soft, lightweight, and breathable fabric. In what the pockets are concerned, here's the official info: "We've built two pockets into Adventure Underwear.  One is quick access; an easy place to store money and credit cards.
The 2nd is large enough for a passport and smartphone, it's removable, and it's certified waterproof up to 200ft deep by Scuba Schools International. The patented waterproof pockets are made in the USA from new age polyethylene, so they're 100% recyclable and even rated food safe by the FDA."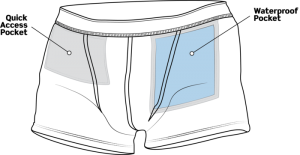 Sounds good, right?
Another lovely idea is that their packaging is a wax sealed parchment envelope, which when opened is actually made from a map of the world that can then be used by the customer.
This underwear is available for men only right now, but the people behind this project say that they are in the process of designing a women's version of Adventure Underwear.
If you want to find out more about this underwear, you can check their site (linked previously) for more details.