The Norvegian Hotel The Thief announced the launch of an insane hotel suite: the 'Apparatjik World'. This is indeed quite an inventive suite, as it is an eclectic mix of video, art, music, disco textiles and humorous installations created by the super group / art collective consisting of Coldplay's bass player Guy Berryman, a-ha member Magne Furuholmen, Mew-singer/guitarist Jonas Bjerre, and Grammy winning music-producer Martin Terefe. The suite is created to provide an unforgettable experience from all points of view, from design to atmosphere and amenities.
The hotel has disco fabrics and features a projector in the ceiling which shows cryptic Apparatjik videos and there is even a disco-ball in the bathroom and pixelated carpets on the floor.
You though this is it? Well, the Thief's new suite has more. Signed original prints by the four members are also present in the suite. And that's still not all of it!
You might have a sweet fantasy dream sleeping next to your rock star with the help of the hottest feature of this room which allows you to choose a projected version of your favorite Apparatjik member and have "him" sleeping next to you on the bed!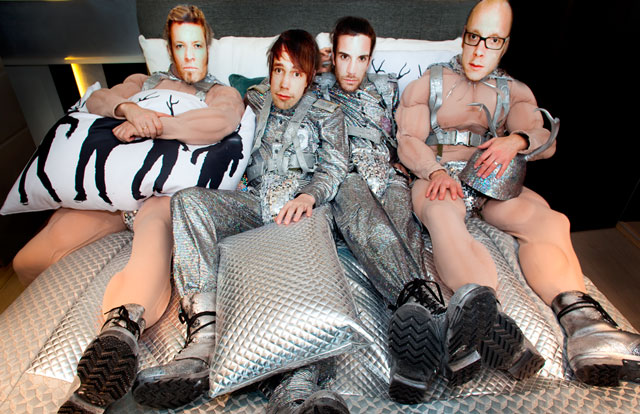 I think we have injected an ambiance of the unexpected into the room. We wanted to tweak the existing design into something that make guest's smile and shake their heads in disbelief at the same time. We believe disbelief is an underrated state of mind. One common denominator of all four founders of Apparatjik is that we have spent a disproportionately large part of our lives in hotel rooms. We believe it is not a hallmark achievement for a hotel that every room looks exactly the same, says Magne Furuholmen.
Here's a video with more information – and to show you that the things mentioned above are for real: