There is something special about smaller cities. They have a particular charm and, sometimes, they are linked to famous people. Stratford-upon-Avon in Warwickshire is Shakespeare's home turf. The impressive scenery and interesting tourist attractions make it a perfect choice for a trip when in the area.
Discover the top attractions in Stratford, off the beaten path things to see and do, where to eat, where to stay, and tips for Stratford in this local's guide to Stratford-upon-Avon, Warwickshire, UK written by Bernadette from A Packed Life.
This complete guide to Stratford is part of the free travel guides series on this blog. Use these recommendations when planning your trip to Stratford, as this insider's travel guide to Stratford-upon-Avon, Warwickshire offer all the information you'll need!
A local's guide to Stratford-upon-Avon, Warwickshire, UK
If you've ever wondered where Shakespeare got his inspiration, then wonder no more. Just take a trip to Stratford-upon-Avon in Warwickshire, and see the Bard's home turf.
Nestled in the English countryside bordering the Cotswolds, and within two hours of London, you'll find a great deal of history in Stratford topped off by plenty of interesting pursuits to capture your attention.
There's been a settlement here since Saxon times, and you can see many different eras in the buildings around you both in Stratford – Shakespeare's hometown – and in the surrounding Warwickshire countryside.
Top Attractions in Stratford-upon-Avon
Let's start this Stratford-upon-Avon guide with the best things to do in Stratford-upon-Avon.
As you'll see, many are connected to Shakespeare, but each of these Stratford-upon-Avon points of interest has something unique, worthy to be discovered.
1. Shakespeare's Birthplace
The home of the Bard himself, the Birthplace is managed by the Shakespeare Birthplace Trust, and you can purchase a ticket which will also take you to all the Shakespeare family landmarks including the two mentioned below.
The Birthplace itself is a half-timbered Tudor house, and a small museum, and one of the best places to visit in Stratford-upon-Avon.
Modest in size by today's standards, it was in its day substantial, acting as a shop for Shakespeare's father's glove and wool business.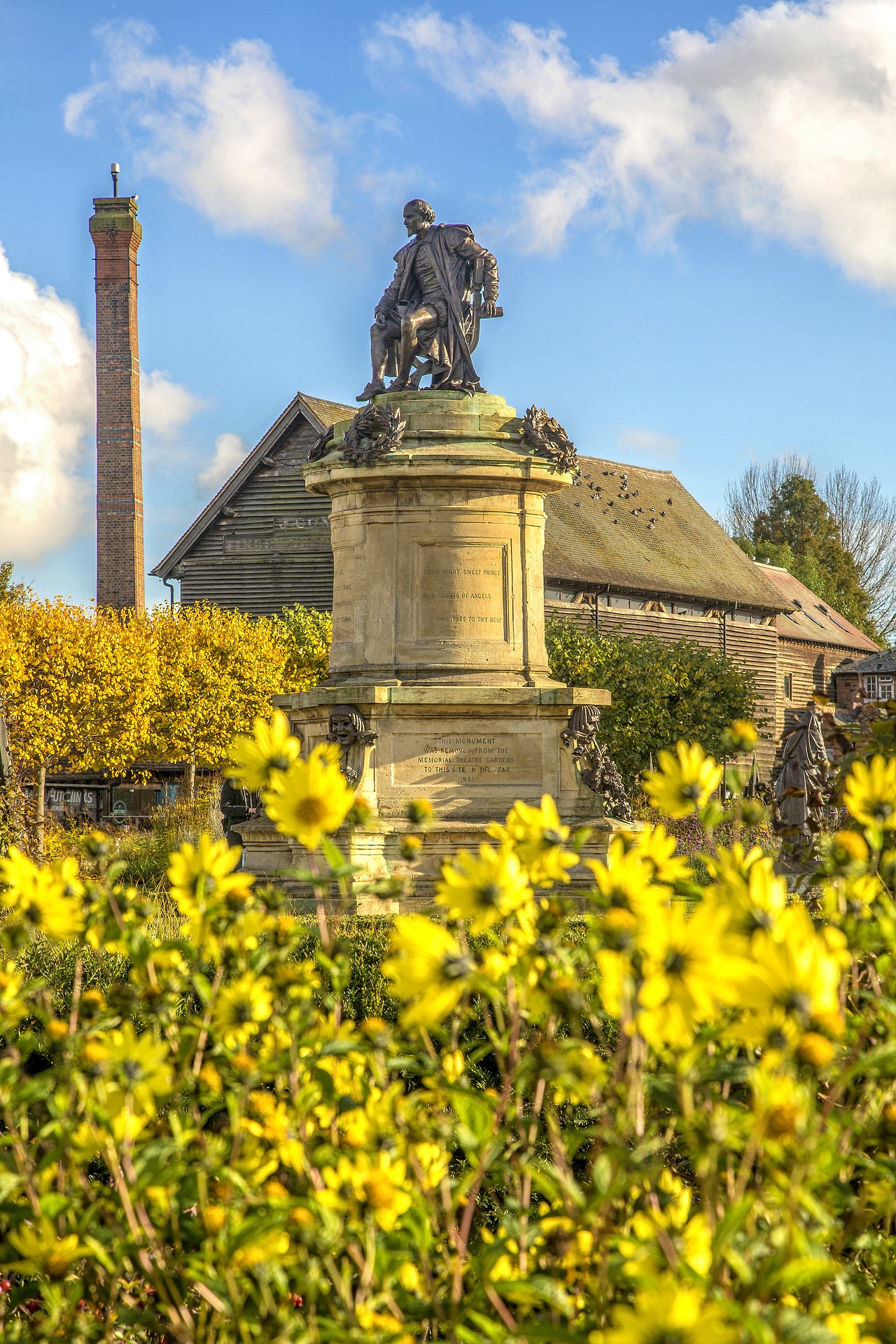 (image from Pixabay)
2. Anne Hathaway's Cottage
Anne Hathaway was the Bard's wife, and came from a family of sheep farmers.
Her cottage at Shottery, actually a rather large Tudor farmhouse known as Newlands Farm, is also part of the Birthplace Trust and is open to visitors. It's also one of the top things to see in Stratford-upon-Avon.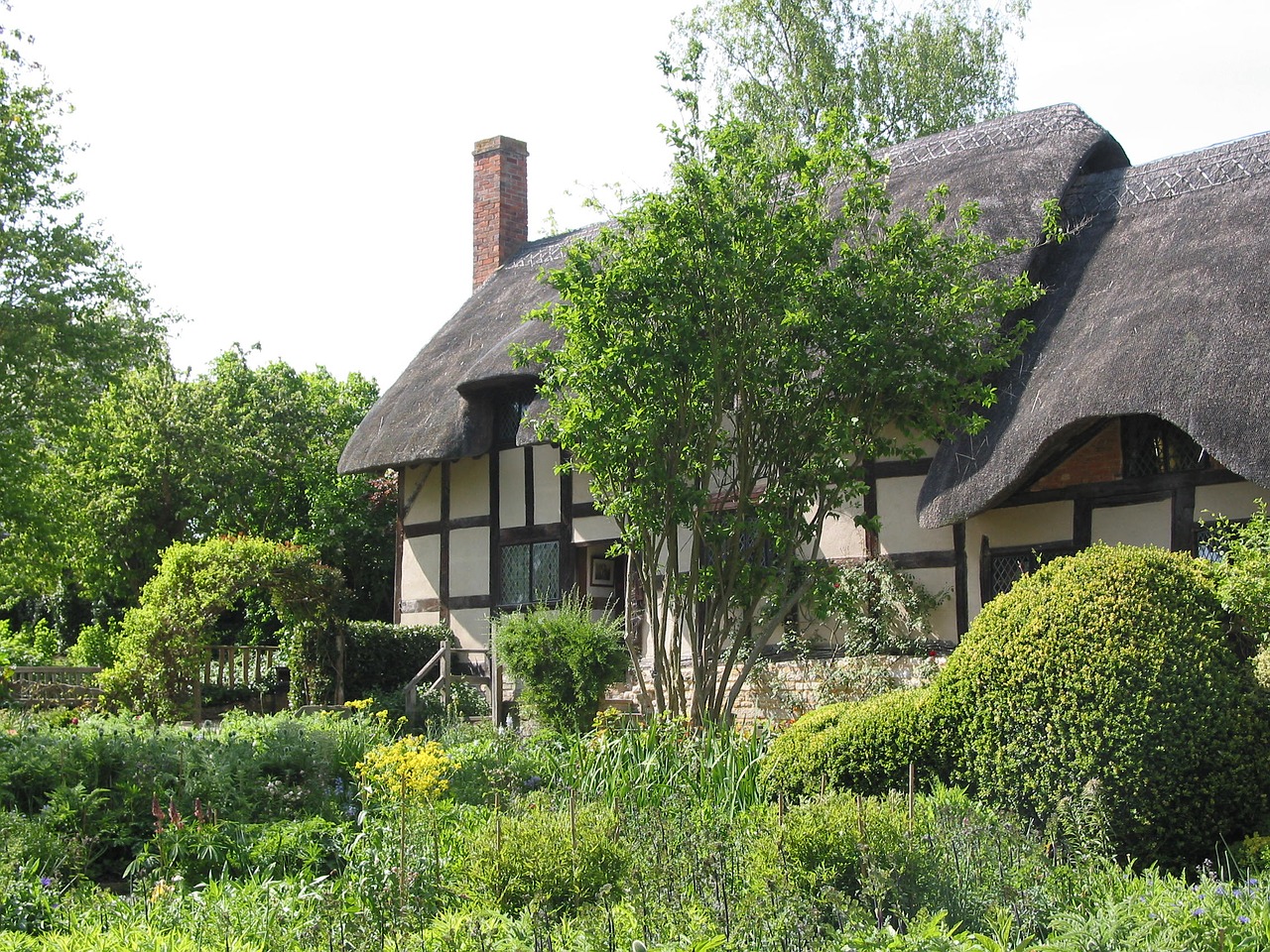 (image from Pixabay)
3. Mary Arden's Farm
Shakespeare's mother's house is also a rather large farmhouse, situated outside Stratford in the village of Wilmcote.
It is a historic museum showing 16th century life, and is closed in winter months (there's an outdoor exhibit of a working farm), so do check before visiting as this is also one of the Stratford-upon-Avon landmarks.
4. The River Avon
The riverside at Stratford is bordered by parkland and walks.
Here the river links up with the Stratford Canal, and there is plenty of boating to be had from narrowboats to river trips, pedalo and rowing hire, and even the option to dine on a restaurant boat.
You can find out more about getting on the water here. Make sure you see the River Avon on your Stratford-upon-Avon vacation.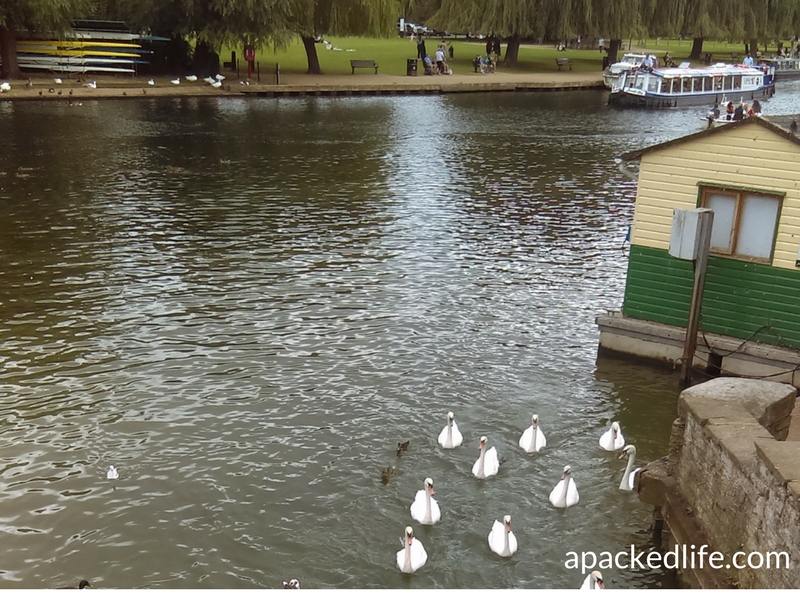 5. Theatre
You can't visit the home of Shakespeare without taking in a play or two.
The Royal Shakespeare Theatre is situated riverside, and you'll also find the smaller venues of The Swan, and The Other Place.
There's a rolling programme of Shakespeare and other works across them all.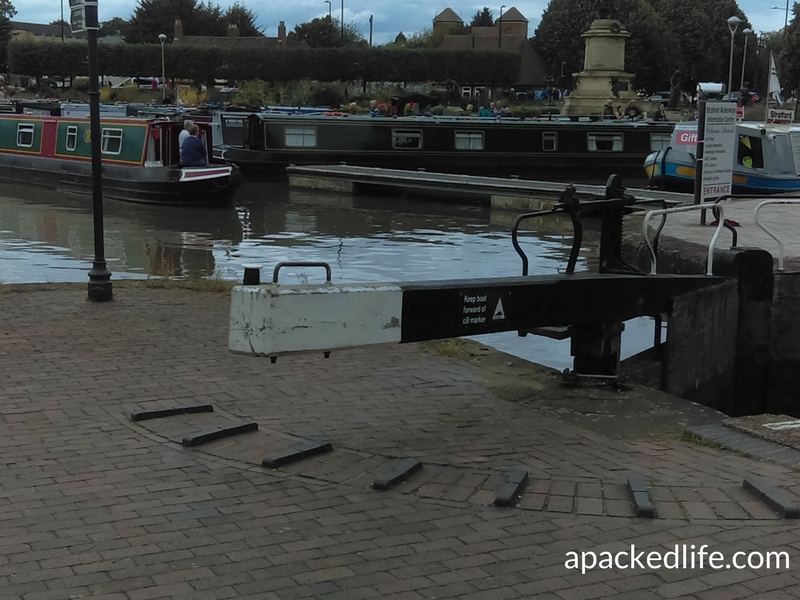 6. MAD Museum
This unorthodox and unconventional museum celebrates Mechanical Art and Design.
Here you'll find everything from automata full of clattering and banging to intricate and delicately beautiful mechanical objects.
There's plenty to appreciate and lots of interactive elements to capture your attention so make sure you include MAD Museum on your Stratford-upon-Avon itinerary.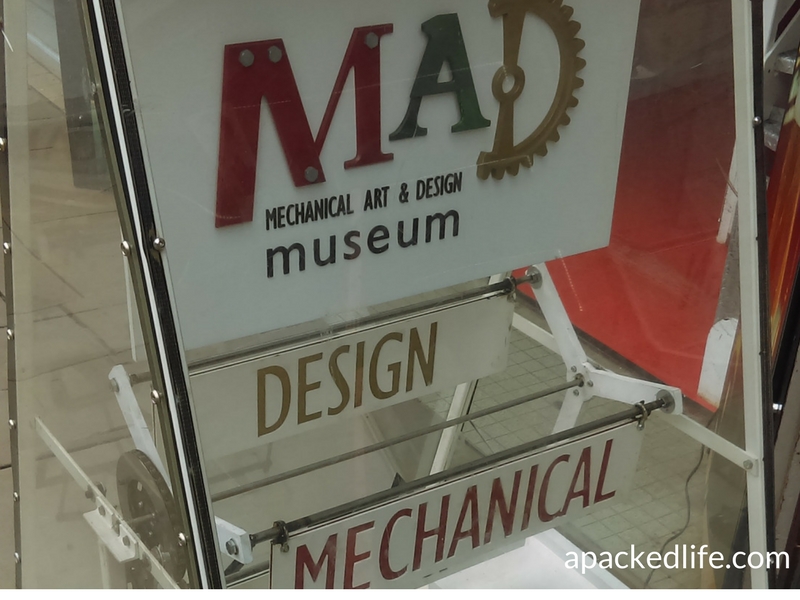 7. Butterfly Farm
Not far from the river, you'll find a haven for all things winged and fluttering at the Butterfly Farm.
And of course that means you can get to see their predecessors with lots of spiky, hairy and generally incredible caterpillars. This is one of the unique things to do in Stratford-upon-Avon so visit it during your Stratford-upon-Avon trip.
8. Ghost Walk
A local's guide to Stratford-upon-Avon has to include this recommendation.
With all the history that's in and around Stratford, it's no great surprise that you can appreciate the spooky happenings of that glorious past in a Ghost Walk around the town.
You'll hear true stories of a witch, a jilted bride, and the ghost in the theatre delivered by professional entertainers skilled in storytelling.
Stratford-upon-Avon Off the Beaten Path
Next on this Stratford-upon-Avon travel guide are the best off the beaten path things to do in Stratford-upon-Avon. And, you'll be surprised, but there are quite a few and very interesting!
Some of these are the best things to see near Stratford-upon-Avon so you'll get some ideas for day trips from Stratford-upon-Avon. Let's see them!
Wootton Wawen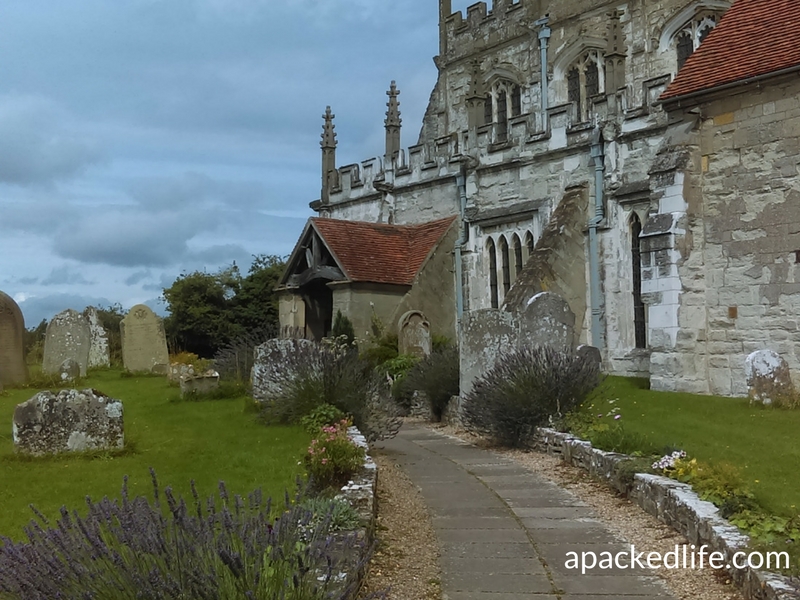 This small village is on the road from between Birmingham and Stratford. Notable here is the canal aqueduct that passes over the road, and makes an excellent place for an interesting walk, spotting all the wonderfully named narrowboats.
There's a walking guide here for a longer trip but it's perfectly possible to park in the craft centre and just have a brief walk of twenty minutes or so across the aqueduct.
If you're visiting in autumn, you should find plenty of blackberries to harvest too. There's a craft centre at Yew Tree Farm right by the viaduct with interesting shopping.
A little further towards Birmingham, you'll find a beautifully preserved Saxon church (complete with instructions to close the door carefully to prevent birds being trapped inside).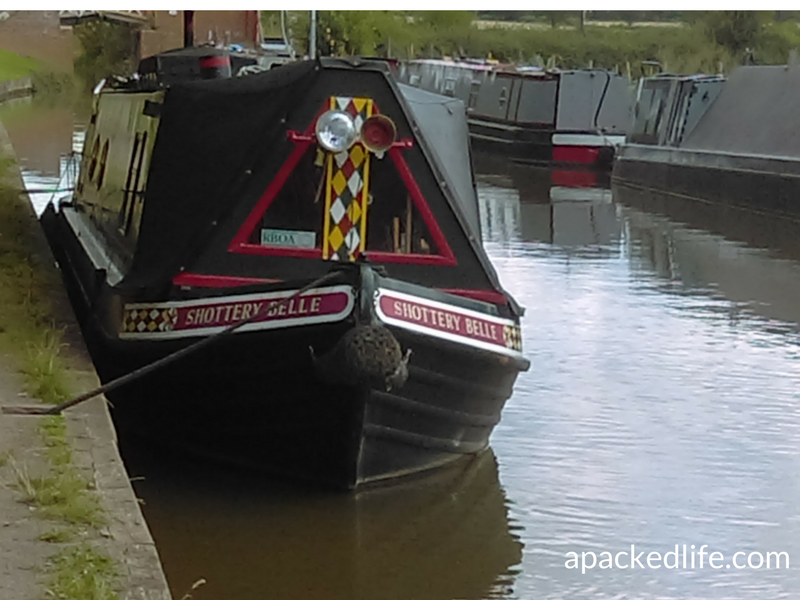 Shipston-on-Stour
This small town south of Stratford is on the edge of the Cotswolds.
Here you can appreciate the pretty blonde stone architecture, shop for antiques and treasures, and maybe enjoy afternoon tea.
The Pudding Club
This wouldn't be a complete guide to Statford without mentioning this place.
Further into the Cotswolds, at the Three Ways House Hotel, you'll find the Pudding Club. Dedicated to the art of the pudding, there are weekly meetings during which you can raise your spoon to Praise the Pud.
Seven traditional British puddings are paraded before consumption at each meeting, so you'll need to bring your best appetite and sweet tooth.
Memorably described as "a medieval banquet with custard", it's an unusual and slightly sticky experience.
Where to Eat in Stratford-upon-Avon
There are plenty of great restaurants in Stratford-upon-Avon, so let's see where to eat in Stratford-upon-Avon.
Lambs Restaurant occupies a 16th century building. You'll find a good selection of fish on the menu, a choice of traditional Sunday roast dinners, and a menu full of gluten free options too.
The nearby Opposition Bistro (known as the Oppo) offers a mainly Mediterranean menu.
For lunches and snacks, you can eat riverside at the Baguette Barge. Bensons, just across from Shakespeare's Birthplace on Henley Street, does great breakfasts and lunches, and is also a good choice for gluten free and vegetarian dining. Don't forget afternoon tea there too, complete with scones, jam and cream.
If you'd like to try a traditional British brew, then the tiny Stratford Alehouse even manages to accommodate a small stage for live music in its bijou surroundings. Here you'll find a wide selection of local beers and ciders.
Where to Stay in Stratford-upon-Avon
Stratford and the surrounding area is crammed with accommodation, including all kinds of hotels and boarding houses named after Shakespearean characters or plays. Here are a few hotels in Stratford included in this local's guide to Stratford-upon-Avon.
For a calming, serene spot, I would recommend the Stratford Townhouse. Located within walking distance of all the sights, this boutique hotel also offers good dining experiences.
The Falcon Hotel has a 16th century façade that is, at the time of writing, under restoration. It's a charming building, also located right at the heart of Stratford.
Tips for Stratford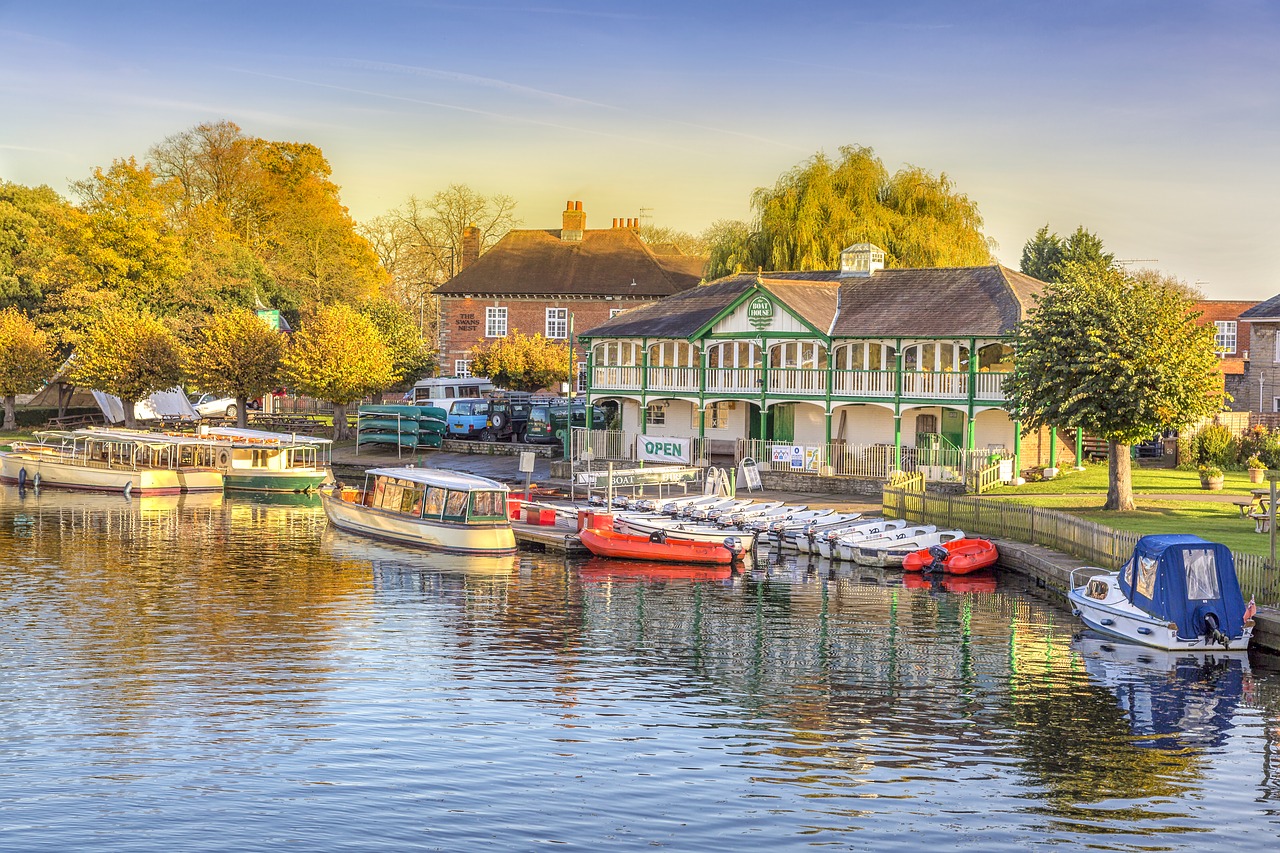 (image from Pixabay)
Stratford has plenty to see, and the experience can be intense. Be aware that it is fully on the tourist trail, and you are likely to be sharing space with many other people.
So pace yourself, and consider spreading out your visits to the key tourist sites relating to Shakespeare himself so that they are interspersed with other activities.
Also remember that, despite the potential for liquid sunshine, Stratford has just as much to offer outside the summer season, when you may find more space to enjoy all it has to show you.
If you find yourself wanting some quiet time, I can highly recommend one of the side trips mentioned to Wootton Wawen or Shipston, where you can get the quintessential English experience in peaceful surroundings.
If you have accompanying children who want to let off steam, then I'd recommend the MAD museum for plenty of vibrant, captivating exhibits.
About the author
Bernadette's Jackson a writer, researcher, blogger and journaler. She's now clocked up more than 50 years on road, rail, sea and air. Adventure's an attitude of mind, and there's plenty left to explore in this beautiful world. Follow her on Facebook, Twitter, and instagram too.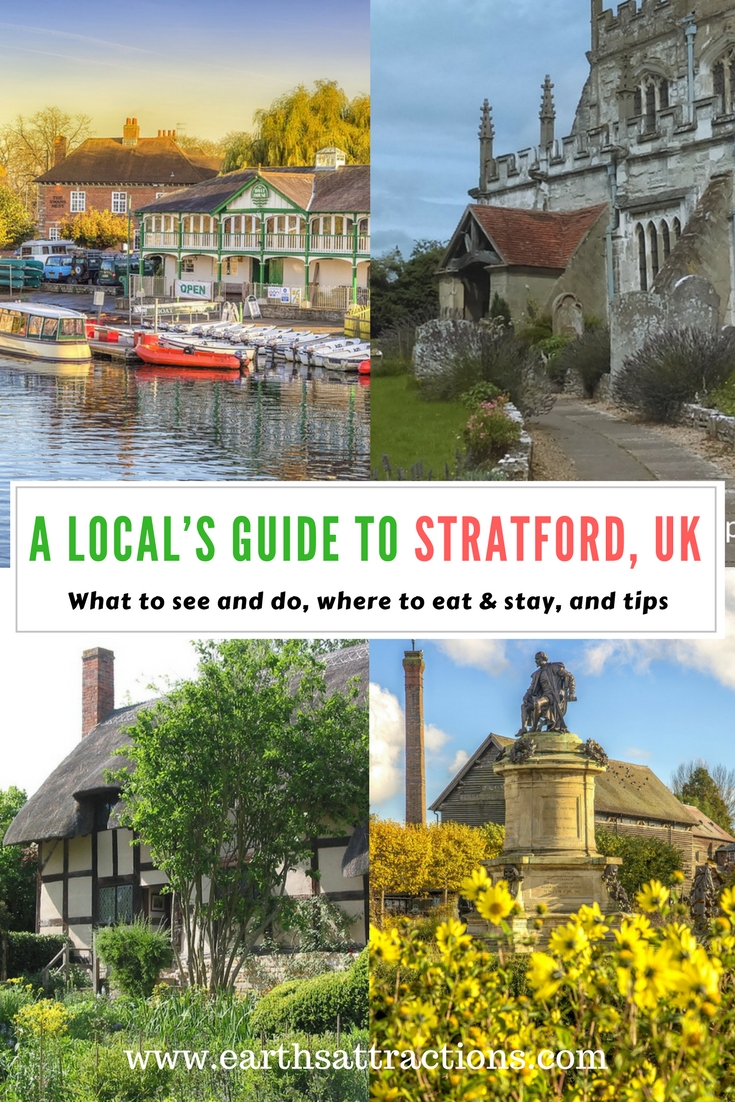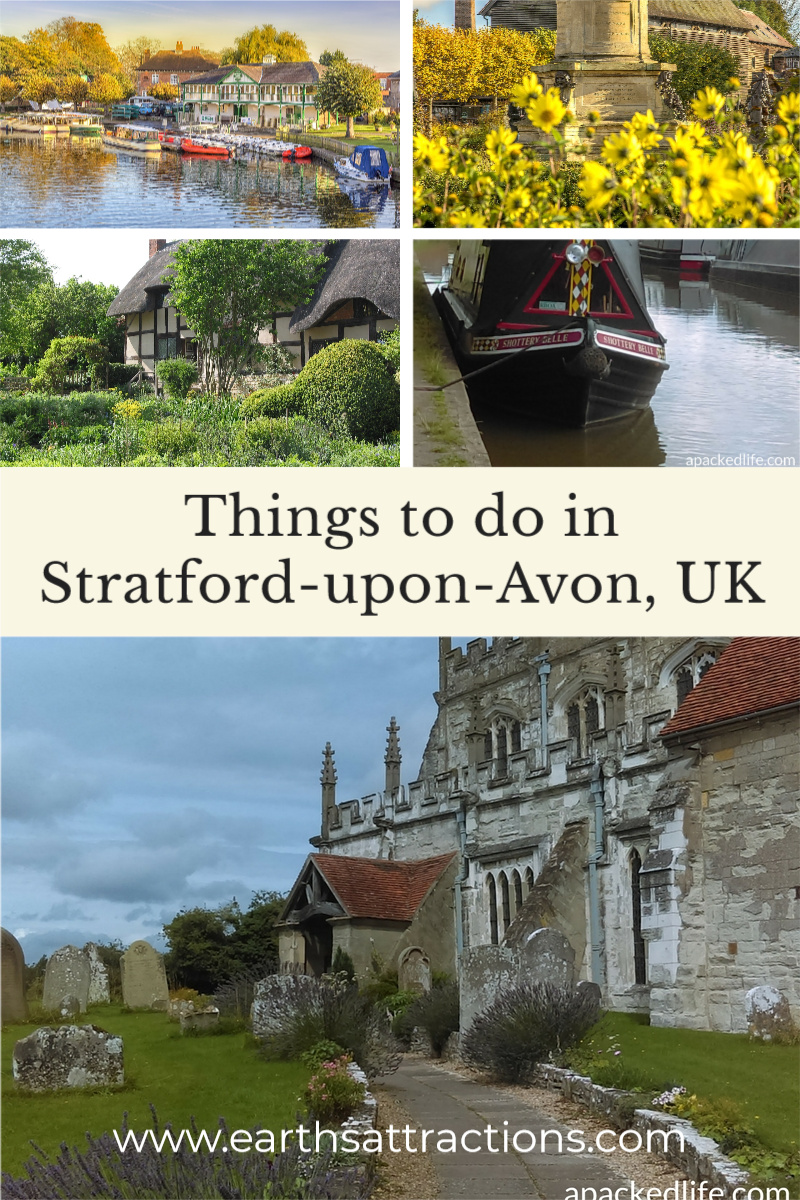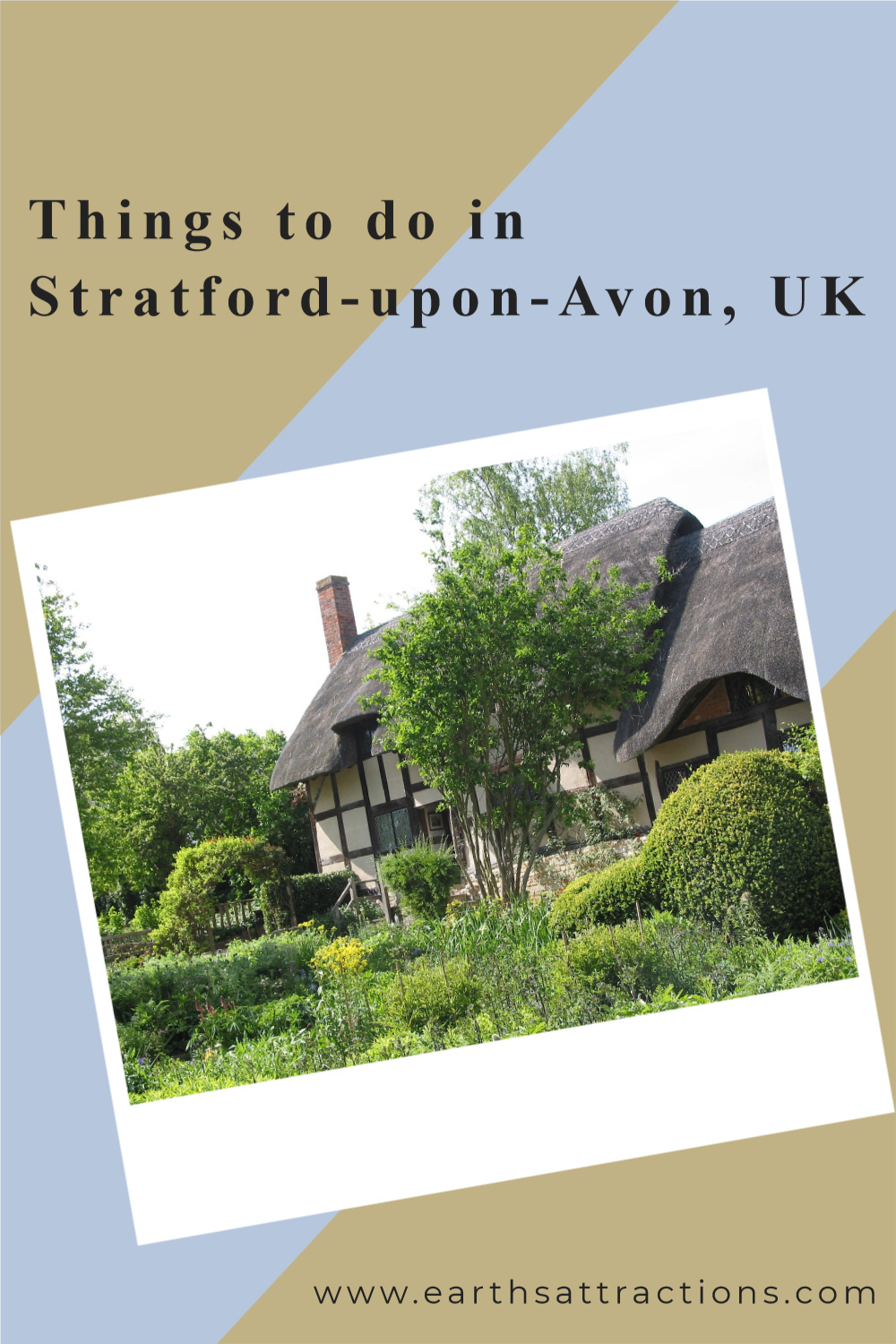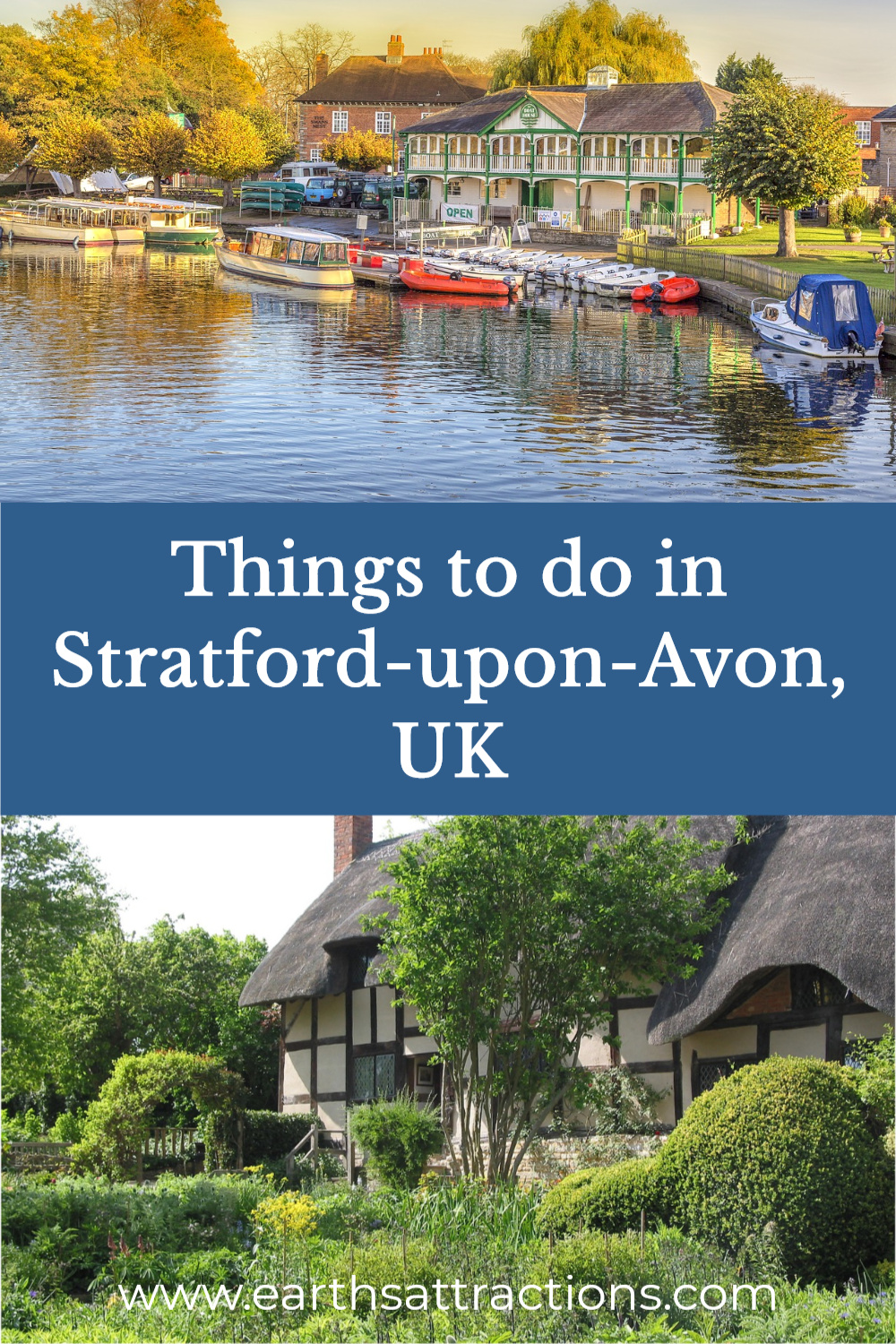 Save