Planning a trip to Florence, Italy? It's an amazing city, with a lot to offer to any visitor, so you'll definitely enjoy your Florence trip. To help you make the most of it, here's the best travel guide to Florence by a local. This guide to Florence includes the best things to do in Florence, including off the beaten path attractions in Florence, top restaurants in Florence, and, of course, the best hotels in Florence, plus some very helpful Florence travel tips.
The recommendations are offered by a local – Matt from ItsAllinItaly. Use these places to visit in Florence included below when creating your Florence bucket list and, obviously, your ultimate Florence itinerary.
As you'll easily notice, the Florence things to do included in this article are both famous tourist attractions in Florence, as well as lesser-known things to see in the city. They are suitable for any taste and preference, so you'll find some perfect ideas for you as well, no matter what you prefer to see and do on your trips.
This guide is part of the free expert destination guides series on this blog.
The best travel guide to Florence by a local: 20 amazing things to do in Florence, restaurants, hotels, and tips
Florence, Italy is one of the most visited tourist destinations in the world and for good reason. Established in 59BC by Julius Caesar, it was first used as a settlement for veteran Roman soldiers. Florence is also one of the best cities to visit in Italy.
But it's most well-known for its part in the Renaissance, which represents the time period of around 1300–1600. Renaissance or 'Rebirth' represented a time in European history where there was a rediscovery and emphasis on classical philosophy, literature, art, and science.
Fueling the Renaissance of which Florence is credited for being its birthplace were a number of wealthy families, and none more well-known than the Medici family.
Having an almost unlimited source of funds, combined with a concentration of some of the most talented painters, sculptors, poets, architects and other great minds the world has ever seen, resulted in artworks such as Michelangelo's David, Leonardo Da Vinci's Mona Lisa and the Florence Cathedral topped with Brunelleschi's famous Dome, an architectural and engineering feat that baffles experts to this day.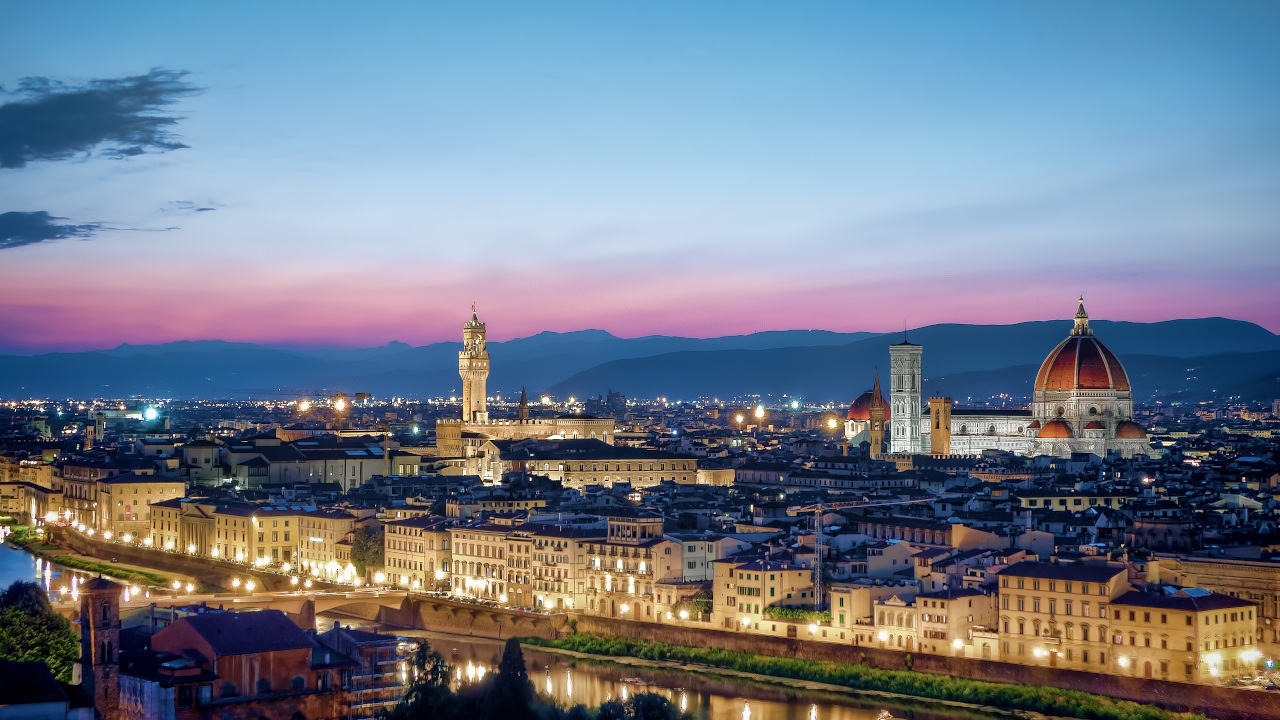 Best time to visit Florence Italy
Tourists flock to view the outdoor museum that is Florence year-round, although the summer period from June to September draws the biggest crowds.
But visitors can enjoy Florence equally as much during the winter months due to the many indoor activities which include museums, concerts and other cultural events.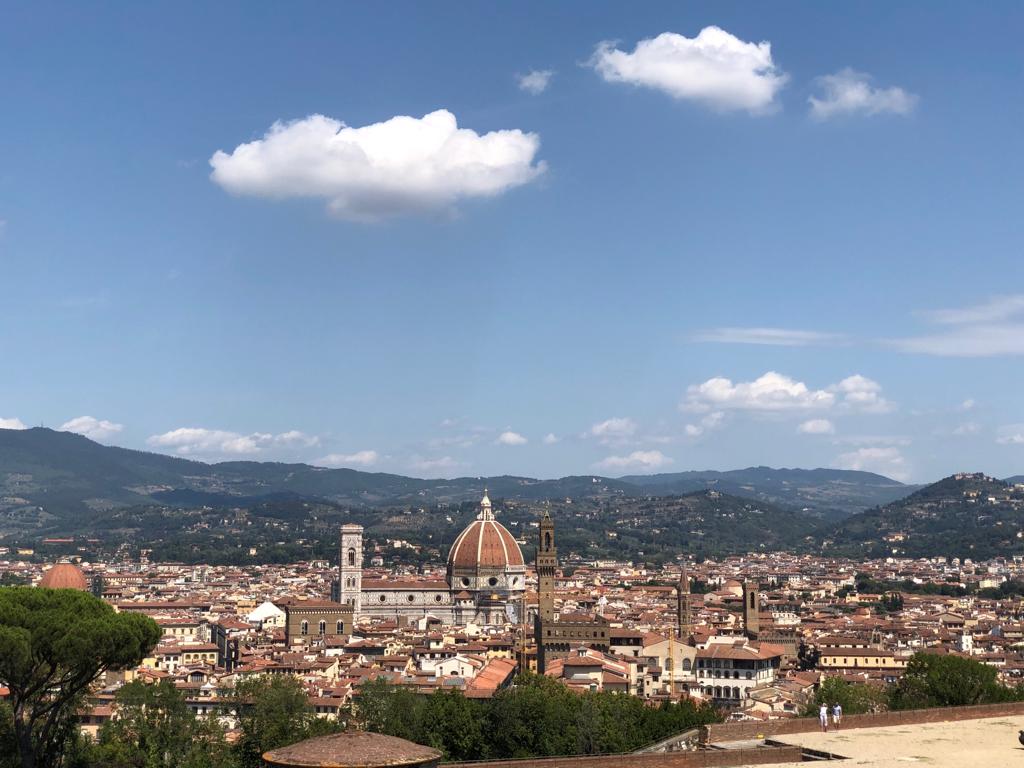 Included in this Florence travel guide
Best places to see in Florence, Italy – famous Florence tourist attractions

Florence Cathedral (The Duomo)
Statue of David (by Michelangelo)
Palazzo Vecchio
Piazza Della Signoria
Pitti Palace and Bobili Gardens
Piazzale Michelangelo
Ponte Vecchio
Forte di Belvedere
Santa Croce
Piazza San Lorenzo
Bargello Palace and Museum
Orsanmichele Church
Church of Santo Spirito
Piazza Della Santissima Annunziata

Florence off the beaten path – unique things to do in Florence, Italy


Parco Cascine
San Niccolo
Bardini Garden
Casa Buonarroti
Piazza Della Liberta

Places to eat in Florence

Where to stay in Florence

Florence travel tips, including Florence safety tips

Best things to do in Florence, Italy
Florence has no shortage of great attractions waiting to be discovered. From masterpieces to impressive buildings and museums, Florence has it all. Here are the best places to see in Florence.
Florence Cathedral (The Duomo)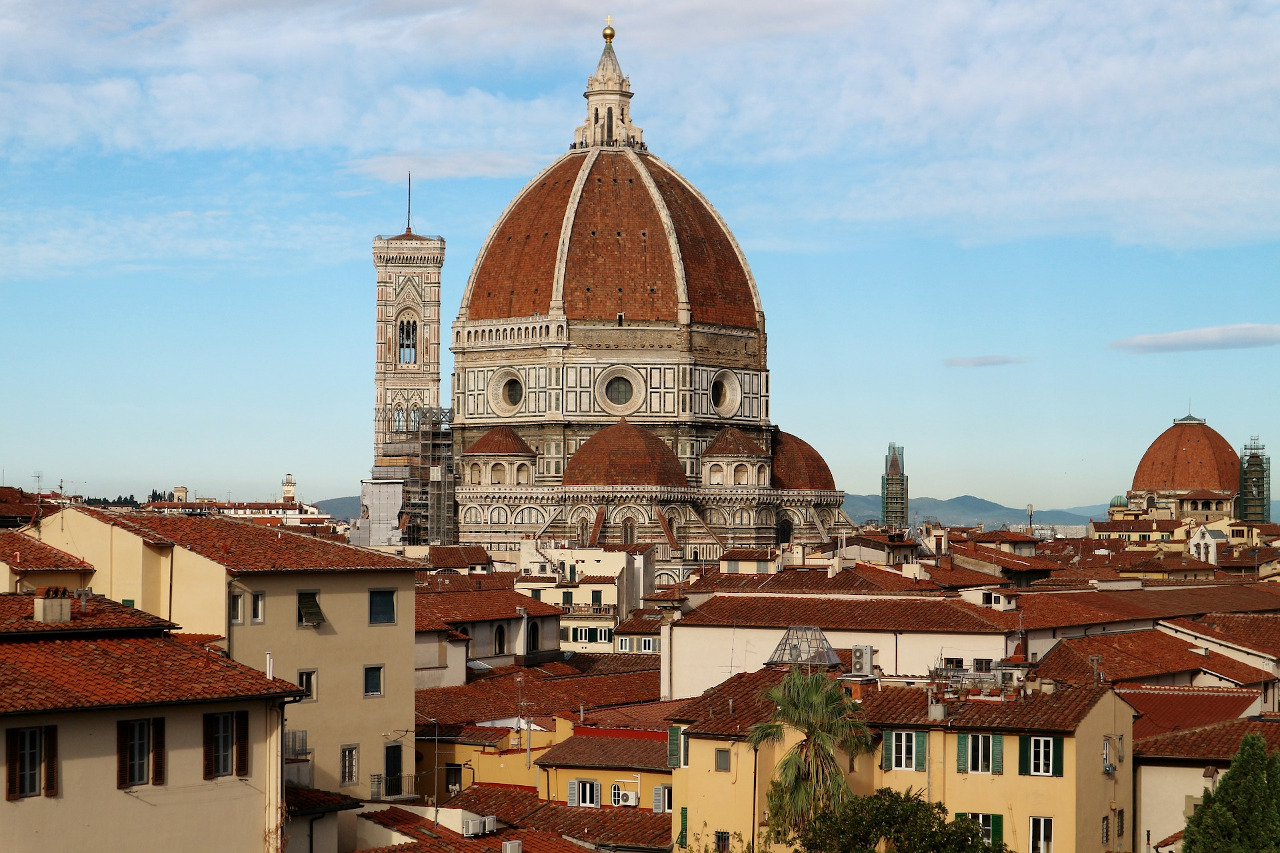 Florence Cathedral (The Duomo) – begun by Arnolfo di Cambio in 1296 and completed in 1434 with the addition of the Dome of Brunelleschi, the cathedral incorporates Romanesque and Gothic elements while the octagonal dome is representative of Renaissance style.
The Florence Dome is one of the Florence landmarks you simply have to see. It's impressive and enchanting and no matter how much time you spend visiting it, you won't regret it. Go inside to admire the splendid paintings.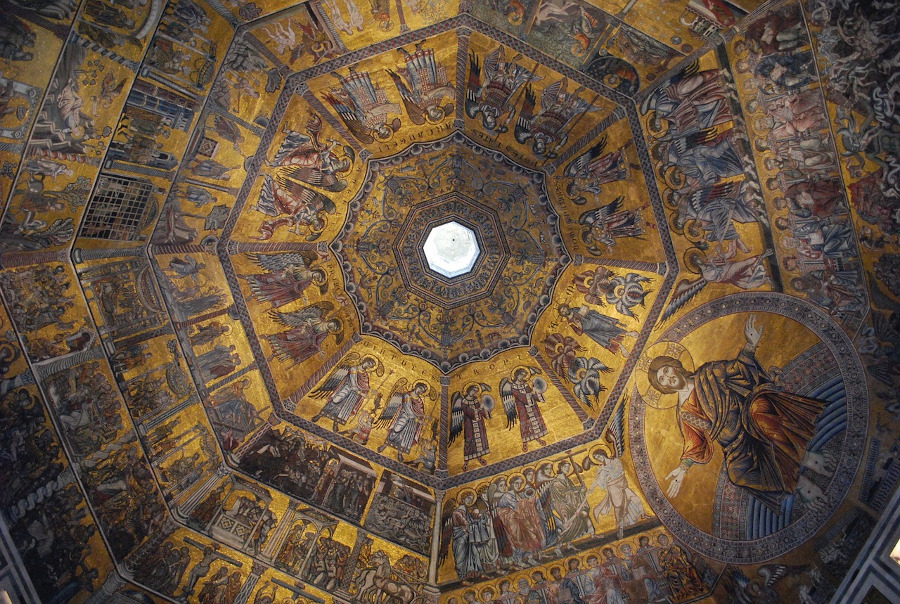 Statue of David (by Michelangelo)
Housed in the Galleria dell'Accademia, David was sculpted between 1501-1504, the 4.23 metre high statue is recognized as one of the most important artworks in world history.
David is another not-to-miss Florence landmark and Galleria dell'Accademia is one of the best places to visit in Florence.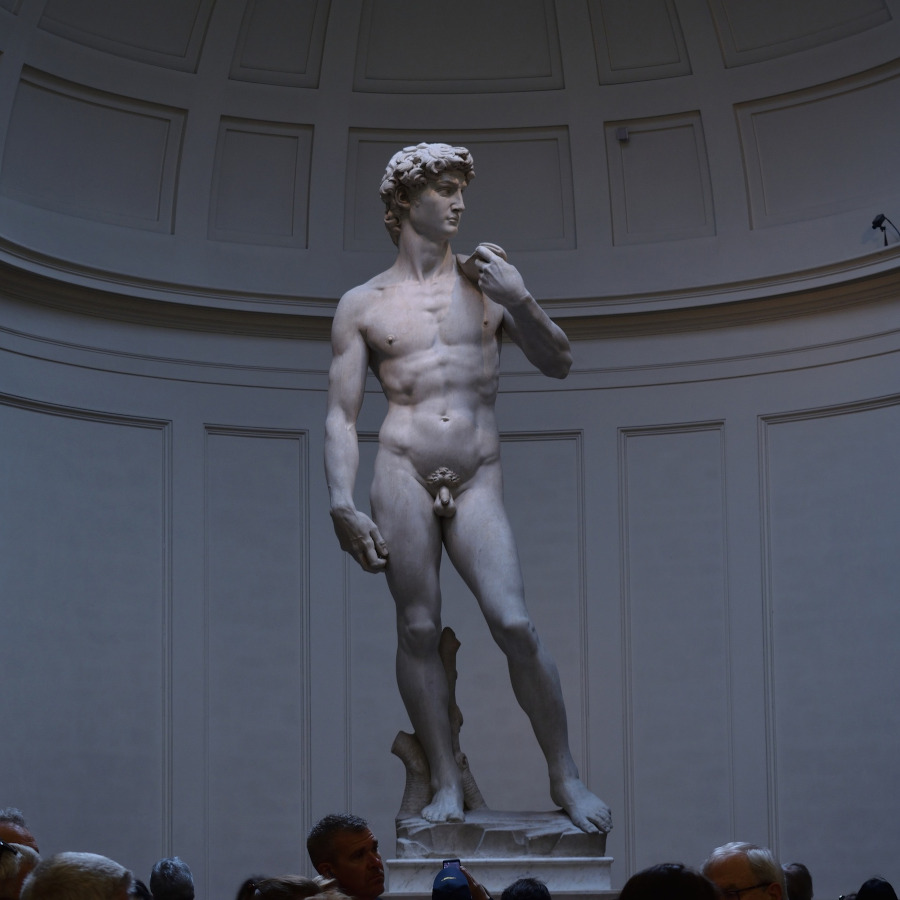 Palazzo Vecchio
Originally created to be the most important civic monument in Florence and the seat of the municipal authorities, Palazzo Vecchio eventually became the home of the Medici family.
Started somewhere between 1299-1304, it eventually became the seat of government when Florence was the capital of Italy from 1865-1871. Nowadays, Palazzo Vecchio is one of the best places to visit in Florence and numerous tourists visit it every year.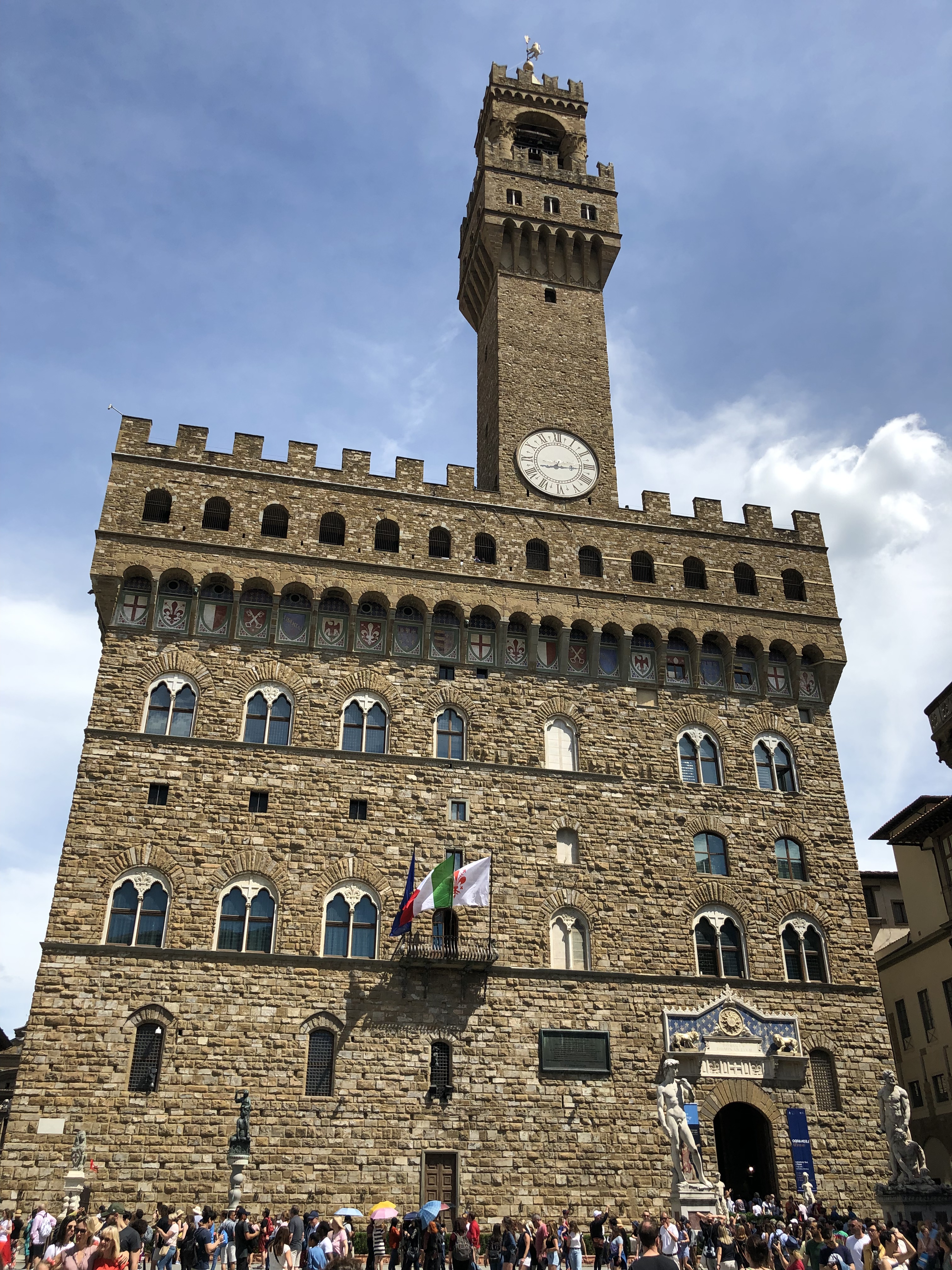 Piazza Della Signoria
Built near the end of the 13th century, Florence's main piazza has always been the civic centre of Florentine life. Included in the piazza is the Palazzo Vecchio, the Loggia Della Signoria and the Palazzo Degli Uffizi along with the statue of David (a replica of the original) and the Fountain of Neptune.
Uffizi Gallery
Uffizi Gallery houses one of the most important art collections in the world, begun by Francis I de' Medici who gathered the family's collection of artworks which was later enriched by Ferdinand I.
You can easily see why I included this gallery in this Florence travel guide as one of the top places to visit in Florence, Italy. If you are an art-aficionado, make sure you book enough time to explore this gallery and let yourself be mesmerized by the masterpieces that are housed here.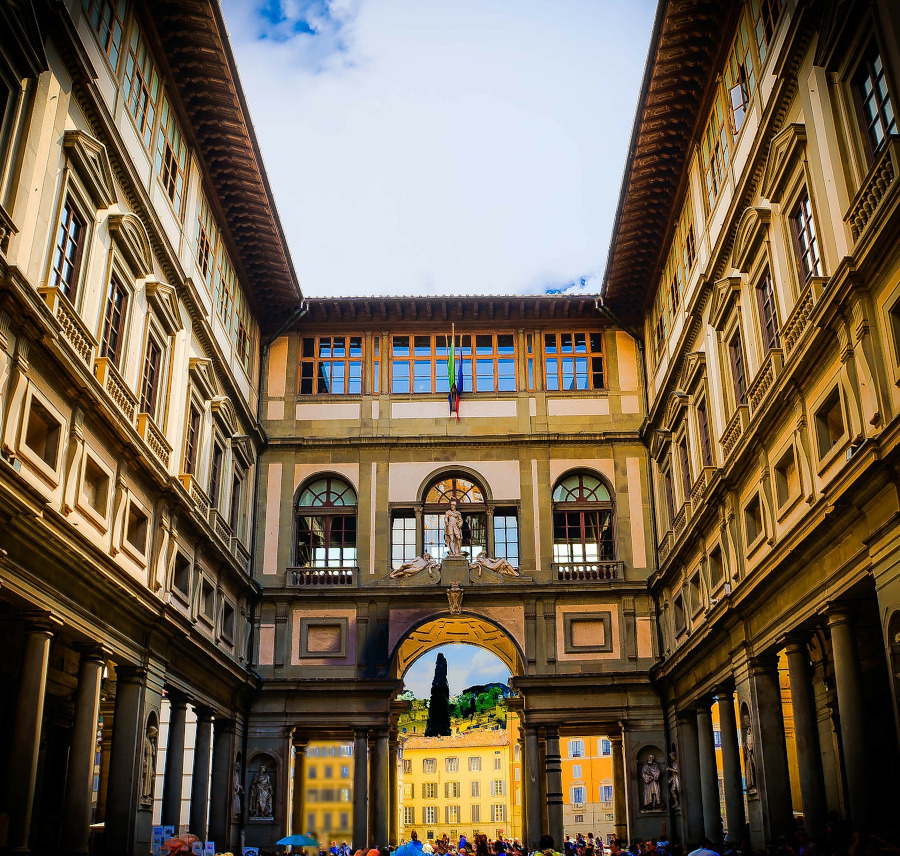 Pitti Palace and Bobili Gardens
Another famous Florence tourist attraction is the Pitti Palace, so this is the next recommendation on this travel guide to Florence, Italy.
The Pitti Palace became the home of the Medici family who wished to have a more modern home away from 'old' Palazzo Vecchio, they doubled the size of the palace which became a symbol of power and prestige.
It contains five museums including a gallery of Modern Art, costume and fashion and the Royal apartments. It houses masterpieces by Raphael, Titian, Caravaggio, and Rubens.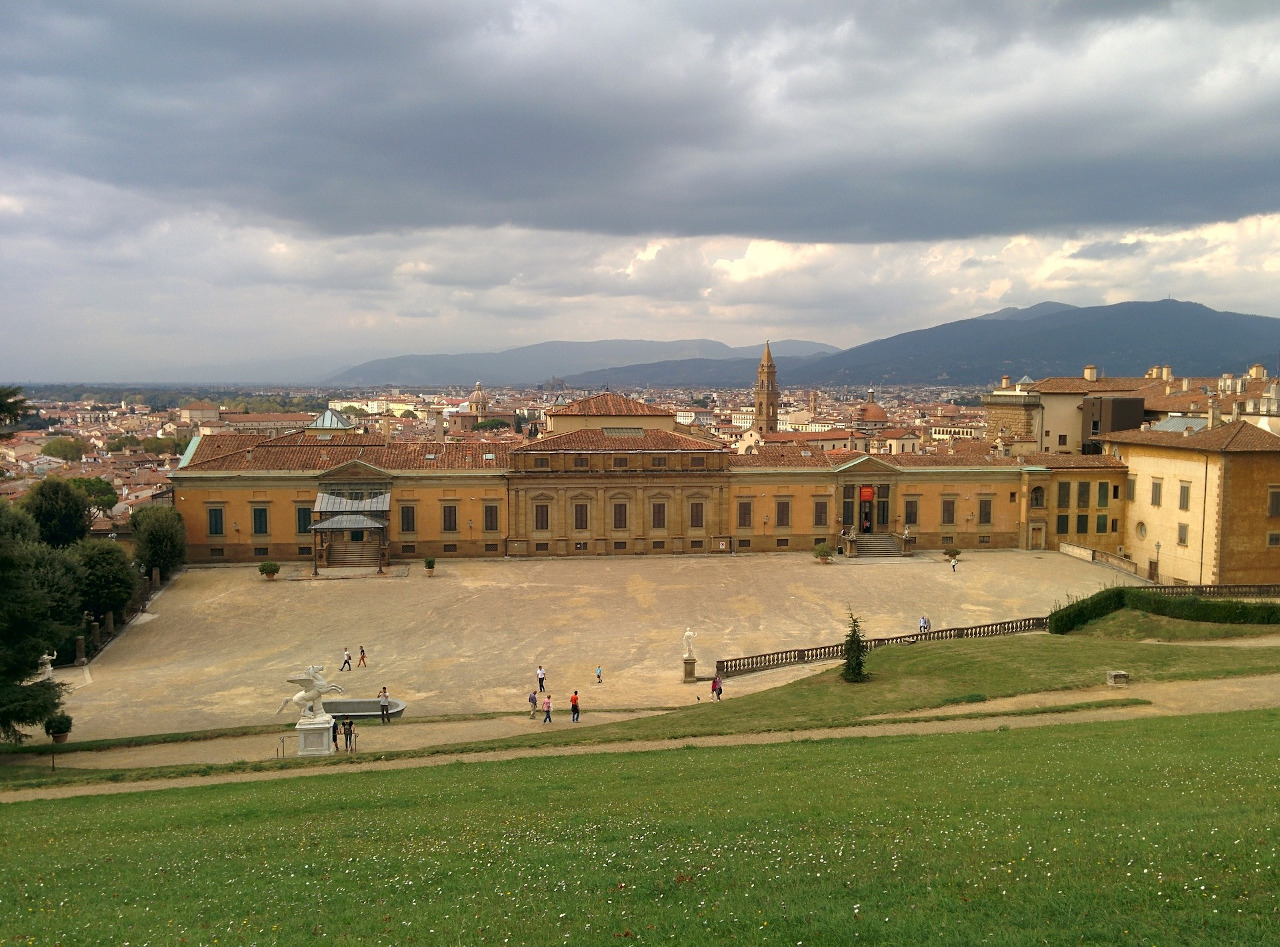 Piazzale Michelangelo
Piazzale Michelangelo is an elevated piazza with panoramic views of Florence, busy day and night with tourists hoping to capture the ultimate photo of beautiful Florence. No tourist guide to Florence is complete without including Piazzale Michelangelo, so make sure you include it as well on your Florence itinerary.
Ponte Vecchio
Ponte Vecchio is the oldest bridge in Florence which was spared by German soldiers by direct command from Adolf Hitler who had visited Florence prior.
Today the famous bridge features rows of jewelry shops on either side and is packed with tourists taking selfies overlooking the Arno river below. As you continue to explore Florence, make sure you get to this bridge and admire it!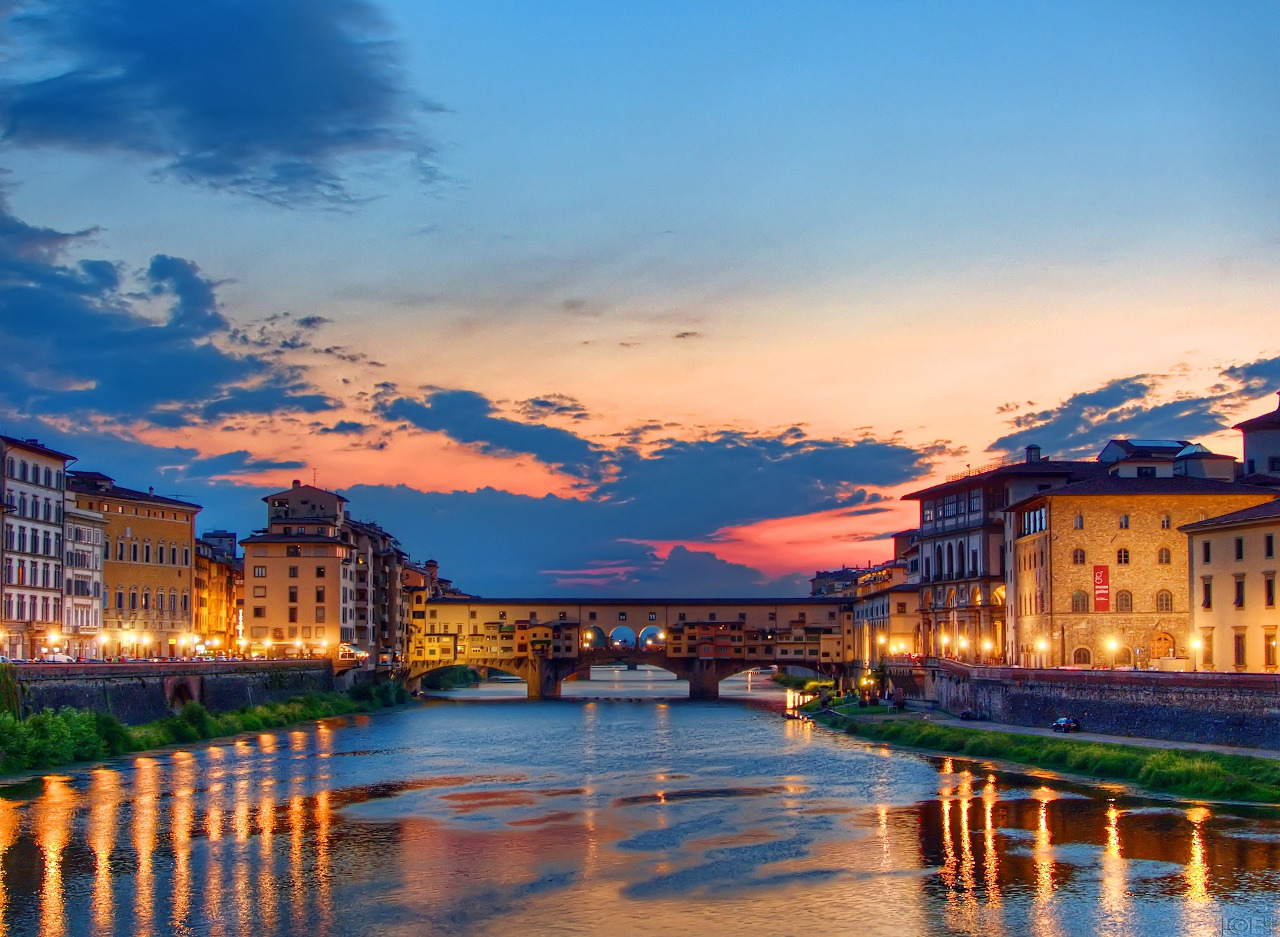 Forte di Belvedere
Only open during summer months, the former military fortress was built in the 16th century by Bernardo Bountalenti, today is the home of many exhibitions and cultural events. Enjoy perhaps the best views of Florence from here on a clear day. If you are visiting Florence during the summer, make sure to see this fort when you are going Florence sightseeing.
Santa Croce
Santa Croce is a historical square dating back to medieval times. This is also the home of the Basilica of Santa Croce which contains the tombs of Michelangelo, Niccolo Machiavelli, and Galileo Galilei. Make sure you don't miss it on your vacation in Florence.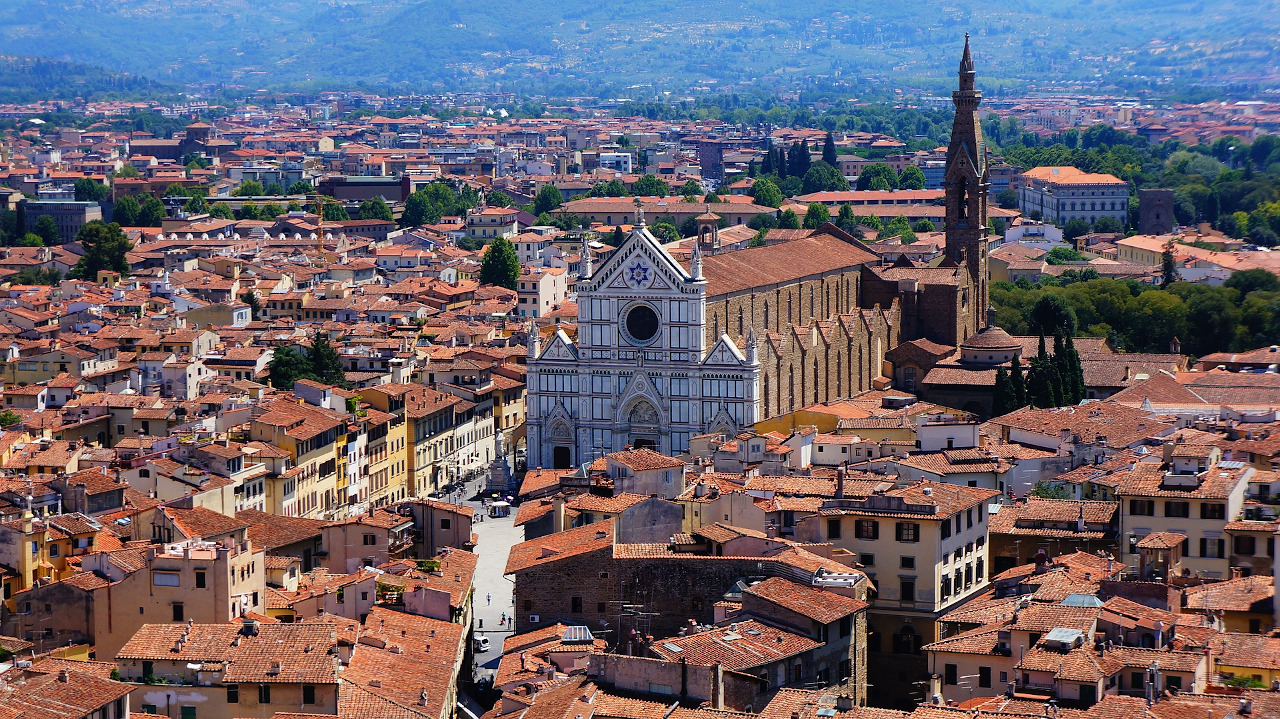 Piazza San Lorenzo
Piazza San Lorenzo is a masterpiece of religious architecture, with the internal façade painted by Michelangelo and includes sculptures by Donatello.
Bargello Palace and Museum
Bargello Palace and Museum began in 1255 as the residence of the Captain of the People and restored in 1865, it also now contains the Bargello Museum featuring a priceless collection of Tuscan Renaissance sculptures along with antique objects and arms.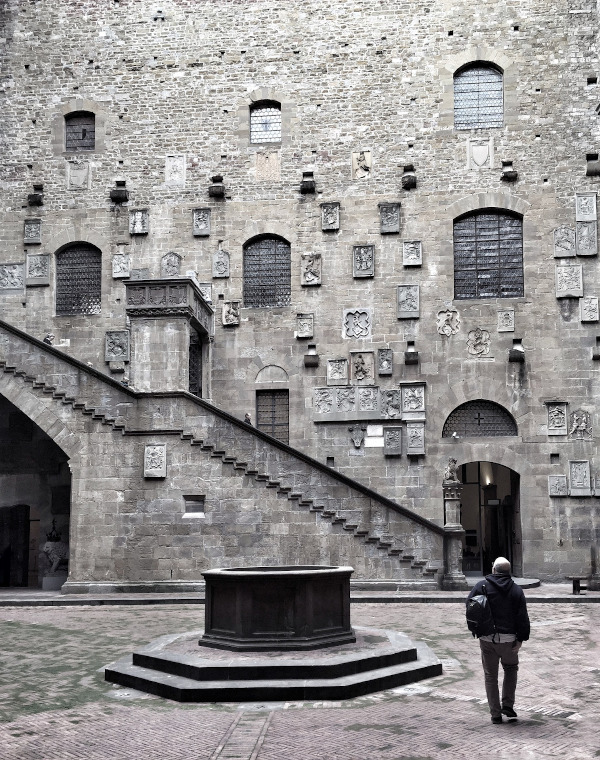 Orsanmichele Church
Orsanmichele Church contains sculptures of the most celebrated 14th and 15th-century artists such as Ghiberti and Donatello. It was also a former market, selling corn, grain, and wool.
Church of Santo Spirito
Next on this Florence city guide is the Church of Santo Spirito. It was begun by Brunelleschi in 1444, who also designed its Dome, and it is considered one of the purest creations of the early Renaissance period.
Piazza della Santissima Annunziata
This famous square is home to the Church of the Santissima Annunziata, the Ospedale degli Innocenti and the equestrian statue of Grand Duke Ferdinand I, all just 300 metres from the Florence Duomo.
With so many Florence attractions in one place, you should definitely check it out on your Florence holiday.
Florence Off the Beaten Path
If you want to go off the beaten path in Florence, then you should know that there are a few extraordinaire places to So, next on this Florence city guide, let's see the best unique things to do in Florence.
Parco Cascine
Parco Cascine is a public park and former hunting ground of the Medici family, the park today is filled with runners, cyclists, walkers and any number of sporting activities along with those looking for a touch of nature amongst Florence's urban jungle.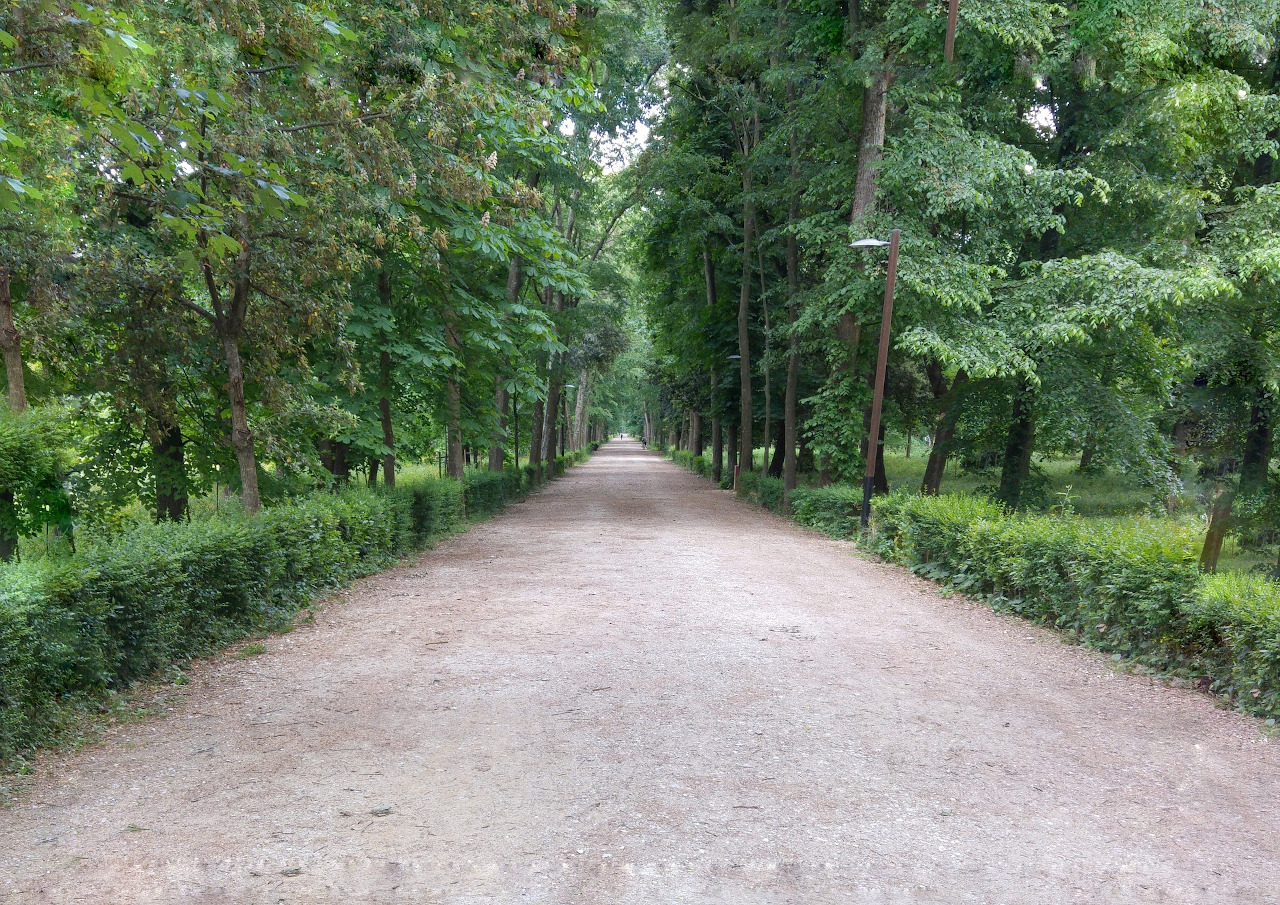 San Niccolo
San Niccolo is a quieter district in Florence along the Arno River and extending up to Forte di Belvedere, filled with popular restaurants and artist workshops. This one of the best offbeat things to do in Florence.
Bardini Garden
Bardini Garden is a stunning example of an Italian Renaissance Garden and one of the best off the beaten path attractions in Florence, Italy.
Villa Bardini and its manicured garden offer a relaxing escape from the city centre along with spectacular views over Florence.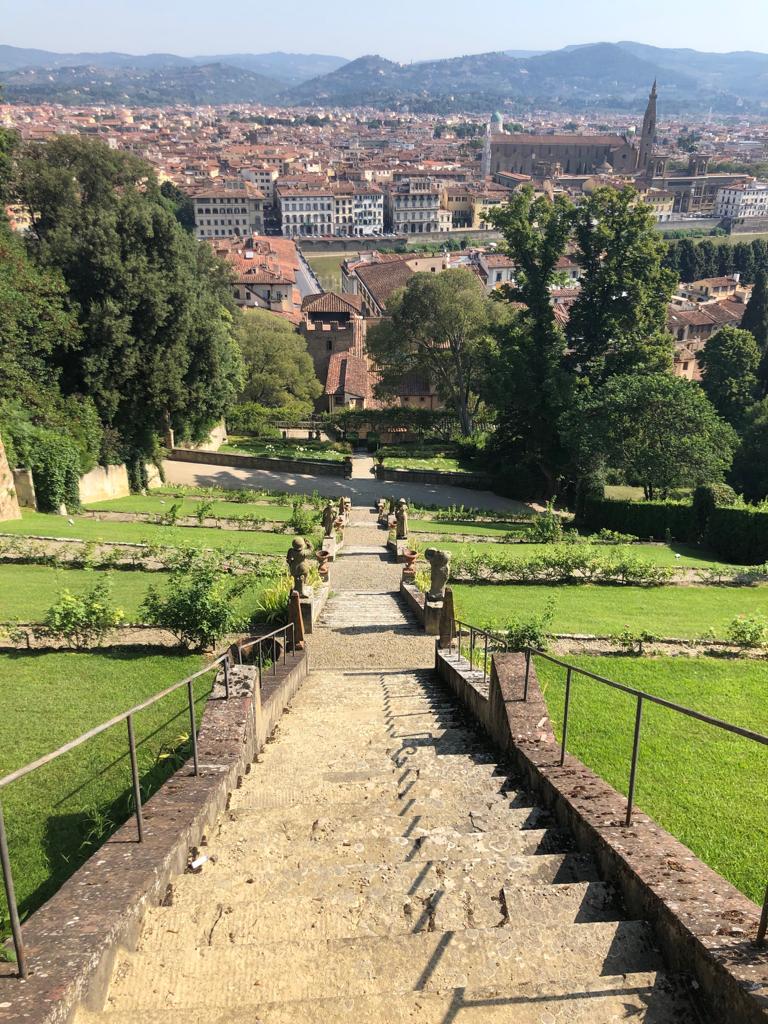 Casa Buonarroti
Casa Buonarroti is the former home of Michelangelo Buonarrotti which is often missed as tourists only know him by his first name, Michelangelo. The house contains many artworks and sculptures by Michelangelo. I
Piazza della Liberta
Piazza della Liberta is the northernmost point of Florence's historical centre created in the 19th century featuring the Arch of the Lorraine and in winter, becomes an ice rink for skating.
The best restaurants in Florence, Italy
No Florence travel guide is complete without mentioning where to eat in Florence. To make your visit perfect and to try some of the best local dishes, here are the top places to eat in Florence.
Il Mercato Centrale – located in the heart of historical Florence, the Central Market contains traditional market offerings downstairs with everything from meat to fish to fruits, vegetables and cheeses, and upstairs you'll find ready to serve meals, drinks and snacks while you're on the go.
Osteria All'antico Vinaio – the most reviewed restaurant in the world in 2014, here you'll find delicious sandwiches with amazing ingredients, huge serving sizes and cheap!
The best hotels in Florence
There are plenty of accommodation options in Florence, and listed below are the best hotels in Florence, hostels, and more.
Tasso Hostel – a chic hostel housed within a converted former school containing 15 stylish rooms including private double rooms.
Plus Florence – spacious, affordable hostel located in the northern part of Florence, just minute's walk to popular sights and attractions.
Palazzo San Niccolo – featuring 22 luxury rooms on a quiet street in the locals-hangout area of San Niccolo, with beds adorned with blood-red velvet headboards and throws.
Canto degli Scali – 7 suites in a 14th century palace including 4 apartments and 3 B&Bs, the rooms feature high ceilings with terracotta floors, just minutes walking distance to Piazza della Signoria.
Florence Travel Tips
I couldn't end this travel guide to Florence without including some more essential Florence travel tips that will help you make the most of your Florence holiday.
Book in advance – book popular attractions online ahead of time, to places such as: Florence Duomo, Galleria dell'Academia (containing the David statue), Uffizzi Gallery and Palazzo Vecchio.
Plan your days – start with the most popular sights on day 1 (Palazzo Vecchio and Piazza Della Signoria, Statue of David at Gallerie dell'Accademia, Florence Duomo and Baptistry, Ponte Vecchio). Day 2 (Santa Croce, Santo Spirito, San Niccolo, Forte De Belvedere, Piazzale Michelangelo).
Florence Safety Tips
Safety is an important concern for any traveler, so here are the top Florence safety tips and things to avoid in Florence. Make sure you note these mistakes to avoid in Florence as they could cost you a lot.
Avoid Street Sellers – selling art prints of famous paintings. Prices start at €25 and they'll hassle you if you show interest… and if you accidentally step on their prints on the ground they'll hassle and/or chase you to buy them.
Avoid Beggars – 'professional beggars' abound in Florence, taking advantage of tourists that are here for a day or two. These include 'gypsy' looking women and guys standing outside of convenience stores like Conad or other shops with their hat in hand, along with random guys who try to shake your hand, then hold onto it while they engage you in a conversation, eventually selling you a bracelet or some other cheap trinket.
Bring Band-Aids – you'll do a lot of walking so put band-aids on as a preventative.
Florence is a must-see destination, not just for its historical significance in being the epicenter of the Renaissance but also because some of the most talented individuals in world history have called Florence home at one point or another.
It's a city rich in history, art and culture and is just as well known for its food and wines. With a photographic opportunity around every corner, you're sure to treasure your visit to Florence for the rest of your life.
If you are planning a longer trip to Italy, here are more articles that will help you plan the perfect Italy vacation:
– Insider's guide to Bologna – all you need to know
– Why you should visit Naples – and what to do in the city
– The best Venice travel guide
– Photos that will make you want to visit Capri right now
About the author
Matt Adams is a digital nomad from Australia who made Florence, Italy his home in 2019. Inspired by Florence and surrounding areas he decided to create a website, ItsAllinItaly.com to share the beauty that Italy has to offer. Follow his social media accounts to see more of Italy on Instagram, on Facebook, or Twitter.