Romania is a very welcoming and beautiful country in Europe and has a lot to offer to any visitor – since you'll find here from gorgeous mountains to the unique Danube Delta, from beautiful plains to the splendid and interesting Black Sea. There are many wonderful places to visit, but today I want to present you the top castles you should see while visiting my country.
I chose these ones because are accessible, beautiful and have a rich history. They are also famous – as you'll realize below. I'll also share some tips with you, hoping that these will help you make the most of your visit.
Peles Castle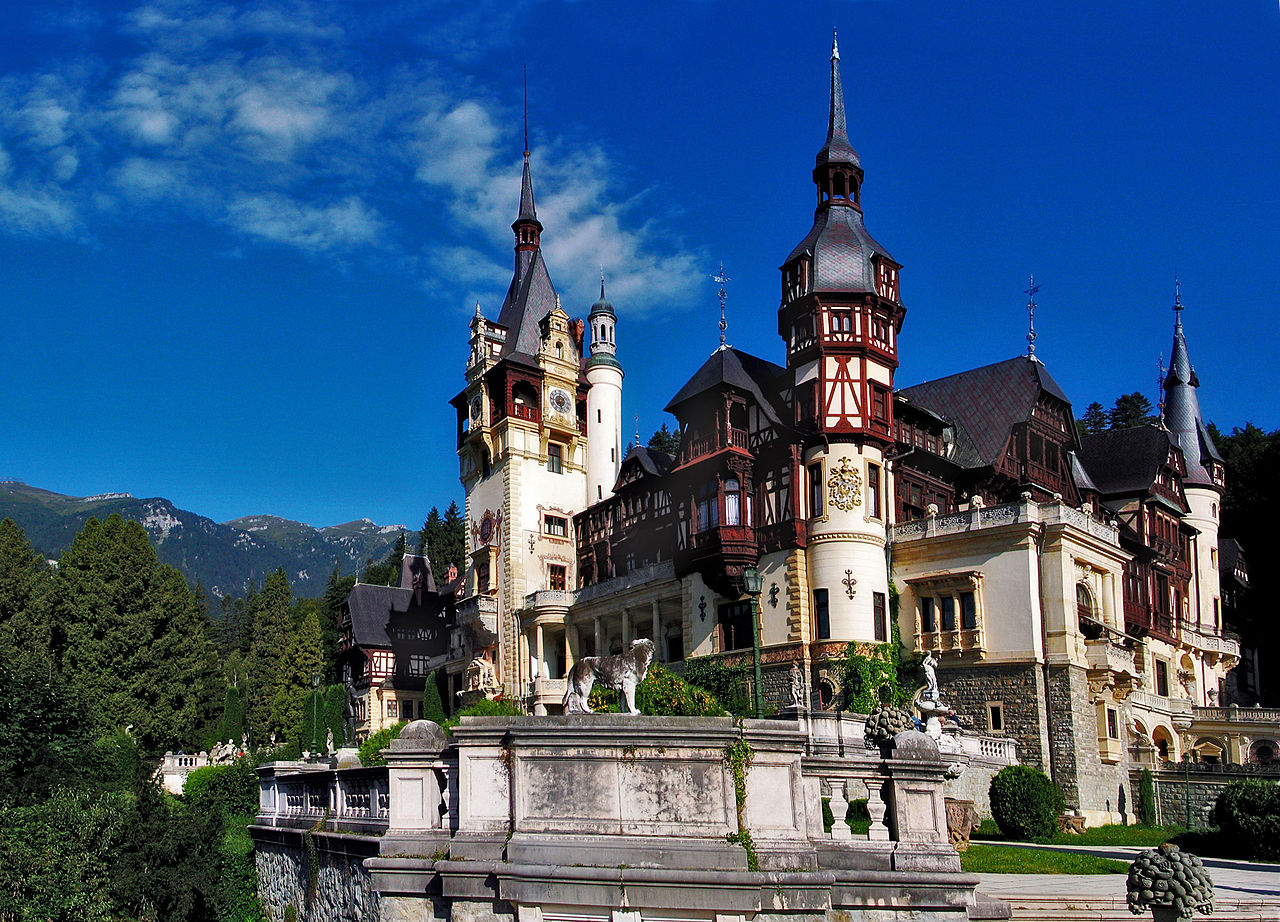 Peles Castle, photo by Camil72 on Wikipedia
Yes, this is the number one castle in the country in my opinion. Why?
First of all, because it is referred to as a castle and known as a castle, but is, from the construction point of view and even purpose, a palace. It was built between 1873 and 1914 under King Carol I of Romania (1839–1914). The king fell in love with the area, bought an impressive estate, then looked for the perfect project (the first three designs for the palaces, in fact copies after famous castles from other countries, were rejected). And then the impressive domain was built and served as a residence for the monarch.
When I visited Peles Castle, only the basic tour was available – aka the ground floor. The price is 20 lei / person for adults, 10 lei for seniors and 5 for students. Even if you only choose this basic tour, you'll still see a lot: the library, the armor room and you will find many useful information about the history of the castle, the many interesting facilities it has and even design elements.
Oh, pay attention to the detail regarding the vacuum cleaners 😉
Unfortunately I had an issue with the DVD where I stored my photos, so I am not able to show you any inside pictures – I'll go back and add photos later, though.
Now there is also the optional tour – including the first floor (it was restored, to be safe for visitors, that's why it was not available when I was there) – the prices are 50 lei / person for adults, 25 lei for seniors and 12.5 for students. You have a fee of 32 lei if you want to take photos – no selfie sticks, tripods, or flashes allowed and photos must be used only for non-commercial purposes.
Here you will also find the Pelisor castle – it is visited separately, same price – 20 lei / person for adults, 10 lei for seniors and 5 for students.
Peles Castle is impressive, has a lot to offer and you'll also find it in a beautiful area where it will be a pleasure to spend hours and hours, believe me 🙂
As a tip: avoid the summer – or at least the weekends. It is less crowdy – but prepare to wait a while in line. You cannot visit the castle by yourself, only with a guide. So you can book a day for this area – stroll around the gardens, admire the view, eat something while in the area – enjoy everything here, including the fresh air!
Bran Castle
The story of this castle goes way back to 1211 and the Teutonic Knights. The castle started, actually, as a fortress. It is built in an important mountain area, and a fortress was necessary here. The construction was ordered in 1377 King Louis I of Anjou, but the fortress had a long and troubled history – ended up under Sigismund of Luxembourg between 1395-1946, then to the Romanian ruler Mircea the Old, and, after another troubled period it got to belong to the citizens of Brasov who agreed to offer it, later, to Queen Mary of Romania, in 1920. The fortress became her favourite residence and she restored it and transformed it into the beautiful castle that is today.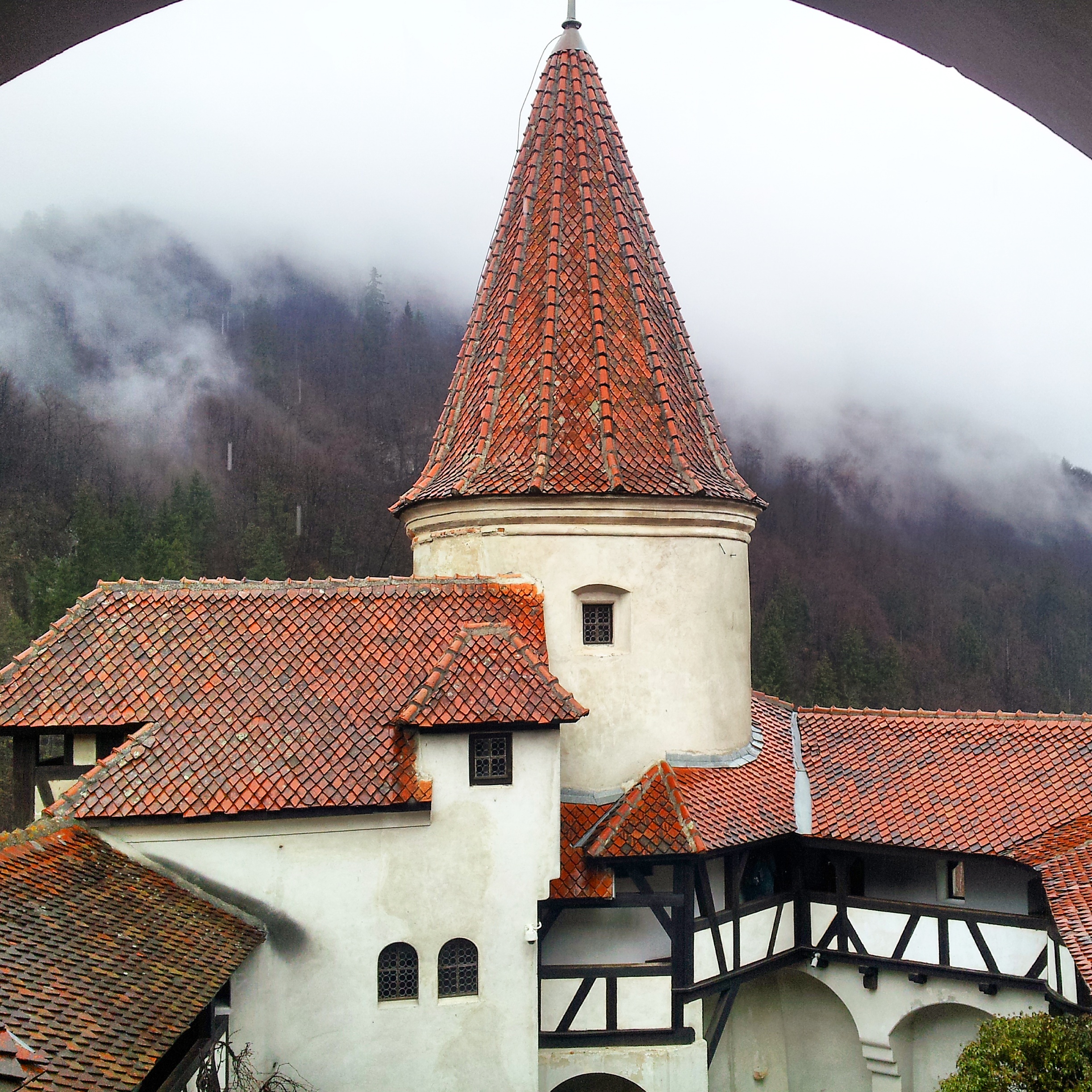 Bran Castle is famous worldwide as it is here that Bram Stoker imagined the residency of Dracula – associated with Vlad Tepes (Vlad the Impaler, though no real connection). Yes, this is a a place where history and fiction mix in a wonderful way, as shown in this comprehensive article on Bran Castle and Dracula.
As a tip, the same as above: try to avoid the summer season or the weekends. We went on a Wednesday and spent only 5 minutes to purchase the tickets – though there were many visitors. As a bright side, you can choose the audio guide and visit the castle in your own rhythm. There are also guided tours available – of course these offer more information about the castle, history and so on. So, if you want to find out the history and interesting details, choose the guided tour, or at least the audio guide – don't just visit the castle (though there are some explanations available), each in English as well.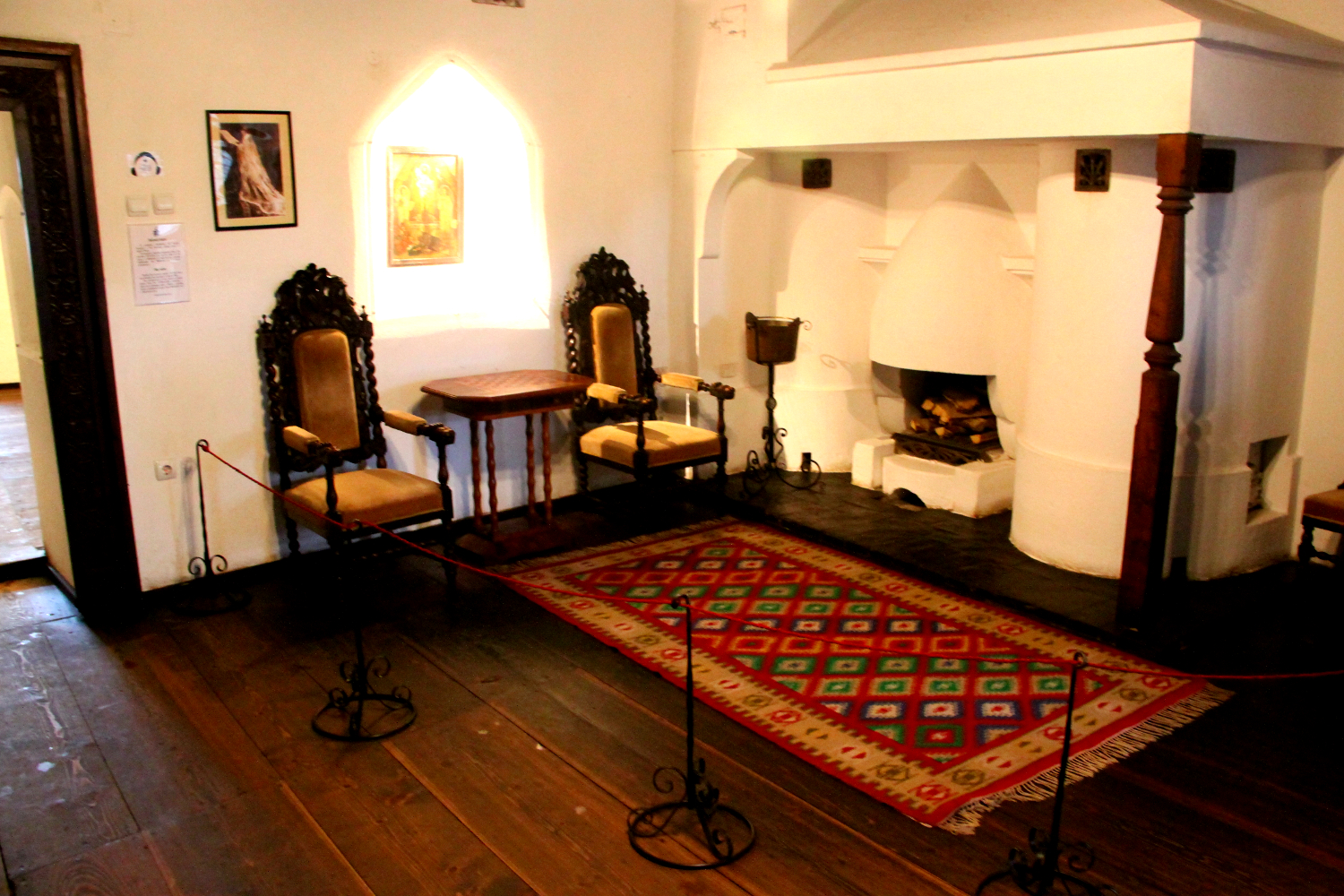 The Corvin Castle
This is also an old castle. The Corvin Castle was laid out in 1446, and the construction started at the orders of Iancu de Hunedoara and the primary role was a defensive one – thing which is immediately visible: when you look at the castle and once inside, noticing each detail, each place where a cannon could be place, each observation window. The castle is built in Renaissance-Gothic style and it features tall and strong defense towers. Some of the towers had a defensive role, while others were used as a prison.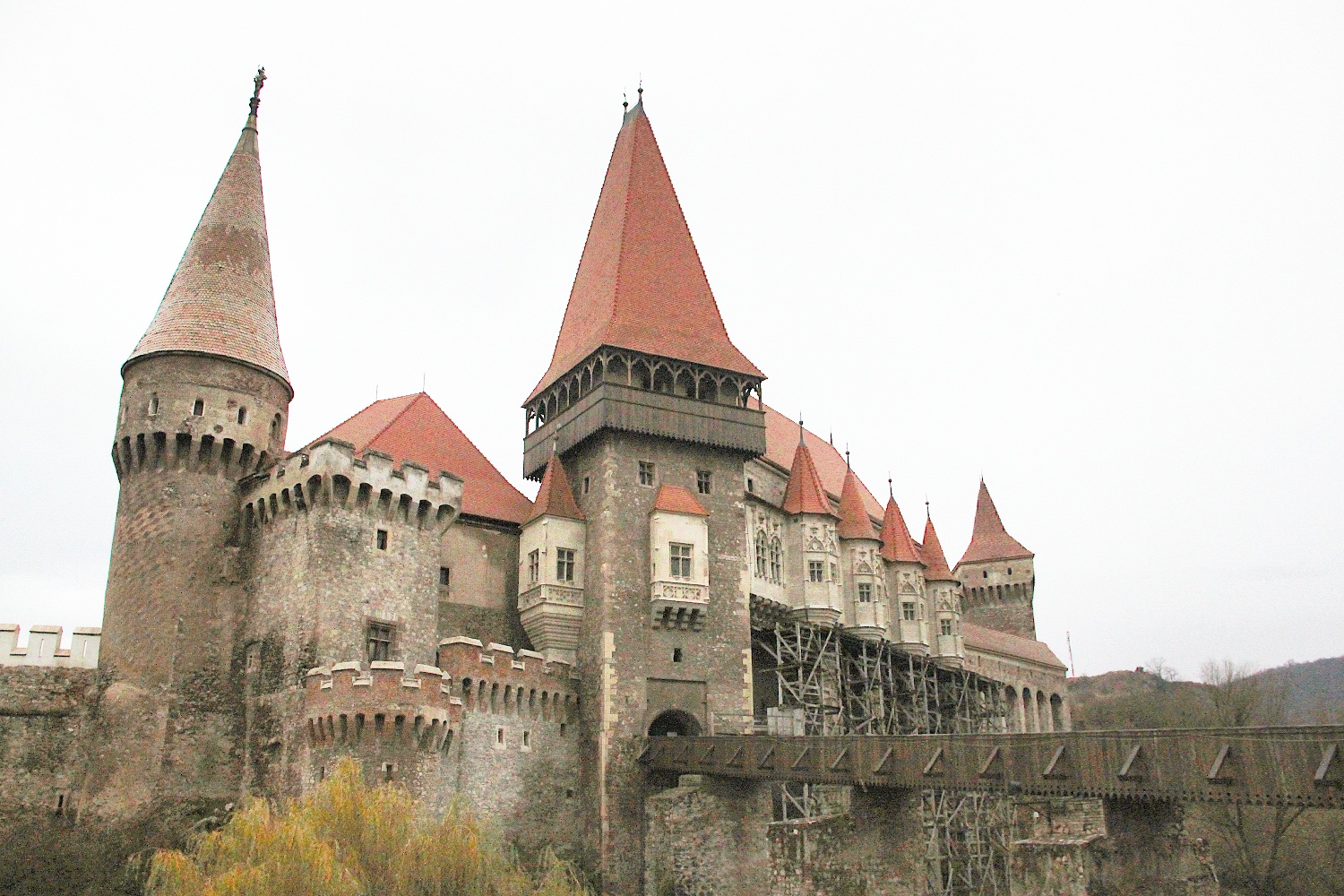 The Corvin Castle is one of the largest castles in Europe – and some of the Gothic elements are unique – some fell at some point and are parts are exhibited separately.
To know what to expect: we visited this castle in 2014 and I have to tell you this: you will definitely be impressed by the castle – especially if you'll see it in a sunny day.
You'll first see an exhibit dedicated to torture – officially forbidden to small children, though OK in my view, depending on what you tell them. Pretty interesting this exhibition. Then you enter the castle and visit the different rooms, salons, see the items exhibited and go to the towers, admire the view.
There is also a room dedicated to armors, one with a skeleton – you'll find out why. Our son used this one to rehearse some bones he knew from books dedicated to the human body – yes, he is interested in the anatomy 😉
However, there are major restoration works in progress, so don't be disappointed if you'll see stairs or places under construction. It's an ongoing process – the entire castle is under restoration works. It is safe for visitors, but in order to be a glamorous castle, it needs to see these works finished.
As a tip if you go during the summer season, you'll see various open air shows, theater, projections – as there is a large garden where people can sit and a scene is arranged.
We went to this castle with our 3,6 years old son and he was impressed. And we liked it as well, but I thought it is important to set your expectations to the correct level, to not expect a palace or glamour, to expect a place that has been through a lot and needs some restoration works. Despite these necessary works, the castle is impressive and people who go here are conquered by it.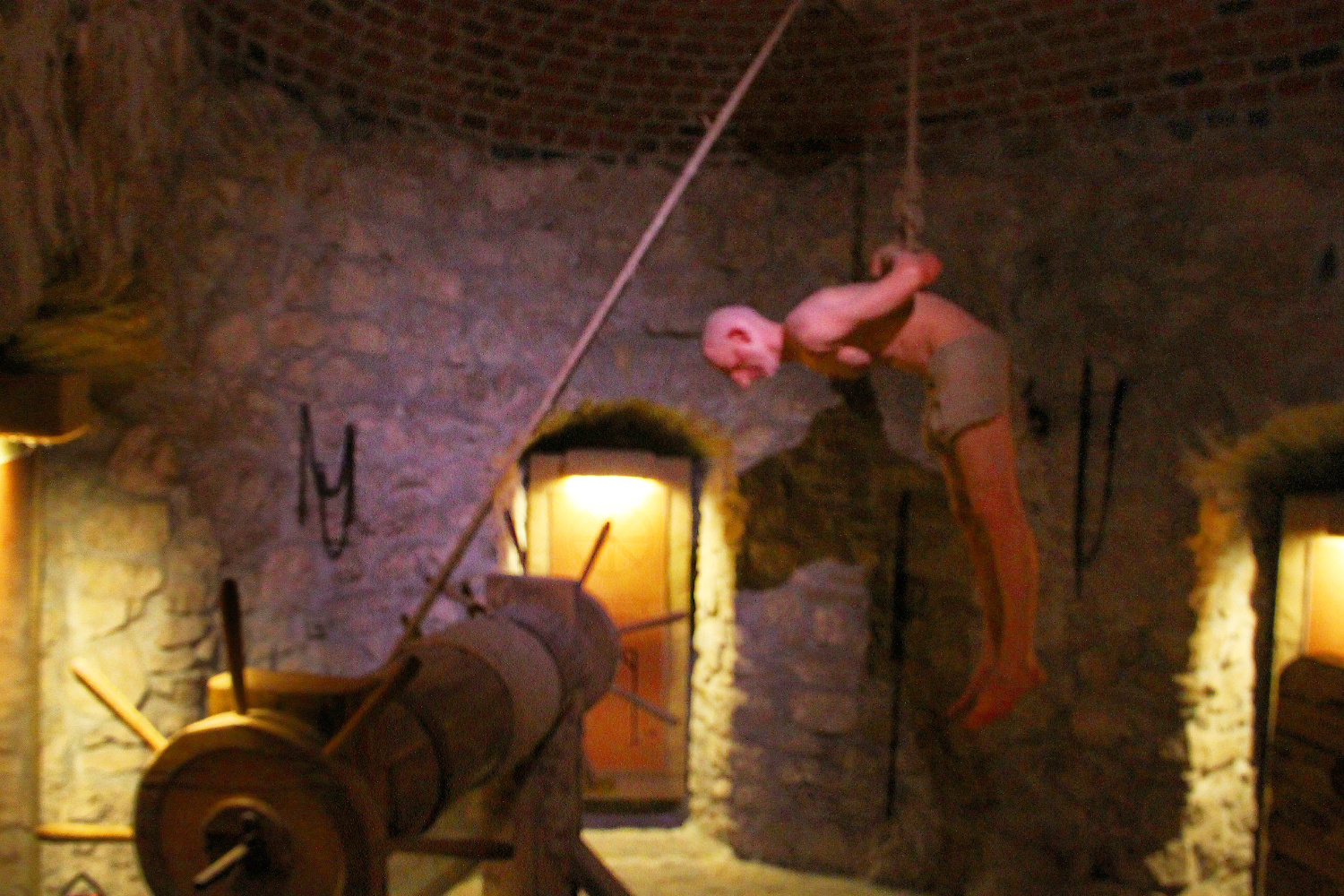 These are only three of the castles you can visit in Romania. They are in different parts of the country, so of course it depends on where you'll go. These are, however, my top three castles to visit in Romania.
Which ones did you see?
What other castles from Romania do you recommend?