Famous for the Sedlec Ossuary (Bone Church), Kutná Hora has so many other interesting attractions worthy to be discovered. Kutná Hora is easily accessible (from Prague, Brno, etc.), thus making it perfect for a short visit. To help you prepare your next trip there here is a travel guide to Kutná Hora, Czech Republic: famous places, where to eat, and tips are included in an article by Michaela from No IF – just LIFT.
Kutná Hora is the second most visited Czech city after Prague. The center of the city, the Church of St. Barbara and one smaller church are part of the UNESCO World Heritage list and it only takes one hour by train to get there from Prague. It's located in beautiful Central Bohemia and it used to be Royal city in middle ages because it used to be rich thanks to its famous silver mines. There are now many things to do and see and you can spend one whole day there which would be full but not extremely busy trip so you can enjoy the feeling that this city offers – the feeling like you went back in time!
Top 5 landmarks to see here
The Church of St. Barbara – it is a huge cathedral that was planned to be even bigger (they wanted it to be the biggest church in Czech lands but you know how it works with money…). The church was renovated a few years back so it's now really beautiful place with gardens around it. There is also amazing view over the city. You find also Jesuit college nearby which is a beautiful building. There is a gallery inside these days.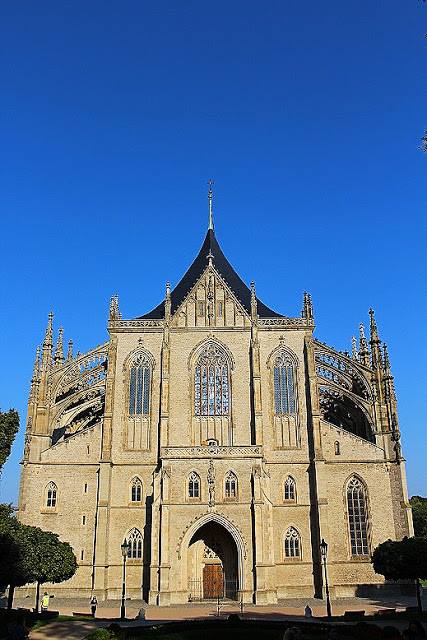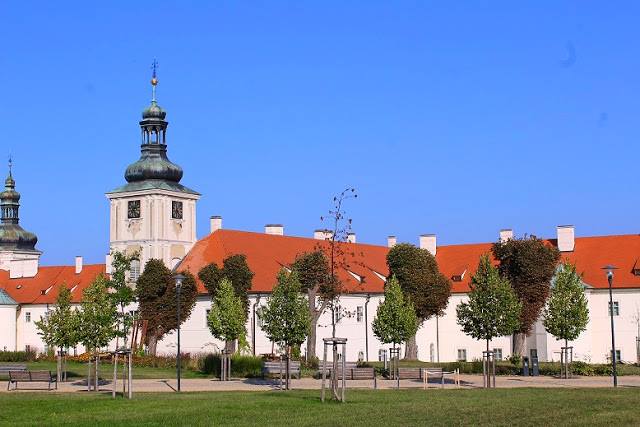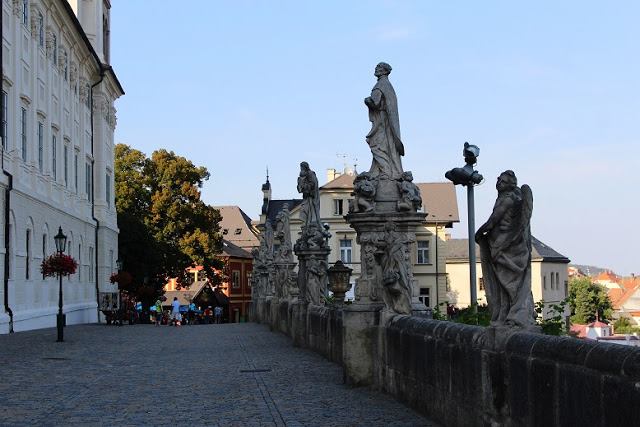 The centre of Kutná Hora – The centre is full of old buildings and small narrow streets made of cobble stones. The most known sights you'll see there are the Plague Column and gothic fountain.
Vlašský dvůr – it is a former castle where the Prager penny used to be made. You can learn a lot about silver mining and coinage there.
Church of St. Mary in Sedlec – you'll have to take a walk from the city center to get there but it is also on its way back to the train station so just plan the schedule of the day well and you won't have to walk a lot. This church is also part of UNESCO because it is the oldest Czech Cistercian monastery and it was designed by famous Czech baroque architect Santini.
Sedlec Ossuary (Bone Church) – Honestly, this is the place every tourist who goes to Kutná Hora wants to visit. It's interesting because locals don't consider it that important as foreigners do. But I'm with you, tourists, when it comes to this because this church is so interesting. Why? It's full of bones and skulls!
Kutná Hora Off the Beaten Path
To be honest, I have to tell you that this small town is full of tourists and there's no way to avoid them. But it's worth to visit Kutná Hora anyway. You can also see St. Jacob's church that is right next to Vlašský dvůr. This church is maybe hidden a bit in the shadows of other sights in this small city but it's equally as beautiful.
Where to eat
I won't give you exact names of restaurants but you should definitely stop in one of the restaurants that are on the beautiful street between the centre of the old town and St. Barbara's Church.
You can eat mostly typical Czech dishes there which I can only recommend! Trust me, you'll be full and you'll love it. The prizes are also way lower than in the centre of Prague so don't worry about entering any of these restaurants and leaving with empty pocket. And make sure to take a coffee break in one of the bakeries or sweet-shops in the centre.
Tips for Kutná Hora
I know that there are many organized tours that will take you from Prague to explore this town but I'd recommend you to do it on your own. The train from Prague is quite cheap and it only takes one hour (make sure to come at least 15 minutes before the train arrives to Prague's main station because it's always full and you don't want to stand in the aisle for one hour – it's doable though).
You'll easily find all the main sights as well as hidden corners. Just find a guide online or buy a book. The only tour that I'd recommend you is the one in Vlašský dvůr because then you get to see how people used to work with silver and coins (and much more).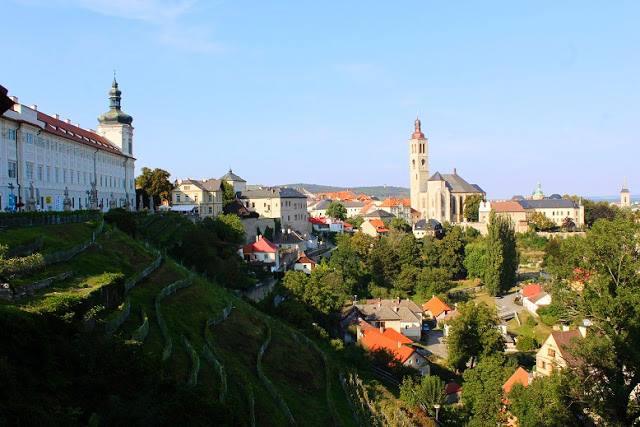 I also know that the Czech Republic might be known as not so safe place. Yeah make sure to keep an eye on your bags while walking in crowds in Prague because you never know but here in Kutná Hora you'll be just fine, it's a small town and it's not as crowded as the capital.
If you're spending more days in Prague I'd better spend one outside of the capital. Kutná Hora is a great choice because it's quite close, you won't need more than one day to see it and you'll also get to see Czech landscape while sitting on a train. It's also way cheaper than Prague so if you want to eat a lot or buy souvenirs, save your money for this trip!
About the author
My name is Michaela and I'm a student living in the capital of the Czech Republic, Prague. I love writing articles for my blog about traveling, living abroad or in the Czech Republic and about lifestyle in general. I also take a lot of pictures which I upload on my Instagram account and Facebook page.