If you plan to visit the Indian Himalayas, use this perfect trekking Indian Himalayas itinerary to discover the best in the area.
This Delhi-Rishikesh-Chopta Indian Himalayas itinerary will help you to have an amazing time trekking the Indian Himalayas!
If you want to have the best time visiting the Indian Himalayas, use these recommendations by Jitaditya Narzary from The Travelling Slacker.
Delhi-Rishikesh-Chopta: A Trekking & Adventure Indian Himalayas Itinerary
Delhi is not only India's capital but it is also located centrally and many great trekking and adventure destinations can be reached from here with an overnight train or bus ride.
Most foreign visitors, after exploring Delhi, move to the likes of Rajasthan or Agra, but my personal preferences are the Himalayas.
In fact, if you are here for the first time, you will be surprised how in a matter of a few hours, you can escape the blazing plains of Delhi and reach the foothills of the Himalayas with the snowy peaks looming on the horizon.
Literally dozens of such trips and trekking adventures are possible but I am making this short itinerary that gives you a nice hiking experience that combines adventure, natural beauty, and spirituality.
It is also a comparatively easier one and you don't have to be a hardcore mountaineer to do it. That is why the Chopta-Tungnath Trek has become one of the most sought after treks in the Himalayas in recent years.
This involves Rishikesh, which is a popular getaway for many western seekers looking for Yoga classes and spiritual experiences.
However, you have to go beyond it, and enter the real Garhwal Himalayas and trek to the highest Shiva Temple in the world, which may even be covered in snow depending on the season!
Primarily, you will come across the following places during this trip.
Delhi
The capital of India that needs no introduction. There is much to see and do here. I have only kept a few things for one and a half days in Delhi for this itinerary. You can always extend it and do more if you have the time and willingness.
Rishikesh
Rishikesh is an ancient pilgrim town located just at the foothills of the Himalayas and on the banks and of the sacred Ganga (Ganges) river.
The town is dotted with temples but over the last 50 years, due to the huge influx of western tourists, it has acquired a very unique flavour.
So, chic cafes and backpacker joints here co-exist seamlessly with temples and ashrams. It is also a major center for yoga and wellness retreats and you can also go for yoga courses if you want.
Adventure activities like river rafting and bungee jumping are also available at the outskirts of this town.
Sari Village
Sari is a beautiful village where you will get to experience a genuine Himalayan village and explore rustic lifestyle and culture. It is the base for Deoria Tal Trek and it is also not very far from Chopta.
Deoria Tal
Deoria Tal is a beautiful high altitude lake that you reach after a short trek from Sari. You can camp by the side of the lake at night.
Chopta
Chopta is a small roadside settlement full of restaurants and hotels. This is the starting point of the trek and so the whole trek is known as Chopta Trek.
Tungnath
Tungnath is actually one of the five most important Shiva Temples in the high Himalayas of Garhwal. It is considered the highest Shiva Temple in the world (3680 meters). There are small lodges as well as campsites near the temple where you can stay.
Chandrashila
Chandrashila is the highest point of this trek at almost 4000 meters. It is another hour or so from Tungnath and it offers excellent 360 degree views of some of the highest peaks in the region.
Included in this Indian Himalayas itinerary are:
the best time to visit the Indian Himalayas
things to know before visiting the Indian Himalayas
Day 0 – Delhi
Day 1 – Old Delhi
Day 2 – Rishikesh + Sari Village and Deoria Tal
Day 3 – Sari to Chopta to Tungnath
Day 4 – Hike to Chandrashila and return to Tungnath
Day 5 – Explore Rishikesh
Things to Keep in Mind – the best time to visit the Indian Himalayas and more
While you can go there at any time, the best time is the spring season between March to early May. This is when the rhododendrons bloom all over the hills and turn the trail sanguine. Avoid the rainy season (July-August), as it gets slippery with extreme rains and gets difficult to roam around too.
Also, if you are doing it in the winter (Dec-Feb), then go with a local guide because the whole place will be buried in snow and many accommodations and restaurants will be closed.
It can be really cold at Tungnath as it is located at a very high altitude. I once found snow out there even in the summer. So, do not get misled by the heat of Delhi and carry enough warm clothes to survive sub-zero temperature.
If you are relying on public transport, you may not get a direct bus from Rishikesh. You have to reach Rudraporayag from Rishikesh and then look for local shared cars going towards Ukhimath, and then find shared cars to Sari.
The basic trail is well-marked and can be done without guides although there are many agencies who offer the same. If you do need guides, you can ask around at Sari village for local guides as that will be much cheaper.
While Delhi has much more to offer, I have kept activities in and around day Old Delhi and I suggest that you find a hotel in that area.
Detailed Delhi-Rishikesh-Chopta Itinerary
Day 0 Reach Delhi
Reach Delhi and settle down in a hotel for a day. While you can stay anywhere in the city, I suggest a place near Old Delhi or Connaught Place (CP) as that's where you will spend most of your time.
Take it slow, as it is your first day in India. Roam around CP, which is the central business district built during Colonial times. CP is full of great restaurants, bars, and cafes. Enjoy a good Indian dinner and relax.
Day 1 A Day in Old Delhi
Explore "Old Delhi", the 17th-century walled city where the past meets the present. If you are new in India, this can be an intense experience with extreme crowds and congestion.
Start early in the morning to avoid the peak crowd. You can sign up for an Old Delhi Heritage Walk too. Many local operators, including historians and writers offer such walks. You can plan beforehand and register for one.
You will explore the likes of Jama Masjid, Chandni Chowk, Fatehpuri Masjid, Khari Baoli Spice Market, Gurudwara Sheeshganj, etc.
Do visit the Ghalib ki Haveli, the mansion of the iconic 19th century Urdu poet Mirza Ghalib. The streets of Old Delhi is also a heaven for Indian food lovers. Each building and each alley here has a story and the right guide will be able to provide you those.
Later on, cross the street and enter Red Fort (Lal Qila), the Mughal fortress from where India's Prime Minister still addresses the nation on major occasions.
In the evening visit Majnu Ka Tila, in the northern part of Delhi. Tibetan refugees settled here decades ago.
So, it transports you to a different land as you visit a Buddhist monastery and have dinner at one of the restaurants offering Tibetan and Nepali cuisine!
After dinner, you can take a night bus to Rishikesh, via Haridwar (250 Km 6/7 hours). You can take a train to Hardidwar too and then get a bus to Rishikesh in the morning.
The bus stand is at Kashmiri Gate while trains leave from Old Delhi Station. Both are in the same area (That is why I suggested you to pick your hotel in the same area, so as to avoid unnecessary commutation).
Day 2 Reach Rishikesh from Delhi
Reach Rishikesh in the morning and settle down in a hotel. Spend the second day of this Indian Himalayas itinerary day exploring Rishikesh.
Soak in the aura of sacred Ganga at the bluish-green confluence at Triveni Ghat, walk around the hanging bridges over the river and try one of the cool cafes and restaurants.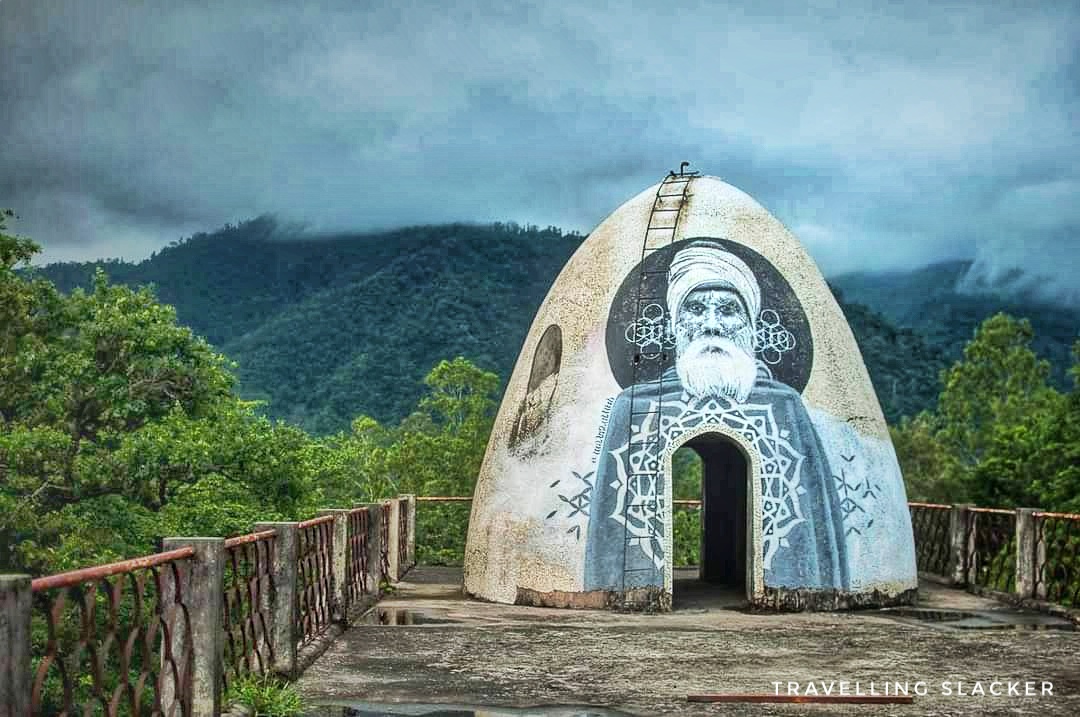 In the afternoon, visit the iconic Beatles Ashram in the outskirts of the city. This is where Lennon and co. stayed when they were smitten by Indian spiritualism.
Later on, it was abandoned but artistic Beatles Fans have now turned it into a hub of graffiti and urban art. In the evening, return to the town and watch Ganga Aarti on the banks of the river while enjoying a lazy dinner at one of the numerous riverside restaurants.
Day 2 Sari Village and Deoria Tal
Two of the best places to visit on your Indian trip to the Himalayas is the Sari Village and Deoria Tal.
Wake up early and drive to Sari Village via Rudraprayag and Ukhimath (190 Km/ 7 Hrs).If you travel to Himalayas this is a must-visit!
In case you do not have a vehicle, take a bus to Rudraprayag and from there get local shared cars from there. Have lunch at Sari.
Normal Indian food is generally available but you can also ask for authentic Garhwali food and if you need, guides can be found here too.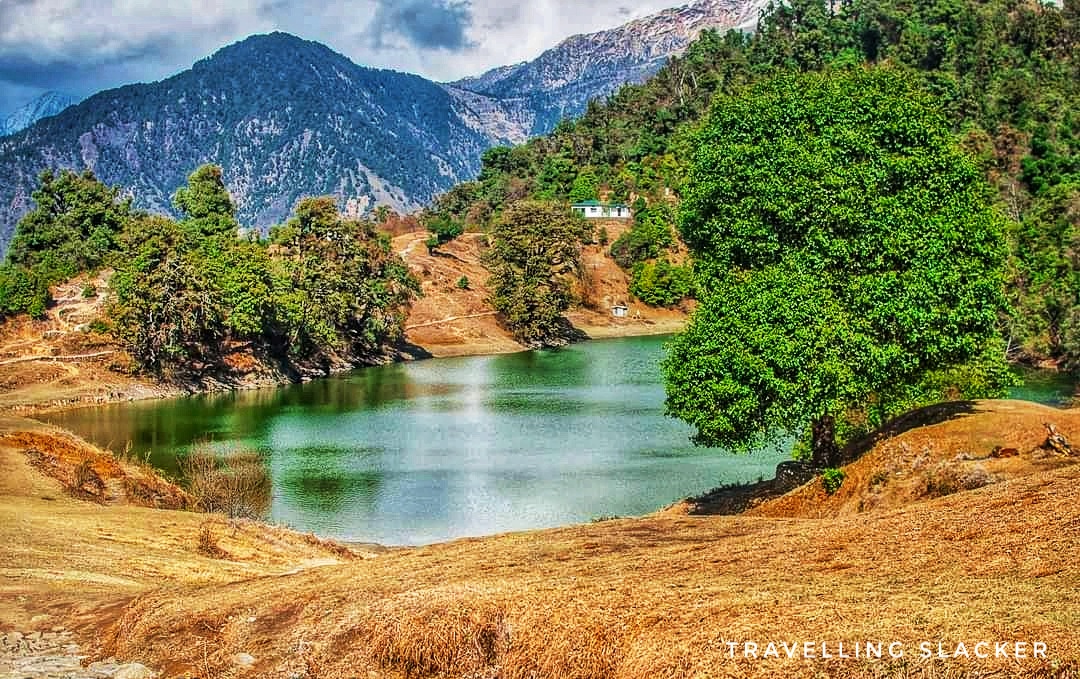 After lunch, hike to Deoria Tal (3 km/1.5 Hrs), which is not that hard. Enjoy the views of the green lake surrounded by thick cedar forests with snowy peaks looming beyond them.
You can come back and stay at Sari at night but the best experience is to camp at the Lake. You can arrange tents and other supplies from the village.
Day 3 Sari to Chopta to Tungnath
The next morning, as you continue to travel the Himalayas, you will wake up and realize why you camped up out there. This is because in the morning you get to see clear reflections of the iconic Chaukhamba peaks on the crystal clear water of the lake!
Enjoy the morning around the lake and then come down to Sari. Have breakfast at the village and you can also find a shared car going towards Chopta (55 km/ 2 hrs) from here.
The real trek to Tungnath starts here. Chopta to Tungnath (4 km/ 2 hrs) route is covered with a rhododendron forest.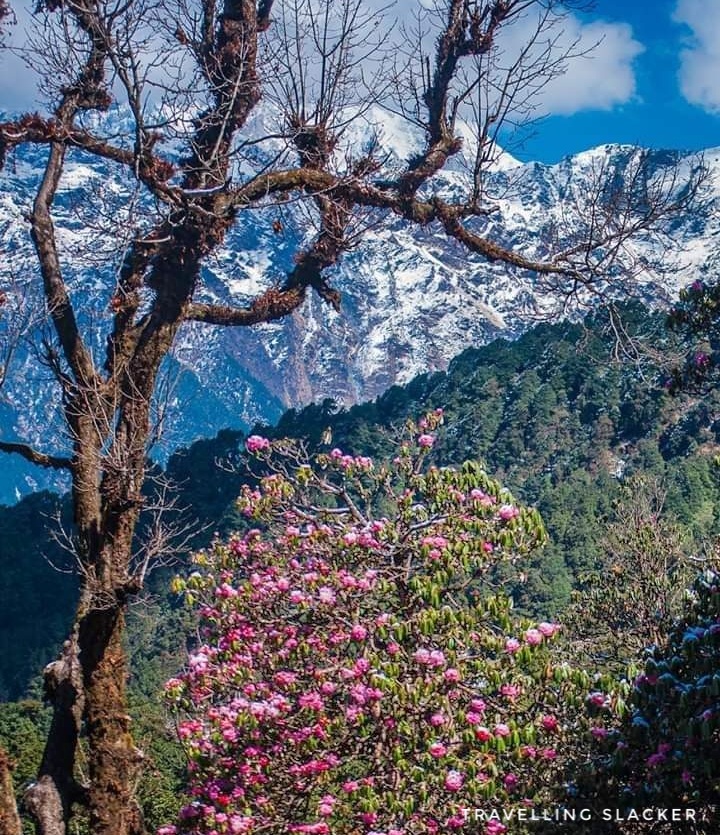 If you do this between March to May, the whole route will be covered with red and pink rhododendron blossoms.
Once you reach Tungnath, you can get a room at one of the basic lodges or campsites and keep your stuff there. Visit the ancient temple and soak in the views at 3600 meters.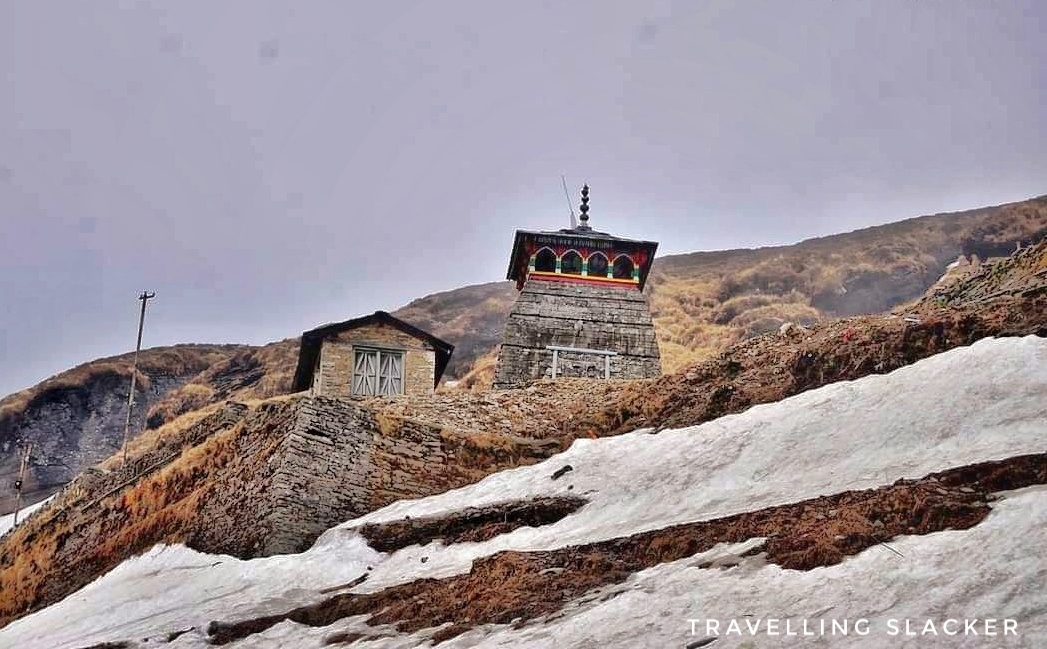 Day 4 Hike to Chandrashila and return to Tungnath
Wake up early and explore the area more for good views. Hike further up to the Chandrashila top, which offers 360 degree views of the peaks of Garhwal.
Keep your eyes for the Himalayan Monal, a colourful bird seen only in the Himalayas.
Come down to Tungnath, have breakfast, and then come down to Chopta and then find buses or shared cars back to Rudraprayag and then to Rishikesh by evening and settle down in a hotel or homestay.
Day 5 Explore Rishikesh
Your basic trekking expedition ends here. However, if you want, you can go for river rafting, or bungee jumping in the outskirts of Rishikesh.
You will find many operators offering these services in the town. Rishikesh is also the Yoga capital. However, yoga does not happen in one day.
If you want, you can opt for a Yoga Class running for several weeks. That really depends on your interest and time at hand. Otherwise, you can simply return to Delhi and move on to your next destination.
Author Bio
Jitaditya Narzary is a solo backpacker who mostly focuses on the Indian Himalayas. Trekking, sustainable tourism, and ethnocultural documentation of remote areas are his primary interests. He has been blogging as The Travelling Slacker since 2011. Follow him on Instagram and Twitter too.