If you're planning a trip to Alaska, then you should definitely include some of the amazing glaciers in Alaska on your itinerary.
This article presents you a few unforgettable Alaskan Adventures and shows you the beauty of Alaska and its natural wonders.

Discover impressive Alaskan ice caves, fun adventures to enjoy with your friends or family, amazing national parks and forests, and more in this article by Mike Still from LiveTravelTeach.
Alaska is one of the top winter vacation destinations in the US and one of the best winter vacation destinations in the US. It's also one of the cool places to spend your honeymoon in the US and definitely one of the best places to visit in the country.
Let's see the best things to do in Alaska!
All the photos included in this article are by Mike Still.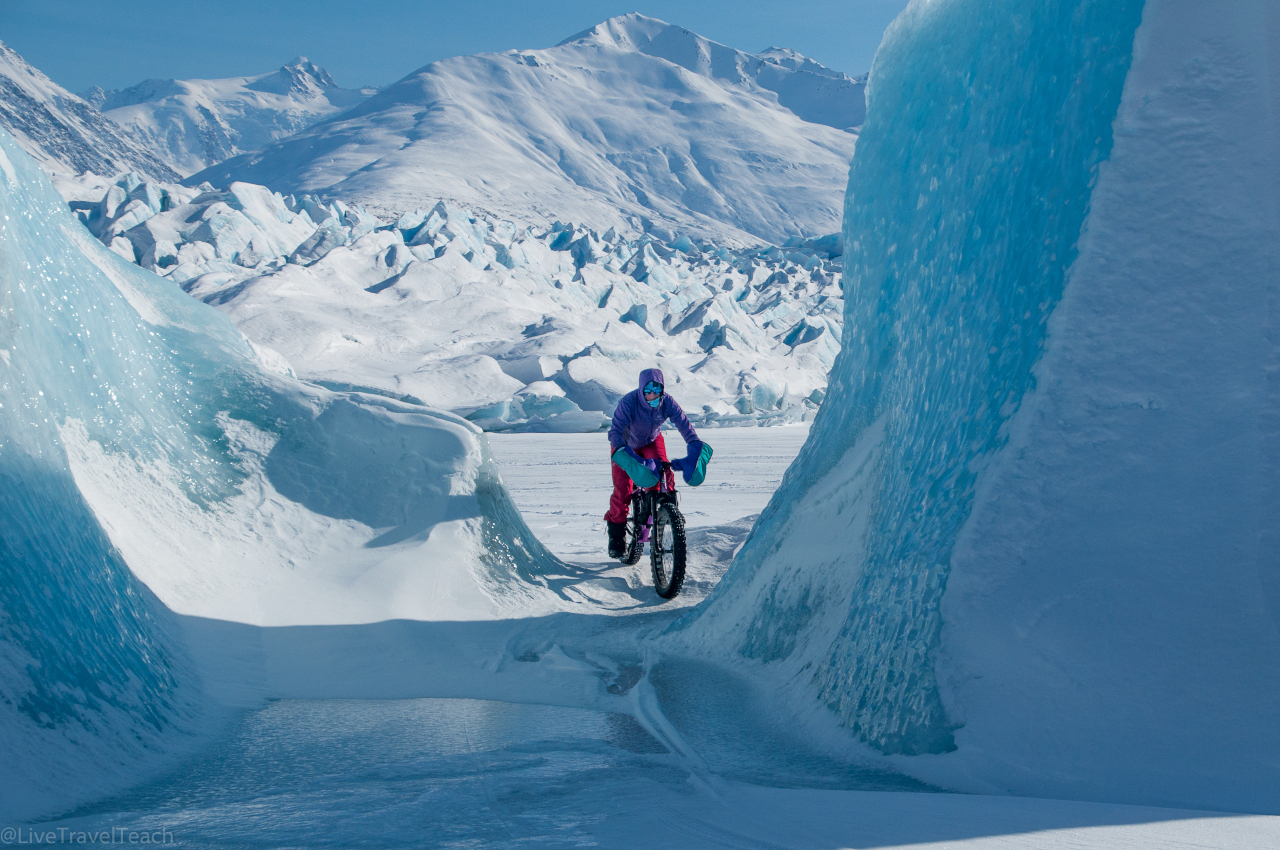 Unforgettable Alaskan Adventures
I moved to Alaska in 2017and have had the pleasure of exploring many of the natural wonders that this land has to offer.
Three of my most unforgettable Alaskan adventures have all involved Glaciers.
I first became fixated on glaciers when I was young and as I researched climate change and began to teach my students about the changes that our beautiful planet has begun to undergo, I fell in love with these giant blue masterpieces. Byron Glacier's ice cave first came to my attention after I saw a random Instagram post from a local Alaskan.
Byron Glacier – Chugach National Forest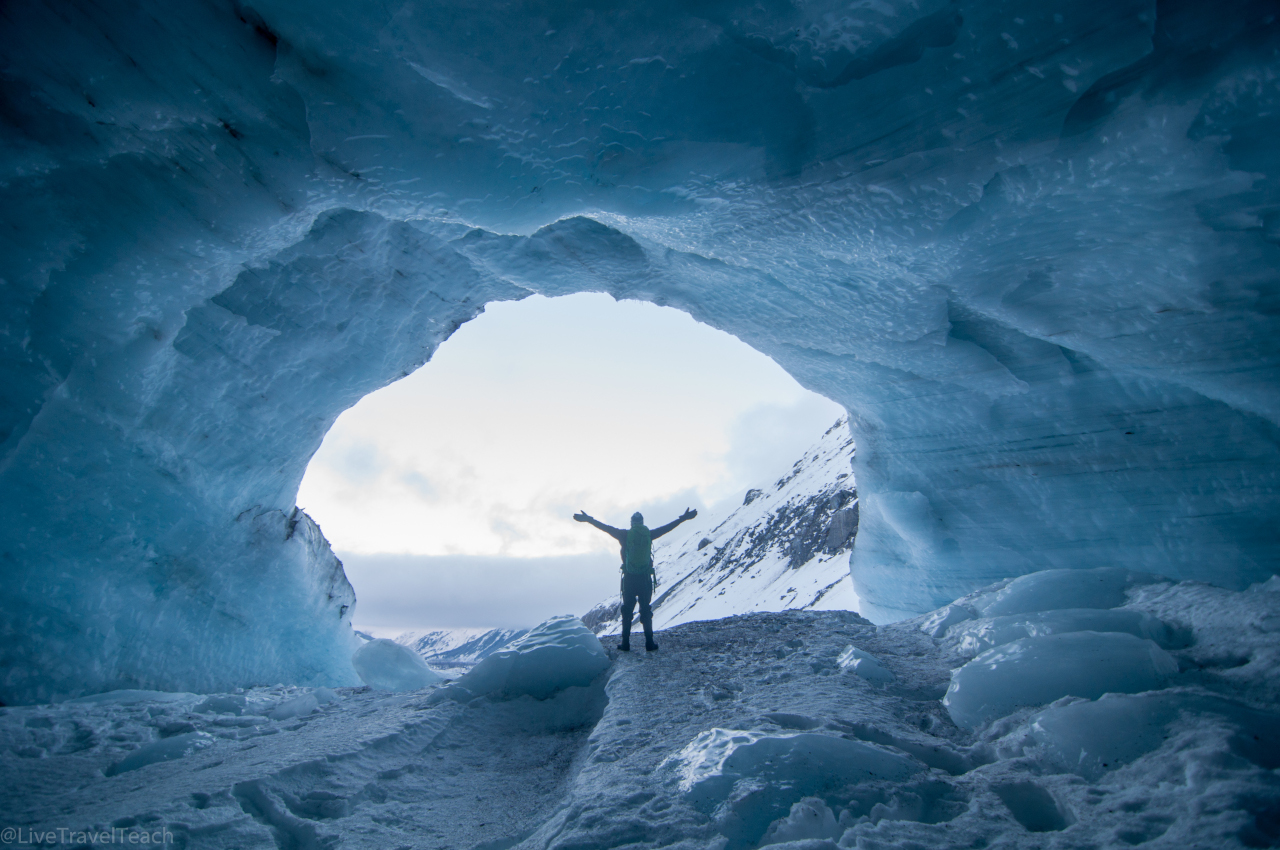 Ice caves can be treacherous and the first few times I hiked the trail towards Byron Glacier I didn't even dare go in the cave.
The hanging glacier in the distance was enough to capture my attention but I continued to be drawn to the ice cave.
I read more about avalanche risk and watched the weather, carefully picking days when there were less wind, more stable temperatures, and low avalanche risk.
Proper preparation is a ritual for all Alaskan adventures and has paid off wonderfully.
Out of a dozen or more hikes to Byron Glacier, I've entered the cave on three separate occasions and it is one of my favorite places on the planet.
That was until I spent a few nights backpacking in Wrangell St. Elias National Park and stared into the azure pools on Root Glacier.
Root Glacier lies in America's largest national park just a short walk from a historical copper mine and St. Elias Guides are the only way to ensure a safe trip for anyone wanting a proper adventure.
Root Glacier – Wrangell – St. Elias National Park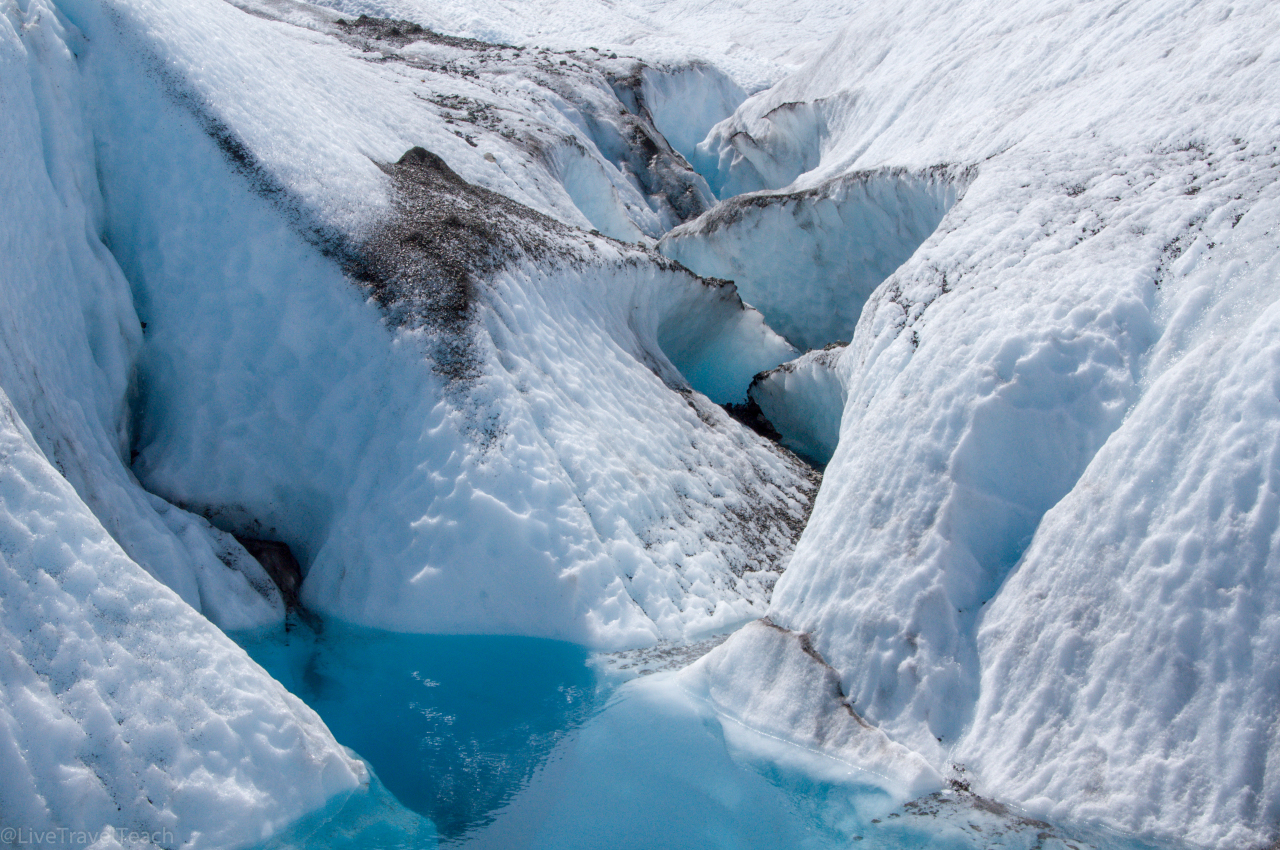 My brother, sister-in-law and I spent a long weekend cabin camping in McCarthy before backpacking out to Root Glacier.
The Stairway Icefall and Blackburn mountain frame a gorgeous panorama around Root Glacier but the glacial features steal the show.
Blue waterfalls carve sidewinding rivers that glisten a royal blue. I was brave (or crazy) enough to jump into one of the icy pools for a few seconds in an escapade that made me feel simultaneously on fire and yet somehow connected with nature.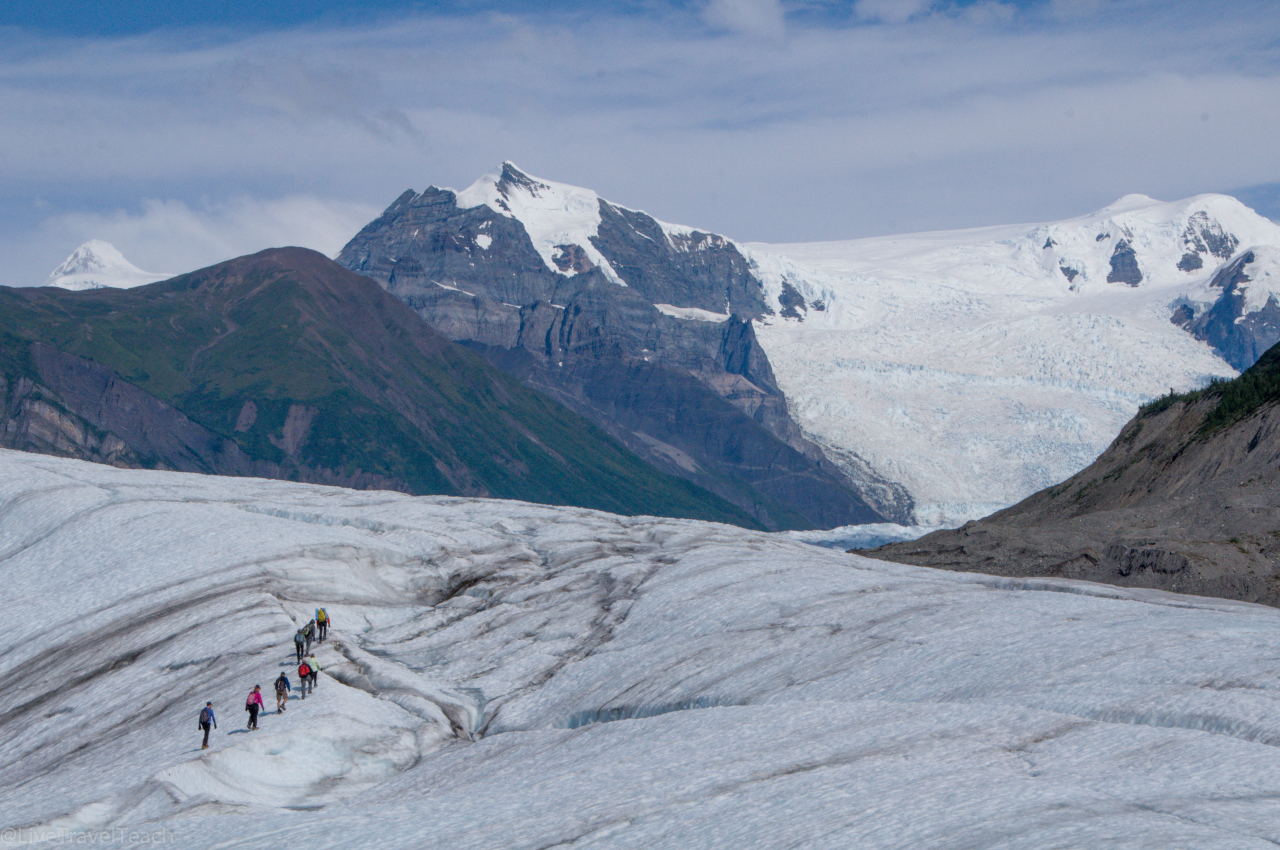 After exploring an ice cave and jumping in a glacier pool I worried that my Alaskan adventures had peaked. But then my girlfriend, Elizabeth, asked me to bike 20 miles along a frozen river to Knik Glacier!
We have a giant panorama from this adventure hanging in our den and realized we will have to do this one again some day.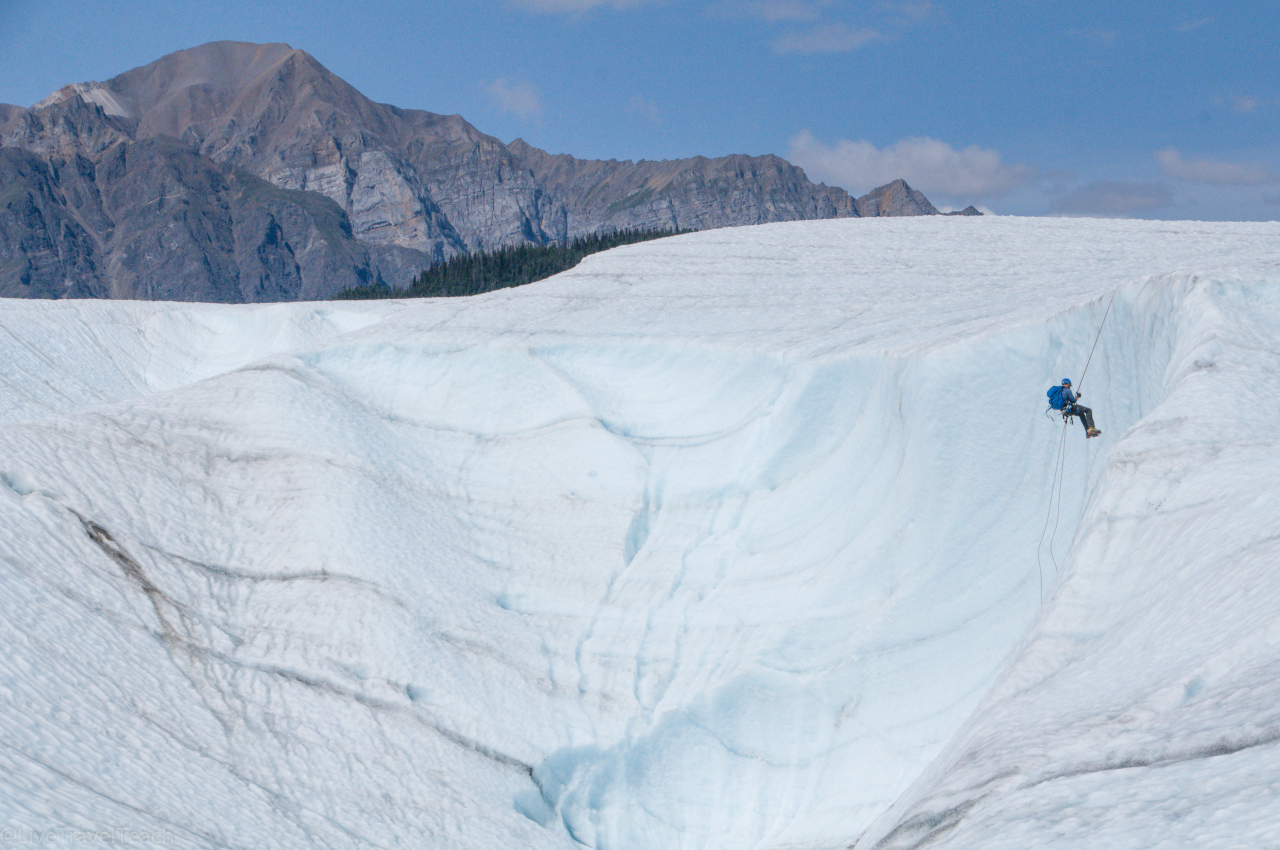 When the weather has been cold enough for long enough even a river can freeze and frozen rivers are a lot easier to cross than running ones.
Knik Glacier – Palmer, Alaska
We donned fat tire bikes with a handful of friends and pedaled onward. The day was my most gruelling experience to date and I almost gave up on more than one occasion.

Each time I thought about having to pedal back as far as I'd come across the snowy landscape I felt at a loss. Then I remembered the growth mindset that I teach my students and embraced my girlfriend's encouragement.
Soon enough we came to the final ridge before a frozen sea with icebergs frozen throughout. Giant blue sculptures jutted out of the icy lake as a magnificent glacier filled the valley beyond.
We biked across the frozen lake in between the azure massifs and even ate a picnic lunch on top of one!
We thought we fit the last possible weekend in with the bike ride and were sad to return home to news that Coronavirus had entered Alaska.
The state went into lockdown as the world learned what social distancing meant.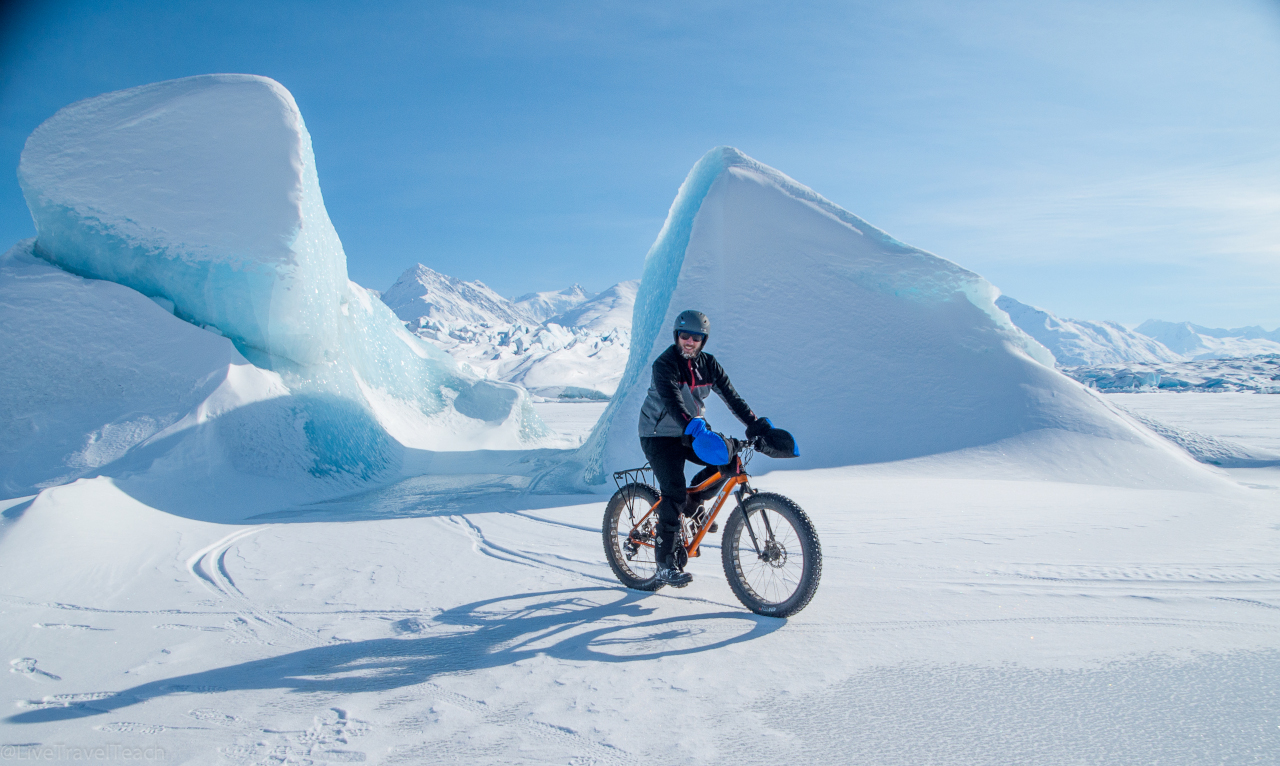 As our lockdown lessened and we watched the rest of the world remain stuck at home I felt even more grateful to be living in Alaska. Our parks remained open and snow lingered into April.
Knik Glacier is one of the best glaciers in Alaska and it should be included in any Alaskan adventure itinerary.
Skookum Glacier – Chugach National Forest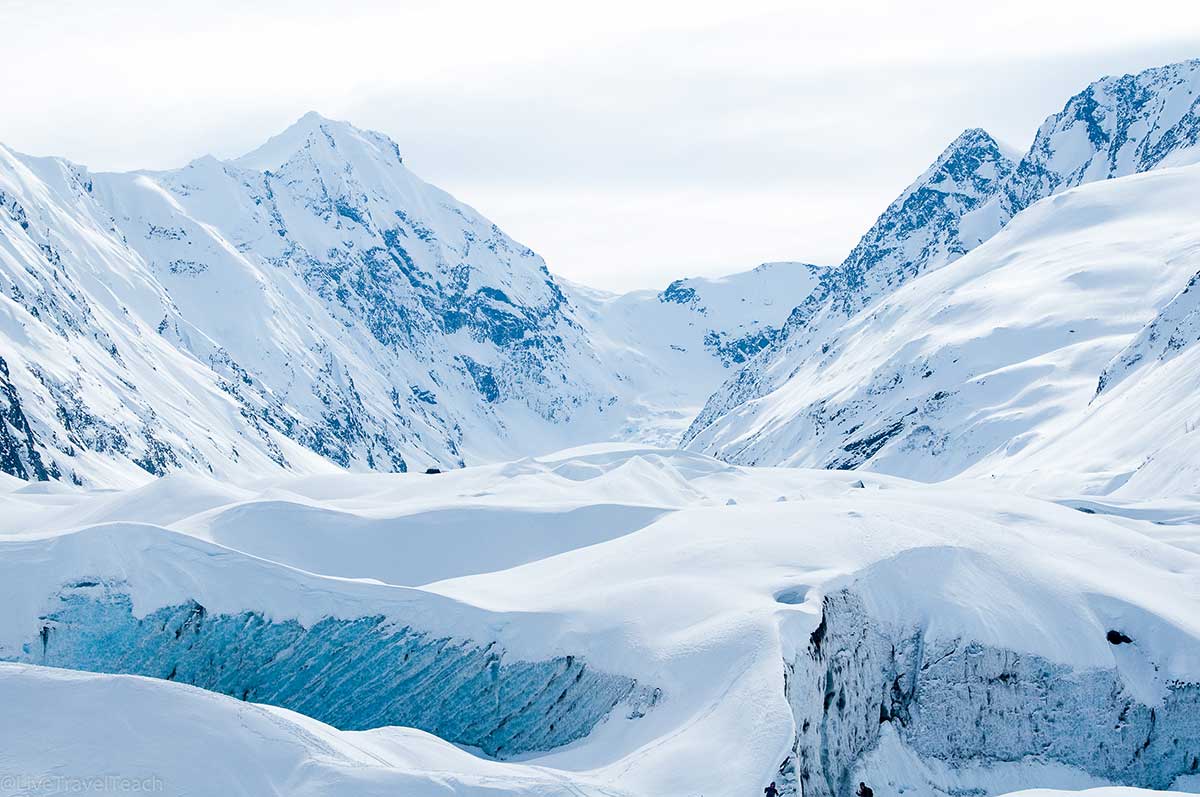 My girlfriend took advantage of the fact that she taught me to cross country ski in the depth of winter and began planning the trek to Skookum Glacier.
I had heard of Skookum before and knew it was just a few valleys over from Byron but never dreamed I'd be able to make the trip out there.
Skiing out on a wilderness adventure was on my Alaskan bucketlist but I was sure it would take much longer to reach this pinnacle.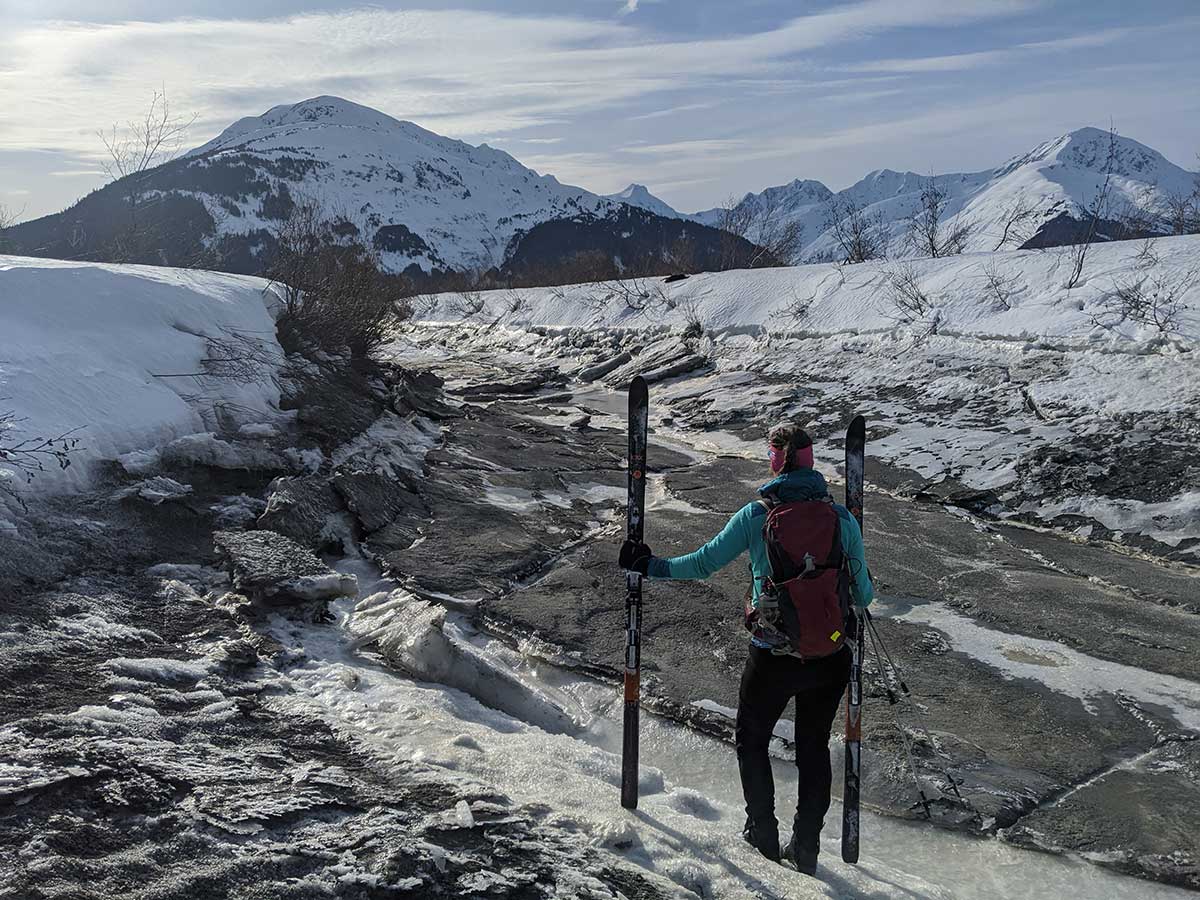 Yet again, Elizabeth tempted me onwards, literally skiing circles around me at times. She grew up in this wonderland and helped me cross 7 miles of snowy terrain before a pale blue ice wall appeared in the distance.
The valley shrank down before us until glacial ice filled it from edge to edge. We found ourselves encompassed in nature with clear blue skies, snow-covered mountains, and an incredible glacier to top it all off.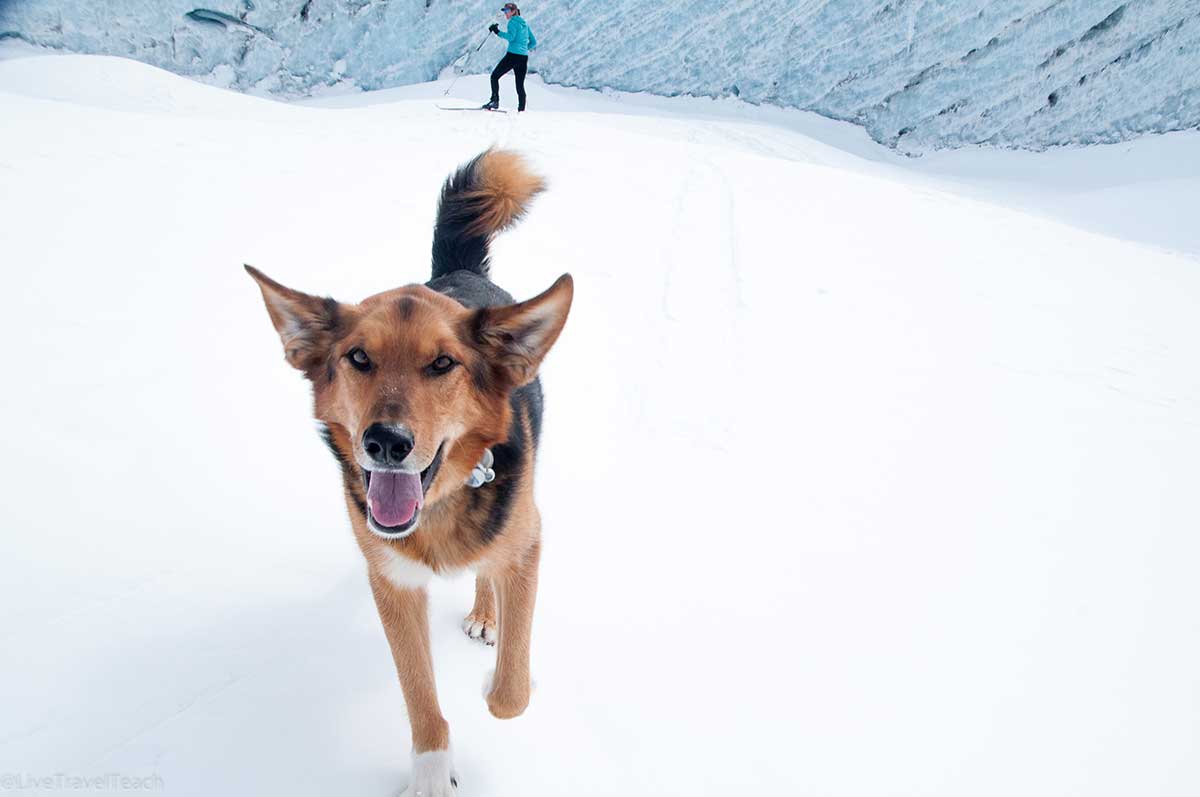 Alaska has been a dream come true for me. With one incredible adventure after another. Glaciers continue to amaze me and I can't wait to start planning my next Alaskan adventure.
About the author
Mike Still is a teacher in Anchorage, Alaska who loves to travel, take photos and write about his adventures around the world. He started LiveTravelTeach when he first moved to South Korea to teach and has continued sharing amazing photos and exciting adventures. He's traveled extensively throughout Asia but currently enjoys the unique experiences that Alaska offers. Follow him on Facebook and Instagram.