Planning a trip to Philadelphia, Pennsylvania's largest city, soon? Then you'll find numerous things to do in Philadelphia for every type of visitor. This Philadelphia travel guide by an insider will help you discover the best places to see in Philadelphia, the best hotels in Philadelphia, places to eat in Philadelphia and off the beaten path things to do in Philadelphia.
The recommendations are offered by a Philly native, Derek from Robe Trotting and will allow you to create a Philadelphia itinerary packed with amazing things to see based on your preferences. This guide includes famous Philadelphia attractions as well as lesser-known things to do in Philadelphia, places to stay in Philadelphia and restaurant recommendations to give you a complete idea of what to expect, where to go and what to do in Philly, USA. This guide is part of the free travel guides series on this blog.
Philadelphia travel guide by an insider: places to see in Philadelphia, where to eat and stay, and tips
Nestled between Washington DC and New York City along Highway 95, Philadelphia is a charming major city in the Northeast region of the United States. Philadelphia is the sixth most populous city in America but maintains a small-town feel. The city is a patchwork of neighborhoods with a vibrant and youthful downtown. It's much more manageable than New York City and doesn't come with the sticker shock.
Read here the local's guide to New York City and this 3-day itinerary for New York City by an insider and see the best day trips from New York here.
Philly is a lot more fun than Washington DC without the uppity facade. Philadelphia is full of American history, a wide range of art, a tremendous food scene and passionate, salt-of-the-earth residents.
Read this Washington DC travel guide to see what you can do here.
Philadelphia is the home of Independence Hall, where the American Declaration of Independence and Constitution were signed. It's home to four professional sports teams and some of the nation's best museums.
The Philadelphia restaurant scene is among the best in the country, and it's easy to get a table.
Philadelphia has the most murals of any city in America and there are some really cool tours of the best ones. There are so many reasons to visit Philadelphia, but these are just a few.
Most of the tourist attractions are in the Philadelphia downtown area which locals affectionately call "Center City".
Weather in Philadelphia
The weather in Philadelphia is typical of the northeast region of the United States. Winters in Philly can be cold and sometimes snowy and the summers can see heat and humidity.
Spring and Fall are normally temperate and comfortable which makes them my personal favorite seasons in Philadelphia.
With tourists still at bay but all attractions open for travelers, I recommend visiting Philly during the shoulder seasons. A popular, money-saving way to see the most of Philadelphia is with the Go Philadelphia Pass which can save over $1,000 for a family of 4 visiting the city.
Included in this Philadephia travel guide
Best places to see in Philadelphia – famous Philadelphia tourist attractions

Independence Hall
The Liberty Bell
The National Constitution Center
The Betsey Ross House
Christ's Church
Christ's Church Burial Ground and Ben Franklin's Grave
President's House Memorial
Philadelphia Mint
Free Quaker Meeting House
National Museum of American Jewish History
Elfreth's Alley
Ben Franklin Museum
LOVE Park
Philadelphia Museum of Art
The Rodin Museum
The Franklin Institute
The Please Touch Museum
Valley Forge National Park
City Hall Observation Tower
Dilworth Plaza at City Hall

Philadelphia off the beaten path – unique things to do in Philadeplhia


Philadelphia Magic Gardens
Schuylkill River Trail
Eastern State Penitentiary
Spruce Street Harbor Park
The Mutter Museum
Olde City Escape Games

Places to eat in Philadelphia

Where to stay in Philadelphia

Philadelphia travel tips
Best places to see in Philadelphia
When you go Philadelphia sightseeing, you'll discover that you have a lot of places to visit. Here are the Philadelphia landmarks you shouldn't miss on your trip!
Independence Hall
This is the ultimate historical site in the United States. Independence Hall is where the country was born and the Declaration of Independence was signed. Guided tours are free and conducted all day through Independence Visitors Center.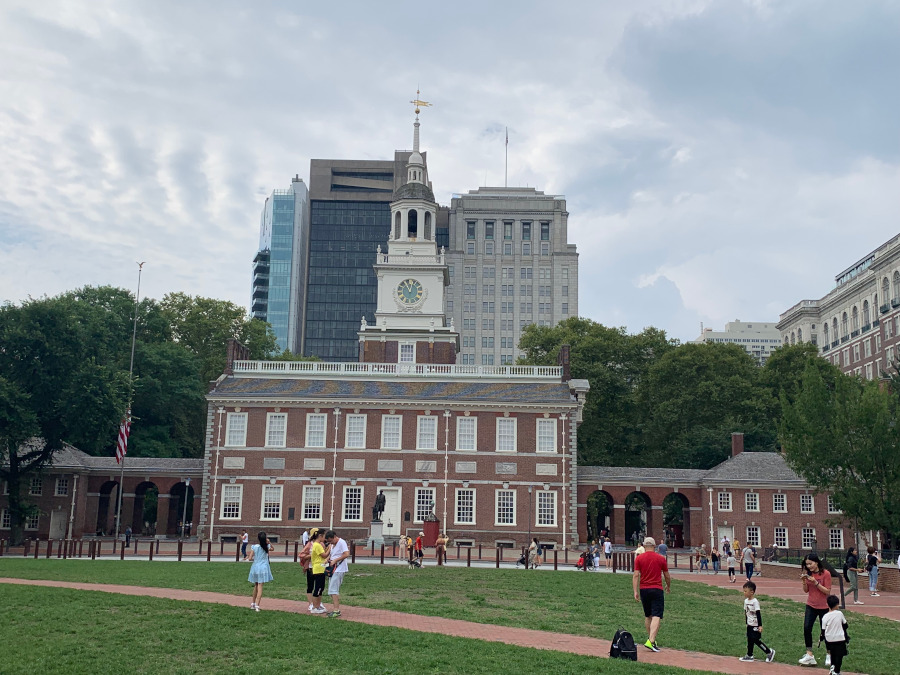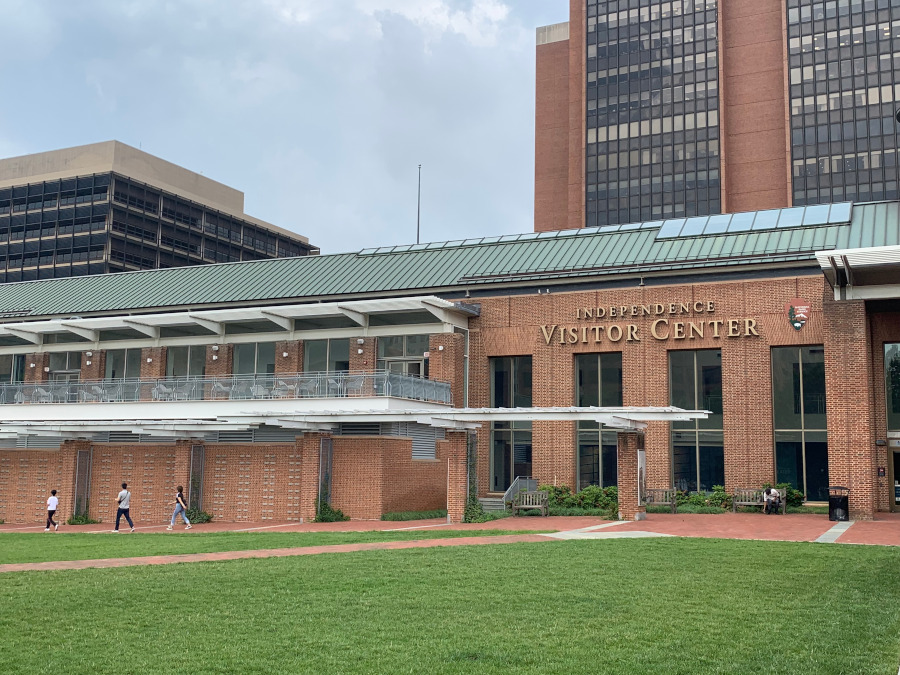 The Liberty Bell
This national symbol of America is on display for free at the Liberty Bell Pavilion. The exhibit there documents the history behind one of America's most revered items. Definitely one of the best things to see in Philadelphia.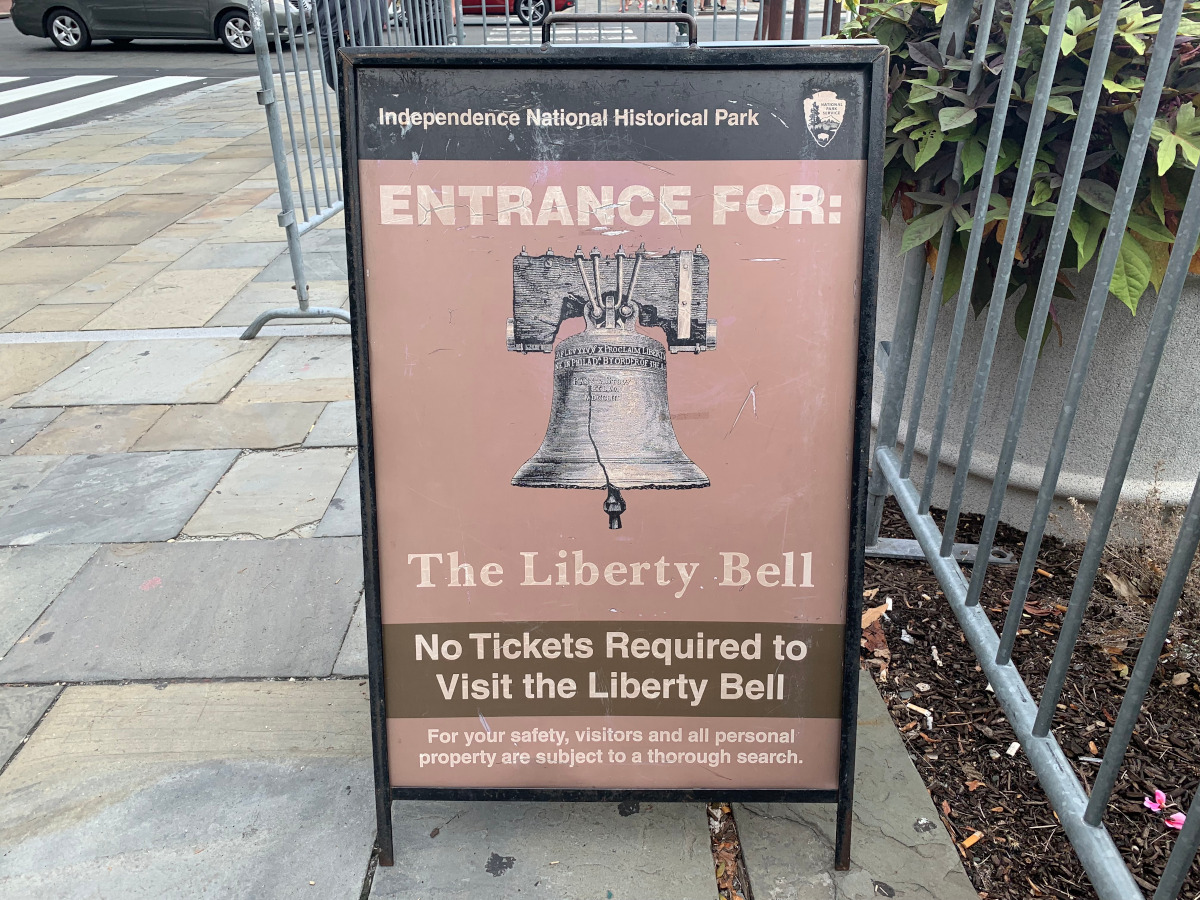 The National Constitution Center
This is a museum devoted to the American Constitution. It's an interactive, kid-friendly museum that also hosts traveling exhibitions – so you can easily see why it's included in this Philadelphia travel guide.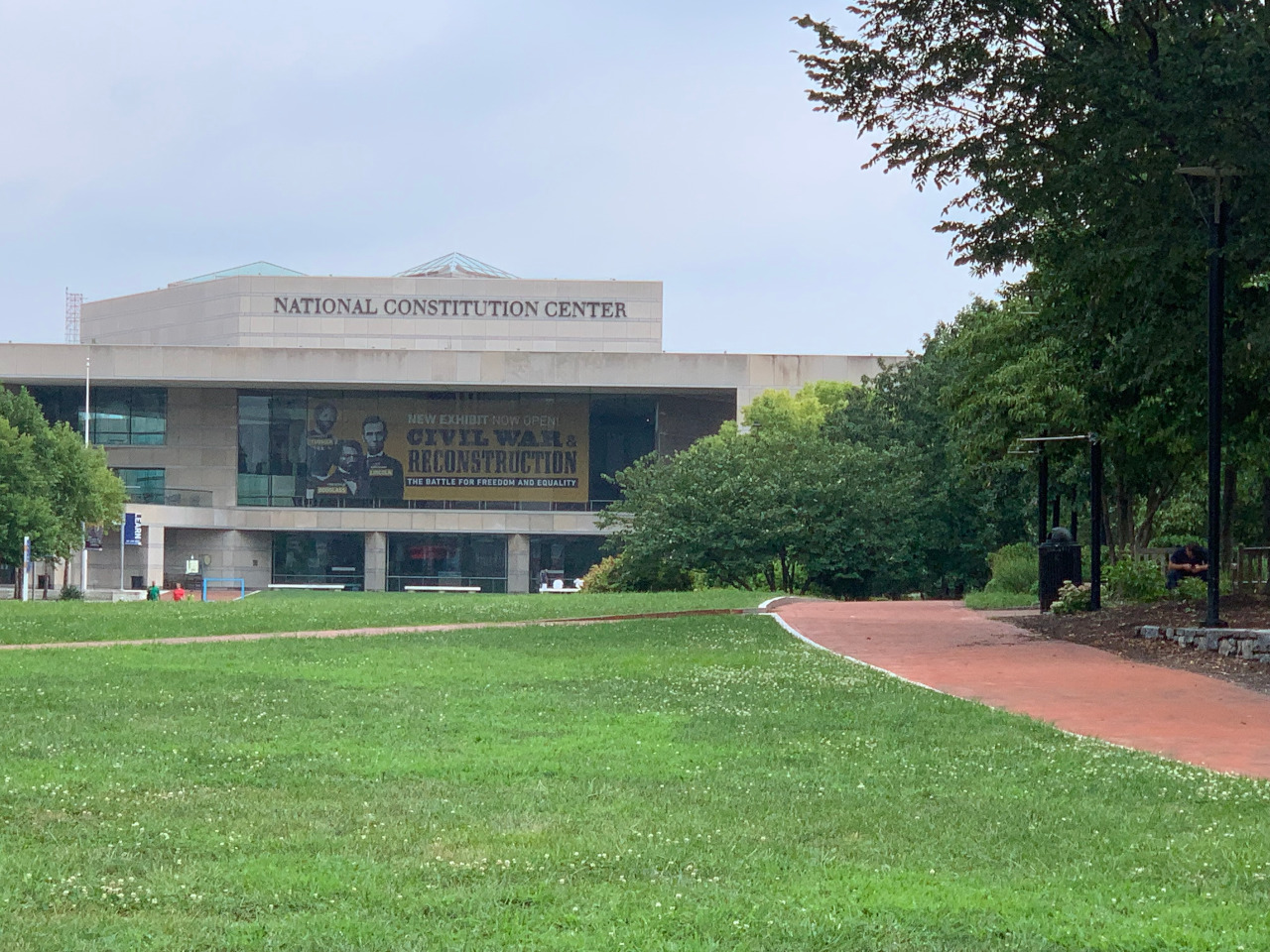 The Betsey Ross House
Betsey Ross is famous for creating the American flag for George Washington's army. Her well-preserved home still sits at 3rd and Arch Street.
There is a fantastic audio-guide and usually, live actors to enhance the experience. As a bonus, take a picture of her other famous neighbors – the cast of MTV's Real World Philadelphia lived next-door. All these are reasons to consider this house one of the top places to visit in Philadelphia.
Christ's Church
Still wondering what to do in Philadelphia? Well, this famous church was the place of worship for George Washington, Benjamin Franklin, and Betsey Ross. You can tour their pews and admire the interior of a Philadelphia landmark.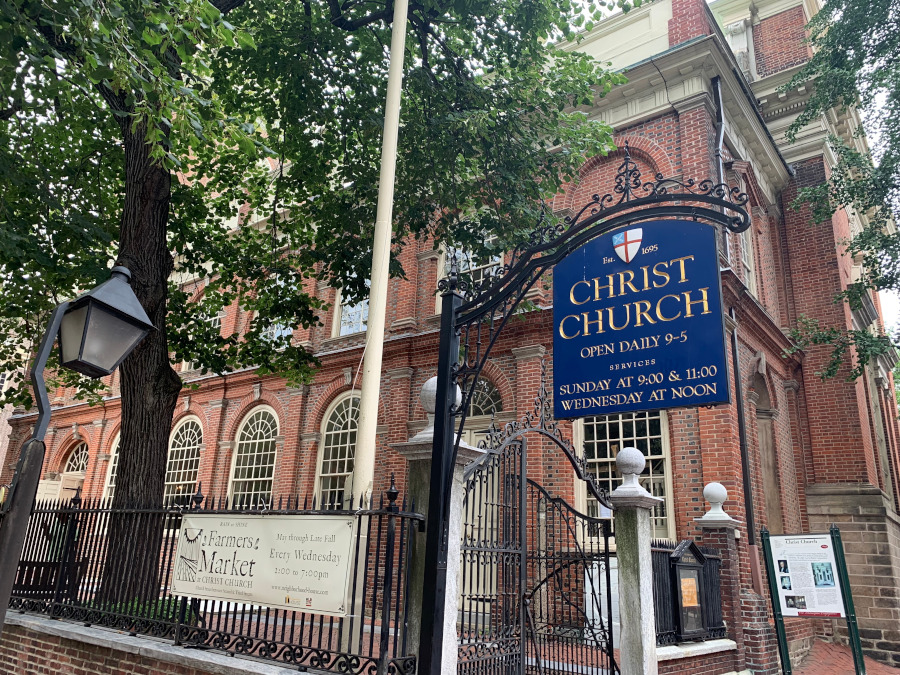 Christ's Church Burial Ground and Ben Franklin's Grave
A few blocks from Christ's Church you'll find the burial grounds of the congregation. The most famous person buried there is Benjamin Franklin. You can pay a small entrance fee or spy his grave from outside the fence at 5th and Arch Streets.
For good luck, throw a penny on his grave. People have been doing this for years in honor of Franklin's adage, "A penny saved is a penny earned."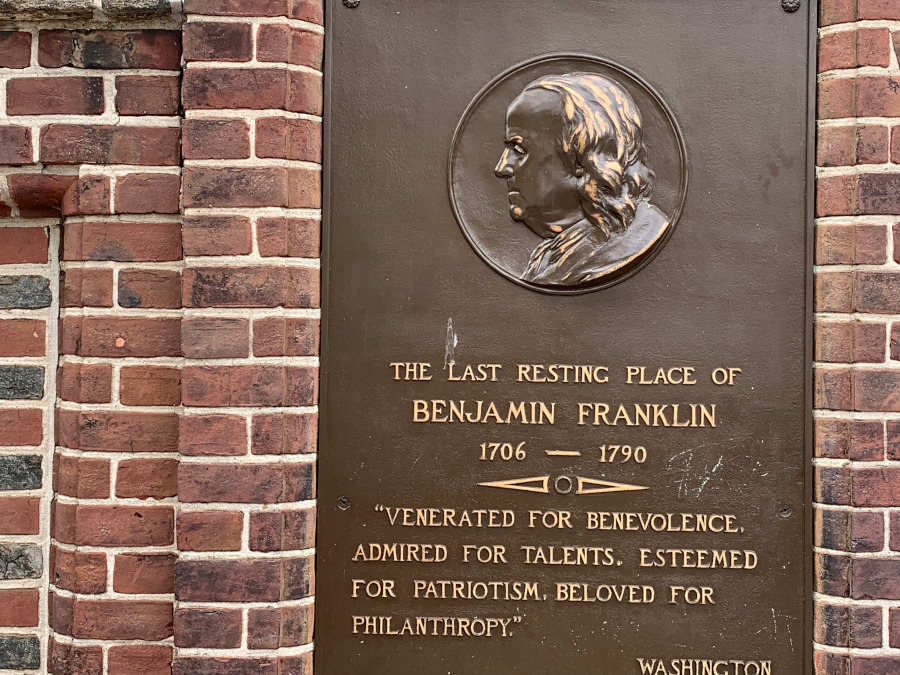 President's House Memorial
Philadelphia served as the temporary capital of the United States from 1790-1800. During this time Washington DC was being prepared as the capital. George Washington and John Adams served as president from Philadelphia and lived in a mansion on Market Street.
There are a memorial and exhibit located next to the Liberty Bell on the original foundation.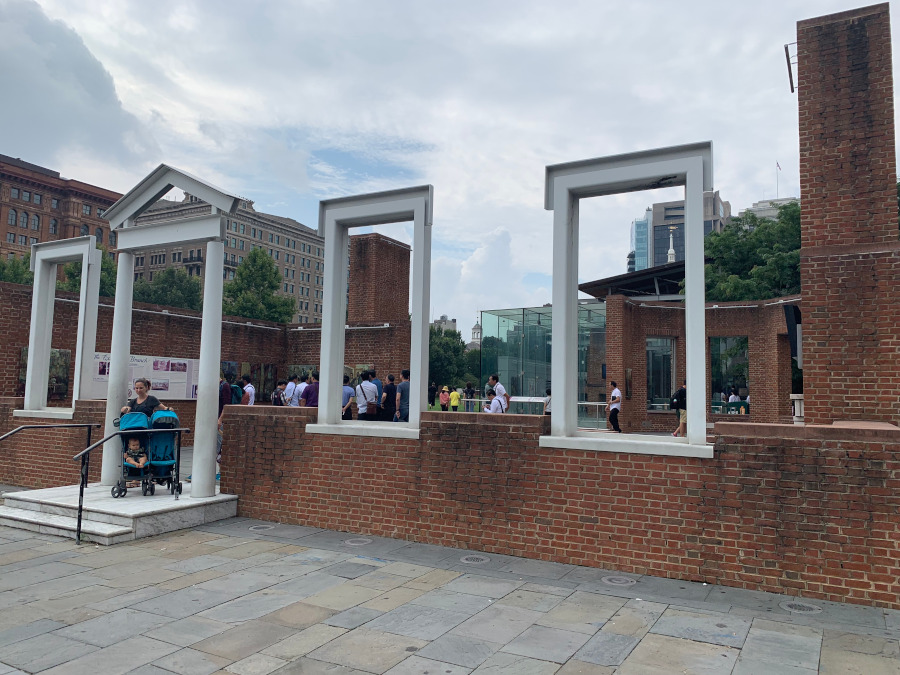 Philadelphia Mint
At Arch and 4th Street you'll find the US Mint. There are daily tours of the US Mint in Philadelphia.
Free Quaker Meeting House
With so many historical attractions in this area, many people miss the Free Quaker Meeting House. Don't skip this one, the story and history are fascinating.
Those who worshipped at the Free Quaker Meeting House played a key role in Philadelphia and Revolutionary history and you learn a lot about early religion in the United States.
National Museum of American Jewish History
This is a fantastic museum in Philadelphia that explores the existence and importance of Judaism in America. Inside you'll be given the complete history of the American Jewish community from the 1600s to modern-day.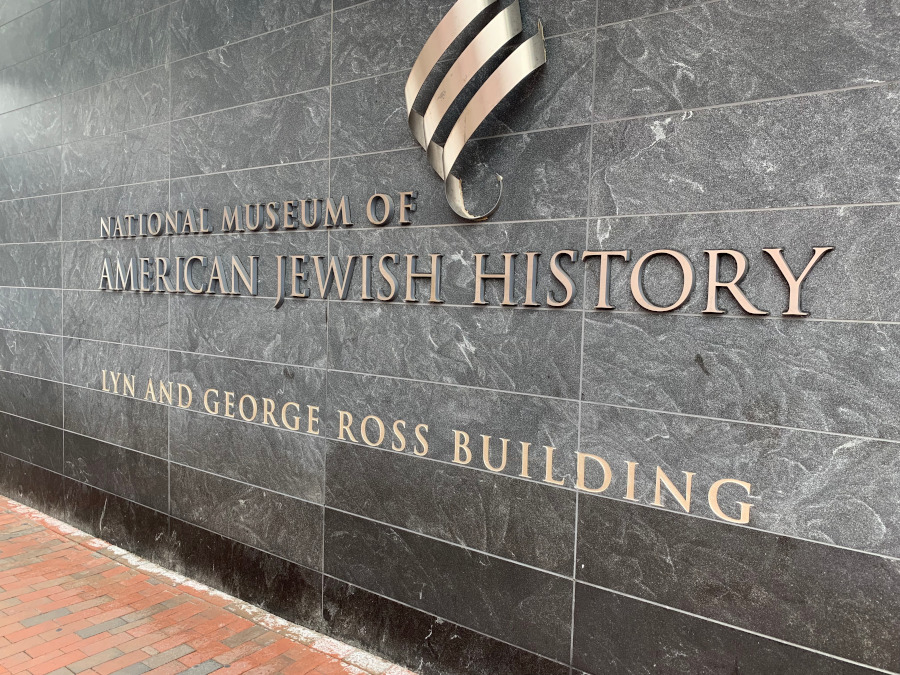 Elfreth's Alley
When in Philadelphia, you have to wander down Elfreth's Alley. This quaint cobblestone street is located in Old City and is the oldest continuously-inhabited street in America. This is, undoubtebly, one of the Philadelphia landmarks.
Ben Franklin Museum
The most famous Philadelphian, Ben Franklin, has a museum dedicated to him on Chestnut Street between 3rd and 4th. It displays artifacts and tells anecdotes of the life of this amazing American.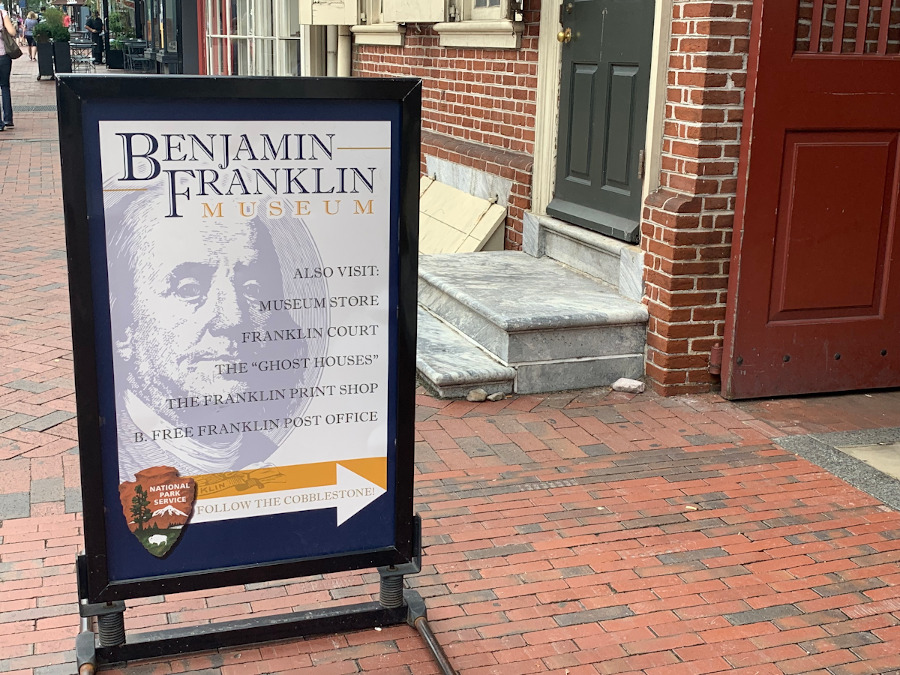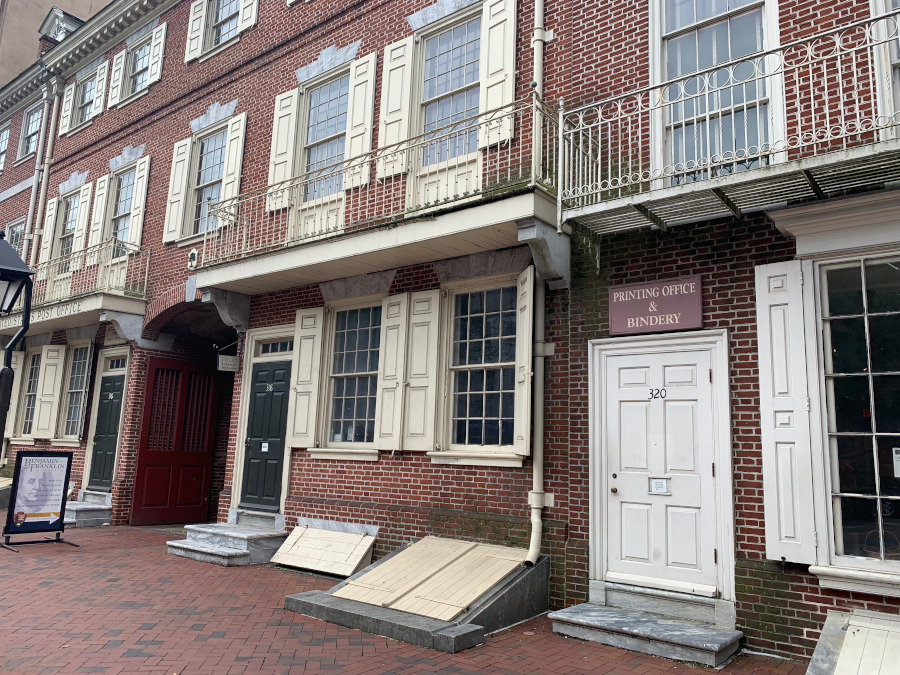 LOVE Park
Across from Philadelphia City Hall you have LOVE park. The LOVE sculpture there is an icon of Americana and the perfect place to snap a picture with your special someone. You also have a great view of the Philadelphia Museum of Art and the parkway before it.
Philadelphia Museum of Art
Perhaps more famous from The Rocky movies, The Philadelphia Museum of Art is home to incredible artwork from some of the world's masters. Make sure to include this on your Philadelphia itinerary.
The Rodin Museum
In the museum district, you have to stop at the Rodin museum. It's an indoor/outdoor exhibition of the work of Auguste Rodin and his largest collection of work outside of Paris which makes it one of the top tourist attractions in Philadelphia.
The Franklin Institute
Next on your Philadelphia sights list is the Franklin Institute. This interactive science museum is a must-do if you are traveling to Philadelphia. It's especially captivating for school-aged children and carries out Benjamin Franklin's legacy of scientific-curiosity.
The Please Touch Museum
For younger children, ages 3 and up, there is an even better interactive museum. Take them to The Please Touch Museum to play and learn in a cool museum where the name explains all you need to know.
Valley Forge National Park
This one is a little bit outside of Philadelphia, but it's a worthwhile day trip. Valley Forge National Park is a sprawling park preserving the 1777-78 winter encampment of the Continental Army.
You can tour recreations of the cabins shared by Revolutionary soldiers and see where Geroge Washington trained his troops through a frigid winter.
City Hall Observation Tower
For a panoramic view of the city, climb to the top of City Hall and capture Philadelphia from above.
Dilworth Plaza at City Hall
Around City Hall, you have the lovely Dilworth Plaza. There is a dancing fountain during the summer months and in the winter season, you have Christmas markets and an outdoor ice skating rink. It's a great place for a cup of coffee and people watching.
Off the beaten path things to do in Philadelphia
There are some unique things to do in Philadelphia that I truly recommend. So, here's my list of the best off the beaten path attractions in Philaldephia.
Philadelphia Magic Gardens
This is a hip alternative art installation located on South Street between 10th and 11th. Multiple city lots are connected and reimagined in a mosaic gallery and garden sculpture format. They offer education programs and children's programming throughout the year.
Schuylkill River Trail
The Schuylkill River Trail is a great destination for anyone looking to get a run in while visiting Philly. It stretches miles from Fairmount Park along the River and passes landmarks like Boathouse Row, the Philadelphia Museum of Art and Schuylkill Banks.
The Banks is the southernmost end of the trail and it's a boardwalk built into the river. You have a great view of the city skyline from Schuylkill Banks and it's adjacent to Schuylkill River Park.
Eastern State Penitentiary
You may not think that an old prison is worth visiting, but Eastern State Penitentiary is a cool addition to your Philly itinerary. It's one of the most haunted places in the US and has a fascinating history including housing mobster Al Capone. The audio-guide is fantastic for a self-guided tour and at Halloween, they go all out with a haunted house (prison).
Spruce Street Harbor Park
There are a lot of great beer gardens in Philadelphia that pop-up for the summer, but the best of them all is Spruce Street Harbor Park. It's located on the Spruce Street Pier along the Delaware River just south of Penn's Landing. It boasts street food from local favorites and beautiful lighting and a floating park and beer garden.
The Mutter Museum
On 22nd Street between Market and Chestnut Street you'll find the Mutter Museum, one of the quirky things to do in Philadelphia.
It's housed by the College of Physicians of Philadelphia and features over 20,000 unusual medical specimens. It's not your average museum but promises a unique experience.
Olde City Escape Games
I think adding an escape room to your travels is a fun way to immerse yourself in the local culture. The escape room in Olde City Escape Games is a perfect way to cap off touring the history of Philadelphia. Their main room puts you right in the midst of the American Revolution as you help Ben Franklin himself advance the cause of American freedom.
Places to eat in Philadelphia
There are many great places to eat in Philadelphia as well as amazing Philadelphia restaurants you should try.
Reading Terminal Market
This is an enclosed market with produce and food vendors located at 12th and Market Streets. There are all kinds of local and regional foods to try from Philly favorites to Pennsylvania Dutch treats.
Independence Beer Garden
After a visit around Independence Hall, cap off your historical tour with a beer and a snack. Located across the street from the Liberty Bell Pavillion, IBG is a fantastic outdoor eatery and beer garden.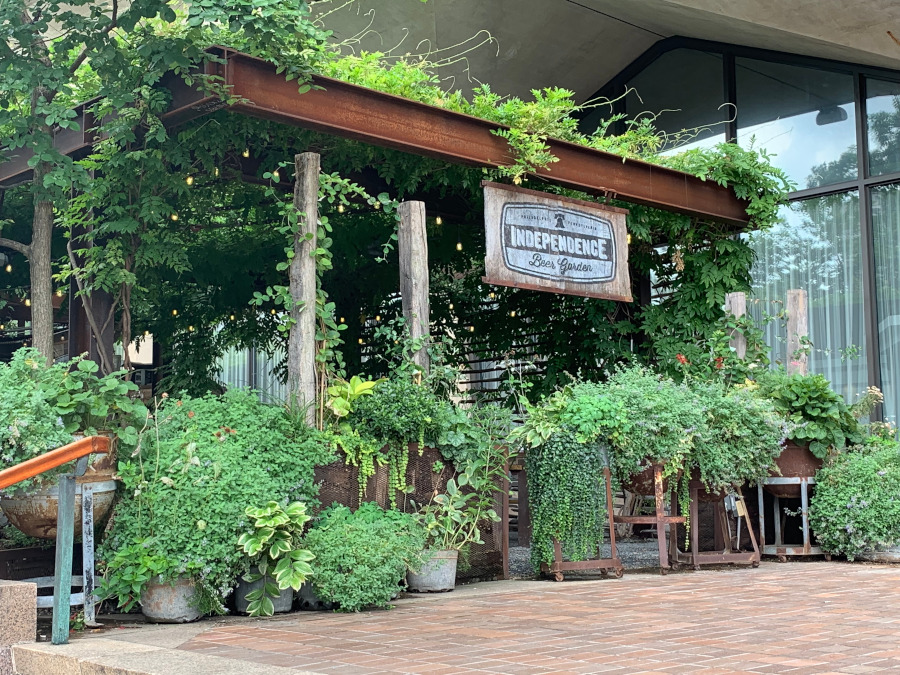 13th Street Corridor
Philadelphia has some amazing restaurants. Some of the best in the country are situated along the 13th Street corridor in the MidTown/Gayborhood area. They include Barbuzzo, Sampan, Jamonera, and many others. Besides the food scene, there are charming local shops along this street so it's a perfect place to spend the night.
D'Alessandro's Steaks
Every Philadephian has a favorite cheesesteak shop, so I have to offer my own – D'Alessandro's Steaks in Roxborough. The neighborhood is outside of Center City, but it's worth taking a train, Uber or bus there for the best cheesesteak in town.
East Passyunk Italian Market
Philly is a city of neighborhoods, mostly settled by immigrants when the city expanded in the early 1900s. The old Italian neighborhood is still an exciting place to visit and conduct some culinary exploration. Check out Sarcone's Italian Bakery on S. 9th Street – it's an institution – and get a slice of their famous tomato pie. It's a Philly classic.
Philadelphia Pretzel Factory
The original Philadelphia Pretzel Factory can be enjoyed at franchises all over the Philly area. There are locations all over the city and their taste is the same in each one. Treat yourself and try this Philly favorite!
Franklin Fountain
Located in Old City, you need to try Philadelphia's best ice cream. It's an old fashioned ice cream parlor located on Market Street between Front and S. 2nd Street. If it's named after Benjamin Franklin, you have to trust the goodness of this adorable dessert spot.
Federal Donuts
Another local favorite, federal donuts are a Philly treat. There are various locations around the city and Federal Donuts specializes in unique flavor experimentations in their counter-service coffee and donut shops.
Places to stay in Philadelphia
There are many accommodation options in Philadelphia that you can consider. Here is a selection of hostels and hotels in Philadelphia for all budgets.
Philadelphia Hostels:
Chamounix Mansion
This hostel is north of the Center City and located in Fairmount Park. It's part of a renovated mansion that is full of character and can be a cheap place to stay. If you're focused on spending most of your time in the Center City area, you can still reach the attractions there by Uber and save money by staying here.
City House Hostel
This hostel is located in a prime location in Old City. It's a clean facility with well-appointed rooms and friendly staff. The nightlife in this area is particularly popular with the young professional and college-age crowd.
Apple Hostels Philadelphia
Another Old City hostel, this one is a little pricier but offers deals on stays of 7 days or more. The location is great and will put you conveniently near public transit and historical attractions.
Philadelphia Hotels:
Double Tree Philadelphia Center City (4 star)
The Doubletree is situated in a fantastic location. It's right in Center City, near the subway and close to dining and nightlife. The spacious rooms are simple and clean with nice views of the city.
Hotel Monaco (4 stars)
This hotel is in a fabulous location, meer footsteps away from Independence Hall. If you'd like to stay in the midst of American history, Hotel Monaco is a great option. It also has a fantastic restaurant, bar and club with stately rooms and excellent service.
The Rittenhouse Philadelphia (5 stars)
Iconic Rittenhouse Square is of course the location of some of Philadelphia's most iconic hotels. Stay in luxury at The Rittenhouse Philadelphia. The boast personalized guest experiences and world-class service in the most desirable location in the city.
Loews Hotel (4 star)
The Loews Hotel is right in the middle of the city with a masterfully designed rooms and excellent service. It's close to transportation and in a lively neighborhood with a fantastic restaurant.
Ritz Carlton (5 star)
The Ritz Carlton Philadelphia has large, decorative rooms in a historic downtown building. The hotel offers a level of service that has made their name known around the world. With a stunning location in the shadow of Philadelphia City Hall, you won't have to go far to find something exciting to do.
Penn's View Hotel (3 stars)
This charming hotel is small, quaint and in a lovely part of the city. The rooms are individually designed and staff is extremely helpful. They offer the kind of service that is too often lost with modern day large hotel chains.
Holiday Inn Midtown (3 stars)
Overlooking the Delaware River, The Holiday Inn Midtown is a budget option in the trendy and exciting Penns Landing area. A short walk to the Riverfront and Old City mean that you've got plenty to find right outside of the hotel.
Philadelphia travel tips
Like all major American cities, there is crime in Philadelphia. The main areas to avoid are the north and west portions of the city. The Center City area is, however, considered one of the safest downtown areas of any city in the United States.
Of course, tourists should exercise caution walking around anywhere alone at night. Center City is well-lit and busy throughout the day and night and it's very easy to find a taxi or book an Uber to avoid walking alone at night.
It's okay to visit the Rocky Statue at The Philadelphia Museum of Art, but don't do the fist-pumping thing. Also, refer to the steps as "the Art Museum Steps" and not "the Rocky Steps". This will help you make friends with locals who know there's more to that museum than Rocky (even though we still love Rocky).
One formerly popular street to avoid altogether is South Street. It's okay to shop during the day, there are some kitschy stores, but it's past its prime. The street used to be cool 15-20 years ago before the city had its Renaissance. Now it's a bastion of underage drinking and rowdy college students.
There are far neater shops in midtown and better bars and cafes too. If you want a dive bar without the underage crowd, head to Dirty Frank's at 13th and Pine. It's cash-only, but the best kind of dive bar!
While in Philadelphia, also avoid Pat's and Geno's. These are the two "famous" cheesesteak stands and have become over-hyped tourist traps. Their cheesesteaks are not even close to the best in Philadelphia. Do not ask a local which they prefer because they'll laugh, but they'll probably point you to their favorite neighborhood cheesesteak.
Philadelphia is a wonderful place to visit and an even better place to live. I grew up in the area and spent 10 years living downtown. The residents of Philadelphia are proud, passionate and colorful. It's a diverse town with a lot to offer anyone willing to explore. Philadelphia is known as "The City of Brotherly Love" and I think you'll leave knowing why Philadelphians love their city.
About the author
Derek Hartman is a Philadelphia area native and currently lives in Copenhagen, Denmark. He runs the blog, Robe Trotting with his partner where they document their world travels and life abroad. Follow him on Twitter, Instagram, and Facebook too.