If you want to visit India, then you should plan a Sikkim trip as well!
Here, you'll be able to enjoy the mighty nature in an unaltered form. From old, impressive monasteries to frozen lakes, great hospitality services, and locals warmth, you'll have it all here.
This perfect 10-day Sikkim itinerary shows you the best places to visit in Sikkim, India and the best Indian experiences to have here.
The recommendations for the perfect Sikkim trip and the useful tips for visiting Sikkim are presented by High On Himalayas and will help you have the best Sikkim vacation possible, admiring the best views, discovering the top attractions, the culture and more.
The perfect 10-day Sikkim Itinerary: Places to visit in Sikkim, India
Dylan's 'Blowing in the wind' plays in the car while you traverse though the winding roads in the lap of the mighty Himalayas. The snow-capped peak of Mt. Kanchendzonga engages in playing hide and seek and the green waters of Teesta River accompany you throughout your journey. Yes, that's Sikkim, for you!
Sikkim, India's first fully organic state is bordered by Bhutan, China's Tibet Autonomous region, and Nepal.
With its rich culture, unique geographical location, climate and biodiversity, Sikkim is famous among all sets of travelers, be it a backpacker, family vacationer or anyone in between. Sikkim offers a myriad of experiences – frozen lakes in high altitudes, picturesque valleys with rhododendrons in full bloom, vast tea gardens and century old monasteries.
In the beautiful state of Sikkim, you'd receive out of the world hospitality and discover the best of nature. A visit to Sikkim is a must for every traveler who seeks to experience nature in its unadulterated form.
Go ahead to read this 10-day itinerary to know more about the destinations in this mountain state and experience an epic trip to Sikkim.
How to reach Sikkim
The nearest airport to Sikkim is Bagdogra Airport.
The nearest railway station to Sikkim is New Jalpaiguri.
From Bagdogra/New Jalpaiguri take a private cab or a shared vehicle to Gangtok, which is the starting point of your trip.
This 10 days Sikkim itinerary includes:
Day 1: Bagdogra to Gangtok
Day 2: Explore Gangtok city
Day 3: Gangtok to Lachen
Day 4: Gurudongmar Lake and Lachung
Day 5: Yumthang Valley, Zero Point, and back to Gangtok
Day 6: Gangtok to Ravangla and Kewzing
Day 7: Explore Kewzing
Day 8: Kewzing to Pelling
Day 9: Kecheopalri Lake
Day 10: Pelling to Bagdogra and fly out
Sikkim Itinerary – In detail
Day 1: Bagdogra to Gangtok
Your trip to Sikkim starts with an incredible journey from Bagdogra to Gangtok. Just as you cross the city of Siliguri, you'd be entering forests in Sevoke region, followed by the first sight of the Teesta River.
Watch out for the very famous Coronation Bridge built in 1937 that you will come across (but won't cross) on your way.
After a drive of about 2.5 hours, you'd be entering Sikkim through Melli check post. Stop at Oasis Café in Majitar for a meal. This café with open seating, overlooking the Teesta River will mark the best start of your trip.
It will take you another 1.5 hours to reach Gangtok, the capital of Sikkim. Spend the evening strolling at MG Marg, the most chic spot in Gangtok.
Check out the cafes and pubs in MG Marg. Most notable ones are – Café Live & Loud, Sass and Guff, Nimtho, and The Coffee Shop.
Day 2: Gangtok sightseeing
Assigning an entire day to go around Gangtok would be a good idea, so the second day of this Sikkim Itinerary focuses on this city.
Though the city is well developed, it is entwined with history and culture at many junctures.
Start your day with a sumptuous breakfast consisting of a Himalayan platter at The Coffee Shop or Bakers Café and set off to explore the best of Gangtok.
Take a drive of 23 kms to visit Rumtek Monastery, the largest monastery in Sikkim and spend some time in the courtyard to soak the spiritual vibe.
Return to Gangtok and head to Namgyal Institute of Tibetology. This institute, built to promote scholastic and cultural research, houses a museum with an amazing collection of paintings, statues, scriptures, and artefacts to educate visitors about Tibetan Buddhism and culture.
Visit Tashi Viewpoint from where you'd be able to spot the snow-clad peaks of Kanchendzonga and it is one of the best places to visit in Gangtok.
While coming down from Tashi Viewpoint, stop at Banjhakri waterfall surrounded by a landscaped garden spread over 2 acres of land.
Also, visit The Flower Exhibition Centre, Do Drul Chorten, Enchhey Monastery and take a cable car ride over Gangtok city if time permits. One thing is clear: there are numerous Gangtok attractions worthy to be discovered!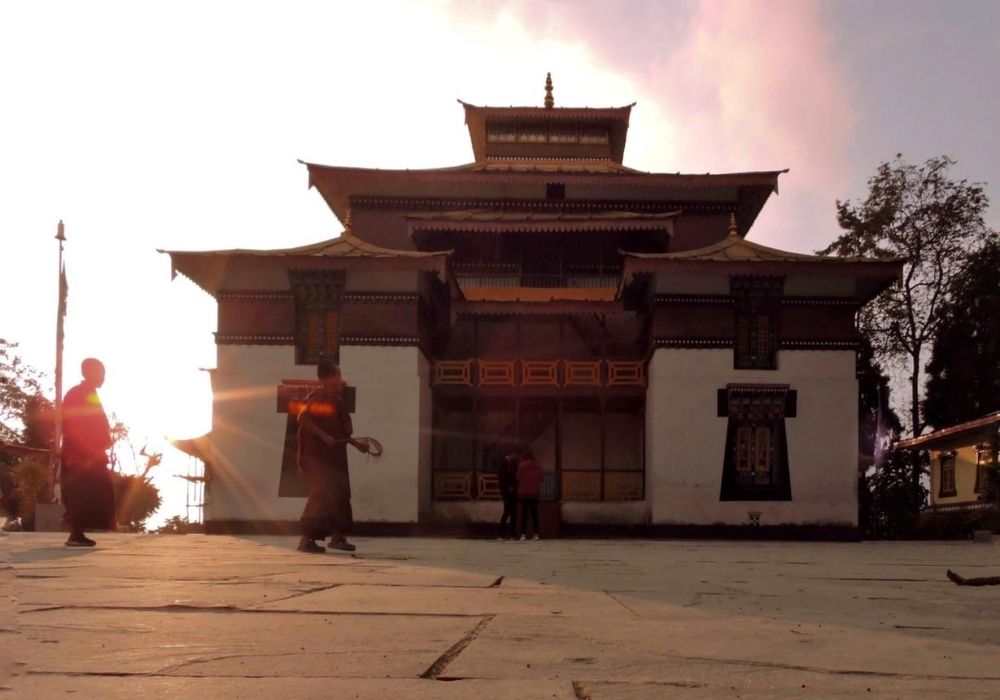 Day 3: Gangtok to Lachen
Day 3 of the 10 days in Sikkim trip marks the beginning of an exciting road trip to North Sikkim, something that's highly recommended in this Sikkim Travel Guide.
Try to leave as early as possible so that you can stop multiple times on the way. This journey, covering about 121 kms would take approximately 7 hours.
Stop at Singhik Viewpoint and Seven Sister Waterfall on the way, the two most popular spots in this route.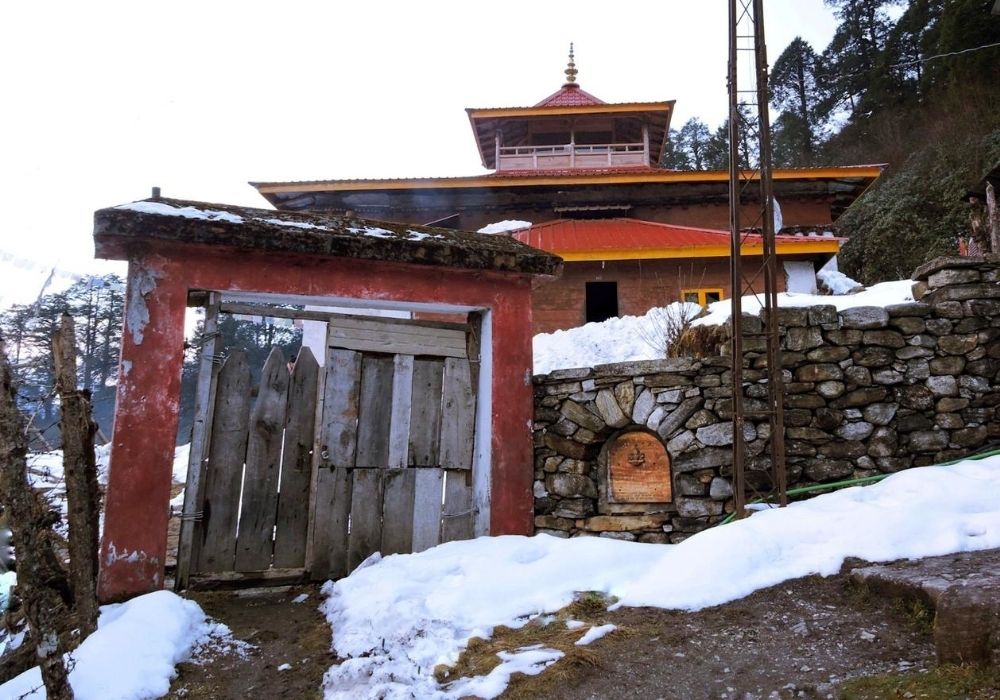 Lachen is a quaint secluded village in North Sikkim situated at an altitude of 9000 ft which serves as the base for heading to Gurudongmar Lake the next day.
If you manage to reach before evening, hike up to Lachen Monastery, one of the oldest monasteries of Sikkim built in 1858.
The monastery is situated at a higher ground as compared to the village and offers a wide view of the entire village of Lachen. Drop in at the Handicraft Center to check and buy various items that are locally crafted. As you can see there are plenty of things to do in Lachen to include on your Sikkim itinerary.
Head back to your hotel and wait for a jaw-dropping experience that is going to come your way on the next day.
Day 4: Gurudongmar Lake and transfer to Lachung
The journey on your fourth day of your Sikkim vacation begins as early as 4am. It takes about 4 hours to reach Gurudongmar Lake from Lachen.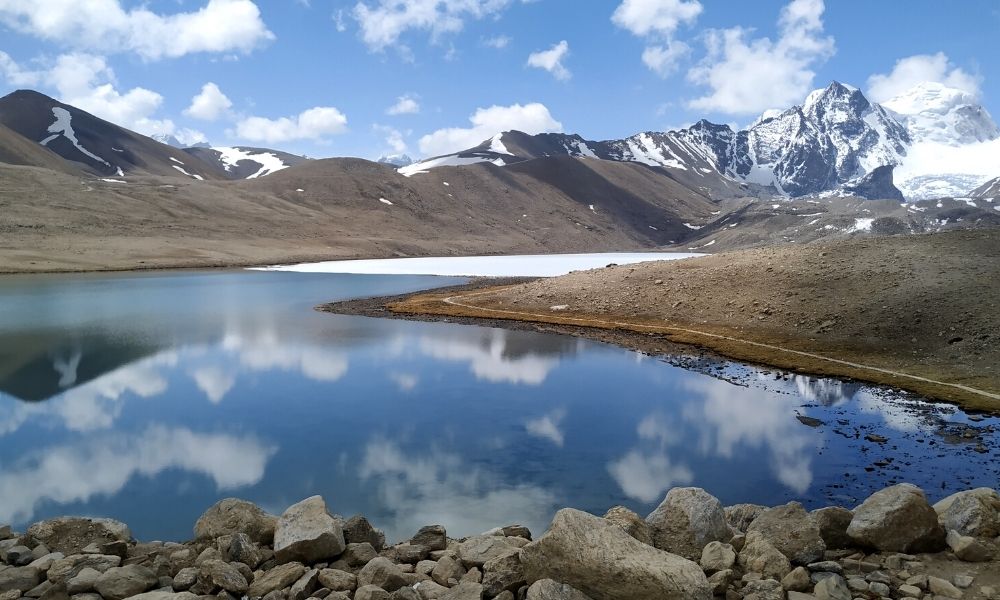 The weather conditions at Gurudongmar Lake start to deteriorate as the head progresses so it is advisable that you reach the spot early and head back early.
On your way, you'd be stopping at Thangu situated at an altitude of 13000 ft, the last village on this route. You can take a quick sip of tea or have some hot maggi to keep you warm.
The sight of the alpine meadows dotted with wooden houses is an absolute delight and will elevate your excitement of reaching Gurudongmar Lake.
Upon reaching Gurudongmar Lake, you'd realize that it is undoubtedly the major highlight on your trip to North Sikkim. Situated at 17,800 ft, this high altitude lake is surrounded by snow-covered Himalayan ranges.
Legends say that the lake was touched by Guru Padmasambhava after locals prayed to him for the scarcity of water in this area as the lake remained frozen throughout the year. The part of the lake that was touched by Guru Padmasambhava, never freezes, even during winters.
Thus, the lake is not only a treat to the eyes, but is also considered holy by the locals. After spending some time by the lake and taking pictures with all your heart and soul, return to Lachen for lunch.
Post lunch, drive to Lachung – the twin hamlet of Lachen, where you'd be spending the night.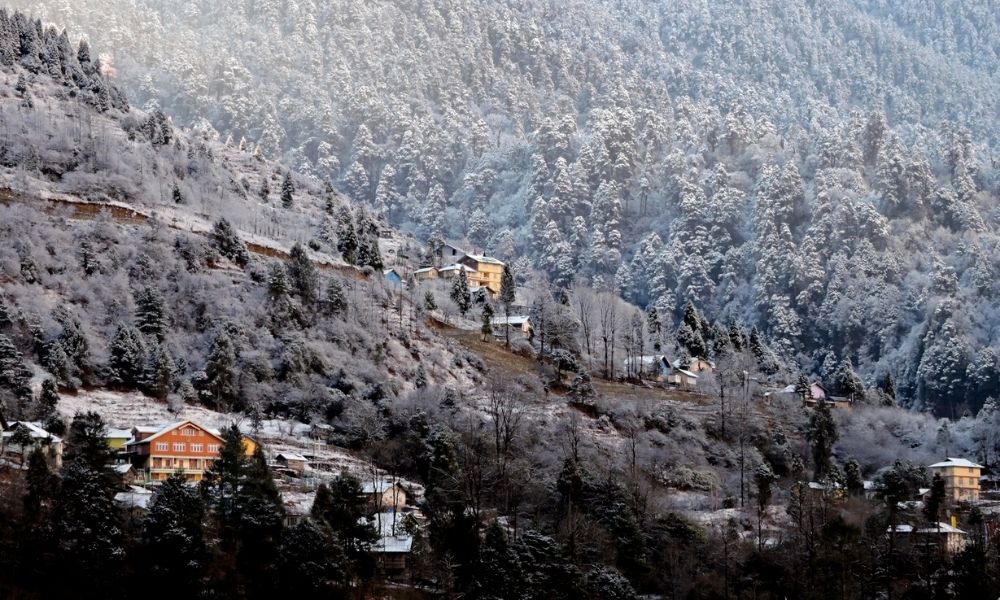 Day 5: Yumthang Valley, Zero Point, and transfer to Gangtok
Next on this Sikkim travel guide is a day when you'd be waking up at Lachung, the other hamlet in North Sikkim that serves as a base to explore places like Yumthang Valley, Zero Point, and Katao.
Take a leisurely walk in the village if you find the time and you'd realize that it is the laid back life that makes this village so special.
Finish your breakfast by 7 am and head towards Yumthang Valley – the valley of flowers. This spectacular valley is also home to Shingba Rhododendron Sanctuary and if you're visiting in the spring season, you can expect to witness various shades of rhododendrons in full bloom, making the valley look no less than paradise.
From Yumthang Valley, head to Yumesamdong, more commonly known as Zero Point.
The sight at Zero Point, the last point where the road ends is awe-inspiring. You'd easily be tempted to sit back and keep staring at the majestic Himalayas for hours.
Head back to Lachung and leave for Gangtok post lunch. You'd be reaching Gangtok in late evening so staying in would be a better idea after the long and tiring journey.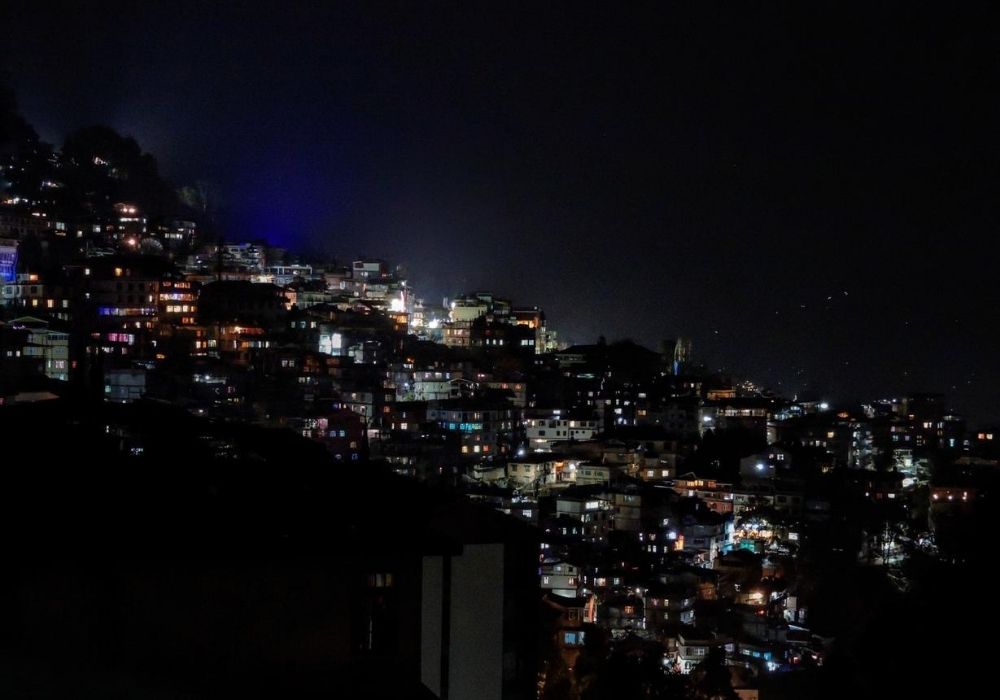 Day 6: Gangtok to Ravangla and Kewzing
Keep this day of your Sikkim tour only a bit lighter as you'd still be tired from the previous day's long journey. After breakfast in Gangtok, start your journey to Ravangla.
It takes approximately 4 hours to reach Ravangla from Gangtok. You can choose the route through Temi Tea Estate, which is one of the most picturesque roads of Sikkim. The other route to reach Ravangla is via Yangang which happens to a bit shorter.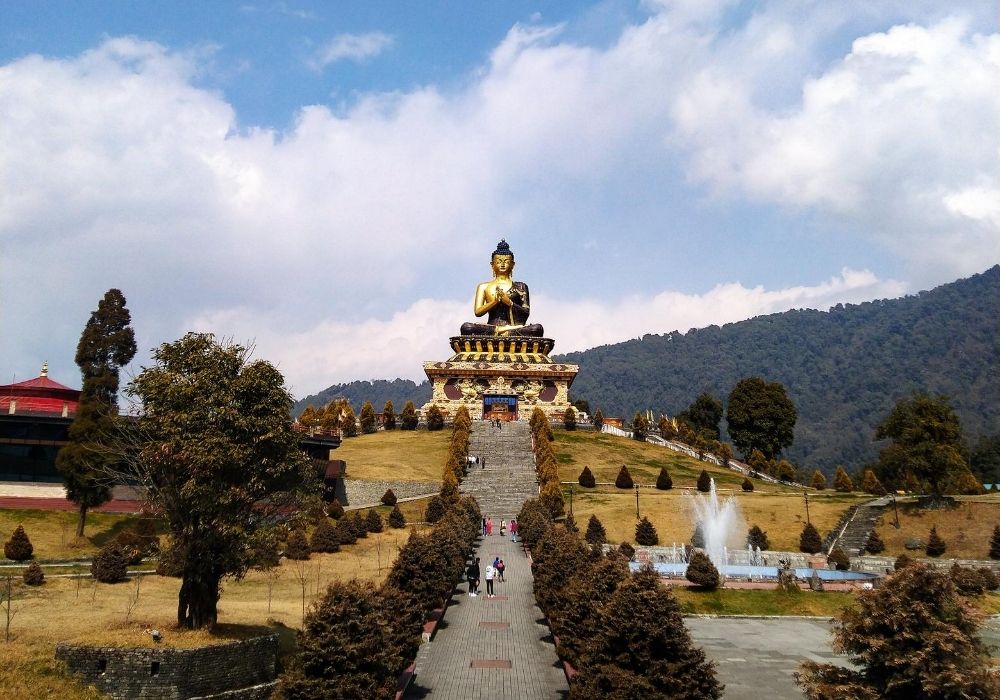 Upon reaching Ravangla, spend a little time at Buddha Park. Situated within Rabong Gompa, this park houses a 130 ft high statue of Gautam Buddha, set against the backdrop of Himalayan ranges.
With manicured gardens, souvenir shops, and cafeterias, Buddha Park is the most popular place of interest in Ravangla.
Do keep in mind that the park closes at 5pm. If you're unable to make it on time, you can come back the next day.
After spending some time at Buddha Park, head to Kewzing, 10 kms down the Ravangla on the Legship-Ravangla road, where you'd be spending the night.
You'd soon realize that choosing to stay in a village homestay instead of a hotel in Ravangla town was definitely one of the best decisions taken by you on this Sikkim trip.
Relax at your homestay in the evening or engage in conversations with your hosts and take down details of any local activity they offer.
Day 7: Explore Kewzing
Kewzing, inhabited by the Lepcha and Bhutia families is a perfect example of community tourism. All the homestays are run by the families themselves who instantly make you feel at home.
Engage in activities like cooking sessions, village hikes, or guided bird-watching. If you want to spend more time outdoors, then head to Doling Monastery and Seven Mirror Lake, a very interesting place full of mystical energy.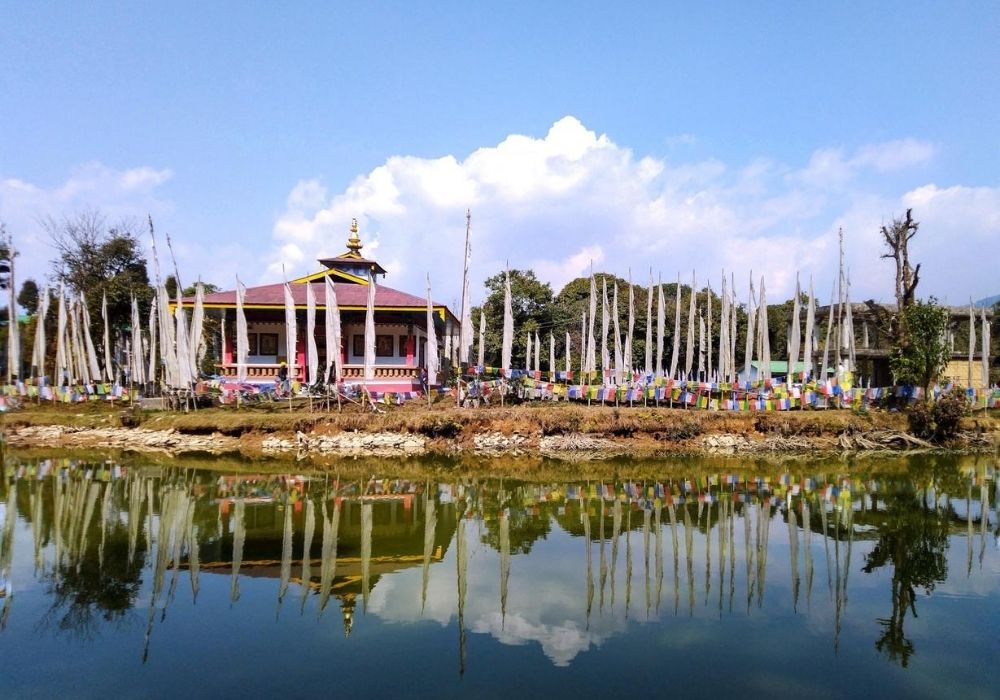 Doling Monastery is not frequented with travelers as of now and thus you'd be able to spend a quiet time here. The mesmerizing sight of fluttering prayer flags and their reflections over the little lake is an indescribable sight.
Watch and listen to stories about the sacred objects in the premises like the footprint of deity Kanchendzonga and Lama Dorje Lingpa and how they happened to be placed in the monastery.
Return back to the homestay and relax by the fireplace. Almost all the houses are traditionally constructed old houses and are equipped with a fireplace. Experience the best of this rustic village life and gather memories of a lifetime.
Day 8: Kewzing to Pelling
On the eighth day of your Sikkim 10-day itinerary leave for Pelling, post breakfast. It takes about 1.5 hours to cover this distance of 40 kms. Check in to your hotel/homestay in Pelling.
You can visit the nearby attractions on this day.
Start with Sanga Choeling Monastery and Pelling skywalk, the first skywalk of India of this kind. The skywalk reached up to the 137 ft high statue of Chenrezig.
A walk over the skywalk made of glass while looking down below is a thrilling experience you should not miss.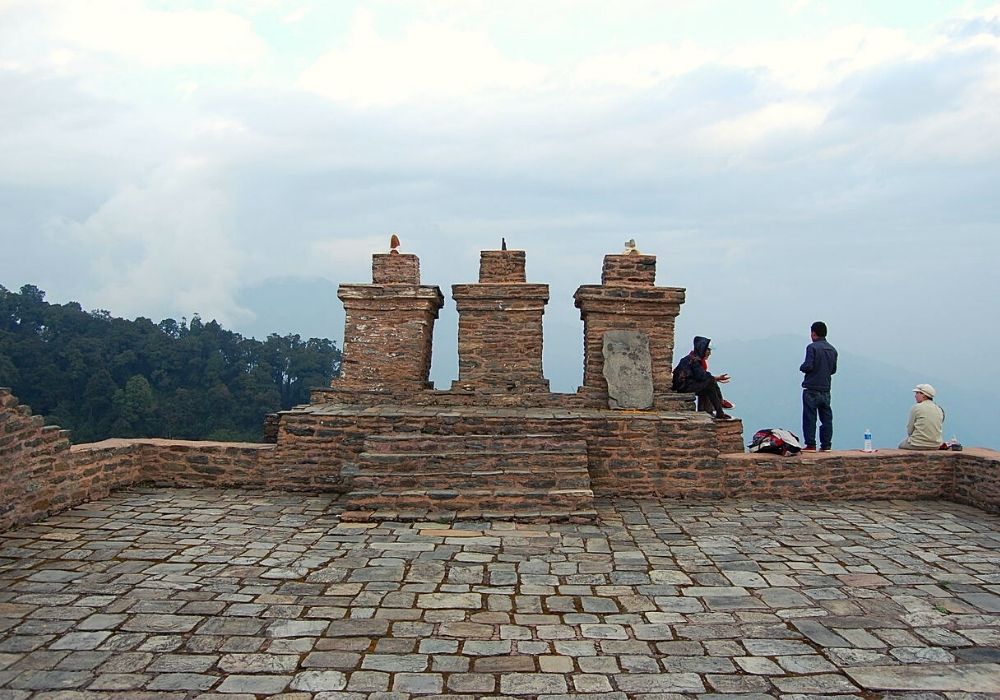 On the same day, also visit the 300-year-old Pemayangtse Monastery and Rabdentse Ruins, which used to be the palace of Sikkimese Kings till the 19th century.
A visit to these two places would subtly take you back in time to the rich history of Sikkim.
Day 9: Khecheopalri Lake
Dedicate this whole day to explore Khecheopalri Lake and the nearby places. Start your day early and head towards Khecheopalri Lake. Stop at Rimbi Waterfalls and Rimbi Orange Garden on the way.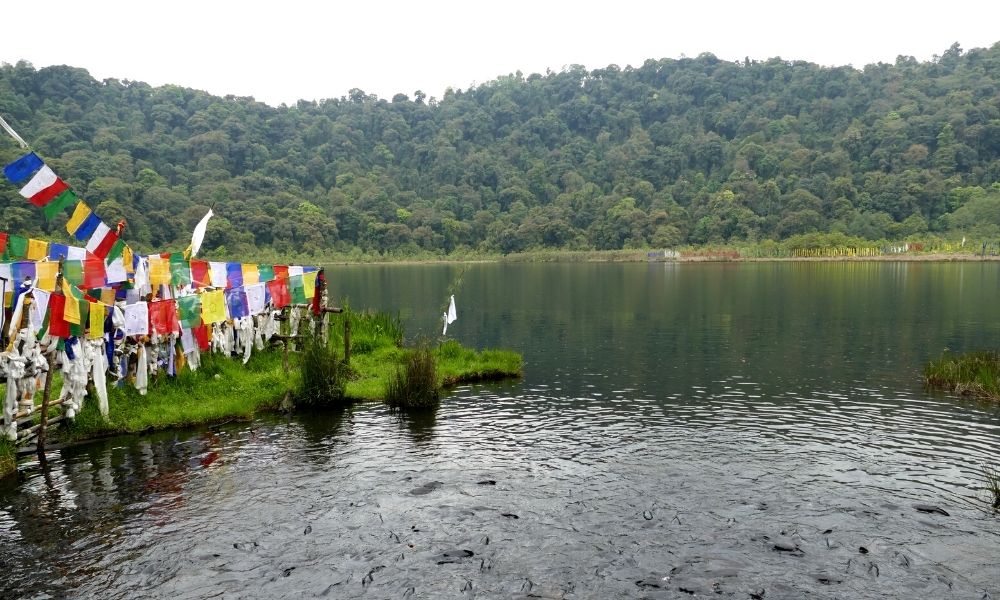 It won't take you more than 1.5 hours to reach Khecheopalri Lake, which is considered to be a wish-fulfilling lake. This lake is holy among both Buddhists and Hindus.
With crystal clear waters, this lake is a manifestation of how time slows down in Sikkim. Spend a leisurely afternoon beside the lake, explore the village and head back to Pelling.
You'd be heading to the airport the next day and so it is advisable to prepare to leave as early as possible.
Day 10: Pelling to Bagdogra
This day marks the end of your trip to Sikkim. Leave from Pelling as early as 7am. It takes about 4 hours to reach Bagdogra from Pelling so your flight should be scheduled for late afternoon or the evening.
If there are no evening flights to your destinations, you may choose to spend this night in Siliguri/Bagdogra and fly back the next morning.
Recommendations for making the best out of your Sikkim trip
To get a more authentic experience of this state, choose homestays run by locals over hotels. They'd be able to give you insights and recommendations of the unexplored parts of Sikkim. And who doesn't fancy a homely meal by the fireplace, while listening to age old stories!
Places like Gangtok and Pelling now have many hostels for backpackers. These hostels are great places to socialize with other travelers and have great conversations.
Sikkim is an absolute favourite for bikers. A road trip to the Old Silk Route would be an incredible experience. Check our Bikers Hub in Chandmari area in Gangtok for renting bikes in the most hassle-free manner.
If you cannot make it to North Sikkim for a shortage of time or would want to add in a day to explore East Sikkim, make a day tour to Tsongmo Lake and Nathu La Pass. This will give you a glimpse of the snowy Sikkim.
Plan your trip in the spring season which lasts between April and May. This is the time when the valleys are in full bloom, making it look like a slice of heaven.
Things to remember before planning your trip to Sikkim
An Indian National does not need any permit to enter Sikkim. However, they'd need a Protected Area Permit to travel to Tsongmo Lake, Nathu La Pass, and North Sikkim. These permits can be arranged only through a tour operator.
A foreign national needs an Inner Line Permit to enter Sikkim which can be obtained easily at the check-post while entering Sikkim or any Sikkim Tourism Office at New Delhi, Kolkata, District Magistrate's Office of Darjeeling, Siliguri, and Rangpo.
Foreign nationals are not allowed to travel to North Sikkim due to security reasons and its close proximity to the border of China. However, they can travel up till Singhik in North Sikkim till where a permit is not required.
To travel to North Sikkim, it is mandatory to book an accommodation-travel-food inclusive package from a registered tour operator.
It is advisable to carry enough cash as you might not find ATMs everywhere except for bigger towns like Gangtok and Pelling and there might be no provision of making e-payments as well.
Do remember to carry power banks and backup batteries for your camera if traveling to remote places. There might be no provision for charging your camera.
It's advisable to carry your own steel or glass bottles and refill them. Sikkim is very strict on the usage and disposal of plastic.
If traveling to North Sikkim, carry extra layers of warm clothes. Temperatures often reach minus degrees and it might get colder than what you expect.
People with breathing conditions should avoid going to Gurudongmar Lake as the air is very thin and oxygen levels are low.
Children below 10 years of age are not issued entry permits to travel to North Sikkim.
Avoid traveling to Sikkim in the monsoon and winter months and the conditions of the roads deteriorate and landslides often take place. Permits too are not issued generally.
Be respectful of the local communities and the environment and do not play loud music while traveling to remote areas.
Read more about the regulations at http://www.sikkimtourism.gov.in/Webforms/General/Default.aspx
Concluding thoughts of this Sikkim trip
Sikkim will keep on unfolding many surprises before you. If this is the first time you're going to travel to Sikkim, you'd surely be convinced to come back for the second time to explore the remaining places and there are plenty of them. These 10 days would fill you with an inexplicable sense of joy and contentment; a reassurance that travelling to Sikkim is the best decision you've made in a while.
We have more India travel articles that may inspire you to plan a longer trip in the country:
About the author
One of India's best and fast-growing Community of Himalayan Lovers #HighOnHimalayas – One Source for all your Himalayan Inspiration. You can follow them on Instagram and Facebook.