I already published a Lisbon travel guide, but now it's time to go more in-depth on what to see and do in Belém, Lisbon.
As you may know, there are plenty of things to do in Lisbon – including a visit to Castelo de São Jorge (Lisbon Castle) -, so you will need to plan a longer trip to Lisbon in order to get the most out of what this city has to offer, to learn more about its history and culture.
In this article, you'll discover reasons to visit Belém on your Lisbon holiday. You'll learn about the history of Belém, tourist attractions in Belém, how to get to Belém, and public transportation in Lisbon with useful tips and recommendations shared by Samantha from My Flying Leap.
After you'll see all the amazing places to visit in Belém, you'll want to explore Belém thoroughly on your trip! Read on to discover the best things to do in Belém, Lisbon!
5 Reasons You Should Go to Belém When You Visit Lisbon And The Best Things to do in Belem, Lisbon
There are a lot of amazing things to see and do in Lisbon and it can be challenging to see the best highlights in a week or less. One place you do not want to miss when you go is a visit to Belém and it should be on any must-see list of Lisbon. Another popular day trip is visiting the fairytale land of Sintra.
Though Belém is technically part of Lisbon, it has its own distinct voice and has more of a feel of a suburb. It's located just a few miles west of the city center of Lisbon and is very easy to get to. This article will share the reasons why you should go to Belém and how to get there.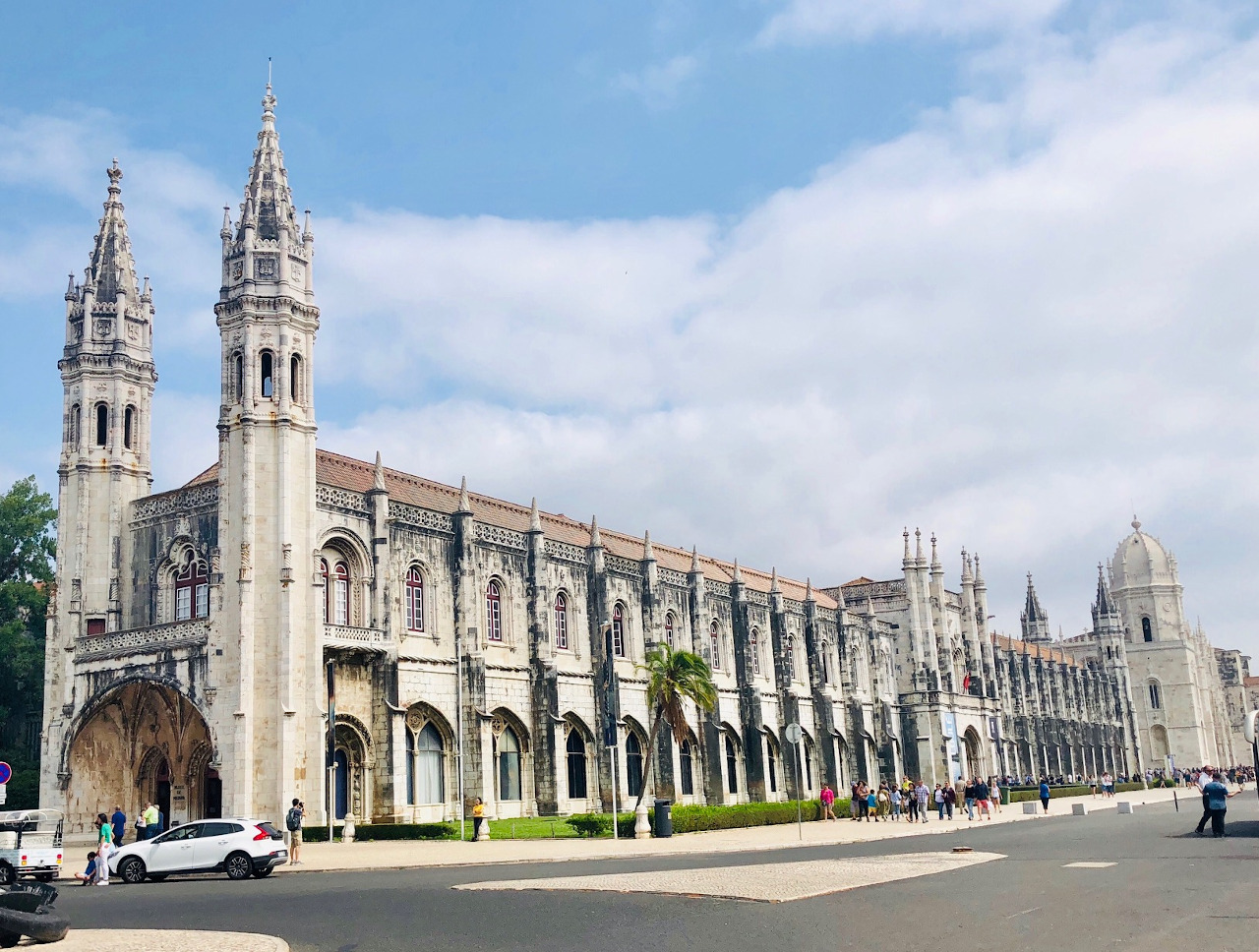 Quick History of Belém
Belém got its start as a small fishing village located at the mouth of the Tagus River. The Portuguese King Manuel approved building Jerónimos Monastery there in the early 1500s and it became the final resting place for the royal family.
Belém continued to thrive and grow and became a symbol of Portuguese expansionism. When voyagers set off on their journeys during the Age of Discovery, they set sail from Belém.
Voyagers like Vasco da Gama, who sailed to India, Pedro Alvares Cabral, who sailed to Brazil, and Ferdinand Magellan, who was the first to sail around the globe, all left mainland Europe from the port of Belém.
Visiting Belém is walking this path of history dedicated to these great explorers. It represents Portugal's most prosperous period and also includes some of the most exquisite architecture found anywhere in Europe, and even in the world.
Jerónimos Monastery (Mosteiro dos Jerónimos)
Be prepared for your jaw to drop when you see this stunningly beautiful and ornate building made in the Portuguese late Gothic Manueline style of architecture. Construction started in 1501 and ended around 100 years later. They clearly spared no expense as every corner of this building is simply exquisite.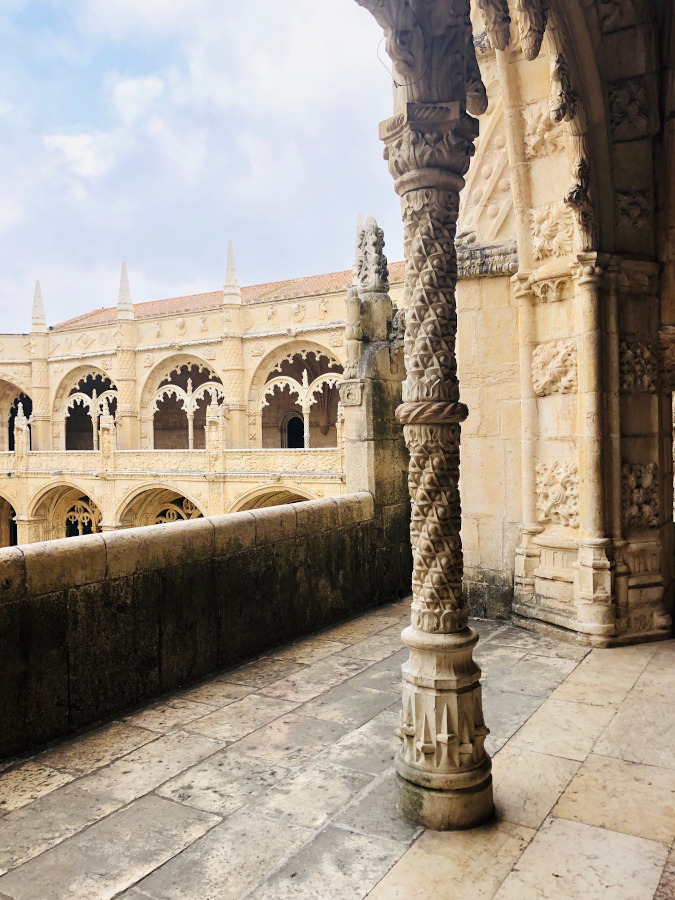 In fact, both Jerónimos Monastery and the Tower of Belém are classified as a UNESCO World Heritage Site, recognized as exceptional Portuguese art at its best. UNESCO sites are deemed to be "important to the collective interests of humanity" and are selected based on cultural, historical, scientific, or other significance.
Once the monastery was built, King Manuel selected the Hieronymites order of monks to reside there. (As a result, the monastery is sometimes called the Hieronymites Monastery).
These monks were dedicated to Saint Jerome, the 5th-century scholar who translated the original bible to Latin. The monastery was named in honor of him.
Towards the rear of the monastery, there is a two-level cloister which was very unusual for the time. Many important people are buried there including Vasco da Gama, as well as two renowned local poets and writers Ferdinand Pessoa and Luís de Camões. This is one of te best places to visit in Belém, Lisbon.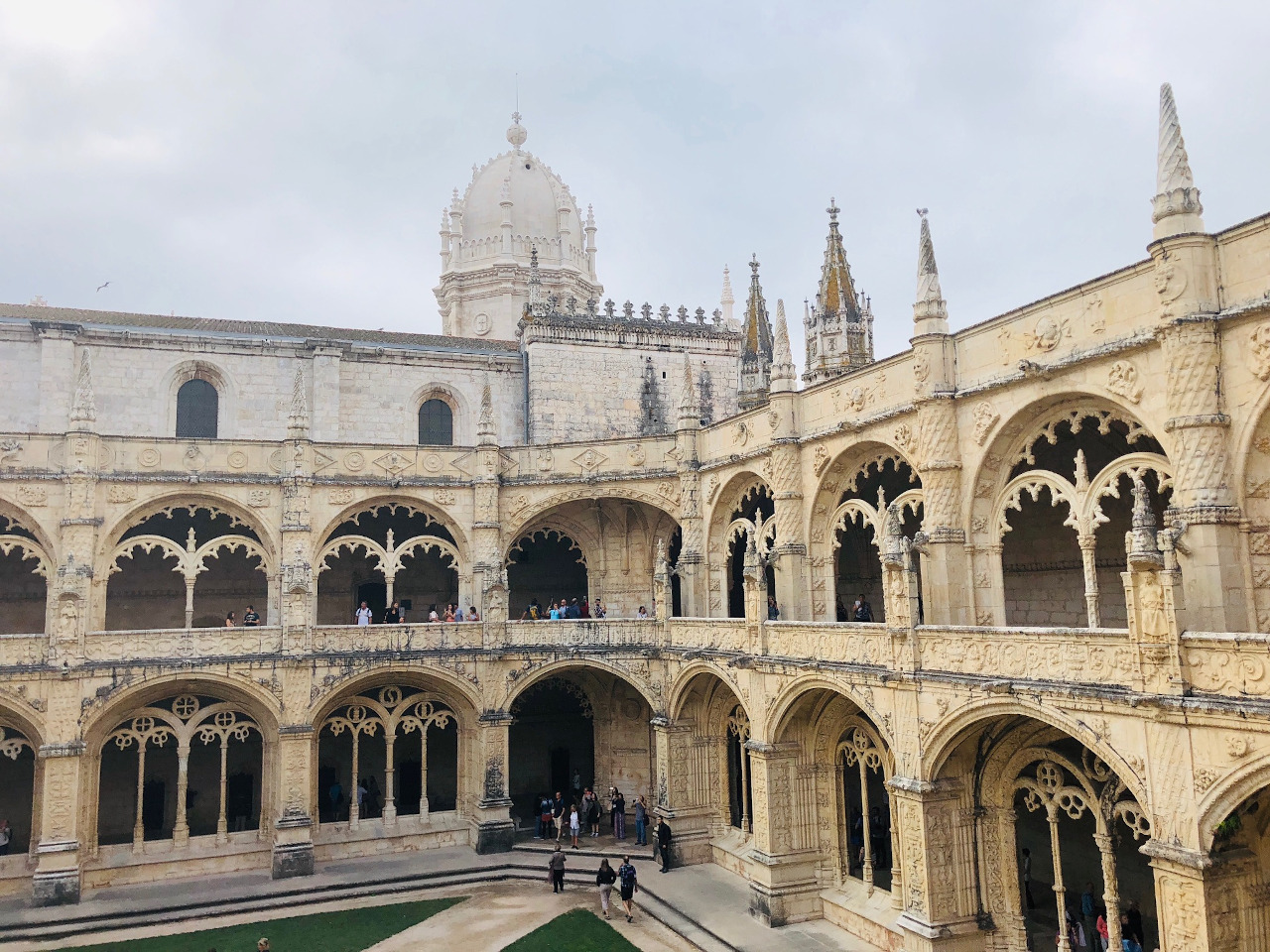 Visit Information
The monastery is open Tuesday to Sunday from 10 to 5. It is closed on Monday. Tickets cost 10 EUR and they do offer joint tickets with the Tower of Belém and the museum.
The location is at Praça do Império 1400-206 Lisboa, 1400-206 Lisboa, Portugal.
Visit Tips:
Jerónimos Monastery is one of the most popular places to visit in Lisbon, so you should get there early to secure tickets. Arriving at 9:30 or earlier is advisable as there are generally only two people working at the ticket desk and the line gets impressively long early.
An added bonus of arriving early—you get the place almost to yourself for some amazing pictures without the crowds of people entering behind you. Also, if you get the joint tickets with the museum and the Tower of Belém, you can bypass the entrance lines.
National Archaeology Museum (Museu Nacional de Arqueologia, MNA)
The National Archaeology Museum is located in the building adjacent to Jerónimos Monastery. There are a separate entrance and fee to enter. This is another item on the list of great things to do in Belém so don't miss it on your Lisbon trip.
It is a fairly small museum but it has quite an impressive display of Egyptian and Roman antiquities so it worth the time to visit. It was founded in 1893 and houses the largest archaeological collection in Portugal.
Some of the items on display include pottery, jewelry, coins, and carvings. There are a lot of large Roman stone tablets with writing and other carvings.
Also, there are quite a few statues and busts of Roman emperors, conquerors, gods, and men. Several large and really intricate mosaics are also on display.
On the other side of the museum, there are also a number of Egyptian sarcophaguses in different sizes and Egyptian tablets with hieroglyphics. There are also several Egyptian mummies on display.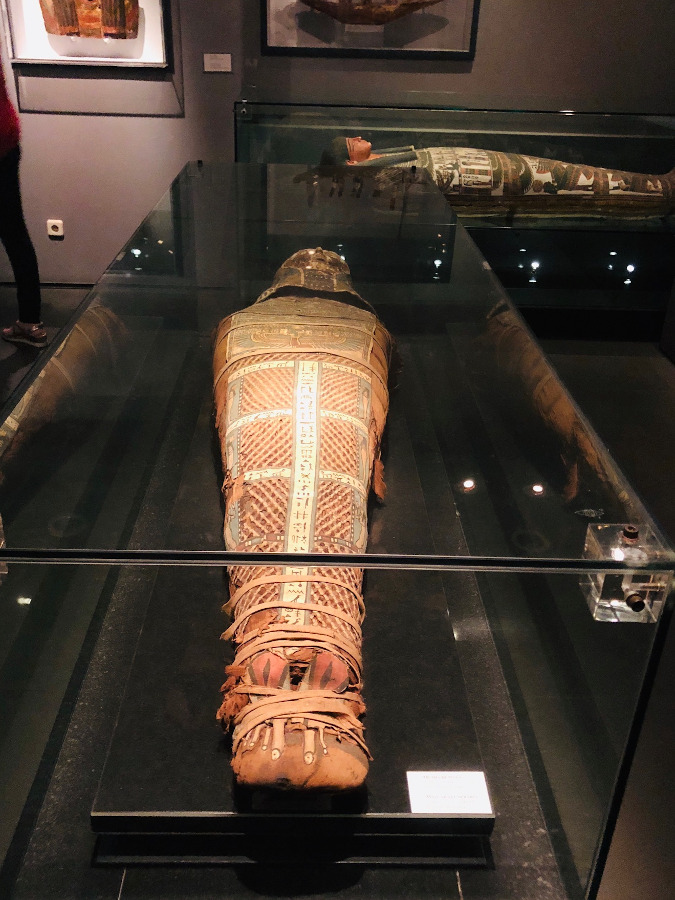 Visit Information
The ticket cost for the National Archaeology Museum is 5 EUR and a ticket combined with the monastery is 12.50 EUR. The museum is located next to Jerónimos Monastery and the entrance is to the left of the monastery entrance. It is open from Tuesday through Sunday from 10 to 6.
Visit Tips
See the museum after you visit Jerónimos Monastery. With a joint monastery/museum ticket, walk past any line to enter the building and simply show your ticket.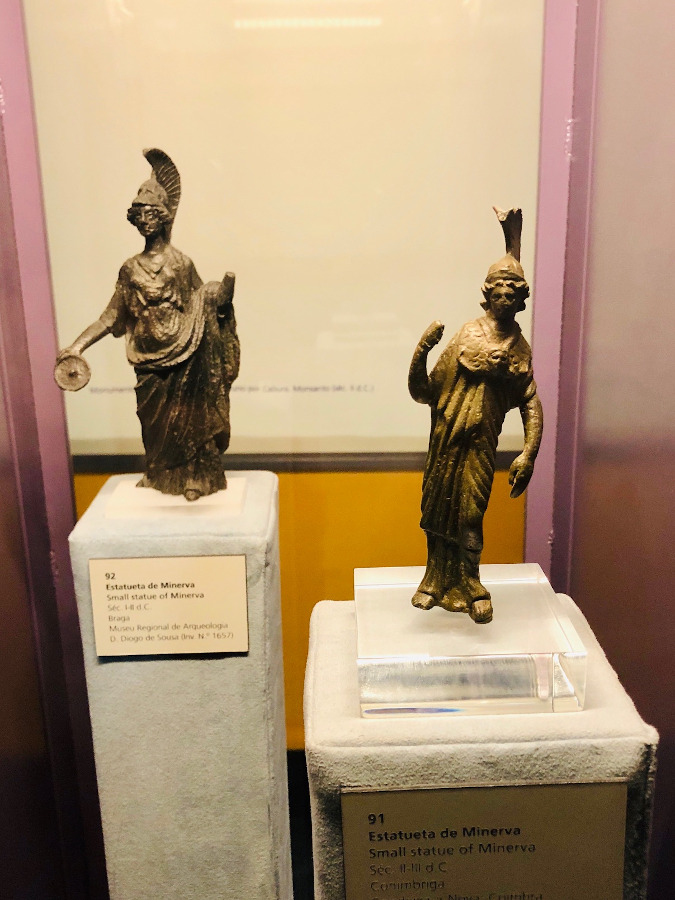 Monument to the Discoveries (Padrão dos Descobrimentos)
Walk almost straight to the river from the museum and you will see the Monument to the Discoveries, built to celebrate the Portuguese Age of Discovery in the 15th and 16th centuries. As you explore Belém, this monument will tell you more about the history of the place.
It was first a temporary build made for the1940 Portuguese World Exhibition, but it was rebuilt in 1960 next to the Tagus River to commemorate the 500th anniversary of the death of Prince Henry "the Navigator" (Infante Dom Henrique).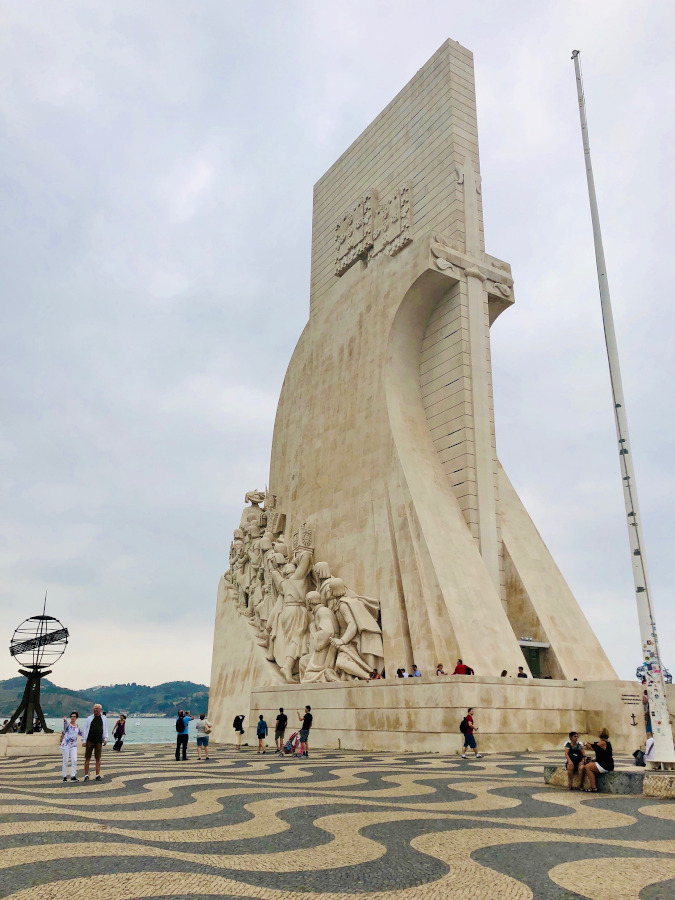 Prince Henry was the patron of the Age of Discovery, the Portuguese exploration of Africa and the Atlantic Ocean in search of new trade routes.
This brought about a time of wealth and prosperity in Portugal. He sponsored voyages and was responsible for the route that eventually led Christopher Colombus to discover America.
The statue also has a small viewing platform. You just need to go up a short flight of steps to reach it. It has a spectacular view of Belém, one of the best in the area.
This is a nice spot to take a break and watch the boats sailing on the river while admiring this large and interesting statue. It sits on top of a mosaic that mimics the flows and waves of water.
In the distance across the river, you can also see the Christ the King statue atop the sanctuary (Santuário de Cristo Rei). It was inspired by the Christ the Redeemer statue in Rio de Janeiro, Brazil.
Visit Information
Entrance to the viewing platform costs 6 EUR and it includes access to the museum as well. It is open from 10 to 6 every day except for Mondays.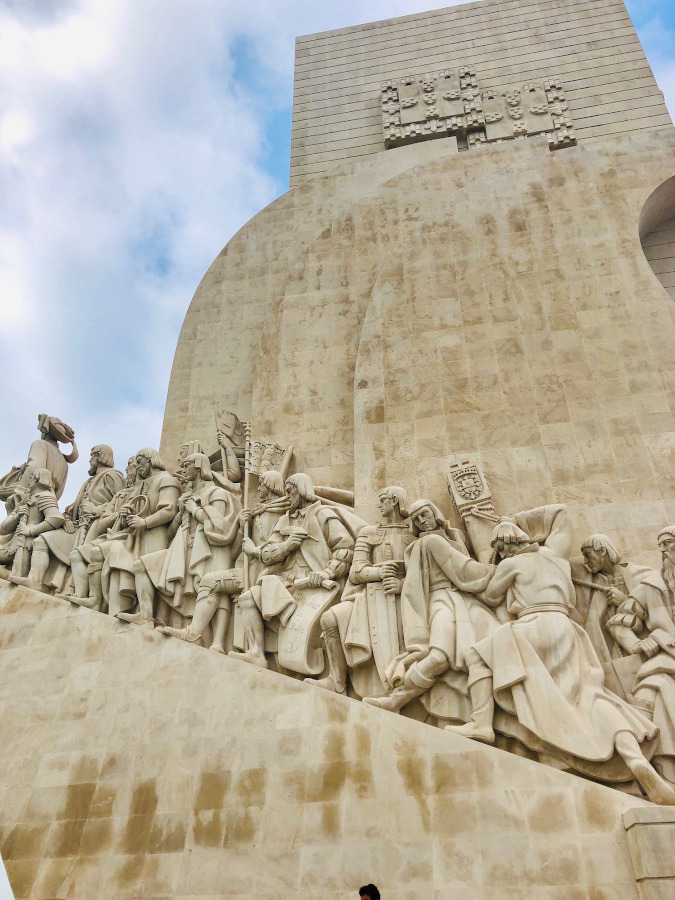 Belém Tower (Torre de Belém)
Walk west along the water, away from Lisbon, to visit Belém Tower. This architectural masterpiece was built to commemorate Vasco da Gama's expedition and it is one of the best things to see in Belém.
It also served as part of a defense system for the area due to its location at the mouth of the Tagus River. It was built in the Portuguese Manueline style (as was Jerónimos Monastery) in the early 16th century.
There are four levels in the tower and the climb is up a very narrow one-way circular staircase. The staircase has a lighting system that shows green when it's safe to walk and red when there are people in the staircase going in the opposite direction.
It's worth going to the top as there is a wonderful view of the Tagus river, the Christ the King Statue, and the 25th of April Bridge.
Visit Information
A ticket to the Belém Tower costs 6 EUR, or you can purchase a combined ticket with the monastery, the museum, and the tower for 17 EUR. Belém Tower is located at Av. Brasília, 1400-038 Lisboa, Portugal.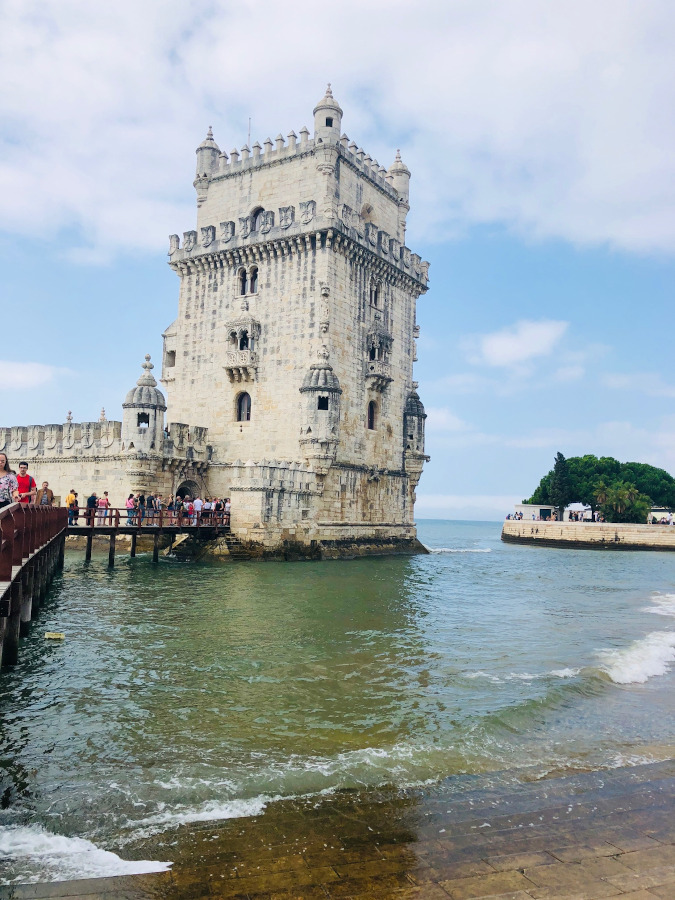 Pastéis de Belém
The Portuguese love their pastry, and this would be the royalty of Portuguese pastry if there were such a thing! It would be challenging to walk more than five minutes without finding a pasty shop as they are almost everywhere.
They take their pastries very seriously and if there were a royal class of pastries, the Pastéis de Belém would be crowned king. Anywhere you go, people say that this is the very best so this Belém guide would not be complete without recommending them.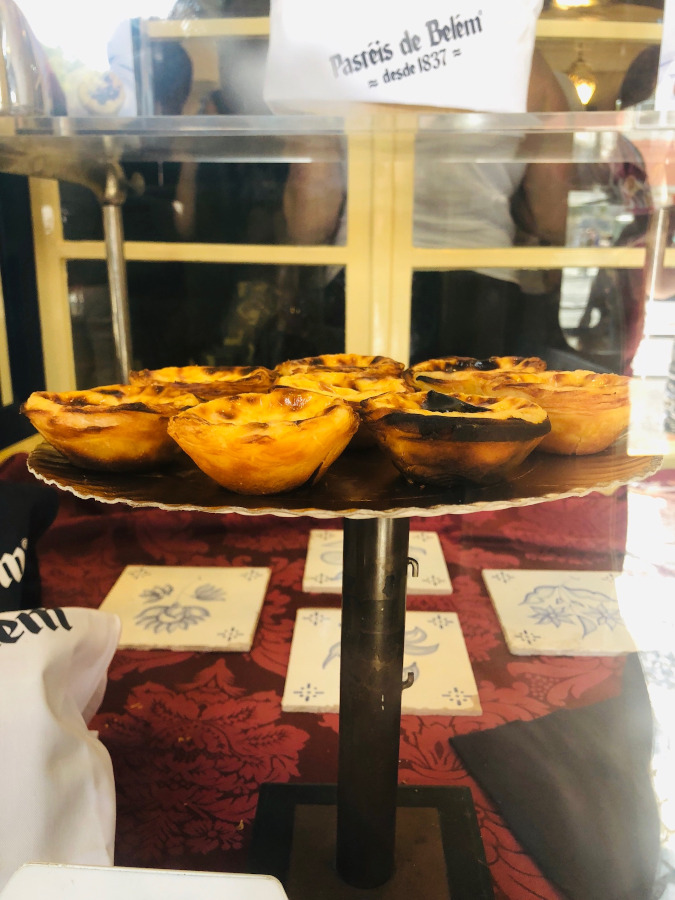 What are they? Heavenly egg custards. Now, I don't usually love egg custard, but the pastel de nata, Portuguese egg custards, are pretty amazing nestled in a crisp shell.
The Pastéis de Belém is the premier version of this revered desert. The recipe for the pastéis de Belém came from monks hundreds of years ago. It is so prized that only a small handful of people have it and it is passed down through generations.
Pastéis de Belém is located a few minutes' walk down the main road that the monastery is on, heading towards Lisbon. There is a tram stop conveniently in front of it but you'll have no trouble at all finding it with the line that stacks up from the shop's open to close.
You will read tips to go inside where you can be served immediately and given that the shop is absolutely monstrous inside, this seems like a great idea. However, I found the wait to get a table inside (where you need to pay a tip as well for service) was longer than the wait outside.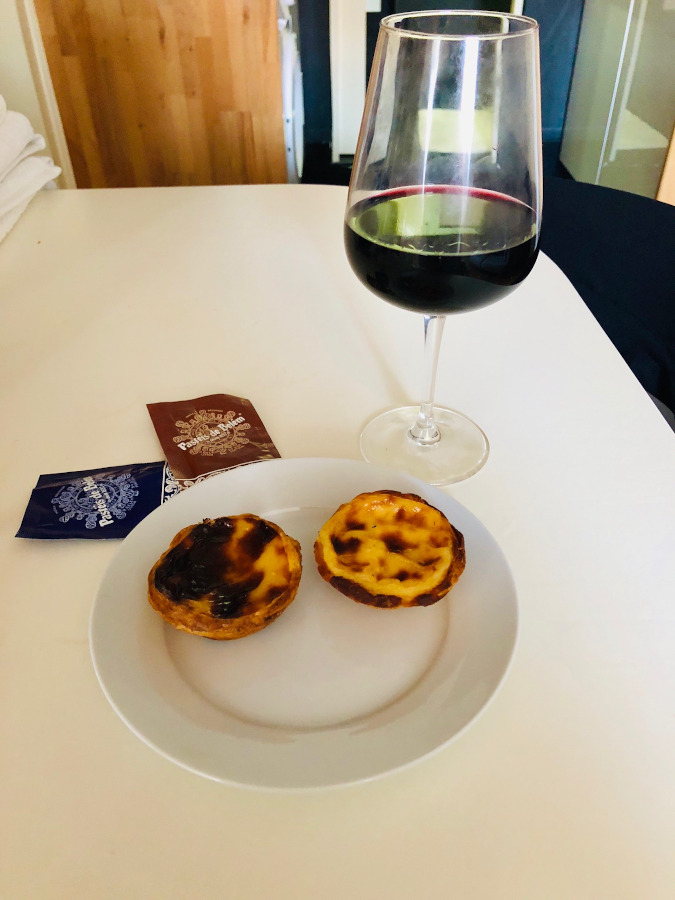 How to Get to Belém
There are several options available to go to Belém. The trip from central Lisbon to Belém is only around 20 minutes. You can certainly take a taxi cab or an Uber, but public transportation offers options that are just as convenient at a lower price.
Public Transportation in Lisbon
Public transportation in the Lisbon area is very easy to navigate, safe, and inexpensive. You can purchase Viva Viagem card in any Metro station to be used for rides on the bus, tram, train, or ferry.
A nice bonus is that if you use this card, the tram cost is the same as the bus cost (it is more if you purchase your ticket on the tram).
It's generally a good idea to be on the lookout for pickpockets when taking public transportation. Often they will wait until right before the doors are closing to steal from others.
So, while it's a good idea to remain aware during the ride, it's especially important to be vigilant while people are getting on and leaving the bus, tram, or train.
Travel by Tram
The most convenient way to travel to Belém is to take the tram. The #15E tram line begins in Figueira Square (Praça da Figueira) and continues through Comercio Square (Praça do Comércio) and Cais do Sodre before heading to Belém.
The stop in Belém is right after Jeronimos Monastery. On your return to Lisbon, the stop is conveniently in front of Pastéis de Belém.
Information
A single ticket costs 3 EUR or you can purchase a 24-hour public transportation ticket for 6.40 EUR which covers the metro, tram, and bus.
The 24-hour tickets can only be purchased in Metro stations.
Tips
It's a good idea to purchase your ticket in advance for convenience and safety. Otherwise, you have to purchase a ticket on a machine on the tram where it is often jerky and crowded.
You don't want to make yourself a pickpocket target while you're distracted buying a ticket on-board. If you purchase a Viva Viagem card in advance, the cost is only 1.80 EUR each way.
Travel by Bus or Train
The 728 bus takes you to Belém and the stop is right before Jeronimos Monastery. You can get the train at Cais do Sodre Station, Apolónia Station, or Gare do Oriente and the fare is 1.80 EUR each way.
Another option is to take the Cascais Train, which has a stop in Belém. The cost of the ticket is 2.25 EUR.
Lisbon is an amazing city with a lot to do. However, no trip to Lisbon is complete without a trip to Belém. Spend a half-day or a full-day in this amazing place to appreciate the best Portugal has to offer in architecture and enjoy the renowned Pastéis de Belém pastry as a special treat. It is not only worth the time to visit, but most would say it should be required.
Use this guide to visiting Belem, Lisbon and have a memorable Lisbon vacation! As you see, there are plenty of amazing things to do in Belém that will keep you busy and will allow you to learn more about the history of the area.
The recommendations in this article include, as you saw, some of the landmarks in Lisbon, great places to visit in Belém, and where to eat in Belém.
Make sure you include Belém on your Lisbon itinerary as you won't regret it!
About the author:
Sam is a travel-obsessed animal lover with big plans to travel the world with her dog. When she's not blogging about her travel adventures at My Flying Leap, you can find her volunteering with her pet-therapy cat and dog, on the top of a mountain, or enjoying a glass of bold red wine planning for her next trip. Follow her on Pinterest, Facebook, Instagram, and Twitter too.
Did you like this article?
Pin it!