Castelo de São Jorge is one of the best places to visit in Lisbon, Portugal. As it's one of the oldest buildings in the city and as there are many things to do at the São Jorge Castle in Lisbon, it's no surprise that many tourists visit it each year.
This article is your ultimate guide to visiting Castelo de São Jorge, Lisbon. It includes everything you need to know about São Jorge Castle from how to get to Castelo de São Jorge to when to visit the São Jorge Castle and things to do at Lisbon Castle. All the recommendations are offered by Joanne from Sunsets and Roller Coasters.
The ultimate guide to visiting Castelo de São Jorge, Lisbon
Castelo de São Jorge sits on a large hill, overseeing the city of Lisbon, Portugal. With amazing views, beautiful peacocks and stunning medieval castle walls, it's no surprise that Castelo de São Jorge is one of Lisbon's most popular attractions.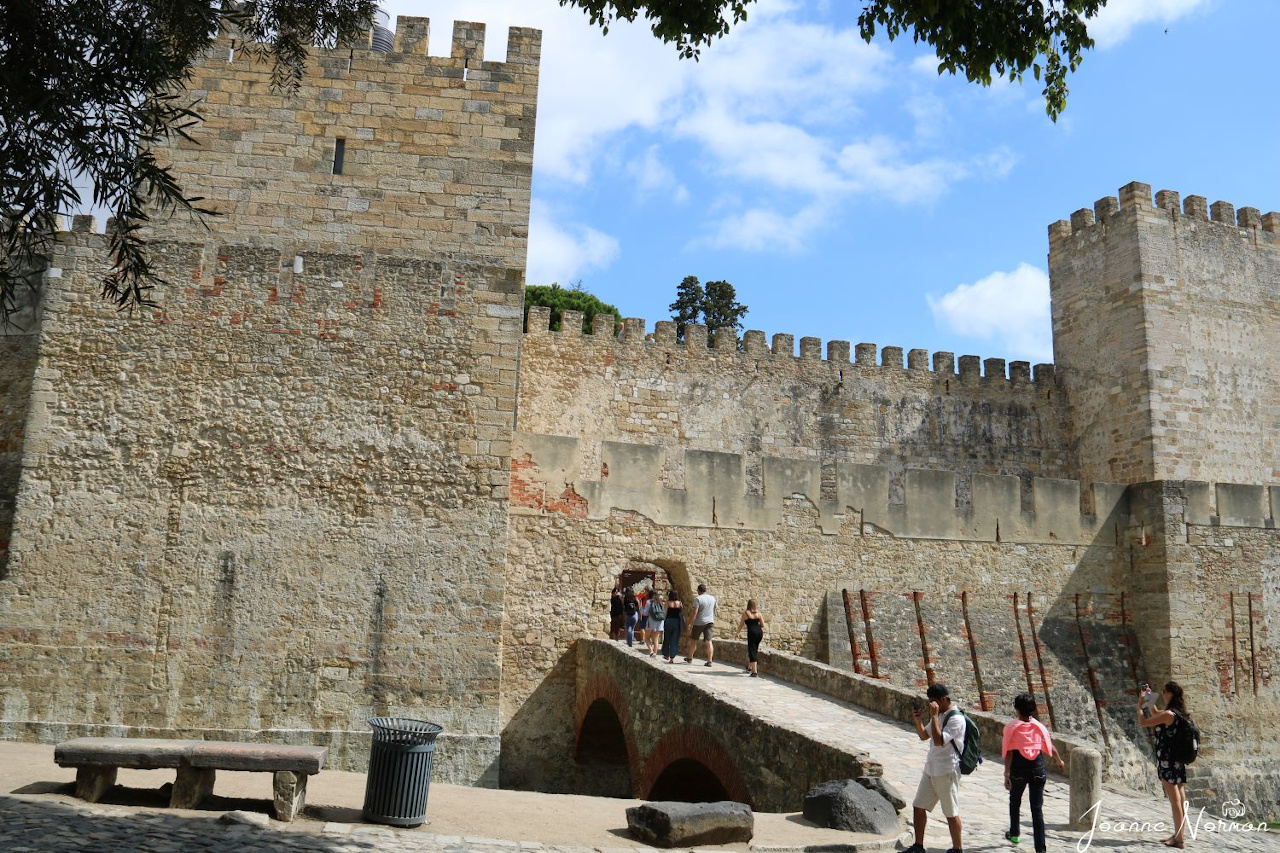 While only the walls and courtyards remain today, a castle has been on this spot for over 2000 years and over time has housed Romans, Moors, Portuguese and more. The actual castle which remains now has existed since the 11th century.
When the Portuguese took the castle from the Moors in the early 1200s, it became a royal residence which, over the next several hundred years hosted many royal families and explorers, including Vasco de Gama. That said, for most of its life, Castelo de São Jorge was not a residential palace. Rather, it had more of a military purpose.
Even as a residence, its primary purpose was to protect Portuguese royalty. Over time, it became a military barracks, prison and military hospital. It was heavily damaged during the famous 1755 earthquake that destroyed most of Lisbon.
The Castelo de São Jorge was restored in the early 1900s using the layout of the castle as it existed in the 1100s. Visiting Lisbon Castle will be a memorable experience as there are a lot of fun things to see and do here.
Where is Castelo de São Jorge and how to get to Lisbon Castle
The first item on this list of useful things to know before visiting Castelo de São Jorge is where is this located.
Set on a hill atop Lisbon's beautiful Alfama district of Lisbon, Castelo de São Jorge can be reached quite easily even if you don't want to trek up the hills of Alfama.
It's possible to walk to Castelo de São Jorge from Chiado and Baixa without tackling the steep hills if you take advantage of Lisbon's system of "elevadors".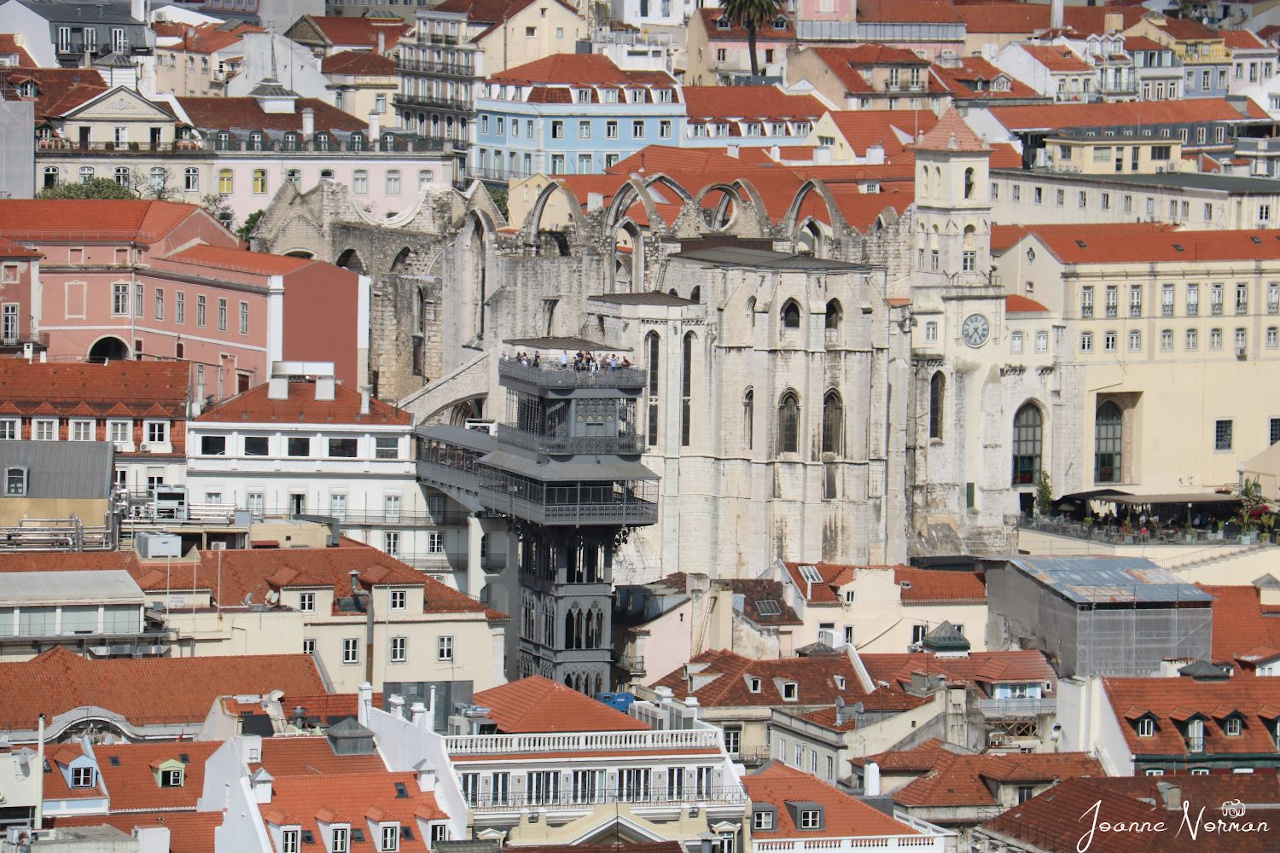 These elevadors link lower elevation of Baixa with the Castelo at a much higher elevation. The Castelo Elevador is a two-lift system. The first elevador is located at Rua dos Fanqueiros 170 and takes people up to Rua da Madalena. Upon leaving, walk directly towards Pingo Doce supermarket.
Along the right side of the entrance, you'll find the second elevador which brings passengers to Costa do Castelo which is about a 5-minute walk to São Jorge Castle.
If you'd prefer not to walk or if you have mobility issues, there are a few options available. Lisbon's tram system is fantastic. Both Tram 28 and tram 12 will bring you close to Castelo de São Jorge requiring just a short walk to the castle entrance.
Bus 737 will bring you very close to the castle. You could also take a tuk-tuk which can easily skip through the narrow streets of Alfama to the castle. Finally, it's always possible to take Uber or a taxi which will get you right to the entrance.
Tickets for the Castle
The program of the Lisbon Castle is next on this article on what you need to know before visiting Sao Jorge Castle.
Castelo de São Jorge is open at 9:00, 7 days a week, except May 1, December 24, 25, 31 and January 1.
Tickets range from 5 euros to 10 euros, depending on age, with children under 12, Lisbon residents and some visitors of specific groups, free of charge. Full details can be found on the official website for the Castelo de São Jorge.
Group tours of the castle grounds, archaeological sight and camera obscura are available throughout the day in English, Portuguese and Spanish.
When to visit Castelo de São Jorge
Summer is the best season to visit Lisbon Castle. Castelo de São Jorge can get very busy during peak tourist season. To avoid lines and enjoy your visit more in summer months, we recommend that visitors arrive early, preferably at the opening, or later in the evening.
A later visit will also allow you to catch a beautiful sunset from the castle courtyard!
That said, we recommend visiting Castelo de São Jorge in the morning so that you can spend as much time as you'd like exploring the castle grounds. It's easy to spend an entire morning at Castelo de São Jorge.
After your morning, we suggest spending the rest of your day in Alfama, enjoying a traditional Portuguese lunch and exploring the narrow streets and historic sights.
What to see and do at Castelo de São Jorge
As mentioned, there are many things to do at Castelo de São Jorge. All of these activities are detailed below so that this ultimate guide to visiting Lisbon Castle will provide you all the necessary information.
Castle Terrace
Just inside the entrance gates is the castle terrace. The expansive terrace overlooks the city and provides one of the most beautiful views in Lisbon. From here you can see across the orange roofs of Baixa and have lovely views of the Convento de Carmo and Elevador de Santa Justa.
The Christo Rei statue can also be seen across the flowing River Tejo along with the 25 de Avril Bridge. The terrace has several kiosks selling water, wine and coffee and many benches to enjoy the amazing view. So, make sure to stop at this terrace on your visit to Castelo de São Jorge.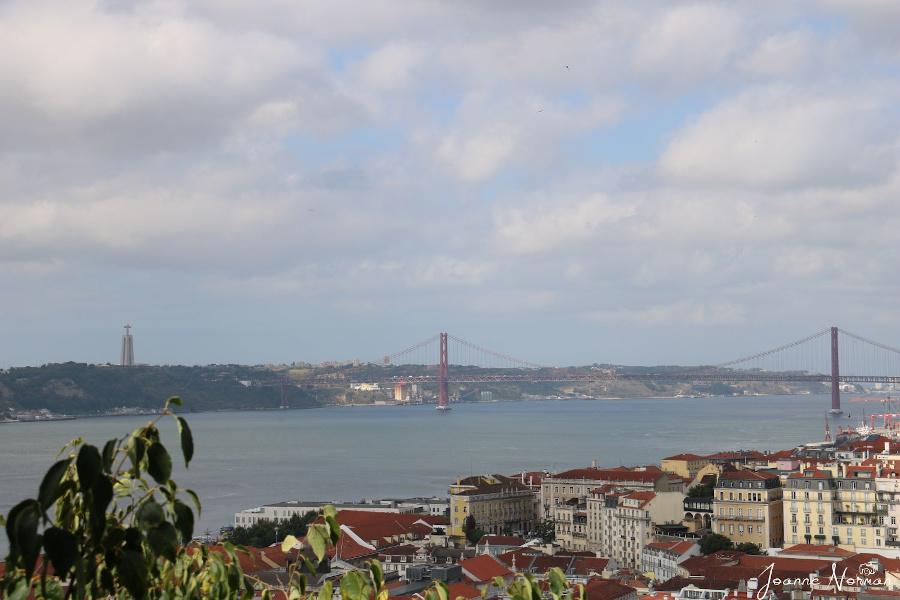 Royal Statue
In the middle of the castle terrace is a bronze statue of Dom Afonso Henriques, the first King of Portugal. He took the castle from the moors in the 12th century with the help of British crusader knights.
Cannons
Wander past the castle terrace and along the outer wall, through stone archways and olive trees, to find the many cannons protecting the city. Kids will love playing with and climbing on the cannons.
Take a moment to admire the view and allow yourself to step back in time while visiting Lisbon Castle.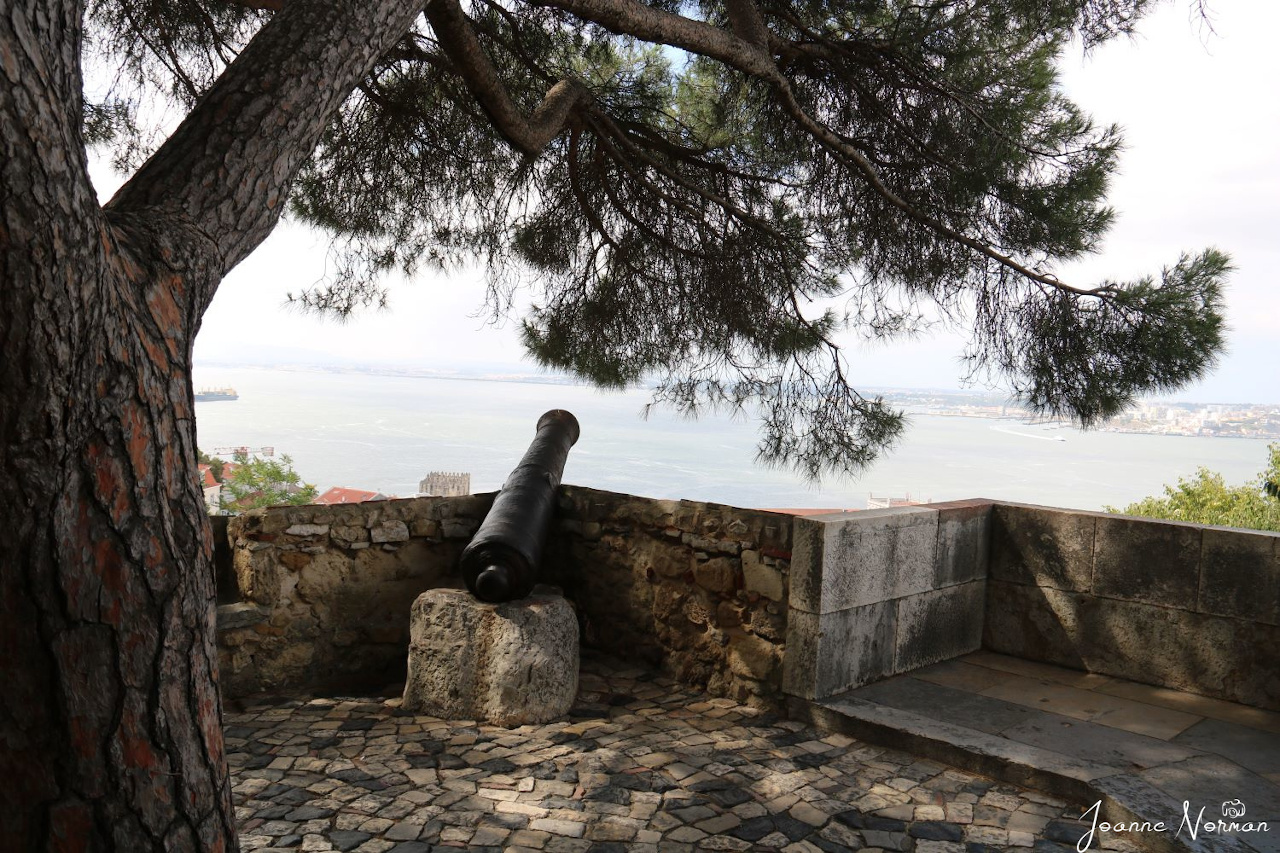 Castle
The castle is, of course, the main place to visit on the castle grounds.
This amazing stone structure with square structured edges is reminiscent of every castle you've thought of as a child. Take your time and explore throughout this amazing structure and imagine the stories it could tell.
As you enter the main castle entrance, to your immediate left is a set of stone stairs. These won't bring you around the main castle area but it will bring you some place many visitors don't get a chance to see. Follow the wall and you will arrive at the area where archaeological exploration continues.
Return to where you started and descend those stone stairs. Continue onward and you'll find yourself in a large open courtyard surrounded by stone walls.
On each side is a separate set of stone stairs that will take you up to the main castle walls. The stairs are steep but they're worth the climb.
Wander the walls, climb the many towers and enjoy the incredible views. This experience is not just for kids!! In the Tower of Ulysses, you'll find the Camera Obscura.
This area is only accessible with a guide so you'll want to check the schedule when you purchase your tickets. The periscope gives you a 360 degree view of Lisbon that is absolutely incredible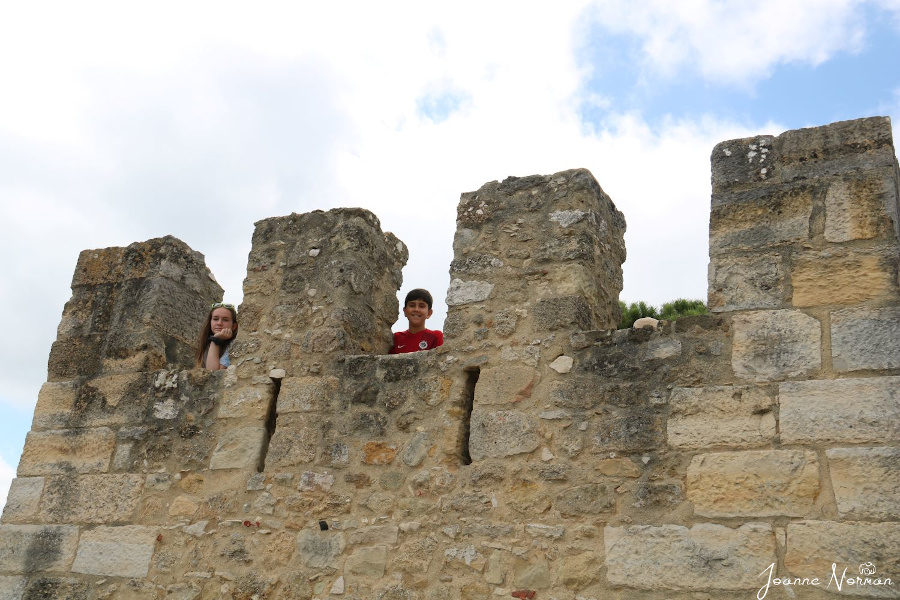 Castle Museum
The next place on this list of best things to do at Sao Jorge Castle in Lisbon is a visit to the castle museum.
The permanent exhibition is located near the castle's café. It is free to enter for those with a ticket to the castle grounds. It houses archaeological finds from the castle grounds.
While there is an emphasis on the time frame when the Moors occupied the castle in the 11th century, it also has information and artifacts dating back to the 7th century B.C.
Sao Jorge Castle Courtyards
As you explore the castle grounds, you'll find several beautiful courtyards filled with beautiful flowers and colourful peacocks – perfect places to visit at Lisbon Castle.
The courtyards are wonderful spots to take a break and relax. The peacocks are plentiful and fun to watch for children and adults alike.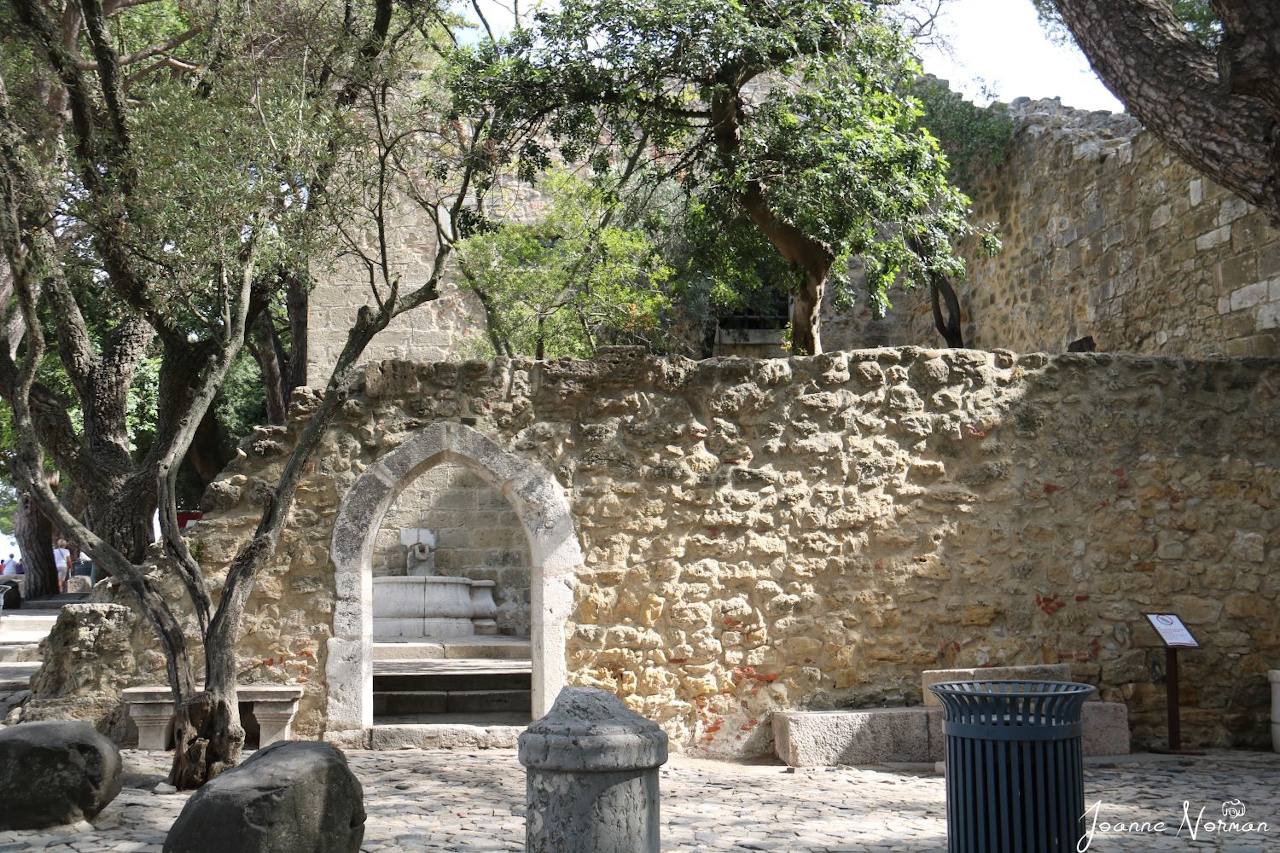 Insider tips for the São Jorge Castle
This ultimate guide to visiting Castelo de São Jorge, Lisbon wouldn't be complete without some insider tips for Lisbon Castle. Make sure you read them all so that your visit to Sao Jorge Castle is perfect!
If you take the elevador near Pingo Doce to get to the Castelo de São Jorge, make sure to turn left once you leave the elevador. While this is in the opposite direction of the castle, you'll be rewarded with an incredible view.
The terrace of the Restaurant Zambeze is accessible to the public and it's well worth the detour!
As you enter the castle gates after getting your tickets, you'll find the toilets on the right (left if you are leaving the castle area) beyond a fountain and beautiful purple trees.
There are benches around and the small courtyard area is just beautiful. It's very quiet so if you're looking for the facilities or simply would like a quiet place to rest, this is your spot.
Make sure to take the time to watch the peacocks during your visit. Did you know they can fly?! I had no idea. It was amazing to watch them wandering, flying and nesting in the nearby trees.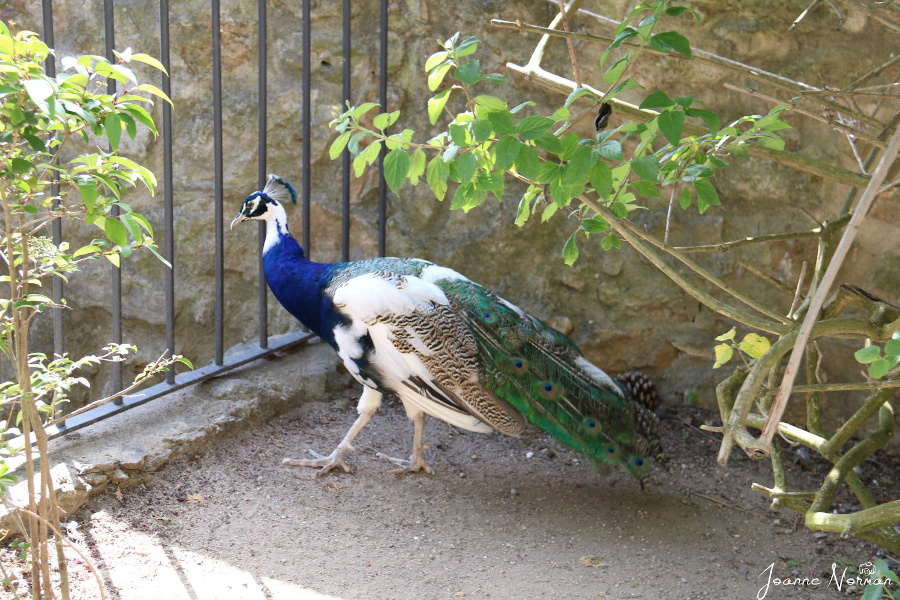 As you get closer to the castle entrance, you'll find the castle café. We had coffee on arrival at one of the terrace kiosks and again at the café. The coffee and coffee options at the café are fantastic! Definitely get your coffee here if you have a chance.
Castelo de São Jorge is actually named after Saint George, the patron saint of England! Strange? Not really. English crusaders helped Dom Afonso Henriques take the castle from the Moors in the 1100s.
With this past history, in the late 14th century, King John I dedicated the castle to Saint George after he married the English princess, Philippa of Lancaster.
Just outside the castle grounds is what used to be the castle village where the workmen and servants lived. This incredible area is now filled with souvenir shops and cafes. It's a cute area to explore.
We found the greatest cork shop there. Have a look for the short doors. Do you know why they're so small? Because when they were built, that was the average height of those that lived there!!!
Conclusion
Even with just one day in Lisbon you should visit Castelo de São Jorge. It covers everything that Lisbon is known for … incredible history and beautiful views!
And, if you have more time on your Lisbon vacation, include Belem on your Lisbon itinerary too as there are plenty of attractions in Belem, Lisbon that you won't want to miss.
About the author:
Joanne is a proud Canadian mom of three with a passion for travel and photography. She has been travelling around the world with her husband and three kids, now teens and pre-teens, since they were babies. Her blog, Sunsets and Roller Coasters, is filled with recommended destinations and detailed information on local activities, travel itineraries and travel tips. You can also touch base with her on Facebook, Pinterest, Instagram, and Twitter.