The French Riviera
The Cote d'Azur, also known as The French Riviera, stretches from around Saint Tropez in the south to Italy in the north. The "blue coast" has some of the most beautiful beaches in the world that range from rocky shores to sandy beaches. One of my favorite aspects of the beaches along the French Riviera is that you won't be bothered by bugs as you might be in Florida. In the summertime, these beaches can be very crowded, as any visitor will know. You may have to contend with other tourists, but you won't be bothered by pests. Many beaches have summertime beach clubs that offer umbrellas, chairs, towels, and wonderful food.
Don't skip the umbrella: The French Riviera gets very hot and you don't want to spoil your vacation with a sunburn. If you're traveling to the French Riviera in the summertime to enjoy the beaches, make sure to pick out a beach club and make a reservation.
Nice
The beaches in Nice are rocky, so plan to bring some water shoes or sandals. It's fun to watch the tourists hop along and gingerly make their way from their towels to the beach. You can tell a rookie from a pro just by how they walk on the rocky beach.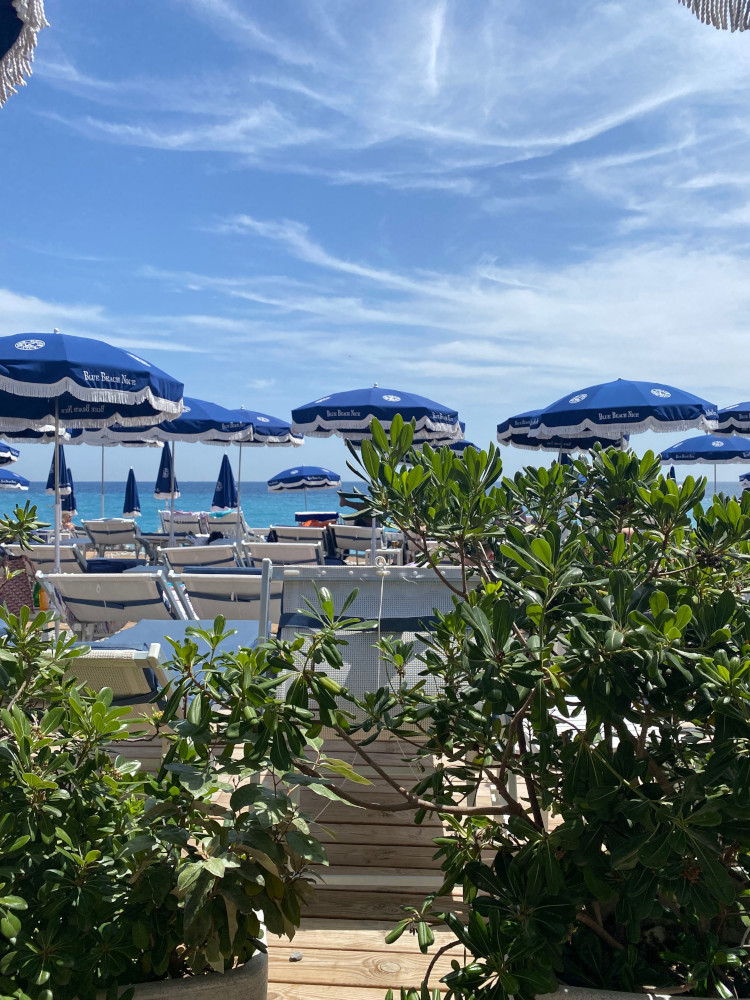 My favorite beach club in Nice is Blue Beach. The food is fantastic and the drinks are even better, and it is very family-friendly. Blue Beach is right in the heart of the seafront of Nice, close to the historic Hotel Negresco. In the summertime, I recommend making a reservation for a beach chair with an umbrella. It can get very hot!
If you're on a budget, there are plenty of public beaches in Nice. Bring your towel and plan to sit or lie on the rocks.
Saint-Jean-Cap-Ferrat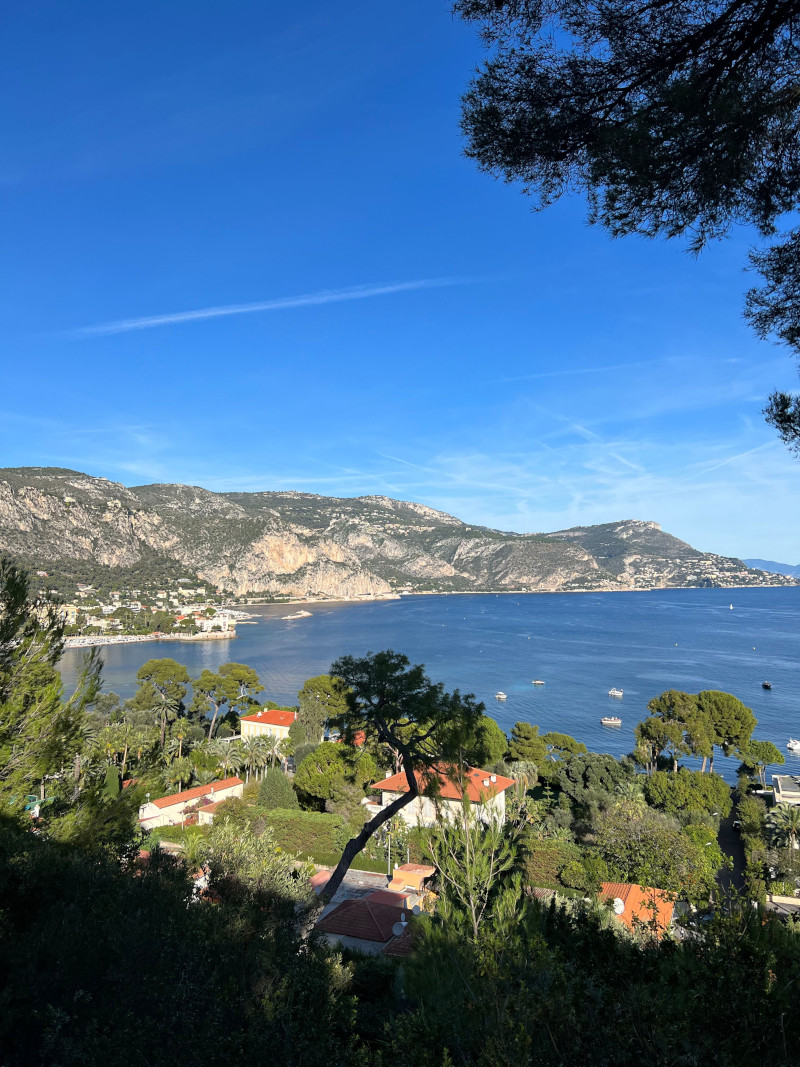 Paloma beach is probably the most famous beach restaurant in Saint-Jean-Cap-Ferrat. It is situated in a beautiful bay with an absolutely stunning view stretching 150 meters. The restaurant is not only known for its delicious Mediterranean food, but also for its parties, and comfortable loungers (with catering service). If you are in a sporty mood it is very recommended to rent a paddle board and discover this beautiful bay on the water.
Just like Nice, this is a rocky beach so plan to bring water shoes or sandals not to hurt your feet on the rocks while taking a dip in the beautiful blue and clear sea.
Cap-D'Ail
Close to Monaco, you can find this small town. It is known for its beautiful viewing points and it has its own coastal hiking route to Monaco.
The beach is situated next to the marina so if you are a boat enthusiast make sure to bring your camera or phone to take pictures of the most luxurious yachts.
Mala Plage is the hidden gem beach of Cap-D'ail. Like most hidden gems, it's not easy to get to but worth the trip. You can even indulge your 'extreme sport' urges with some diving from the left-hand side of the beach. And when you're ready to leave, just walk to Monaco from the same side.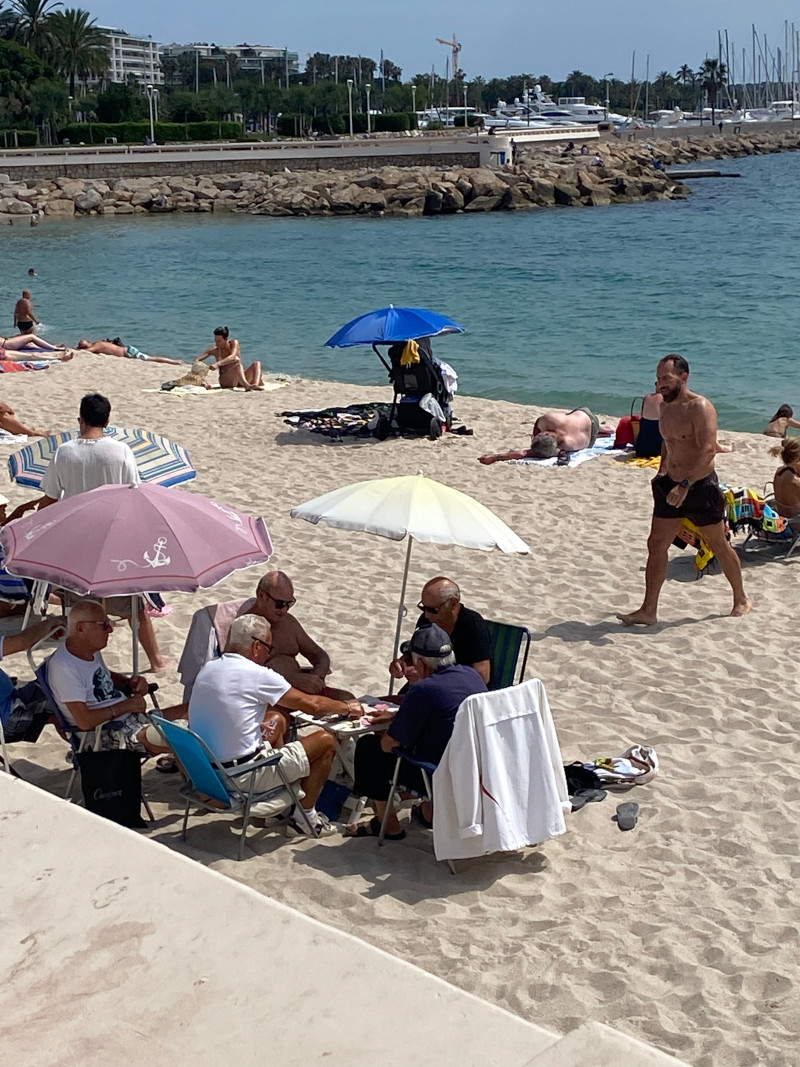 Don't want to rent a car? No problem! Cap-D'Ail has its own train station which has a very good connection to bigger cities such as Monte Carlo – Monaco, Nice, and Cannes.
Antibes / Juan-les-Pins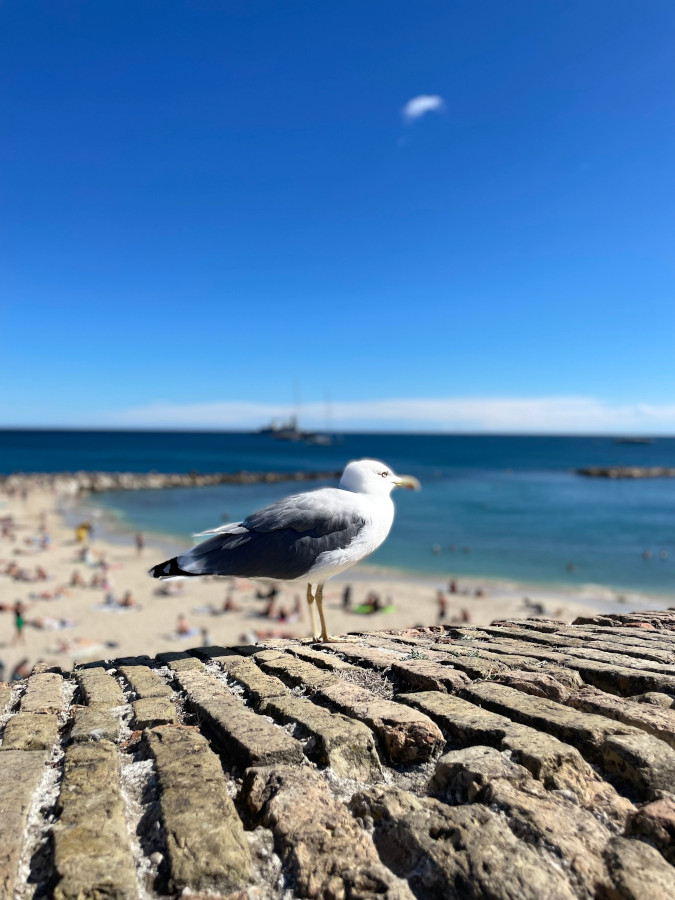 Antibes is a very historical and beautiful small town. It has beautiful beaches in the town, but if you walk a little bit further, towards Juan-les-Pins, you will find the real treasure!
To go there, you can take the coastal route and walk from Antibes and walk around Cap d'Antibes where you can find beautiful coves and small beaches, sometimes hidden and private. Don't forget to bring your snorkeling gear to explore the beautiful sea life!
The beach in Juan-les-Pins is a long, sandy beach often compared to Waikiki beach in Hawaii. It's so beautiful that it inspired Claude Monet to paint it in 1888.
Make sure to keep safe as some of these beaches aren't supervised.
Ezé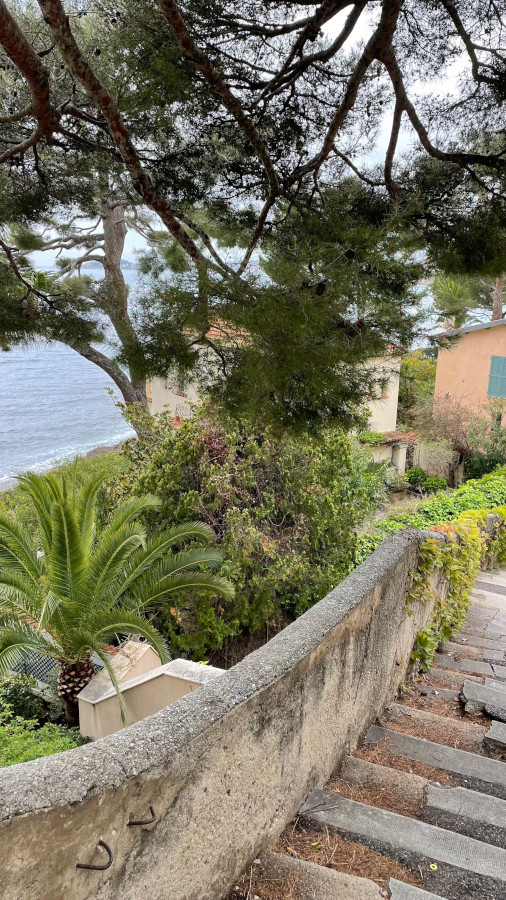 Ezé is a beautiful little town on the mountain. It may not be the first place where you would expect to find a beautiful beach. However, appearances can be deceiving. Down the mountain, next to the train station, you can find the hidden beach of Ezé.
This beach off the beaten trail is perfect to cool down after you've walked up the mountain on "Chemin de Nietzsche." An additional bonus? You get to visit the picturesque village of Ezé.
The path from the train station to the beach takes you through the backyards of some beautiful villas, which is very special to see. You can take a refreshing dip in the clear sea; because of the beach's location, you may find yourself fortunate to be there all alone and enjoy this beach in silence and wonder.
As you can see, there is more than one reason to visit Ezé during your stay in the French Riviera!
Cannes
If you prefer a sandy beach, Cannes has two beautiful sandy beaches.
Croisette Beach is situated just next to "Palais des Festivals" where you can spot a lot of celebrities during the Film Festival, and has some extremely luxurious beach clubs. Prefer to bring your own towel? That is possible too! There are some public places in addition to the beach clubs. Plage du Midi is the other beach where you can also find many beach clubs.
Even better is the beach at the island "Île Sainte-Marguerite." You can take the boat from the port in Cannes or Nice, which will bring you to this beautiful island. It is not too big so one day will be enough to see the whole island. You can go for a hike, have lunch in a restaurant (or bring your own picnic basket and eat your homemade lunch on this beautiful island), visit the museum, and go for a swim or even go snorkeling.
Marseille
Even though Marseille has a beautiful beach as well, I want to highlight something else. A unique experience for people who like to be underwater; Marseille is home to an underwater museum. It is the first underwater museum of Europe and it shows some beautiful sculptures. It is about 100 meters from Catalans Beach and you can decide to go by your own means or to dive with a qualified instructor.
The museum wants to make public awareness of marine biology, and environmental issues and they want to show the beauty of art and water sports. If you are up to an adventure, this absolutely must be on your list!
Saint Tropez
Pampelonne Beach is probably the most famous beach near Saint Tropez. It is known not only for its beauty, but it is also famous for all the celebrities you can spot on this beach. Pampelonne Beach is widely considered to have the best beach clubs, which is also probably why you can find a lot of luxurious yachts anchored in front of the coast.
The water is perfectly blue and clear and the sand feels very soft on your feet—perfect for a day of tanning and swimming.
Looking for some more wilderness and nature? Graniers Beach, also in Saint Tropez, is a must-see. It is a small beach, situated in a bay and surrounded by beautiful trees and tropical plants. Whether you want to spend the day celebrity-spotting on the popular, fashionable shores of Pampelonne Beach or in the peace and quiet of Graniers Beach, Saint Tropez can meet all of your needs.
A Beach Bonanza
The French Riviera is known for its beaches and history, but we hope you'll explore even more. If planning a trip to this area, the underwater museum in Marseille and Ile Saint Marguerite are all great options and close together, near Cannes and Saint Tropez.
If you plan to visit further north, closer to Nice and Monaco, then we recommend you spend some time exploring Blue Beach and the Promenade des Anglais in Nice, followed by a few days in Cap D'ail and Monaco. Both cities offer so much more than just beaches—it's worth spending time exploring each of them while you're in the area.
If you choose to start in Nice and then travel south, we recommend the ferry from Nice to Saint Tropez. It's a two-and-a-half-hour trip each way and by far the best way to get there from Nice. You'll cruise along the coastline and get stunning views of the entire Riviera.
Whatever you choose, you can't go wrong. It's the French Riviera! Bon Voyage.
Authors:
Kelly Koeppel is a CEO and Editor. She spends her year split between Nashville, Tennessee, and Nice, France.
Merel van der Kammen is a full-time resident of Nice, France. When not writing, Merel is a personal trainer and life coach.