Are you thinking of visiting Chernobyl, Ukraine? Then this article will help you a lot as it covers everything you need to know about Chernobyl today: what to do in Chernobyl, tips for visiting Chernobyl, and more. This useful information for your Chernobyl visit is provided by Steve from The Trip Goes On and this Chernobyl travel guide is part of the free travel guides series on this blog.
Chernobyl today: the ultimate travel guide to visiting Chernobyl, Ukraine
Late at night on 26th April 1986 reactor number 4 at the Chernobyl Nuclear Power Plant in the Soviet Union exploded during a botched safety test. The village of Chernobyl and nearby city of Pripyat would never be the same again and Chernobyl would be firmly imprinted on the minds of millions as the world's worst nuclear accident.
The accident resulted in the evacuation of nearby towns and villages and most of these have stood abandoned ever since. A few people have returned to some of the villages outside of the 30km exclusion zone, but by large the whole area is uninhabited.
Chernobyl is located in northern Ukraine close to the border with Belarus. The Ukrainian capital of Kyiv lies just 95km away.
During the late 1980s and early 1990s it would have been inconceivable to think of Chernobyl as a tourist destination, but as the (highly radioactive) dust settled in the decades after the accident some intrepid travellers wanted to add Chernobyl to their bucket list.
The recent HBO mini-series Chernobyl has increased interest in the accident and the site is now more popular than ever. Chernobyl tourism is definitely on the rise so this guide will tell you everything you need to know before going to Chernobyl.
Is Chernobyl safe to visit? Is Pripyat safe to visit?
Both places have been deemed safe for tourists to visit since 2010. So yes, Chernobyl is safe to visit, as is Pripyat. But you have to follow the exact instructions of your guide. You are not allowed to touch anything and you have to keep within the area recommended by your guide.
Also, you should not remain very long in this part – but the tours take care of all of these aspects. More safety tips for Chernobyl are included below in this article.
Included in this Chernobyl travel guide
Best places to see in and near Chernobyl


Things to do near Chernobyl

Duga Radar Station
Abandoned Villages
Chernobyl Village

St Elias Orthodox Church
Firefighter Memorial
Chernobyl Museum
Road Signs & Sculpture Park
Chernobyl Orphanage

Pripyat City

Pripyat Sign & Red Forest
Rooftop View of Chernobyl
Pripyat Hospital No 126
Middle School No 3
Azure Swimming Pool
Palace of Culture
Park of Culture and Rest
Reactor Number 4
Places to eat in Chernobyl

Where to stay in Chernobyl
Chernobyl safety travel tips
Things to do in and near Chernobyl
Below are 15 of the most interesting landmarks to see in and around Chernobyl. All are located within two exclusion zones, a 30km outer zone, and an inner 10km zone.
Given the dangers and sensitive nature of the area, permission must be sought and relevant permits obtained before any visit, all of which can be arranged by local tour companies.
Things to do near Chernobyl
Let's start with the very best things to do around Chernobyl.
Duga Radar Station
Hidden deep within the radioactive red forest is the giant steel construction of the Duga Radar Station. The radar station at Chernobyl was one of three early warning "over the horizon" radar stations that could warn of incoming missiles during the Cold War.
At 150m tall by 750m long, this rusting hulk is surrounded by signs warning of radiation, which gives the area a very creepy feel. However, it's one of the things to see near Chernobyl.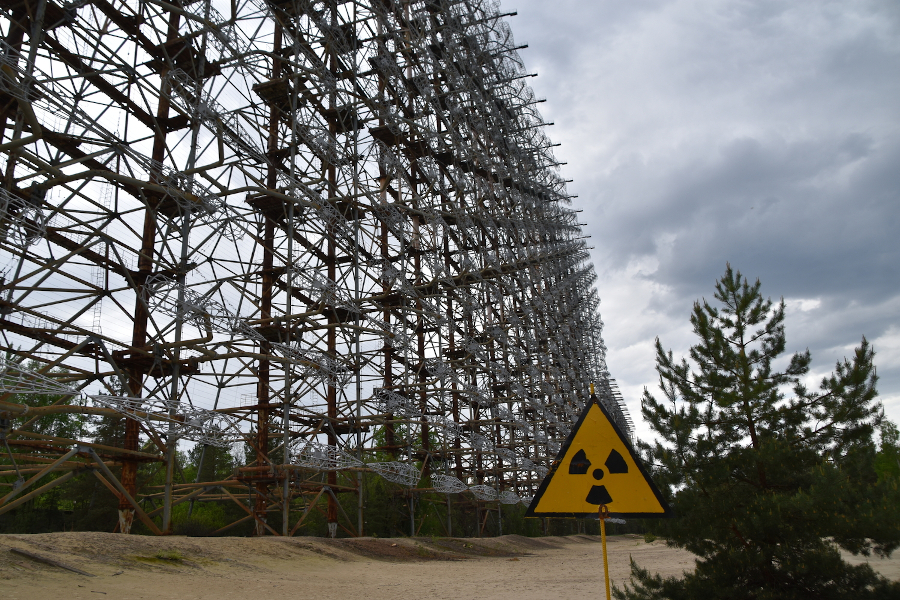 Abandoned Villages
Three days after the accident at the power plant the whole area was evacuated. People were told the evacuation was just a temporary measure and they would be able to return to their homes within a few weeks.
This was not the case, but because people thought they would be coming back they took little with them and the abandoned homes give a snapshot of Soviet Ukraine over 30 years ago.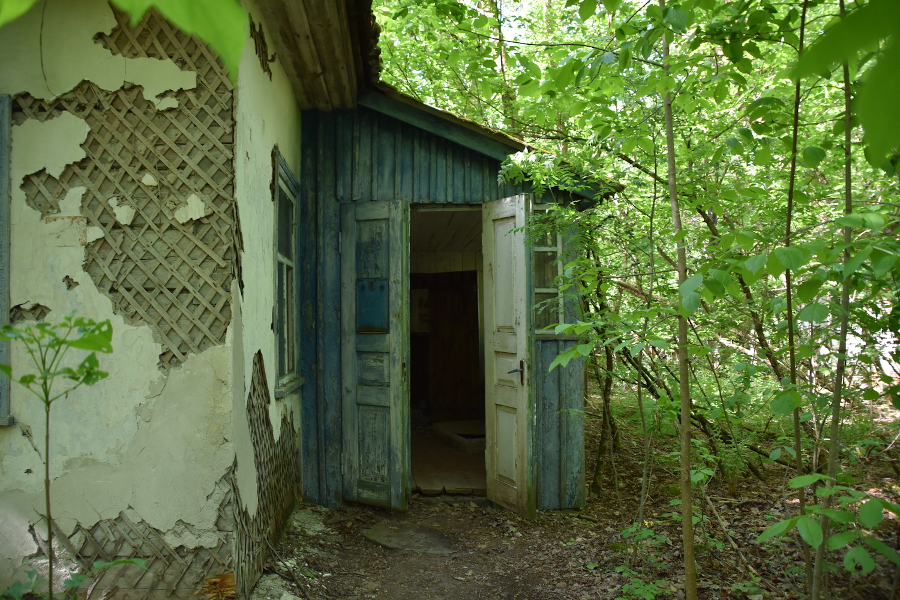 Chernobyl Village
St Elias Orthodox Church
As you start to explore Chernobyl, you have to know that the beautiful blue and white St Elias church, with its gold onion domes, is the only working church within the exclusion zone. Every year Ukrainian families descend upon the church to honour their dead buried here. St. Elias Orthodox Church is one of the Chernobyl attractions.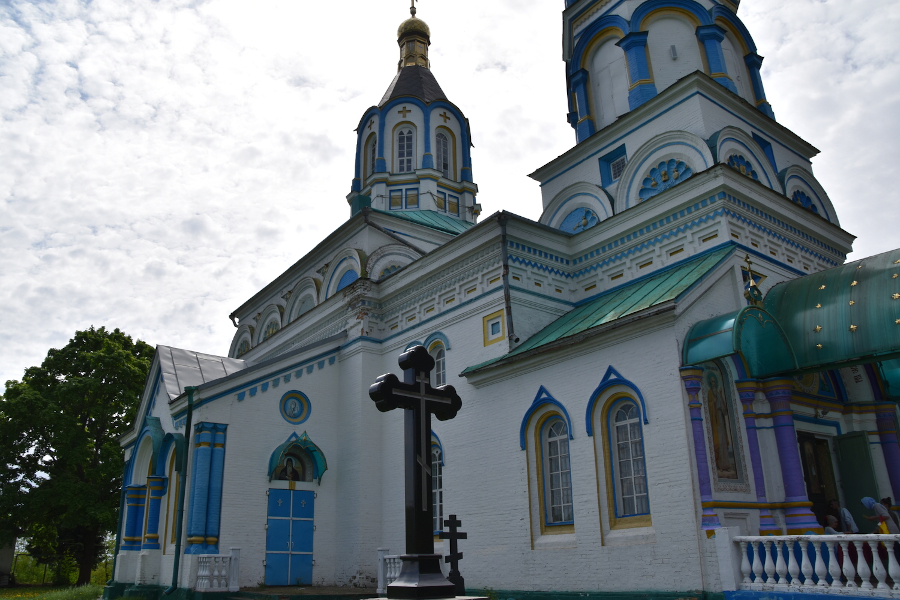 Firefighter Memorial
Within Chernobyl village is a concrete monument to the heroic firefighters who were the first on the scene after the accident – one of the famous Chernobyl sights. These brave men had no special protective equipment and many would die of acute radiation sickness within weeks.
It's important to remember that Chernobyl is the site of a disaster that affected the lives of hundreds of thousands of people, not to mention the devastating effect on the environment. The Firefighter Memorial is one of the top things to see in Chernobyl.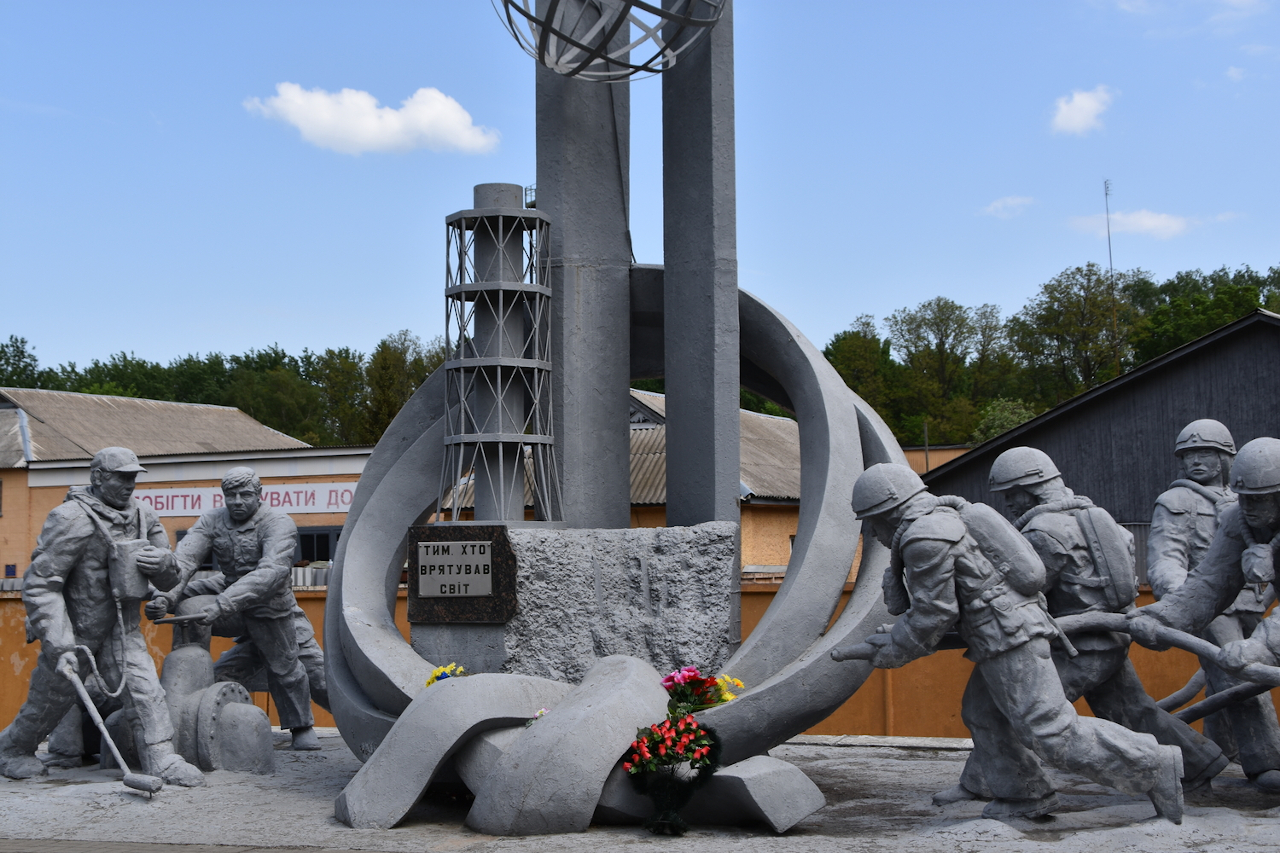 Chernobyl Museum
Going further on your Chernobyl sightseeing tour, there is a small museum in the village with a recreation of the reactor floor, old photographs taken during the cleanup and some artworks (including a giant mural on the outside of the building). The museum isn't as comprehensive as the one in Kiev, but is definitely worth a look.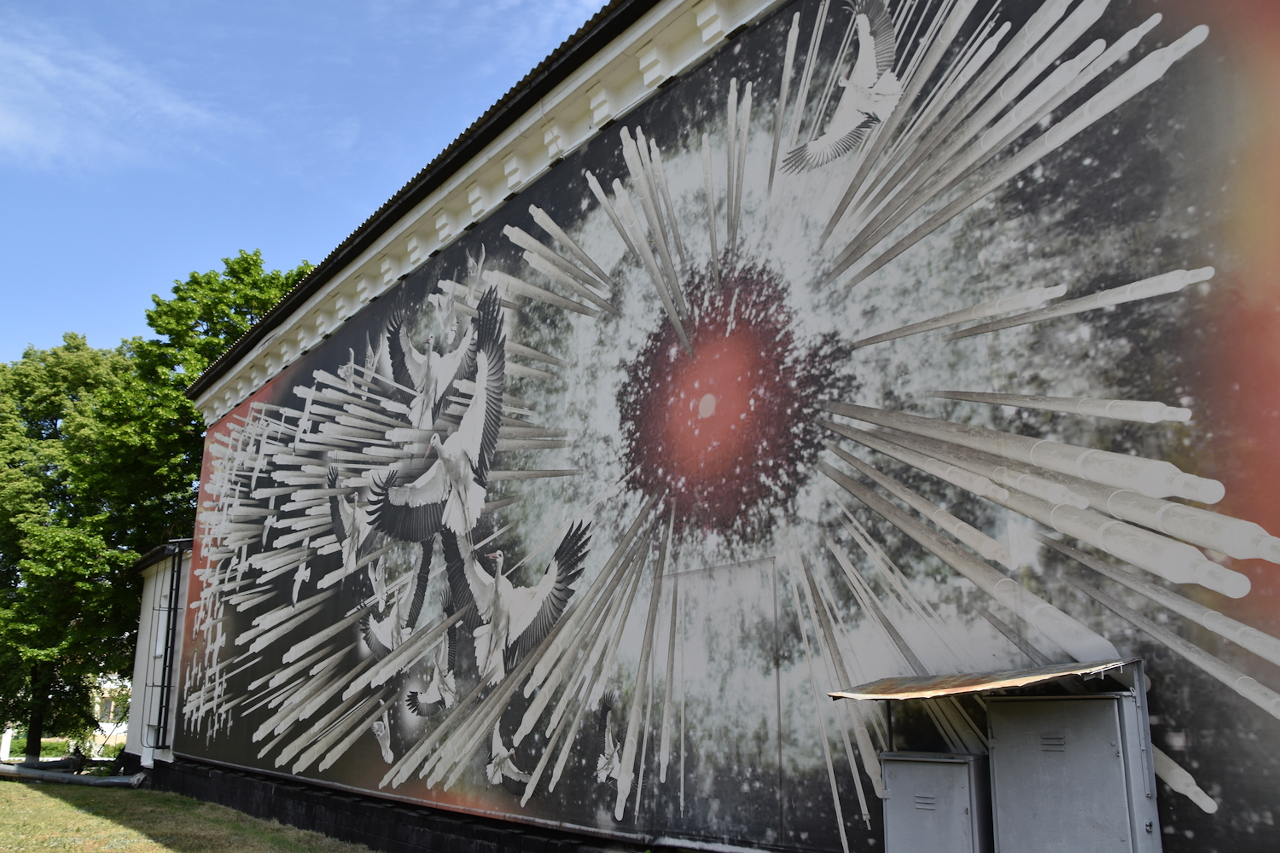 Road Signs & Sculpture Park
In the centre of Chernobyl village is a large green open space which is home to all the contaminated road-signs that were removed from nearby villages and placed in uniform rows.
If you continue walking along past the signs there are several sculptures depicting the accident and aftermath. This is one of the unique things to do in Chernobyl.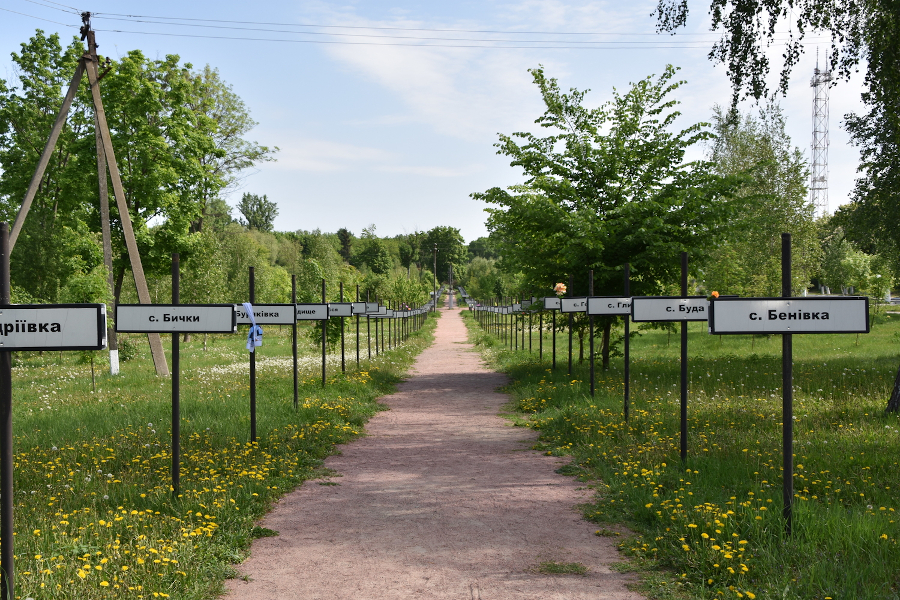 Chernobyl Orphanage
One of the spookiest places in Chernobyl village is the abandoned orphanage. Rusting metal beds are strewn with dolls and other children's toys.
The area around the orphanage has a high radiation reading so don't be surprised if you hear your Geiger counter beeping to warn you of the unseen dangers that lurk here (like the rest of the places on this list, it is perfectly safe provided you don't touch anything and are only visiting briefly).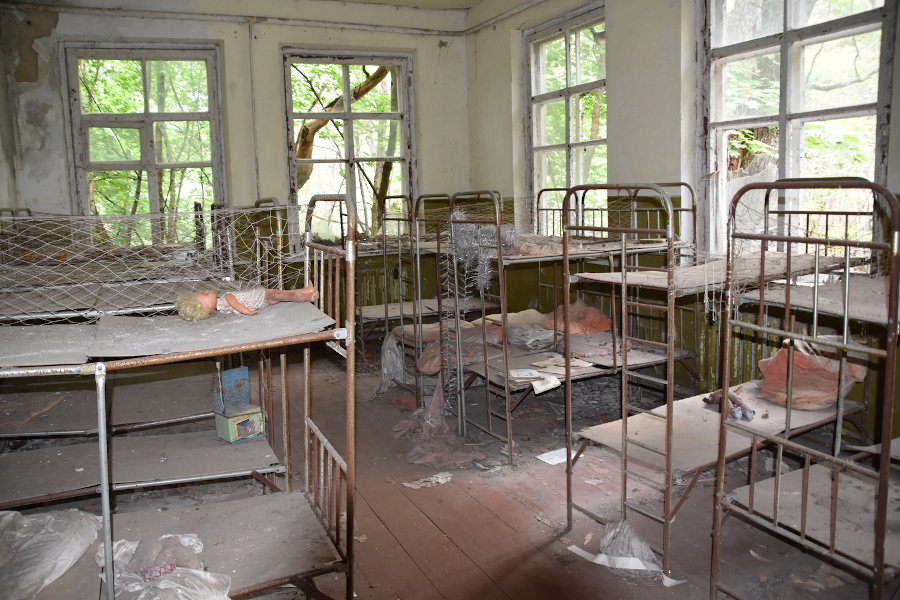 Pripyat City
As you continue your Chernobyl tour, you'll head toward Pripyat City. Here, you will find more things to see in the area, reminding of the glory of the city and, even more important, of the Chernobyl nuclear disaster.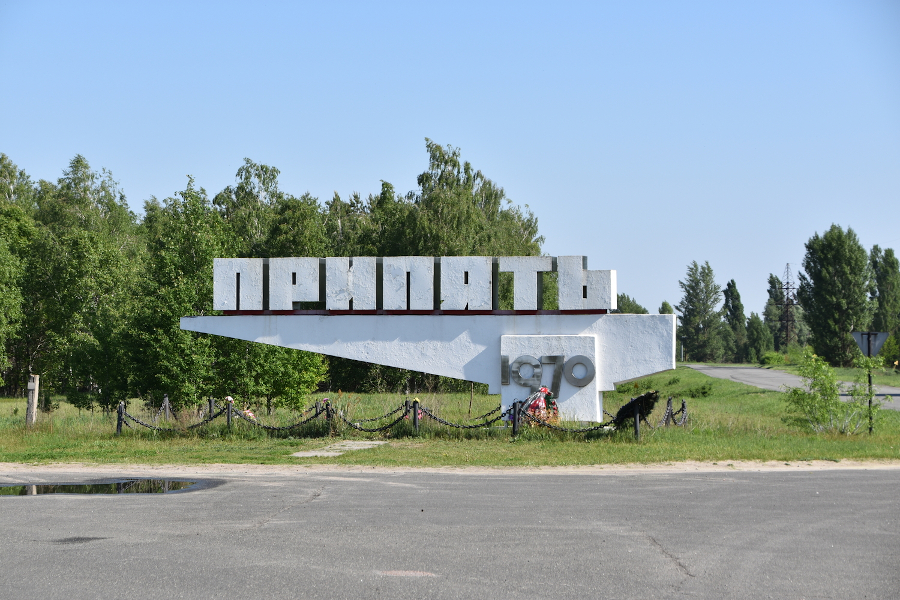 Pripyat Sign & Red Forest
Before entering the city of Pripyat, once home to 50,000 plant workers and their families, you will see a large concrete sign bearing the name of the place.
Next to the sign lies an abandoned railway line and beyond this is the red forest; one of the most contaminated areas around Chernobyl. You will see many signs warning of radiation here! For sure, this is one of the unique things to see in Pripyat as you advance on your tour.
Rooftop View of Chernobyl
If you are lucky, your tour guide will take you up to the top of one of the apartment buildings in Pripyat for sweeping views across the exclusion zone to the reactor at Chernobyl Nuclear Power Plant. This is one of the best things to do in Pripyat.
You will note that what was once a thriving city is now cloaked in a blanket of green pine trees where nature has reclaimed what was taken from her. This a great place for photos, so be sure to ask your guide if it can be included in your itinerary!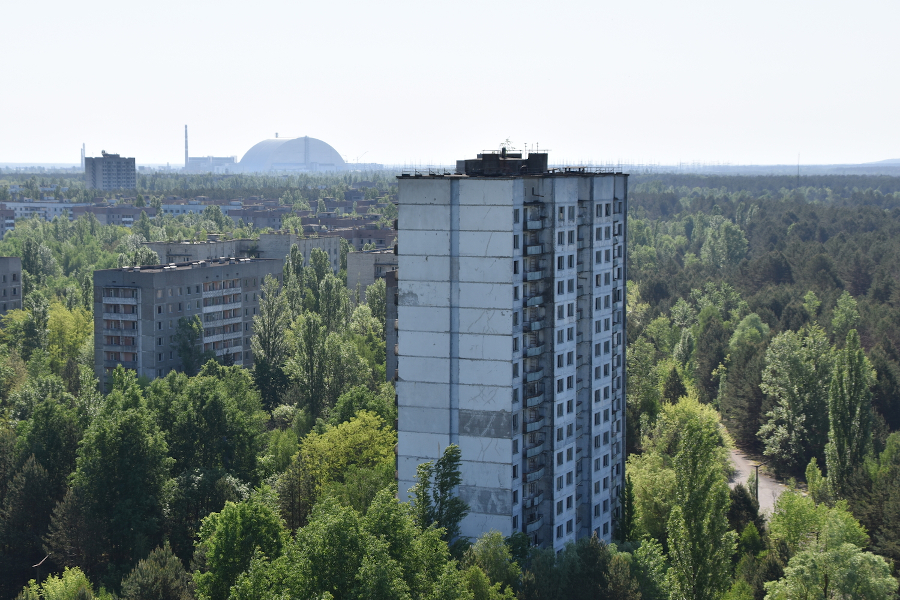 Pripyat Hospital No 126
Hospital number 126 received the first casualties after the accident but was soon overwhelmed. Patients were then transported to larger hospitals across the Soviet Union, including to Moscow.
The hospital is another eerie place to visit in Pripyat and provides some excellent if a little morbid, photo opportunities (please be respectful and save the grinning selfies for somewhere else).
You can explore the dusty wards and operating rooms of the hospital which is like something straight out of a horror movie.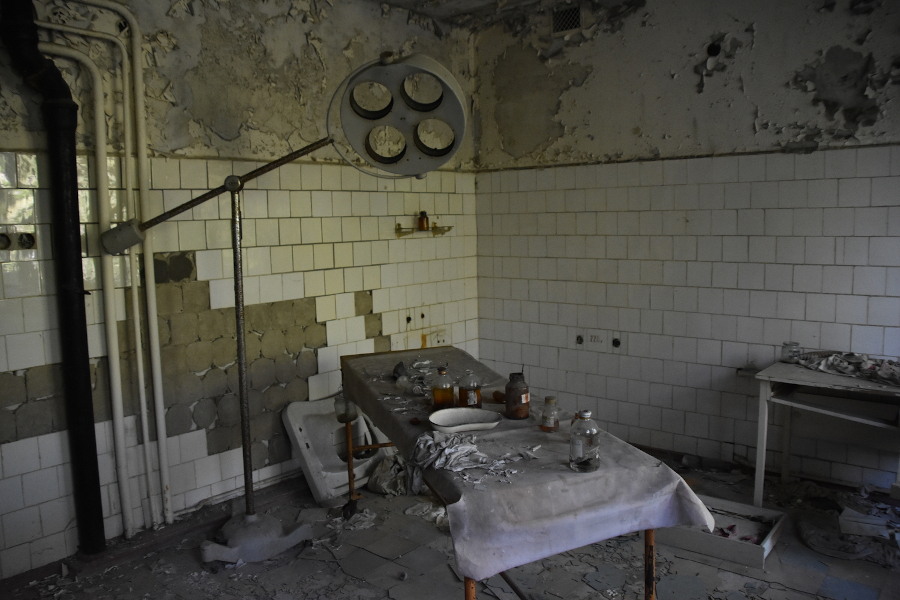 Middle School No 3
At Middle School number 3 you can explore the derelict classrooms and hallways of this once thriving centre of education. You will notice the floor of the main auditorium is covered in abandoned gas masks making for some great photographs.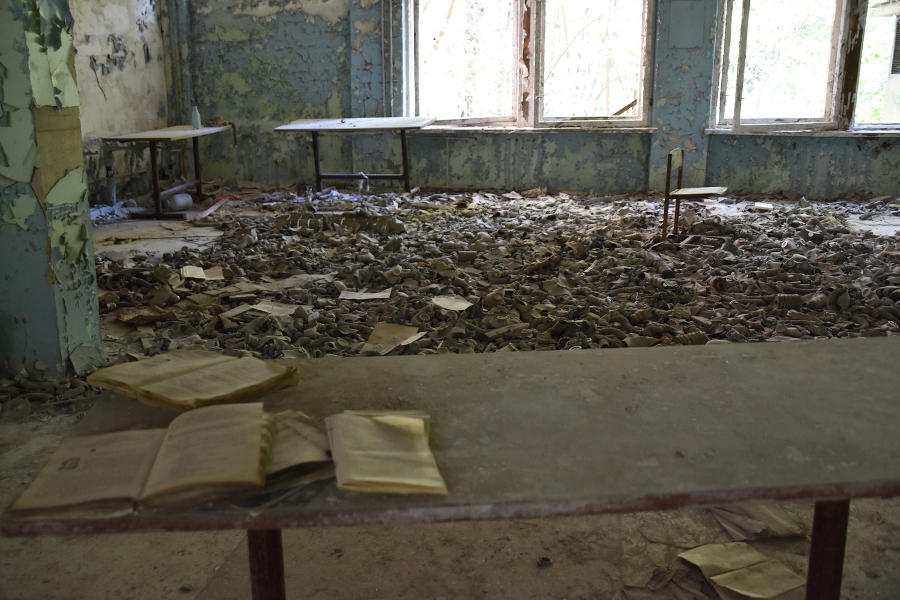 Azure Swimming Pool
As you continue to explore Pipyat, you'll learn that The Azure Swimming Pool was surprisingly kept open until 1998 and used by plant workers who were still employed at the other reactors on site (that's right, even after the catastrophe at reactor number 4, Chernobyl NPP continued to operate for many years after the accident). Definitely one of the interesting things to see in Pripyat.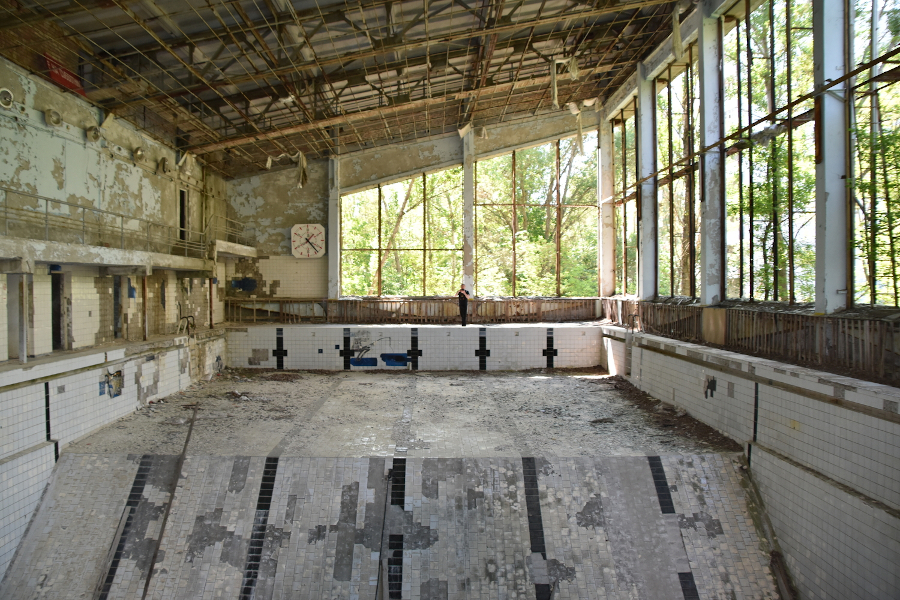 Palace of Culture
The Palace of Culture was a place of relaxation for the residents of Pripyat and included a cinema, concert hall, and sports complex; all of which you can explore. Look out for the smashed-up grand piano and soviet era paintings! Definitely one of the interesting places to visit in Pripyat.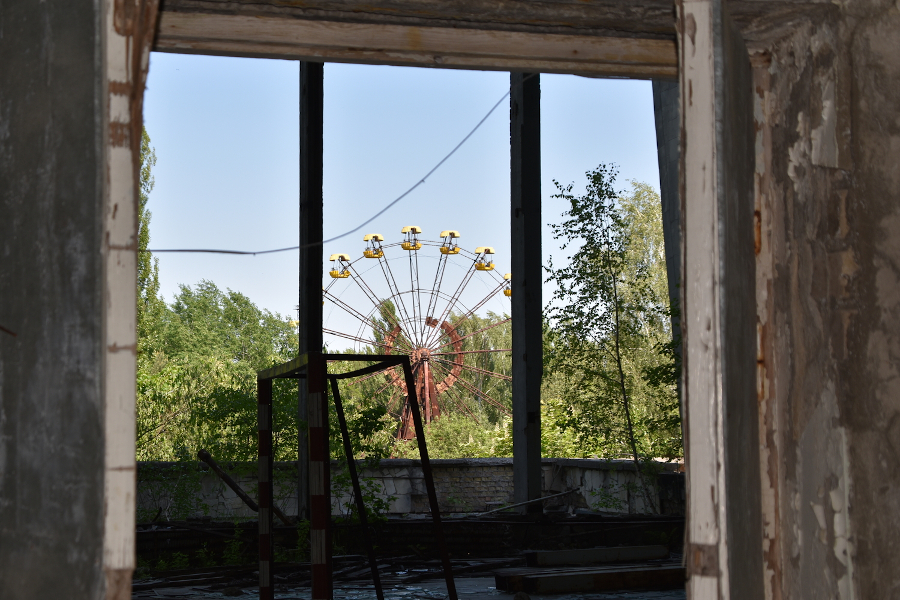 Park of Culture and Rest
One of the most iconic images of Chernobyl is the rusting yellow Ferris wheel at the Park of Culture and Rest. In a sad twist of fate, the amusement park was due to open a few days after the accident so none of the rides have ever been used and have been left to decay as trees grow up around the place.
Reactor Number 4
The culmination of any visit to Chernobyl is Reactor Number 4, one of the Chernobyl landmarks. Contained within a newly completed steel and concrete sarcophagus, the reactor still poses a threat and will need to be monitored and the sarcophagus replaced again in around 100 years.
There is a monument where you can take photographs, but the area around the reactor is still sensitive so you can't wander around and take pictures anywhere else.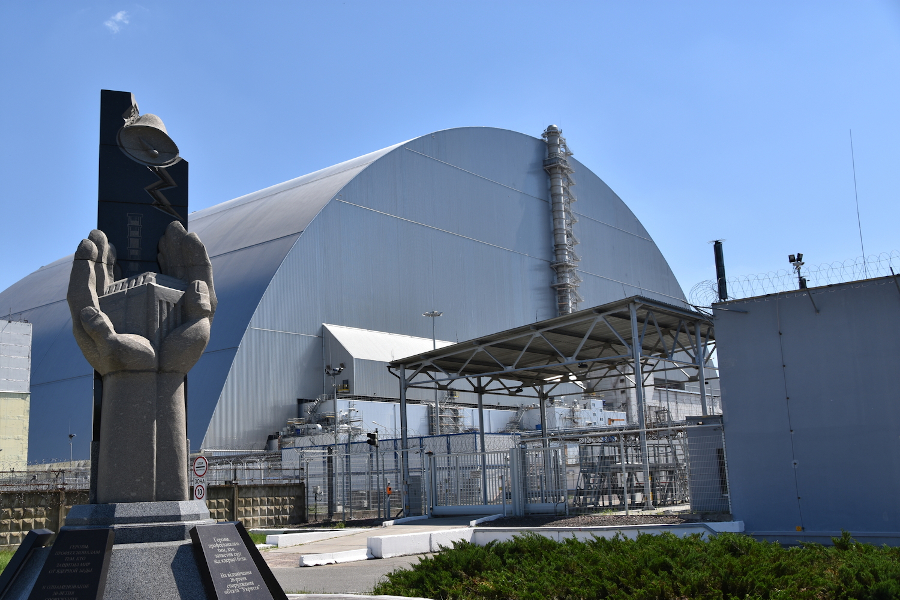 The above landmarks are usually included in a two-day Chernobyl tour of the zones. If you only have time for a day trip from Kyiv then the Duga Radar Station and a few other sites will be omitted. It is highly recommended to spend at least two days to get the most out of a Chernobyl visit.
Chernobyl Off the Beaten Path
Chernobyl itself is an "off the beaten path" destination and you must follow the directions of your tour guide at all times. Do not wander off on your own as if you stray any further from the beaten path, then the risks of contamination will increase.
Where to eat in Chernobyl
There are two restaurants located within the exclusion zone. One is in Chernobyl village and the other is a canteen at the NPP.
Both serve traditional Ukrainian/Slavic foods including delicious borscht, but if you have any specific dietary requirements talk to your tour guide first so these can be accommodated.
Where to stay in Chernobyl
There is one hotel/hostel in Chernobyl village with very basic rooms. You won't be able to leave the complex until your guide picks you up the next day so ensure you have a good book, or better yet, a nice bottle of Ukrainian vodka to while away the evening. There is a general store in the village where you can buy food, drink, washing kit and other supplies.
Chernobyl Safety Travel Tips
Visiting Chernobyl can be done with a tour and a guide. Here are some Chernobyl tips to help you have a good experience here.
Listen to your guide at all times and follow their instructions. Do not touch any objects in the exclusion zone and pay attention to your Geiger counter (at least one person in your party will be given one).
Be careful of areas with a lot of sand or moss as radioactive particles are still present. Stick to concrete and paved paths at all times.
In conclusion, a visit to Chernobyl is an excellent way to learn about one of the 20th Century's most iconic moments.
If you want to learn more about Chernobyl the excellent book Chernobyl 01:23:40 is well worth a read and the film The Battle of Chernobyl gives a look into the aftermath of the accident. The popular 2019 HBO series Chernobyl is a fascinating dramatization of the events.
About the author:
Steve Rohan is an English teacher living and working in China. He enjoys the great outdoors, music, real ale (craft beer for you Americans) reading and discovering obscure places around the world. He writes for the blog thetripgoeson. Follow him on Facebook, Pinterest, and Twitter too.