Day trips can be a nice way to unwind, and when you can easily get to the mountains or to the seaside in just a few hours, by car or train, then it's an opportunity to de-stress you might consider often.
Sometimes you have time to plan these trips, while in other occasions it's just a thing of the moment. That is why it is good to have a packing list prepared, to know what you need for your getaway.
So here is a list with what to pack for a day trip to the beach that includes the essentials as we take them to the beach when traveling. Because there are travel mistakes to avoid, and not having a complete beach packing list is one of them.
As a side note, we don't like to over pack, just take what we really need. This is why our list is small, but it has everything you'll need for such a trip on it.
You can copy the items (included as a list at the end of this article) and just check them while you pack for your next trip to the beach. Or, you can copy them and add other items that you need, and thus create your own list, one that you can use at any time.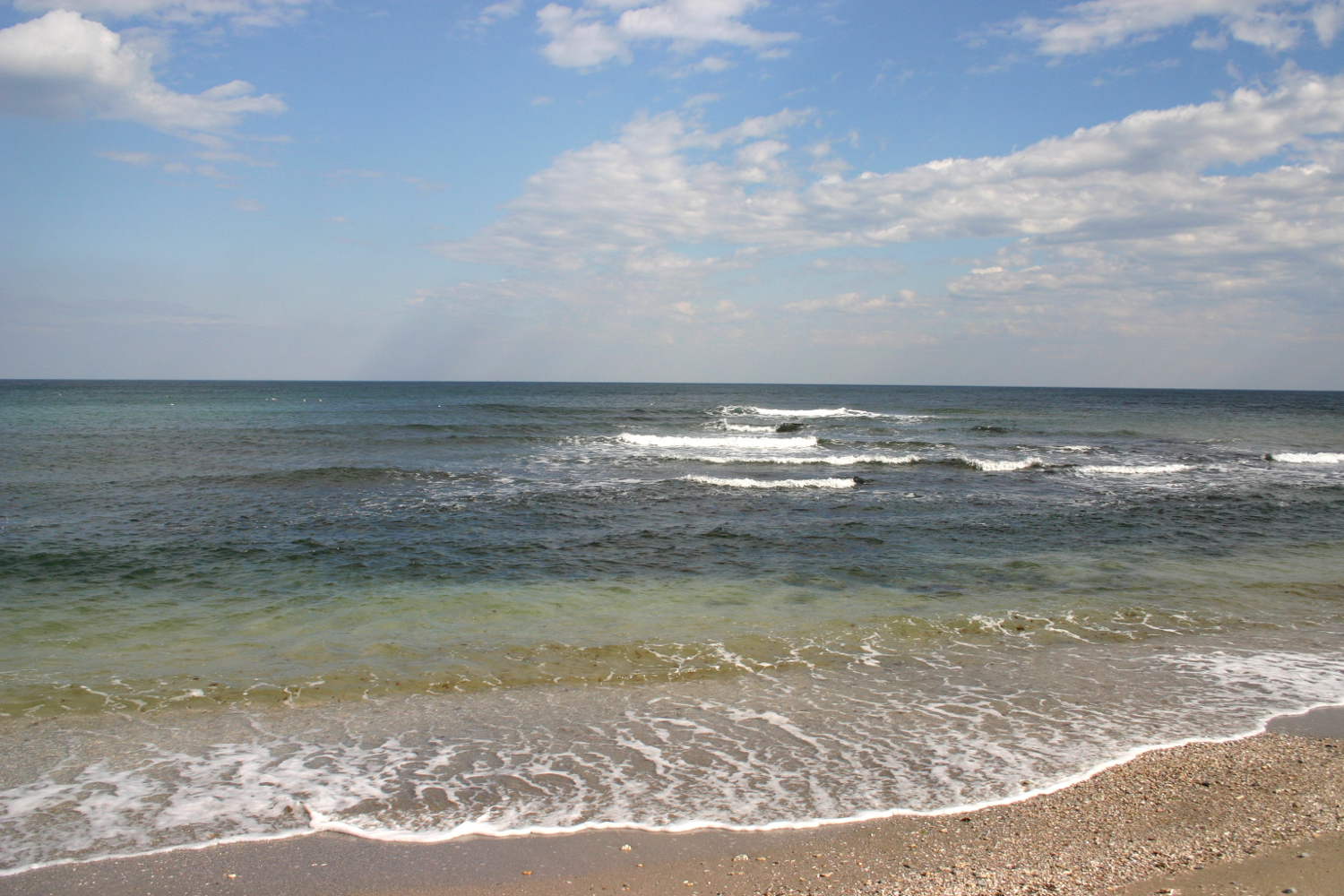 Sunscreen
For a short trip, we usually have some sunscreen with SPF 50. Yes, not a lot of tanning maybe, but no risk of sun burns either from what it is a really short stay at the beach.
Keep in mind that you should have and use this cream even if you won't swim or stay in a swimsuit – if it's windy or you just go to relax a bit tot he beach.
Beach Towel
You'd say it's essential. I'd agree. Just that one time, I forgot to pack it. In my defense, it was spring and windy. But we had no chairs or anything to sit on, therefore… you get the idea.
So, no matter what, have a beach towel. Now, there are many types of beach towels, but when choosing one think about the fact that you will want one that it is light, easy to pack, and doesn't stick to your skin. That is why you could choose a microfiber beach towel that will offer you the comfort you seek. Plus you can use it in other travels as well.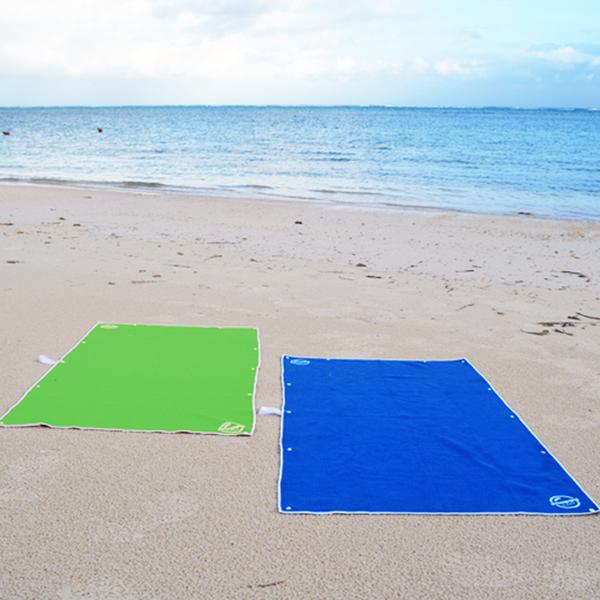 Hat
You definitely need something to cover your head. It's a must. So make sure to pack at least a hat. If you prefer a stylish one (we go for the simplest ones), make sure you buy it in advance.
Anyway, we'd recommend you to have it at least one day prior to your trip, and not to leave it as an item on your last-minute shopping list.
Snacks and water
You'll need these for the road and for the beach too. So maybe think if something with ice to keep them cold as well. Also, think of snacks that are OK in the heat, even if only for a few hours. Choose something light. But make sure you include them on your beach packing list.
Don't forget about water. It's a must. You need to be hydrated at all times. As a side note, usually there are terraces near the beaches, so you might be able to buy something from those places too, but it is best – and safer – to be prepared.
Camera
Photos are a precious travel souvenir and nowadays cameras are accessible and easy to use. Smartphones also take beautiful pictures, but for amazing ones, professional equipment might be needed. So a camera is a must and an important item when speaking of what to pack for a day trip to the beach.
If you have various accessories you use with your camera or go-pro, then include them on your list as well. You wouldn't want to miss the chance to take the best photos from your short trip to the beach.
Warmer clothes/something to change in
You might not intend to swim. But you might walk on the beach. And someone – or just the waves – might wet you. So, you should have something to change in. That is why we always have a second blouse and a pair of pants packed.
Make sure to add on your beach packing list some warm clothes – a jacket or something, in case it gets windy. You wouldn't want to catch a cold! Believe me, it's not fun to come back from such a trip with a cold, I'm talking from experience.
Other items/accessories
Now, above you have all the essential things you need for the beach. For a short trip, true. But, depending on your preferences and style, you might want to include other items or accessories such as:
sunglasses (I can't wear them, but they can be really helpful. I actually purchased a magnetic clip-on set that acts like sunglasses for those who need to ear glasses at all times)
a book – printed or downloaded
a charger, power adapter – to keep those electronics in use (phone and other gadgets)
napkins – including wet ones
a "first aid" kid – meaning some patches, maybe some disinfectant (true, I always have them in the car's first aid kit). If you scratch yourself or for other small injuries, they may prove useful.
These are our essential items to include in your beach packing list for a day break at the sea/ocean side. Like I said, they are for a short period of time, therefore you don't see any item for a hotel room, or clothes for several days – just a backup blouse/pants/skirt.
But, while the luggage is not big, it's not at all fun when you are missing one of the items listed above. So, to make it easier for you, here are all the items in a list so that you will always know what to pack for a day trip to the beach:
sunscreen
beach towel
hat
snacks and water
camera
warmer clothes/something to change in
sunglasses
a book – printed or downloaded
a charger, power adapter
napkins – including wet ones
a "first aid" kid
other gadgets you may require (tablet, etc.)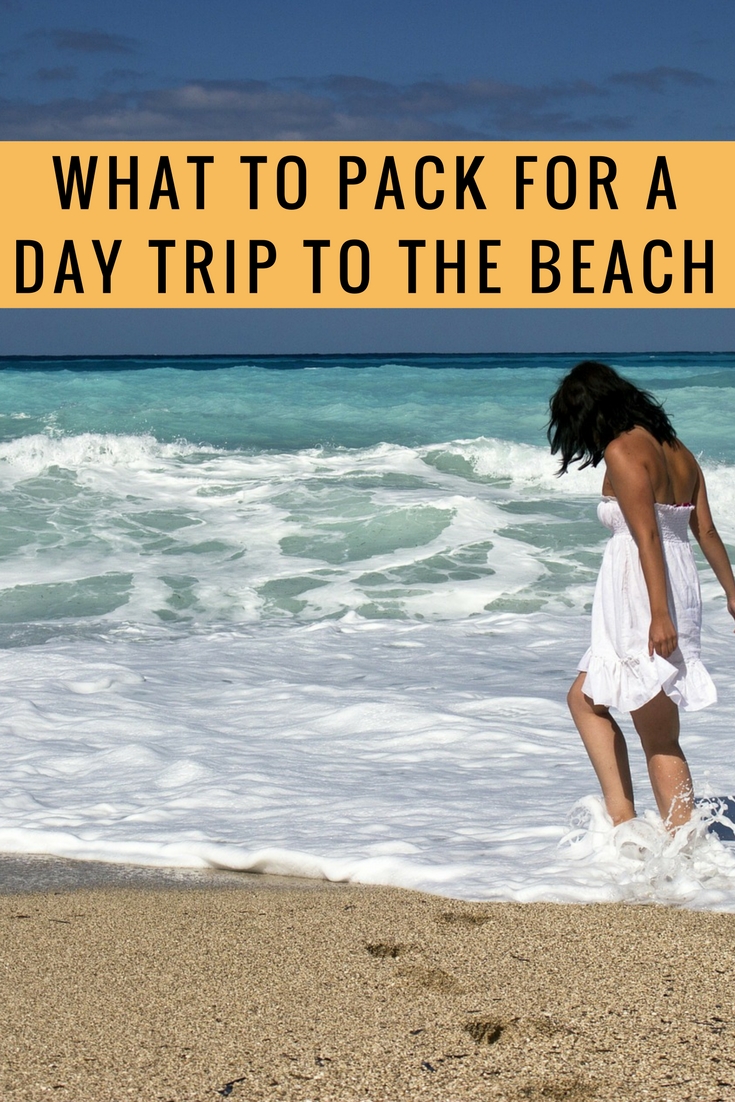 pins made using a photo from Pixabay and Unsplash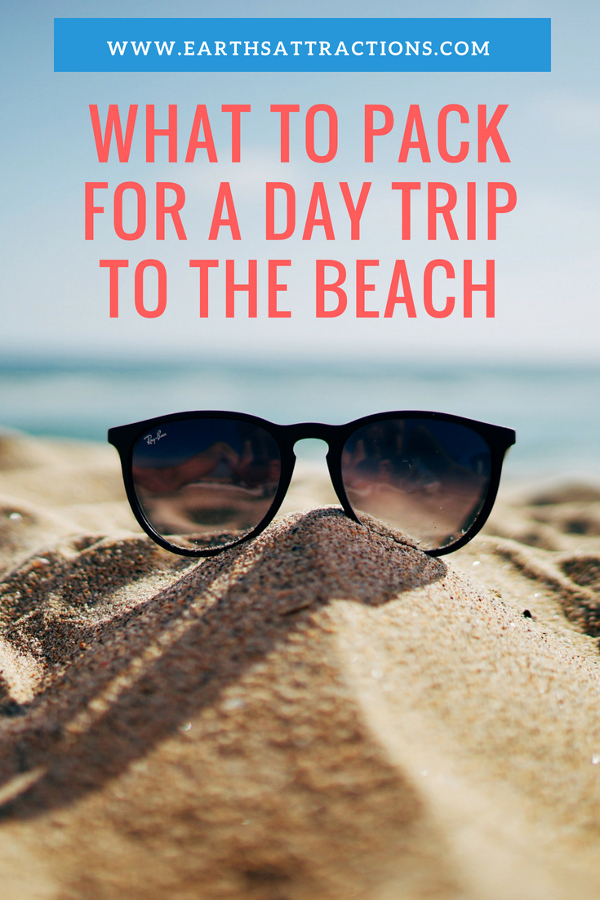 Save
Save
Save
Save