Planning a trip to Kathmandu, Nepal? This Kathmandu city guide shows you the best things to do in Kathmandu, when to visit Kathmandu, amazing landmarks in Kathmandu, the best restaurants in Kathmandu, and incredibly useful travel tips for Kathmandu.
This travel guide to Kathmandu is written by Yen from Swing Abroad and includes everything you need to know before visiting Kathmandu. From where to eat in Kathmandu and cool activities in Kathmandu to off the beaten path things to do in Kathmandu, and tips for visiting Kathmandu, everything is covered!
Use this insider's guide to Kathmandu, Nepal when planning your trip or when creating your Kathmandu itinerary. This article is also perfect to help you create your Kathmandu bucket list.
This guide is part of the free expert destination guides series on this blog.
Things to do in Kathmandu: Your complete Kathmandu City Guide
Despite being one of the poorest countries in the world, Nepal is also one of the safest countries to travel in Asia. Could you believe that? Home to the world's tallest mountain and Lord Buddha's birthplace, Nepal has been welcoming foreigners since when they open the border in 1953.
Kathmandu is the capital of the country and also the base of many trekkers for scaling Mt Everest. Nowadays, Kathmandu is more than just the trekkers' base of operation for foreigners, it's a land of ancient culture and tradition. And today, we're going to shine the spotlight on the Kathmandu city guide.
In fact, tourism has undergone changes throughout the decades. In Thamel, for example, there are more and more western-influenced bars and restaurants.
And you can also find Chinese restaurants there to accommodate the Chinese tourists. One thing remains unchanged, and that is the trekking culture. You can still find loads of trekking gears in Thamel, and it's very easy to book a trekking tour in Kathmandu.
Without further ado, let's dive in and see how you can plan your Kathmandu itinerary by yourself in this comprehensive city guide!
When to visit Nepal?
Located at the elevation of 1,400 meters above sea level, Kathmandu is not heavily affected by the extreme floods during monsoon season.
The weather remains cool even in the summer and gets bone-chilling in the winter. If you're thinking of altitude sickness, nope, you'll not have any problems here.
The best time to visit Nepal is kind of subjective, as it depends on what type of traveler you are. If you're visiting Kathmandu and decided not to go for any trekking, then any time of the year can just be a great time.
The peak seasons for trekking in Nepal are autumn (September to late November) and Spring (late February to April). During these two seasons, you'll see the most crowds of foreigners in Kathmandu.
Hotels and hostels might be a little pricier during these two seasons.
Traveling in Kathmandu during the monsoon season can be troublesome. Rain might come any time and you might have a hard time exploring.
Why is that so? Rains in Kathmandu cause temporary floods, which combines with the mud and became muddy water. And most of the roads in Kathmandu are muddy when rain so it's wiser not to visit Nepal in the monsoon season.
Summer season, however, is fine, though the temperature is a little warmer comparatively. You can find out more information in this Nepal backpacking guide!
Places to Visit in Kathmandu
Thamel
Thamel is the tourist hub in Kathmandu. Most of the foreigners, be them tourists, travelers, or backpackers prefer to stay in Thamel. There are a bunch of hotels and hostels to choose from here, and the street has all sorts of bars and restaurants serving all kinds of cuisines.
If you're going for trekking later, there are plenty of stores selling trekking gears. Most of the shops are selling pirated trekking gears, but almost all of them function greatly, as long as you're not against the products.
And if you're up for genuine brands, there are also several branded shops too.
There are a few restaurants that I highly recommend checking out, read on!
Boudhanath Stupa
Boudhanath Stupa is one of the largest stupas in the world, and definitely the largest in Nepal and one of the best things to see in Kathmandu.
During the earthquake in 2015, the stupa was destroyed almost entirely. However, the ancient structure was restored within a year thanks to the donation of the Buddhism organization.
The best time to visit Boudhanath Stupa would be in the early morning when the monks are doing their morning prayers. During your visit, remember to follow the crowd and walk in clockwise direction.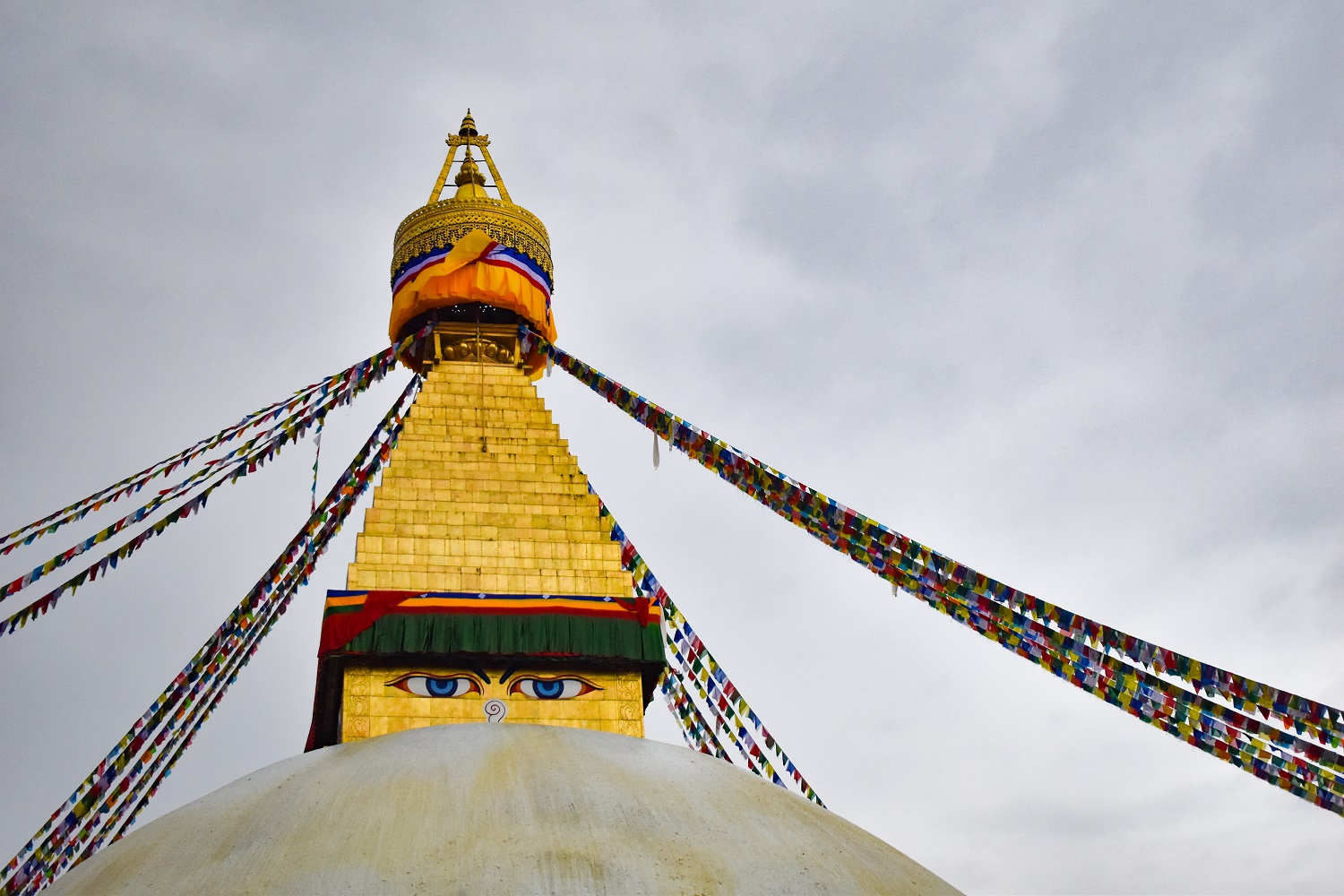 Pashupatinath Temple
Continue to explore Kathmandu by visiting the Pashupatinath Temple, the holiest pilgrimage site for Hindus in Kathmandu.
Visiting the temple takes 1,000 Nepalese Rupees, and an optional 1,000 Rupees for a guide to show you around. It is totally worth it as it is one of the best places to visit in Kathmandu.
Built along Bagmati River, the temple is also important for the Hindu cremation. Sadhus, the holy men are very common in the temple. But think twice before taking photographs with them, they will ask you for a fee, usually 1,000 Rupees.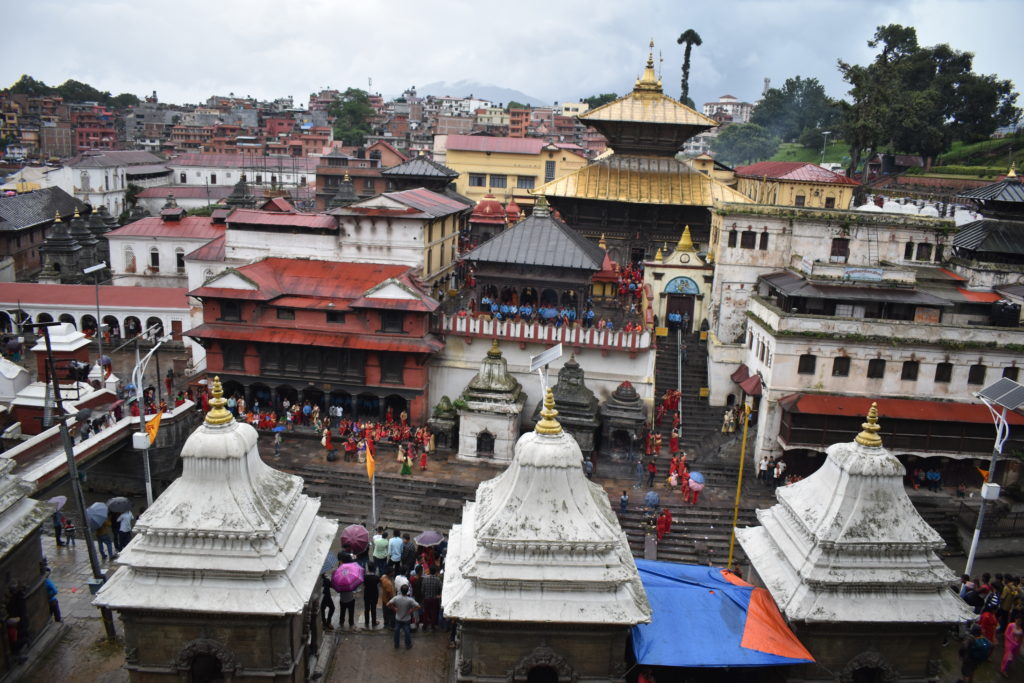 Swayambhunath Temple / Monkey Temple
Nest on this Kathmandu city guide is the famous Swayambhunath Temple that could be the most famous temple in Kathmandu. With the stupa being featured in the covers of many magazines, it's a crime to not visit the temple.
Located at the top of a hill, Swayambhunath Temple offers a panoramic view over the Kathmandu Valley. Make sure you include this temple on your Kathmandu itinerary as it is one of the must-sees in Kathmandu.
Spend some time in the rooftop bars in the temple compound, and try some mango Lassi.
You can take a 45 minutes' walk from Thamel to get to the temple.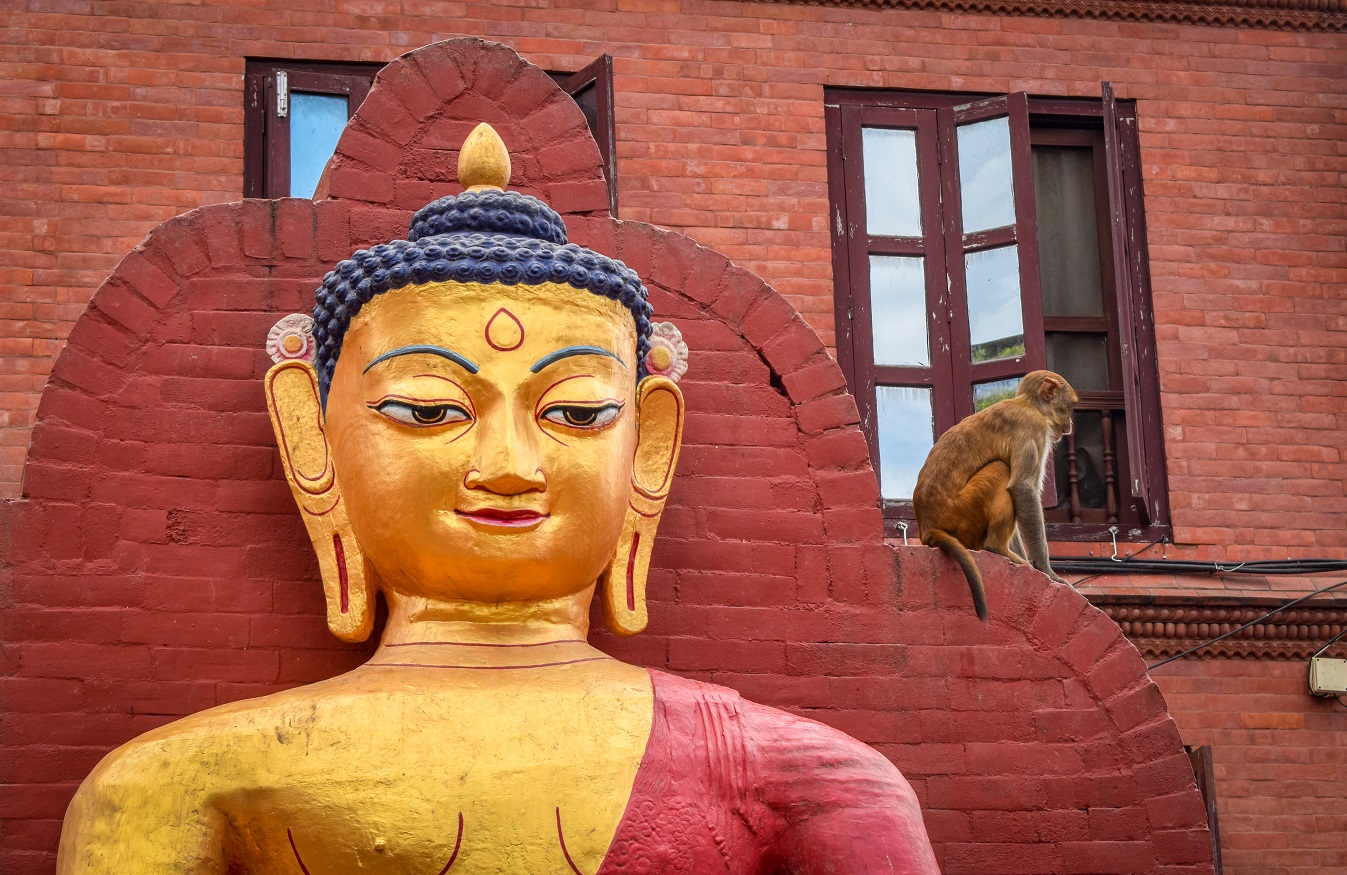 Amideva Buddha Park
Still wondering what to do in Kathmandu? Then let me tell you about Amideva Buddha Park.
It is located very near to Swayambunath Temple so I recommend visiting both at once. The park consists of three huge golden Buddha statues, with elegant crafting at the base of the statues.
Take some time to enjoy the crafting and have a rest on the benches. There is no entrance fee into Amideva Buddha Park which makes it one of the best free things to do in Kathmandu.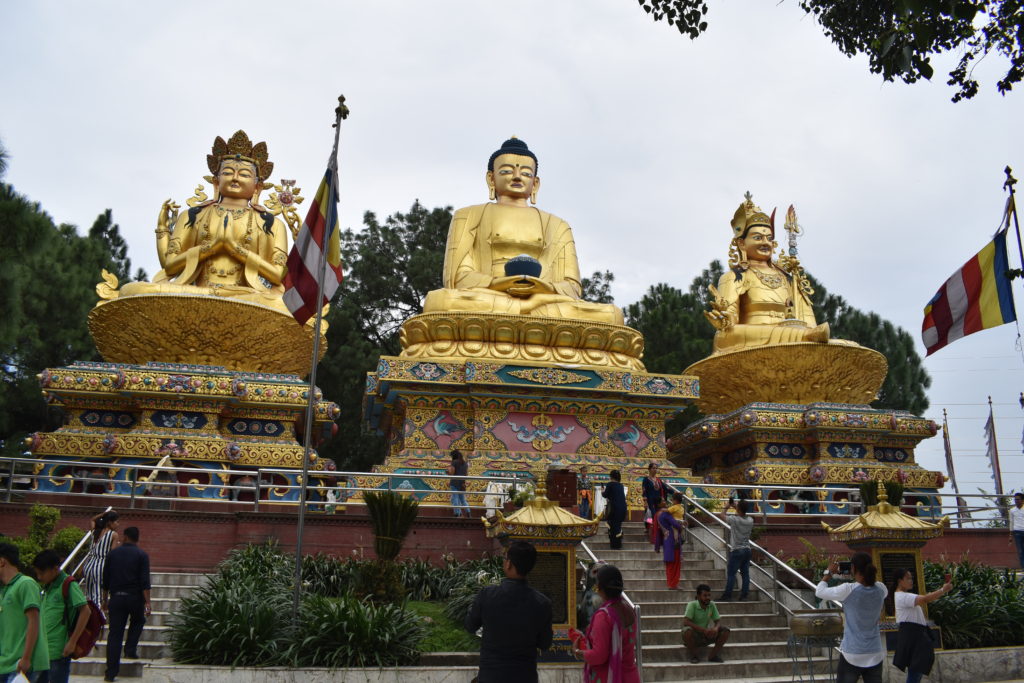 Kathmandu Durbar Square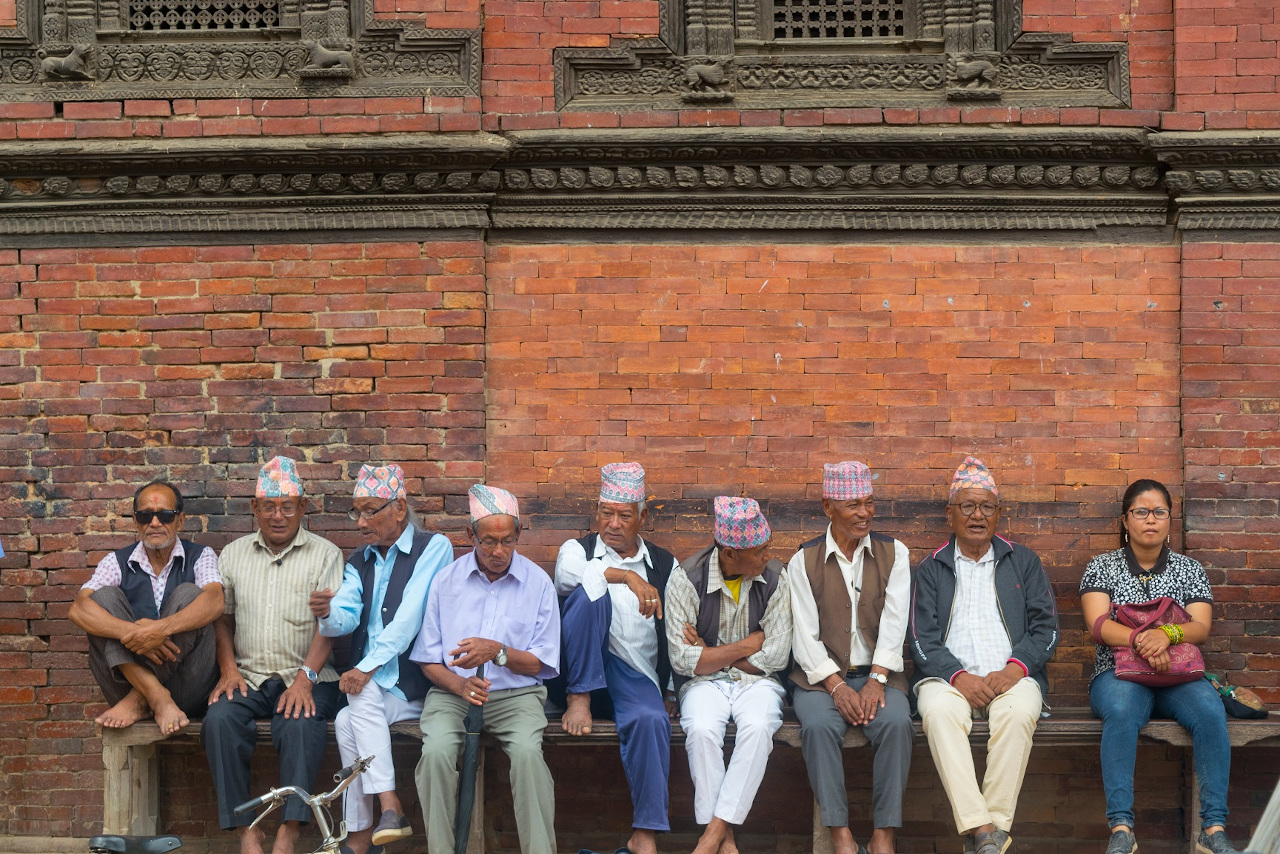 Kathmandu Durbar Square is one of the three historic durbar squares in Kathmandu. Located not far from Thamel, I highly recommend you to visit Kathmandu Durbar Square on your first day in Kathmandu.
The entrance fee is 1,000 Nepalese Rupees for the whole day, and you'll need around an hour or two to see everything in the durbar square. But still, it could be longer or shorter depending on what you're into.
One thing is clear: it is one of the best tourist attractions in Kathmandu so make sure you don't miss it!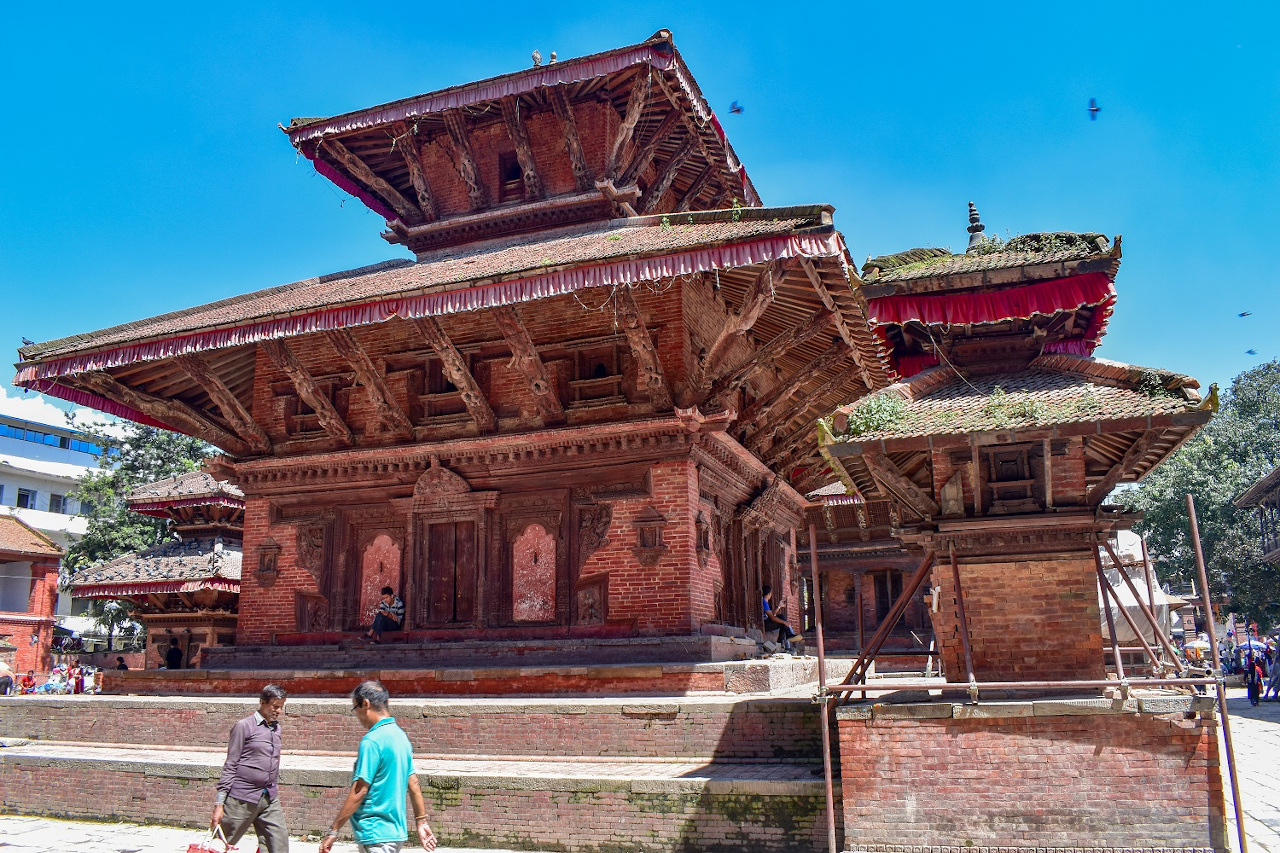 Patan
Patan is the home of Patan Durbar Square. Comparatively, Patan Durbar Square is the smallest among the three. But the reason I'm recommending a trip to Patan is that it is the oldest city in Kathmandu.
Walking around the district, you'll find a lot of heritage structures like old temples which makes this one of the best places to visit in Kathmandu.
Some of them are destroyed by the earthquake but some of them still remain intact. It's a great way to see the historic side of Kathmandu city.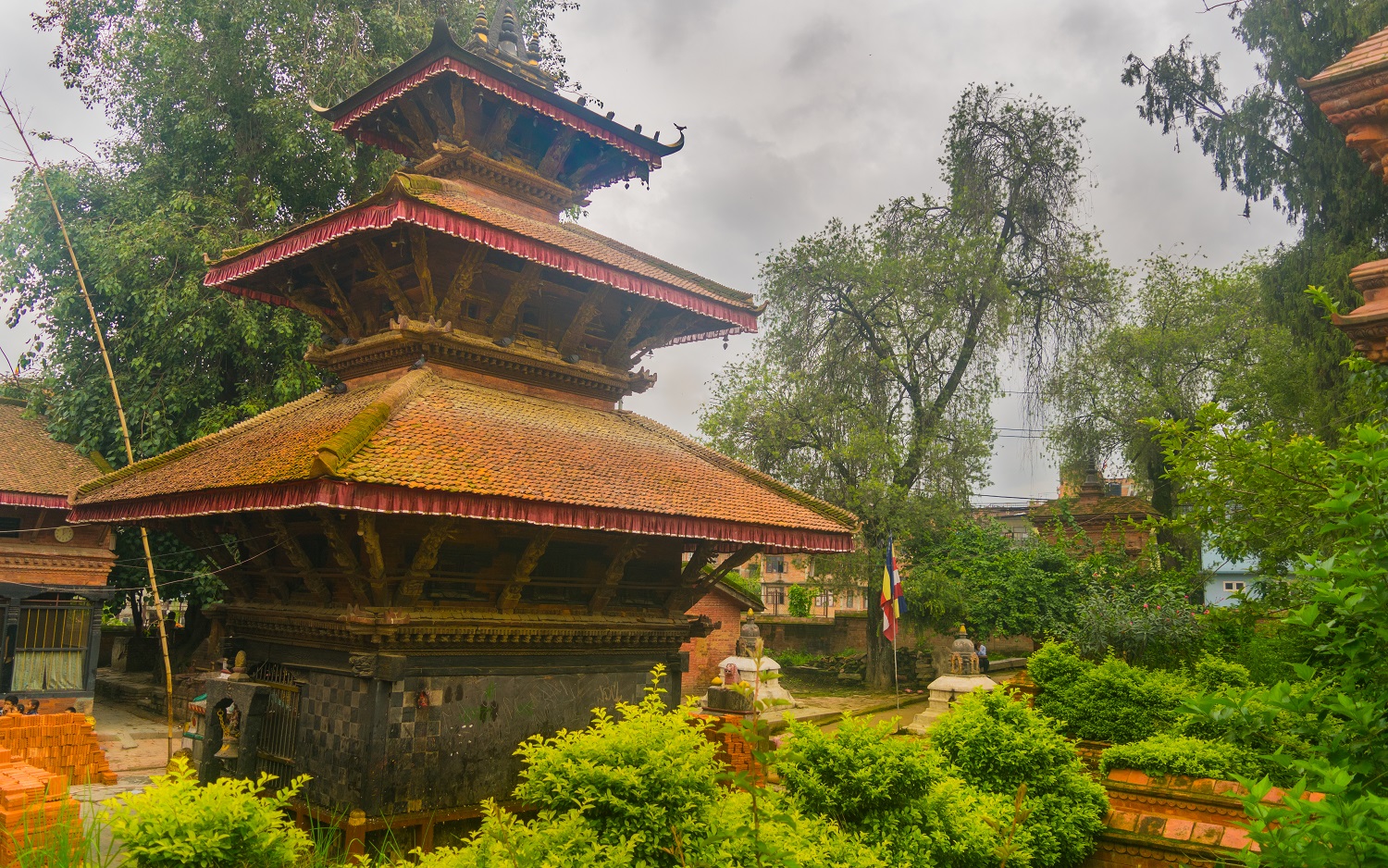 Bhaktapur Durbar Square
Bhaktapur Durbar Square is the most magnificent and largest durbar square in Kathmandu and one of the popular things to see in Kathmandu.
Exploring everything in this compound will take you a half-day. And due to its largest area, the entrance fee is 1,500 Nepalese Rupees.
Home to numerous shrines, temples, and artisans, this durbar square is recognized as one of the two UNESCO World Heritage Sites in Nepal, the other one being Lumbini.
If you're planning to visit the next day too, tell the guard and he will stamp your entrance permit. This way, you can visit the durbar square for 2 days without paying anything extra.
Off The Beaten Path Things to Do in Kathmandu
Apart from the popular attractions in Kathmandu, there are a few off the beaten path things to do in Kathmandu that I recommend. Let's see them.
Godavari Botanical Garden
The first place on this list of Kathmandu off the beaten path things to do is the Godavari Botanical Garden.
This is the most non-Kathmandu destination you'll ever see in the city. The impression that Kathmandu city gave me is that it's always busy, there are always people around and vehicles are always honking.
But in Godavari Botanical Garden, you'll feel like you're not in Kathmandu city anymore which makes it one of the best Kathmandu gems to explore.
The garden is built far away from the city, but you can still take the public van to get here with Rs50. The journey will take you around an hour through bumping roads.
It's a great getaway from all the bustling city vibes, and perfect if you're looking for a quiet place for picnicking.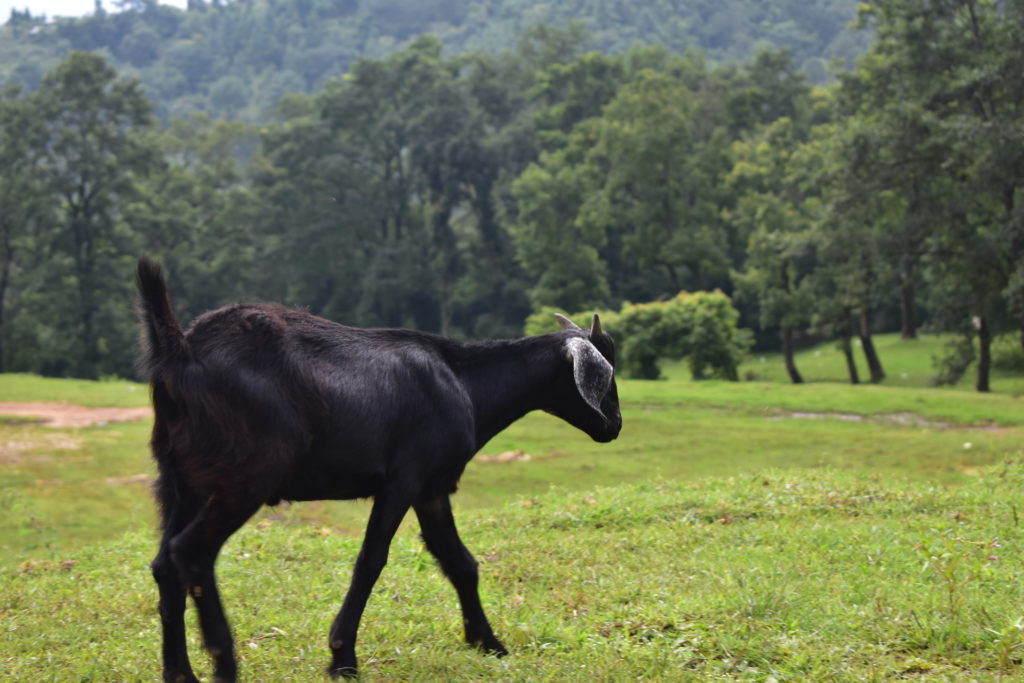 Nagarkot
Nagarkot is a small village located on the outskirt of Kathmandu Valley. To get there, the best way is to sign up for a bus with the tour agents in Thamel. There are daily shuttle buses to bring passengers to Nagarkot and back.
People usually visit Nagarkot for a couple of reasons. First, for a short getaway vacation from the busy city, second, for hiking, and finally, to catch a glimpse of the world's tallest mountain, Mt Everest.
Yes, it's possible to see Mt Everest in Nagarkot during clear weather, which is why Nagarkot is not busy during the summer or monsoon season when there are a lot of clouds.
If you have the time, I highly recommend traveling to Nagarkot for at least 2 days. Wake up in the early morning to catch the sunrise coupled with the view of the snow-capped mountains. Definitely a picture to be remembered!
Kirtipur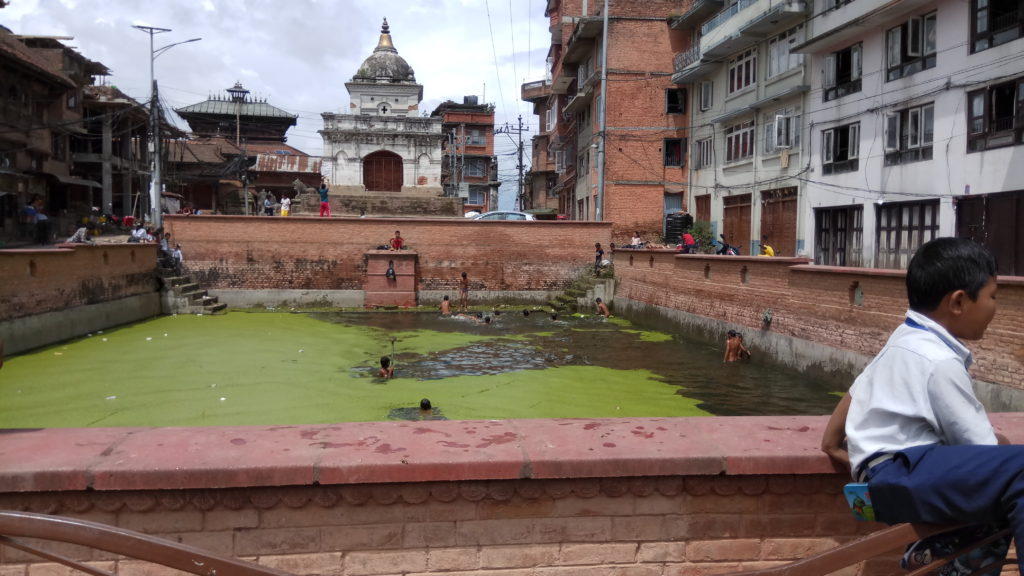 Kirtipur is at the border of Kathmandu city, so you will need to take the public bus, van, or cab to get there.
Kirtipur is a Newari town, filled with beautifully crafted doors, roofs, and walls in the structures. There are not many tourists around because it's quite troublesome to get to, so you can enjoy the quiet time there with the locals.
Most of the restaurants there are serving local Newari food, so if you're up for a try, definitely pay Kirtipur a half-day visit!
Watch this amazing promotional video from the Nepal Tourism Board. It'll be a crime not to share it!
Where to Eat in Kathmandu
There are many great restaurants in Kathmandu that will allow you to taste the local dishes. Let's see the best places to eat in Kathmandu – including vegetarian restaurants as well as restaurants serving meat in Kathmandu.
MomoStar
Momo is the signature dumplings of Nepal. The cute little dumplings have caught the adore of many travelers over the years, and it's simply great tasting. And the best place to try this dish is in MomoStar, which is located in Thamel.
What's special about this restaurant is that it has a wide variety of Momo dishes. You can have them fried, classically steamed, or in the soup. There are also different fillings to choose from in this restaurant.
Vegetarian options are available! The pricing of the dishes was fine. It is more expensive than those you find outside of Thamel but it's definitely affordable for every foreigner.
Muktinath Thakali Kitchen
Muktinath Thakali Kitchen serves one of the best thukpa and dal bhat in the city. Located on the second floor in Thamel, the restaurant might not be as eye-catching as other fancy restaurants, but the service and dishes are of top-notch.
Surprisingly, despite the great service, the dishes are very affordable. Every dish has vegetarian and meat options and the dal bhat is refillable to make sure you're full when you get out of the doorstep.
Definitely try the egg thukpa, it's the best I've ever tried!
OR2K (Vegetarian Restaurant)
OR2K is a higher-end restaurant in Thamel serving vegetarian dishes. Even if you're not a vegetarian, I highly recommend paying this restaurant a visit.
The environment is well-done, vibes are great with fluorescent lights, and the dishes are amazing. The portions are big too!
During the peak season, the restaurant is often filled up quickly so make sure you're early.
The prices are higher compared to other nearby restaurants, but I find it worthy.
Tips for Traveling in Kathmandu
I've shared above many practical tips foe visiting Kathmandu that I hope will allow you to make the most of your Kathmandu holiday. It's time to share even more tips for visiting Kathmandu.
Use these tips for traveling in Kathmandu so that you can have a Kathmandu trip and that you enjoy every moment on your vacation in Kathmandu. Some of these facts will surprise you – so pay attention so that you will be prepared.
Food Hygiene
Food hygiene is the main problem that travelers face while traveling in Nepal. It's also the top reason travelers get admitted to hospitals, including myself. You ought to be very careful while eating in Kathmandu and other parts of Nepal.
Here are my travel tips for Kathmandu for all travelers. For your first few days, try to settle your meals in more established restaurants which tend to be more hygienic. Let your stomach to adapt to the food in Nepal over a few days.
After that, you can try dining in the local restaurants, which are those with Nepalese names and menus. Most of the time, the dishes' names in the menus come with English too.
I wouldn't recommend trying the foods on the streets. For example, roasted corns, Pani Puri, and so on. The dishes look tempting but it's wiser to try them in restaurants to avoid any unwanted situations.
The Safety of your Belongings – Safety tips for Kathmandu
Traveling in Nepal is comparatively safe even for solo travelers. Nepalese people tend to be more civilized and friendly especially toward Westerners.
Robbing and burglars are not as common in Kathmandu, but it's still very important to keep your belongings safe.
When booking for hotels or hostels, always ask if there are lockers inside your room. You'll never know if someone broke into your room because from all the hotel doors I've seen, very few of them look rigid and safe.
Always bring your belongings with you while dining in restaurants or by the roadside crunching on snacks. Once you accidentally walked away and left it behind, you're not likely to find it back.
Some people here tend to take things that "don't belong to anyone". Happened to a couple of my friends.
Wrapping It Up
Here is what I've got to offer for this Kathmandu city guide. I hope you find something useful in this article to help with planning your trip to Kathmandu city.
Nevertheless, I hope you will enjoy Kathmandu as much as I did, it's a truly eye-opening and amazing city. Til next time, travel safe!
About the author:
Yen is a full-time university student who always takes full advantage of his holidays to travel for new experiences. He's been to New Zealand for Working Holiday before having his road trip, volunteered in Kathmandu, Nepal and exchanged in California along with several backpacking trips through Southeast Asia. Having spent months in foreign countries, he gives in-depth travel tips and guides in his travel blog, Swing Abroad. Follow him on Facebook and Instagram too.
Pin this article to your board