Planning to visit Sydney, Australia soon and don't know what to do in Sydney? Here's your local's guide to Sydney with the best things to do in Sydney, where to eat in Sydney, Sydney sightseeing including off the beaten path things to see in Sydney, and Sydney travel tips presented by Ingrid from Fabulous and Fun Life. This guide is part of the free travel guides series on this blog. Use this insider's guide to Sydney Australia when planning your trip to this wonderful city.
Local's guide to Sydney
Sydney is a spectacular and must visit city located on the east coast of Australia. Living in Sydney I may be slightly biased but I truly believe that Sydney is one of the most beautiful cities in the world!
It has a spectacular harbour, amazing and unique Opera House, great entertainment, glorious climate, relaxed lifestyle, unique and abundant wildlife, stunning natural surroundings and friendly, down to earth people.
It is Australia's largest city and the capital of New South Wales. It is Australia's most visited city by overseas tourists and Australians alike.
Sydney is very much a multi-cultural city with a diverse population. So, wondering what is there to see and do in Sydney? Look no more, as I've got you covered in this Sydney guide that includes all the unmissable Sydney experiences!

Included in this Sydney travel guide
Sydney points of interest – famous Sydney tourist attractions

Sydney Harbour Bridge
Sydney Opera House
Circular Quay
Royal Botanic Garden Sydney
Sydney Beaches
Darling Harbour + the Sydney attractions located here
Luna Park
Sydney Tower Eye
Blue Mountains

Sydney off the beaten path – 8 special experiences in Sydney
Where to eat in Sydney
Where to stay in Sydney
Sydney travel tips
Sydney points of interest – famous Sydney tourist attractions
There are so many wonderful places to visit in Sydney, and many of them are famous worldwide. Here are the top Sydney landmarks, perfect to include on a Sydney itinerary for first-time visitors.
Sydney Harbour Bridge
The Sydney Harbour Bridge is an iconic landmark in Sydney. It is the widest long-span bridge in the world and the sixth longest spanning-arch bridge in the world.
Locals often refer to the bridge as the 'Coathanger' due to its distinct arch-shaped design.
The Sydney Harbour Bridge is one of the most famous and widely recognised tourist attractions in Sydney.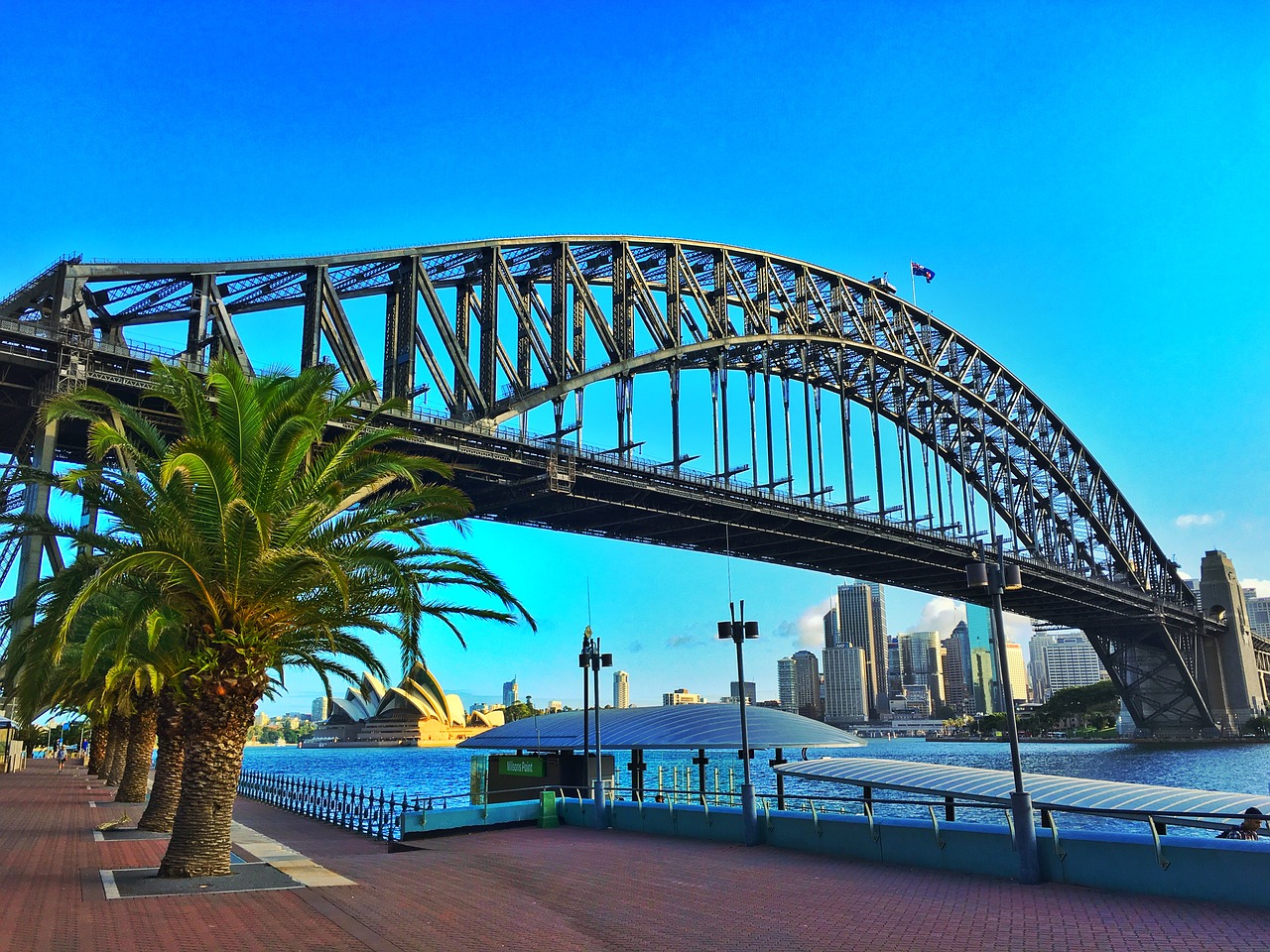 Depending on your budget I recommend either climbing the Sydney Harbour Bridge, visiting the Pylon Lookout or at least walking along the bridge. You are not allowed to take your own camera on the bridge climb but the guides will take spectacular photos of you on the bridge.
The view from the top of the Sydney Harbour Bridge is simply unbeatable! The whole bridge climb experience is amazing with the guides educating you about the history of the bridge and fascinating facts along the climb. Definitely one of the unmissable experiences in Sydney.
Sydney Opera House
The Sydney Opera House is the most recognisable landmark in Sydney, so it's no surprise that I am recommending it as one of the top things to do in Sydney. It is located at Bennelong Point on Sydney Harbour and it's a building with an interesting architecture.
There was an International Design Competition to design the Sydney Opera House. The competition was won by Jorn Utzon from Denmark. Although the structure of the Opera House appears similar to sails on the harbour, Jorn Utzon's design was reportedly actually inspired by nature.
When visiting Sydney make sure to visit the iconic Sydney Opera House, see a play or concert there. You should also walk around the structure – you won't regret it.
Make sure to eat at the outdoor Sydney Opera Bar for wonderful views of the Harbour and the Sydney Harbour Bridge whilst indulging in a cold beer and some fish and chips.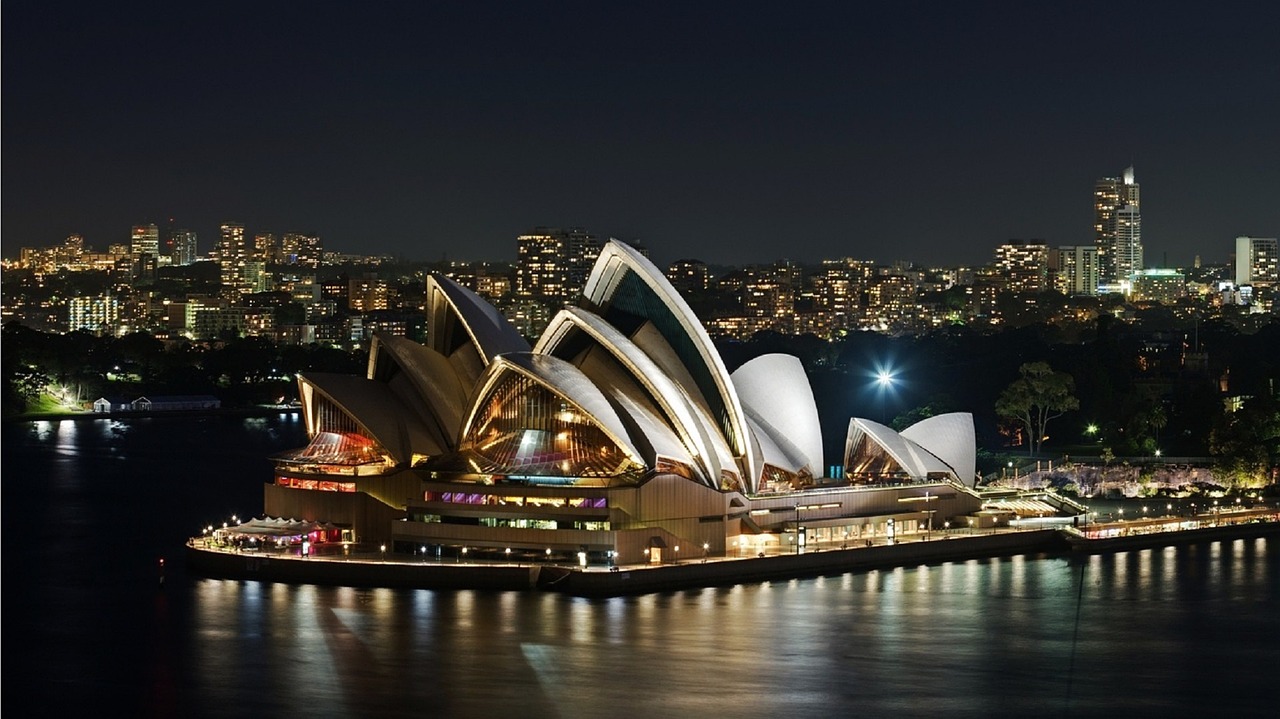 Circular Quay
Still wondering what should I visit in Sydney? And what could I see in Sydney in a day – or if I only have a weekend in Sydney (so 48 hours in Sydney or less)?
If you are only in Sydney for a limited time then Circular Quay is a must visit location. It is easy to visit Circular Quay with it being a busy transport hub with buses, trains, and ferries all arriving and departing from Circular Quay.
This place offers some of the best views of the Sydney Opera House, the Sydney Harbour Bridge and the spectacular harbour itself. It is a must visit photo location. There are also numerous eateries and restaurants to suit all budgets and tastes in this location.
Circular Quay is also the location of the Overseas Passenger Terminal. During the spring (September – November) and summer (December – February) months, this area home to many large and impressive cruise ships that depart from here on an almost daily basis. During this time you will find the area bustling with many tourists and locals alike departing on their cruise from Sydney, and also arriving home from their cruises.
Most of the cruises from Sydney visit the South Pacific islands in the region, and are well worth visiting if you are based in Sydney for an extended period time. Some of the more well know cruise lines that depart from Circular Quay include Royal Caribbean, Princess Cruises, Celebrity Cruises and P&O Australia. This area is also home to several cafes, small bars and informal restaurants, which all offer an excellent vantage point to take in the beautiful sights of the nearby Opera House and Sydney Harbour Bridge.
Royal Botanic Garden Sydney
The Royal Botanic Garden is an oasis in the heart of Sydney. It occupies 30 hectares of waterfront parkland sprawling from Circular Quay to Potts Point.
Access is free and it contains an extensive collection of native, exotic and threatened plant species. It is a beautifully relaxing place to wander around and attracts more than 3.5 million visitors annually.
Sydney Beaches
Sydney is renowned for its beautiful beaches which vary from famous surf beaches to more secluded beaches. Visiting the beach is definitely a Sydney must do activity especially if you are visiting during the warm summer months.
The added bonus is that access to the beaches is free.
Bondi Beach in Sydney's Eastern Suburbs is arguably Sydney's best-known beach but this beach does become very crowded on hot Summer days. Bondi exudes a laid back relaxed lifestyle vibe and has loads of cafes and restaurants there to eat at – yes, it's one of the fun activities in Sydney. Bondi Beach is protected by lifeguards all year round, just make sure you swim between the red and yellow flags in the patrolled area.
I live on Sydney's Northern Beaches and recommend visiting Manly beach by ferry from the city. Manly Beach is another iconic Sydney beach. If you have children Shelley beach next to Manly beach is a safe beach with no big waves. Going to a beach in Sydney is definitely one of the fun things to do in Sydney.
Further north is Palm Beach where Home and Away is filmed and where all the celebrities holiday during the Summer. Buses go to Palm Beach from the city.
When visiting the beach in Sydney and in fact any time you're outdoors in Sydney especially in Summer make sure you use adequate quantities of sunscreen to protect yourself. The sun is very powerful in Sydney and you can become sunburnt extremely quickly.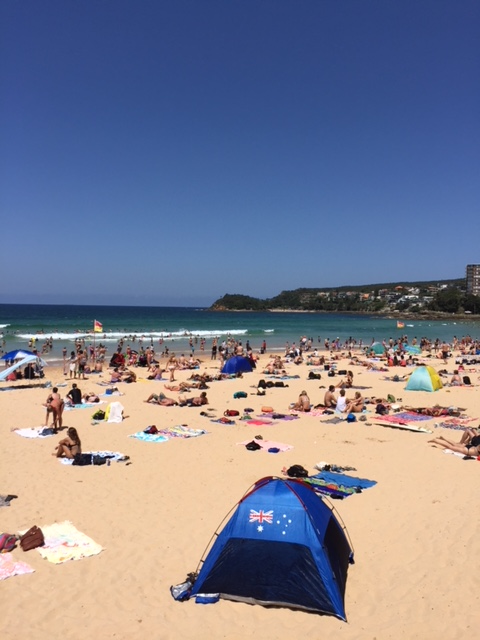 Darling Harbour
Another landmark area of Sydney to visit in the city is Darling Harbour.
Darling Harbour is a vibrant food and entertainment precinct with an amazing outdoor children's playground including flying foxes, rope climbing frames and more.
There is also a beautiful vintage carousel in Darling Harbour and a gigantic ferris wheel. In Summer on Saturday nights there is a stunning firework display.
Sea Life Sydney Aquarium, Wildlife Park, Madame Tussaud's and the Chinese Garden of Friendship are all located in the Darling Harbour precinct.
There are also numerous waterside restaurants and cafes to choose from on both the Cockle Bay side and Harbourside of Darling Harbour. There is a food court inside the Harbourside shopping centre for cheaper eats.
Luna Park
The 9 metre smiling face entrance to Luna Park has symbolised fun for Australians for decades. If you are travelling with children, especially teens, they will love a visit to Sydney's Luna Park.
There are loads of rides to choose from ranging from thrilling roller coaster type rides to more sedate ferris wheel rides which offer amazing views of Sydney Harbour and the Harbour Bridge. Make sure to visit iconic Coney Island with its indoor big slides while at Luna Park too.
Luna Park is located at Milsons Point on the Northern side of the Harbour Bridge. You can either catch the train to Milsons Point, catch a ferry there or just walk across the Harbour Bridge.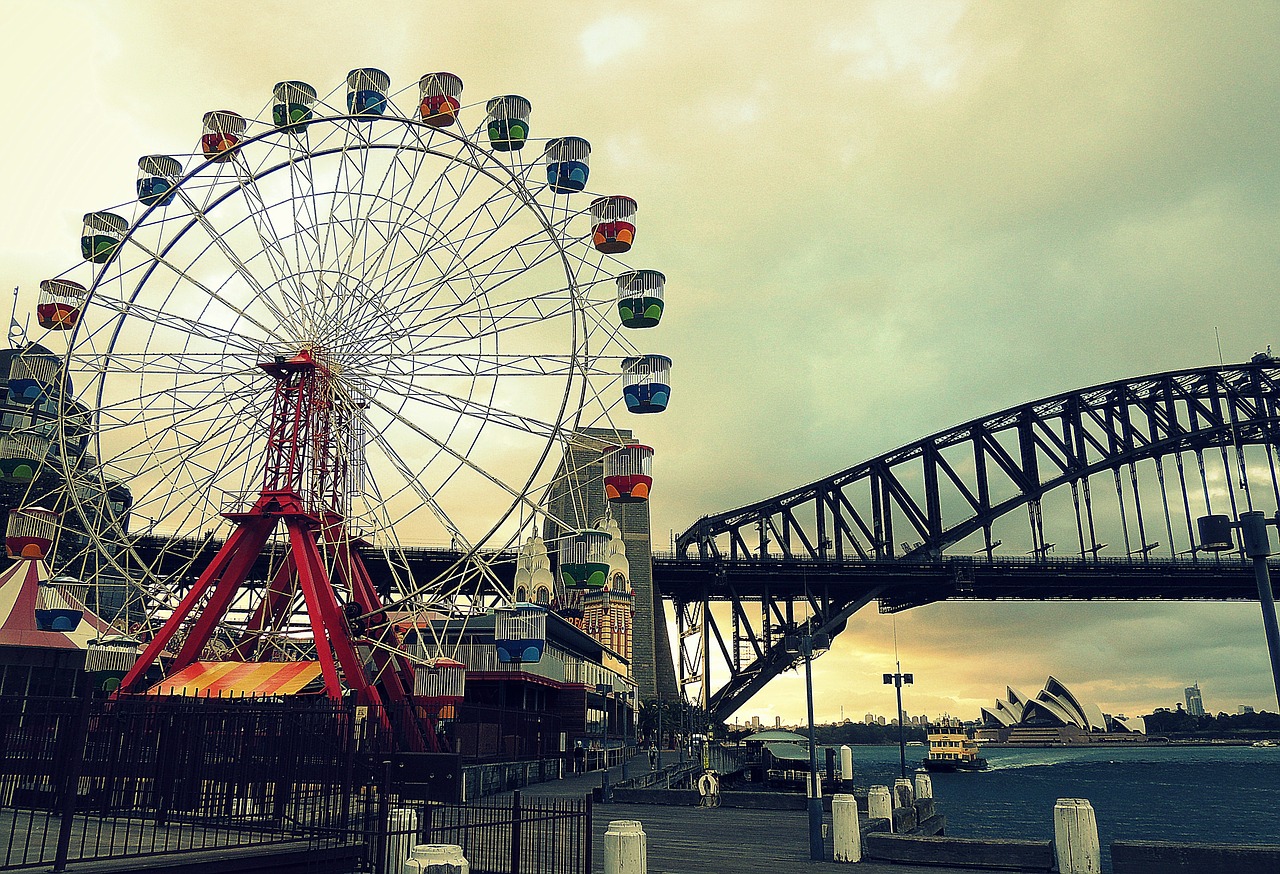 Sydney Tower Eye
Sydney Tower is the tallest free-standing building in Sydney. I recommend taking the lift to the top of this tower to see the best 360 degree views of the city CBD from the indoor observation deck.
Complimentary binoculars and telescopes are available. In addition to visiting the Observation Deck, your Sydney Tower Eye ticket includes a 4D Cinema experience. For an extra cost, there is also an outdoor SkyWalk experience available enabling you to view the city below through a glass walkway.
Blue Mountains
When visiting Sydney I also recommend visiting the Blue Mountains, one of the most beautiful Sydney attractions. You should allocate a whole day for this excursion. Access is easy via a train from Central.
In the Blue Mountains visit Echo Point for panoramic Jamison valley views and the unique Three Sisters rock formation. Numerous bush walks of varying lengths and degrees of difficulty are available in the Blue Mountains.
There are also some spectacular attractions in the Blue Mountains making the most of the magnificent views. Blue Mountains Scenic World attractions include a sky way, walk way, scenic railway and cable car rides. The Scenic World Railway is the steepest incline railway in the world.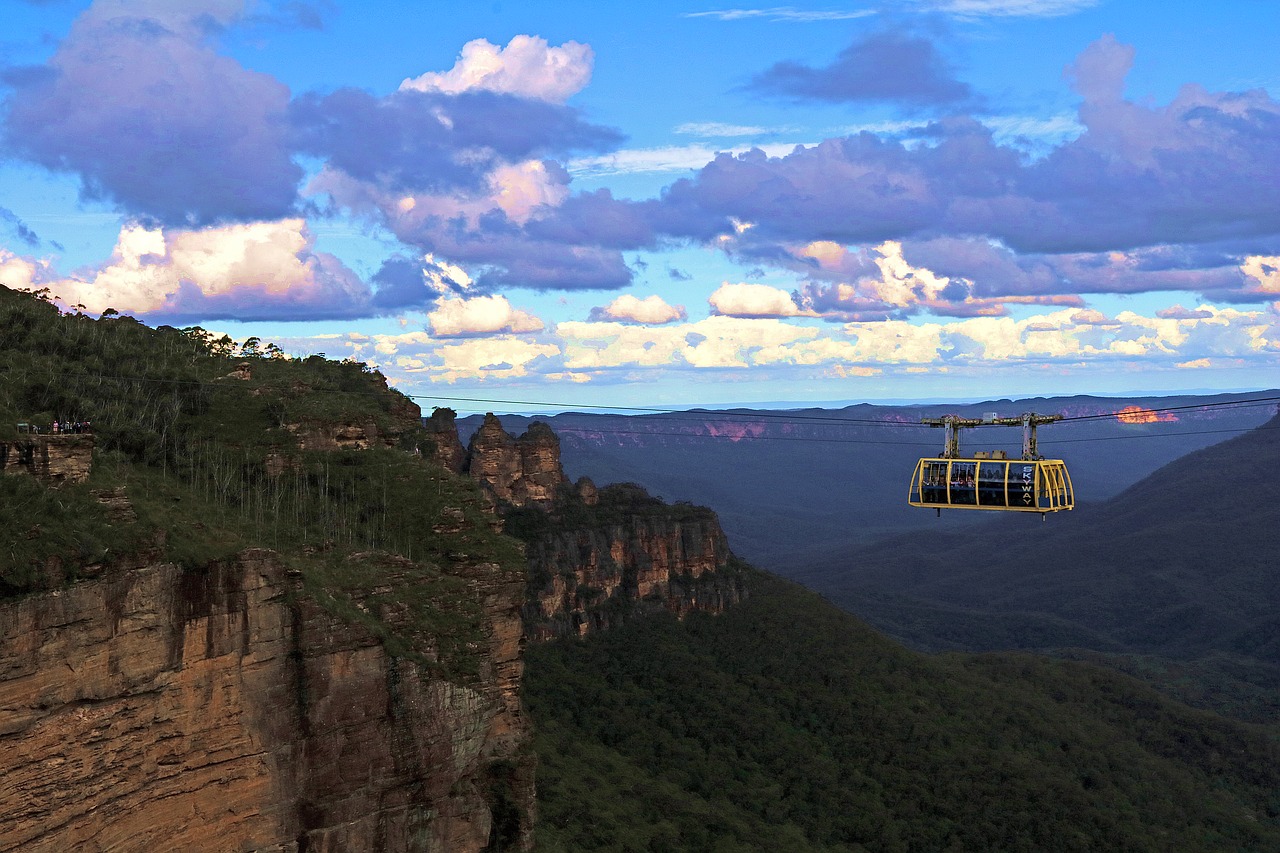 The Blue Mountains are the home of numerous antique shops, galleries, and cafes. I love leisurely wondering through these at Leura.
The mountains also contain numerous spectacular waterfalls. My favourite is the Leura Cascades.
Sydney Off The Beaten Path
Although Sydney has a lot of must-see iconic landmarks and attractions as listed above I recommend you also visit some of the less touristy and less famous sites that Sydneysiders themselves visit on weekends. So, if you want to explore Sydney like a local, take in consideration these beautiful hidden places in Sydney:
Manly to the Spit scenic 10 km walk
Bondi to Bronte 1 km walk
Hire a boat at Church Point to explore the Pittwater waterways
Catch a ferry to Cockatoo Island
Visit Featherdale Wildlife Park
Visit the NSW Art Gallery – Especially the Aboriginal Art section
Go for a run at Centennial Park or have a picnic there
Spend a lazy afternoon at The Newport in their beer garden. Go snorkelling at Shelley Beach.
Where To Eat in Sydney
There many wonderful places to eat in Sydney. For first time visitors to Sydney here are some of my 'where to eat' recommendations.
Take the ferry from Circular Quay to Watsons Bay for fish and chips.
This ultimate guide to Sydney wouldn't be complete without the recommendation to enjoy an Italian seafood lunch at iconic Bondi Icebergs Dining Room and Bar overlooking the Bondi Icebergs pool and enjoy some people watching at the same time.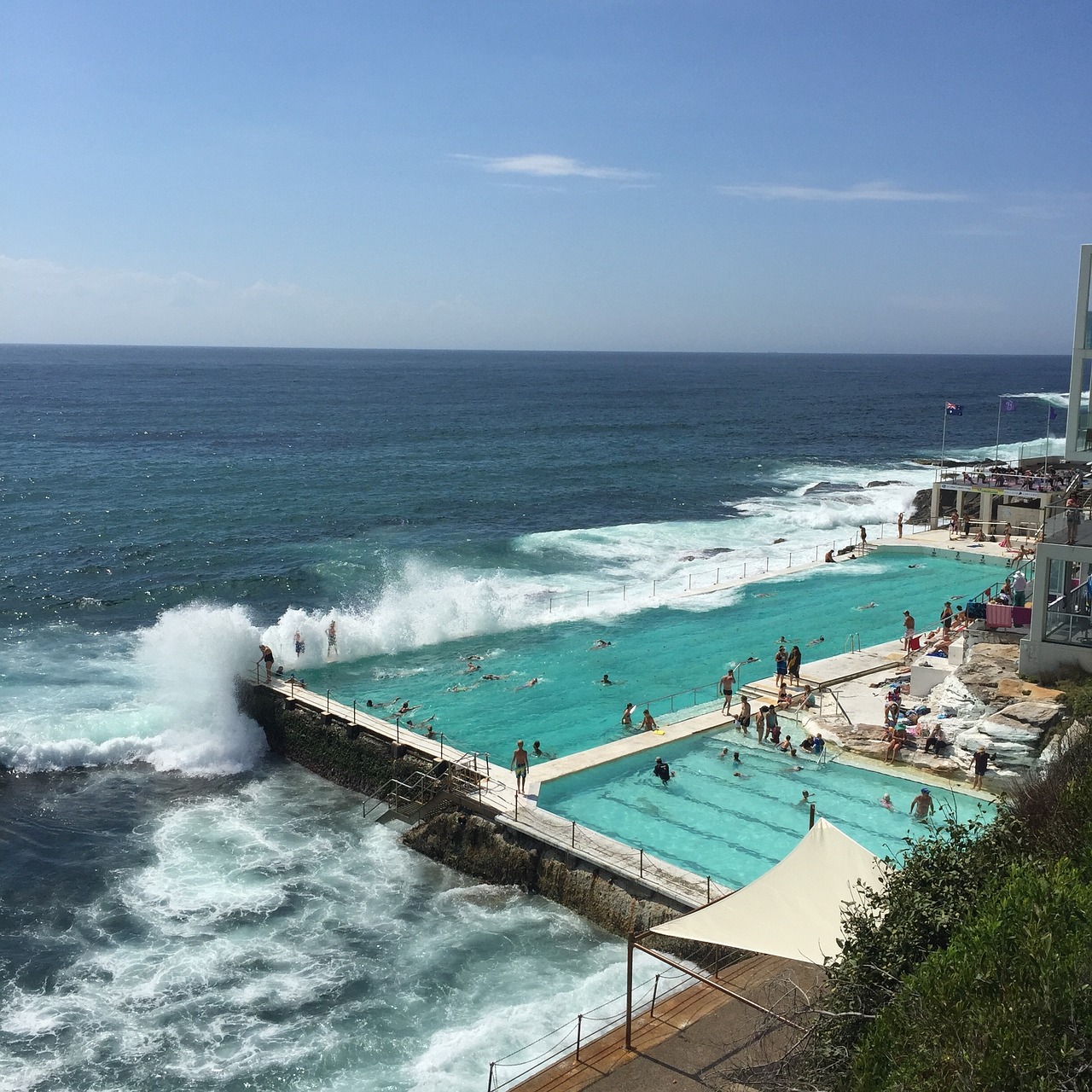 Indulge in a cold beer or champagne and oysters at the outdoor Opera Bar Beer Garden while enjoying spectacular views of the Sydney Harbour Bridge, harbour and Opera House.
This Sydney guide for first-time visitors wouldn't be complete without the recommendations to enjoy a picnic in the Royal Botanic Garden. Buy some wine, cheese and deli meats from the David Jones food hall.
Barangaroo is Sydney's newest eating precinct. Visit any of the numerous new trendy bars and restaurants in that location.
If you want high-end cocktails and snacks visit Blu Bar on the 36th floor of the Shangri-la Hotel.
Sydney is a multicultural city with migrants from all over the world. As a result, the food available in Sydney reflects this too. You can virtually find any country's cuisine you desire in Sydney. Different suburbs in Sydney have built up reputations as foodie locations for different cultural cuisines.
So if you are looking for multicultural food in Sydney, then visit some of these different foodie locations. For example, Cabramatta has a strong Vietnamese foodie culture, Harris Park is renowned for its Indian restaurants and Auburn in Sydney's west concentrates on fragrant Middle Eastern and Turkish cuisine.
Where To Stay in Sydney
Sydney has accommodation options galore. Some of my Sydney accommodation recommendations include the following hotels in Sydney, apartments, and more:
Darling Harbour – Novotel Sydney on Darling Harbour. Great family accommodation option.
City CBD – QT Hotel – Quirky and chic hotel. Very central. Great access to shopping.
City CBD – Sydney Harbour YHA. Very central. Great accommodation for backpackers and those on a budget.
City – Circular Quay – Park Hyatt The Rocks. Best view of the Opera House. Luxury option.
City – Circular Quay – Pullman Quay Grand Sydney Harbour. Another very luxurious option.
Bondi – Adina Apartments Bondi Beach. Great family accommodation option.
Manly – Novotel Sydney Manly Pacific. Great family accommodation option.
Manly – Quest Manly Apartments.
Sydney travel tips
Here are some useful tips for Sydney that will help you make the most of your trip to Sydney.
Public transport is easy to use in Sydney and the cheapest way to get around. I recommend buying an Opal Card as soon as you arrive in Sydney. Opal is the smart card ticketing system used to pay for travel on public transport in Sydney, the Blue Mountains, Central Coast, Hunter, and Illawarra.
You add value to the card and then tap on and off to pay your fare with the card when entering and exiting public transport. It can be used on buses, trains, and ferries. The benefits of using an Opal Card include cheaper fares, and daily and weekly fare caps.
Overall Sydney is a safe city to travel in and no special safety precautions are required.
When bush walking in the areas around Sydney you may see various snakes, especially in Summer. Some of these snakes can be venomous. Stay clear of any snakes you see, do not approach them and they will present no danger to you.
I hope you enjoy your stay in Sydney!
Regardless of how many times you visit Sydney and how much time you have here, as you can easily see from this local's travel guide to Sydney there are numerous activities in Sydney Australia, perfect for solo travelers, couples, or families.
Choose one of the Sydney hotels that fit your budget – I already gave you some examples above – and make a list of the top things to do in Sydney Australia that you want to include on your Sydney bucket list.
Then, you can create your Sydney itinerary – or your Sydney tour guide – and see all the Sydney tourist spots you want to and create wonderful memories! There are definitely many things to see in Sydney for first-time visitors as well as for experienced travelers and tourists.
About the author
This guest post was written by long time Sydney resident Ingrid who loves showing overseas and out of town visitors around her city, and is also the editor of Fabulous and Fun Life, a Sydney beauty blog. In addition to writing about beauty products Ingrid also creates content for Sydney food Instagram account Sydney Food Bites which showcases Sydney restaurant and cafe food. Check it out if you want to see what a typical Sydneysider eats when out and about in Sydney.