If you are looking for an authentic experience of Mexico, then Merida should be on your travel list. And to help you prepare the perfect trip there, here is a complete travel guide to Merida, Mexico written by a traveler who stayed one year in the area: Faith from XYU and Beyond. The guide includes famous and off the beaten path attractions, where to stay, where to eat, and tips!
Merida is known as the White City, because of all the white painted buildings and the use of limestone bricks and tiles that decorate much of the exteriors. It is located on the gulf side of the Yucatan peninsula about 45 minutes inland from the Gulf of Mexico. The gulf side is very different from the Caribbean side; it is truly a more authentic experience of Mexico.
Merida is a brilliantly beautiful city; the Paseo de Montejo Boulevard was home to the sisal kings who engaged Parisian architects to build the Paseo based on a replicating the Champs-Elysées. These architects then went on to build the rich their luxurious homes. Over the years, after the sisal industry fell the rich who inhabited these homes found it necessary to sell the properties, many of which have now become international bank headquarters.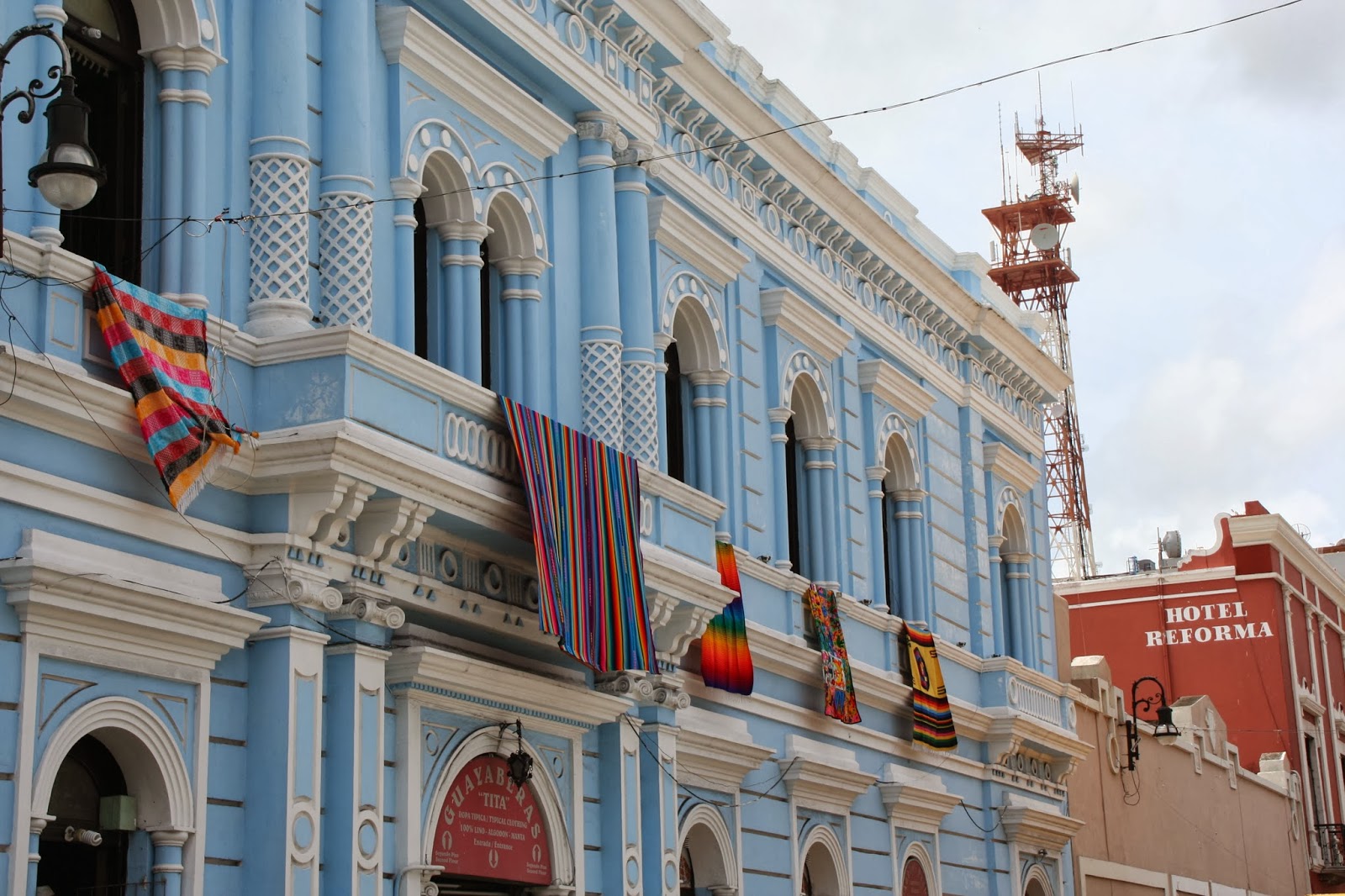 Top landmarks to see in Merida
The Paseo is home to the most luxurious of Meridanian hotels and Spas, but on Sundays half of the Paseo is closed to traffic and becomes the bici ruta where Mexican families enjoy biking, roller blading and skateboarding in the sunshine. This is an ideal place to grab a seat on a patio and watch all of Merida roll by, you can even rent bikes and give it whirl yourself.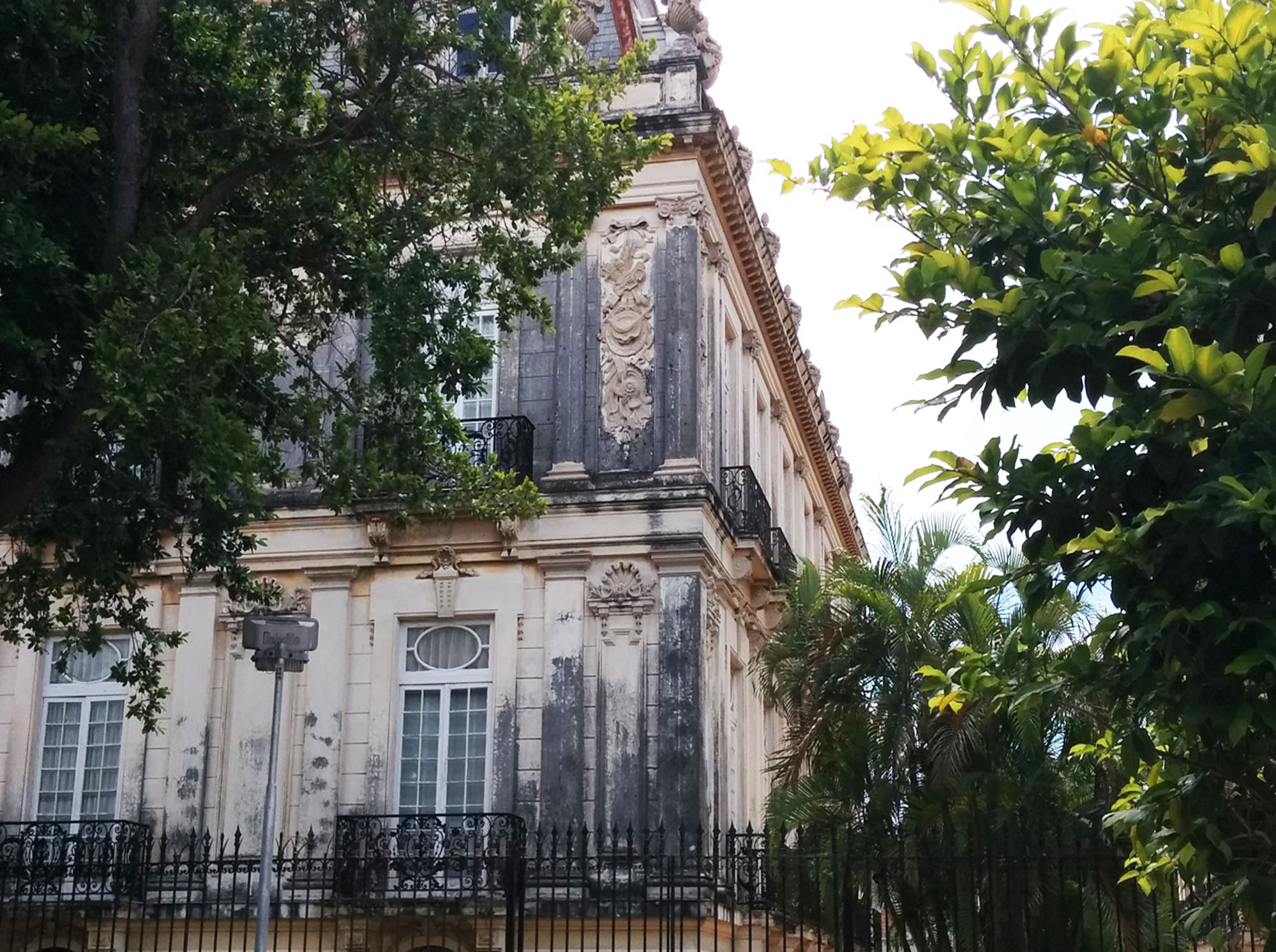 The Centro Historico is very safe and although there may be some trepidation about walking around some areas the police presence can be quite reassuring. You can attend a world class orchestra, Opera and Ballet performances for well under $20 US, the art galleries in Merida are first class and contain some outstanding works at incredibly low prices. Must see places in the Centro include the following: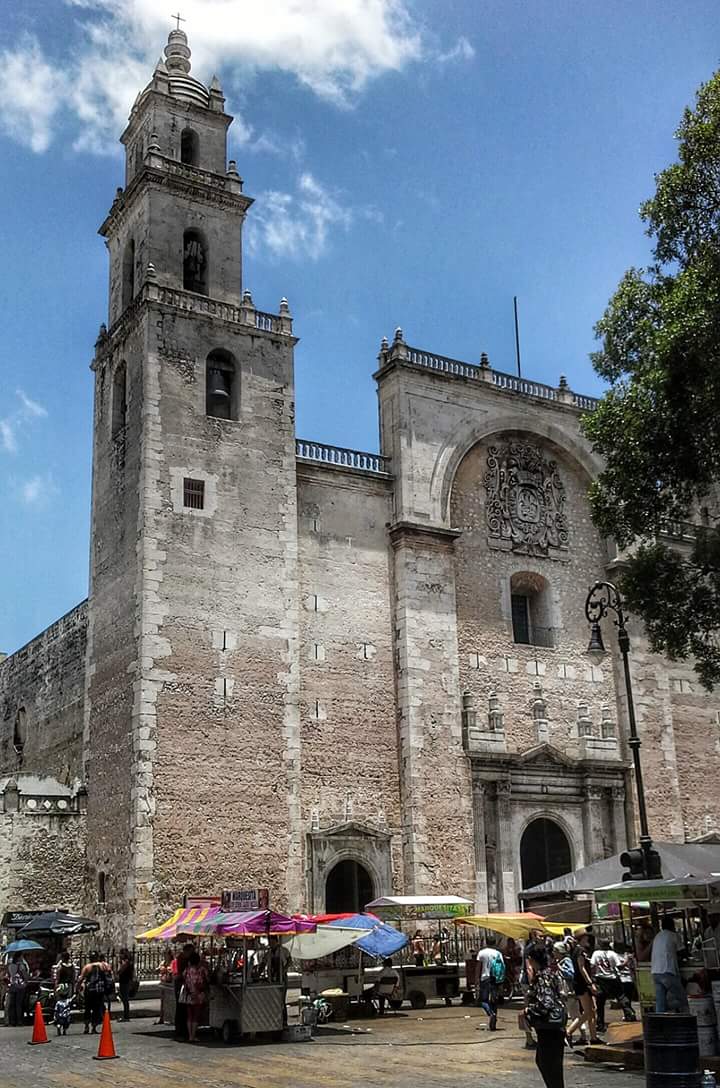 The Plaza Grande
Plaza Grande is located in the Centro Historico of Merida. Surrounded by limestone colonial buildings the Plaza is a riot of pastel colours. The square is a meeting place for Meridanos of all ages. The Plaza is host to an artisans market on Saturday and Sunday not to mention the wonderfully colourful folkloric dancing shows held on Sunday in front of the Palacio, with a live orchestra.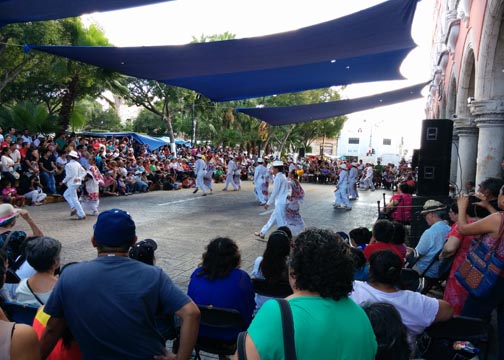 Catedral de San Ildefonso, Merida
The colonial architecture of the Catedral de San Ildefonso, built in the late 1500's is gorgeous. Take a peek inside to see where the Pope blessed the cathedral. You can wander the church and take pictures from the Altar of the Black Jesus to private little niches for the Virgin Mary. The beautiful cross hanging at the front of the Church was a gift from Canada to the City.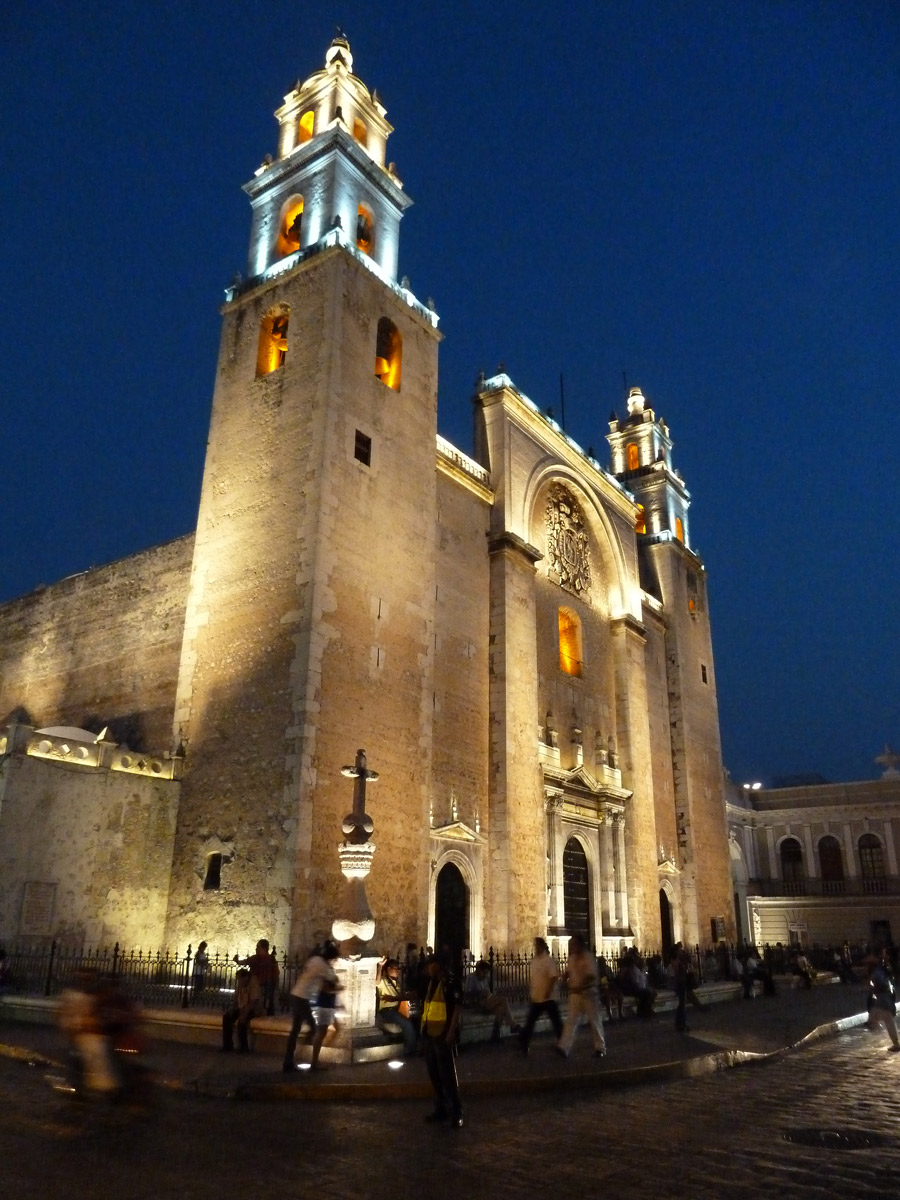 Palacio de Gobierno, Merida
The Palacio de Gobierno was built in the late 1800's and it is a great place to wander (and it's free). The "government palace" now houses some large and impressive murals depicting the history between the Mayans and Spaniards, by artist Fernando Castro Pacheco. In the evenings the building is lit up, illuminates the square and musicians often perform from the balconies.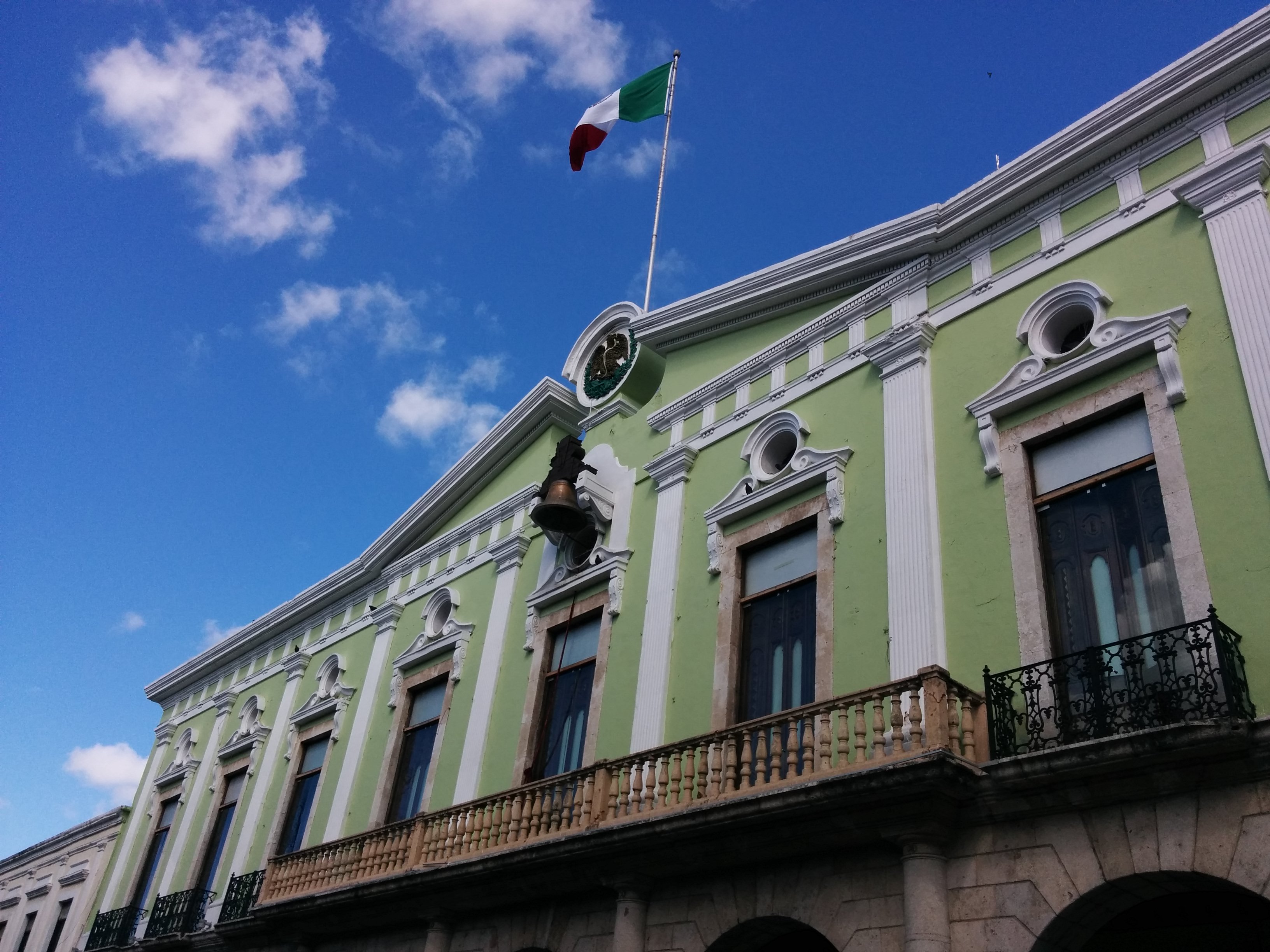 Merida Off the Beaten Path
There is a lot to do in Merida you can watch an Opera or a Ballet, take in a World Class Orchestra at the Teatro Peon Contretras in Centro, hit the Mercado for a real taste of Mexico, take a cooking class at Los Dos Cooking School or just explore the area. Here are a few things you might like to do.
The Bici Ruta
On Saturday evenings and Sunday's the Paseo closes down one side of the road for the La Bici Ruta (Bike Route) to allow cyclists a chance to ride around town. Much of the city comes out on Sunday morning to join in, there are roller bladers, skateboarders and lots of opportunity to people watch at the sidewalk cafes. You can also rent all kinds of bikes from family ones to individual to take in the tour yourself.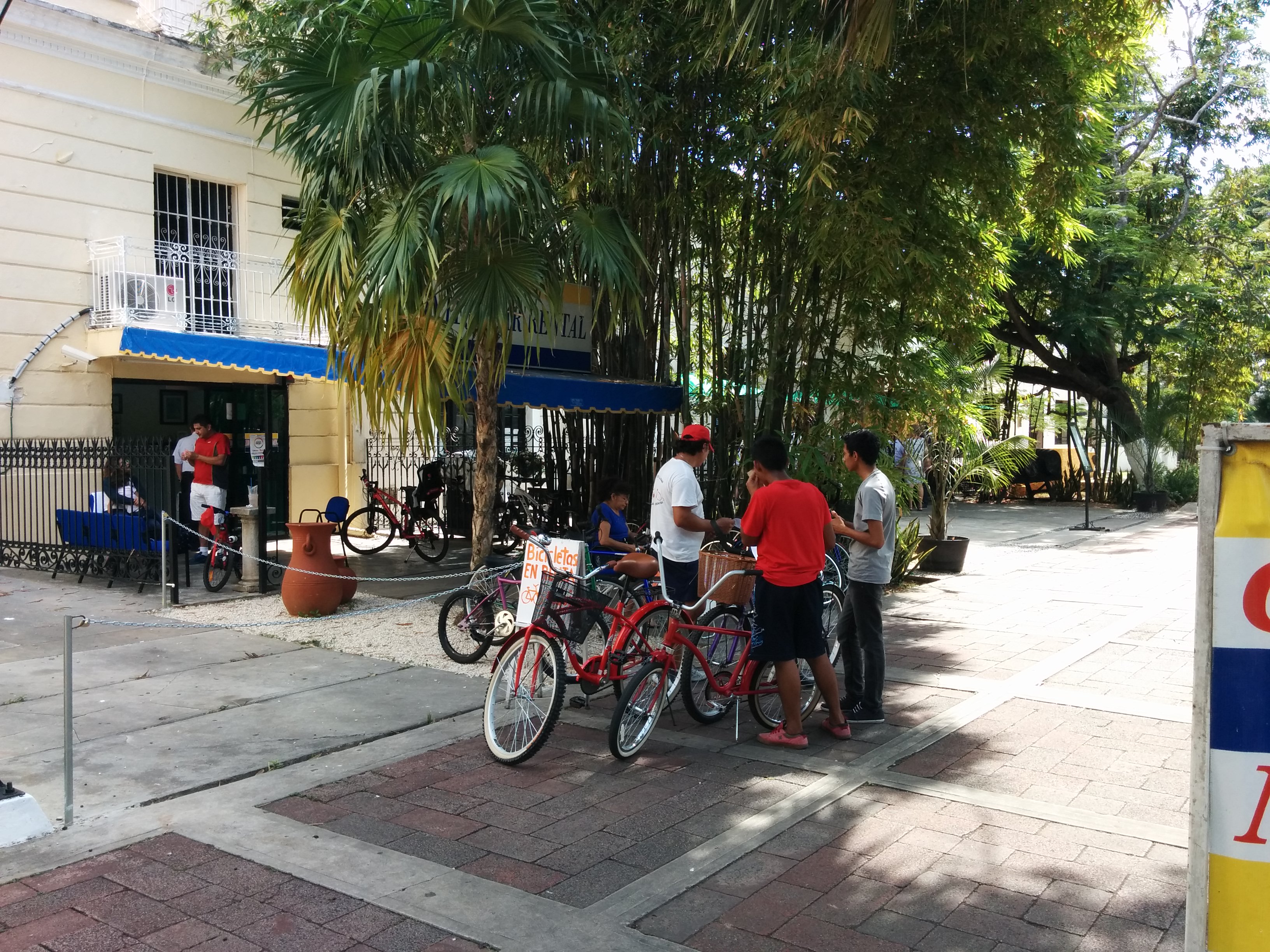 Trova at the Santa Lucia Parque
The Parque is known for its performances of Trova. although originating from Cuba these Trova songs are written here in the area and performed live and considered a national treasure.
Shopping, dining and people watching at Santa Lucia Parque.
The Parque is a favourite place for Meridanos and expats alike. Full of little boutiques and restaurants and one heavenly chocolate store the quiet restful nature of the little Parque draws many wandering the colonial streets of Mexico to relax and people watch.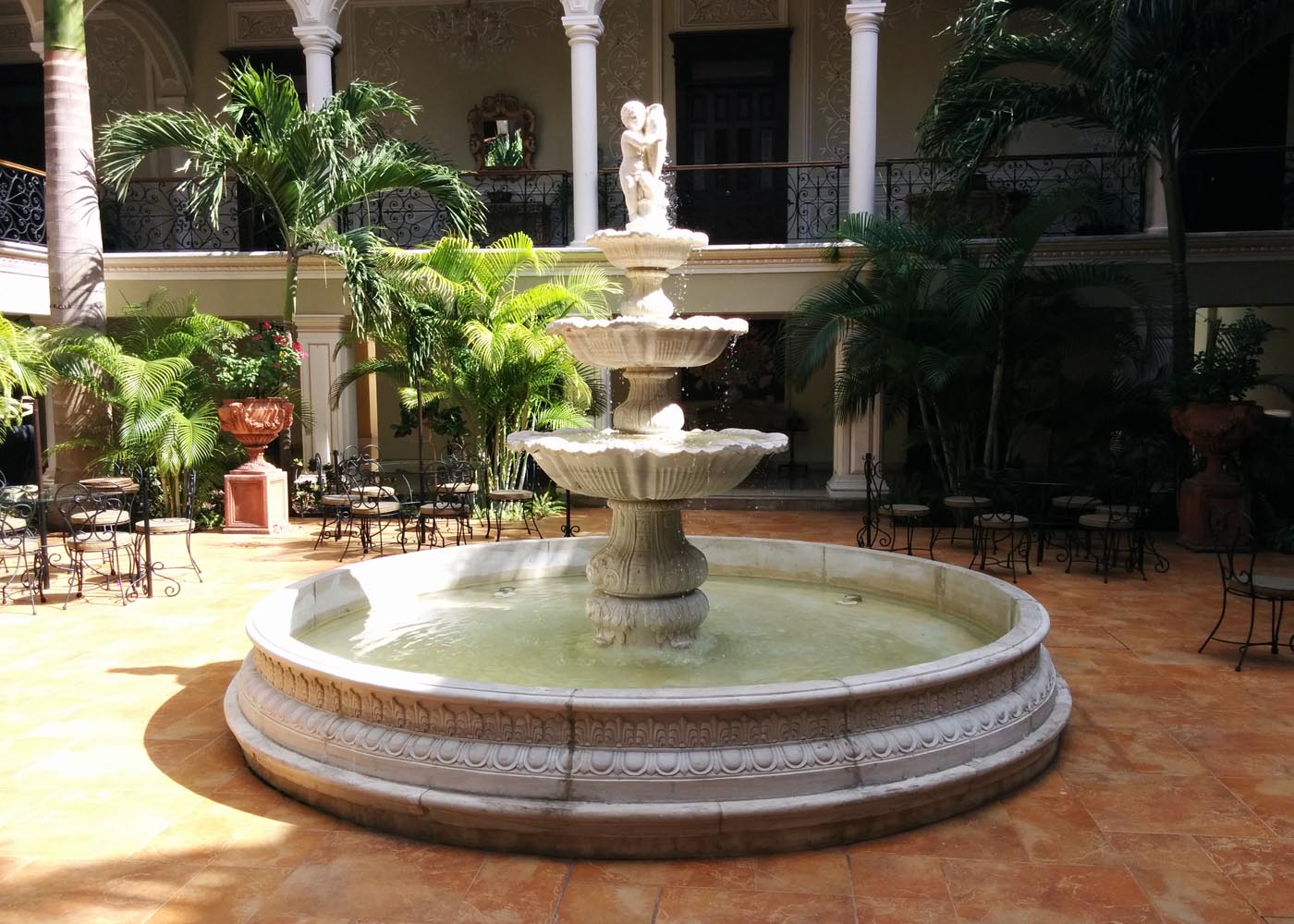 There is often live entertainment in the Parque. From the Yucatecan "Jarana" dancers accompanied by an orchestra. The musicians, singers and dancing "mestizos", decked out in their colorful costumes begin the show at 9 PM.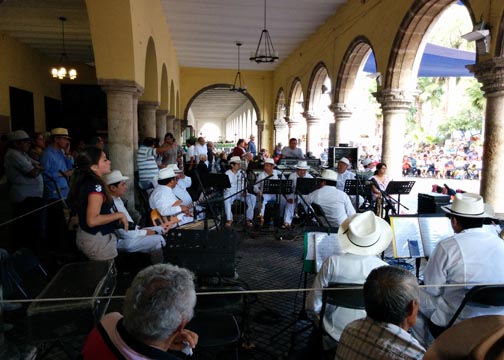 If you get the opportunity take a tour to Uxmal which is an absolutely amazing Mayan site that is still being discovered. I preferred Uxmal to Chichen Itza as it is much quieter, no harassment by vendors and immensely peaceful. Uxmal has been named a UNESCO World Heritage site.
Along with Uxmal make sure you take advantage of a cenote tour this is a not to be missed, once in a lifetime opportunity to discover and swim in some of the Yucatan's most amazing underground rivers and waters. I highly recommend Yucatan Cenote Tours which is an eco-adventure tour company operated by Canadians and Mexicans. This group has explored and discovered some of the Yucatan's most remarkable cenotes and they will put together a tour specially designed for you.
Where to eat in Merida
You can find some of Merida's finest dining in the Santa Lucia Parque. From Apoala, which is famous for its Mezcal collection, it includes over 30 varieties, and its new take on Mexican cuisine to La Chaya Maya, which is considered one of the best restaurants in the region. The staff is dressed in traditional huipiles that are gorgeously hand-embroidered and you will notice a small table of women making fresh tortillas to be served in the restaurant. Try the house specialty, Los Tres Mosqueteros, or The Three Musketeers, which combines three classic Yucatecan dishes: relleno negro (a black sauce made from burnt chiles and spices) over pork; papadzules (an egg dish); and pipián (a sauce with a pumpkin seed base) over turkey.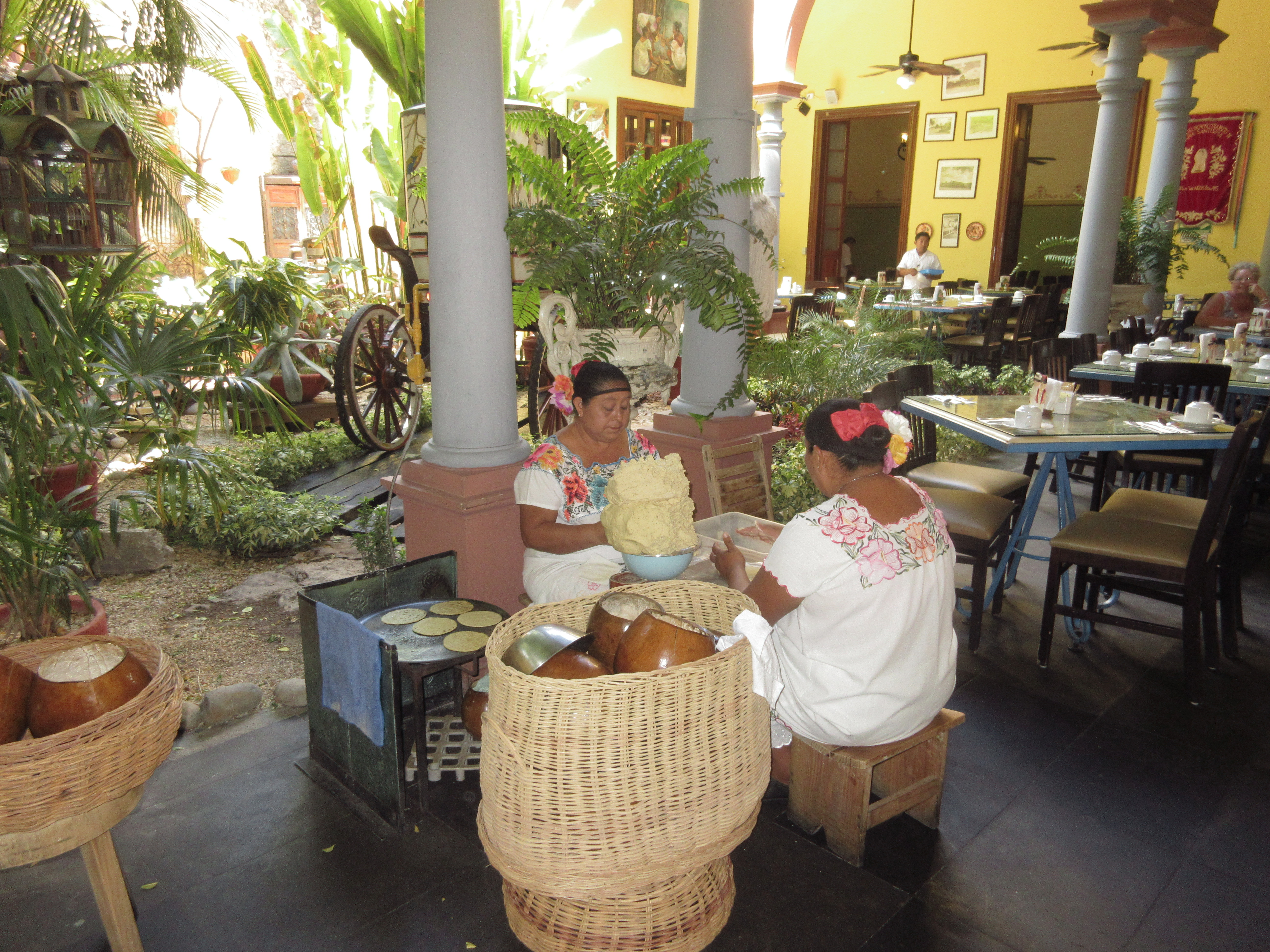 Some local dishes you must try which you will find nowhere else in Mexico include:
Cochinita pibil:  A tender pit cooked roast pig that has been marinated in sour orange (naranja) annatto (achiote) and some local herbs and spices. Tender falling of the bone and served with small fresh tortillas and pickled red onion this is the central dish of the Yucatan.
Queso relleno: Dating from colonial times when the Mayan servants would take the leftover cheese rind from the plantation owners, fill it with ground port and spices then cook it under the rind was tender. The Queso is then covered in tomato 'gravy' of sorts and served piping hot.
Refrescos in Mexico are generally speaking soft drinks or pop. Most soft drinks here are made with cane sugar and have a very different taste than those from North of the border made with high fructose corn syrup. Coke is the most popular refresco in Mexico other refrescos include: Manzano a light bubbly apple based soda, Limon a sparkling drink with Mexican limes and Naranja an orange sparkling soda. Thirst quenching is an art in Mexico, from cerveza to agua frescos the creation of fresh and interesting beverages has been elevated from the simple to the sublime.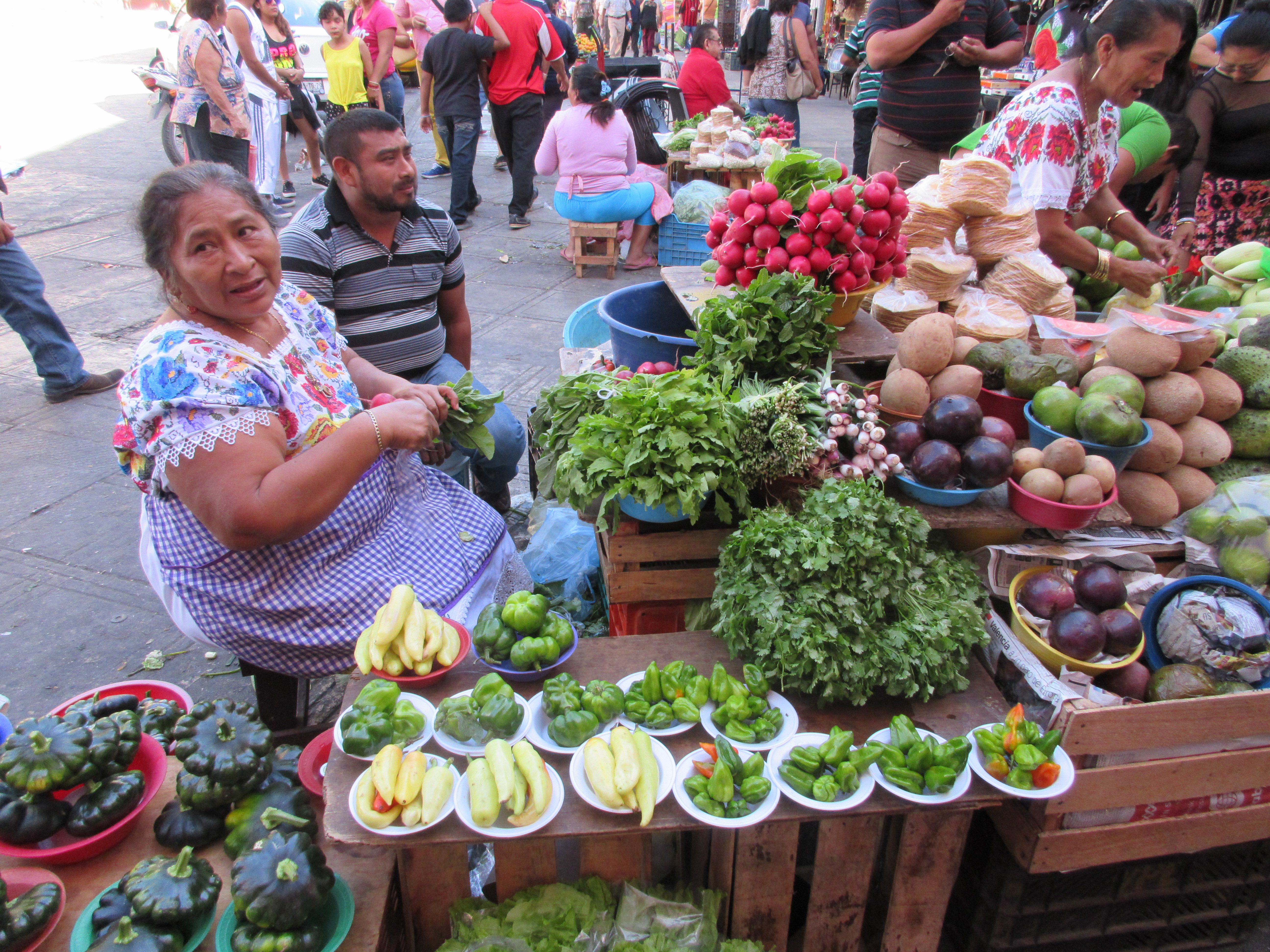 Try some street food
Merida is home to some of the best food in the Yucatan so be sure to try the local cuisine, which has some huge regional differences here compared to elsewhere in Mexico.
Marquesitas is a French style crepe, which can be purchased plain, or stuffed with the Yucatan favourite Nutella and cream cheese.
Elotes are corn on the cob drenched in mayonnaise, then dipped in fresh grated cheese and doused with lime and tajin a spicy red pepper.
Raspados are shaved ice flavoured with pretty much anything you can think of they are then eaten plain or doused with condensed milk.
Where to stay in Merida
It's not difficult to find any type of accommodation in Merida from super cheap hostels to luxury boutique hotels to some of the finest chains in the world Merida has it all. Here are a few recommendations:
Luz En Yucatan – Located next to Santa Lucia Church in what is rumored to have once been a nunnery, Luz En Yucatan's room are each different, all with kitchenettes. There's a pool, a community dining room and kitchen and lots of nooks and crannies. One of the friendliest and quirkiest hotels in Merida our friends loved staying here and it is one of the most highly rated hotels in Merida and its location cannot be beaten.
Hotel Mediomundo – Popular with the xpats and locals this is a lovely hotel with wonderful lush gardens and a great convenient location with its own pool and gift shop with beautiful handcrafted items.
La Casa del Tio Rafa – Great little friendly hostel centrally located and close to the bus station. It has a pool and gardens, close to downtown centro and a short walk to shopping.
Hostel Zocalo
Hostal Zocalo is located on the main plaza in Centro. Hostal Zocalo is a very popular location and a great place for a budget stay. Excellent location and close to all Centro activities the hostel can point you in the direction of many tour companies if you wish to visit Uxmal or take a cenote tour.
Tips for Merida
Merida is a walking city particularly in the Centro area. There are many hostels, small inexpensive hotels and larger more luxurious ones if you feel the need to be pampered. There is a wide range of shops and in the square and at the Sunday Mercado; you will have plenty of opportunities to purchase gifts. Be aware that folks wanting to recommend certain shops and venues will be gaining a commission so try not to pay attention to them. Pricing in the market and some shops will be more "gringo" than Mexican, so negotiating, and bargaining are a must. If you want authentic and sustainable gift shops find the Casa Cultura boutiques which are government run with profits going back to the local community. It is very true that you will be perceived as having more money due to being a tourist, but don't be put off, most pricing is 30% more than what it should be so bringing your haggling skills with you.
About the author:
Fulfilling a lifelong dream to retire early and travel the world Faith is now happily travelling to find the perfect place to retire. After spending a year in a tiny fishing village in the Yucatan, mangling Spanish and writing by the pool, itchy feet struck again. After experiencing housesitting Faith decided this was a great budget way to travel. Faith considers herself an 'ass-end' baby boomer who is attempting to travel cheap (that's the Scottish blood in her). Follow her on Facebook and Twitter as well.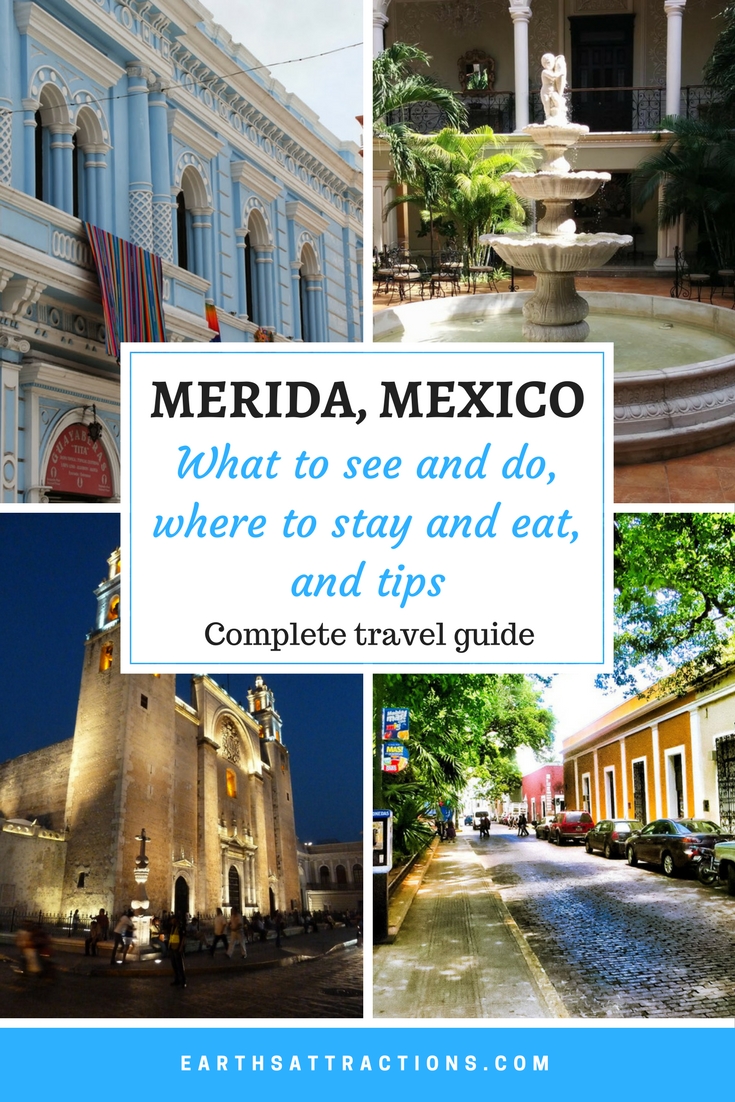 Save