Planning a trip to Portugal? Apart from the famous Lisbon make sure you include on your itinerary a true gem: Funchal. To show you that this city is definitely worth a visit, here's your Funchal guide with what to do in Funchal, Madeira, Portugal.

This local's guide to Funchal is written by Edyta from Say Yes to Madeira and includes the top Funchal points of interest, places around Funchal, Funchal activities, accommodation in Funchal Madeira, where to eat in Funchal, and tips for visiting Funchal. This Funchal city guide is part of the free travel guides series on this blog.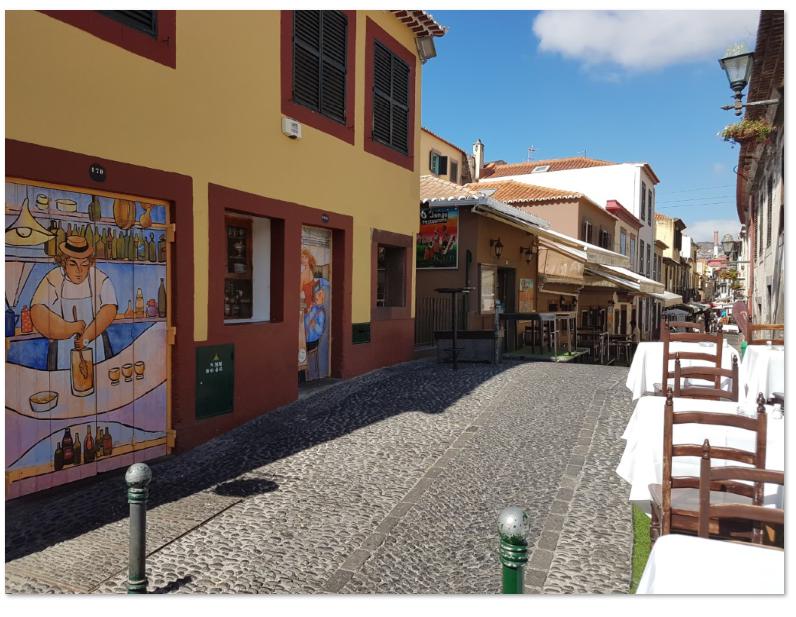 Your Funchal guide: discover what to do in Funchal, Madeira, Portugal
Funchal is the 6th largest city in Portugal and the biggest city of Madeira, an island belonging to Portugal, located 1000 km from the coast of Europe and only about 520 km from the coast of Africa.
I do not think that anyone travels to Funchal to spend his entire holidays in the city alone. Instead, Funchal is a perfect base for an active holidays in Madeira.
During the day you can explore the island, take one of the many spectacular mountain hikes and excursions, and at the end of the day, you can return to Funchal to go out, enjoy a good dinner or a drink in one of the local Poncha bars.
Included in this Funchal travel guide:
Funchal points of interest

Old Town (Zona Velha) of Funchal
Cristiano Ronaldo Museum
Monte Palace Tropical Garden or Madeira Botanical Garden
Cable Car
Toboggan Sled ride
Old Blandy Wine Lodge
Mercado dos Lavradores (Farmers' Market) in Funchal

Places around Funchal

Cabo Girão viewpoint
Faja dos Padres
traditional fishing village Câmara de Lobos
Eira do Serrado Viewpoint

Where to eat in Funchal and the best Funchal food
Where to stay in Funchal
Tips for Funchal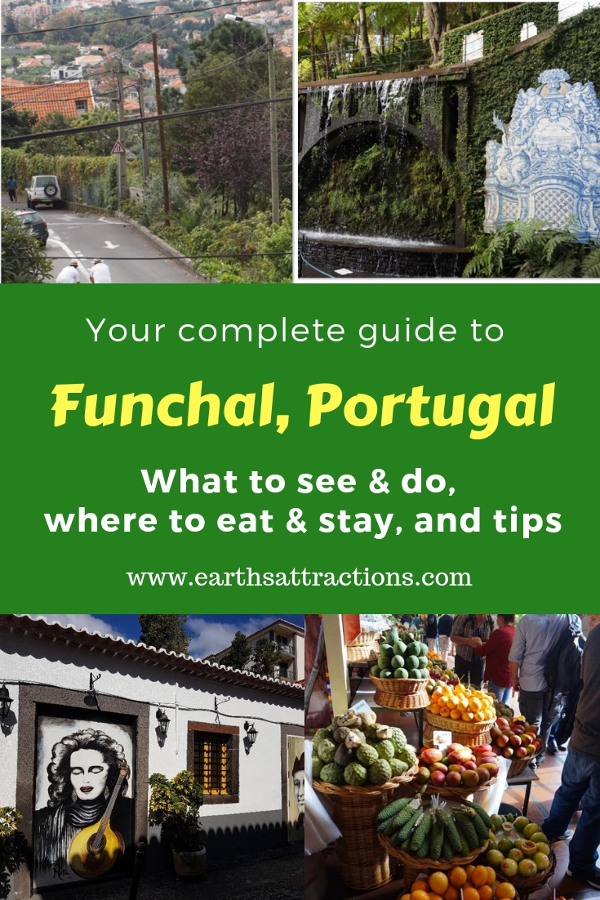 Funchal Portugal points of interest
Wondering what to do in Funchal, Portugal? Here are the best things to do in Funchal:
1) Old Town (Zona Velha) of Funchal. Doors of the Old Town of Funchal are painted by local artists, each door is different. It is a great place to eat out in Funchal in one of the restaurants on small charming streets and get a drink while listening to live fado music being played in a nearby fado restaurant.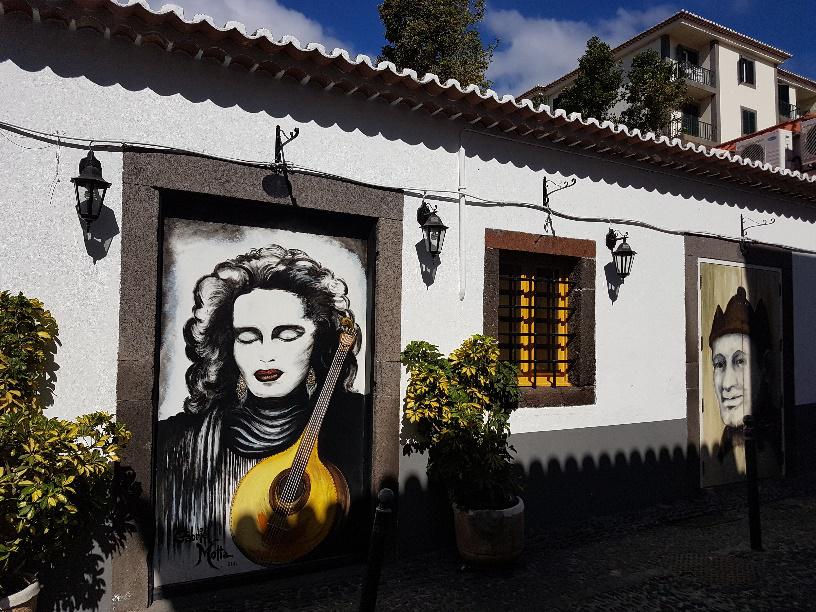 2) For the football fans – Cristiano Ronaldo Museum. In front of the museum you will also find his monument. if you are not a fan, you can see this museum as one of the unusual things to do in Funchal, Madeira, Portugal.
3) One of the many beautiful botanical gardens such as Monte Palace Tropical Garden or Madeira Botanical Garden.Definitely one of the most relaxing Funchal attractions.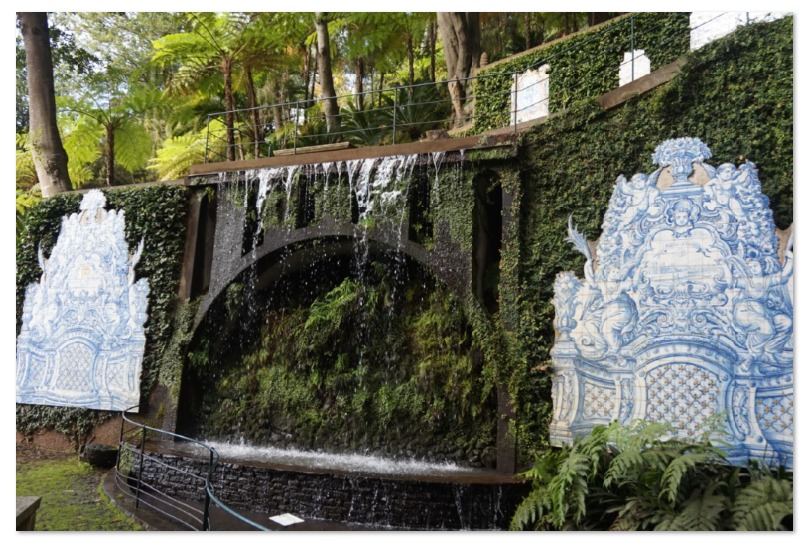 The easiest way to get to these parks is by:
4) Cable Car. There are multiple cable car routes across the island, and the two lines in Funchal are a spectacular way to see the entire city and Funchal Bay from above.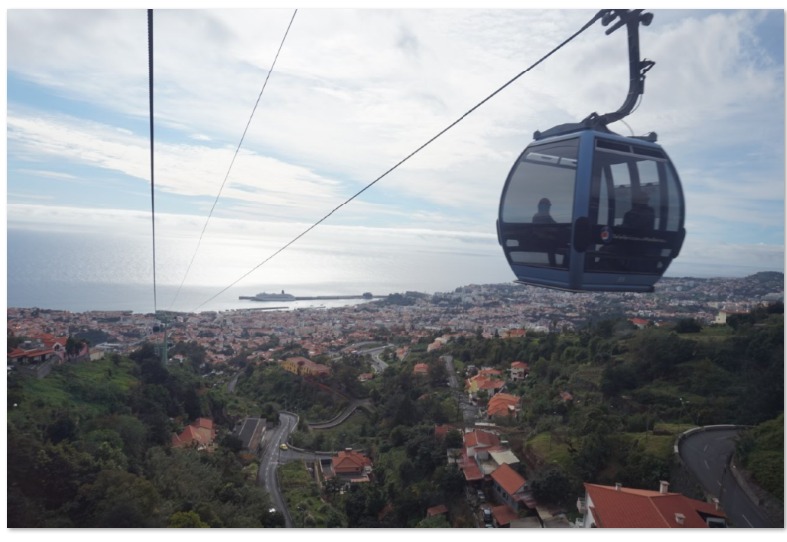 5) Toboggan Sled ride – those brave enough can take a popular sled ride down the Monte hill. (Yes, sled ride in the middle of the summer – check this video) This can easily be on of the top Funchal attractions.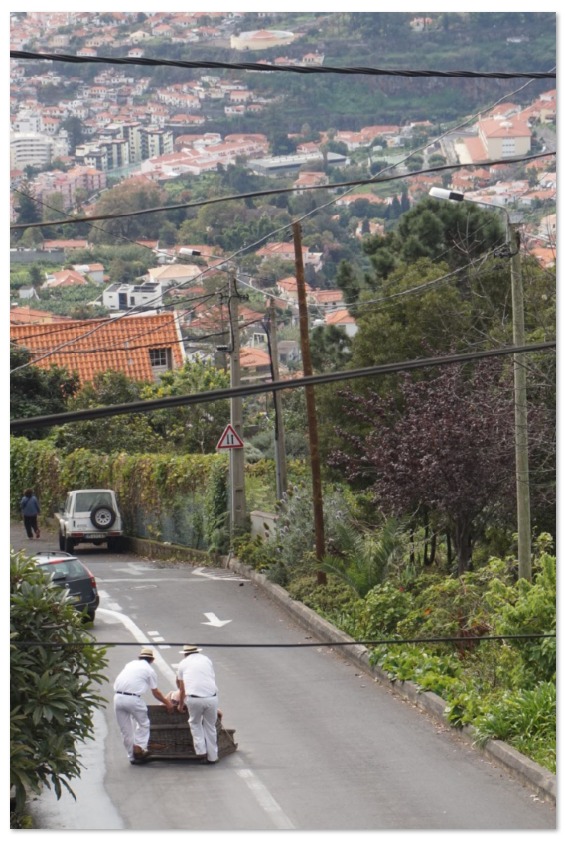 6) Old Blandy Wine Lodge – perfect for a rainy day. If you love Madeira wine, a visit is a must. Tours at Blandy's Wine Lodge give you the opportunity to explore 200 years of Madeira wine and enjoy the wine tastings.
7) At the very end of my list is the Mercado dos Lavradores (Farmers' Market) in Funchal, as I have always had mixed feelings about this place.
You should definitely visit it, but I would recommend you to stay alert and be extremely assertive, as some sellers tend to be very pushy. Below in part "Tips for Funchal" I am telling you more about it.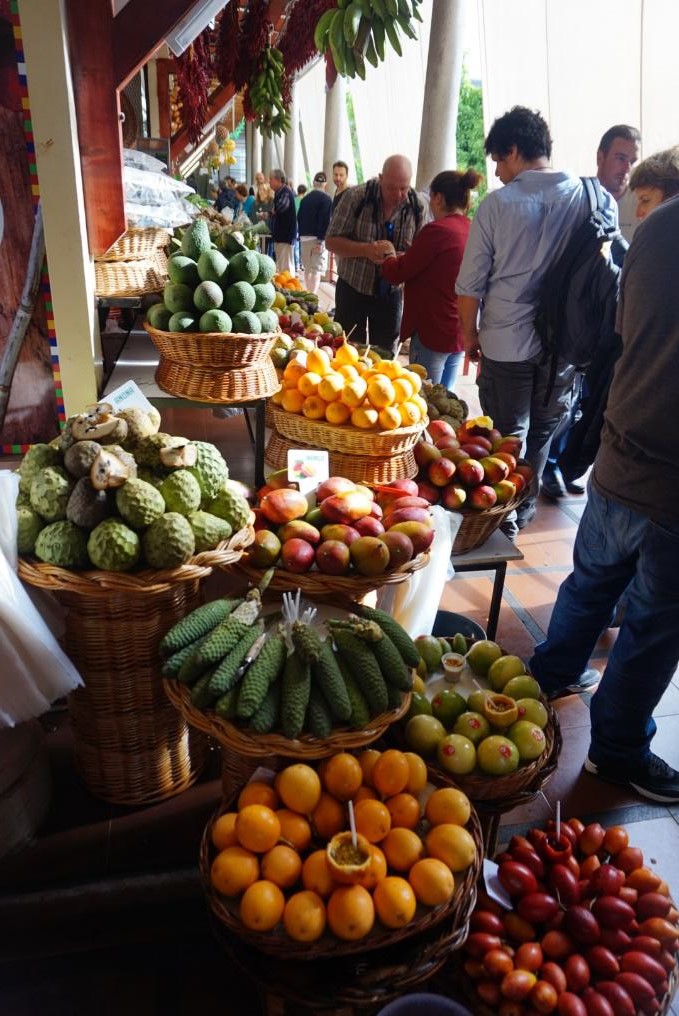 Places around Funchal
Still wondering what to see in Funchal?
How about some nearby attractions?
When it comes to places around Funchal, I would recommend:
– Cabo Girão viewpoint, which is a glass floor observation deck on a 580 m high cliff,
– a secluded hidden gem Faja dos Padres, or
– a traditional fishing village Câmara de Lobos, or
– a spectacular Eira do Serrado Viewpoint with a breathtaking view on the Valley of Nuns.
Where to eat in Funchal and the best Funchal food
I always have a problem with recommending "a" good restaurant in Funchal. There are just so many of them. I would rather like to tell you "WHAT" you should get in one of those restaurants. So here's what to eat in Funchal in this complete travel guide to Funchal:
You should try Lapas – Limpets baked on a special frying pan with garlic and butter, splashed with fresh lemon, usually served with a little garlic gread called Bolo de Caco – my absolute addiction.
Another popular local dish Madeira is famous for is Espetada, which is simply: beef on a skewer (metal stick or laurel twig), seasoned with salt, garlic, and bay leaves, grilled on wood or charcoal.
Black Scabbard fish is also popular. It is worth to try it, as this fish is available in very few places in the world. In Madeira it is usually served with a baked banana.
When it comes to soups, I really really loved the "Sopa de Castanhas" – Chestnuts Soup, or rather Cream of Chestnuts. Chestnuts are very popular in Funchal – in the Funchal Marina, you will find a couple of Smoked Chestnuts stands.
Madeira is a simply heaven on earth for all meat and seafood lovers… Most of the local dishes contain meat or seafood, so vegetarians and vegans might have a hard time in typical Portuguese bar or restaurant…
They will be rewarded, however, with a choice of fruit which Madeira has to offer: delicious small bananas, passion fruits, tabaibos, nesperas, dragon fruits, anonas, banana passion fruits, fruitas deliciosas, guavas, and many other.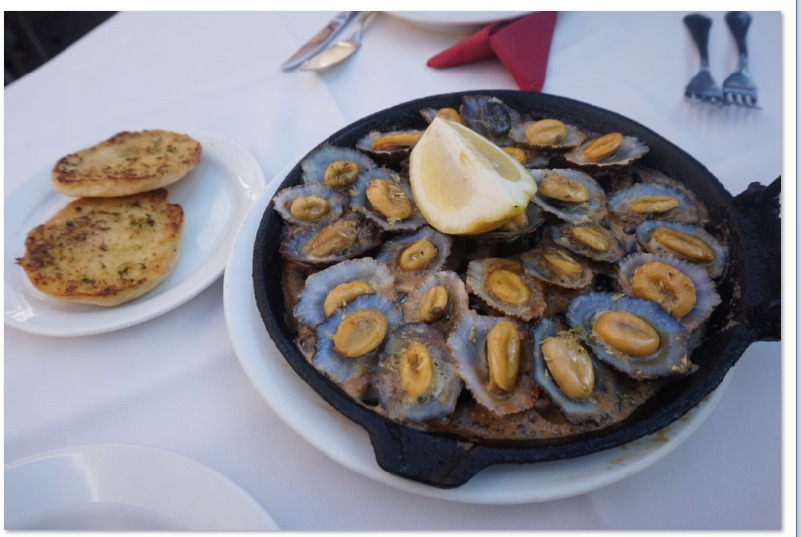 Where to stay in Funchal
This insider's guide to Funchal would not be complete without information about accommodation in Funchal Madeira.
There are many nice hotels in Funchal – they have spectacular pools or even sea-level lava pools and new ones are being constructed.
A great tip for those travelling on a budget, do not Google the term "Hotel Funchal" if you do not want to be bombarded with expensive hotel options. Search for "Pensão Madeira", or "Pensão Funchal" to find smaller, two or three star hotels, with affordable prices starting at 25-30 euro per night during the high season.
The AirBnb is also full of great options for differnt budgets. There are also entirely free campsites on the island, where you could stay. Those who like camping and would like to stay on these free camp fields in spectacular locations are invited to check my blog.
Tips for Funchal
When it comes to tips about Funchal, there is one thing I keep repeating and repeating.. Maybe because I got tricked myself and as soon as I realized it, I could not believe, that even I fell for it.
So please remember: When you visit the Mercado dos Lavradores (Farmers' Market) in Funchal, try to avoid making purchases at the fruit stands on the second floor.
If nothing changed since the last time we were there, fruit and vegetables sold there are extremely overpriced, so do not let the pushy sellers cheat you.
Or at least, ask for prices before you try anything and compare the prices with stands in other places in the city. Do not avoid the place altogether, but if you go there, you must be assertive.
Other than that, Funchal is a pleasant city with friendly locals and good tourist infrastructure. These are my best Funchal tips to help you make the most of your trip to Funchal.
Final conclusion:
So to sum up. Madeira is a perfect place to visit and be sure to have at least a week to explore the island. Funchal will be a perfect base for your stay. There are so many things to do in and around Funchal that I am sure you will enjoy your trip.
About the author:
Edyta, author of the bilingual (Polish/English) blog SAY YES TO MADEIRA focusing exclusively on travel and destination weddings in Madeira Archipelago, Portugal. Check out her blog if you are planning your elopement or holidays in Madeira, or just the opposite, if you have never heard about the island. Please be warned – seeing the beautiful pictures and videos may result in a sudden urge to pack your suitcases and leave off to Madeira! Follow her on Facebook, instagram, and Pinterest too.