Koh Samui, Thailand – a famous destination in a country many dream to visit. Here's a local's guide to Koh Samui by Savannah Liu that will help you better plan your trip. This complete travel guide to Koh Samui includes everything: famous attractions in Koh Samui, off the beaten path things to see and do, where to stay and where to eat recommendations, and useful tips, all from a local! The guide is part of the free travel guides series on this blog.
A local's guide to Koh Samui
Attracting wealthy families, to honeymooners to backpackers, Koh Samui brings together all corners of the world in this cosmopolitan melting pot. Its white sand-fringed beaches and substantial reggae influence encompass the dense jungle vegetation at the core of Thailand's third largest island.
Neighbouring the party island of Koh Phangan in the Gulf of Thailand, Samui boasts stunning beaches and several districts that take you from sleepy Lamai to beautiful Bophut.
Originally a Thai fishing community, there is still an essence of what once was, despite the huge tourist influx of recent years.
Top attractions in Koh Samui
Along the northern coast of Samui is the golden 12-meter high Big Buddha, also known as Wat Phra Yai. Seated in the pose of enlightenment atop 75 stairs, visitors come here to pray and marvel at the sheer size of the attraction which can be seen from several kilometers away.
Travelers are advised to dress modestly at this place of worship, but scarves and robes are loaned for free before the ascent.
Check out the kitsch Big Buddha Cafe at the entrance to the attraction for a selection of teas, coffees and a stunning view out to sea.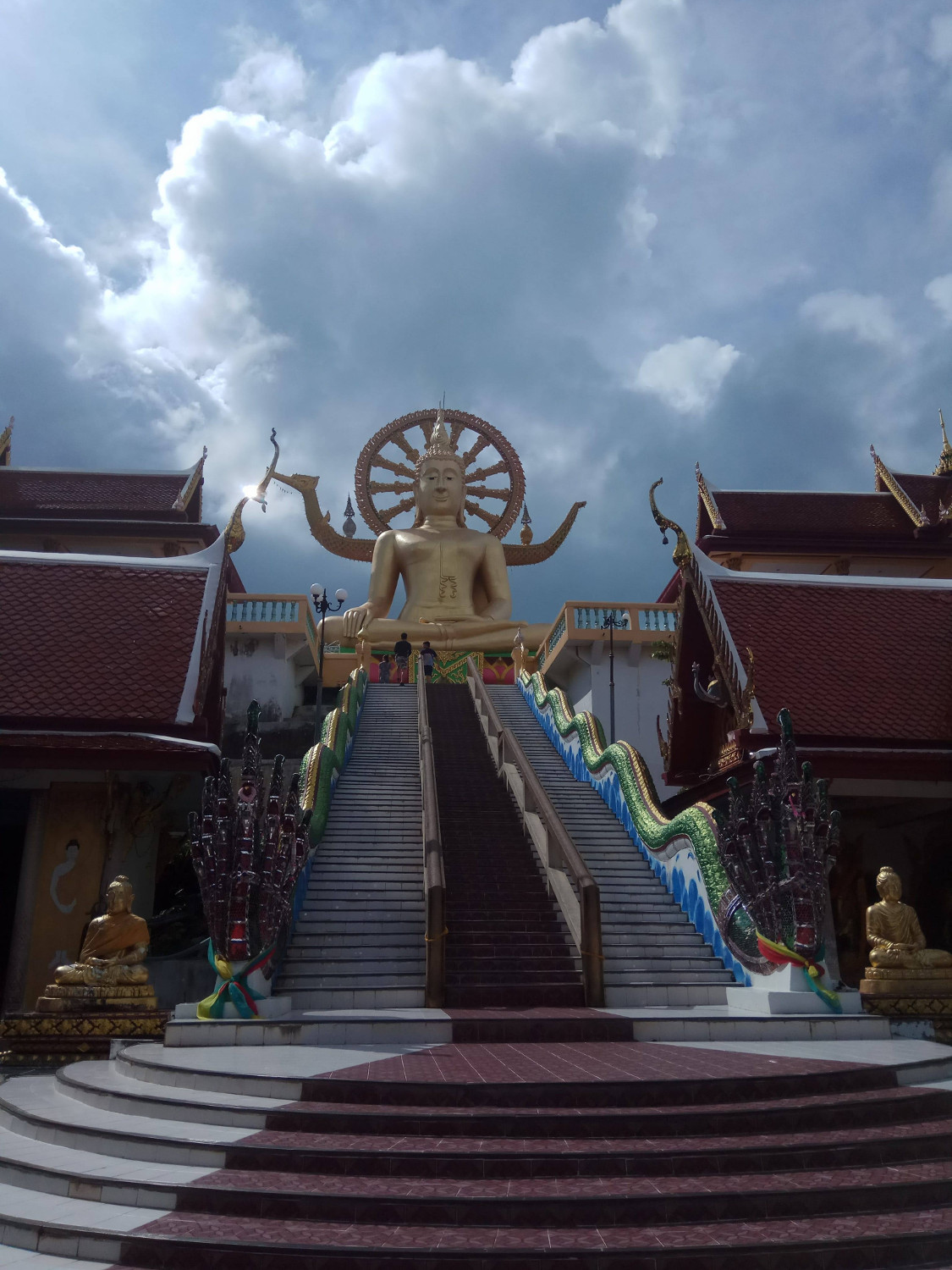 A five or so minute drive from the Big Buddha is Wat Plai Laem, another Buddhist temple that was used as a burial site for babies and children under the age of 10 for many years.
Guarded by an imposing 18-armed figure of Guanyin, the Goddess of Mercy and Compassion, she also represents unconditional love, the protector of all things and is a Goddess of fertility. Representative of Samui's significant chinese heritage, Wat Plai Laem is an insight into Chinese-Thai belief, art and architecture.
Travelers will also find a laughing (if slightly creepy) Buddha adjacent to a ceremonial hall on its own island in the middle of a lake. Travelers can feed the giant fish in exchange for a small donation.
For a fine-dining experience in one of the last remaining original treasures of the island, visit the Fisherman's Village. Once home to a thriving fishing community, the old shops are now full of tourist trinkets and restaurants boasting fresh seafood.
Travelers can dine on the beach, inside plush open-backed restaurants or on the upper balconies in some of the restaurants. It's a push for the backpacker price-range, but in perspective of the western world, moderately priced for quality. Boutique stores and trendy bars, fire dancing and traditional Thai dancing — there are many different sides to the village's narrow streets.
Every Friday is the Fisherman's Village Walking Street between 5 p.m. and 11 p.m., where unique handicrafts and jewellery are sold along with hilarious — if slightly questionable — figurines.
Now for the lively side of town: Chaweng. Arguably the area to attract most of the crowds due to its nightlife, Muay Thai stadium and Reggae Pub, it is also home to the glamorous ladyboy cabaret shows.
Ladyboys, katoeys or "the third sex"; world famous and deriving from Thailand, expect flamboyant costumes, glamour and stupendous shows in one big glittery haze. Paris Follies Cabaret is one of the most popular shows on the island with three nightly shows.
Prepare for a night of giggles, excitement and a whole lot of surprises.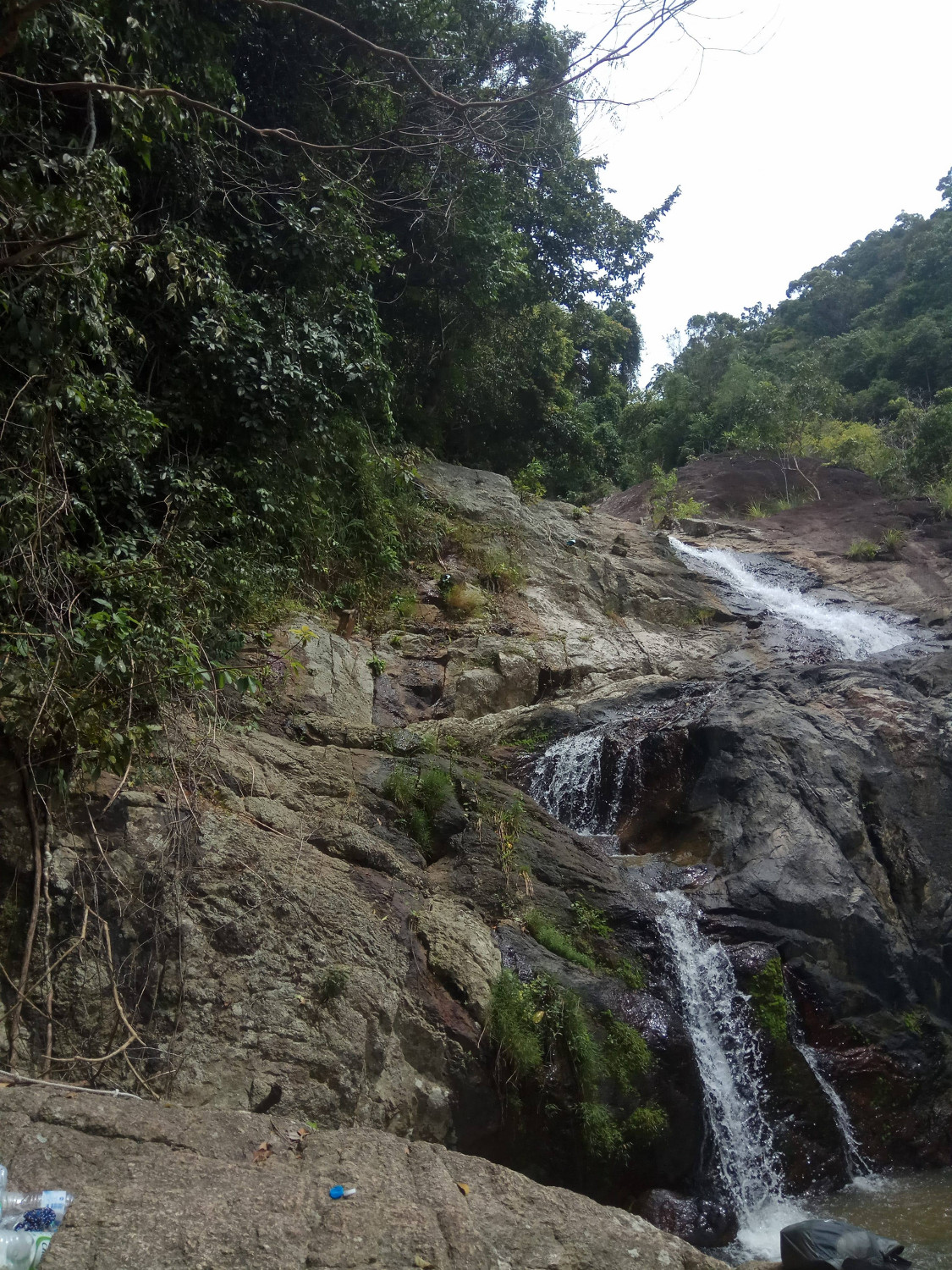 For the intrepid explorer, the island offers its waterfalls as a natural challenge. Prepare to get hands on at Na Muang 1; it's a serious climb guided by rope and rocks, but with impressive views over the island and beyond at the top.
Similarly, Na Muang 2 is not for the faint-hearted, but the epic water slide and natural pools makes it the perfect oasis on a hot day.
Hin Lad has a much more gradual incline to the top of the waterfall, and the natural infinity pool at the top offers the perfect instagram shot. A great alternative to the beach, don't forget proper footwear and a beer for celebratory drinks at the top.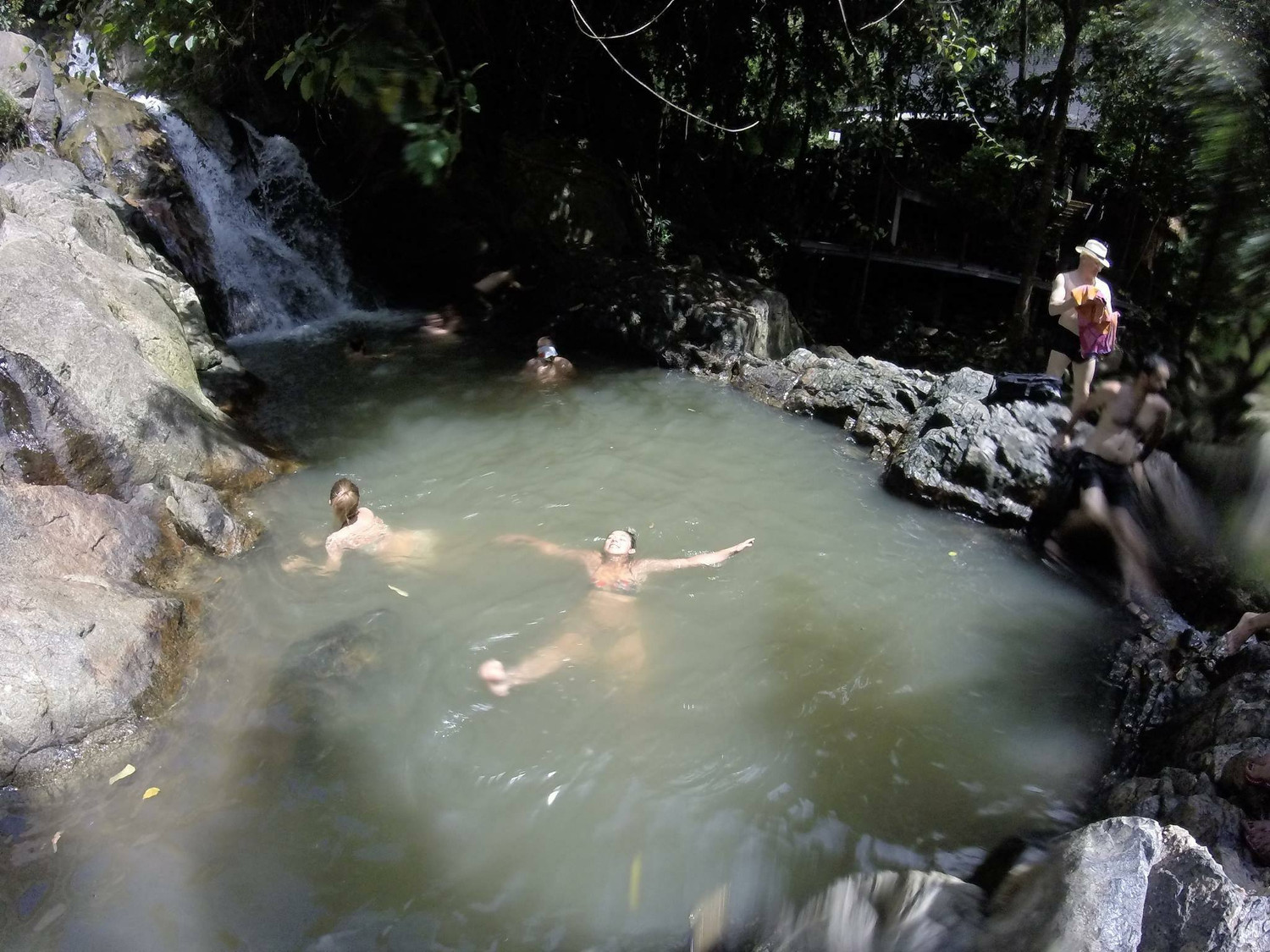 Often when you go caving in Asia, your guide will point out a rock that resembles an eagle, or perhaps a distorted crocodile on the wall, but no questions asked about what nature is imitating here… Hin Ta Hin Yai, or Grandpa and Grandma rock features male and female genitalia.
Rising between Lamai and Hua Thanon amongst giggling Asian tourists taking photos, there's actually a bit of folklore to this one: a couple were set to be married but died at sea and turned into rocks as "proof to the bride's parent of their true intentions."
A good sunbathing spot to dip your toes in, vivid oceanic life can be seen from the rocks but it is not advised for travelers to swim here due to sharp barnacles and sea urchins.
A 10-minute drive toward Nathon from Hin Ta Hin Yai, is Luong Pordaeng. Residing in a glass box at Wat Khunaram, he was born in 1894 and died in 1973. He's a mummified monk.
There are several dotted around the island and throughout Thailand as a whole, but rumour has it that this was a natural preservation — with no external help — due to his simple life, healthy diet and long meditation sessions.
Pordaeng refused to eat or speak during the last week of his life, and stayed in a deep meditative state until he was declared dead. He now sits on display as a visual reminder of the Buddhist teachings — scary for some and inspiring for others.
His eyes were the only part that disintegrated and have since been "respectfully" covered by sunglasses.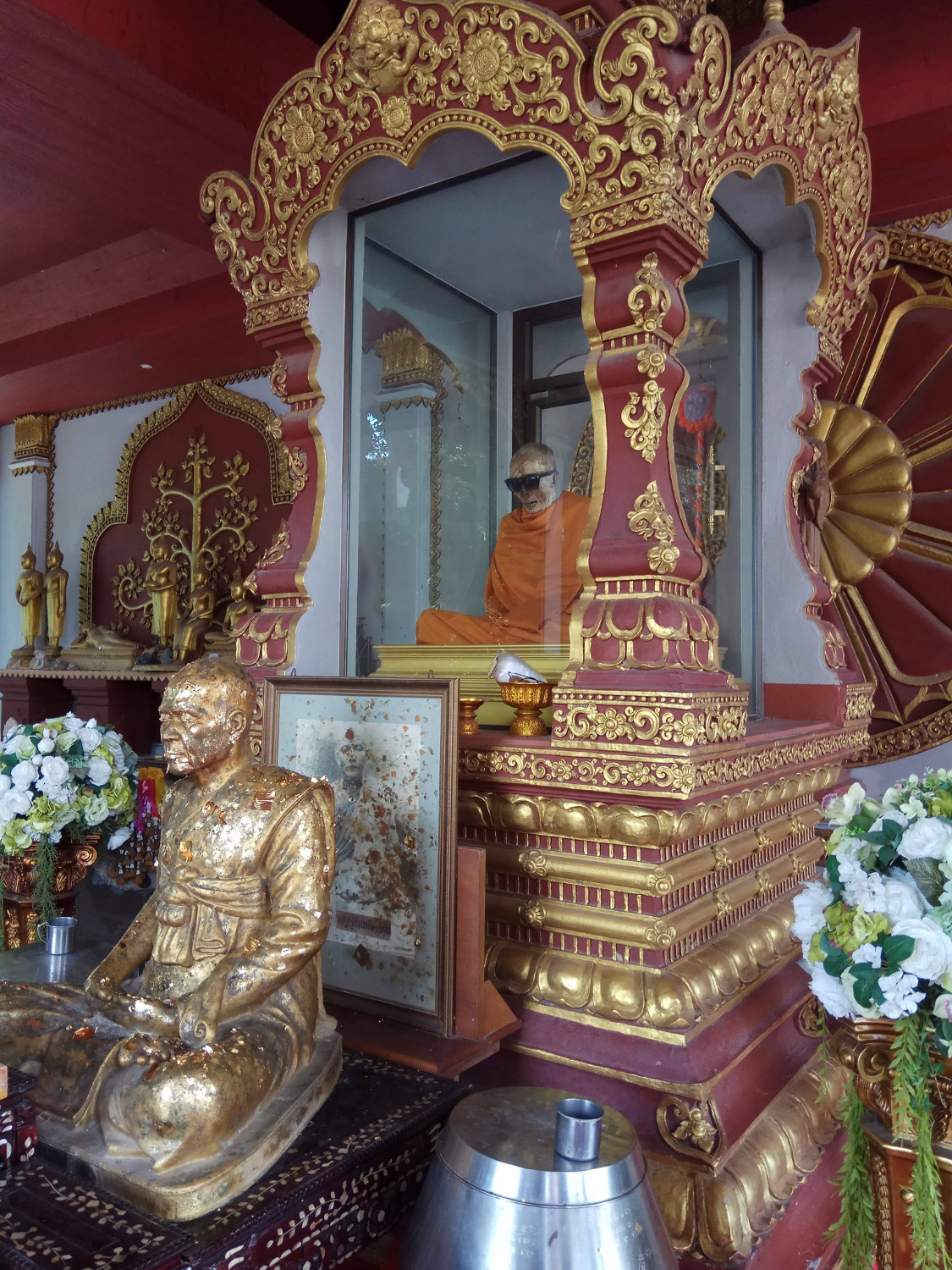 Off the Beaten Path Attractions in Koh Samui
On a notoriously touristy island, one might expect there to be nothing else other than what is in the guidebooks to see, but fear not fellow traveler, there are still a few undisturbed spots.
A hidden gem that takes you up into the middle of the island is The Magic Garden, also known as the Secret Buddha Garden. It was built by a durian farmer in the 1970s and armies of beautifully carved stone creates a mystical fairytale merged with Thai folklore and religion.
Go in and out of tiny houses and peculiar staircases, then take the rest of your time here to hike around the surrounding gardens.
Visit Hua Thanon Village, the primarily muslim village on the island with the only mosque, it's green turrets and crescent moon can be seen from the surrounding rural hills. Possibly the most reserved and original villages on the island, the fishing boats can always be seen docked nearby.
Check out the fish market where they sell the catch of the day, and dine at one of their family run businesses. A short distance from the village is the great Guan Yu shrine, a famous Chinese military general erected to celebrate the colourful history between the Thais and Chinese.
Off the road and into a humble monastery, travelers will be directed into the forest to discover Buddha's footprint. One of the earliest representations of Buddha in the aniconic stage of Buddhist art, the engraved prints represent the liberation path mentioned in the life of Buddha.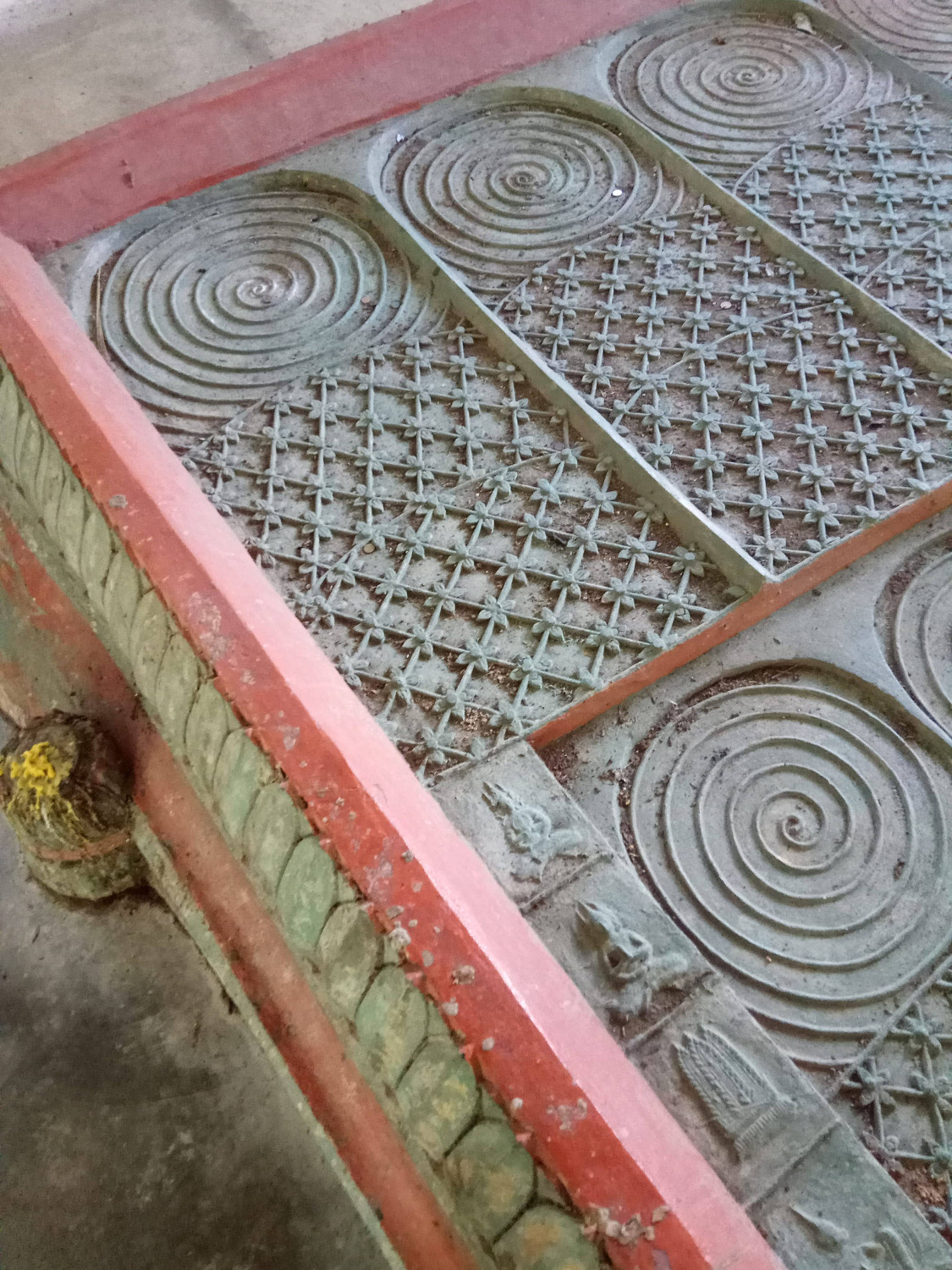 The large footprint is inside a modest shrine atop a steep hill, and is guarded by a strange gnome-like man. The shrine offers fantastic views of the island and a quiet space for meditation or simple speculation.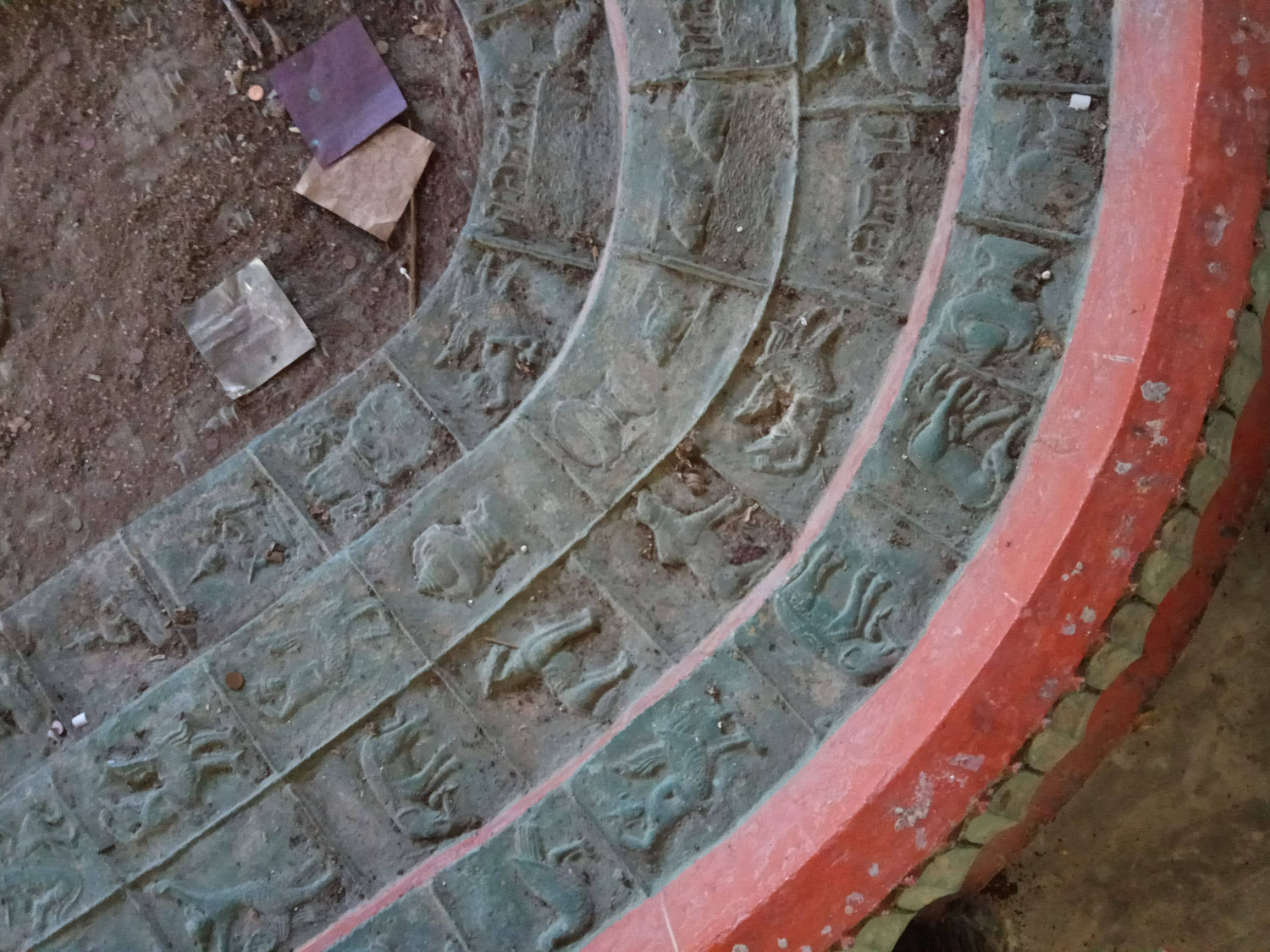 To really go off the beaten path, rent a longtail boat and snorkel on the island of Koh Tan.
If the ride over isn't crazy enough, travelers can see firsthand some of the untouched marine life Koh Samui has to offer in a truly authentic, one-of-a-kind experience.
A non-tourist scene, this is popular with the occasional honeymooner and backpacker, but is largely unspoiled.
Where to Eat in Koh Samui
Koh Samui has an international palette catering for its worldwide tourism industry, from traditional Thai to French, Italian, and a whole lot of "I just don't know."
The night markets are always an experience and a half with angry birds on sticks (dyed meat perhaps?), buns with cartoon faces and a multicoloured bamboo stand meticulously aligned with sushi samples.
The Lamai Sunday night market is particularly renowned for its food options on a Sunday evening — be bold, be brave and try a little of everything. Averaging at 30 THB per item, this is the perfect opportunity to give that crispy silkworm a shot.
For something a little more upmarket, Link Cuisine and Lounge exudes sophisticated elegance and luxury charm. Perfect for a special occasion, the staff are impeccable and the French Thai fusion of food is unlike anything you might have tried before.
Take a seat on the upstairs balcony to enjoy the coastal breeze and view out to sea; leave your flip-flops at home and put on your best shirt.
Slightly more casual on the dress code, but not a drop less of excellent food, is Takhoe Bang Po Seafood. Located in the northwest region of the island, this restaurant was voted "The best beach restaurant in the world' by Travel + Leisure magazine.
Boasting outrageously good seafood and a near-perfect sunset view over the sea, this is a great place for travelers to finish up after a long day exploring the island.
Brunch is an essential part of any day, right? Well at the Life Cafe it certainly is. Homemade and organic, this brunch buffet goes for the slightly pricier end of 300 THB per person, but for the healthy selection of grains, fruits and juices, it hardly seems unreasonable.
Looking out over the ocean, the resort below blends in with its natural surroundings almost to where you only see it if you look hard enough.
Try one of the yoga classes at Vikasa which is connected to the cafe, the perfect way to start a morning in paradise.
Where to Stay in Koh Samui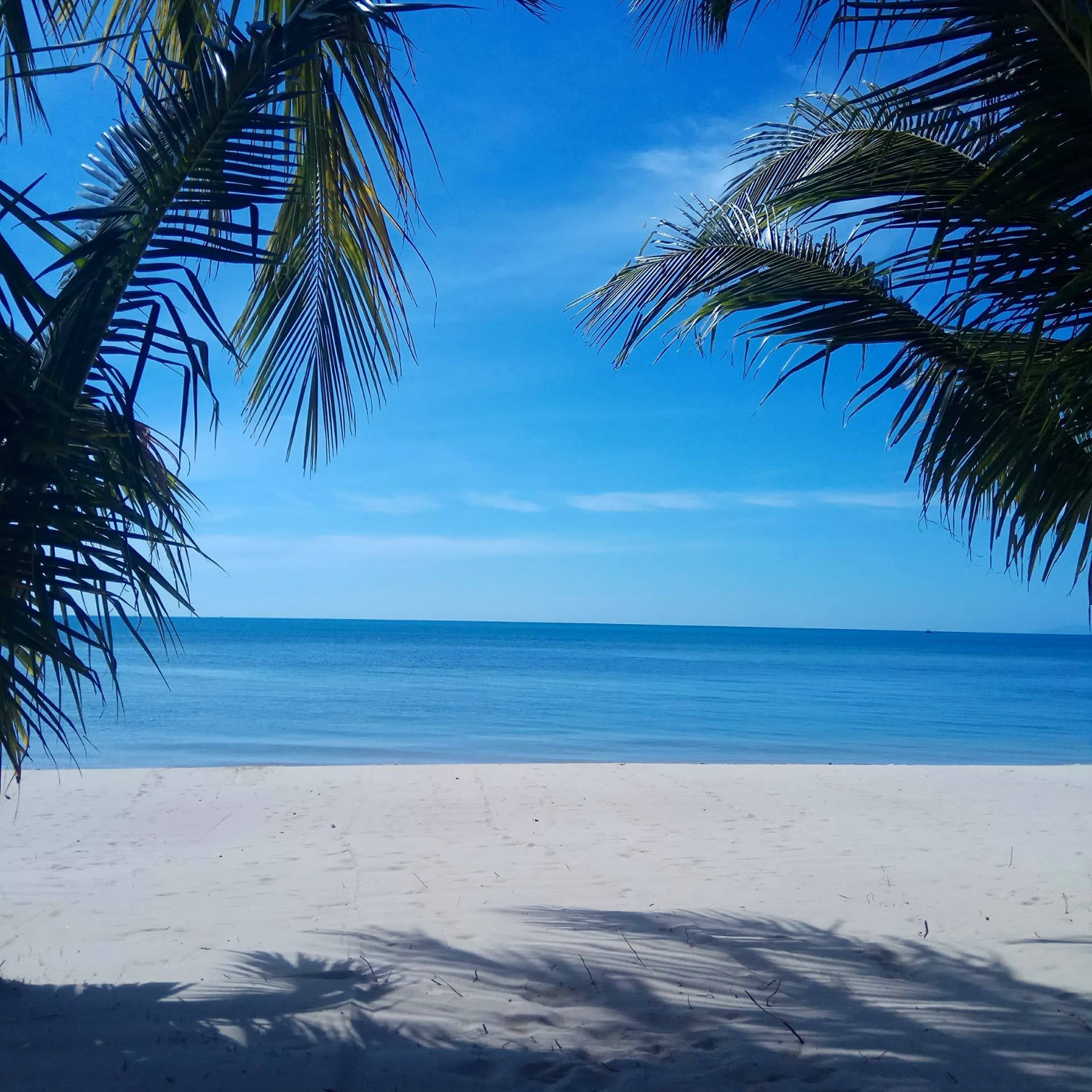 A personal favourite of mine is New Hut Bungalows, an ideal backpacker set up. Colourful wooden teepees lined up along the beachfront of Lamai and a stone's throw away from bars, restaurants and landmark attractions.
I spend more on a sandwich and a coffee back home than a night in one of these little gems.
Meet other travellers in this close-knit community, the perfect place to swap stories in the evening on your very own sandy doorstep.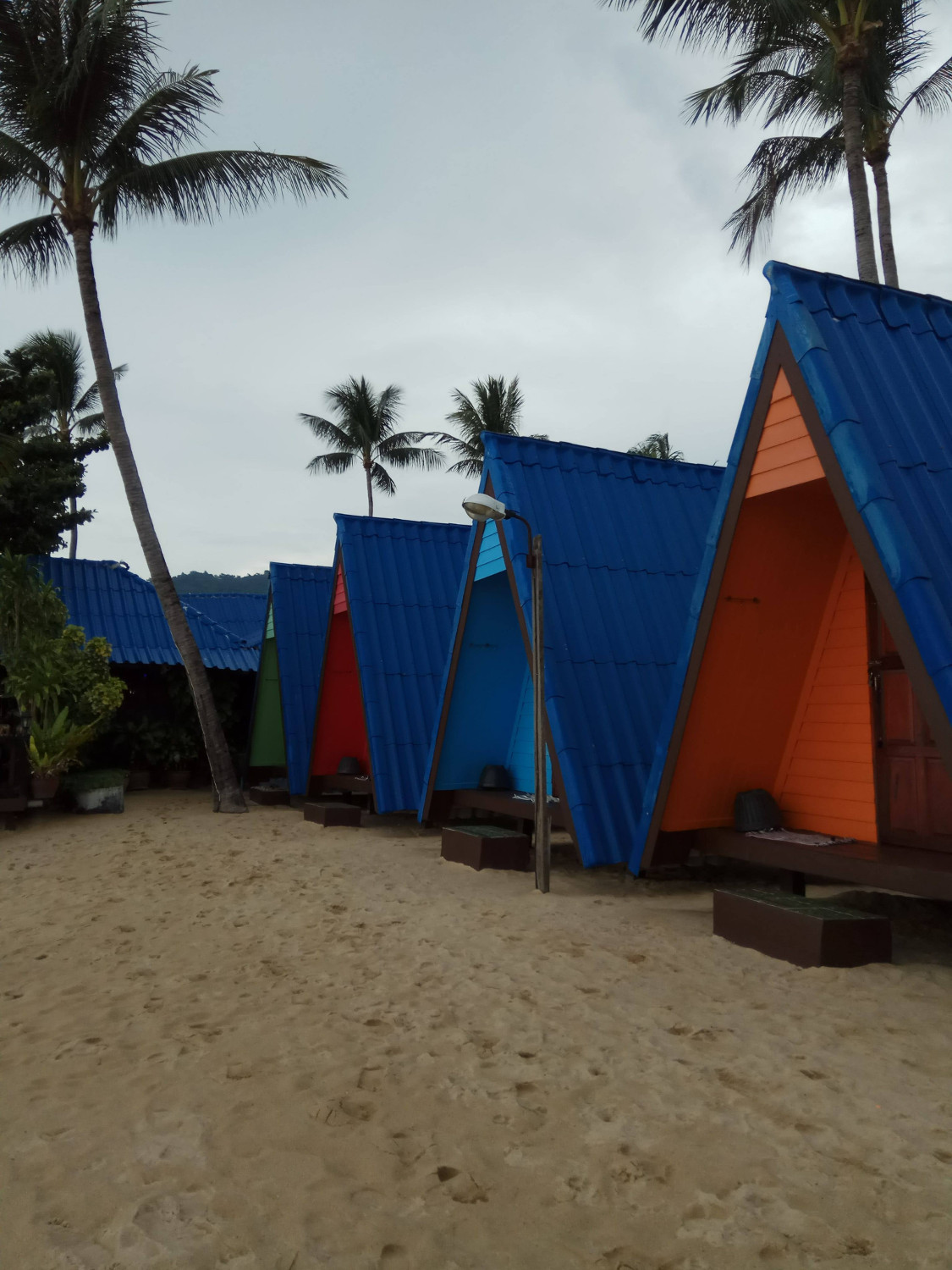 Tiki Tiki Beach Hostel is run by a delightful couple, Bart and Rose. A hostel with heart, part of their monthly profits are donated toward a children's orphanage.
An amalgamation of mixed dorms and en-suite rooms, they are often booked quickly in this newly opened hostel, and did I mention the pool? Strong Wi-Fi connection and a two-minute walk from the beach make it a digital nomad's haven.
Located five minutes from Koh Samui airport and a two-minute walk from the ferry pier, The Boardroom Beach Bungalows and Chill Out Bar is ideal for the tired traveler wanting to rest their head in a comfortable bed.
Traditional Thai-style bungalows have air conditioning, a fridge, Wi-Fi, hot showers and a private balcony, all in a beachfront setting.
Here's one that's a little bit different, a little bit strange, a little bit out of place — but amazing all the same. The Library — stay with me here — is a boutique hotel in Chaweng with some very unique characteristics.
How do you fancy taking a dip in a blood red pool? Or lounging in an ultra modern, chic library? Suitable for your inner vampire, there are 13 ground floor rooms, and 13 studios available above.
Koh Samui Survival Tips
I get it, I really do, seeing all the moto rental sites makes it pretty tempting to rent one regardless of past driving experience.
But I do not recommend driving, or hopping on the back of someone who is not very experienced. The traffic can get chaotic and tight on the roads, plus the driving rules out here are a little … different.
There are seriously steep hills and sharp corners, and if you get caught in one of the tropical downpours, it can get tricky.
"During high season, you can always hear an ambulance in the background due to road accidents," comments one rental lady. However, if you are an experienced driver, make sure to always wear a helmet and drive safely!
Avoid ice. The tap water they use out here is not suitable for drinking, and it is this same water they use to make the ice. It's standard to only drink bottled water in an Asian country, so unless you know they are making their ice with filtered water, ask for a drink without.
On the topic of health and self-care, make sure to top up on suncream regularly because the sun will keep it sweating off — that one time you slap it on in the morning isn't going to protect you for the whole day.
Citronella and deet insect repellant will also save you the irritation of having to deal with the mosquitos out here.
When going to religious sites and temples, remember to keep shoulders and legs covered as it is considered disrespectful to wear otherwise. Some places, like the Big Buddha, will loan you clothing to cover yourself, however others will simply refuse you entry.
It's nothing personal, just a cultural understanding. I always carry a scarf with me in case a spur of the moment decision comes to go elsewhere, it's also great to carry one around in case your shoulders or arms start getting sunburnt.
Thailand is renowned for novelty elephant rides and tiger shows, but in a typical "do as I say, not what I do" moment, I would recommend avoiding the zoo, safari and monkey shows.
There are rumours of mistreated animals such as starvation and violence in order for them to perform on stage, and the fear is clear to see.
Many of Thailand's captive elephants are poached from the wild or ended up in the tourist industry as a result of the 1989 logging ban. They have then been broken though abusive treatment and beaten into submission.
On a lighter note, Choeng Mon beach has the best sunrise, and Nathon for sunset!
About the author
My name is Savannah Liu, and upon graduating from my journalism degree, I packed my bag and set out to explore southeast Asia as a digital nomad. Travel has always been big on the agenda, and I don't plan on going home any time soon. Currently based on Koh Samui where I'm a resident at a writers' haven called The Content Castle, I plan to travel again to Cambodia (serious love), Laos, Vietnam, and then round to Indonesia and Malaysia. Explore the world with me through my Instagram, Facebook, and blog here.