Planning to visit Morocco? In that case, read this one week in Morocco itinerary and discover all the amazing places to visit in Morocco.
You'll obviously include the famous Marrakech on your Morocco 7-days itinerary, but the country has a lot more to offer!
So, read this article on how to spend one week in Morocco: things to see and do for all preferences by Rachel from Children of Wanderlust. They've spent a lot of time visiting the country so use the recommended itinerary for Morocco below to make the most of your trip here!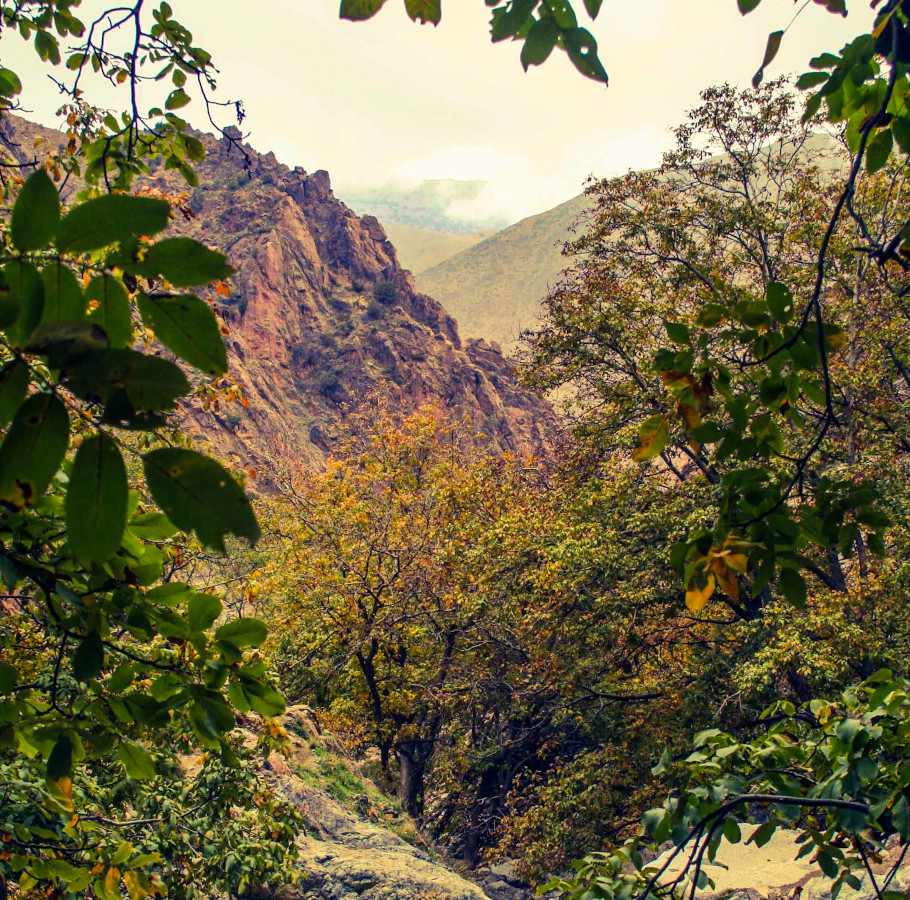 1 week in Morocco: things to do and see
Morocco is a beautiful and welcoming country, full of incredible colour and diversity. It is also surprisingly large, with dramatically varying road standards. Consequently, to do the country justice and visit all that it has to offer, 1 week will never be enough.
We have recently returned from touring the country with our family, in our classic motorhome. We spent 1 month in Morocco, visiting all corners, and even that at times felt rushed.
However, I accept that not everybody has several months to spare for a holiday. Likewise, many people will visit Morocco on a short break but only see Marrakesh.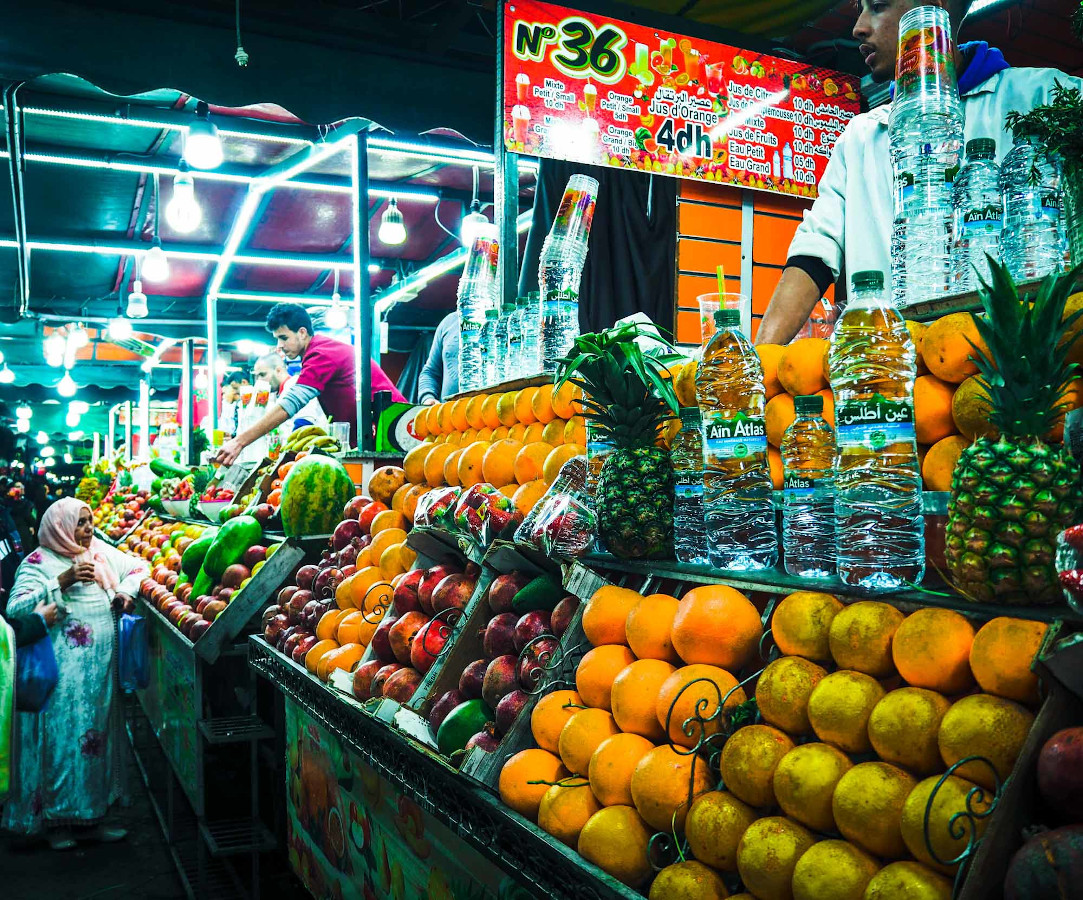 Again, this is a shame, as the country has so much more to offer. I have therefore tried to find a compromise and compile some ideas for how to best spend 1 week in Morocco – seeing some variety but at the same time not feeling overly rushed or like you're just travelling all the time.
I also realise that most people who are visiting for a short time will be unlikely to have their own transport. I have therefore only included places in my main itinerary that can be easily reached via public transport or by taking readily available tours.
For anyone who can spare longer, I have also included some excellent possible extensions to your trip. While these will usually be just about achievable on public transport, having your own set of wheels is definitely preferable.
If considering driving, outside of the mayhem of the very centre of the major cities, you'll find there is actually very little to fear from the Moroccan roads.
So here is my 1 week (7 night) itinerary for Morocco…
Marrakesh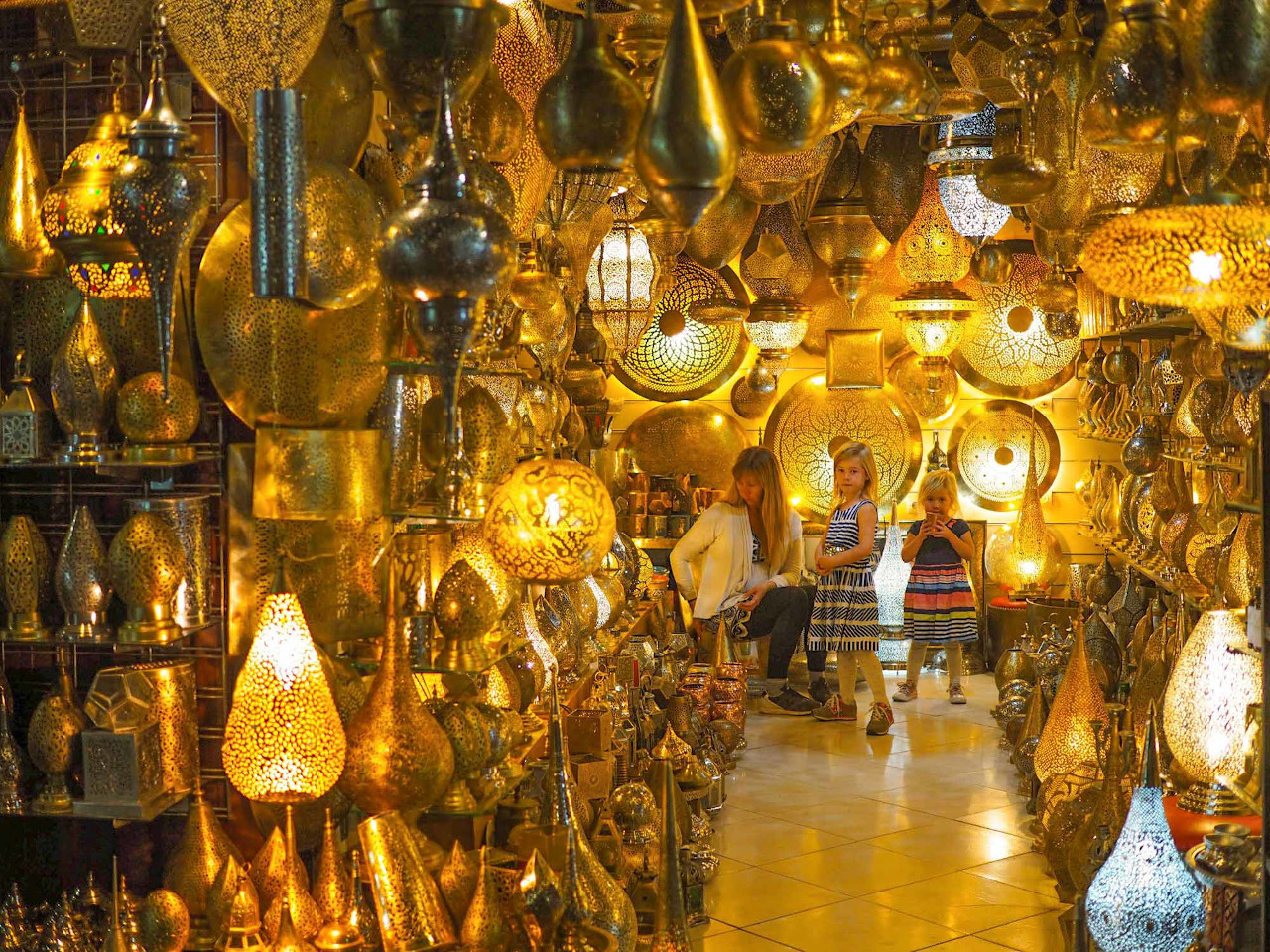 Marrakesh (or sometimes, Marrakech), is Morocco's most visited city and the country's number 1 tourist destination, popular year-round for city breaks.
As it is the main hub for international flights into the country (from all around the world), I will start and end my week here. The energy of the city with its sights, sounds, and smells is a pretty unique feast for the senses. It's everything you'd expect from a trip to Morocco.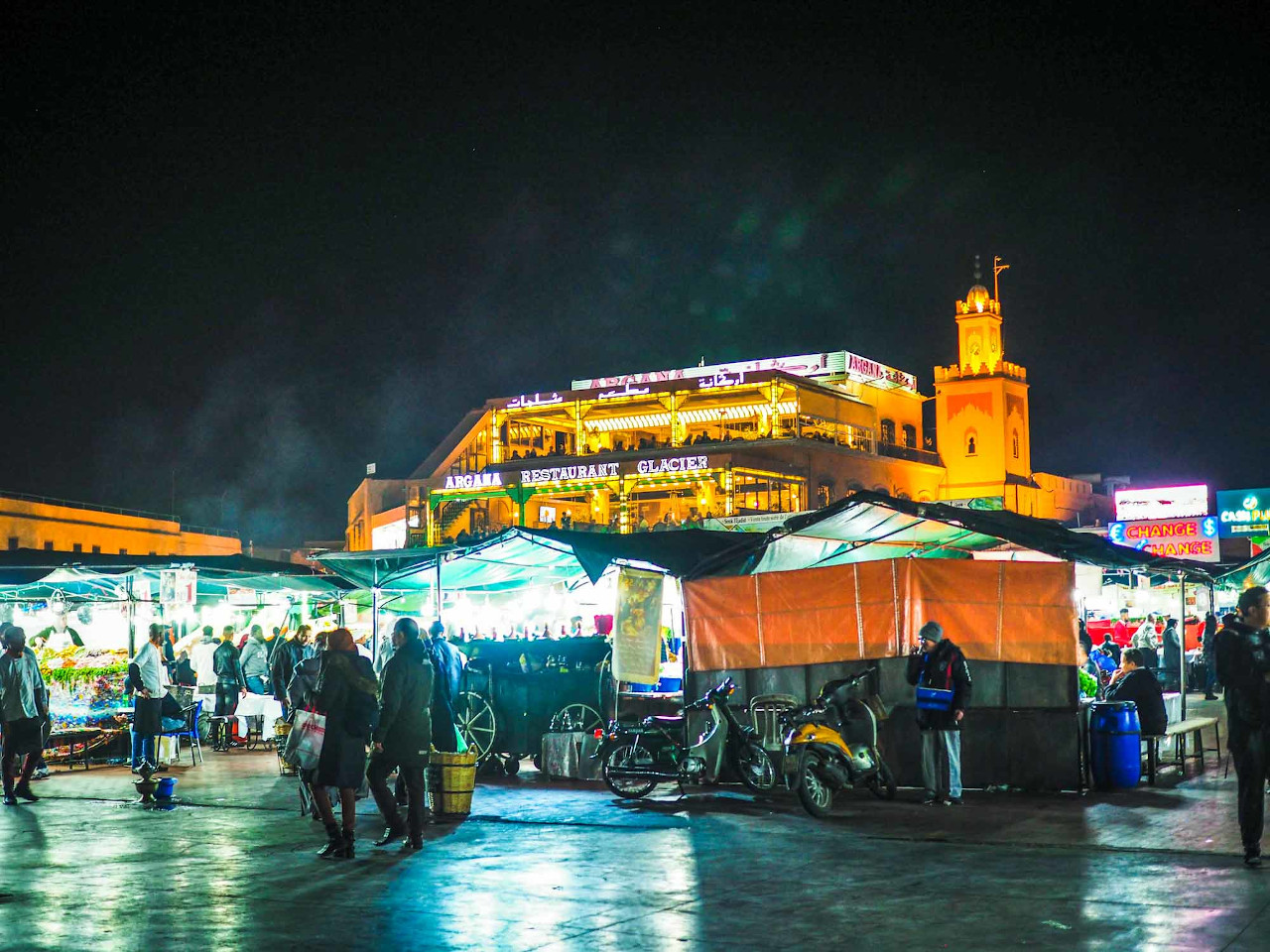 The main action of the city centers around the lively Jemaa el-Fnaa Square.
Unique to Marrakesh, this square is the heartbeat of the old city medina (market area). It is also one of the best things to do in Marrakech so make sure you include it on your one week Morocco vacation.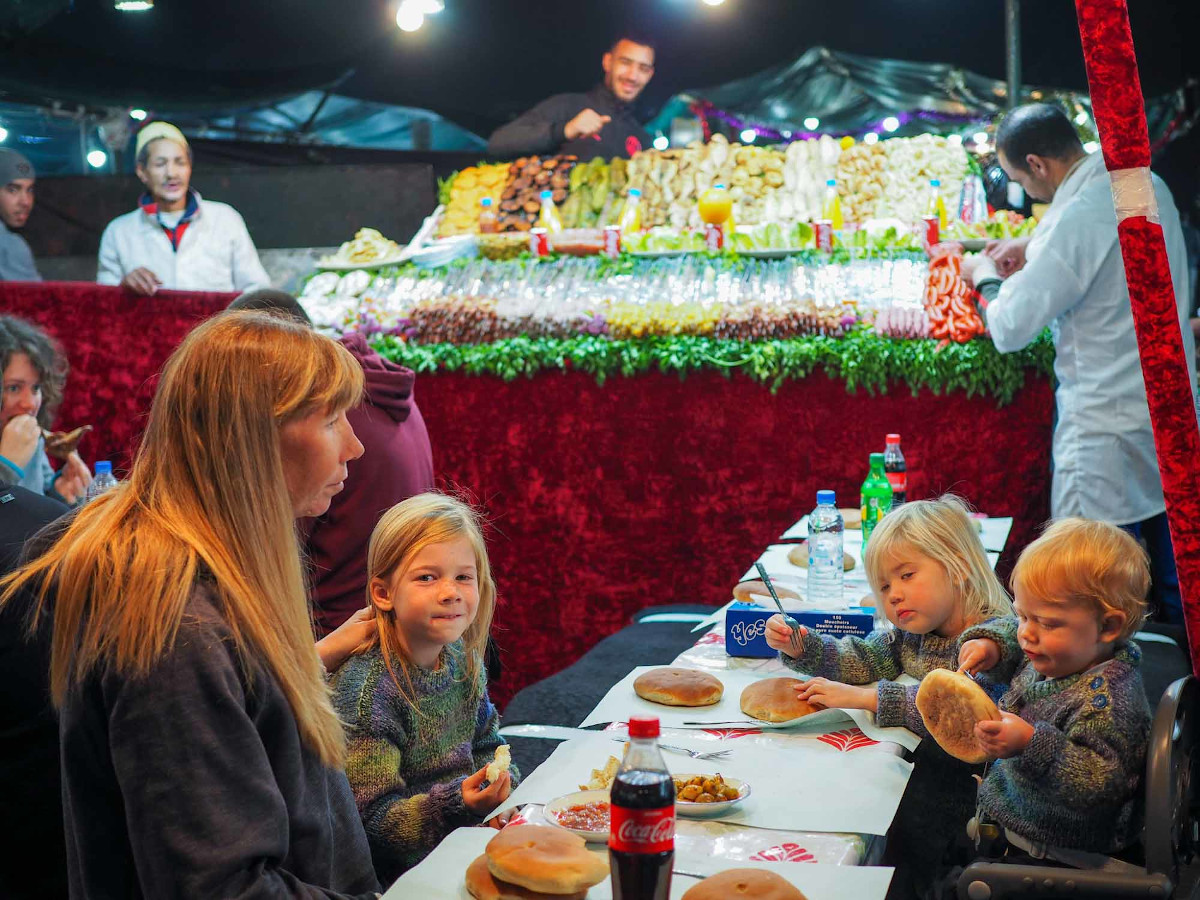 Think musicians, street hustlers, market stalls, outdoor dining and even snake charmers, all packed in together and exciting to experience both day and night.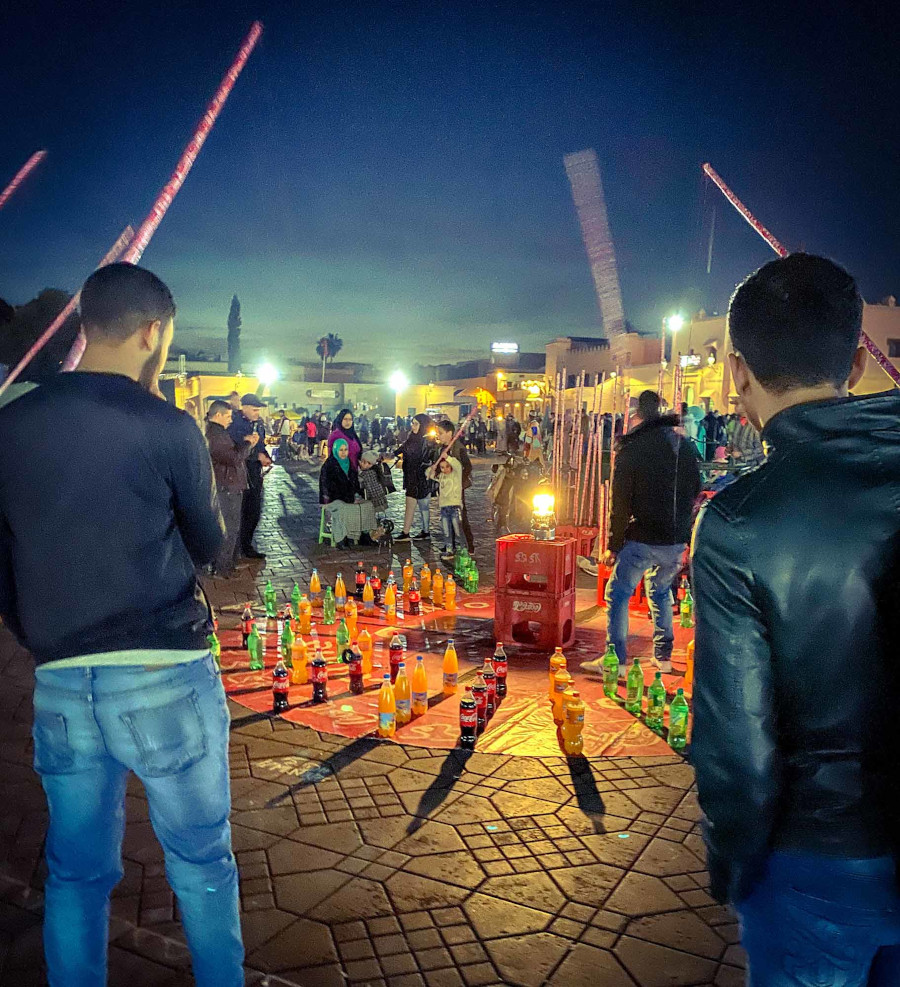 As well as exploring and shopping in the old medina (don't expect too many bargains and be prepared to haggle hard though), the city also boasts plenty of parks and gardens.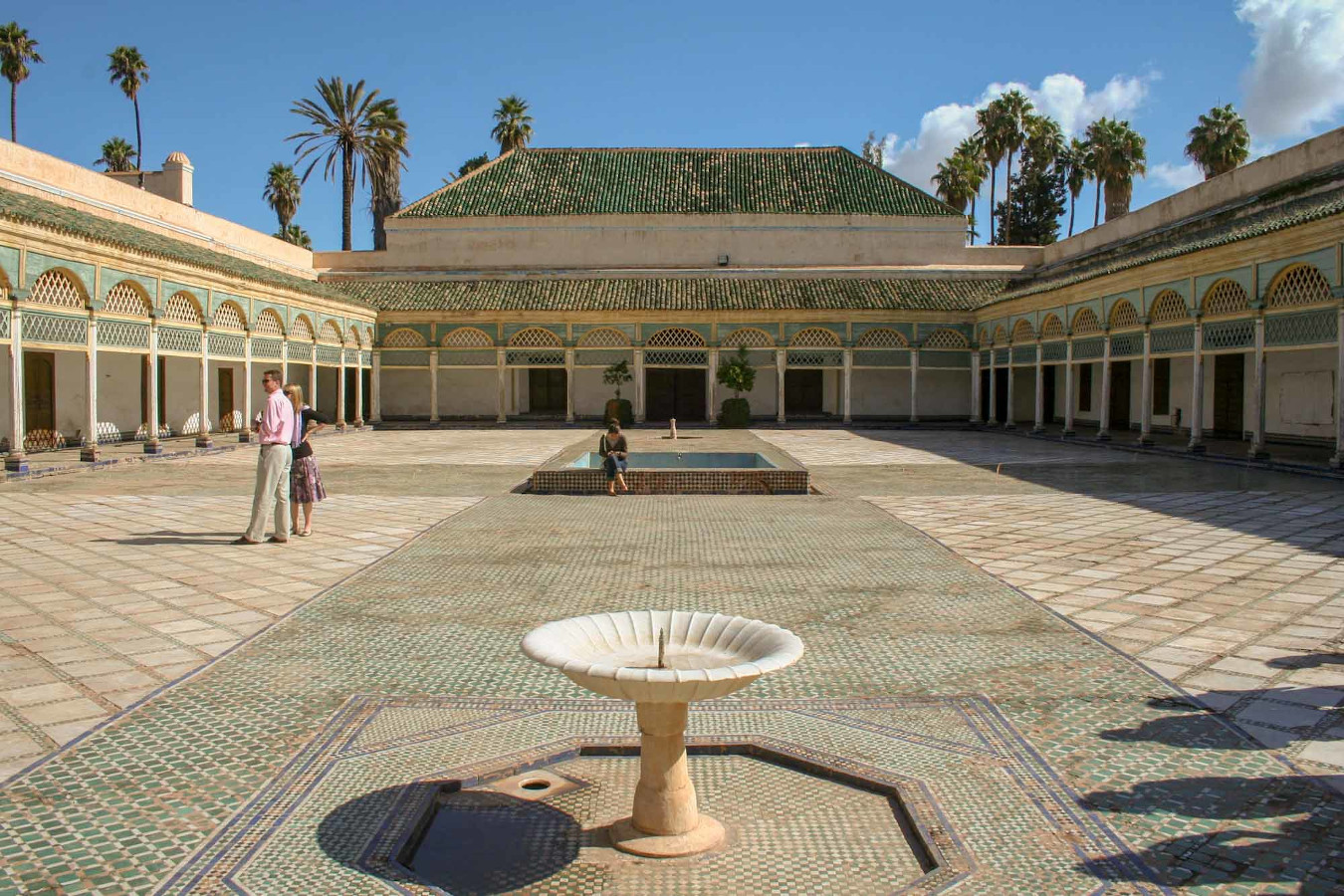 The Bahia Palace is an attractive 19th Century former Royal Palace, that is open to visitors and full of ornate, geometric decorations. A visit to a traditional hammam spa is also an essential experience not to be missed.
There are also countless great dining options. The stalls in the Jemaa el-Fnaa Square are fun, if a bit crazy. For a more peaceful meal, eating at a roof terrace restaurant is the perfect way to escape the manic streets below for a short while.
Choose wisely and if you're lucky, you'll have a view down on all the action below. For a break from the usual Moroccan offerings, try out some delicious Lebanese cuisine at the excellent Naranj restaurant.
However, despite its good points, in some ways the city has become a victim of its own success, with ever-increasing crowds bringing associated problems with them. Constant hassle from touts, misinformation, and endless motorbikes are all a menace.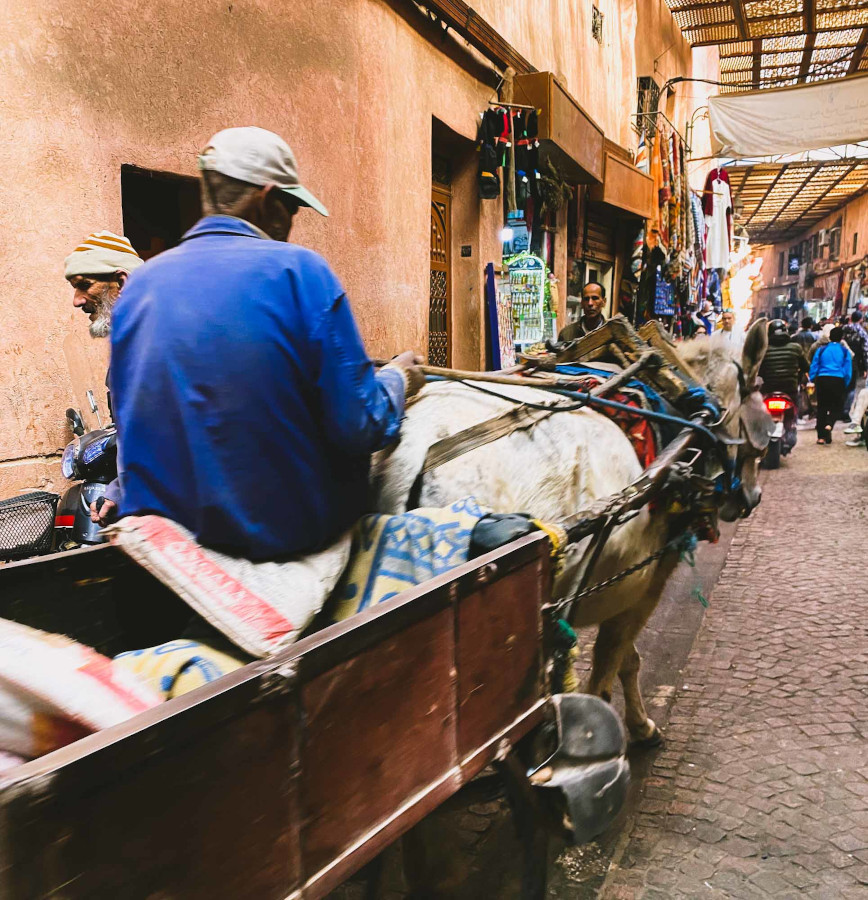 A wander through the medina is rarely a relaxing experience. Far from my favourite place in Morocco, I'd still recommend anyone to definitely experience it at least once, as it is quite unlike anywhere else!
To best experience the hustle and bustle of the old city, opt to stay in a traditional riad guesthouse. The steady increase in tourist numbers in recent years has led to a proliferation of this type of accommodation, with literally thousands to now choose from, to suit all budgets.
Riad Azra Marrakech offers well furnished, great value rooms right in the heart of the medina and only a short walk from the Jemaa el-Fnaa Square.
Altogether, there is definitely enough to keep you entertained for a few days. I would recommend 3-4 nights in the city during your 7-day tour Morocco.
Read our comprehensive Marrakech travel guide here.
High Atlas Mountains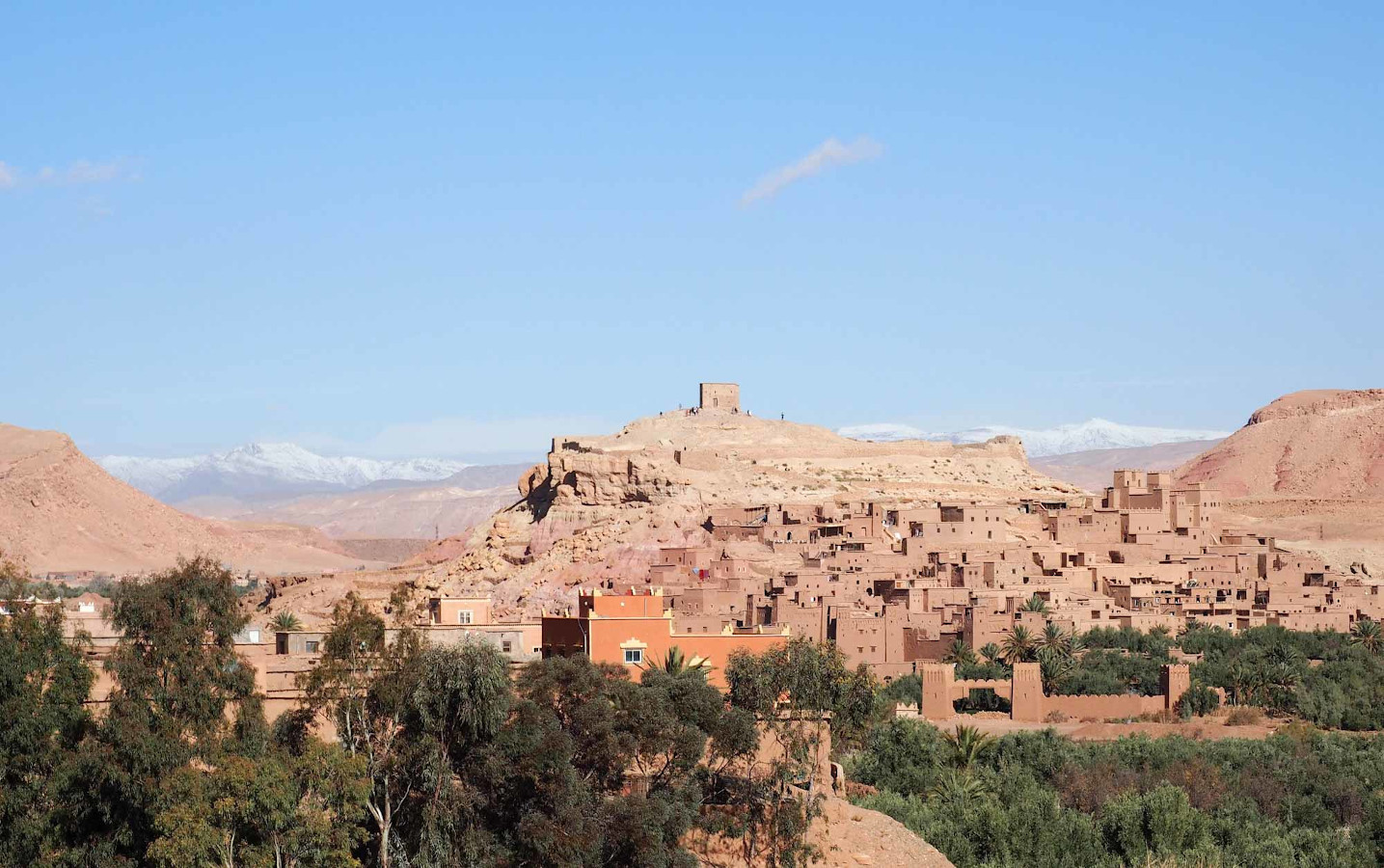 Forming an impressive backdrop to the Marrakesh skyline, are the grand and often snow-capped, High Atlas Mountains – one of the best things to see in Morroco in a week.
A visit to the mountains is one of the most common day trip tours out of Marrakesh, with no shortage of operators offering this experience.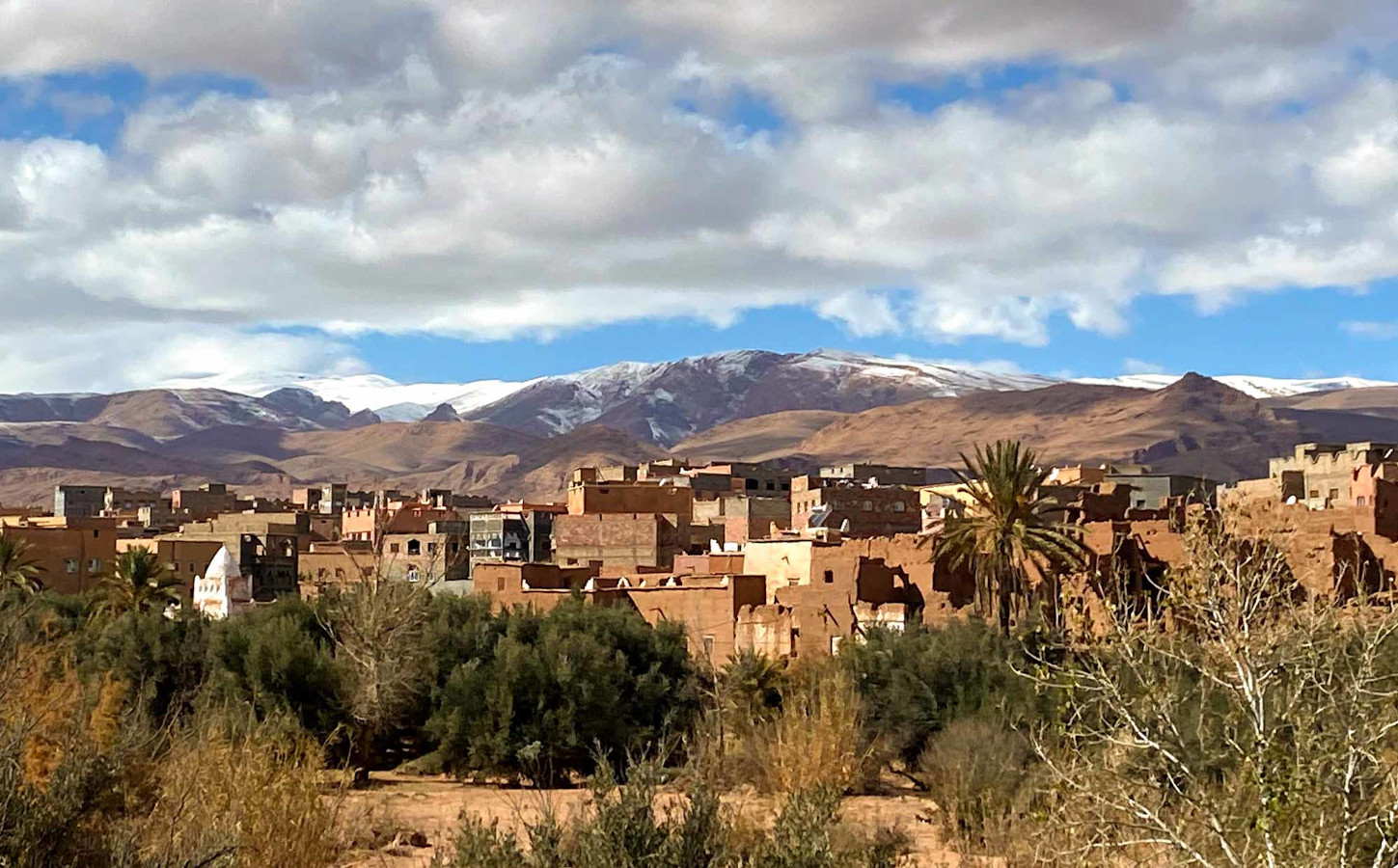 One such trip that we took included a walk to a waterfall and a chance to visit a traditional Berber village. It is a good way to easily get a look at both some great natural scenery, as well as gain an insight into some traditional customs and Berber ways of life.
There are also opportunities for further mountain trekking on some tours, if desired.
These tours are typically run as day trips out of Marrakesh. However, they can be extended to include an overnight stay if this is something that interests you.
Essaouira
Located on Morocco's Atlantic coast, an easy short hop from Marrakesh, sits the beautiful city of Essaouira. An important fishing port for centuries, the city's visual appeal has seen it often used as a backdrop for the big screen, as well as recently featuring as a filming location for the hit TV series, Game of Thrones.
It's Morocco in a nutshell and a great place to hang out for a few days – thus it should be your next stop on your one week in Morocco.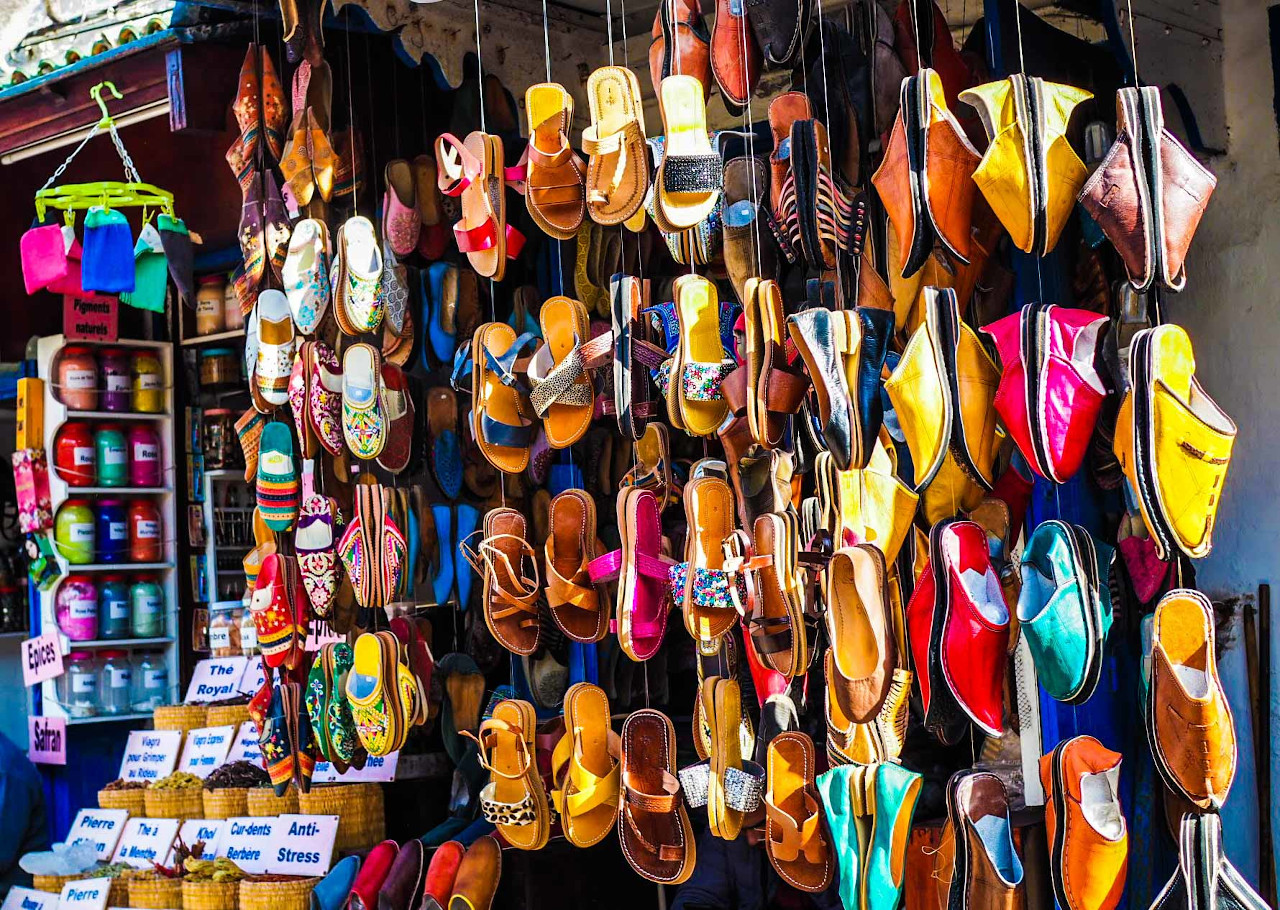 Essaouira has Morocco's only pre-planned old town medina (market). This creates a pleasantly spacious and hassle-free space to explore, free from the claustrophobia experienced elsewhere, while still containing the expected range of shops and atmospheric souks.
Prices are also usually more favourable here than they are in Marrakesh. It also boasts a UNESCO World Heritage listed Kasbah; impressive stone coastal fortifications, now home to some hip, roof-top bars (attitudes to alcohol are more relaxed here than you'll find elsewhere). Art galleries complete the bohemian vibe.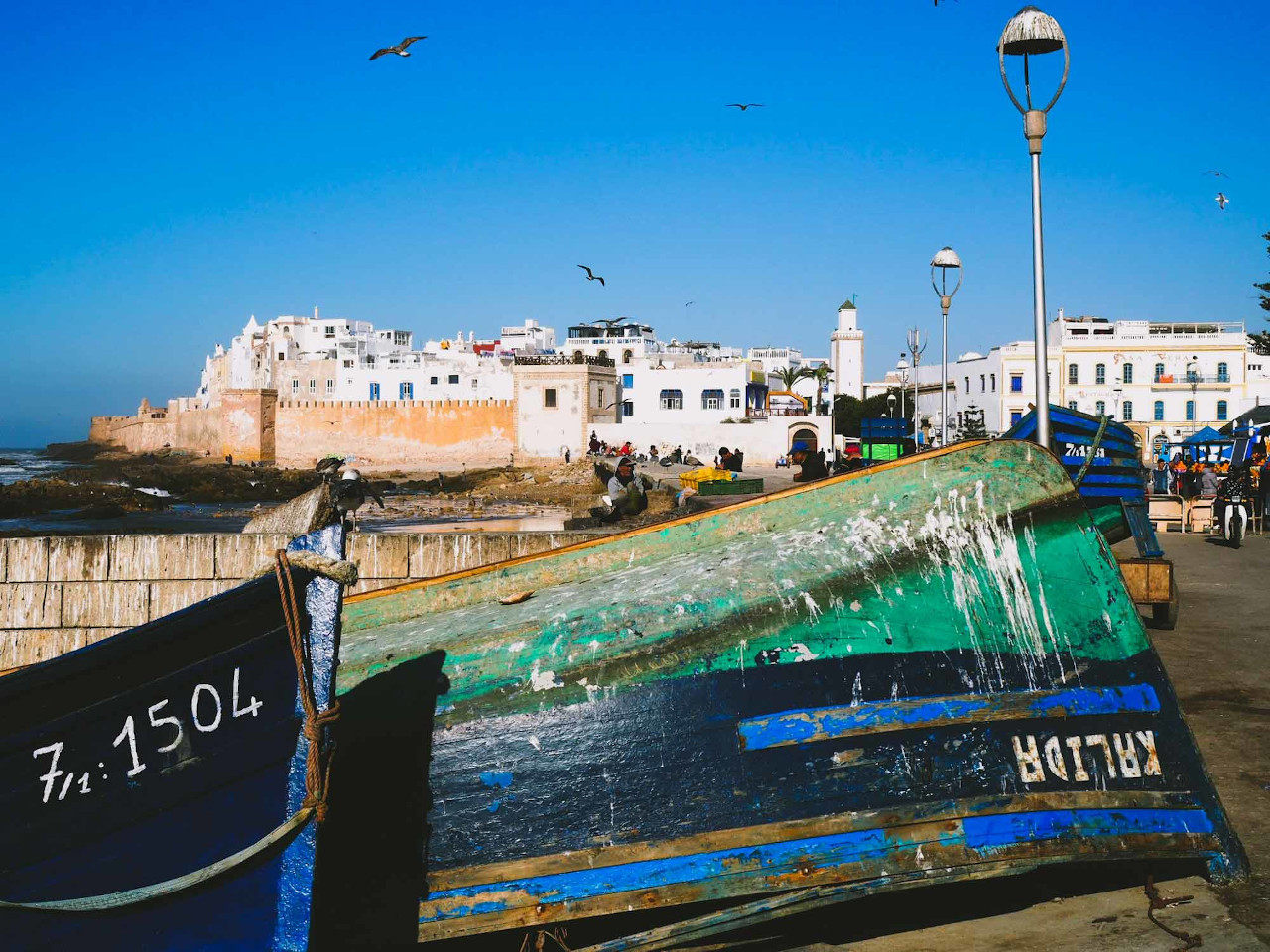 Sat alongside a natural, sandy bay, steady sunshine and Atlantic trade winds have acted as a magnet for water sports enthusiasts.
Popular with surfers, the city is also internationally recognised as a centre for kite-surfing, with numerous schools offering instruction and an inland lagoon providing the perfect training grounds for those not ready to take on the Atlantic waves.
The city is also home to an atmospheric fishing port, which is a great spot for photos. It's no surprise that this is one of the best places to visit on your Morocco trip.
There's a good range of dining options, both in the old town and along the beachfront. At the far end of the beach, the excellent Ocean Vagabond is a great spot to relax at sunset after a long day walking and exploring the city.
They have a full drinks menu (including all types of alcohol), decent pizzas as well as an evening food menu, and a good range of seats and loungers that look out onto the beach. If you're lucky, even live music.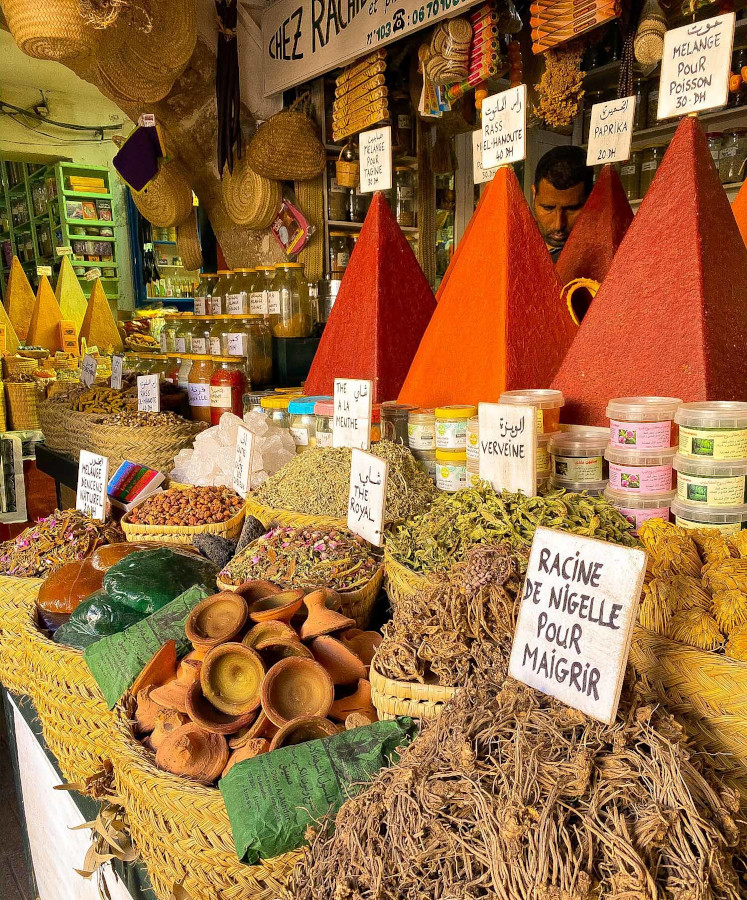 The city boasts a good selection of accommodation too, from upscale hotels both in and around the city, to locally run guesthouses.
Palazzo Desdemona is wonderfully located in the heart of the medina. It occupies a beautiful historic building, full of antique charm and with a panoramic roof terrace for city and sea views.
To reach the city, regular bus trips depart from Marrakesh. These can get busy, so it's a good idea to try and book your trip in both directions at least a day in advance.
One company that runs this route is Supratours. The journey takes around 3 hours. Just as you approach Essaouira, keep an eye out for the famous 'goat tree' on the roadside (it is as it sounds, a tree full of goats)!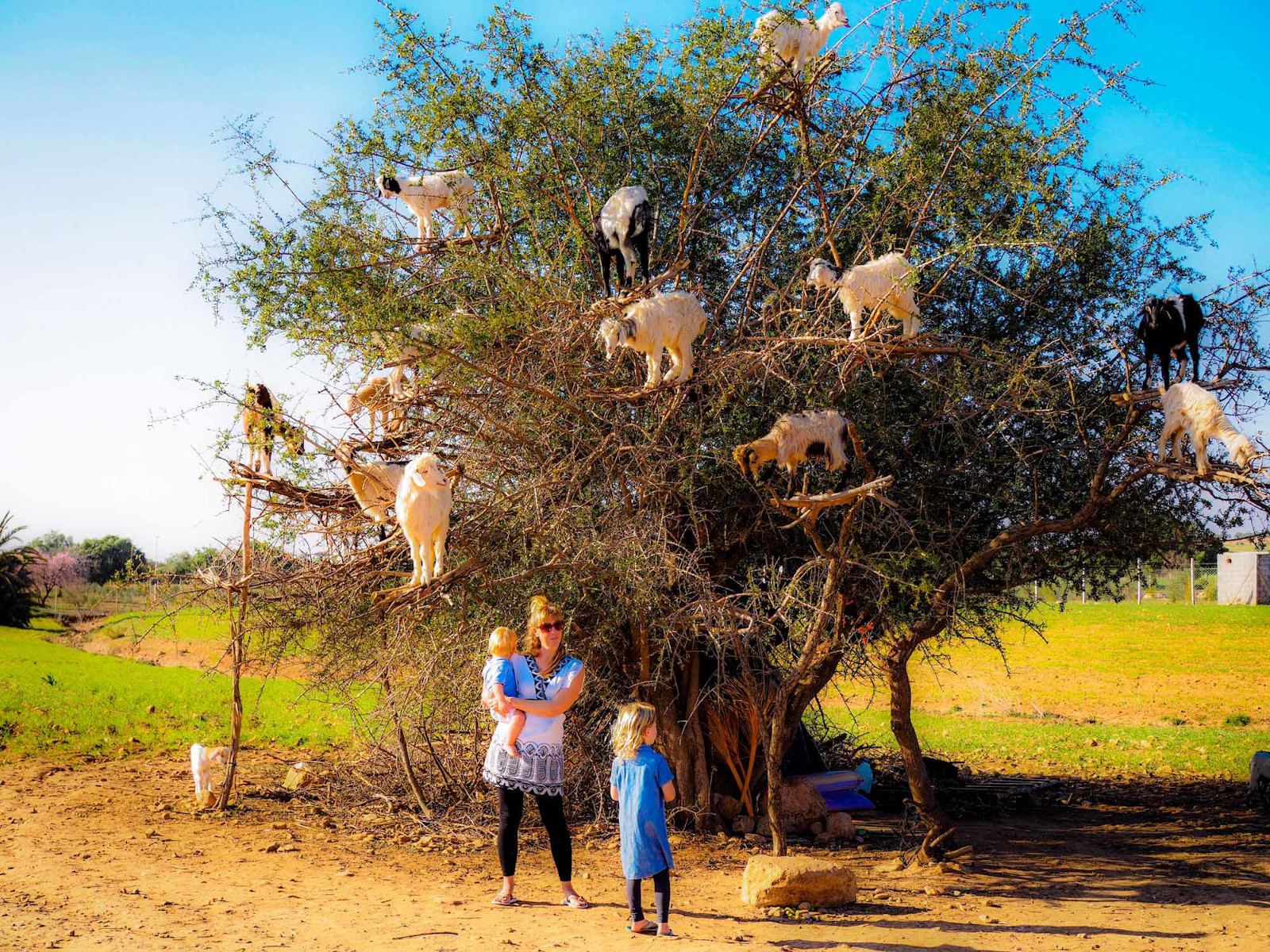 Essaouira is a beautiful, friendly and laid back place. The combination of an interesting old town and long, sandy beach made it definitely one of our very favourite places in Morocco. I'd recommend staying 2-3 nights here.
Return to Marrakesh
After soaking up some coastal vibes in Essaouira, head back to Marrakesh, with the chance to maybe spend one more night before catching your flight back home.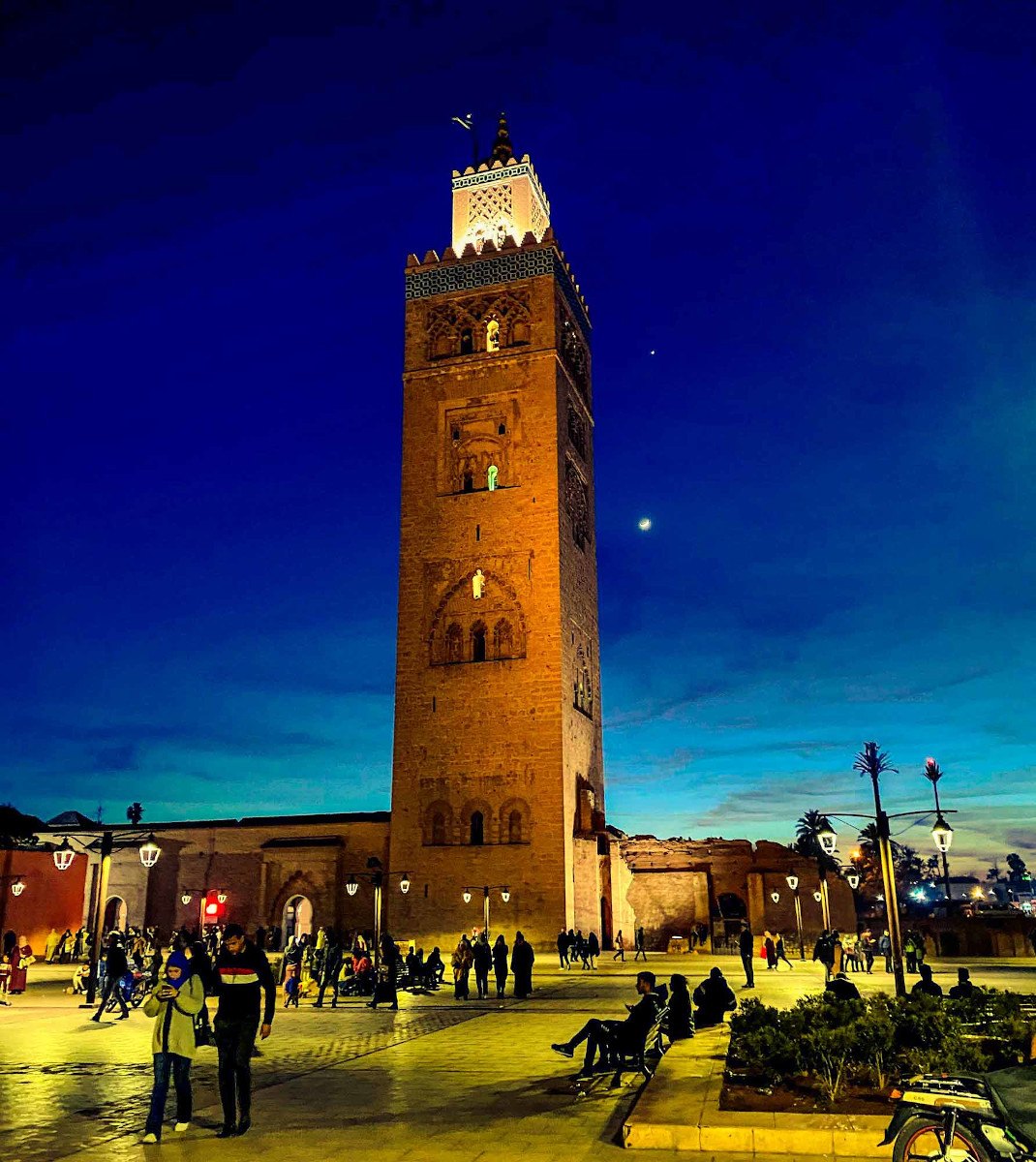 Some Alternative Options, or for Extended Trips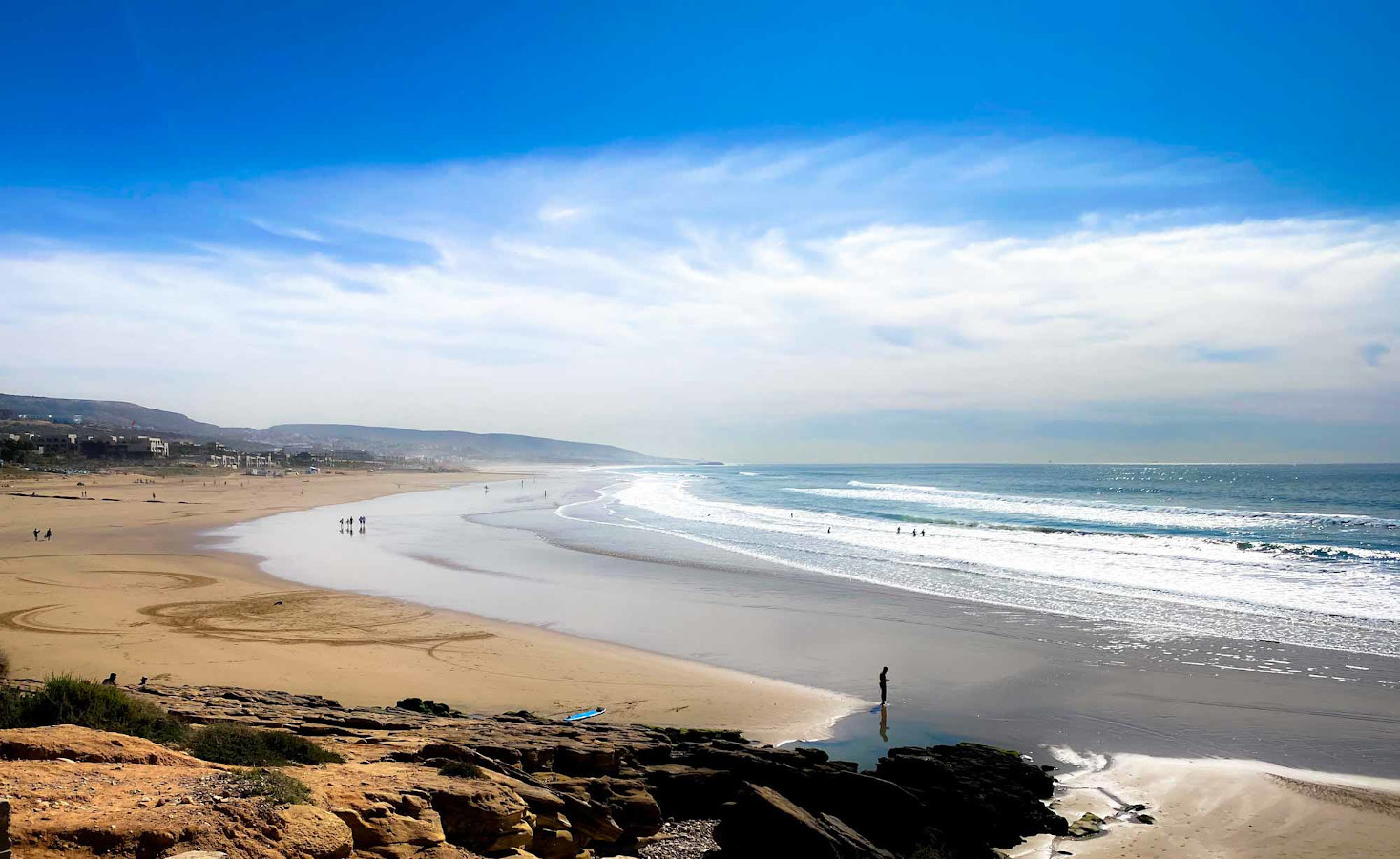 To see more of the coast… head further south to Taghazout, the town at the heart of Morocco's surf industry. It's a cute, sleepy little fishing town, now home to several trendy surf and yoga hotels, as well as a beautiful sandy beach.
Year-round sunshine and consistent waves mean that you won't find many better places anywhere for a surfing holiday. The original and arguably best operator is Surf Maroc.
Further south still, the dusty town of Sidi Ifni contains a crumbling Spanish colonial legacy, complete with interesting Art Deco buildings, and laid-back beaches all around. It is one of the interesting places to visit in Morocco in a week.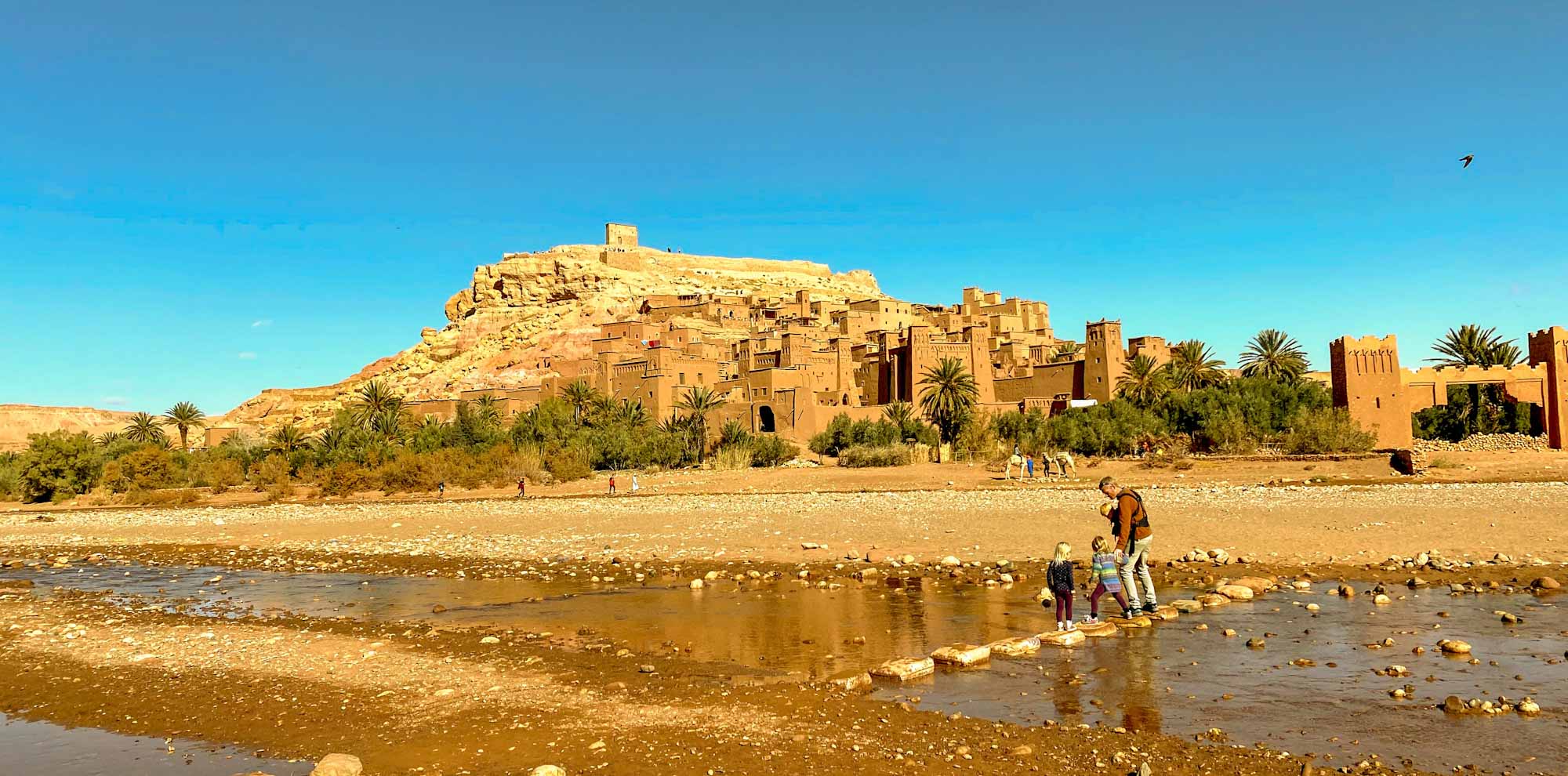 To see more of the mountains… Continuing the drive from Marrakesh past the High Atlas mountains will bring you first to the picture-perfect town of Aït Benhaddou.
This town was used in the filming of Ridley Scott's 'Gladiator', before reaching Morocco's famous Todra and Dades Gorges, the former popular with rock climbing enthusiasts.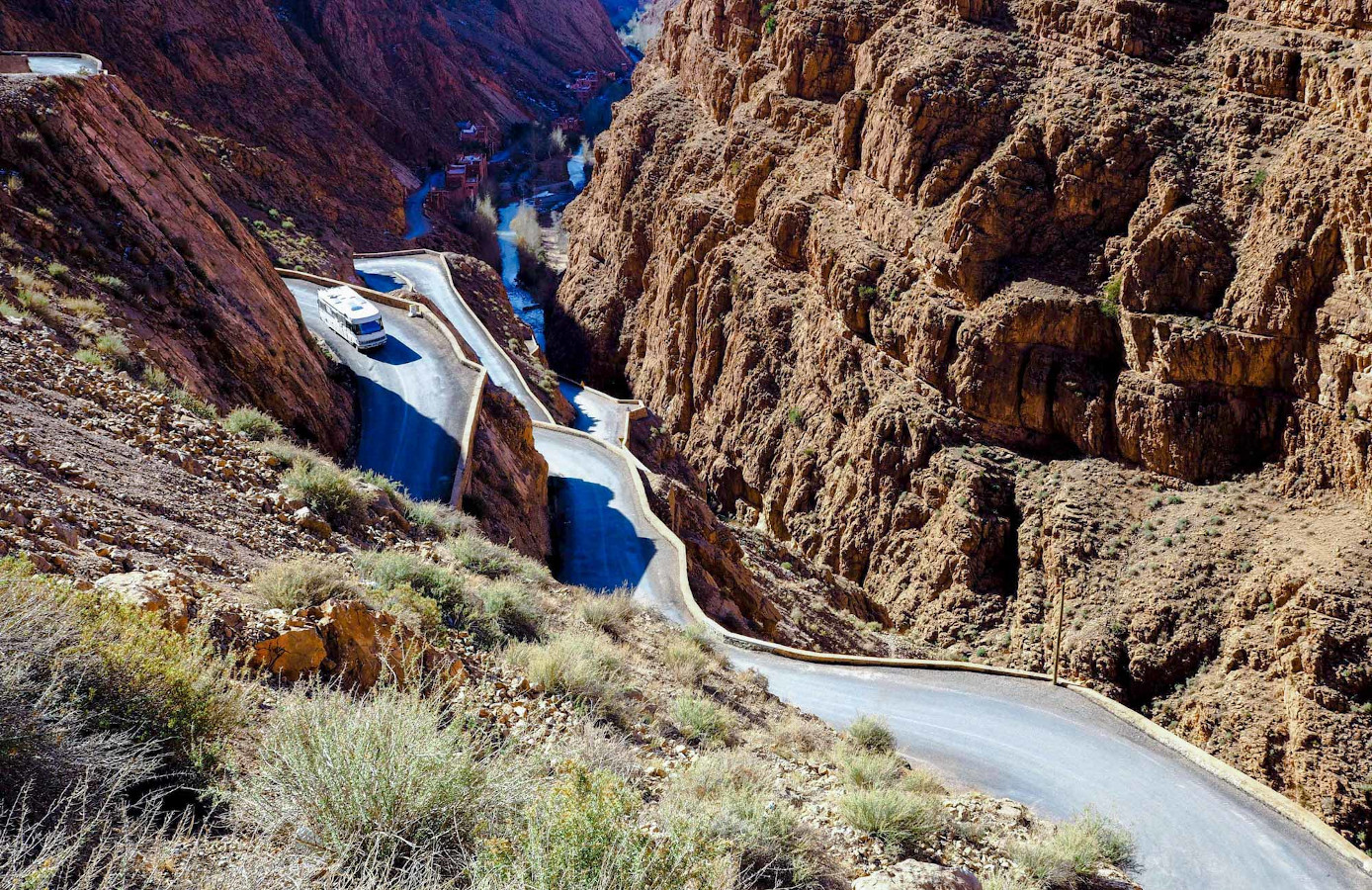 Alternatively, the Anti-Atlas mountains further to the south, offer other-worldly landscapes of red granite boulders, centred around the town of Tafraoute.
The stunning Auberge Kasbah Chez Amaliya is a delightful hotel and restaurant laid out around a central swimming pool, set right under the watchful eye of the so-called 'lion's head' rock in the mountains above.
Also don't miss the truly bonkers, 'painted rocks' just outside of town.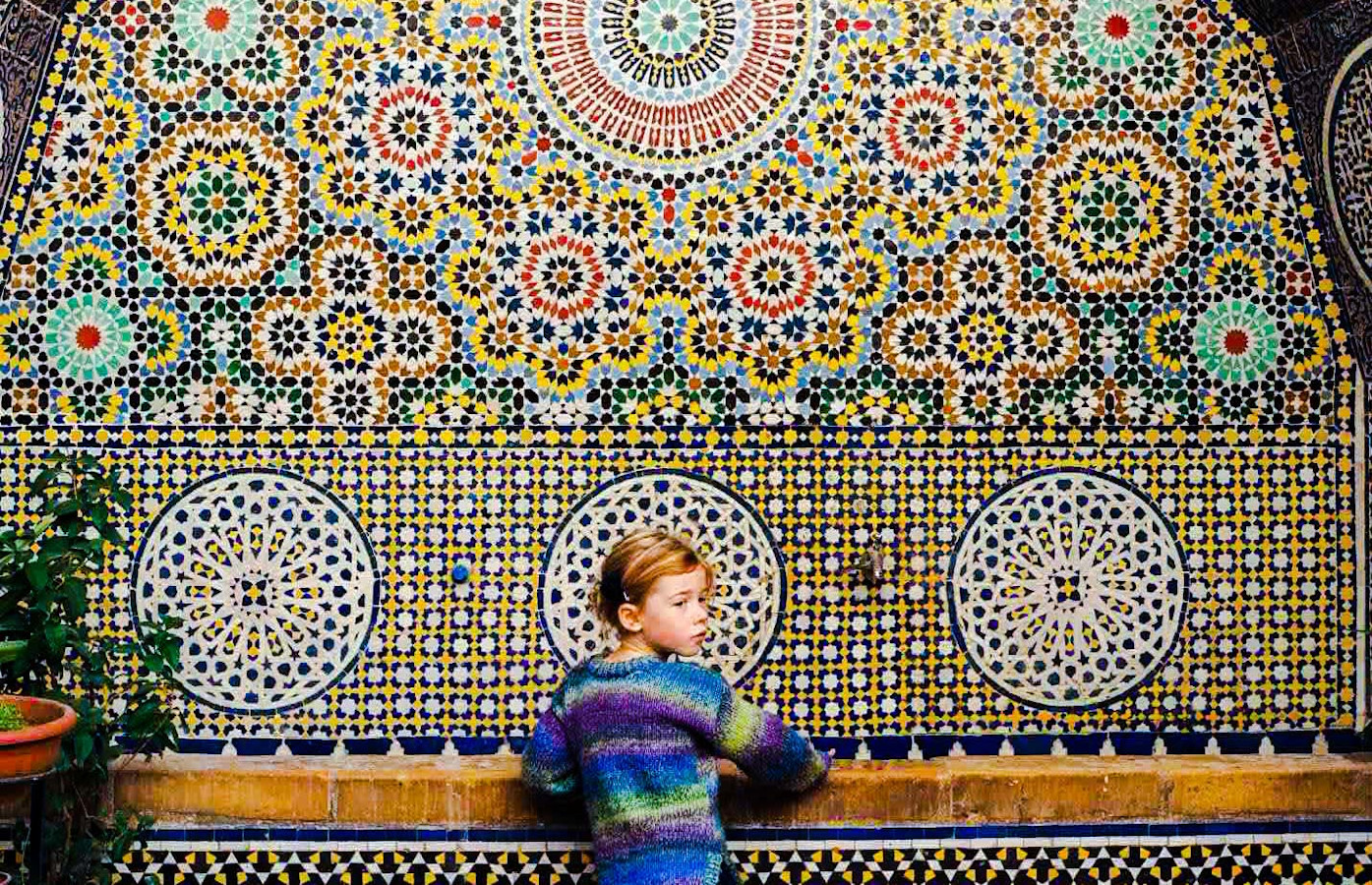 To see more of the cities… Head north to Fes, with its ancient, enclosed medina and colourful leather tanneries, or to Meknes with its grand, former royal palaces. For more details, check out our trip to Fes, Meknes and North-Central Morocco.
Fes is also home to its own international airport of a decent size, creating the option of flying in and out of different cities as a way of making better use of limited time.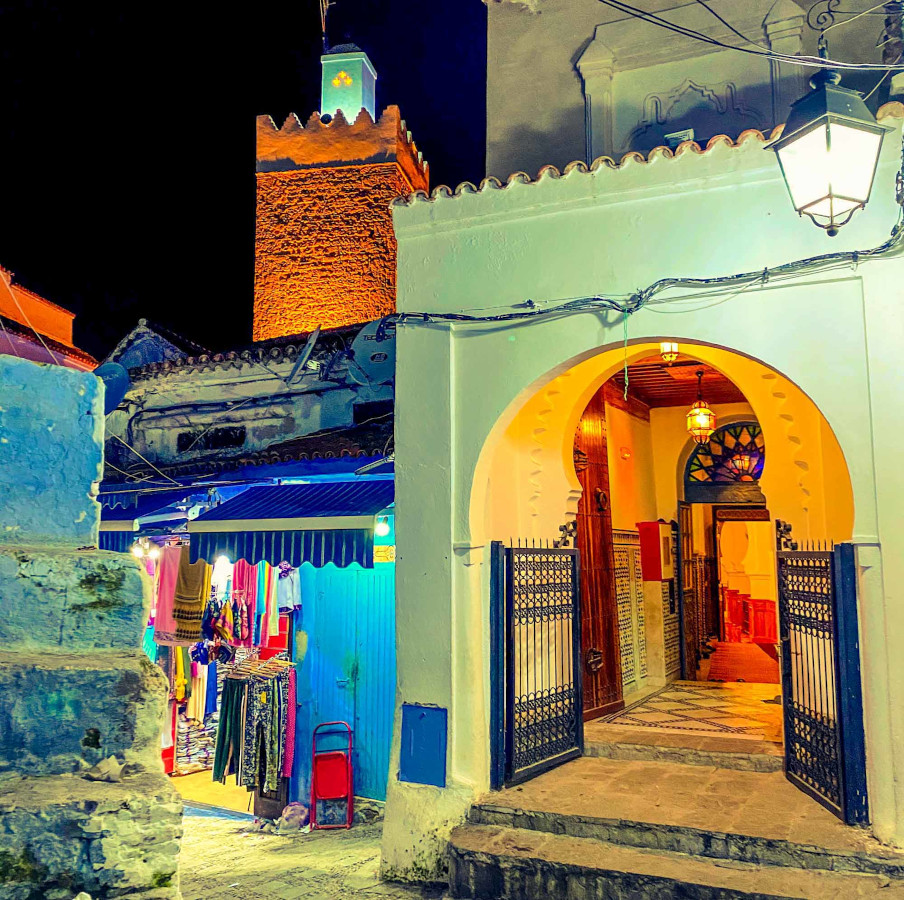 Further north still, a trip into the Rif Mountains brings you to what is undoubtedly Morocco's prettiest city, the picture-perfect and blue painted city of Chefchaoun (a city that is also infamously at the heart of Morocco's cannabis industry).
To see the desert… Merzouga, on the edge of the Sahara Desert, is the town at the centre of Morocco's desert tourism industry.
Traditional mud-brick luxury hotels, like the Hotel Kasbah Moyahut, and camel rides to stylish desert camps, the pick of which is the incredible Sahara Stars Camp, both ensure a memorable stay. If this sounds fun, check out our unforgettable family Moroccan desert adventure. It's a long (though scenic) drive from Marrakesh however, so you'd struggle to get there and back in only a week.
Conclusion
I hope my suggestions have given you some ideas for how to realistically spend an enjoyable week in Morocco. You never know, maybe my ideas for additional places to go have even tempted you to come for longer.
Whatever the case, know that Morocco is a beautiful and diverse country, that for the most part is incredibly safe and welcoming. It is regularly a feast for the senses and full of surprises. While a trip to Marrakesh will usually form an essential part of any visit, I'd always urge anyone to also look further afield.
There is so much more to see and do. A trip to Morocco, of any length, should be an experience that will stay with you forever.
So explore Morocco in one week using this insider's 7-day Morocco itinerary and enjoy each moment!
About the Authors
We are Rachel & John, a couple from the UK known online as Children of Wanderlust, with a passion for travel and exploration. Nowadays, that means bringing our 3 children, Savannah (5), Aurora (3) and Easton (1) along with us. For more from our family adventures around the world, be sure to follow us on our website, Instagram, Facebook or Twitter.