disclaimer: this post contains affiliate links, which means I may earn a small commission (at no extra cost for you). Read our Terms and conditions for more details.
Marrakech or Marrakesh is the most famous city in Morocco and one of earth's attractions. The mix of cultures, the splendid scenery, and the amazing Marrakech attractions lure many tourists and travelers each year. Here are the best things to do in Marrakech recommended by Rachel from Earth's Magical Places.
Use the Marrakech tourist attractions presented below when creating your Marrakech bucket list. To help you plan your first trip to Marrakech, you'll also find useful travel tips for visiting Marrakech.
Wondering what to do in Marrakech? Included in this Marrakech attractions guide you'll find:
Marrakech travel
Tips for visiting Marrakech


Marrakech Currency
Marrakech Weather
Marrakech Religion

Amazing Marrakech attractions you can't afford to miss


Medina Marrakech
El Badi Palace
The Bahia Palace
The Koutoubia Mosque
The Souks
Ben Youssef Madrasa
Majorelle Garden
Jemaa el-Fnaa Square
Beautiful Riads
Day Trips from Marrakech
Marrakech travel
Introduction
Founded almost a thousand years ago, Marrakech is a former imperial city in Western Morocco. Bursting at the seams with history, it's a unique melting pot of ancient Moorish and Berber culture. More than this, while it's located near the vast Sahara Desert, the snow-capped High Atlas Mountains frame the city, providing a magnificent backdrop and a rather unique location.
In this way, any trip to Marrakech is sure to be a magical one, as there's so many amazing things to do and see thanks to this fantastic cultural history and location.
Tips for visiting Marrakech
Before we get into the best Marrakech attractions, there are a few tips that you should know before visiting Marrakesh:
Marrakech Currency
The primary currency used in Marrakech is the Moroccan Dirham. However, it's a closed currency meaning it can only be traded within the country. Thus, your first port of call once you arrive in Marrakech should be a currency exchange!
Further, you should also be aware that most local vendors only accept cash, so it's a good idea to have a small amount on you at all times.
Marrakech Weather
Marrakech has a very varied climate. In the summer temperatures can get as high as 40 degrees Celsius. Because of this, I'd advise against travelling to Marrakech during these months as the heat is pretty much unbearable!
More than this, during the winter (while the day time temperature sits comfortably around 20 degrees) the temperature drops to below freezing at night. Therefore, if you want to experience the best weather, you should consider visiting Marrakech between February and April.
Marrakech Religion
When visiting Marrakech, it's important to remember that Morocco is a predominantly Muslim country. Therefore, it's advisable for women to dress conservatively (meaning knees and shoulders should be kept covered).
Amazing Marakech attractions you can't afford to miss
So now you know all the top tips for visiting Marrakech, let's get into the many attractions the city has to offer and that you can include in a one-week itinerary!
Medina Marrakech
I'll start with something that isn't technically one attraction, the Medina. This is the word used to describe the inner walled part of the city of Marrakech.
It is the cultural and historical heart of the city, and while many locals now live outside the walls, it's here that you'll find most of the attractions outlined in this post! Make sure you include Medina Marrakech on your travel itinerary.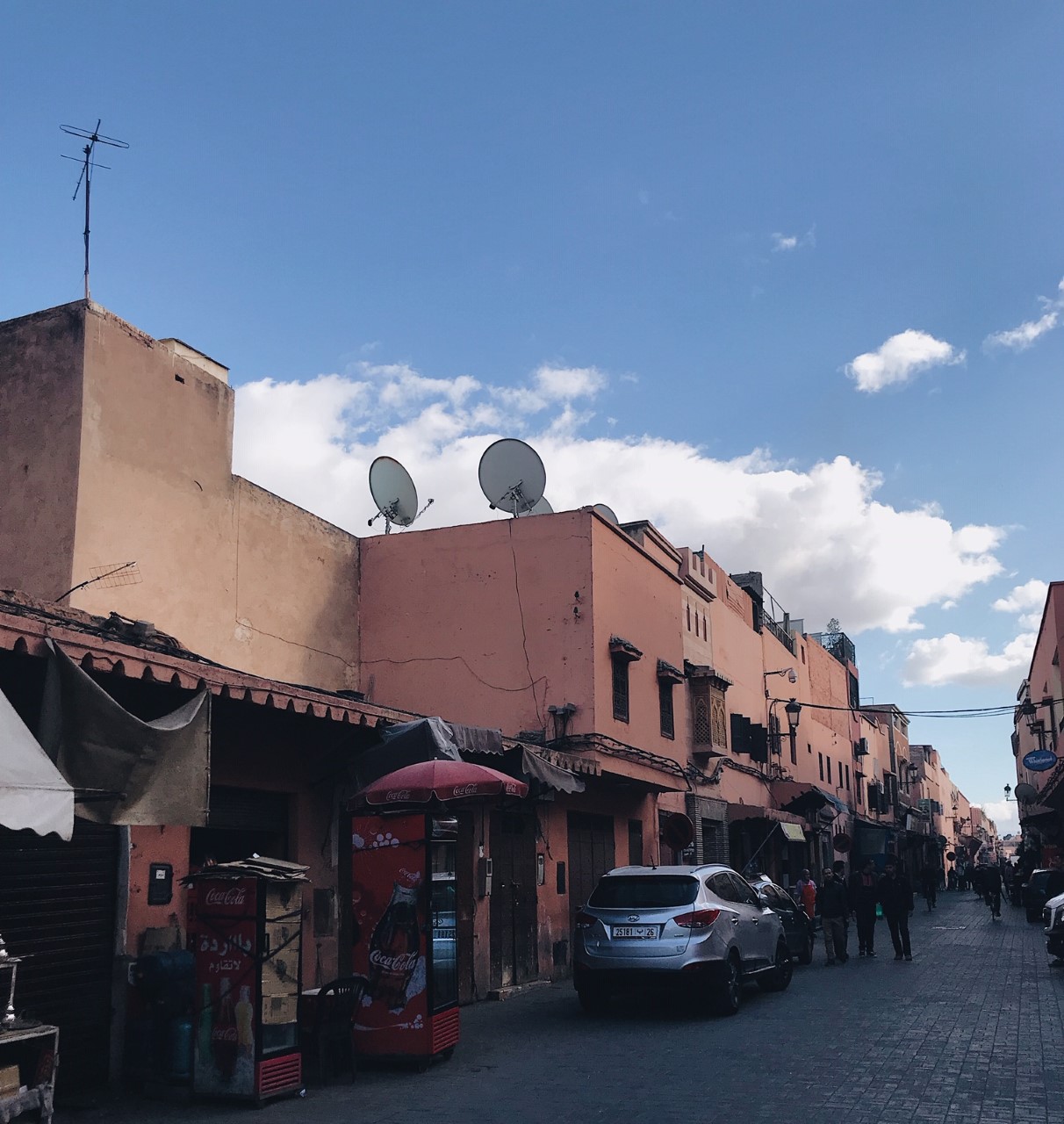 El Badi Palace
Next is probably my top attraction, the stunning El Badi Palace, which was built in the late 1570's by Ahmad al-Mansur after his accession to Sultan.
Although now mainly in ruins, the former grandeur and opulence of the palace, which name actually translates to the 'incomparable', is still apparent. Therefore, wandering around its vast sweeping courtyards, and breath-taking ancient summer pavilions, is a must when you visit the city.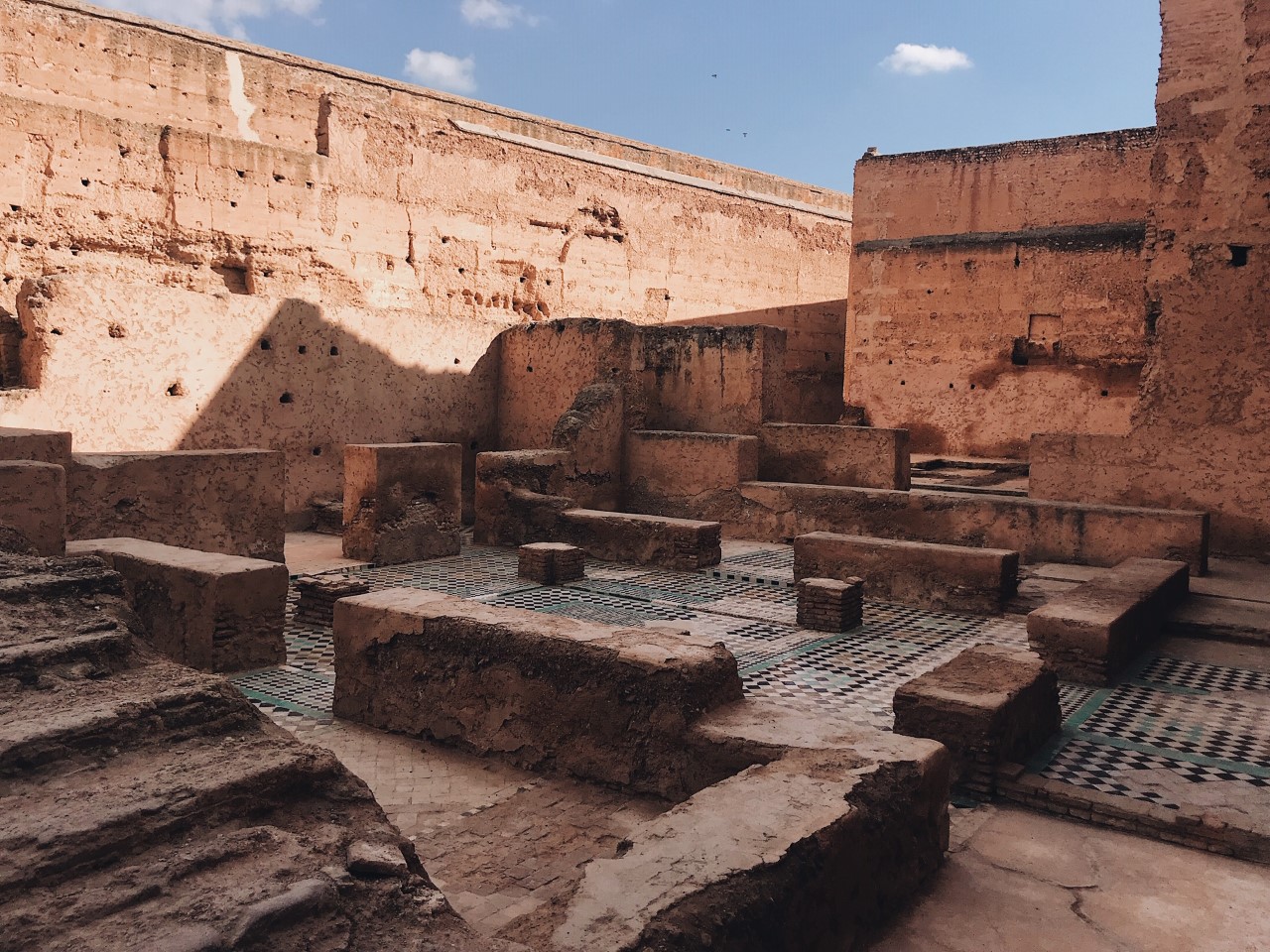 The Bahia Palace
Located a short distance from El Badi, the Bahia Palace provides another unique look into Marrakech's imperial history, as despite being over 200 years old, the palace is still in an immaculate condition, oh and it's huge! It's definitely one of the best places to visit in Marrakech.
The palace stretches over 2 acres and features 150 rooms. Further, each of these rooms is elaborately decorated with unique mosaics, and things only get better once you step into the peaceful courtyards! Thus, I'd highly suggest putting the Bahia Palace on your Marrakech bucket-list.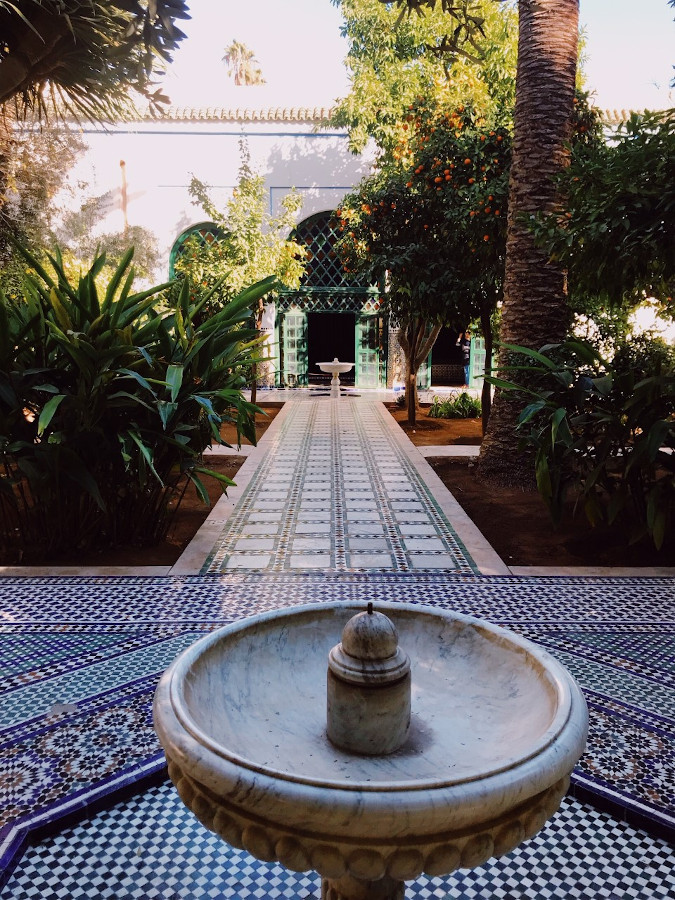 The Koutoubia Mosque
When you goMarrakech sightseeing, one attraction that features strongly in the lives of the locals, and is therefore a key landmark within Marrakech, is the Koutoubia Mosque, which dates back to the 12th century.
While non-Muslims are prohibited from entering the mosque its still worth visiting, especially since the Minaret is so finely decorated. In fact, Koutoubia is said to be one of the most beautiful Mosques within the whole of Morocco!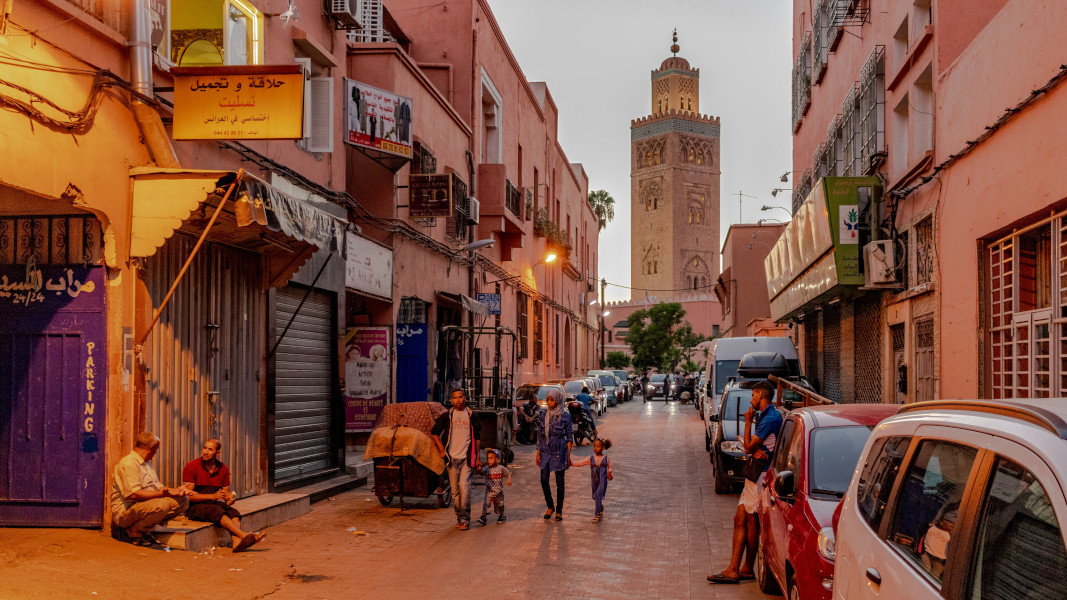 photo source
The Souks
Something you really don't want to miss in Marrakech is the Souks, as a visit to this ancient covered market is just such a unique experience.
The Souks are a maze of stalls selling anything from antiques, lanterns, pottery and beautiful Berber carpets, to spices and jewellery… This hive of activity can cause somewhat of a sensory overload, but getting lost amongst the sights and smells of the Souks is all part of the fun!!!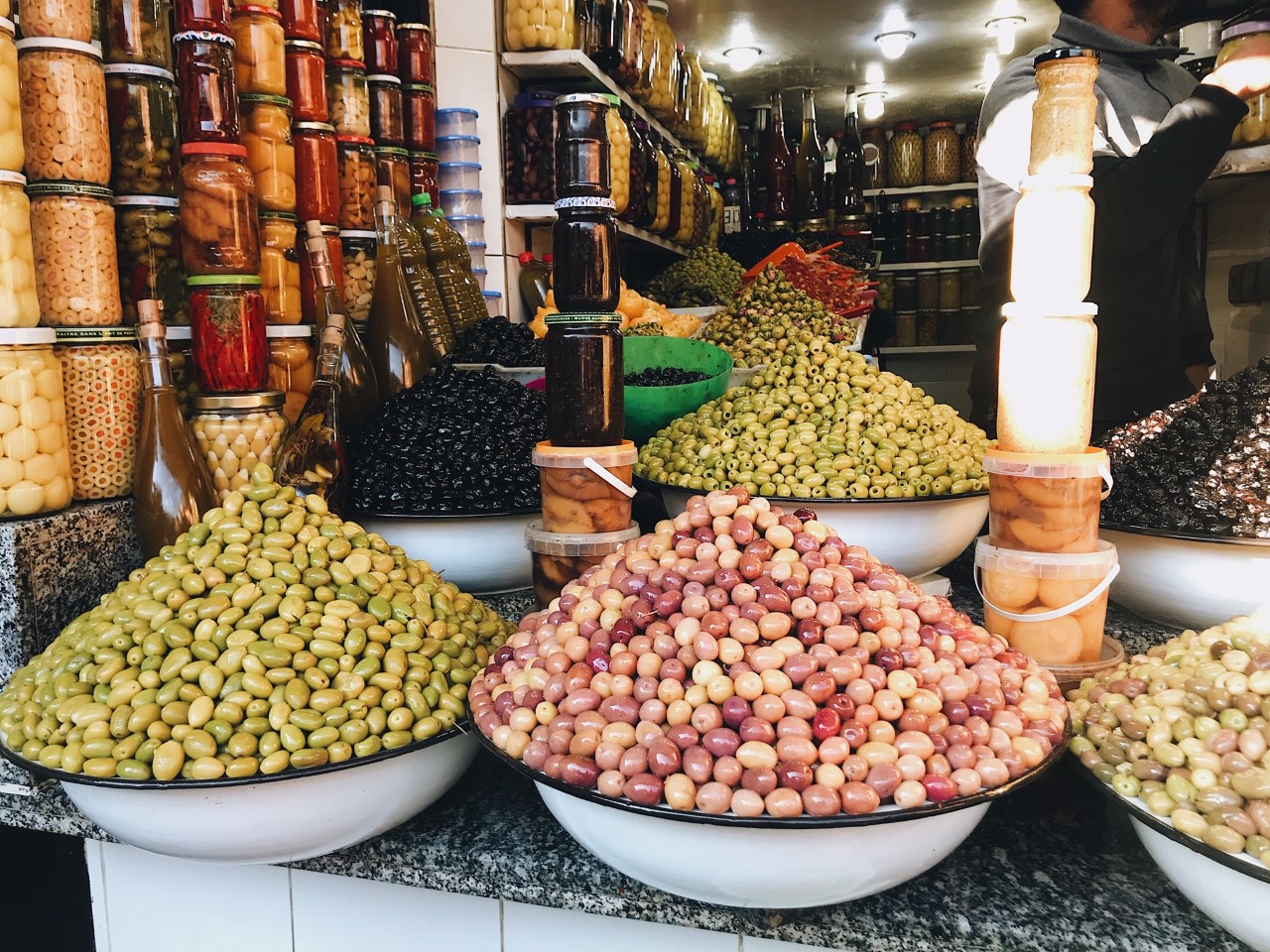 This said, if you want to find the best bargains and hear all about the history of the Souks, I'd highly recommend getting a local guide to show you round. This is because they know all the best routes to take and the finest establishments to visit.
Further they can even help your barter down prices, which is a huge part of buying anything in Morocco!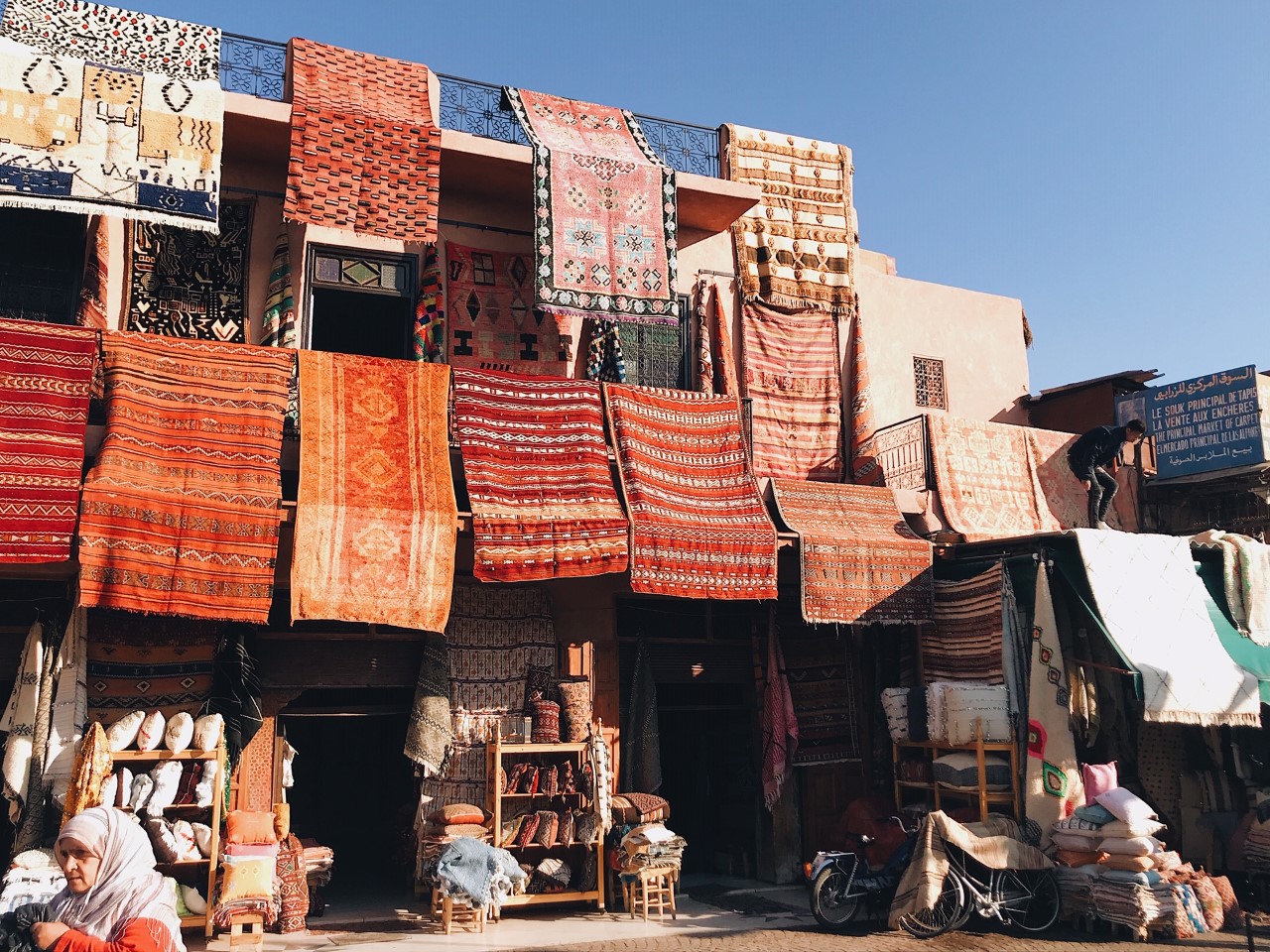 Ben Youssef Madrasa
Thought by many to be the most beautiful building in Marrakech, Ben Youssef Madrasa is a former Islamic college located amongst the Souks.
The college is closed for refurbishment till at least the start of 2020, but once completed the detailed renovation is sure to make Ben Youssef Madrasa even more splendid. This is one of the best things to see in Marrakech.
Majorelle Gardens
Moving outside of the Medina to the modern city of Marrakech, the gardens of Yves Saint Laurent are one of the Marrakech points of interest. Also known as the Majorelle Gardens, this 2-and-a-half-acre botanical garden is probably the most beautiful landscape within Marrakech.
Originally created by the French artist Jacques Majorelle in the 1920's, the gardens were restored and opened to the public by the famous fashion designer Yves St. Laurent (hence its two names)!
The gardens are still open to the public today and they are actually one of my favourite places within Marrakech as they simply provide such a peaceful escape.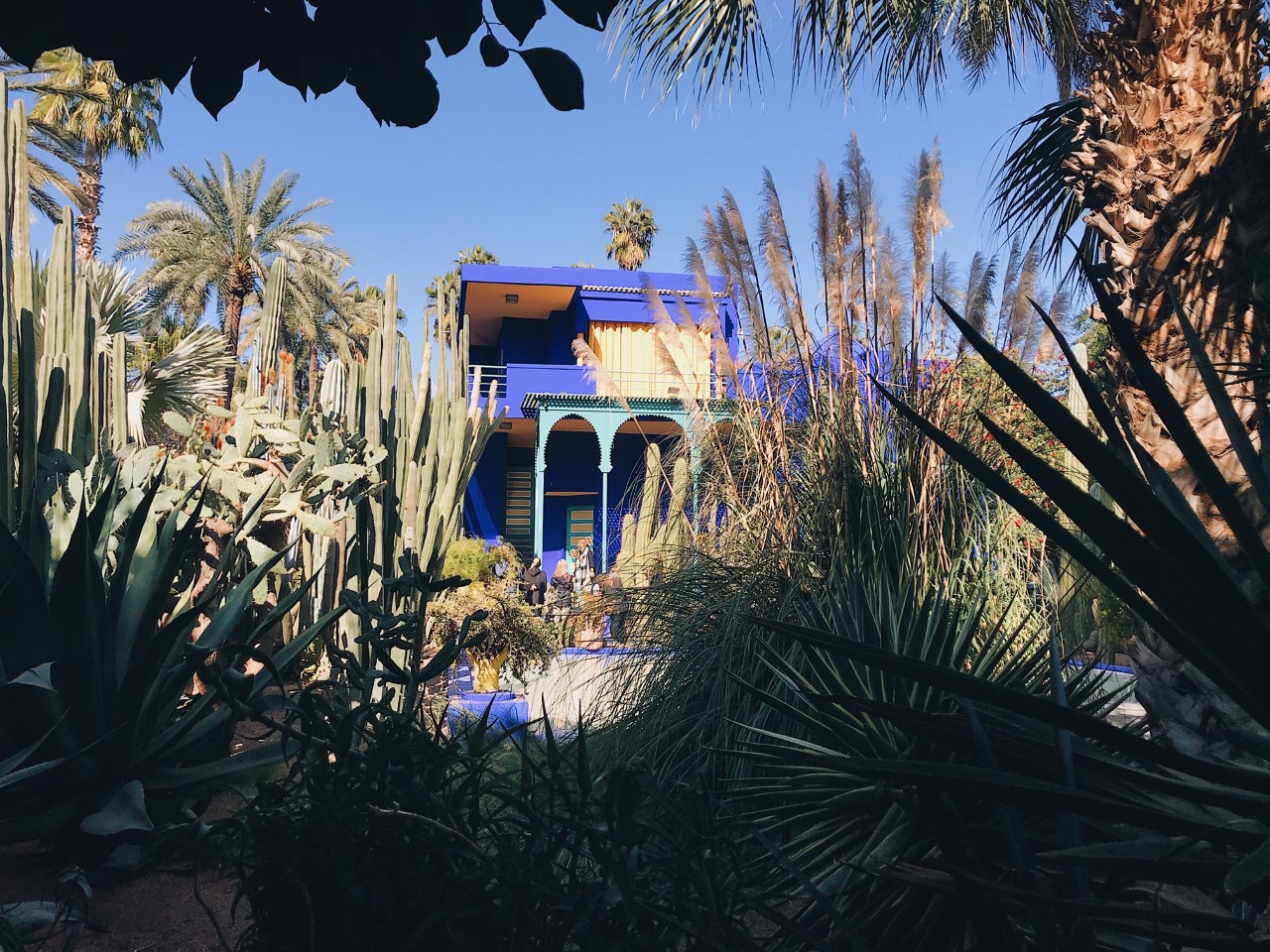 Jemaa el-Fnaa Square
There are several impressive squares and open spaces within Marrakech's Medina, but by far the biggest and most famous is Jemaa el-Fnna. A hive of activity, this square is visited by locals and tourists alike.
While I personally find it sad that the square is filled with snake charmers and chained monkeys, the atmosphere and 'carnival' spirit of the square as a whole is a great experience, and one that is best enjoyed at night!
Beautiful Marrakech Riads
A Marrakech Riad is simply a traditional Moroccan house/palace which features an inner courtyard or garden. Within these buildings, all the windows tend to look out onto the courtyard, and a small pool or fountain is the central feature.
While this sounds simple, the unique layout is stunning when coupled with elegant Moroccan architecture and exquisite mosaics which makes them one of the best things to do in Marrakesh.
Within Marrakech, most of these beautiful Riads are found within the Medina. Therefore, they provide a unique place to stay, with great access to most of the city's attractions. Thus, I'd highly suggest staying in a Marrakech Riad for at least one night.
This said, due to their prime location and beauty, Riads do tend to be the most expensive form of accommodation available in Marrakech. Despite this, if you're visiting on a budget it doesn't necessarily mean you have to miss out.
Instagram famous Riads such as La Mamounia do allow visitors into their stunning lobbies and gardens even if you're not staying the night!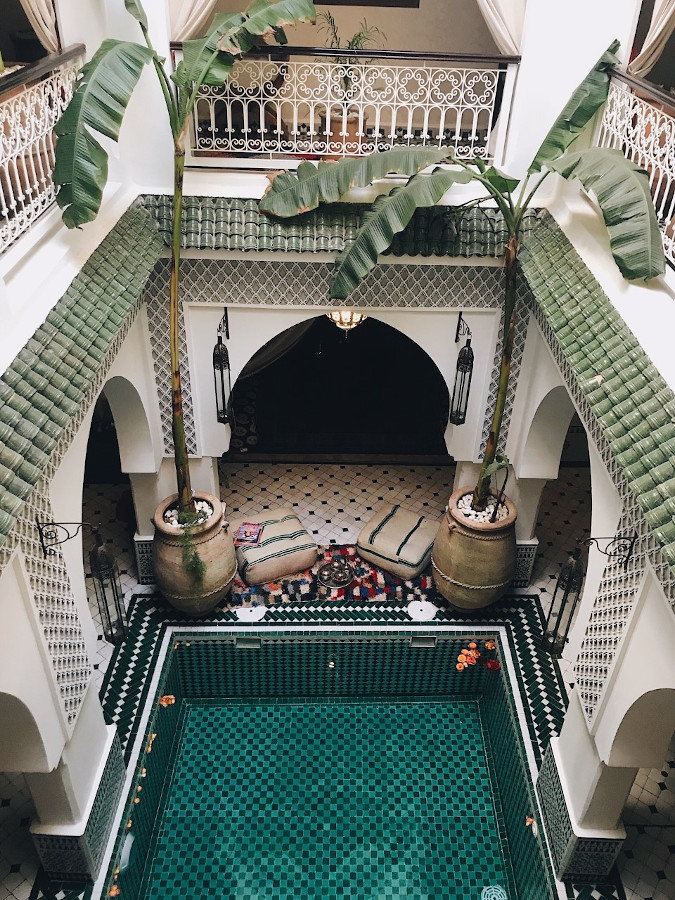 Day Trips from Marrakech
My final Marrakech attractions are not actually within the city itself. But as I mentioned at the start of this post, the location of Marrakech is fantastic.
This means that there are several amazing day trips that you can take from Marrakech, such as driving through the Atlas Mountains, visiting the gorgeous seaside town of Essaouira, or even taking a tour to the nearby Agafay Desert.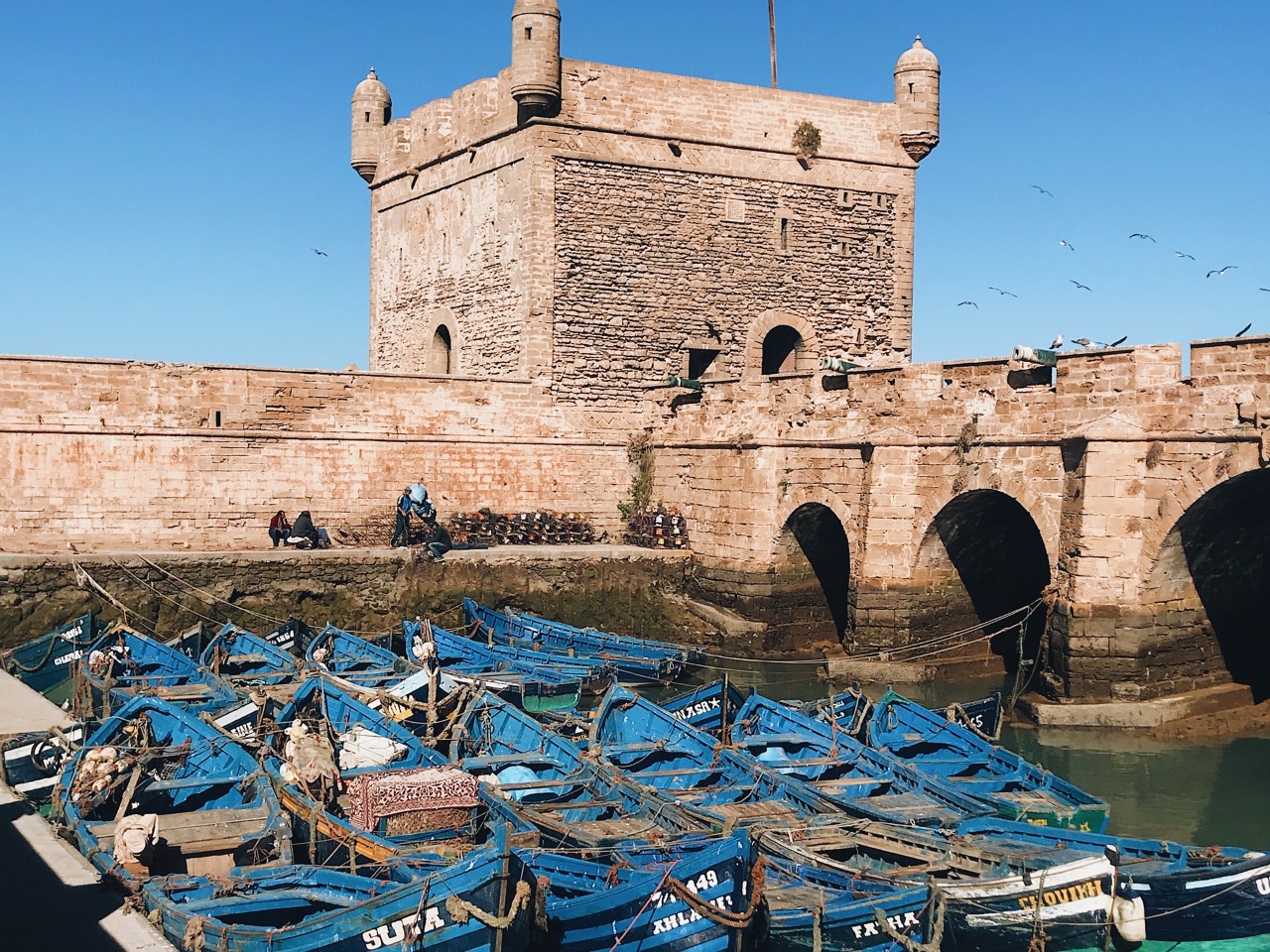 Summary:
That completes my guide to the best attractions and things to do in Marrakech. As you can see there's so many beautiful places to explore and the atmosphere, people and culture of the city is sure to leave a positive impression on any visitor!
About the author
Hi there, I'm Rachel Clarke, a British adventurer with an ambition to travel to as many of our planets magical places as possible. My travel blog 'Earth's Magical Places' is dedicated to documenting this journey around the world. But, it's also a means to share the travel tips and tricks I learn along the way with my fellow travellers and wanderlust seekers. Follow her travels on Twitter and Instagram.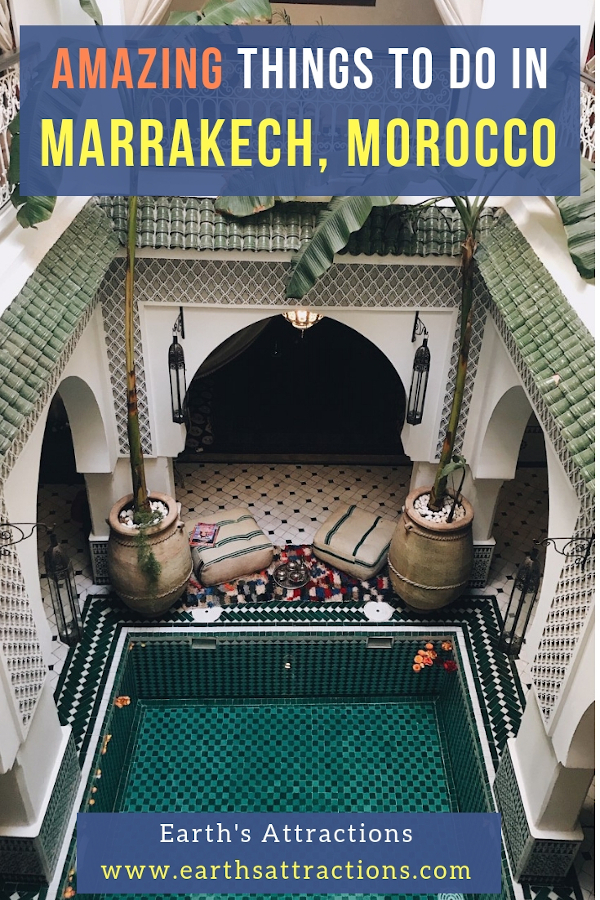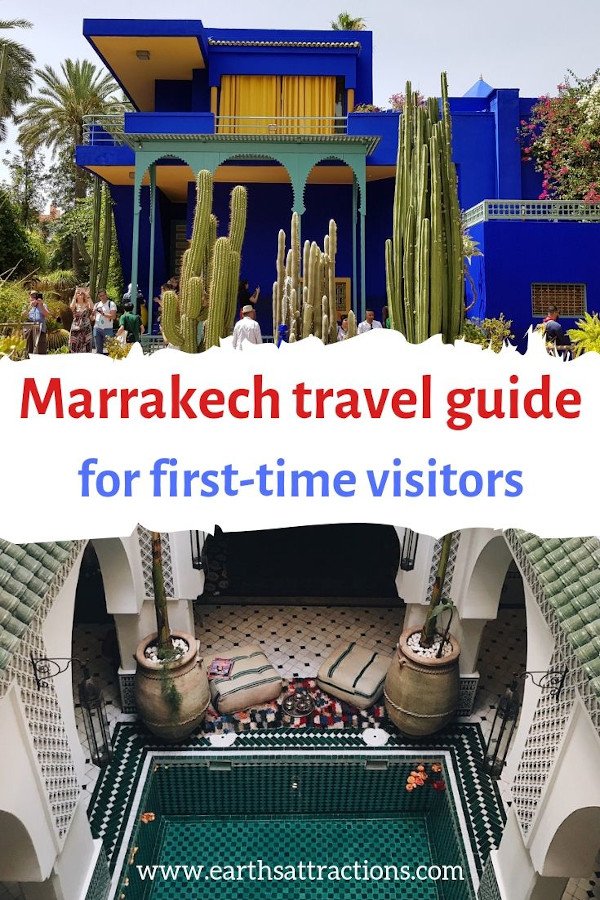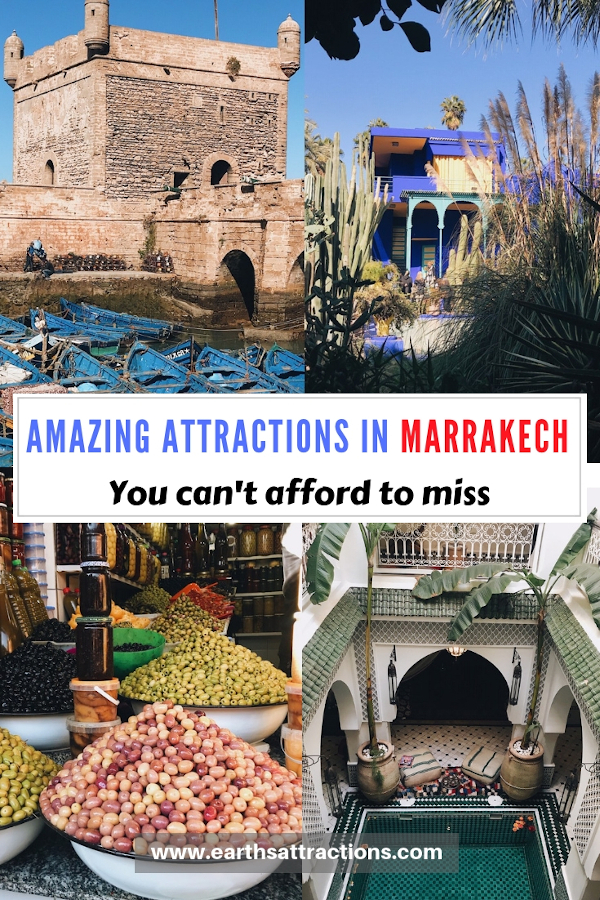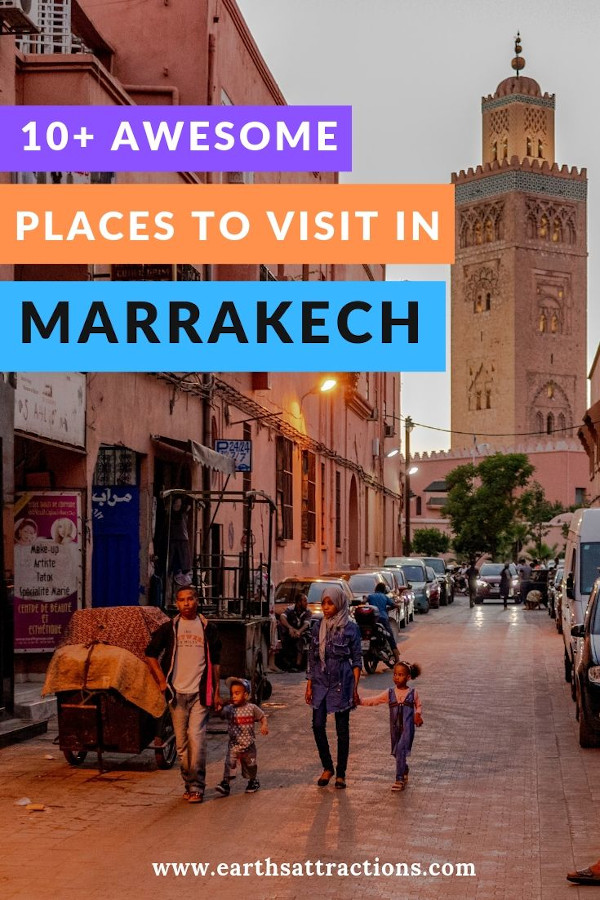 photo source photo 1 from pin 2