Planning a trip to Jordan and wondering how many days you should spend in Jordan? This Jordan itinerary shows you that 6 or 7 days in Jordan will allow you to visit the famous Dead Sea, Petra, Amman, and Wadi Rum for a complete Jordan experience.
Discover what to do in 7 days in Jordan from this article packed with tips and incredibly useful information shared by Ashlea from Dashing Around The World. This itinerary will show you the perfect way to spend one week in Jordan and see the absolute best of this country.

This Jordan 7-day itinerary includes all the famous places to visit in Jordan, the incredible Jordan tourist attractions you need to see when visiting Jordan.
Find out if it is safe to travel to Jordan and all the incredible things to do in Jordan in 7 days.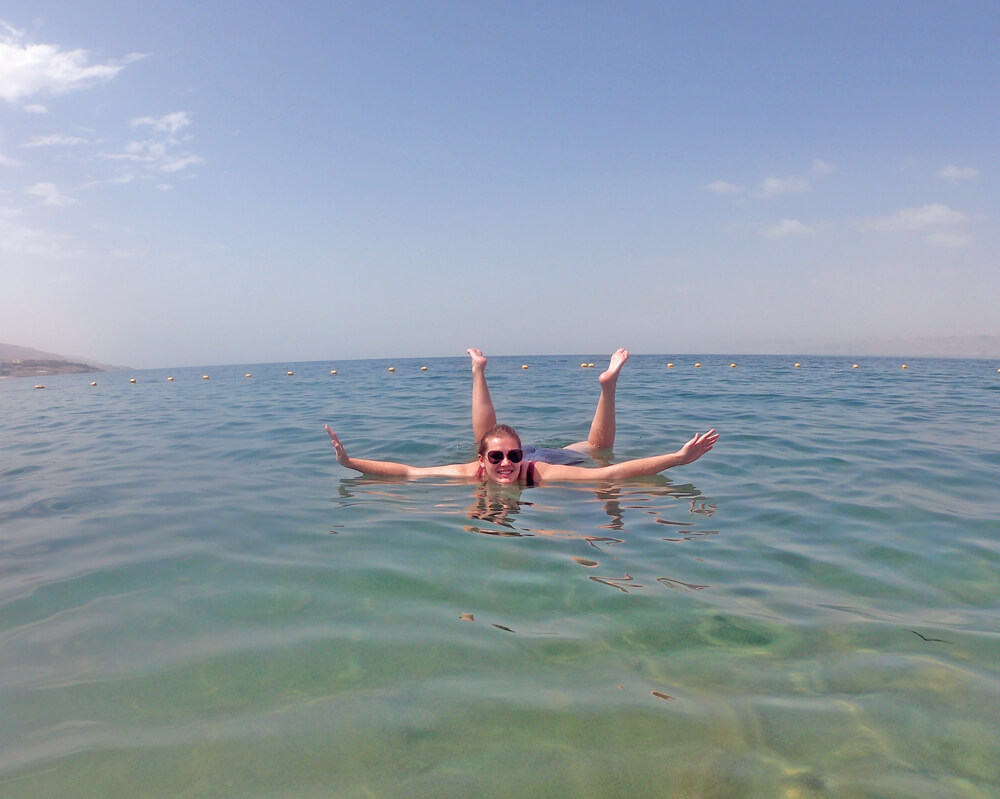 7 Days in Jordan Itinerary
Jordan, officially known as the Hashemite Kingdom of Jordan, is one of the most stable and picturesque countries in the Middle East. Located between Israel & Palestine, Syria, Iraq, and Saudi Arabia, it might surprise you to learn it's incredibly safe to travel in Jordan.
The country is home to amazing historical and natural wonders like the ancient city of Petra and the otherworldly desert in Wadi Rum, plus some of the warmest people we've encountered.
Jordan has plenty to keep you exploring for weeks, but if you're short on time here we'll share the best itinerary for 7 days in Jordan.
So, without further ado, let's see what to do in Jordan in one week.
Day 1: Amman
Start your epic Jordan 1-week trip in Amman, the capital of Jordan. It is a fascinating old-meets-new city.
Full of modern amenities and edgy hipster vibes, including cool cafes and a great street art scene, mingled with traditional charm, beautiful mosques and interesting bustling souks, Amman is one of the most liberal and westernised cities in the Middle East.
If you've got the whole day to spend in Amman, start by visiting the impressive King Abdullah Mosque. Openly welcoming tourists (outside prayer times) this huge blue-domed mosque can hold up to 7000 worshippers and has beautiful inscriptions on its octagonal prayer hall.
Then head downtown to wander the traditional souks (the gold market is great) as this is one of the best things to do in Amman.
For lunch, you must try an Amman foodie institution; Hashem Restaurant. Loved by locals, tourists, and even the Royal family, Hashems' is famous for its delicious vegetarian food, particularly their signature stuffed falafel.
After lunch pop into Habibah Sweets for some kanafeh, a traditional goats cheese pastry similar to baklava, for dessert.
Spend the afternoon visiting the spectacular ancient Roman ruins in Amman, particularly the historic Citadel, the pillars of the Roman Temple of Hercules and the Roman Theater. These are Amman landmarks you should include on your Amman trip.
This is just another example of the mixture of cultures throughout the city. If you can, time your visit to the Citadel for sunset, when you'll have sweeping views of the capital bathed in a soft orange glow.
In the evening head to Rainbow Street, a favourite among locals and tourists, for a huge selection of delicious cafes, restaurants, and bars.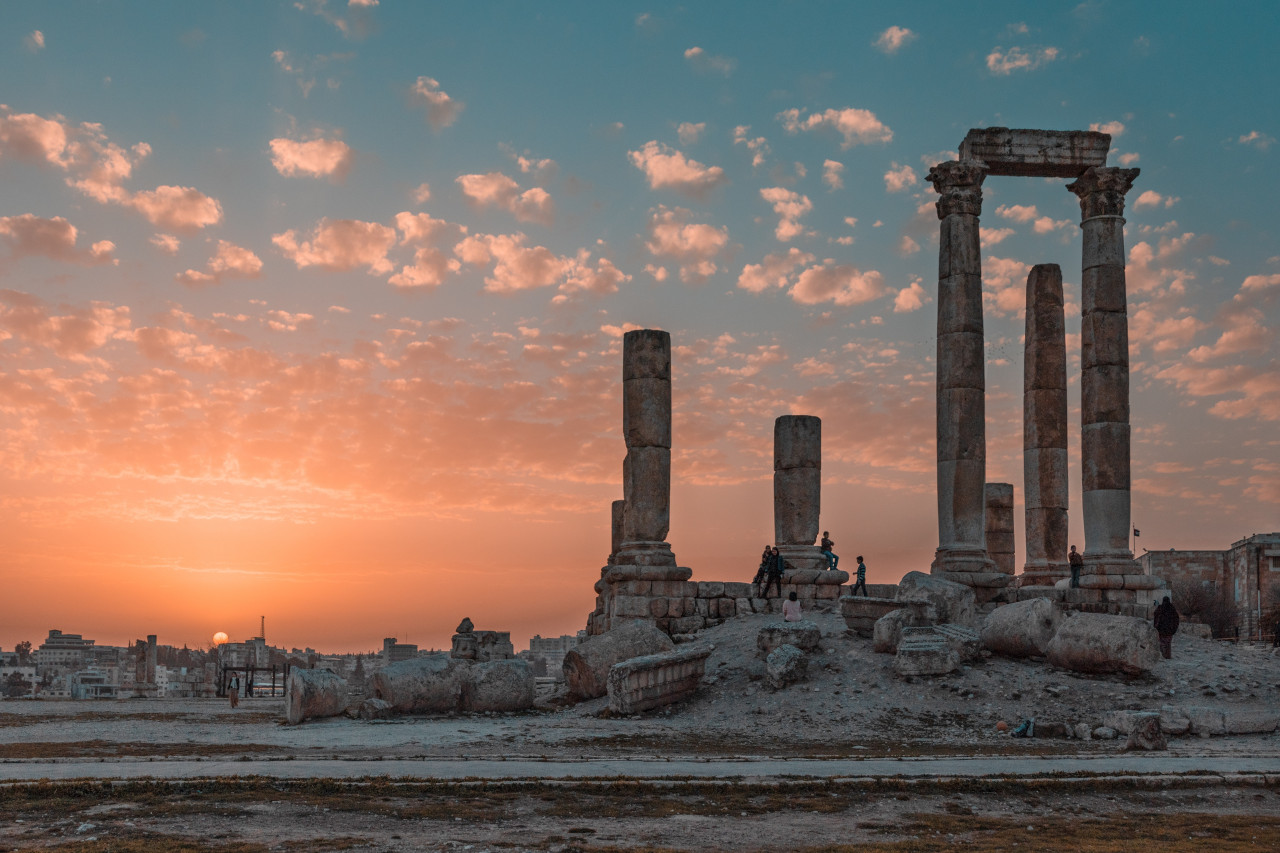 Photo by Abdallah Maqboul from Pexels
Day 2: Madaba, Mount Nebo, and the Dead Sea
Pack up your bags and head south, taking in the sights at Madaba and Mount Nebo before spending the night by the famous Dead Sea.
We recommend hiring a car for your 7 days in Jordan, as public transport can be very limited in places. It's incredibly easy to drive in Jordan, and the route for Day 2 and 3 are impossible via public transport.
However, you could also hire a taxi or private driver for this section if you don't fancy driving, and catch the JETT bus or a local taxi between Petra, Wadi Rum and Amman.
Madaba
The ancient town of Madaba is located only 30 km (approx. 1 hour) south of Amman, and is most notable for being the home of the 6th-century Madaba Map.
Composing part of the floor in the Church of St. George, the Madaba Map is a mosaic map of the Holy Land, and is believed to be the oldest surviving original map of the Holy Land and Jerusalem.
Often referred to as the "city of mosaics", Madaba is home to many impressive mosaics, including the beautiful mosaic covered Church of the Virgin Mary, and historic artefacts from the Hellenistic, Roman, Byzantine and Islamic periods.
Mount Nebo
Once you've finished admiring Byzantine artifacts, head 10 km (15 mins) down the road to Mount Nebo, your next stop on your 7-day Jordan itinerary.
The ridge has a Byzantine Church at the top and is said to be the place where Moses was first granted views of the Holy Land.
It has beautiful sweeping views over the Jordan Valley and the Dead Sea, and on a clear day, you can see as far as Jerusalem.
Now it's time to hit the beach… well, technically lake.
Dead Sea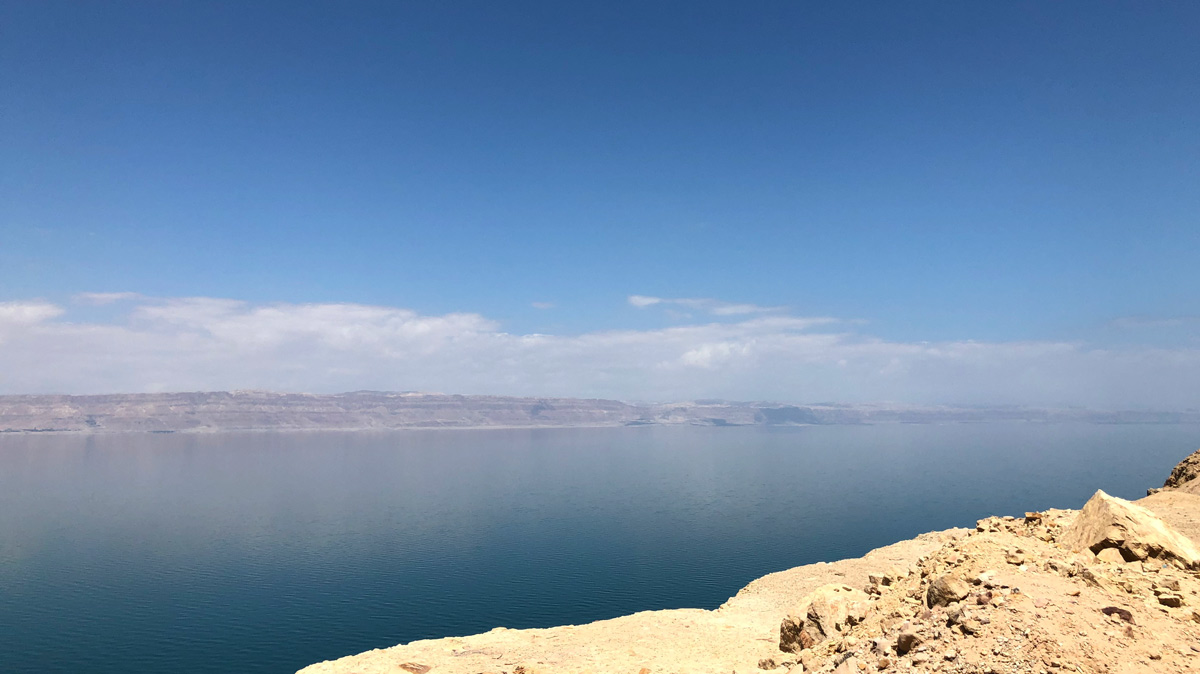 Located around half an hour from Mount Nebo, the Dead Sea is a large inland lake shared between Israel and Jordan, and is one of the saltiest bodies of water on earth and one of the best places to visit in Jordan in one week!
At 430m below sea level, it's also the lowest surface point on earth. It's no surprise that it is one of the best places to visit in Jordan and a must on this Jordan itinerary for 7 days too.
Swimming in the Dead Sea is unlike anything else you can experience and one of the best things to do in Jordan in 7 days. Though it's not really swimming, more laying back in the water and marvelling at how incredible buoyant you suddenly are (the high salinity makes it impossible to sink).
Once you've had a swim hop out of the water and give your skin some nourishment by coating yourself in the famous Dead Sea mud (which can retail for over $30 per jar), let it dry on your skin and then return to the water to wash it off (and have another float I'd you like).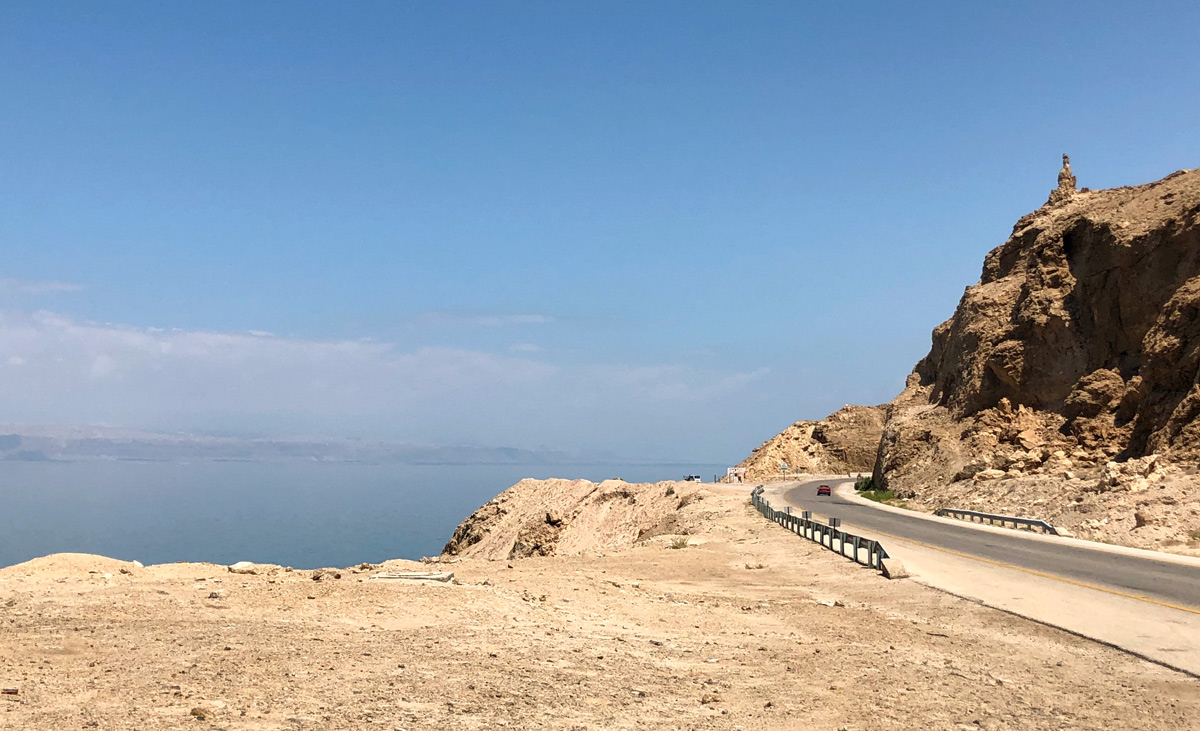 If you can afford it, book yourself a room at one of the many incredible rooms along the Dead Sea and spend the rest of the afternoon enjoying the Dead Sea and pool facilities at your resort.
If you're a little stuck for cash, you can utilise the public beach (20JD), purchase a day pass for one of the resorts, but once you've paid for these you might find it cheaper to simply book the cheapest room you can find at a resort.
Alternatively, if you are a little adventurous, you can find a spot along the road where there's a path down to the shore and swim for free.
Day 3: Wadi Mujib and the Kings Highway
Day 3 of this 7-day Jordan itinerary will see you driving the incredibly scenic Kings Highway to Wadi Musa (the gateway town for Petra).
But first, for those who enjoy a little adventure, continue down the Jordan Valley Highway skirting the Dead Sea for 30 kilometres and you'll come to Wadi Mujib Nature Reserve.
Siq Trail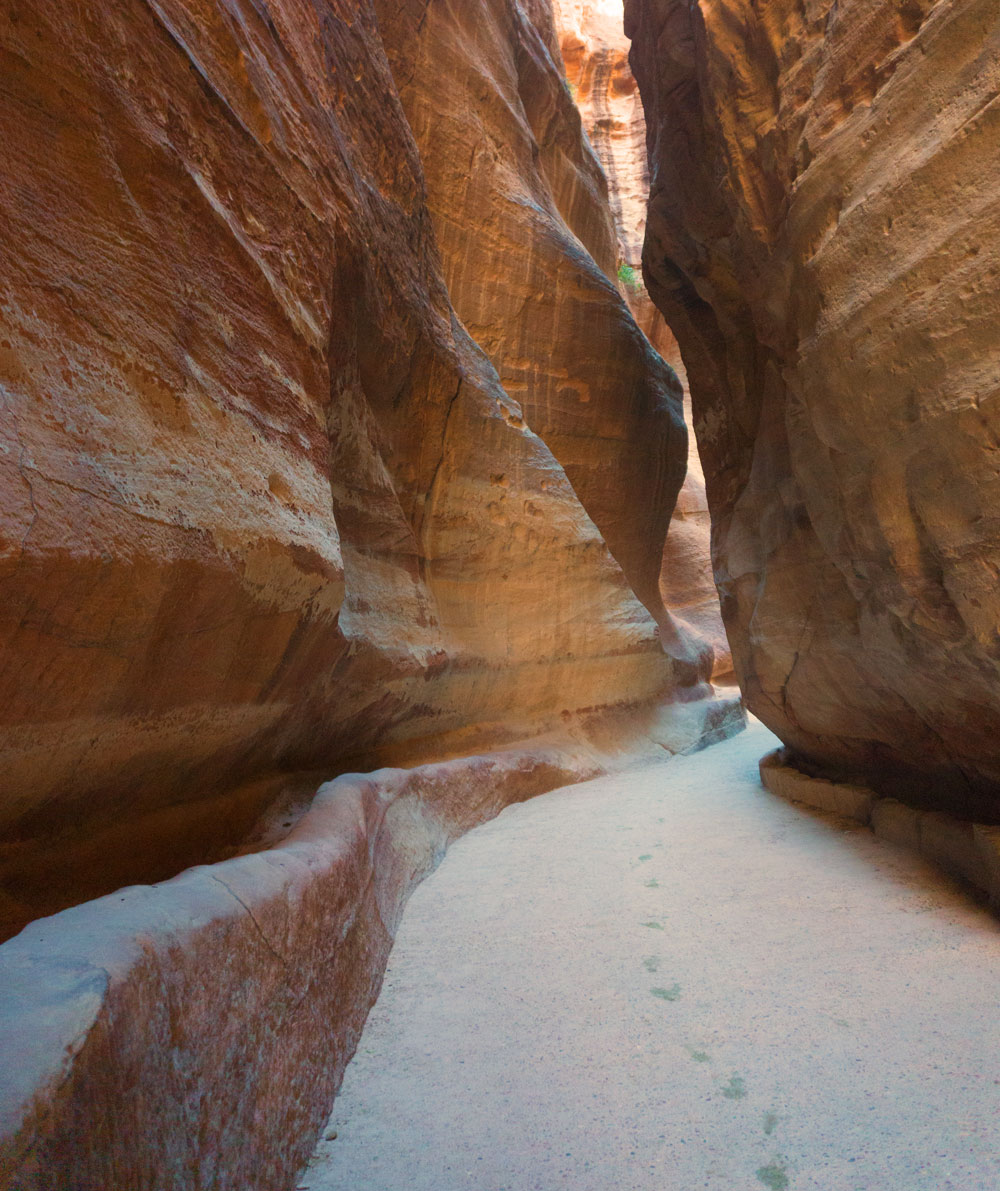 For those who love active and adventurous pursuits, you absolutely must try canyoning on the amazing Siq Trail in Wadi Mujib.
Walk, scramble and climb your way up to small waterfalls and boulders while marvelling at the spectacular sandstone cliffs on either side as you travel through the trail, then sit back and relax to take it all in properly as you float back down the trail to your starting point. A truly spectacular experience on your Jordan trip!
The Siq Trail is a relatively easy canyoning trail (no repelling or cliff jumping) and takes 2-3 hours return. It's a truly amazing activity for the adventurous-minded traveller.
Even if you're not partaking in the canyoning, there is a viewpoint and rest point just off the highway to admire the canyon.
However, if adventure activities aren't exactly your scene, consider a stop at the nearby Ma'in hot springs, a series of thermal mineral waterfalls, rivers, and hot springs, for a soak before continuing on to the Kings Highway.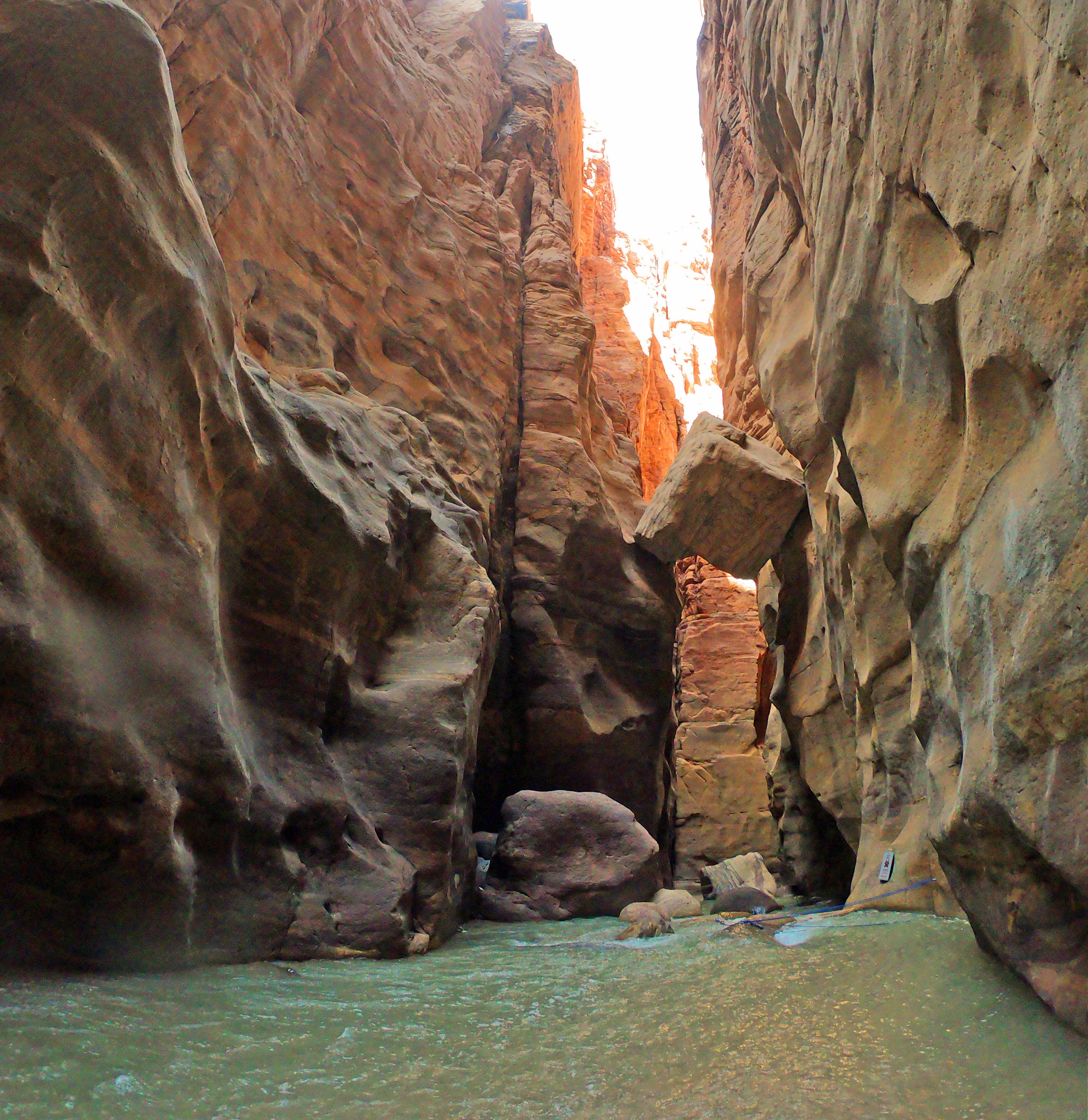 Kings Highway
Once an essential trade route connecting Africa with Mesopotamia, the Kings Highway today is a windy, steep and slightly rundown but incredibly scenic route between Amman and Petra. You should definitely include it on your Jordan bucketlist.
The drive will wind through mountain ranges and river valleys as you make your way up and inland, so while the drive from the Dead Sea to Wadi Musa takes approx. 4-5 hours, make sure to plan your sightseeing and leave time for impromptu stops along the way to snap some pictures of the spectacular scenery.
The highlights on the Kings Highway are Kerak Castle, the Dana Biosphere Reserve and Shobak Castle (or Montréal, another Crusader castle) and they are great things to see in one week in Jordan.
Kerak Castle, constructed in 1142, is one of the largest Crusader castles in the Middle East and is an impressive sight, featuring prominently in the movie Kingdom of Heaven, while Shobak castle (or Montréal), constructed ever earlier (in 1115), is mostly ruins (if you only have time for one, visit Kerak!).
The Dana Biosphere Reserve, covering 320kms of mountain ranges and canyons bordering the Great Rift Valley, is Jordan's largest nature reserve and a spectacular place to go hiking and, of course, one of the best places to visit in Jordan in 7 days.
There are many viewpoints along the Kings Highway to stop and admire the scenery.
If you're travelling in winter there might not be enough daylight to see everything in one day, but don't worry, you can traverse the Kings Highway again on your way back to Amman on day 7.
Day 4: Petra
Built over 9,000 years ago, the ancient UNESCO city of Petra is a dramatically ornate desert city spanning over 60 square kilometres. It's no surprise that it is one of the dream destinations in Jordan and that it is included in this perfect Jordan itinerary.
Its majestic buildings are intricately carved into the impressive towering red sandstone mountain pillars, the most famous being the Treasury which has been featured in many films and television shows, most notable being Indiana Jones and the Last Crusade.
The Petra Archaeological Park is a huge 2,640 acres, and you could easily spend weeks exploring the complex, however, two days in Petra is perfect to see all the main highlights!
You'll want to start early today (around sunrise if you can stomach getting up that early) to give you the most time to explore, avoid the crowds at the main sights, and not wind up with heatstroke from wandering around the desert in the afternoon.
The absolute must-see sights in Petra on day one are:
The Siq Trail
The Treasury
The Secret Treasury Viewpoint
The Street of Facades
The Theatre
The Royal Tombs
Collonaded Streets
Starting at the main entrance gate in Wadi Musa, it's almost impossible to get lost on the main trail (unless you want to).
There'll be a short walk from the main gate until you get to the famous Siq Trail, the historic entrance to the city.
Meander through the narrow trail that snakes 1.2 km through the stunning gorge with towering rock walls up to 80 metres high surrounding you.
Just when you're starting to wonder how much further it goes, the trail opens up right in front of the Treasury (or Al Khazna), offering the most iconic sight in Petra.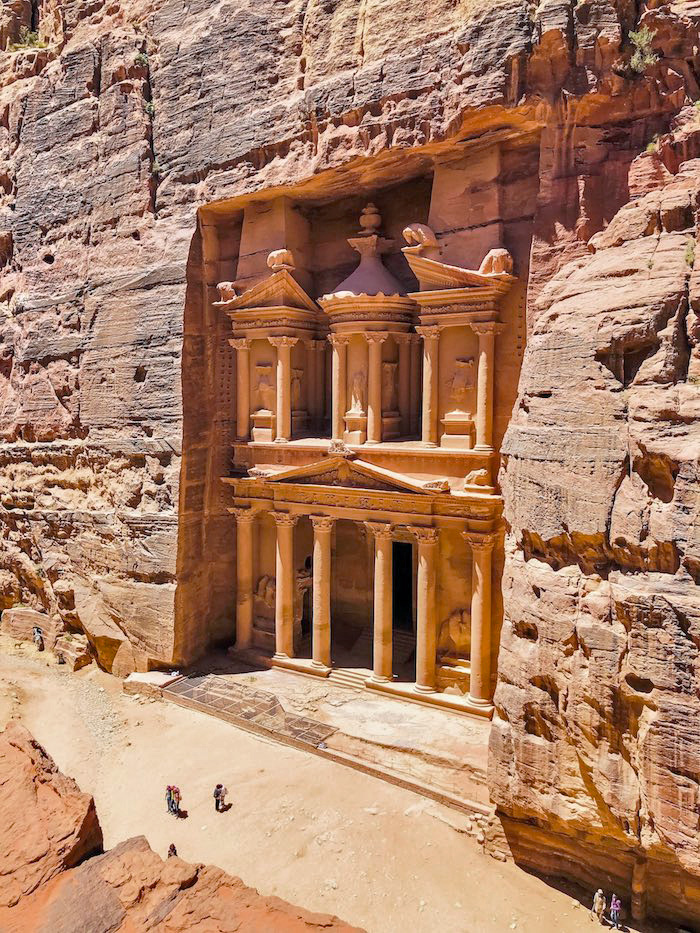 The Treasury's magnificent façade is intricately carved into the sandstone rockface and reaches almost 40 metres high. It is famous and one of the most instagrammable places in Jordan – you can definitely recognize it from the picture – and you won't regret including it on your 7 days in Jordan Itinerary.
Arriving early in the morning will allow plenty of time to appreciate the view and take photos of the Treasury before it becomes swamped with group tours.
For an awesome picture of you looking down over the Treasury (without the confusing and long hike) head to your right and scramble up the rubble and rocks in front of you.
From here you'll see a rocky outcrop (likely with a cute Bedouin tea stall next to it) on the rock wall directly opposite the Treasury. It's an easy scramble/climb to the top and you'll be rewarded with amazing views (and photo opportunities).
From here simply continue down the main trail. Many of the sights can be seen directly from the main trail, like the theatre and colonnaded street, while others may require a slight detour.
Everything is well signposted and all the main trails are obvious (and often have Bedouin stalls along the way for refreshments or souvenirs).
If you're still full of energy after walking the main trail; you can hike up to the incredible Monastery. It's not as well-known as the Treasury, but its façade is actually larger than the treasury, and it's just as impressive (plus less crowded)!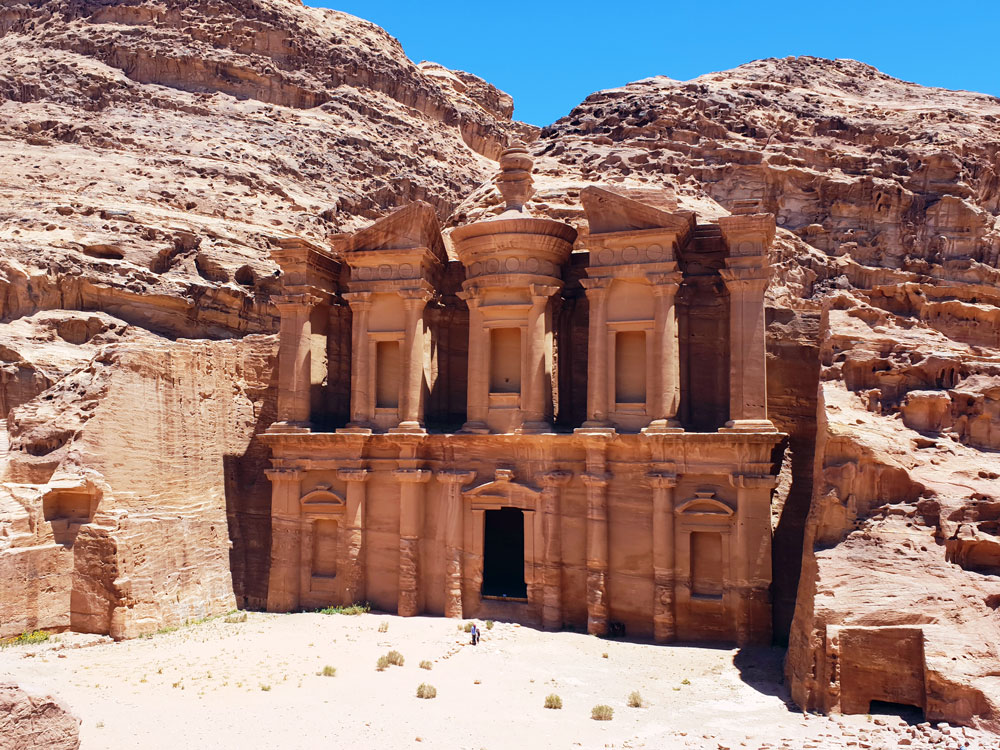 Perched at the top of a strenuous 850 step trail, the journey isn't easy, however, the views are worth it so see if you can squeeze it into your Petra trip.
There's also a cute little Bedouin café at the top (with WIFI) where you can sit and relax taking in the sight of the monastery after your ascent.
However, if you're exhausted after seeing the main trail sights in Petra (or you're not the fittest person around), best to head back to your hotel and save the Monastery for day 2.
There's a fun shortcut from Little Petra that's quite off the beaten track (to help you feel even more like Indiana Jones), and much easier than hiking up 850 steps.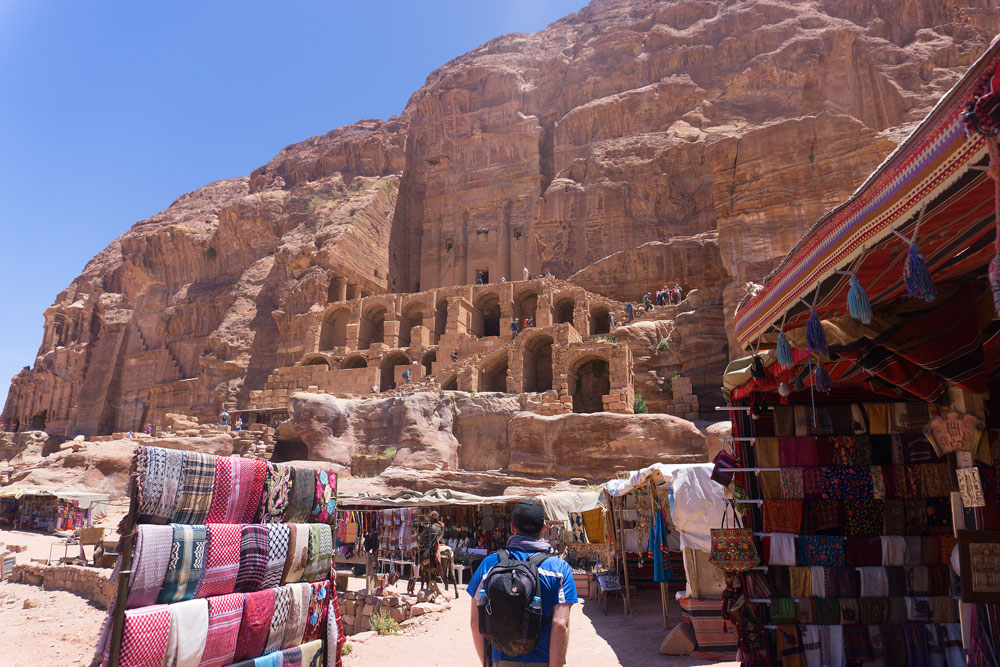 Day 5: Petra and Little Petra
There are a few options for your second day at Petra (and Little Petra) depending on how much walking you want to do. They are definitely worth a visit so that is why they are included in this 7-day Jordan itinerary.
Start your day by getting a taxi to Little Petra (make sure to haggle).
Located 9 km north of Petra within the Petra Archaeological Park is Siq Al-Barid, though it's often referred to as Little Petra due to its similarities with the main Petra site.
Siq Al-Barid is believed to have been inhabited from 7200 to 6500 BC, making it one of the first settled villages in human history!
Not many visitors make it out to Little Petra, but it is one of the most interesting sites to explore for the adventurous traveller so I had to include it on this Jordan itinerary for 7 days.
If you missed the Monastery yesterday, lucky you, because now you'll be able to take the easier way there.
If you still fancy walking it's an easy 2-3 hour hike from Little Petra to the Monastery on a fairly simple and signposted trail (or you can hire a local guide at Little Petra to show you some hidden gems along the way). Or you can hire a 4×4 Jeep to take you most of the way, leaving you around 45 minutes of easy walking to the Monastery.
Once you've seen the Monastery, the easiest way back is to follow the trail down those 850 steps to the main Petra trail and exit through the main visitor's centre in Wadi Musa town (this will take approx. 1.5hrs).
To cap off the day, why not call in for a drink at the awesome Cave Bar and restaurant at Petra Guest House right outside the main entrance.
Day 6: Wadi Rum
Today you're leaving Petra behind and taking a 2-hour drive south to Wadi Rum to spend the night in a traditional Bedouin camp.
Wadi Rum is an otherworldly expanse of desert, sand dunes, and astoundingly tall stone mesas.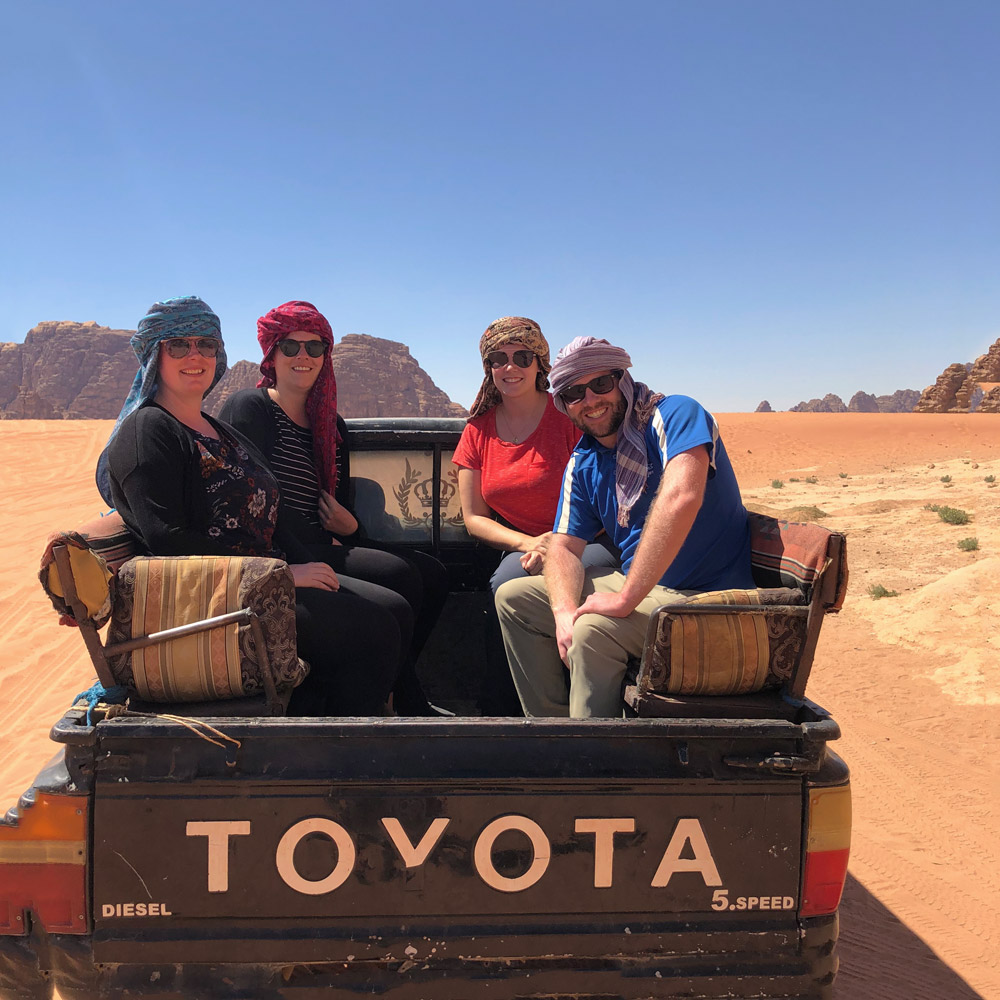 It's famous for the Bedouin tribes who have called the desert home for centuries, as the backdrop for Lawrence of Arabia's adventures, and its unique landscapes have been used as movie sets to for other planets in movies such as Star Wars and The Martian.
Wadi Rum has been inhabited for more than 12,000 years and there is still ample evidence of early human civilisation.
More recently the nomadic Bedouin tribes people have called Wadi Rum home and are custodians of the land; managing accommodation and offering tours of the region.
You'll meet your accommodation provider at the Wadi Rum Tourist Centre and then be transported to your remote desert camp in the back of a 4WD. During the day there are countless activities to participate in depending on your interests and fitness levels.
The jeep tours are great fun, and usually include some of the most famous of Wadi Rum's landmarks such as the house used by T. E Lawrence, a traditional Bedouin camp and an incredible stone bridge.
Simply driving between locations in an open-aired jeep is awe-inspiring. You can also admire the scenery from the back of a camel, go for a hike.
The sunsets are some of the most spectacular you'll ever see, with the whole canyon glowing red-pink as the sun dips below the mesas.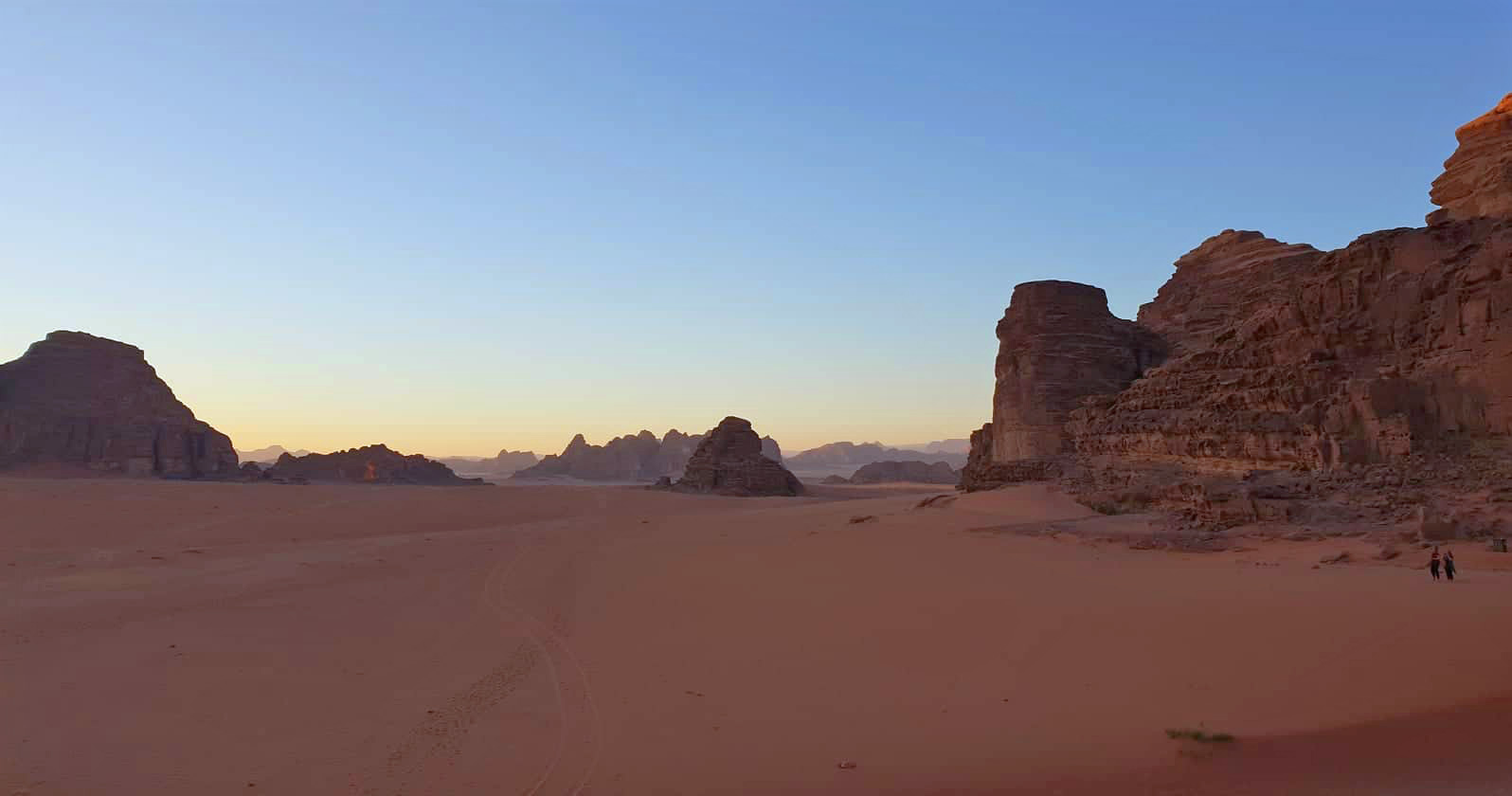 As night falls everyone will huddle around the campfire, eat a traditional Bedouin meal and listening to songs of the desert played on a Rebab (an 8th century Bedouin string instrument).
After dinner move away from the campfire a bit and gaze up at the sky to see the most incredible stars. The moon bathes the valley in a soft blue glow which replaces the ochre-red of the day and the landscape takes on a whole new life.
Day 7: Back to Amman
On your final day in Jordan, you'll be making the drive back to Amman from Wadi Rum. It takes around 4 hours to reach both Amman airport and the city, so many sure you have an afternoon or evening flight (or stay an extra right in Amman).
If you have time, stop into the small and historic stone village Dana (park of the Dana Biosphere mentioned on day 3). It's a lovely little stone town wander around for a bit and is situated on a hill overlooking the valley. If you're wanting to stretch your legs properly, take a short hike in the valley before continuing back to Amman.
Top tips for a trip to Jordan:
Get the Jordan Pass to save money on entrance fees and free visa on arrival.
Try kanafeh – A Jordanian sweet goats cheese pastry similar to Baklava
Summer can be blisteringly hot, try to visit in other seasons
Driving isn't difficult, hire a rental car to save yourself the hassle of public transport
Jordan makes wine – it's delicious!
Jordan is an incredibly safe and easy country to travel with oodles of charm, culture and history. Make sure to pack your sense of adventure (and sunscreen) and get ready for an amazing trip!
About the author:
Ashlea is the organised half of the Australian duo behind dashingaroundtheworld.com. She is a wine aficionado and huge travel addict, and has visited four continents and over forty countries. Between trips she is a Registered nurse, but loves spending her days researching and planning new travel adventures (complete with spreadsheets), and sharing her travel experiences with others. Follow her adventures on Facebook & Instagram.