disclaimer: this post contains affiliate links, which means I may earn a small commission (at no extra cost for you). Read our Terms and conditions for more details.
If you like to see trees with red leaves, to admire the splendid European fall foliage (as it was proved that it is different than in the USA), then this article is perfect for you. Listed below are 28 of the best places to visit in Europe in autumn. So, if you are wondering where to see the most beautiful fall colors in Europe, this is your answer. You'll find that these are the best cities to visit in October in Europe.
But, included in this article are not only cities, but also amazing areas, which make these the best European trips in autumn where you can admire autumn foliage trees.
You'll see that the list includes famous European cities – best cities to visit in Europe in autumn – but also the best best countries to visit in Europe in autumn. And these recommendations come from travel bloggers – each being their favorite place to spend autumn in Europe.
So where you can go to see the most beautiful fall colors in Europe? Here are the 28 amazing autumn European destinations:
Vienna, Austria
Scotland
Estonia
Krka National Park, Croatia
Westonbirt Arboretum in the Cotswolds, UK
Burg Eltz, Germany
Plitvice National Park, Croatia
Baden Baden, Germany
Luxembourg City
Vlkolínec, Slovakia
Spreewald, Germany
Vysočina region in South-Central Czech Republic
Peak District, England
Krakow, Poland
Luxembourg Gardens, Paris, France
Switzerland
The woodland conservation area of Burnham Beeches in Buckinghamshire, England
Madrid, Spain
Bordeaux, France
Val Gardena, Italy
Saint Petersburg, Russia
Hallstatt, Austria
Berlin, Germany
Copenhagen, Denmark

Montanhas

Magicas

, Portugal
Tuscany's Etruscan Coast
Black Forest, Germany
Apuseni Mountains, Romania (and, as a bonus, Bucharest)
So let's discover the 28 of Europe's best places for fall travel.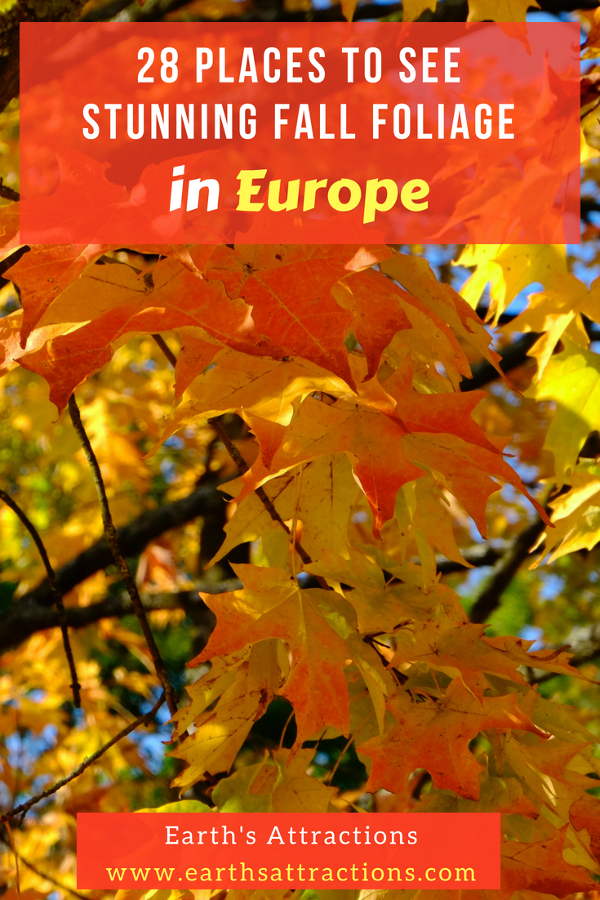 Best places to visit in Europe in autumn: where to see the most beautiful fall colors in Europe
Vienna, Austria
by Marie from Vienna – 101 Facets around the Austrial capital; Facebook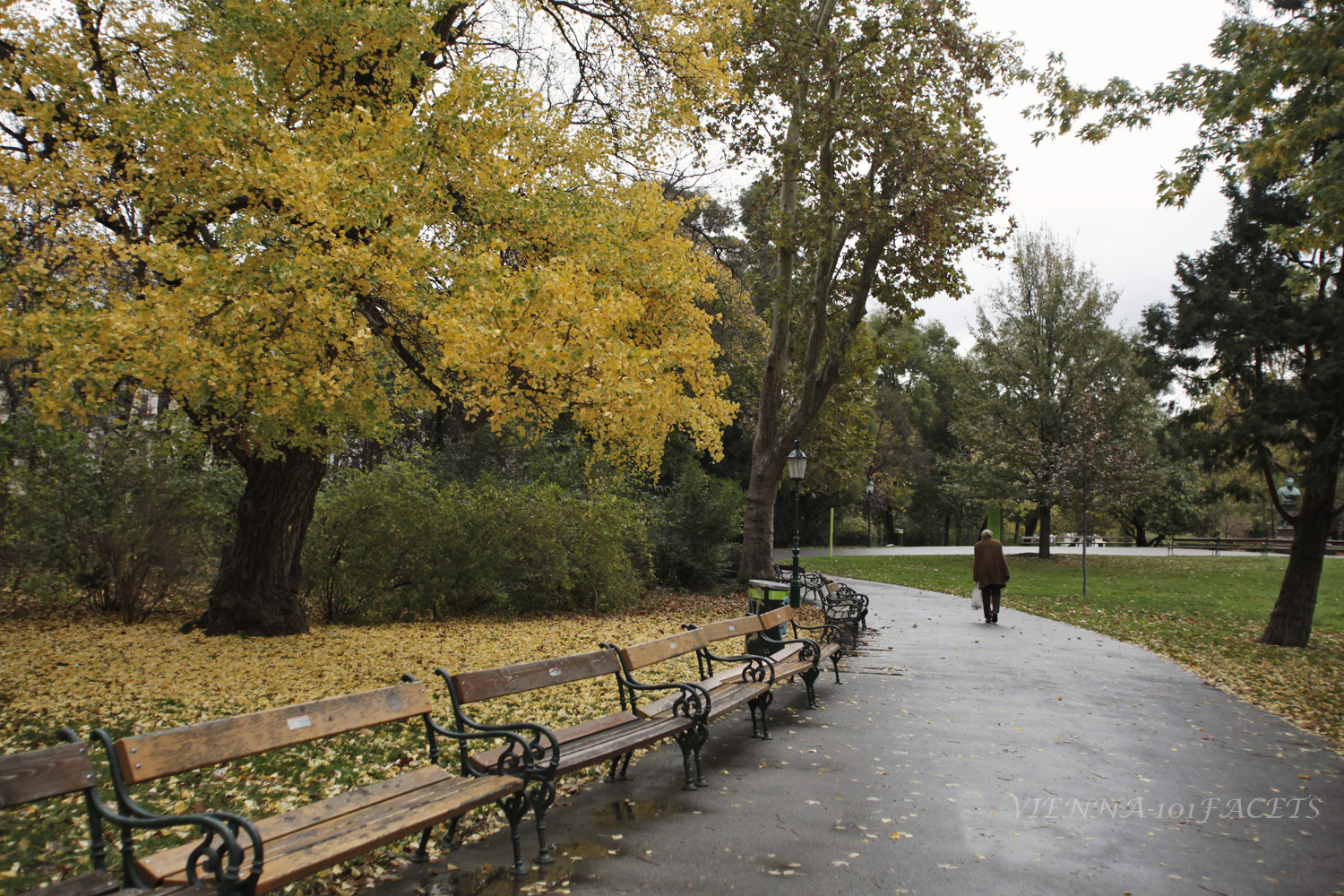 I first came to Vienna in October, when the leaves have turned yellow, orange, and brown, and when the smell of the earth was so fresh that I became biased to this time of the year. It's been my favorite season.
Walking around Vienna in autumn is such a delight. With vast parks, gardens, and palace grounds lined with trees and planted with many bushes, the city becomes a fiery spectacle of yellow, copper, orange, gold, and bronze as mother nature changes clothes.
The Donauninsel, the Stadtpark, Augarten, Schönbrunn, the vineyards and the Botanical Gardens of the Belevedere Palace are some of the many wonderful places to see in Vienna in autumn.
The Stadtpark, the biggest park in the middle of the city (28 acres), is a welcome refuge for the birds before the cold comes, and for those seeking inspiration.
It's also a wonderful place to walk around, with a cup of coffee in hand to warm you a bit. There are highly-recommended restaurants in the area, so you can enjoy a bowl of gulasch soup before exploring the rest of Vienna.
Another place worth visiting come autumn in Vienna is Schönbrunn – you can spend the whole day and soak into a feeling of nostalgia walking under the trees, feeling the crunch of leaves under your toes and if you're lucky, a squirrel might even say hello.
It is a must to go up the platform on top of the Gloriette to get a glorious view of golden Vienna as the sun sets. You'll see why Viena is one of the top European autumn destinations.
Scotland
by Nicole from Travelgal Nicole; Instagram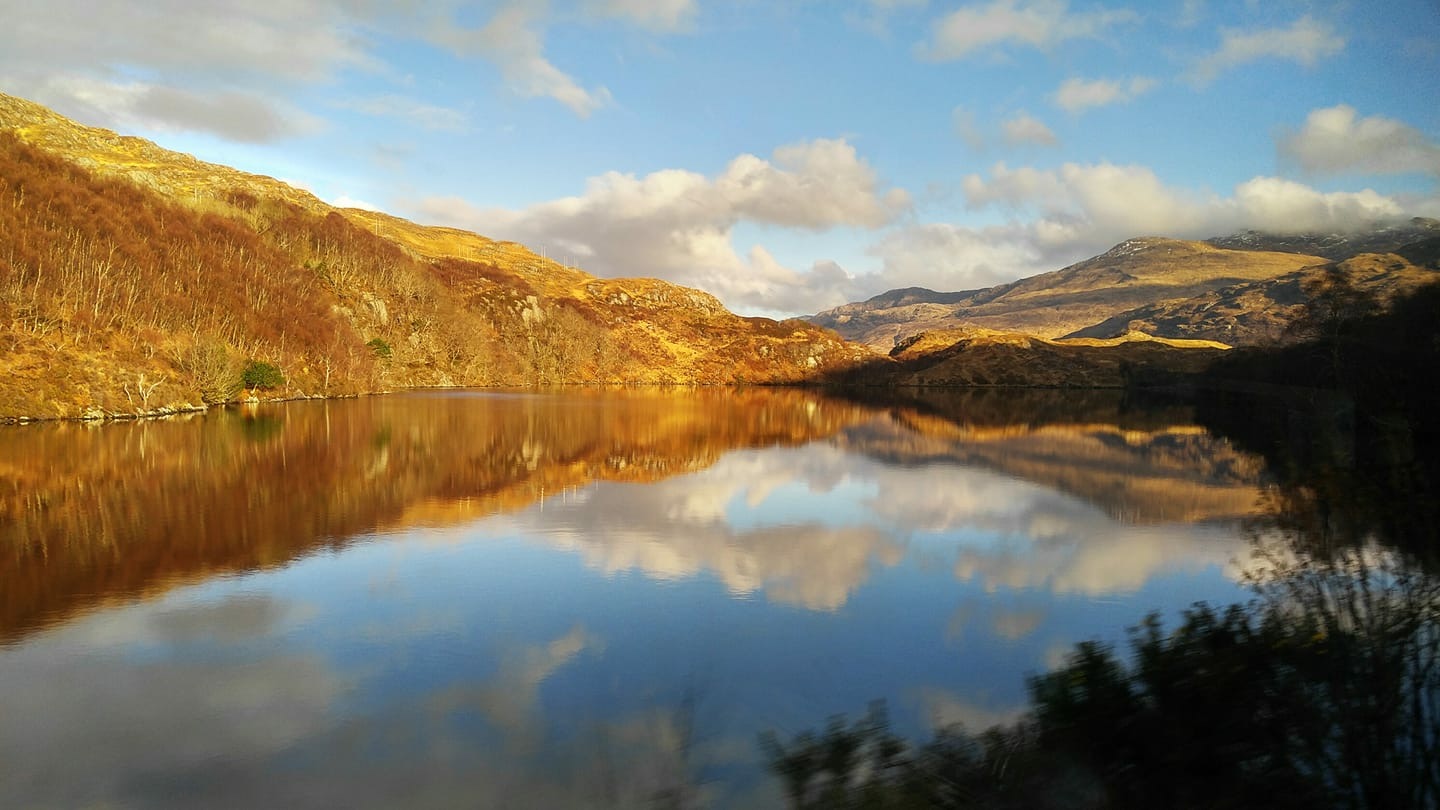 Scotland has beautiful scenery any time of year but I think Autumn is the best time to visit with the fall foliage. The Highlands of Scotland in particular is one of the best places to see the colours changes on the trees and you won't have to deal with the crowds (and the midges as well) like you would in summer.
The best time to visit the Highlands is from September to November when it is still warm and dry. From late October the crowds start to dwindle and you can have the sites to yourself or with a few other people there except maybe a hairy coo or two (the famous Scottish cows).
If you start in Inverness and head south you will travel along Loch Ness. This lake is long and narrow and surrounded by hills and trees. This can make for some beautiful photos. Another place to visit would be near Fort Williams and Glen Coe which is on Loch Leven where this photo is taken. Where ever you go in the Highlands you will have stunning landscapes and it is one of the best places to go to see the autumn foliage in Europe.
Estonia
by Kamila from My Wanderlust; Facebook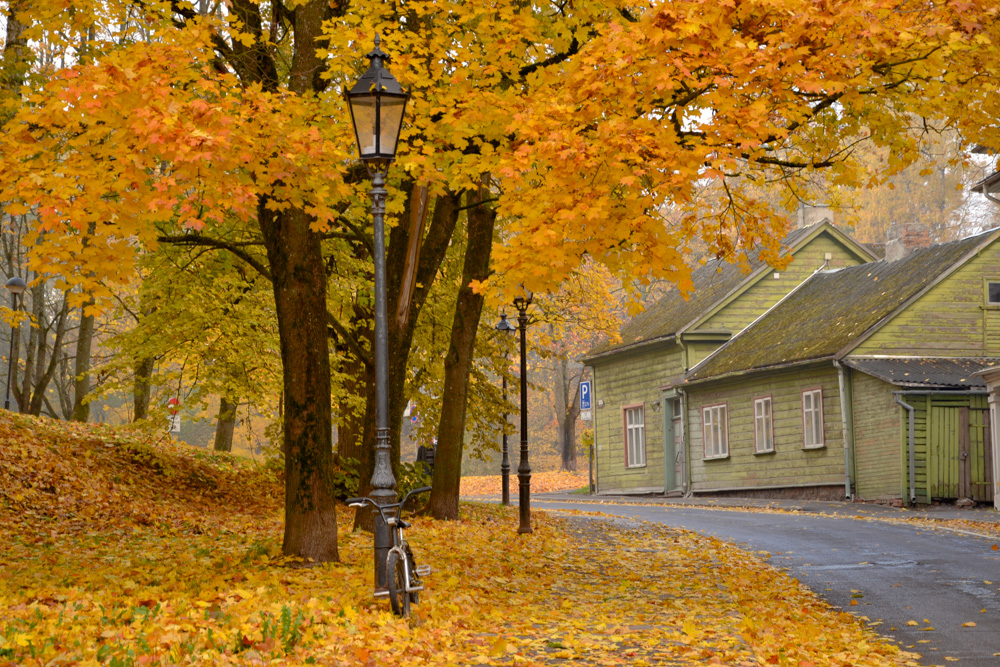 Couple of years ago I happened to experience autumn in Estonia and oh my, it was just breathtaking! I honestly have never such beautiful colors anywhere else. For all the days I've spent there I felt like walking in the Photoshop picture, it was just unreal! I visited Tartu, Parnu and Tallinn and each of these places was amazing but my favorite one was Tartu.
It is a students' city and it's big on parks so no matter where I went the surrounding colors and beauty took my breath away. Since Estonia is a really green country, with forests covering big part of it, travelling between the cities was a treat too and I spent every minute on the bus just staring outside the window and admiring the colorful landscape around.
I visited Estonia in the middle of October and it seemed like the autumn colors are at their best then. The country is small and you can easily cover most of it in few days.
The bus network is very good and can get you basically everywhere but if you can travel with a car it's even better as you can stop wherever you want to to take pictures of the beautiful world around you. I strongly suggest taking an extra battery pack and memory cards for your camera – you will definitely need them!
Krka National Park, Croatia
by Sam and Natalia from Something of Freedom; Instagram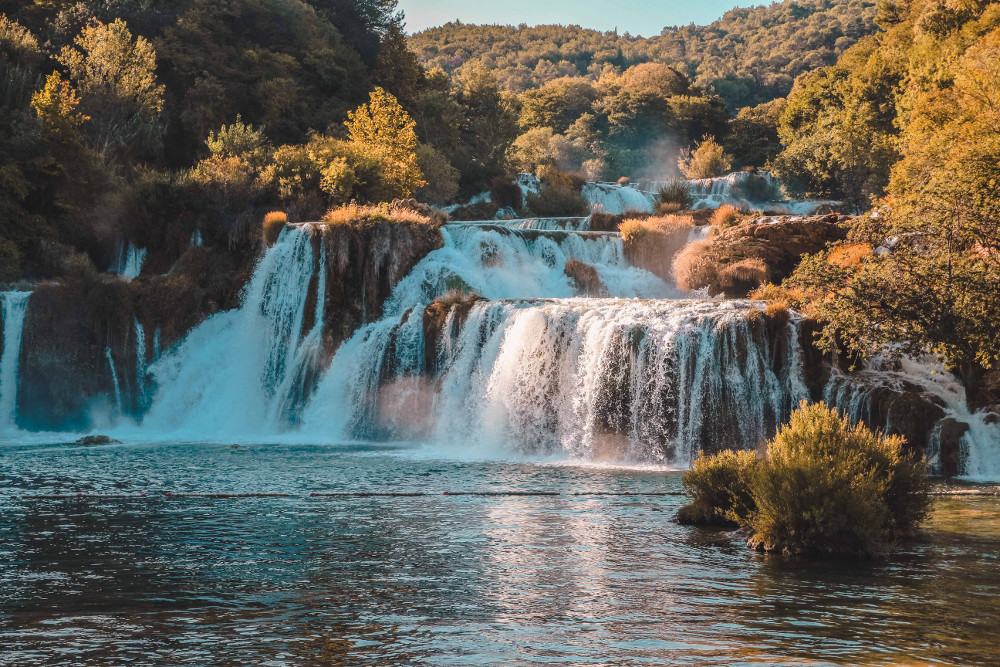 Krka National Park, one of the most popular destinations in Croatia, is a beautiful place to see the fall foliage. During the summer months the park is covered with greenery but as the months pass the greens slowly turn to different shades of red, orange and brown.
The park covers over 100 square kilometres along a stretch of the Krka River, and there are a number of spots from which to admire the beautiful autumn colours.
In particular, a special place in the park to witness the fall foliage is at the majestic Skradinski buk falls. This series of 17 waterfalls is surrounded by forest is an enchanting place at any time of year, but during the autumn months there is an added element of beauty at this natural wonder.
The best time of year to visit Krka National Park to see the fall foliage is October. Aside from the incredible colours, there are other advantages of visiting at this time of year too! At this time of year entrance costs just 110 Kuna per person as opposed to 200 Kuna during the busier months of July and August.
On top of this, swimming is not allowed in the falls from the 1st October, so you will have an unobstructed view of this naturally beautiful spot. You'll also be able to get photos without other tourists in – something that is virtually impossible during summer!
Autumn Colours at Westonbirt Arboretum, Costwolds, UK
by Cath from Passports and Adventures; Instagram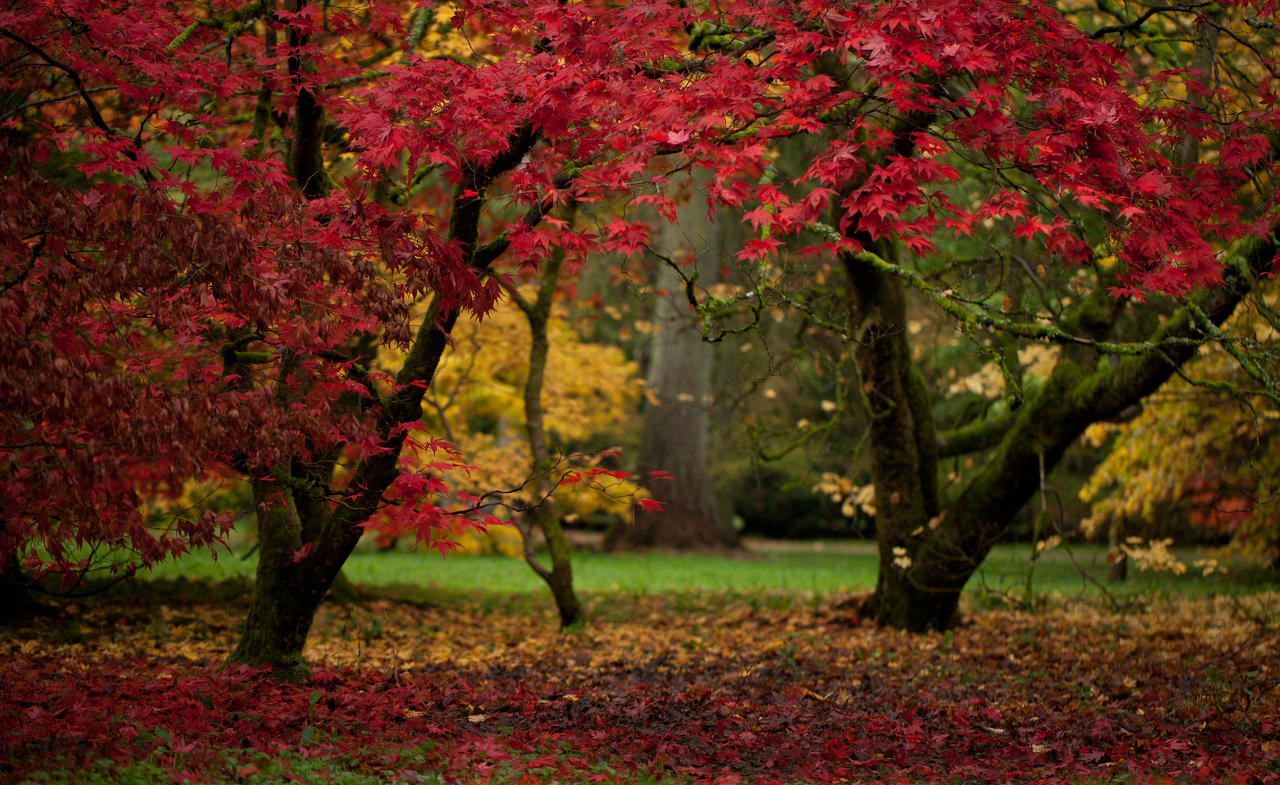 One of the best places to see and enjoy fall, or autumn, foliage in the southern half of the United Kingdom is at Westonbirt Arboretum in the Cotswolds. Split into two halves, this arboretum located in Gloucestershire has some of the most magical displays of fall foliage in the UK. The Old Arboretum is dog-free, while they are welcome, on a leash, in the New Arboretum.
Throughout Westonbirt you can view fall foliage of every colour from orange to red and yellow to brown, from trees such as chestnuts, oak, beech and the most famous, which attract the majority of visitors, the Japanese maples (or acers).
The best time to visit Westonbirt Arboretum is between October and November. The UK Forestry Commission website has regular updates throughout the fall season informing people of the developing colours and is something I regularly watched before making my annual trip to the arboretum.
It is best to arrive as early as you can, as this is a popular time of year for visitors and gets very busy later in the day. Parking is free but there is an entrance fee.
It is advisable to wear waterproof hiking or walking shoes as the weather can be cold and wet at this time of the year. Waterproof trousers and raincoats might be needed if the weather takes a turn for the worst in typical UK style. And of course, don't forget your camera. But be prepared to be patient to get your shot as you certainly won't be the only photographer visiting.
Read this article to discover the best cities to visit in the UK in the fall
Burg Eltz, Germany
Alex Waltner – Swedish Nomad; Facebook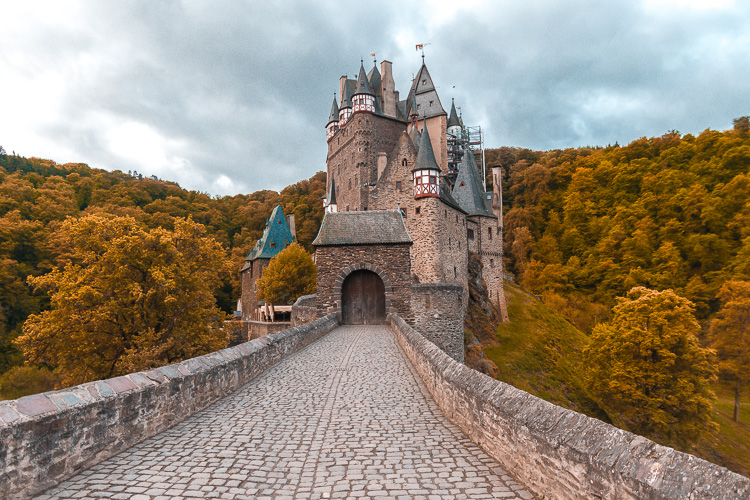 Burg Eltz is one of the many castles of Germany. It's almost as famous as Neuschwanstein Castle, especially in recent years due to the castle going viral in social media. And it's well deserved. The Eltz Castle is one of the most beautiful castles I have ever seen.
No matter if you go here during summer, autumn, winter or spring, it will be a beautiful sight, and the surrounding nature enhances the scenic views even more.
The best time to visit is between September and October when the autumn colors are peering before the leaves are starting to fall off. During this period you will also avoid the majority of tourist crowds that flock here during summer.
To get here it's best to rent a car, but if you go on weekends, you can also take the Burgenbus 330, or simply walk from the trains station of Hatzenport. It takes around 80 minutes and is about 5.3 kilometers. You can also go by taxi or rent a bike.
The Entrance fee is 10 Euro per adult if you want to go inside the castle. Then you also get the guided tour. If not, you can just look at the castle from the outside as it's just as spectacular and worth a visit.
Plitvice National Park in Croatia
by Noel Morata from Travel Photo Discovery; Facebook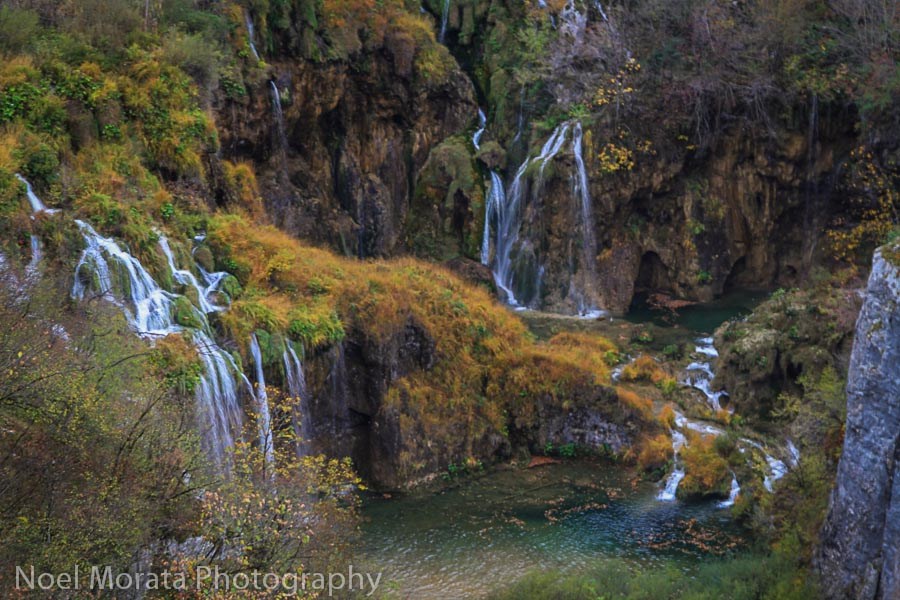 Plitvice National Park in Croatia is definitely one of the most stunning parks to visit in the Balkan region if not all of Europe. The best time to visit is definitely in the fall season when all the colors of the trees and foliage turn to brilliant colors or amber, burnt orange and fiery red all around the gorgeous waterfalls and landscape in the park. definitely one of the best fall destinations in Europe!
It's also not as busy to visit during this time without the crush of tourist visiting during the summer season. If you could stay in the park area overnight then you get extra time in the mornings and evenings to enjoy most of the park grounds on your own which is really a special treat without a crowd around you and spectacular nature to enjoy all on your own. Check out more of Plitvice National Park during fall here for more inspiration and images to visiting.
Baden Baden, Germany
by Sherrie Fabrizi Allbritten from Travel by a Sherrie Affair; Facebook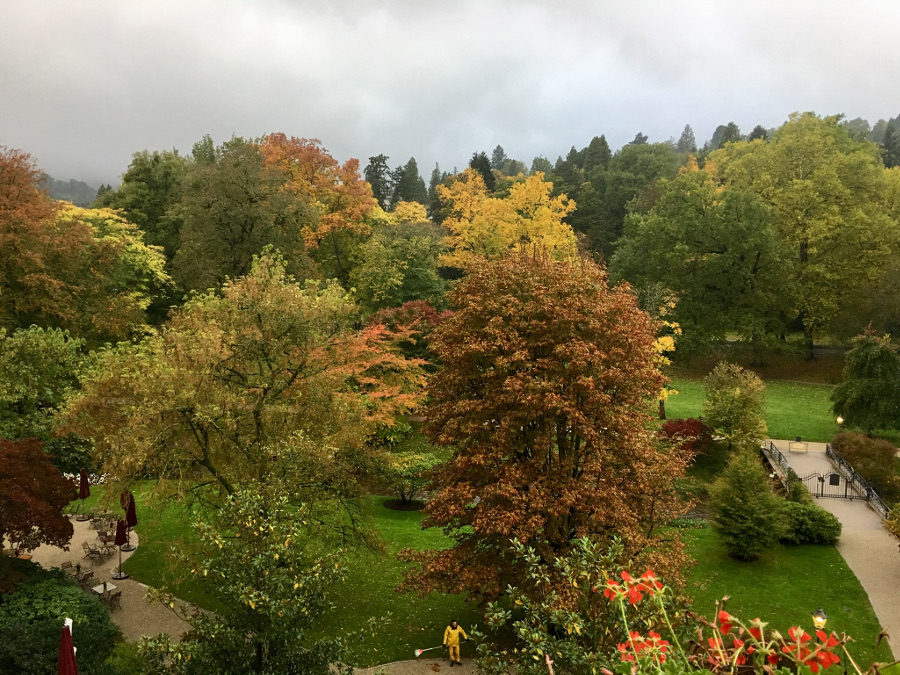 Growing up in upstate New York I have a great appreciation for fall foliage. I love this time of year, it is my absolute favorite! So, it is no wonder I really enjoy traveling during this season to experience different fall destinations. Our October holiday in Baden Baden, Germany did not disappoint with its spectacular display of fall colors.
Located in the Black Forest of Germany, Baden Baden is an hour and a half to two hours from Frankfurt airport. An easy drive headed south will lead you to Baden Baden, world known for its spas.
However, I found the park Lichtentaler Allee with all the beautiful tall trees, statues and fountains to be my highlight. The colors were bursting from the trees with a wonderful contrast of bright green grass. It was like out of a storybook and we loved every minute!
We were very fortunate to stay at the Brenners Park-Hotel & Spa with our balcony looking over Lichtentaler Allee. What a fantastic way to start your day by stepping on your balcony to view the sun coming up and luminating the foliage.
We strolled through the park every day and then would return for a late lunch at the Wintergarten restaurant at the hotel. With floor to ceiling windows overlooking the park foliage, makes a wonderful meal.
Luxembourg City
by Kris from Nomad By Trade; Facebook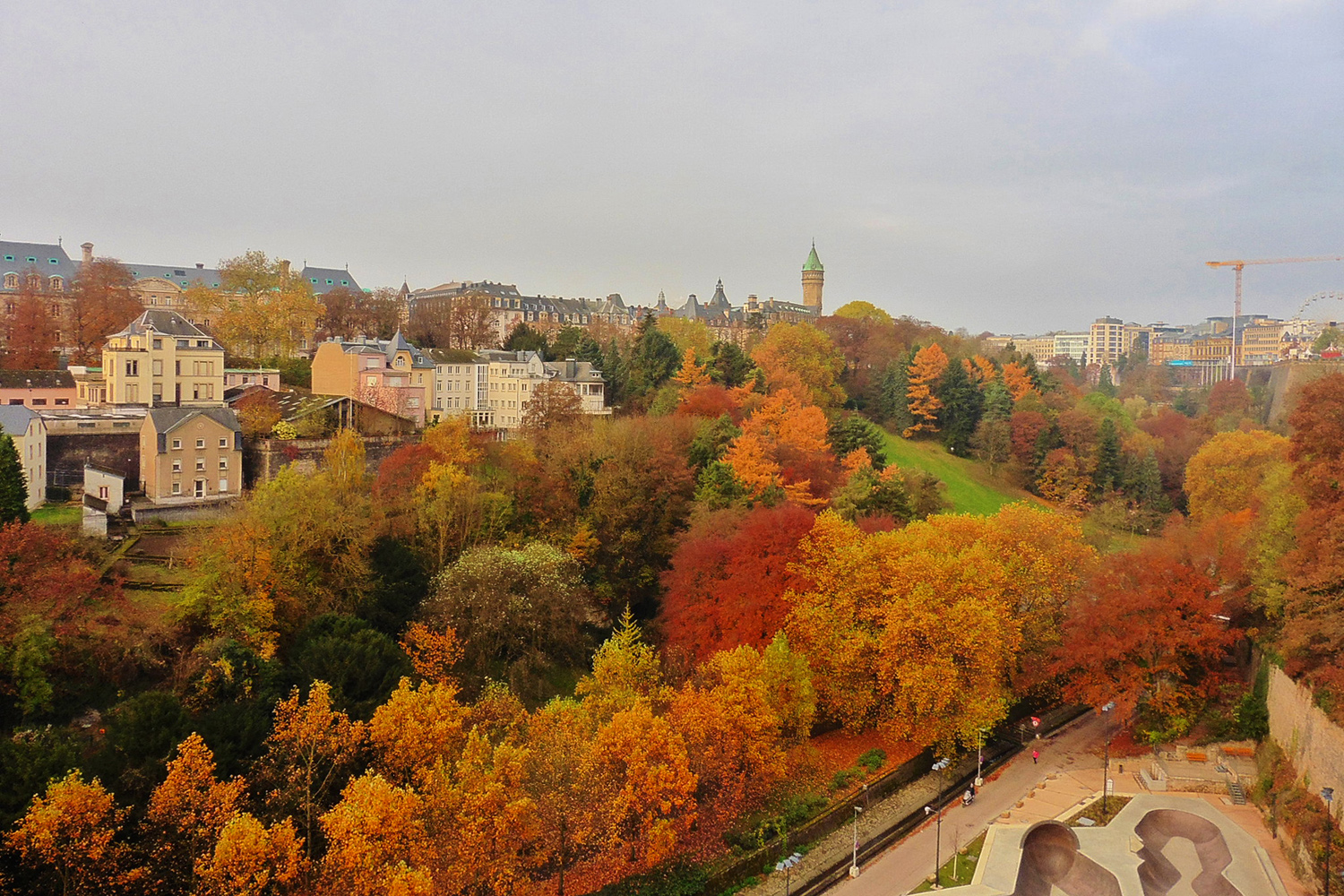 Luxembourg City would be a gorgeous place to visit any time of year, but when the leaves change colors in the fall it's absolutely stunning. The city's natural topography lends itself to beautiful viewing. It's built around a gorge with buildings on both sides as well as along valleys where two rivers – the Alzette and Petrusse – converge.
A walk along the cliffs is perfect in the fall as you can see the gorgeous colors lining the canyon. There are paths lining much of it and you have a perfect view of the fall foliage surrounding scenic landmarks and bridges.
The Adolphe Bridge and the Passerelle are both beautiful, and the state bank building high atop the cliffs is striking when viewed from the opposite side of the gorge. One of the best spots for viewing is on the Chemin de la Corniche, a scenic overlook which claims to be Europe's most beautiful balcony.
Getting to Luxembourg City is easy and it can be accessed via highway, train, bus, and its international airport. It's the most populous city in Luxembourg and has plenty of hotels and restaurants for visitors. Fall weather can vary, but you'll want some warm layers if you're walking around enjoying the view.
Vlkolínec, Slovakia
by Elaine & David from Show Them The Globe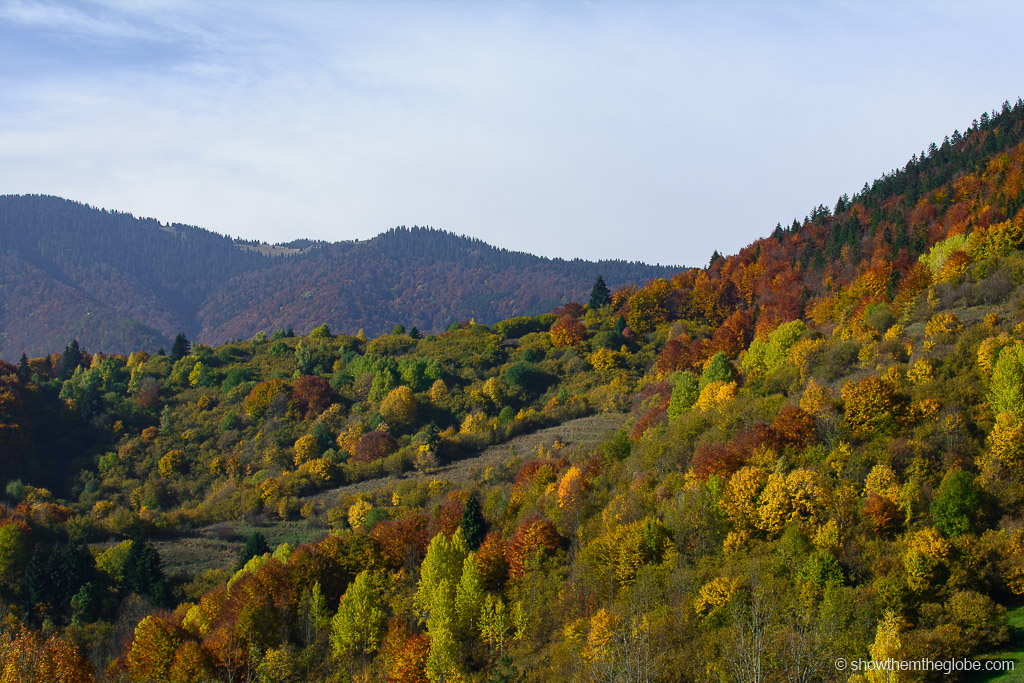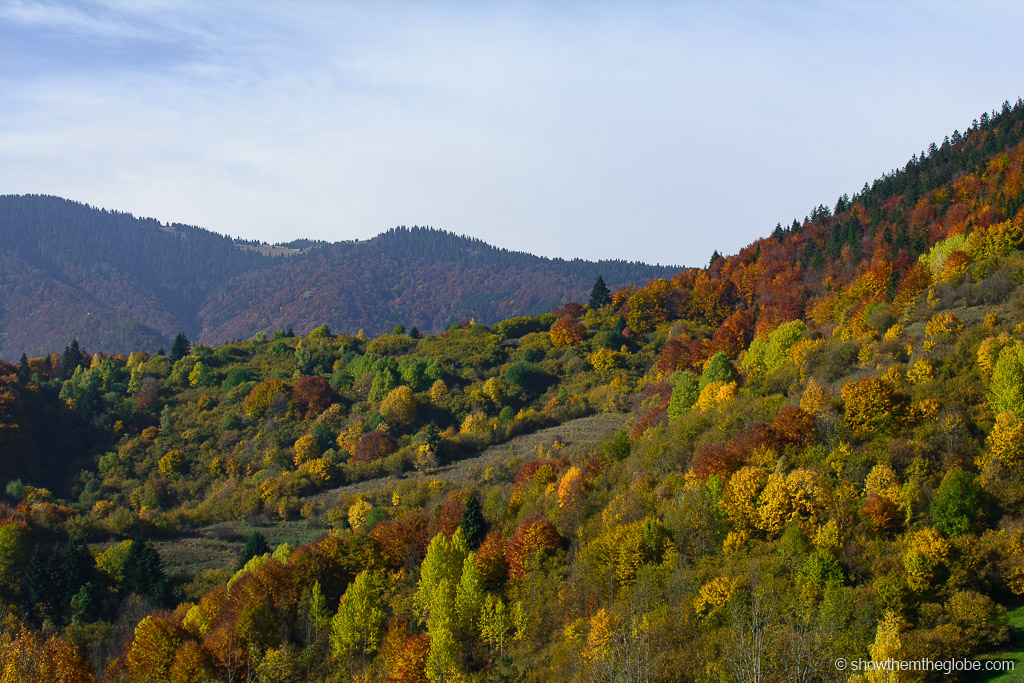 The traditional village of Vlkolínec located foothills of the Carpathian Mountains of central Slovakia is one of the most unique places to visit in Europe. Inscribed as a UNESCO World Heritage Site in 1993, this log cabin village is one of the best-preserved mountain towns in Europe and the most complete of its kind in the region.
We visited Vlkolínec during Autumn when leaves of the surrounding forests had relinquished their lush greens and began to change colour. The kaleidoscope of burnt orange, yellow and green of the forest was spectacular.
As the village is built on a hill, it offers panoramic views of the countryside and the Carpathian Mountains and the backdrop is stunning especially in autumn.
Locals still live in almost 20 of the 45 houses in the village with some hosting tourists during the peak season. Walking through the village is like stepping back in time, with a small two-room museum providing visitors with an insight as to how residents lived in the village in centuries gone by.
The village itself appears frozen in time, with no cars allowed access to the main street. The old way of life is evident here, with locals tending to small crops in their gardens and river caught fish stored alive in the small stream that runs through the village until they are needed.
At less than a 3-hour drive, Vlkolínec is a fun day trip from Krakow and can be combined with a visit to the UNESCO wooden church at Lestiny in Slovakia.
Spreewald, Germany
by Kristin Addis from Be My Travel Muse; Instagram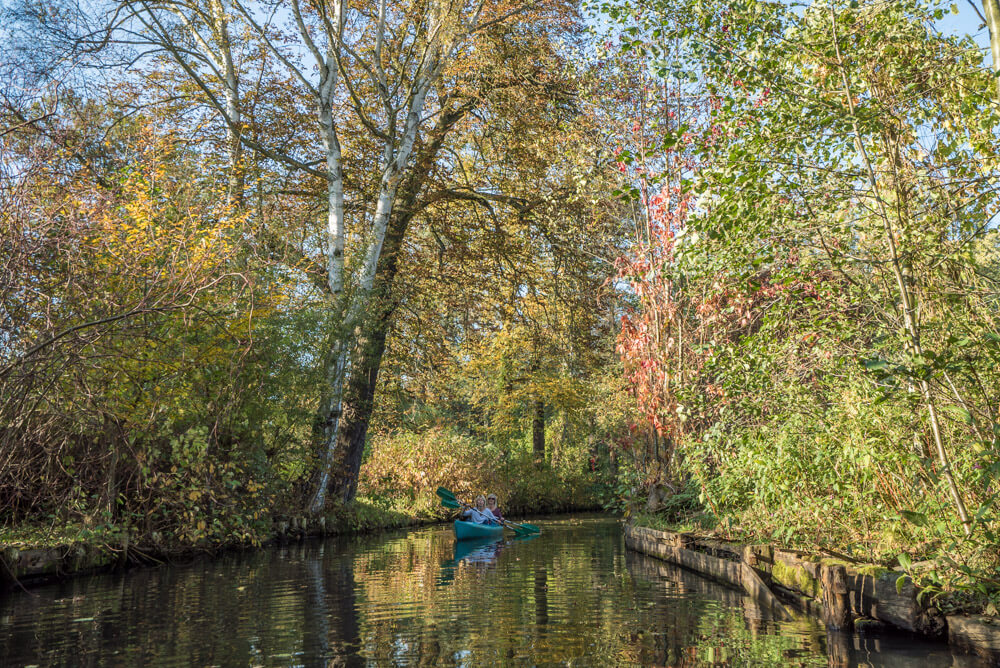 Just an hour by train away from Berlin, Spreewald is the perfect contrast to the vibrant city – calm, quiet, quaint, and relaxed. It makes an amazing day trip from Berlin if you are looking to escape the city life and enjoy real nature with intense greenery, pickles, and little canals to canoe and boat on.
There are a few different ways to enjoy the waterways in Spreewald; by an organized group boat tour, by private boat tour, or by taking your own kayak or canoe. I personally recommend renting a little kayak for a couple of hours to explore freely and get some exercise in the wilderness.
Most people stick to Ledhe, the quaint little village next to Lübbenau where you can rent a kayak. By paddling beyond Ledhe, you are pretty much guaranteed much smaller crowds and by going on a weekday during the off-season, you will have plenty of time and space to yourself. In fact, it's probably best to visit Spreewald during the fall, as there's really nothing quite like kayaking down the canals while the autumn leaves sway gently right above you.
From Berlin, take the train and alight at Lübbenau. Spreewald is just a 15-minute walk from the station. It's best to arrive early in the morning (I'd aim for 9am) to get a full day experience. I paid €10 for a 2-hour kayak rental from Bootsverleih Richter.
Vysočina Region, Czech Republic
by Maria from EuropeUpClose; Instagram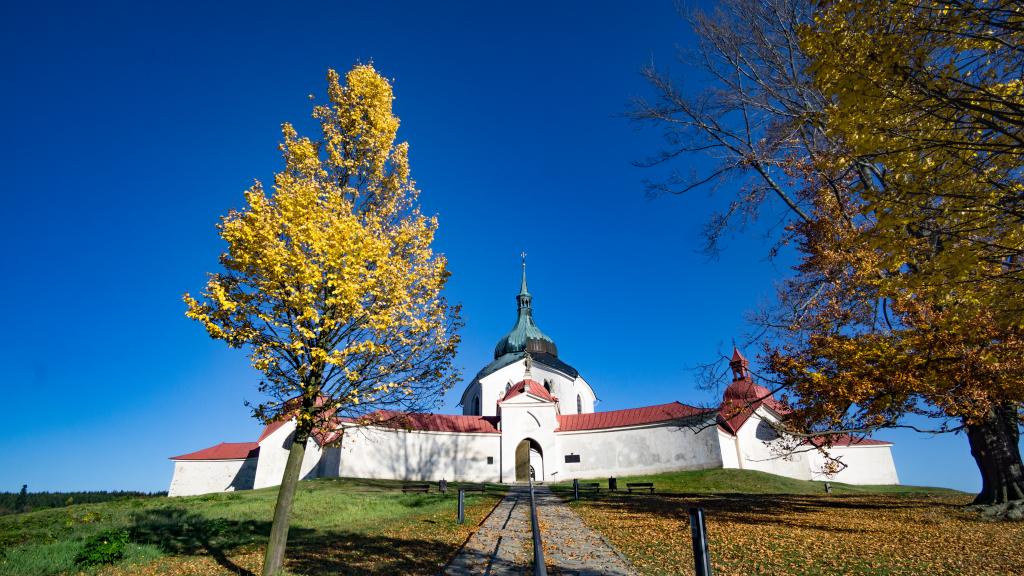 If beautiful landscapes and historic sites are your thing, then the picturesque Vysočina region in South-Central Czech Republic should be on your list. With 3 UNESCO Heritage sites, this region offers some stunning places to visit during your stay. Telč is a Renaissance Lover's Dream, with one of the most beautiful town squares I have ever seen.
The second UNESCO Heritage Site is Třebíč, which actually includes two sites: The Jewish Quarter and the St Procopius Basilica. The last, and in my eyes most spectacular UNESCO site is the Pilgrimage Church of St John of Nepomuk on Zelená Hora in Žďár nad Sázavou, the final work of Jan Santini.
I recommend staying in Jihlava, the main city of Vysočina, from where you can explore and discover the hidden treasures of this off-the-beaten-path region in Czech Republic.
Fall is the best time to visit Vysočina. You'll find rolling hills exploding with reds, oranges, and yellows like a carpet of fire, dotted with small villages, old churches and dark blue lakes.
You can visit fall festivals and bonfires, enjoy the foggy mornings that give the medieval towns an almost mystic atmosphere.
While you can visit the region by train and bus, I highly recommend a rental car, as driving through the colorful landscape is part of the fun and gives your the flexibility to get there early in the morning to catch the fog rising from the valleys.
While beautiful during any season, I think Fall is one of the best times to visit the Czech Republic as there are fewer tourists and you'll get to enjoy the places with a little more peace and quiet.
Peak District, England
by Jenny from TraveLynn Family; Instagram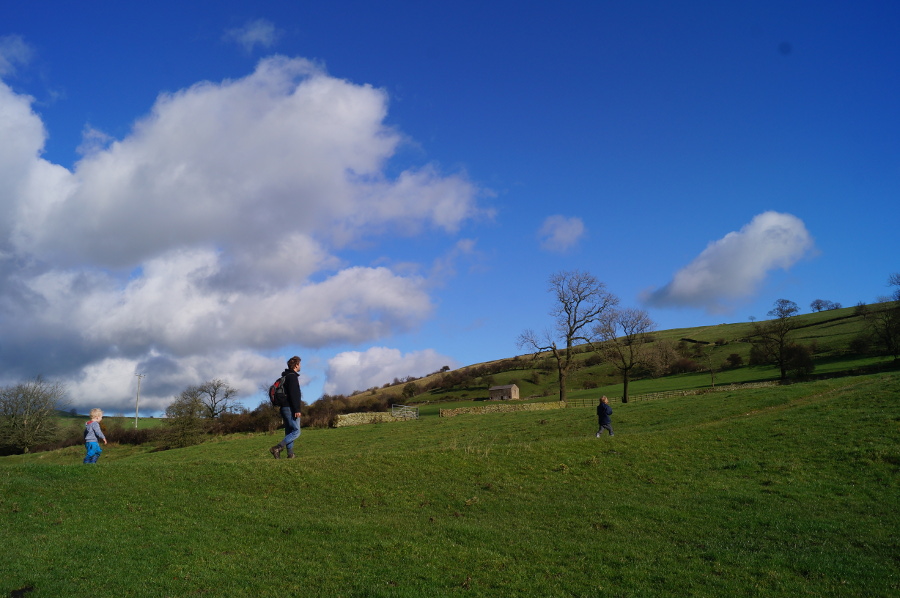 Green rolling hills, dry stone walls, quaint country cottages and old pubs serving real ale in front of a roaring fire. This is the England I love, particularly in Autumn on those crisp blue-sky days, walking along old rail tracks and trailheads with the crunch of leaves underfoot.
The Peak District, nestled between the big cities of Manchester, Sheffield and Derby, is a place I have been visiting since I was a young girl and as we love it so much, we've recently moved here.
With the kids dressed in puddle suits and wellies, we love nothing better than a family walk in the Peak District. Our favourites are the Nine Ladies Circle through Stanton Moor Peak or the walk starting next to The Robin Hood pub in Baslow, with spectacular views from Birchen Edge.
Alternatively, hire some bikes and ride the Monsal Trail or Tissington Trail. We always try to visit Blaze Farm in Wildboarclough for a free walk around the farm and a taste of the scrummy A2 ice-cream or head over to Chatsworth House to marvel the grand gardens.
However, the best thing to do after a long autumnal walk across the dales is to warm up in front of a fire at one of the many old and characterful pubs with your favourite tipple and some home cooked food.
Krakow, Poland
by Elaine and Dave from The Whole Worlkd Is A Playground; Twitter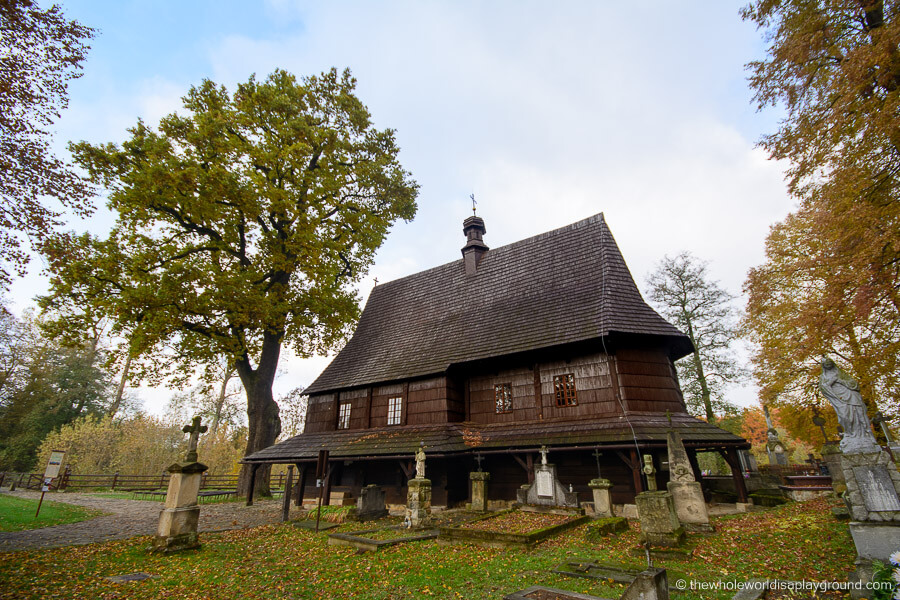 One of our favourite places to visit in Europe during the Fall is Krakow in Southern Poland. The historic city is an Eastern European gem with so much to see and do. Krakow is home to museums, restaurants, bars, beautiful architecture and a lively main square, Rynek Glowny.
Krakow is a great destination at any time of the year but the city is especially beautiful in Fall. The Old Town is encircled by Planty Park which took the place of the old city walls and trees were planted in the 4km of parkland.
The array of yellow, orange and brown leaves is in stunning contrast to the architecture of the Old Town and a beautiful backdrop to the city. Wawel Royal Castle, which once housed the reigning Kings of Poland, is perched on the top of Wawel Hill and is even more spectacular peeking through the fall foliage.
After wandering through the city on a crisp fall day the inviting Old Town is the perfect spot for some comforting Polish food and a hot chocolate at one of the bars and restaurants dotted around the main market square.
There are many day trip options from Krakow which take visitors out of the city and into its countryside. The cavernous Wieliczka Salt Mines, the heart breaking former concentration camp of Auschwitz-Birkenau and Wadowice, the birthplace of Pope John Paul II are all popular excursions from Krakow. For more Krakow inspiration, check out Elaine and Dave's guide to the best things to do in Krakow.
Luxembourg Gardens, Paris, France
by Elisa from World in Paris; Pinterest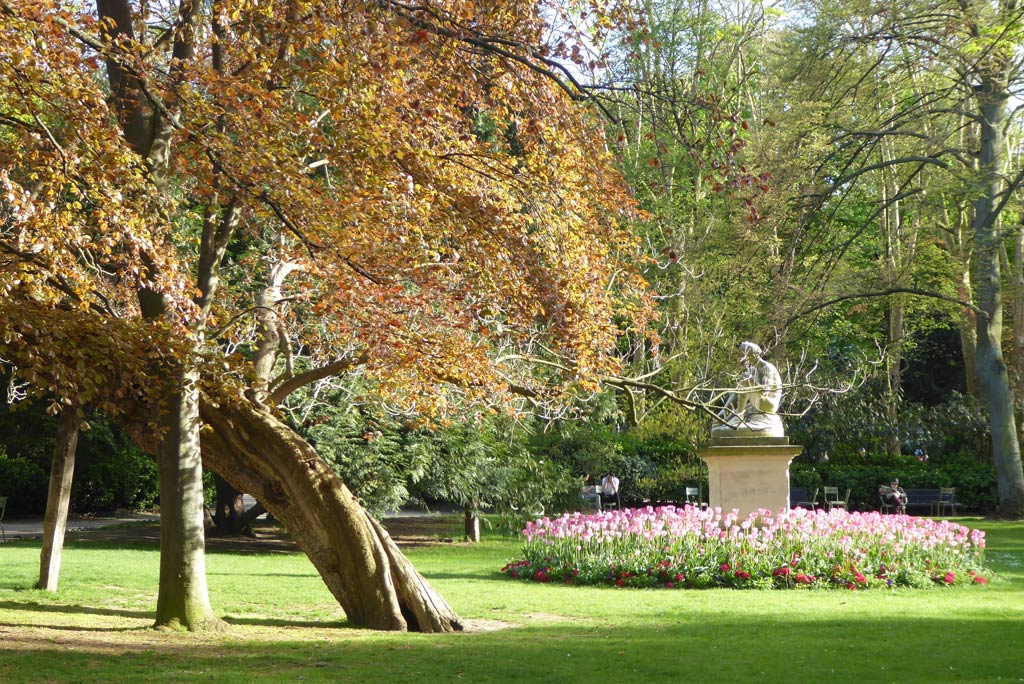 Luxembourg Gardens, located in Paris 6 between Saint Germain-des-Près and the Latin Quarter, are one of the most beautiful gardens to visit in the city. The Luxembourg Palace and Gardens were built in the 15th century for Queen Marie de Médicis.
After the death of her husband, King Henry IV, she decided to leave the Louvre Palace and the hustle and bustle of Paris for a quieter place in the countryside (at that time this area was outside Paris). The gardens are inspired in the Boboli Gardens of Florence, the city where she was born.
With 3,400 trees, some over two hundred years old, the park is a real "lung" and a heaven of peace in Paris. The Luxembourg is very popular among local residents but it is also loved by the students of the district and the tourists.
The most popular part of Luxembourg Gardens is the central pond, just in front of the palace. People like to sit around the pond to relax and sunbath and kids can sail little wooden boats on it.
However, if you want to see the fall foliage we recommend to leave the beaten path and explore the lesser known parts of the park (the English garden). Despite its attendance of up to 100.000 people a day during the high season, the park's lawns and groves still offer visitors peace and intimacy.
You can walk without any direction and just enjoy the landscape (chestnut trees, plane trees, or some more exotic species). If you are also interested in the garden's rich heritage and hidden gems, it is a good idea to explore Luxembourg Gardens with a Treasure Hunt.
Best time to go: for a quiet visit, prioritize early in the morning (open from 7.30 am), when the park is populated mainly by joggers.
Switzerland
by Shannon Colman from SoleSeeking; Instagram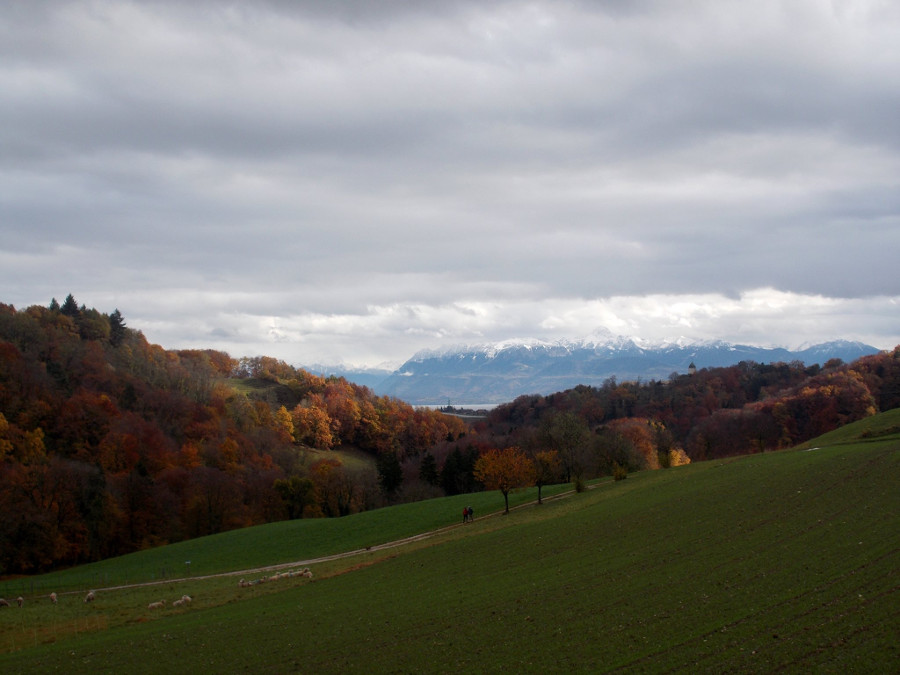 Most tourists flock to Switzerland in the winter season to take advantage of its enviable opportunities for skiing. However, the autumn months shouldn't be overlooked when considering a visit to this beautiful country.
Within the charming municipality of Aubonne, located approximately 45 kilometres from Geneva, vineyards shimmer with bronzed leaves on a sunny day during fall season. Just outside of town, the Aubonne Valley National Arboretum boasts around 4000 species of tree gathered for the purpose of research and conservation.
During my visit in mid-November, I was amazed by how much colour remained on show. Swathes of red, orange, gold, and purple rippled through a cluster of trees nestled at the bottom of sloping hills on which sheep grazed peacefully.
The vivid colours of the leaves contrasted sharply with the brooding clouds sitting above Lake Geneva and the snow-covered tops of the French Alps. A slight gap in the clouds allowed a stream of sunlight to burst through and illuminate some of the stunning colours even more.
Open between 10am and 6pm every day, the Arboretum is best accessed by car, for which free parking is available. This year is a great time to visit as 2018 marks its 50th anniversary, with special events running throughout the year in commemoration.
If you've planned a trip to Geneva this autumn, be sure to visit Aubonne and witness the gorgeous fall foliage.
Read here the complete Zurich travel guide and here are 30 unique things to do in Zurich.
The woodland conservation area of Burnham Beeches in Buckinghamshire, England
by Jonathan from Journey Maxx; Instagram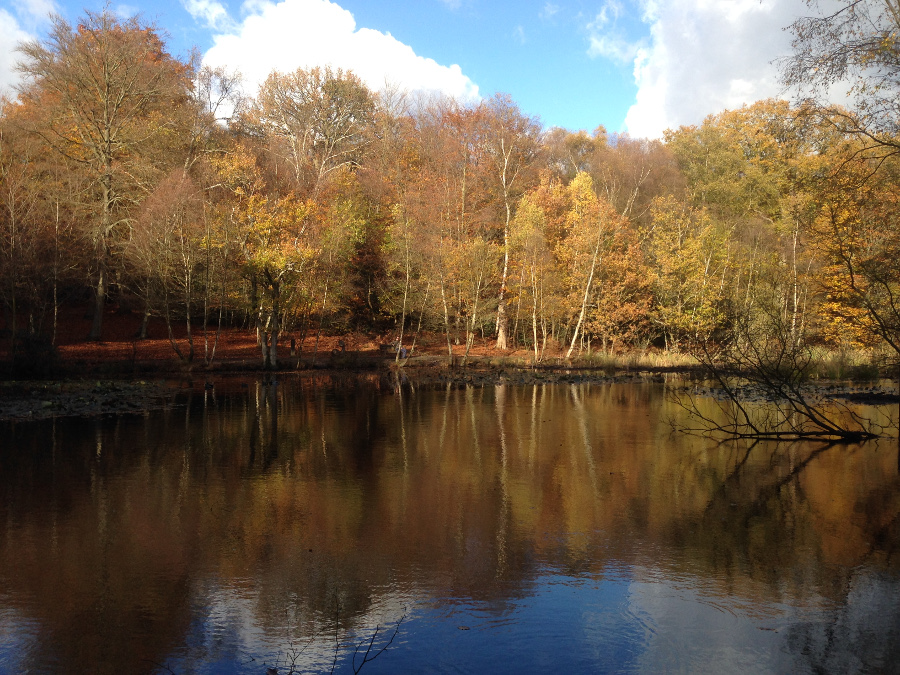 Some 15 miles northwest of London in a prosperous corner of middle England between Windsor and Beaconsfield is where you find your very own enchanted woodland. Burnham Beeches, a nature reserve and Area of Specific Scientific Interest managed by the City of London corporation has always on a personal level provided a spot of introspection.
Perfect for a day of exploration any time of year but there is no doubt October and November are the best times to visit, the golden leaves of the beach trees in their full and most glorious colours.
Rich in biodiversity and influential to conservation the forest of beech and oak pollards have also provided an ideal filming location helped in no small part to the close proximity to Pinewood Studios.
This has doubled up for Sherwood Forest in 'Robin Hood:Prince of Thieves' and the Deathly Hallows in the Harry Potter film series' final chapter as well as a vampire planet in the 1980 Doctor Who episode 'State of Decay'.
When visiting, you can really see just why this place makes for a great location as you resist the temptation to perhaps create your own fantasy adventure along the various trails and pathways. Forever feeding the imaginations of visitors of all ages!
The glowing colour on the rows of trees reflecting against the central pond (as seen in the photo) almost feels like an Impressionist painting. The zen sounds of the water stream nearby, feels almost fantasy like.
Except for the fact that it is not a fantasy but all too real, the sights and sounds providing the best stimulus for the senses. For me, no Autumn is ever complete without a day exploring the surrounding areas of Burnham Beeches and Stoke Common.
Madrid, Spain
by Sonja from Migrating Miss; Facebook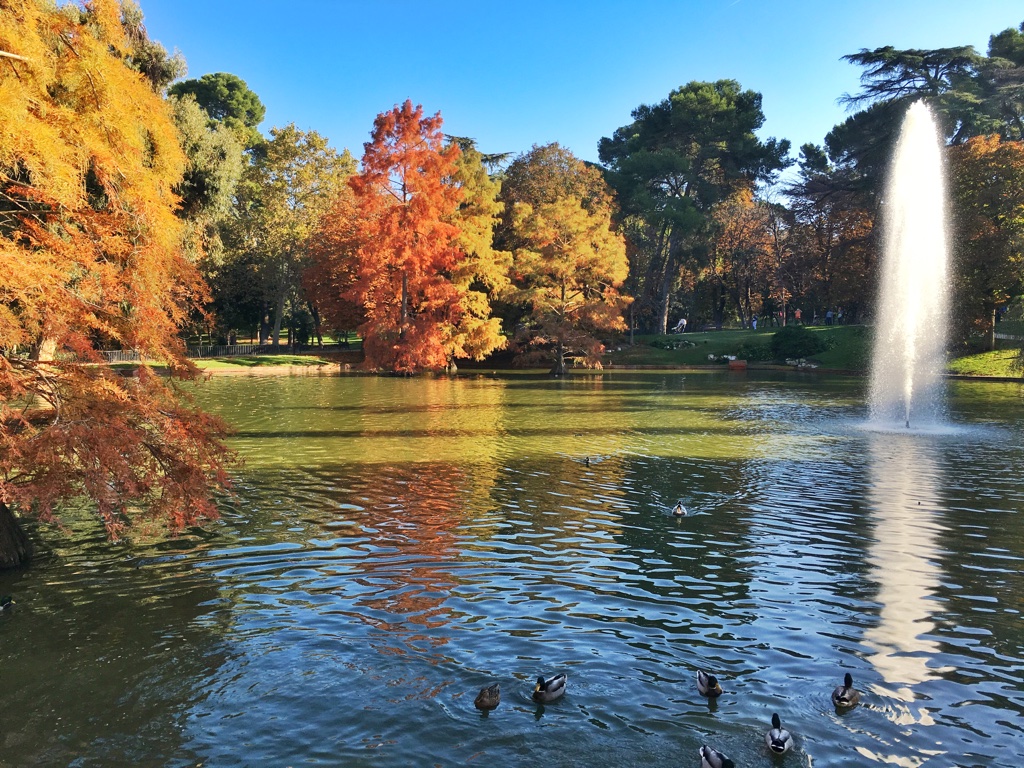 People think of Spain as a hot and dry place, but there are pockets the country that have distinct seasons, and Madrid is one of them. Many people leave during the summer because of the intense heat, but once mid-September arrives Madrid is one of the best places to be.
The weather is often sunny and bright but the temperature is a manageable 70F (21C), making it the perfect time to wander around and see the gorgeous parks with fall foliage.
Parque del Buen Retiro is a particular favourite, especially in October, when there are plenty of trees in an array of fall colours and stunning places with the Crystal Palace sparkling in the sun. Wander along the paths to the lake by the Alfonso XII monument where you can hire boats to row around.
Bordeaux, France
by Moni from Om Trips Blog; Facebook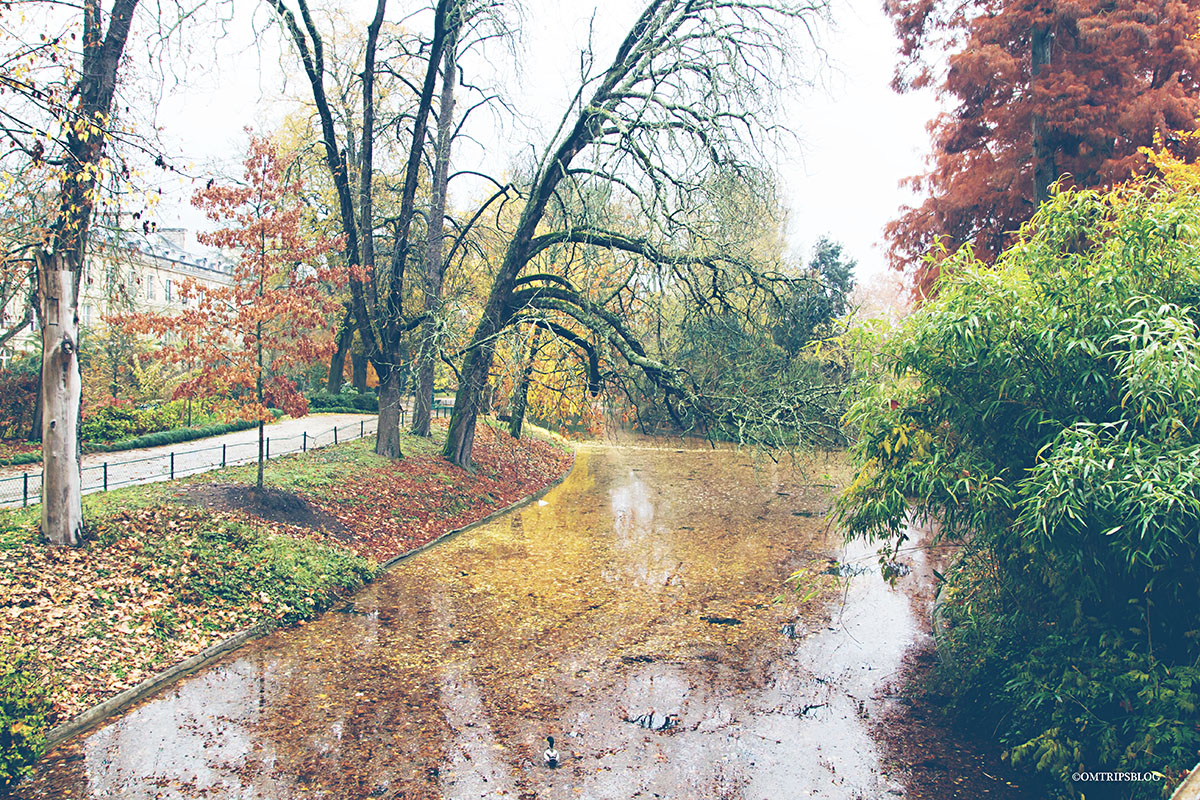 We have two favorite seasons to travel around the world. First, in the early spring when everything is still green and fresh. And second, in autumn, when nature surprises us with its explosion of colors, rainy days, and magical landscapes.
One of the best fall sceneries we've been experienced was while we travel to Bordeaux, France.
We traveled to Bordeaux in November to see a friend of ours and to enjoy this part of France for a week. If you are in Europe check the flights from Brussels to Bordeaux, they are super cheap.
Bordeaux is known for many things – Place des Quinconces, the largest square in France; Grand Théâtre, a large neoclassical theater built in the 18th century; Pont de pierre; La Grosse Cloche, etc.
You can skip the endless vineyards in and out of the city and enjoy the autumn beauty all around Bordeaux. Find pleasure of observing the autumn foliage in the City Garden (Le Jardin Public) where the trees are playing a colorful game, in the company of a little mist and humidity from the nearby water, or visit the Botanic Garden where all the plants prepare themselves for the winter season.
Val Gardena, Italy
by Clemens from Travellers Archive; Facebook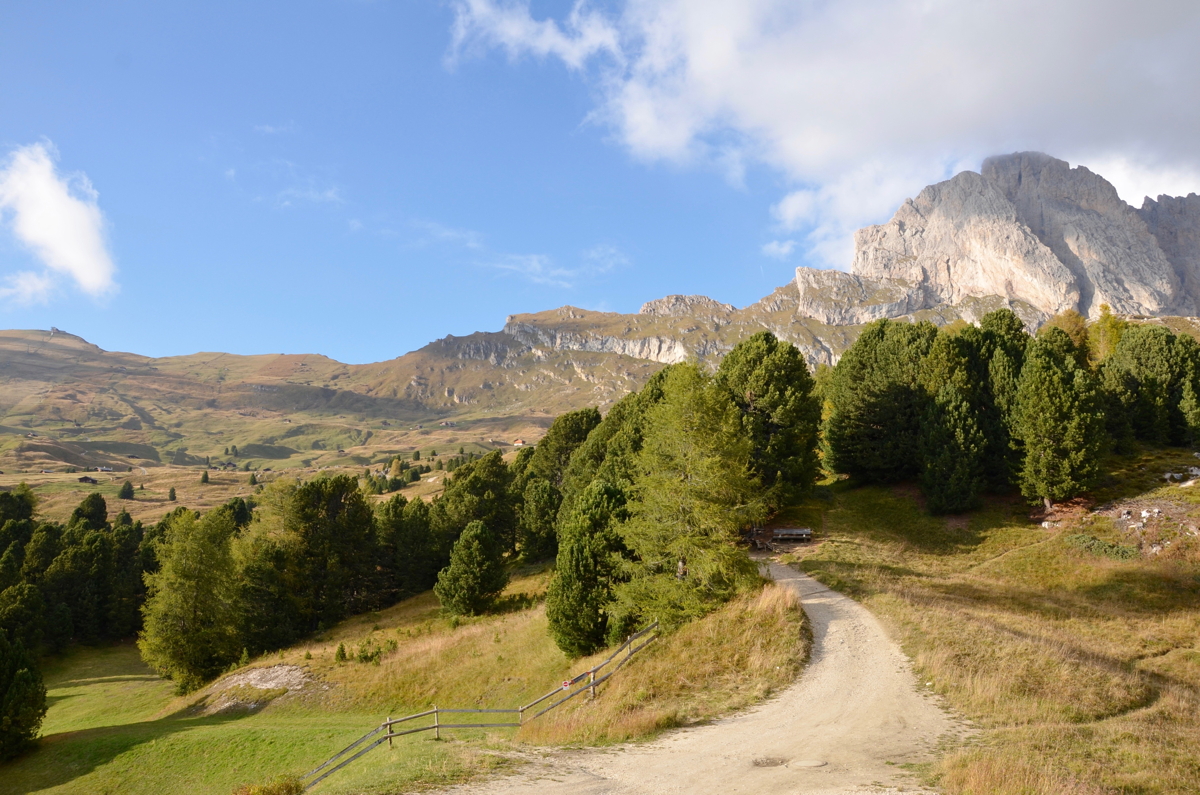 An amazing place to see fall foliage in in Europe in the Val Gardena and specifically the St. Ulrich area in Northern Italy. This small fairy-tale town is also called Ortisei in Italian and lies in the Dolomites in South Tyrol in a truly idyllic valley and that is famous for its lovely pedestrian area with little boutique shops and cafés.
Come here in fall for the perfect place to enjoy the colours of this season. Go on a day hike around the area of Raschötz, Seceda or Mont Seuc that is also called Alpe di Siusi.
Val Gardena is a true paradise for hikers, as well as for mountain bikers and other nature lovers. But the best thing about fall is that the summer tourists will be gone by then. You will find much lesser tourists at this time of the year.
To get to the hiking areas of Val Gardena, simply take one of the comfortable direct cable cars and lift connections. And if the weather gets bad, stop by the local heritage museum called "Museum Gherdëina" for some culture program or at one of the cute cafés and restaurants in the towns for a small bite.
Saint Petersburg, Russia
by Campbell & Alya from Stingy Nomads; Instagram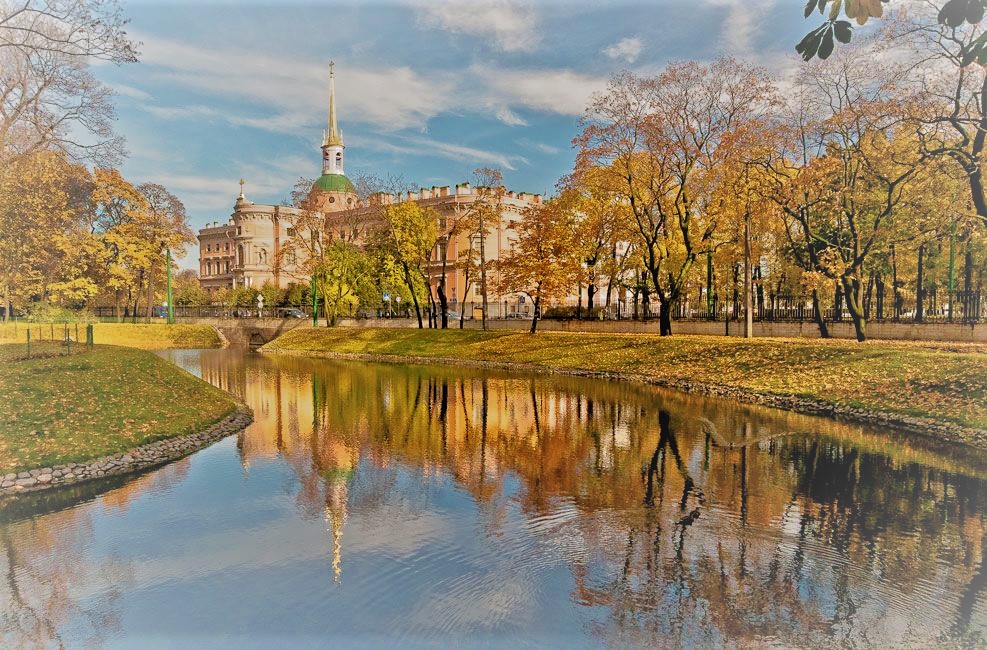 Saint Petersburg with its gardens and beautiful royal parks is absolutely stunning in fall especially during the foliage season, the favorite period of many poets, writers and artists.
The golden cuplus of cathedrals and beautiful Rococo palaces surrounded by golden, amber and scarlet colored trees make an incredible contrast with the blue skies.
The best time for watching the foliage is the second part of September, so called Babie Leto (Indian Summer in US and Canada) – when summer weather comes back to the city for a week or two. This period is great time for visiting St.Petersburg – the weather is nice – warm and sunny; the city is less busy with fewer tourists compare to the summer months and there are many events happening throughout the city; exhibitions, concerts and festivals.
To see the foliage in all its beauty it's better to go to one of the city gardens e.g. Summer Garden or Mikhailovsky Garden or, even better, to visit one of the royal parks – Peterhof, Tsarskoye Selo, Pavlovsk etc.
If you visit Peterhof before the last week of September you'll get a chance to see its famous fountains and cascades surrounded by trees with spectacular autumn colors. On the last week of September the fountains are switch off till the next season but you still can visit the park.
The main tip for visiting the royal parks is not to go there on weekends when thousands of locals go there for a traditional foliage photo session.
Hallstatt, Austria
by Marie from Our City Travels; Facebook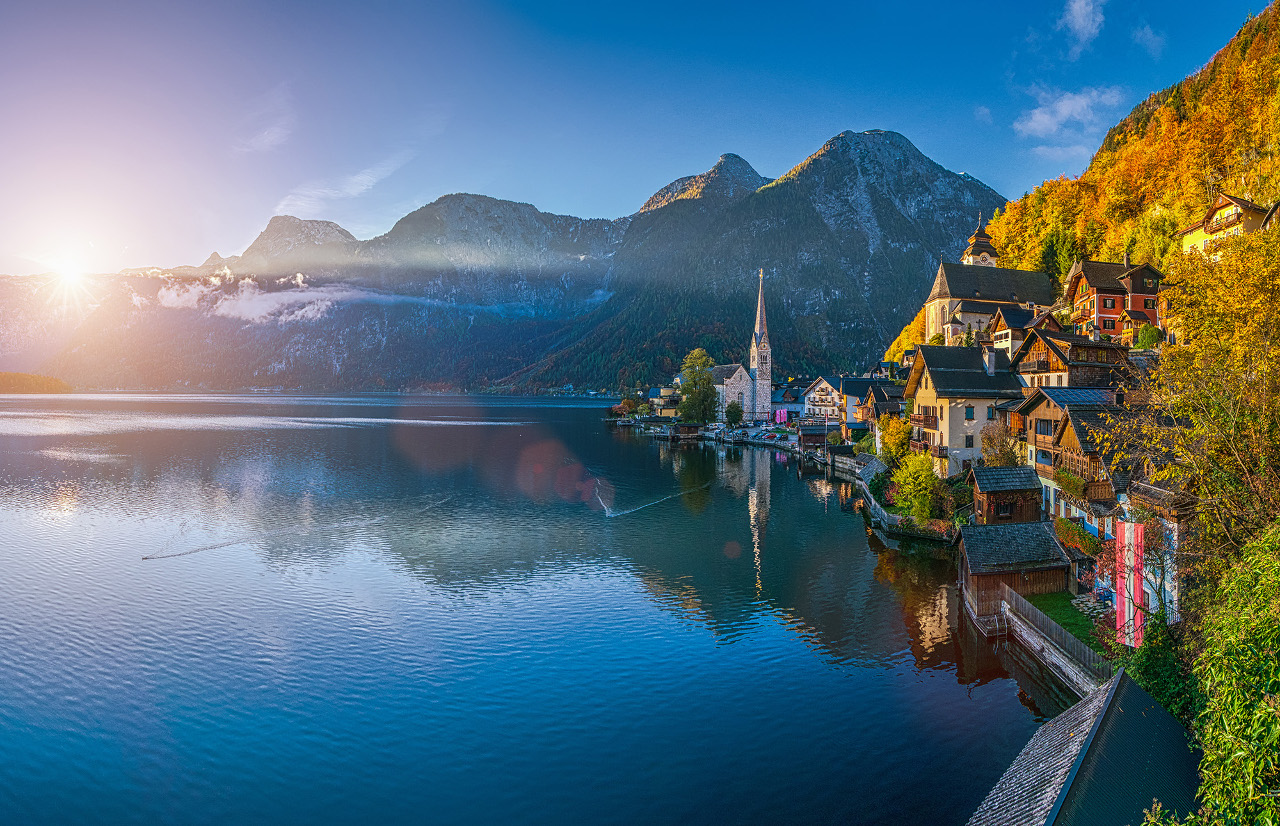 Hallstatt is one of Austria's many beautiful towns, no matter the season. But in autumn, the picturesque scene turns into an amazing live canvas painting.
It can get a little less crowded, with few restaurants to enjoy traditional Austrian dishes, but the views and mood are worth a visit.
The most photographed area of Hallstatt has become a cliché, many photographers won competitions with their perfect composition of its shore landscape during the blue hour, but it is much more beautiful to see with your own eyes.
One thing unique about Hallstatt is the way you can go there, the train station is across the lake, so you have to take the boat to cross through the banks. It is a marvelous experience to see the whole of the area from that point of view. You'll then understand why this is one of the best autumn destinations in Europe.
Blue lake, sun reflection, golden leaves, a settlement by the bay, an old city that has been preserved beautifully, thus earning a World Heritage Site status.
Visiting Hallstatt means a lot of walking around in this peaceful alpine landscape but it's also a must to include seeing the deep mountain ice caves in the nearby village of Dachstein.
While small, Hallstatt can be explored in a short period of time, but be sure to experience the sunrise, the sunset, the fog, and enjoy a walk along the shore every time you can.
Berlin, Germany
by Shweta from Zest in a Tote; Instagram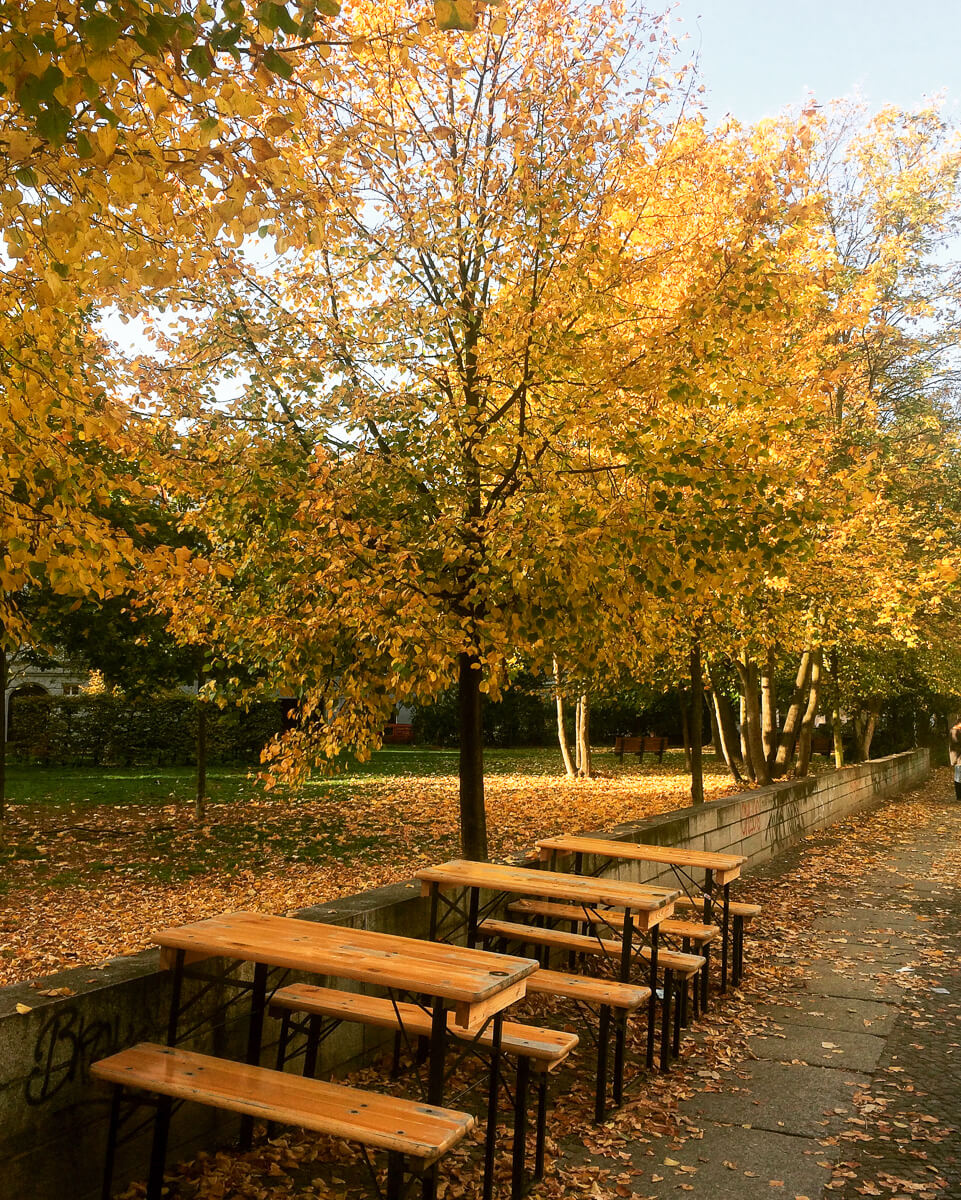 Berlin is a fun city to visit anytime during the year. But my 4-day family trip to Berlin last fall turned out to be fantastic. Sunny days and cool evenings (you only need a light jacket and closed shoes on you), but not too cold.
Orange, yellow, red and gold leaves everywhere – be in large areas like Tiergarten or smaller parks in various neighbourhoods. And the best part if you are into culture and history like I am, no queues anywhere to see the attractions, be in to visit the Reichstag or the various museums at Museuminsel.
The cool sunny afternoons made sure we spend time with a self-guided walking tour across the main attractions – Brandenburg gate, Checkpoint Charlie, Jewish Memorial – across the city. And I spent the better half of a day at Berlin Zoo with my daughter where the lack of crazy crowds (again!) and the autumn foliage made it very pleasant besides a collection of 15,000 animals representing more than 1400 species including some rare ones.
The numerous parks make the city break in Berlin with kids a delight! My daughter loved running around in the various parks around Museuminsel, and the neighbourhood park near the hotel while I indulged in artisanal coffee at the many cool cafes scattered around the city.
Copenhagen, Denmark
by Erin from Oregon Girl Around the World; Instagram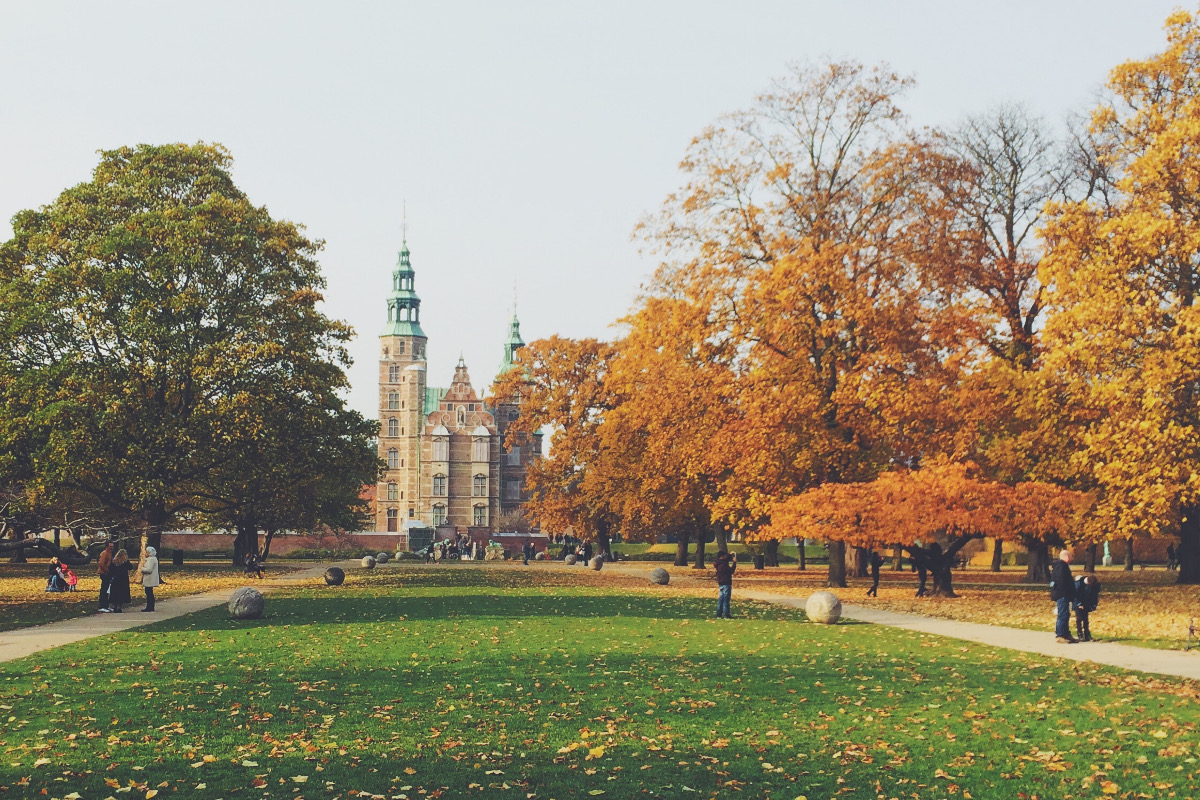 Fall is fantastisk in Copenhagen. That's Danish for fantastic. All over town deciduous trees dominate the landscape and start turning colors to coordinate perfectly with the classic Scandinavian architecture painted in rusty reds and oranges and ochres.
The capital of Denmark is built for autumn. The long Nordic summer days slip into my favorite time of year even as the light gets less and the air turns cool. Pull on a sweater.
Bring layers and something to stave off the very real potential of rain. Fall can be crisp like a tart Danish apple, famous from the island of Fejø, ripe and ready. But autumn can also be sunny and bright. So come, soak it up and discover why Copenhagen is one of the best autumn getaways in Europe.
Beyond the beautiful fall foliage, Copenhagen in autumn offers culture and good family fun. Come for Kulturnatten, or Culture Night, always held on the Friday of week 41 in October.
On one night, more than 250 of the city's museums, churches, theaters, libraries, ministries, parks and more open their doors with events celebrating Copenhagen's rich cultural offerings. It is a unique way to see inside some of the beautiful architecture and experience Denmark like a local.
Fall also brings Halloween and while the Danes didn't really celebrate until the last decade, they have made it decidedly fun for us all.
Autumn is a perfect time to step inside Tivoli Gardens Amusement Park offering up a spooky, festive Halloween feeling. Carve pumpkins, ride the rides, navigate the hay bale maze and more. Chock full of lighted jack-o-lanterns, Tivoli glows orange and charming at this time of year.
And if the weather isn't wonderful, you can duck into one of Copenhagen's cozy cafés and experience some of the Danish hygge. That untranslatable idea of connection and warmth and contentment that helps keep the Danes happy. Cake helps. And Danes make good cake. Try some. You'll see. Come to Copenhagen she said. Fall is a fabulous time to find out.
Montanhas Magicas, Portugal
by Inma from A World to Travel; Instagram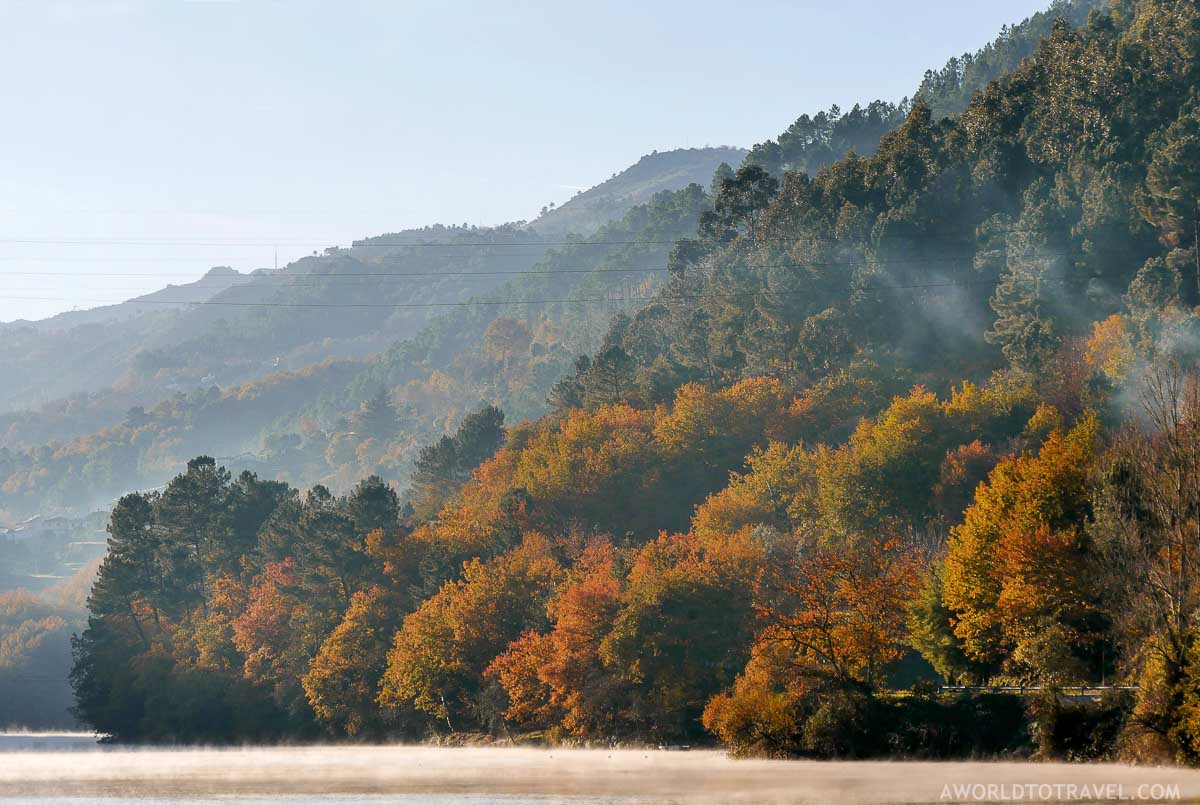 Being based right on top of Portugal, I have visited this amazing country over 50 times in my life. Surely, I never get tired of the most iconic spots within the country like Lisbon, and its famous Castelo de Sao Jorge (Lisbon Castle) or Belem, among others, Porto, the Algarve and even the Azores and Madeira islands.
However, one of the most remarkable getaways I was lucky to enjoy to date was the particularly unknown region of Montanhas Magicas (Magic Mountains).
In between the Porto-Norte and Centro regions, this mountain range has lots to explore and becomes stunning in Fall, when the Autumn colors start popping up everywhere, the tourists are gone and the weather is still warm and not too wet. Take for instance Porto Antigo, in Cinfaes (pictured here at sunrise). Isn't it beautiful?
But there is lots more to enjoy: acquainted villages, waterfalls, geoparks, archaeological sites on top of the renowned Portuguese gastronomy, delicious wines, ancient traditions, and the warmth Portuguese people are known for await you in this region just one hour drive from Porto.
Check everything Montanhas Magicas offers to its visitors, pack some hiking clothes and shoes; get ready to get lost in one of its renowned hiking paths such as the Water and Stone route or the Paiva Walkways, and explore this Portuguese beauty next Fall.
Tuscany's Etruscan Coast, Italy
by Michelle from International Travelers; Instagram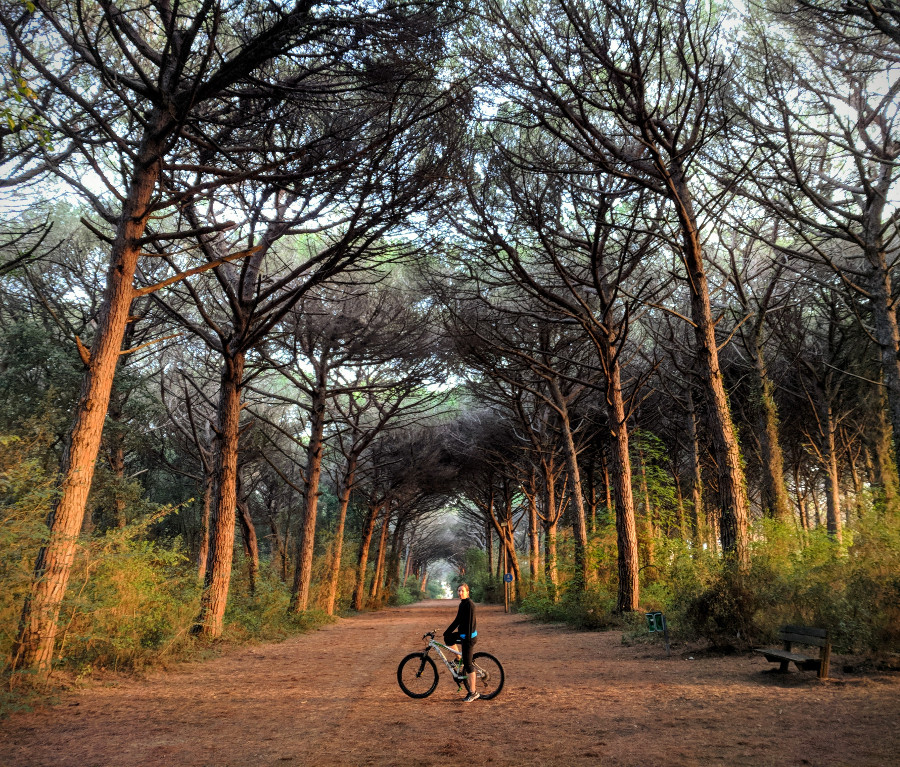 Tuscany's Etruscan Coast runs along the western side of Italy, between Livorno and Piombino. The area has the beautiful rolling hills, olive groves, world class vineyards, and charming villages that you likely associate with Tuscany. But on top of all that, it also boasts sunny, sandy beaches, like the ones at Castagneto Marittimo.
Northern Europeans flock here for the summer sun, and bicycle tours cycle through on a regular basis, but the area remains surprisingly uncrowded, especially in the Spring and Fall.
From hillside to coastline, there are plenty of beautiful rural roads that are ideal for cyclists. One of our favorites follows an ancient pedestrian "highway" paralleling the coast through old wooded forest.
Whether you prefer easy bike rides to the beach or epic multi-day loops, walking to the village gelato shop or tasting wines and olive oils, there's something for every one in this beautiful Italian countryside.
Black Forest, Germany
by Cate Brubaker from International Desserts Blog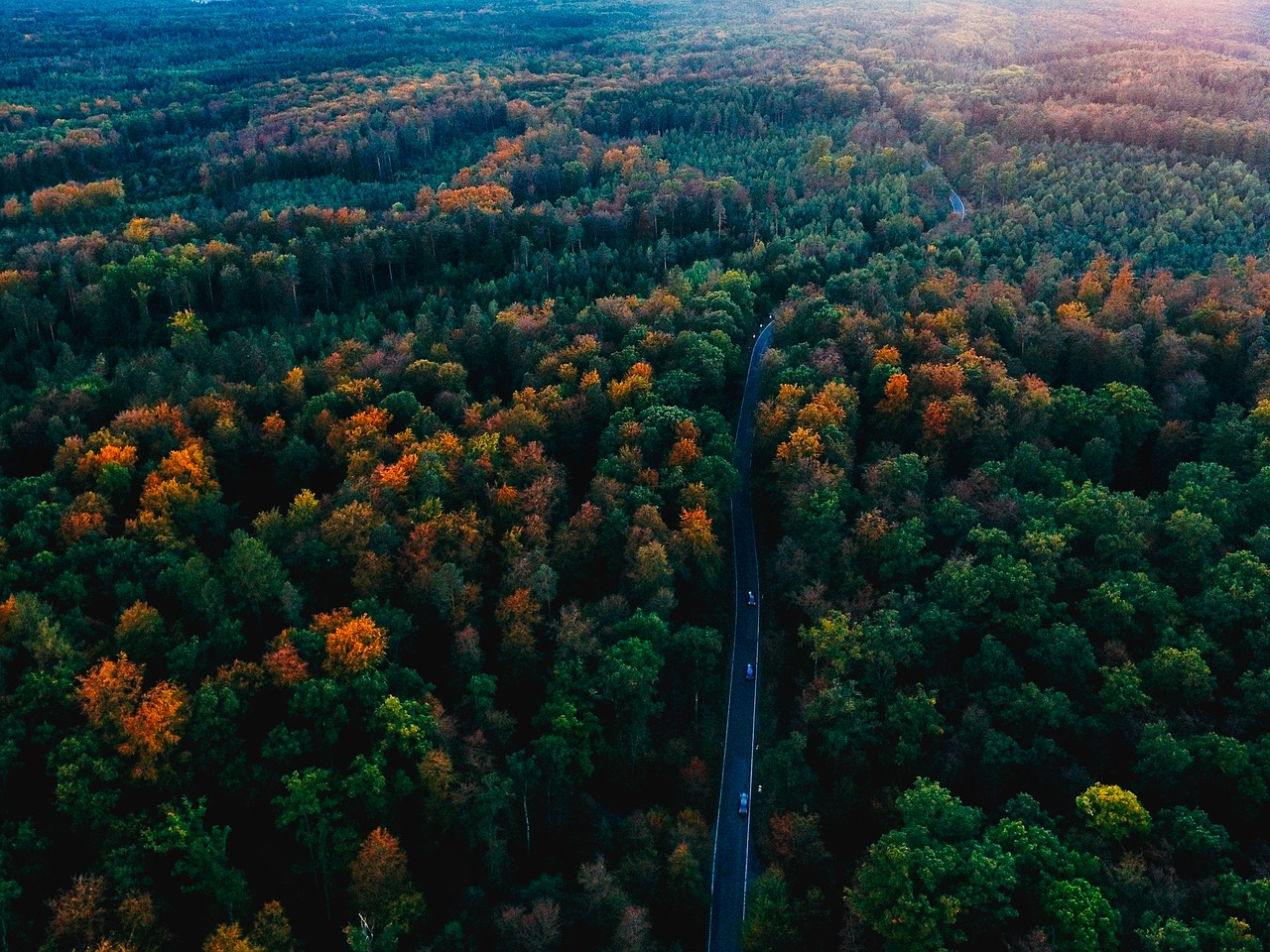 (image via Pixabay)
If you're looking for gorgeous fall foliage in Europe, go to Germany's Black Forest! While beautiful anytime of year, the fall is especially breathtaking. I have so many memories of just staring out the window whenever I'd take the milk train from Stuttgart to Freiburg because the scenery was just so beautiful!
The Black Forest (or Schwarzwald in German) is in southwestern Germany in the state of Baden-Württemberg. It offers 160 km of woods, mountains, and rolling hills. You can see the fall foliage by car, train, bike or foot.
Things to do in the Black Forest? If you're into nature, hike to a waterfall (Triberg Falls is popular), walk around the scenic Titisee lake, or hike up to the top of the Schauinsland or Feldberg mountains.
You can also visit the Black Forest Open Air Museum in Gutach, the German Clock Museum in Furtwangen or half-timbered houses in the cute village of Calw. If you're partial to big cities, head to Stuttgart.
If cobblestoned university towns are more your thing, head down south to Freiburg (the sunniest city in Germany). If a spa day sounds enticing, go to Baden Baden.
You can easily see the beautiful Black Forest while traveling to each of these towns or make one your base and then take day trips to see all that the Black Forest has to offer. No matter where you go or what you do, be sure to try a slice of the famous Black Forest Cake!
Apuseni Mountains, Romania (and Bucharest)
I love the Apuseni Mountains area in Romania. It's one of the most beautiful places to visit in Romania and, as we are talking about mountains, you can imagine that there are numerous places to admire the fall foliage here.
In fact, I'd say that all the mountain areas in Romania are perfect for an autumn trip. We've spend our honeymoon in Vatra Dornei (and admired the fall foliage at Rodnei mountains and in Maramures).
Another place to see splendid fall colors in Romania is Bucharest, the country's capital. My favorite is Herastrau Park (now called King Michael Ist park…). Many walking areas, the possibility of a boat trip on the lake, several playgrounds for children of different ages, and numerous autumn foliage trees!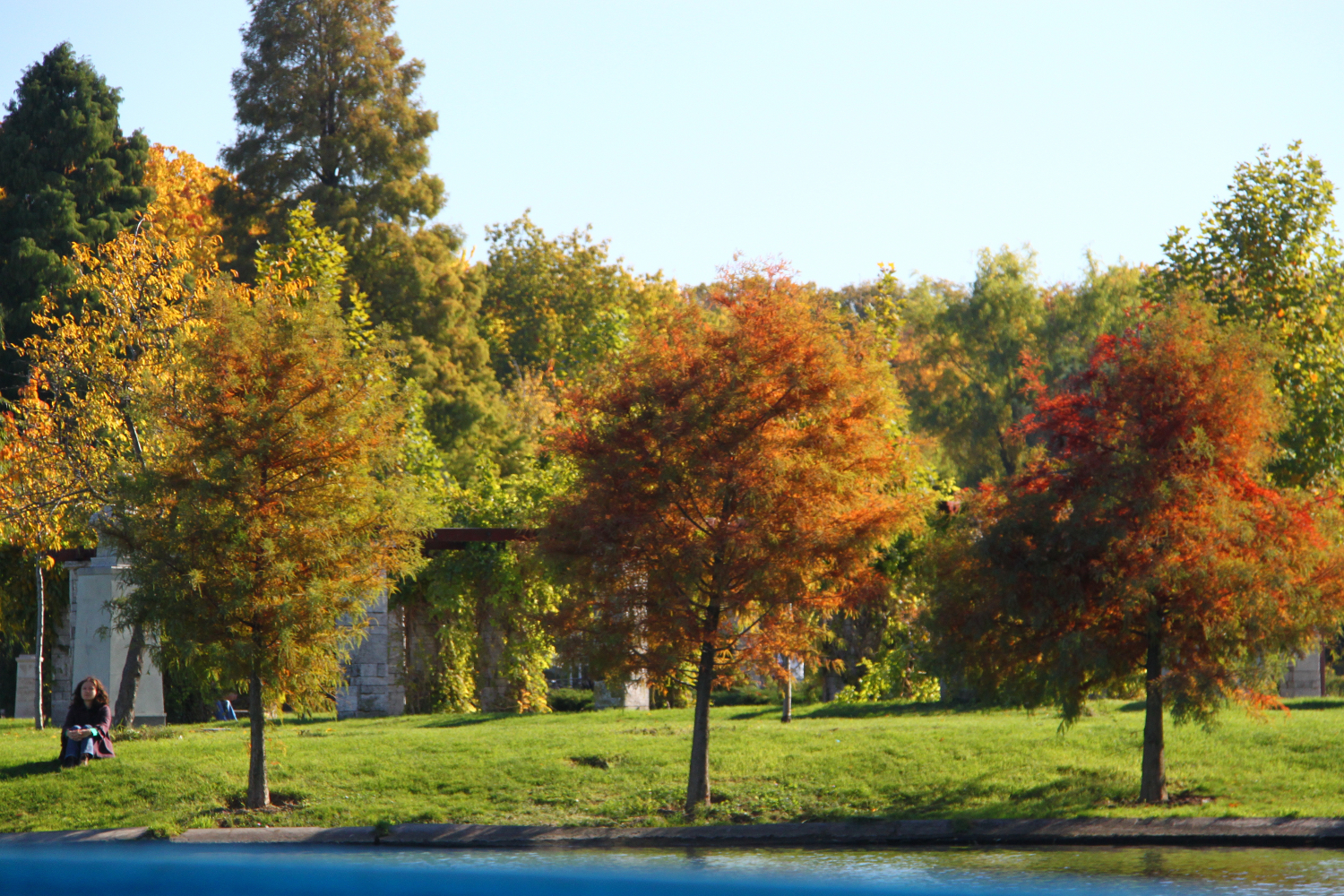 Conclusion
As you can see, these are the best holiday destinations in October in Europe. You can admire trees with yellow autumn leaves, trees with red leaves everywhere. When planning your next trip in Europe in autumn make sure to include (at least) one of these best cities to visit in Europe in autumn and best countries to visit in Europe in autumn on your itinerary. You'll love the fall foliage in Europe!