Some places from this Earth have an interesting and rich history. Many are famous for various reasons – history, places where movies were filmed, etc. The Alnwick Castle  (located in Alnwick, in the English county of Northumberland) has all this and something extra: a Poison Garden.
The Duchess of Northumberland wanted to transform part of the impressive domain in an attraction place for the children and, as we all know, kids are lured by somewhat dangerous things, including death. So, the Duchess of Northumberland though of a "poison garden" that now contains different species of plants – toxic, flesh-eating, hallucinogenic or even deadly ones. However, some are very well-known for their healing properties.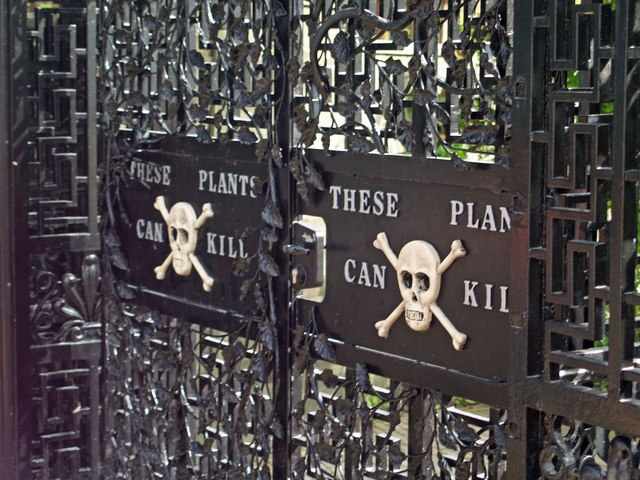 © Copyright Steve Fareham and licensed for reuse under this Creative Commons Licence Photo source
Visitors can, of course, go there only accompanied by a guide and, under no circumstances, are they allowed to smell, touch or taste the plants. The gates of the garden are adorned with skulls, thus reminding everyone of the danger that lies there.
An interesting, dangerous, different attraction that can start even online. The official site is also interesting as it asks you if you are ready to enter The Poison Garden or you want out of there. Here you will also find a statement from The Duchess of Northumberland regarding this garden: 'I wondered why so many gardens around the world focused on the healing power of plants rather than their ability to kill… I felt that most children I knew would be more interested in hearing how a plant killed, how long it would take you to die if you ate it and how gruesome and painful the death might be.'
The prices for visiting the garden are £13.05 for an adult, if you buy them at the gate, and £4.18 for a child (5-16 years), and you can also purchase tickets for visiting the castle, valid for 12 months! – £13.05 for an adult, if you buy them at the gate.
How do you find this garden idea? Would you like to visit it?