Christmas is a wonderful holiday – and, as you may have noticed in the past years, a more and more popular holiday across the globe. I remember reading many articles and hearing from friends in Asia about the huge success the Christmas holiday had there in 2014. And, in a way, it is not a surprise as, leaving aside the religious symbolism, Christmas is a holiday involving giving and receiving gifts – and who doesn't like to receive gifts?
We asked some travel bloggers to share their special Christmas destinations: where in the world they had the best or the most interesting Christmas and, as you'll see below, the answers we got are interesting, surprising and unexpected 😉
Mark – from TurisMap: Hawaii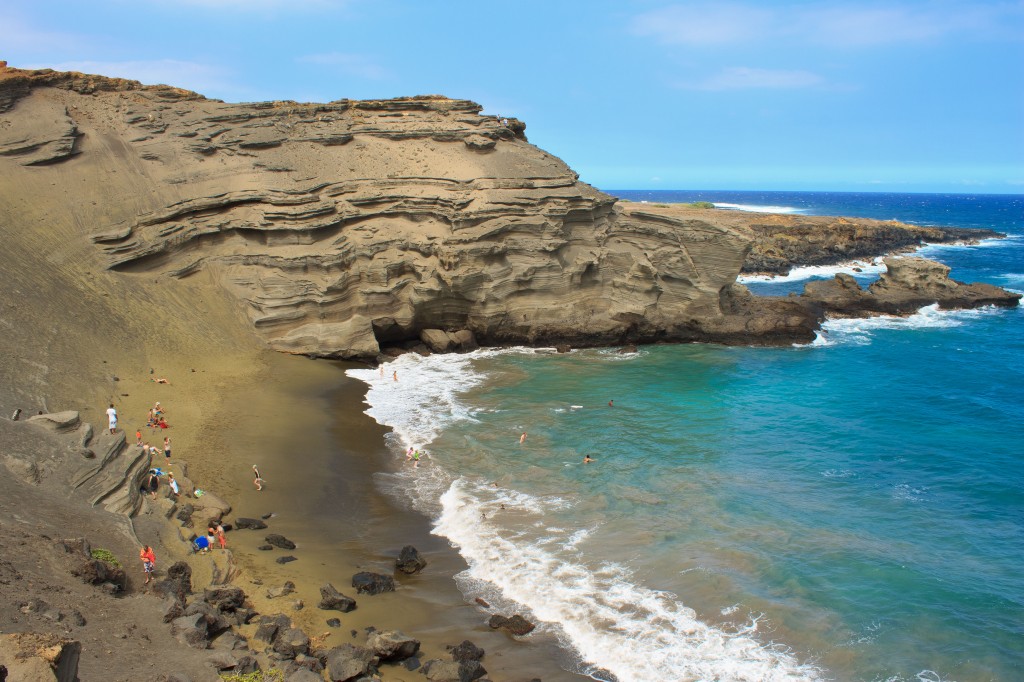 In my opinion, the best place to spend Christmas is The Big Island, Hawaii. I'm not a big fan of white Christmases- they sound great in theory but usually the snow turns to slush and it's too cold to do anything fun.
When people think of Hawaii, most people think of Honolulu or Maui, which is why The Big Island is such a great option if you're looking for a relaxed Christmas off the beaten path. Whether you're the type to stay in a hostel or a hotel, this island offers incredible hiking, swimming with dolphins, some of the best snorkeling in the world, and interesting history- this is where Captain Cook was killed after returning to the island. Best of all- you won't find it packed with tourists, even in the high season.
We had a laid-back Christmas with friends, relaxing on the beach before skyping our parents at home. I'd definitely spend another Christmas on the Big Island.
Alina Popescu from Travel Tweaks: Istanbul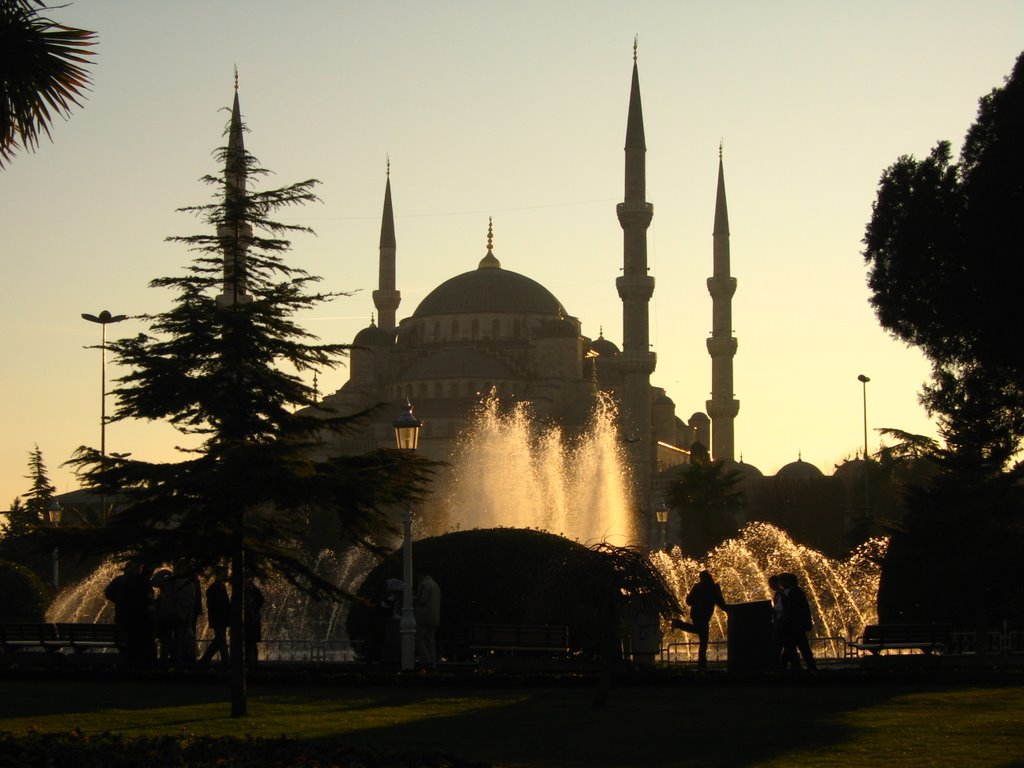 One of my all-time favorite winter holiday destinations is Istanbul, Turkey. I've been there three times so far around Christmas and New Year's Eve, and I'd do it again. The reason why I love it so much is that is cold enough to feel like winter, yet warmer than my native Romania, you get to spend the holidays on two different continents, and the food is amazing. Not to mention, a lot of the museums are open, so are the stores, and the New Year's Eve traditions, like belly dancing, are quite different from the celebrations I am used to.
To me, Istanbul is a perfect blend of the Christmas decorations I see everywhere else, history and myths to explore, beautiful crafts and colorful gift shops, and a unique cultural mix. Not to mention, who doesn't like getting gifts twice? As traditionally in Turkey you exchange presents on New Year's Eve, not Christmas, you can blend both and double your holiday surprises!
Stefan and Sebastien, Nomadic Boys: Bangkok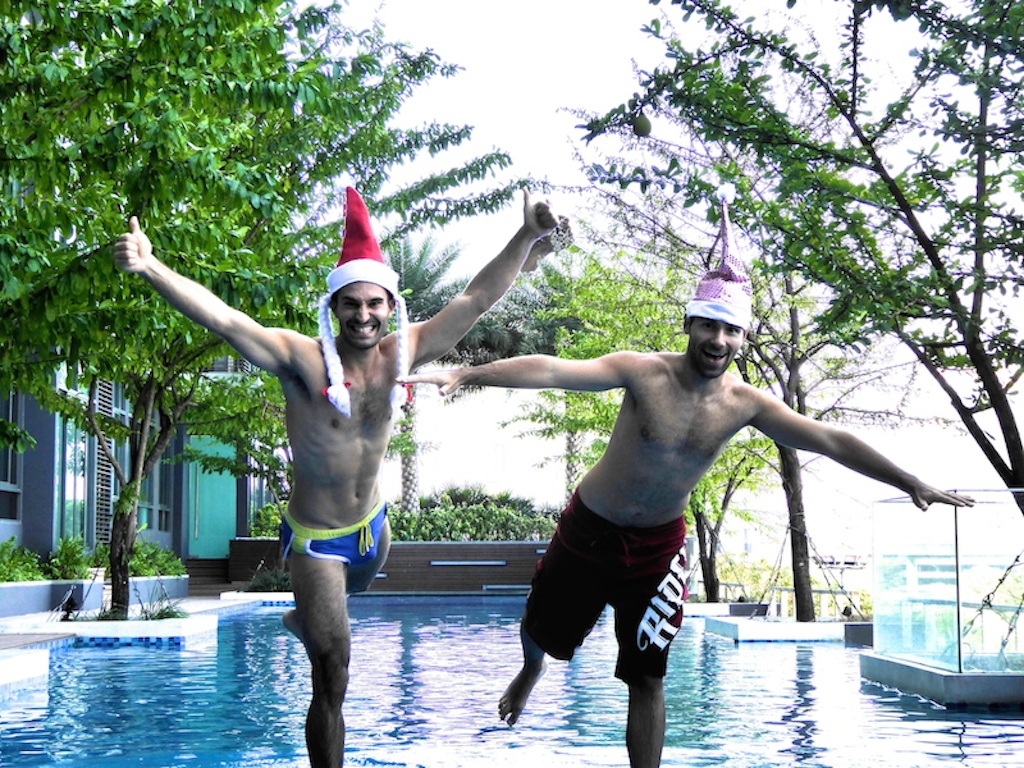 We quit our jobs and lives in London in June 2014 to eat our way around the world, starting with Asia. We travel slowly, spending large periods of time in places, particularly Bangkok!
We spent Christmas 2014 in Bangkok, where we booked a condo as a base. At first we thought there would not be much Christmas cheer here because Thailand is predominantly a Buddhist country and they don't celebrate Christian traditions; Christmas Day is in fact a normal workday there.
Despite this, we saw the Thai embracing the Christian tradition to the max. There were Christmas lights all over Silom, the Ronald MacDonald had a Christmas tree next to him to keep him company and we saw many groups of cute young Thai children singing Christmas carols.
We were far from our families back home in Europe, but this warm Thai atmosphere made up for it. And really it was warm! We were used to cold Christmas Days in Europe, but in the tropics it was speedo time!
Merry Christmas from the Nomadic Boys
Kaley Portier, Communication is Difficult: Japan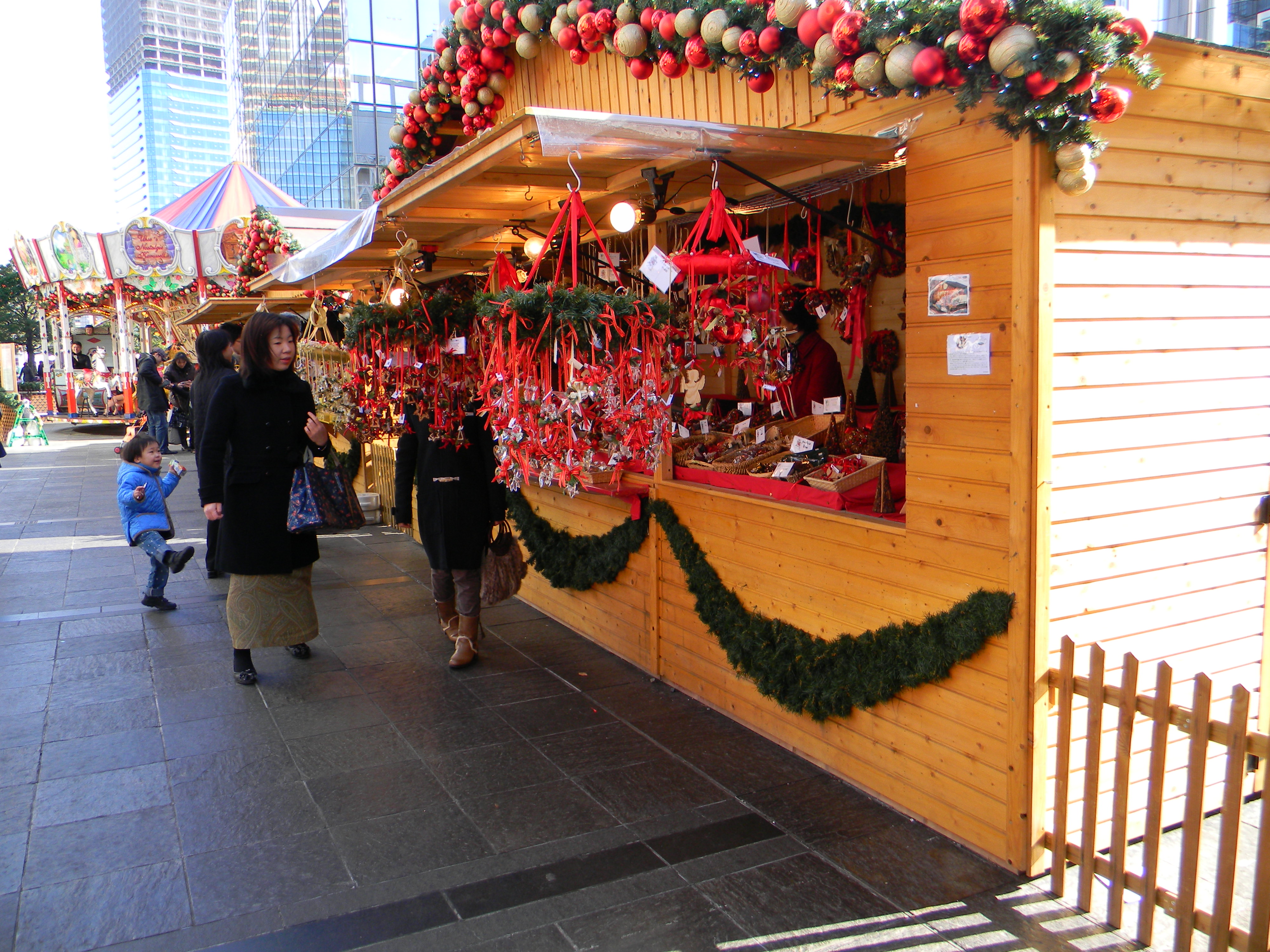 The only Christmases I have spent overseas have been in Japan, and I spent three of them there. If you're looking for a very weird Christmas, Japan is a good place to go. I'd like to start off with a bit of background about Christmas in Japan for context. Christmas has no roots in Japan, and the only image Japan gets of Christmas is what they see in movies or TV shows from Western countries where Christmas is a long-standing tradition. New Years in Japan is usually spent with family and the first visit to the shrine every year is a huge deal, so they already have an established wintertime family holiday. So Christmas in Japan is very romantic, it's for lovers and couples and Christmas eve is usually a huge date night.
Also, they eat KFC for Christmas dinner. And they think this is what people in America do. Yes, you read that right. KFC fried chicken. For Christmas dinner. Decades ago KFC had an ad campaign of, "Kentucky for Christmas!" that started when foreigners in the 70s couldn't find turkey in Japan, which the company later milked to the naive Japanese market that will eat up anything foreign commercially. And it has stuck.
I have spent my three Christmases in Japan very differently. The first one I spent traveling around kansai, and spent Christmas day on a train from Osaka to Nara. Christmas Eve was spent at a German Christmas Market under the Umeda building. It was a nice distraction from the fact that this was my first Christmas without family. The second Christmas I spent with friends, having dinner or drinking somewhere. It was so unremarkable that I honestly can't remember it. And the last Christmas I spent in Japan I worked, since it's not a holiday in Japan and school wasn't on winter break yet. It was the worst Christmas ever and if you're in a similar situation in Japan, take the day off!
Hope that's what you're looking for. I went into a bit of a ramble there so I can edit the bit about KFC out because it really has nothing to do with travel. haha I just think it's so weird and "Japan". I've also attached a picture the Christmas market in Osaka I mentioned!
Loredana, Earth's Attractions: Bucharest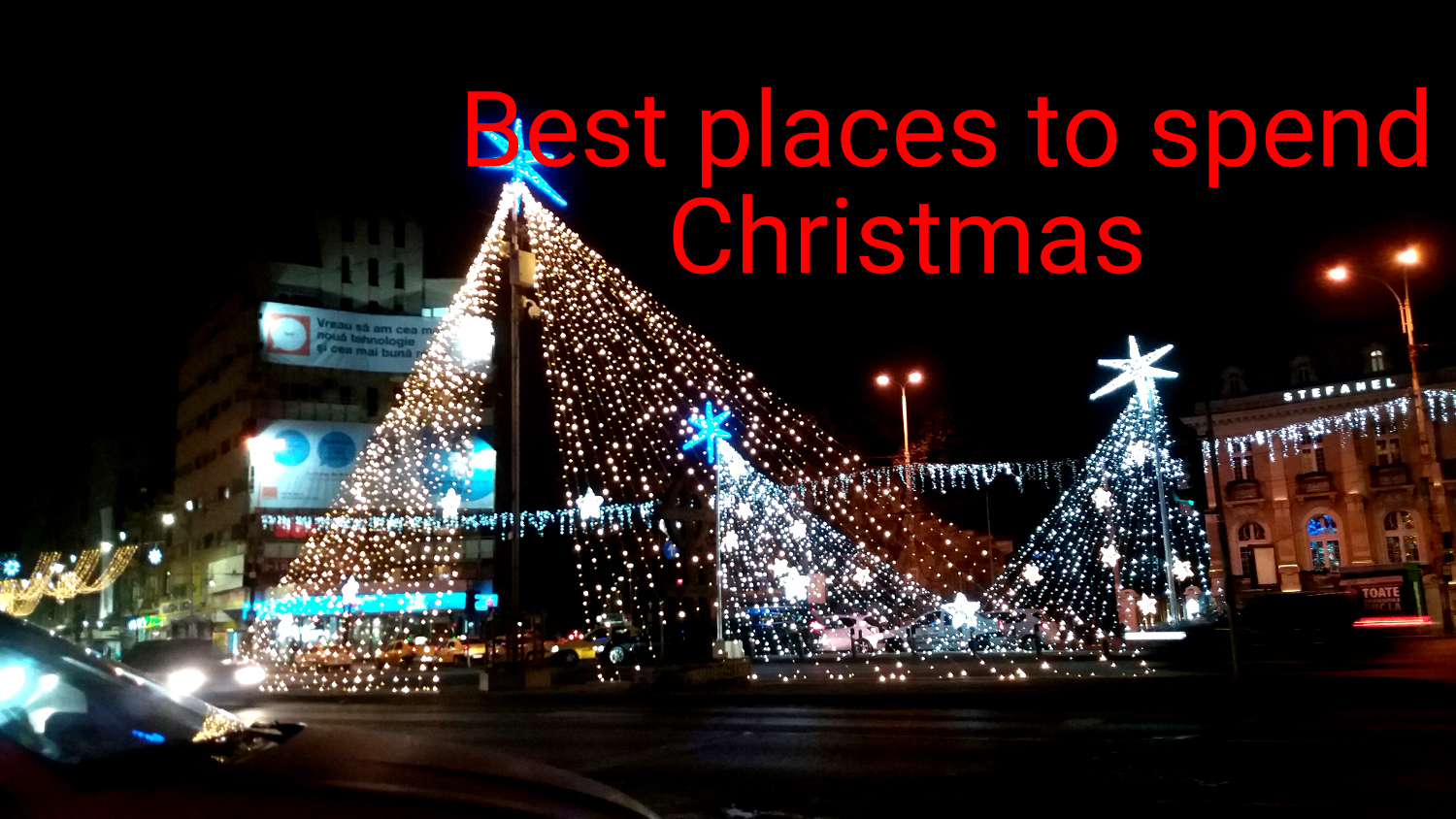 For me, Christmas has always been home, with my family. And that means, Bucharest, Romania's capital. It is often is a white Christmas – thing which I loved when I was little (now I know the difficulties snow brings with it), but it is always wonderful. There are plenty of things to do on Christmas in Bucharest – we have several Christmas markets (at Piata Universitatii and in several parks) -, there are events (at malls or various concerts at theaters or clubs), there are ice rings (in malls or outdoor, usually in Cismigiu Park), there are fairs with gift ideas for anyone.
In Bucharest you'll also be able to see the main streets decorated for Christmas – with superb installations. The parks are also decorated – so it is a true pleasure to just walk through the city, admiring each lit decoration and trees.
If you want to send us your recommendation of the best Christmas destination in the world, we will make a sequel of this post so we are waiting for your stories and a photo at violeta [.] loredana [@] gmail.com.