Zurich, one of the best places to visit in Switzerland, is known for its banks but becomes a wonderful surprise as there are numerous things to do in Zurich and great sights to admire – especially the old town Zurich and Lake Zurich. Here's your insider's guide to Zurich, Switzerland with the best things to do in Zurich, where to eat in Zurich, Zurich sightseeing including things to do near Zurich, and Zurich travel tips presented by Arzo from Arzo Travels. This guide is part of the free travel guides series on this blog. Use this comprehensive travel guide to Zurich when planning your trip to this wonderful city.
Insider's guide to Zurich: the best Zurich attractions, food, accommodation and tips
Zurich is a pretty place – laid back and still busy and I should not forget the beautiful scenery.
While most people think that Zurich is Switzerland´s capital, it actually is not.
However, it is the biggest city (close to 400,000 inhabitants) in the country and due to the location, close to the German and French border, great for country hopping.
While it is super fun to explore the city, it is also a great base for visiting other places in Switzerland – like the Rhine Falls and it is super easy to get around and visit other cities from Zurich – like Bern, Basel or Lucerne.
Also, you will find Zurich listed as one of the most expensive cities in the world – so, while I think you should still add Zurich to your bucket list, keep in mind that you cannot expect any bargains.
But if you visit Zurich on a sunny day, you will find out it is worth it – and with these top tips, you can see the best of Zurich in a nutshell. Here's my Zurich city tour for you, but before that one more important element:
Zurich weather
Zurich is in the temperate climate zone which means that there are 4 distinct seasons. In terms of temperatures, during the summer you can expect temperatures of 30 degrees Celsius and above, and in winter you can expect temperatures below 0 degrees Celsius.
Other than that, the seasons are pretty much clear – cold and snowy in winter – December to February – March being the month when we start to think of the spring. April is moody, while May is clearly spring or early summer. June is a mix – temperature of over 20 degrees Celsius, but also rain sometimes, while July brings hot days and thunderstorms.
August has the most sunny days – and from September the autumn is clearly here.
Included in this Zurich travel guide
Zurich points of interest – famous Zurich tourist attractions

Bahnhofstrasse
Lake Zurich
Old Town
Lindenhof
Uetliberg

Zurich off the beaten path – things to do near Zurich


Rapperswil
Appenzell
Schaffhausen

Where to eat in Zurich

Where to stay in Zurich

Zurich travel tips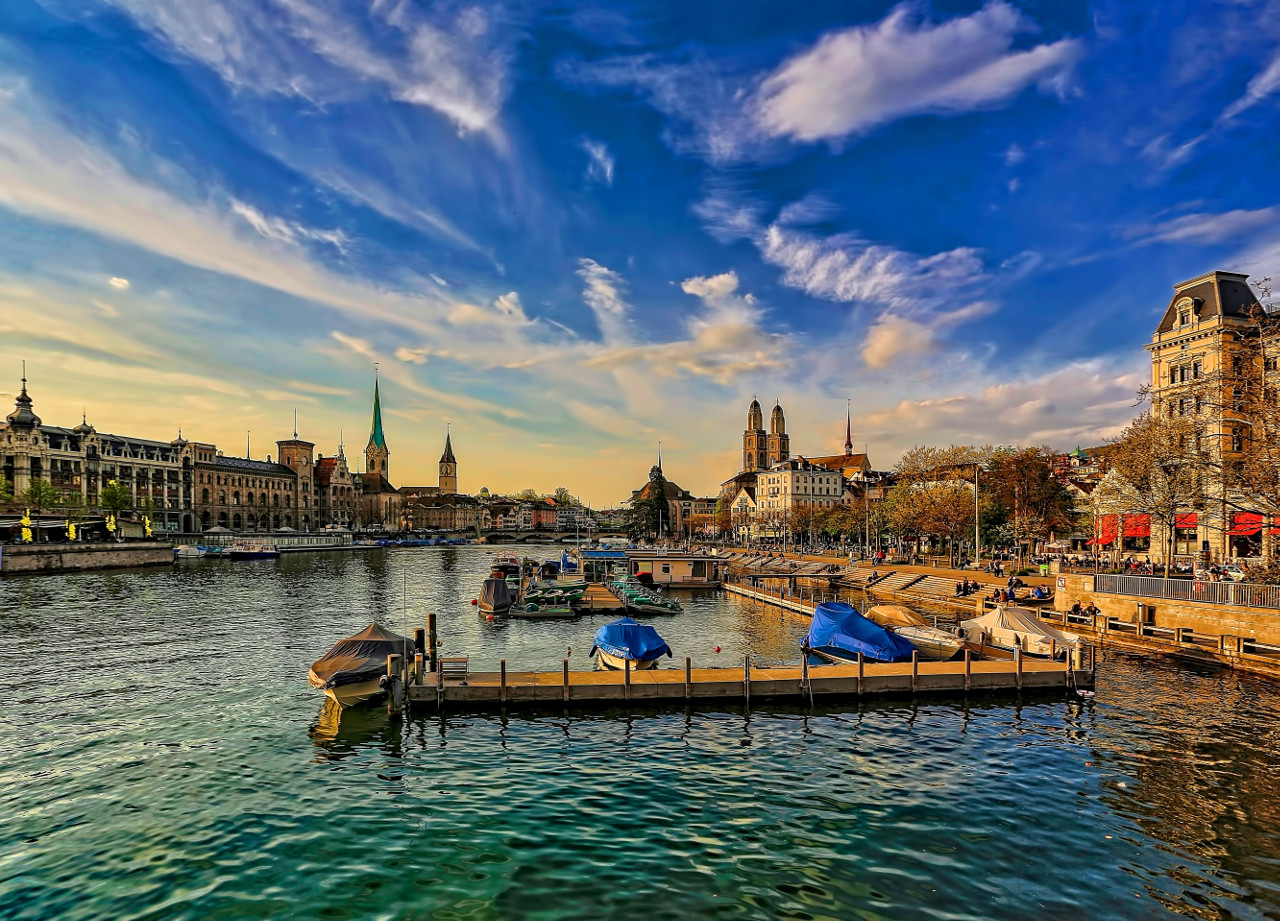 Zurich points of interest – famous Zurich tourist attractions
No trip to Zurich is complete without seeing the famous Zurich tourist attractions. Here are the best things to do in Zurich that you can include on your travel itinerary.
Bahnhofstrasse
Your Zurich trip can start with strolling the Bahnhofstrasse. The main shopping street, leading from the main train station to Lake Zurich, might not look overly fancy but is THE most expensive shopping street in the world!
Yes, forget about 5th Avenue – this is the place of the really rich ones. However, there are also all the main shopping retailers that sell clothes to more affordable places.
Die Bahnhofstrasse is a must – and because of its central location, you cannot even miss it. So start to discover Zurich with this special street.
Lake Zurich
My favorite place in Zurich is the lake area so I recommend you see it on your Zurich vacation.
Lake Zurich is beautiful – it surely is not the prettiest lake in the country (the competition is tough though as Switzerland is the country of the gorgeous lakes) but still a beauty.
Whether you swim in the lake (the water is super clean), stroll along the lake, do some water sports, or do a boat tour – there are many activities in and around Lake Zurich.
On a warm day, this is also the best place to end your day (and if you are lucky, you will find some very good street artists playing great music). Lake Zurich is definitely one of the best places to see in Zurich.
Old Town
Still wondering what is there to do in Zurich? Here are more suggestions for you!
The Old Town of Zurich is lovely and one of the Zurich points of interest that you simply have to visit. It is located in between the train station and Lake Zurich and it is perfect to discover a different side of Zurich.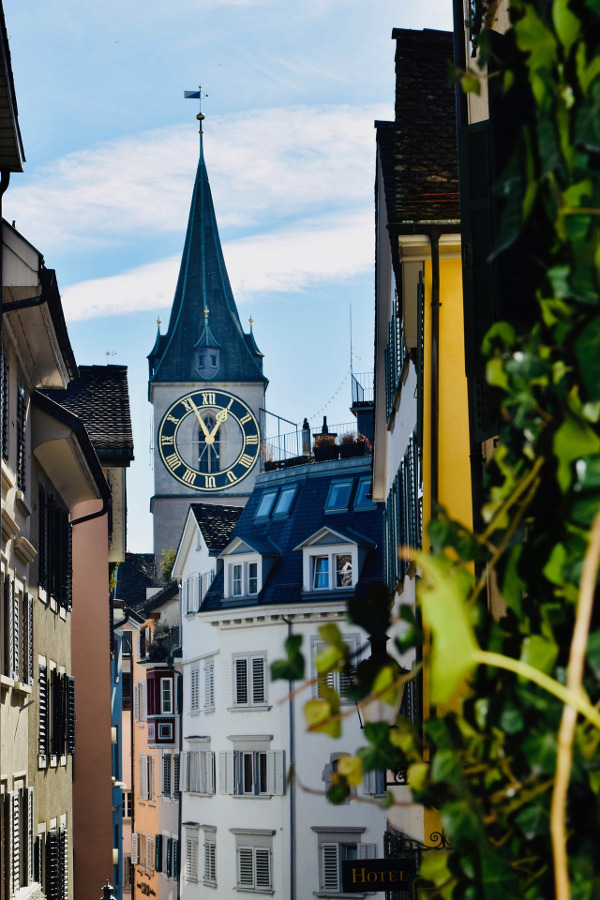 Check out the colourful, old houses, head to the smaller boutique stores and have lunch in one of the numerous restaurants there.
You will love this part of Zurich and you'll understand why it is one of the top places to see in Zurich.
Lindenhof
To enjoy a lovely view of the city, which only requires only a 2-minutes hike – go to Lindenhof.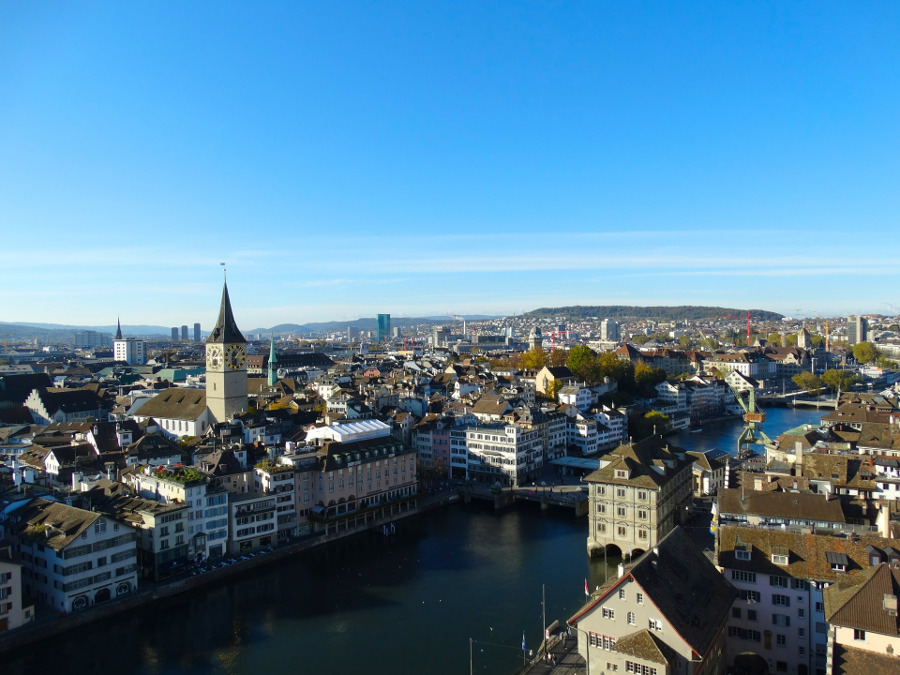 It is in the old town of Zurich and in the little park are benches to sit down and relax. It can get busy at times – especially in the lunch break you will find many locals enjoying the food they brought with them.
Uetliberg
More or less each Swiss city has its own house mountain – yes, you have heard right. We are not talking about cinemas or casinos but about house mountains so you'll have plenty of places to visit on your Zurich vacation.
Uetliberg is located just north-west of Lake Zurich and you can get there easily by train – or just hike up.
The views are lovely, and if you prefer quieter places I recommend preparing a picnic which you can enjoy somewhere up on the mountain.
If you are visiting Zurich for a short period of time, you can squeeze in on your 1-day itinerary for Zurich – or if you have 2 days in Zurich – all of the above-mentioned places. Of course, if you have more time to spend here, you'll be able to enjoy its beauty and explore Zurich at a slower pace.
Zurich off the beaten path – things to do near Zurich
Zurich has many unique and interesting attractions – and there are many wonderful places to visit near Zurich. Sometimes, all you need is a good guide to the unique attractions Only in Zurich: A Guide to Unique Locations, Hidden Corners & Unusual Objects (Only in Guides)
.
Zurich is popular amongst tourists from all over the world and it can get quite busy during peak-season – if you want to experience less visited areas, either hop on a boat or a train and head to Rapperswil.
Rapperswill is located on the other side of Lake Zurich and a small town with lovely old buildings and a park that offers lovely views of the lake.
Appenzell
If you are looking for (another) day trip from Zurich, then visit Appenzell. It takes about one hour from Zurich but is a very hidden gem of Switzerland.
The houses here are unique, colorful, and impressive. The village centre is small and not overrun by tourists – from Appenzell you can get to a main tourist attraction of Switzerland: The Aescher on the Ebenalp Mountain.
Another beautiful and less famous place near Zurich is the little town of Schaffhausen near the Rhine Falls (you can combine a trip to these two places easily). Schaffhausen is small, colorful and you can enjoy nice views for free. As you can see, there are many great things to do near Zurich.
Where to eat in Zurich
Switzerland is, as mentioned before, super expensive and especially meat and dairy products are not cheap. Here are some ideas for where to eat in zurich – with restaurants in Zurich that you should check out.
While this might not be bad (considering animals are kept outdoors) you have to keep that in mind and adjust your eating habits if necessary.
Just an example: A small cup of cappuccino can easily cost around $6 (in a regular coffee shop).
There are many high class and fine restaurants but you will also find fast-food restaurants (prices are probably about 100 or 200% higher than in Germany).
While meat and cheese are part of the Swiss cuisine, you can also find some great vegan restaurants in Zurich.
Some of the places I enjoy eating, as a vegetarian, are the Hiltl or tidbits. These restaurants are also popular amongst the locals and busy in the evening.
I often just take food from a restaurant and sit at the lake, because there is nothing better than a lunch that comes with a view.
Where to stay in Zurich
Accommodation in Zurich is quite…well, expensive. Not only quite expensive but extremely expensive.
However, there are some great hotels for all budgets. Here's where you can stay in Zurich.
A very luxurious and popular hotel is Baur au Lac, located right next to the Bahnhofstrasse and Lake Zurich. Book your accommodation here now.
A good medium-priced hotel (a bit outside of the city center) is the Mövenpick Zurich Regensdorf. Since public transportation in Zurich is great, you can opt for this hotel if you want to stay in a nicer hotel but don't pay a fortune.
If you are looking for hostels than the Oldtown Hostel Otter near Lake Zurich is the perfect choice. It is a fun hostel in a great location.
The Youthhostel Zurich is another popular hostel near Lake Zurich. To the old town, it is a 20-minute walk and a good budget-friendly option.
Zurich tips
I know, I have mentioned it a couple of times, but Zurich is really expensive.
One of the things that are free though is the water – so always have your reusable water bottle with you. You can fill it up at one of the numerous fountains that provide fresh drinking water.
Also, public transportation in Zurich and in Switzerland is fantastic. You do not have to rely on taxis and there is no need to rent a car. You might save big when you buy a Zurich Card (especially if you like to visit museums).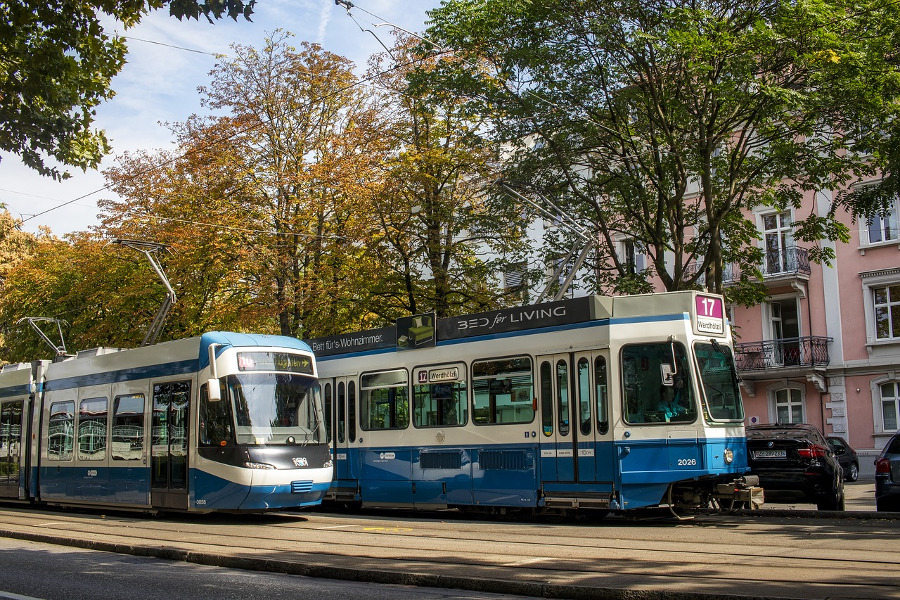 Swiss-German is the official language, but many people speak basic English.
I hear this question: is Zurich safe for tourists? and here's my answer:
Zurich is also a very safe and clean city – as a solo female traveler, I never worry about getting out late or worry about pickpocketing (however, exercise common sense and pay attention to your surroundings). I hope these tips for visiting Zurich will help you have a perfect trip to this city.
Conclusion
Zurich is one of my favorite cities in Europe, though it can be a bit boring in the winter months, it is a laid-back city destination for the summer months.
It is so friendly, clean, and safe that it feels more like a little town than Switzerland´s biggest city.

About the author
Arzo runs her travel blog "Arzo Travels" since 2015 and focuses a lot on Switzerland.
She travels the world mostly solo – sometimes her little dog joins her. Switzerland is one of her favorite travel destinations, so she keeps coming back to the tiny country in Europe regularly. Follow her on Facebook and Instagram as well.