Whether a budget or luxury traveller, Santorini is definitely a superb pick when it comes to summer holidays. Rightfully so, considering its spellbinding sunsets, unique volcanic landscape, charming Cycladic architecture, imposing Caldera, impressive cave houses, and natural beauties.
Add to all that the award-winning local wines, great food, and varied (and long) history and deciding to visit the Queen of the Cyclades instantly becomes one of the most rewarding experiences for you, your significant other, family, or group of friends. The difficult part is which places to include in your itinerary and holiday schedule so you don't miss out on the island's best features. Here is a list of the four absolutely must-visits!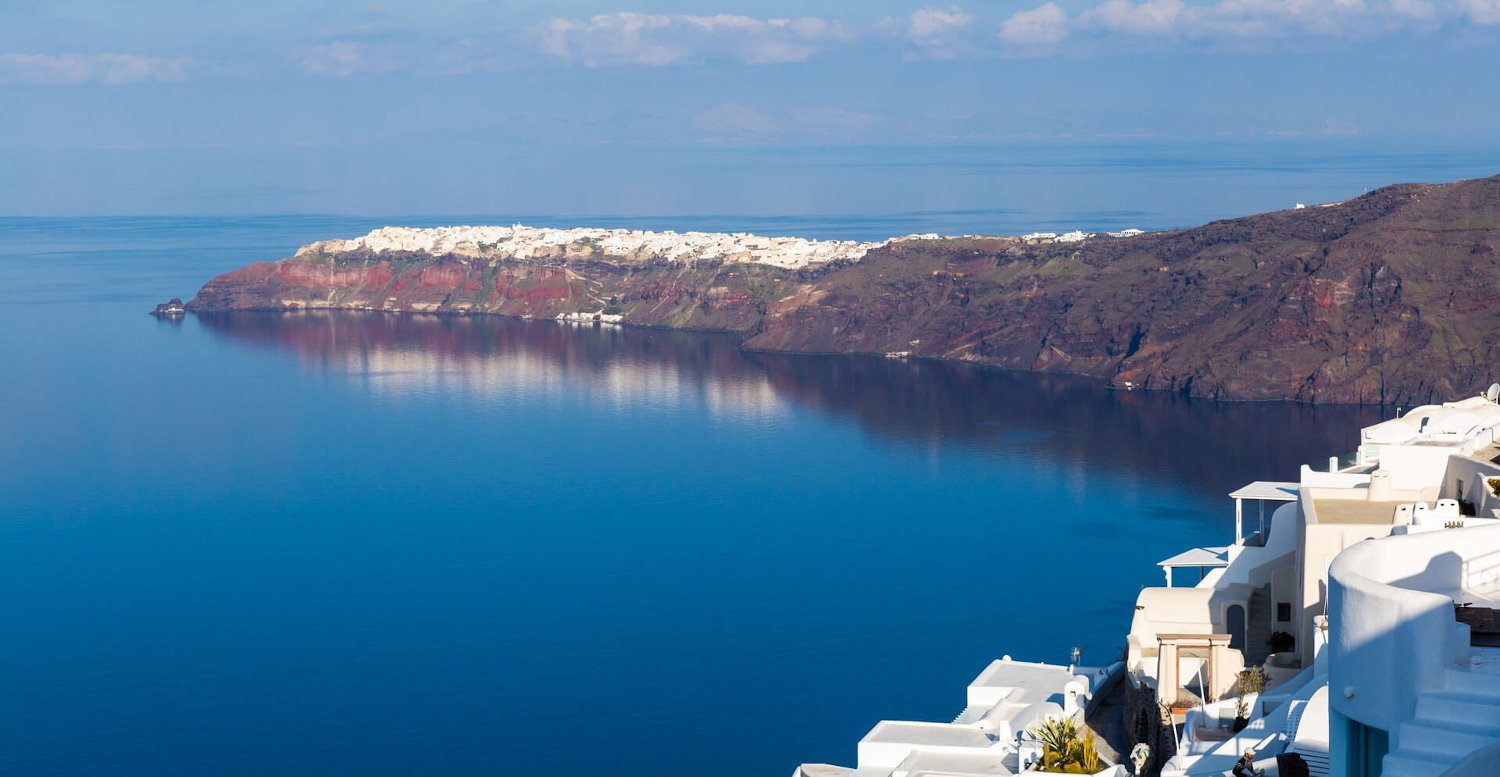 1 Fira – Lively & scenic (wear your trainers!)
Admittedly, the island's capital attracts the attention of Santorini visitors with its dramatic cliffs, awe-inspiring caldera, and incredible terraces overlooking the Aegean Sea. Fira or Thera is, indeed, picturesque and adorned with whitewashed, cubic-shaped houses, winding cobbled alleys, milky-white, blue-domed churches built at the edge of the cliff, scenic trails, and postcard-perfect landscape. No wonder it is the starting point for the majority of Santorini cruises and tours, and filled with cafes, restaurants, bars, shops, and hotels.
Tip: Make sure you slip on your trainers before exploring Fira, especially if you want to get around Fira all the way down to the beach. The terrain is quite rugged and uneven.
2 The Red Beach – Unlike anything else you have seen!
Santorini's coastline reminds very little of the sugary shores of its equally popular sibling, Mykonos. Shaped by the massive volcanic eruptions that took place thousands of years ago (the last one happened nearly a century ago), the beaches enveloping the island are unique in any imaginable way.
Red Beach is the most distinct Santorini shore which dazzles with its red volcanic sand. Tucked amidst amber cliffs, it provides a heart-stopping backdrop as the azure waters contrast with the tawny landscape. You can come here to enjoy swimming or sunbathing or even for the superb views.
Tip: To boost your experience, do consider visiting Red Beach early in the day as it gets too crowded quickly. Also, be prepared for some hiking as there is no direct path to access the beach.
3 Imerovigli – THE best place to stay in Santorini
Not far from Fira, Imerovigli is the most idyllic and romantic place in Santorini. In Greek, Imerovigli means "viewpoint" and was a name given to this region during the old times, when pirate invasions were frequent. The Santorians would come to Imerovigli and look out for pirate ships so they could warn the other islanders of the approaching pirate ship.
Today, there are no pirates to watch out for, but the views you get from Imerovigli are more than heart-stopping. Would you be surprised to know that Imerovigli is also referred to as the "balcony of the Aegean"? Makes sense, right?
Occupying a clifftop location, Imerovigli also provides spectacular panoramas of the volcano and the caldera, while pampering guests with luxurious accommodation facilities with lots or world-class amenities and private options, numerous cafes and restaurants, and plenty of attractions, such as Skaros Rock.
Tip: The most photographed blue-domed church in Santorini, Anastaseos Church, is also here. You'll find it in the heart of the picturesque Imerovigli village.
4 The Akrotiri Archaeological Site – Captivating & history-drenched
If walking around an ancient village appeals to you, then the perfectly-preserved-under-volcanic-ash Akrotiri village is certainly where you need to be. Some 12 km from Fira, Akrotiri is a superbly advanced Minoan settlement that a 16th century volcanic explosion buried. Unearthed many centuries later, this small community startled the world with things like a state-of-the-art drainage system, two-storey clay buildings, underfloor heating, and many more. Indeed, historians agree that the Akrotiri settlement was one of the most prosperous regions in Greece and the entire globe.
Tip: If you make the visit, ensure you check out the on-site frescoes that highlight the island's connections with Africa. You can thank us later!
5 Bottom line
Truth be told, there is never enough ink to create a full list with the places in Santorini you should not miss out on. From end to end, the island is absolutely striking and spoils visitors with soul-pleasing adventures creating unforgettable moments. So, just let yourself free to be drifted into the magnetic pull of Santorini and see where this takes you!