Fish and chips are one of the popular British foods. You may try them when you visit London or any other cities in the country, but you can also make them at home.
This classic fish and chips recipe will show you everything you need and how to make tasty fish and chips at home.
Discover how to cook the perfect homemade beer-battered fish and chips with crispy, golden battered cod, amazing flavors, from this simple recipe. This is perhaps the best fish 'n' chip recipe, part of the series with fantastic international recipes!
This classic British food – beer-battered fish and chips recipe – is presented to you by Annisa from London Travellers.
You have a recipe that you can easily follow again and again. You can make this British fish and chips for your friends or family members.
And if you're not from England, then this will add an international taste to your lunch or dinner:) This traditional fish and chips recipe is a must-try!
Introduction to Fish and Chips
Fish and chips has been around since the 19th Century and it has been a favourite dish to this day for locals and tourists.
You'll see fish and chips shops in every corner of London, and it was eaten by the lower- and working-class family. It is said that John Lees sold fish and chips in 1863 from a wooden hut at Mossley Market.
Some say Jewish Joseph Malin opened its first fish and chip shop around the same decade in East London.
During World War I and World War II, fish and chips were the only dish that was not rationed, and it was thought that fish and chips were eaten on Friday because meat wasn't allowed to be eaten on Fridays, originated from the Roman Catholic faith.
Since the Industrial Revolution and steam engines, fish and chips has been distributed from around England to the North Atlantic, Greenland, and Iceland.
As you can see from the photos, it is served in beer batter to protect the fish from breaking. Traditionally, we eat fish and chips with mushy peas and lemon, but this approach can only be found in pubs and restaurants, not the fish and chip take away shops.
The fish and chips found in the traditional fish and chips take away shop would be wrapped in paper without the mushy peas and at times, would not include a squeeze of lemon. It would be cooked in front of you.
There is usually a long line of people waiting their turn. Although fish and chips are cooked in deep fry and can be oily, it can have many dietary benefits, all offering protein, fiber, iron, and vitamins.
When eating fish and chips, squeeze lemon juice on top of the fish and spread the tartar sauce on top of the fish.
Battered fish and chips recipe
Ingredients
1 Fish cod
120g of self-raising flour
1 potato cut into chunks
Vinegar (optional)
Peas on the side (optional)
Batter
1 bottle of beer
1 egg white
1 tsp baking powder
1 tblsp curry powder
140 g of self-raising flour
Tartar Sauce
3 tbsp Crème fraiche
3 tbsp Mayonnaise
Half of a gherkin – chopped into small cubes
Squeeze of lemon
Shallots, finely chopped
Salt and chili sauce
Directions: how to make fish and chips
Let's see how to make this traditional British dish.
Heat oil (shallow frying) in a large non-sticky fryer.
Preheat oven to 190C/170C Fan/Gas 4.
To make the cod batter
1) Mix the baking soda and curry powder with the 140 g of flour.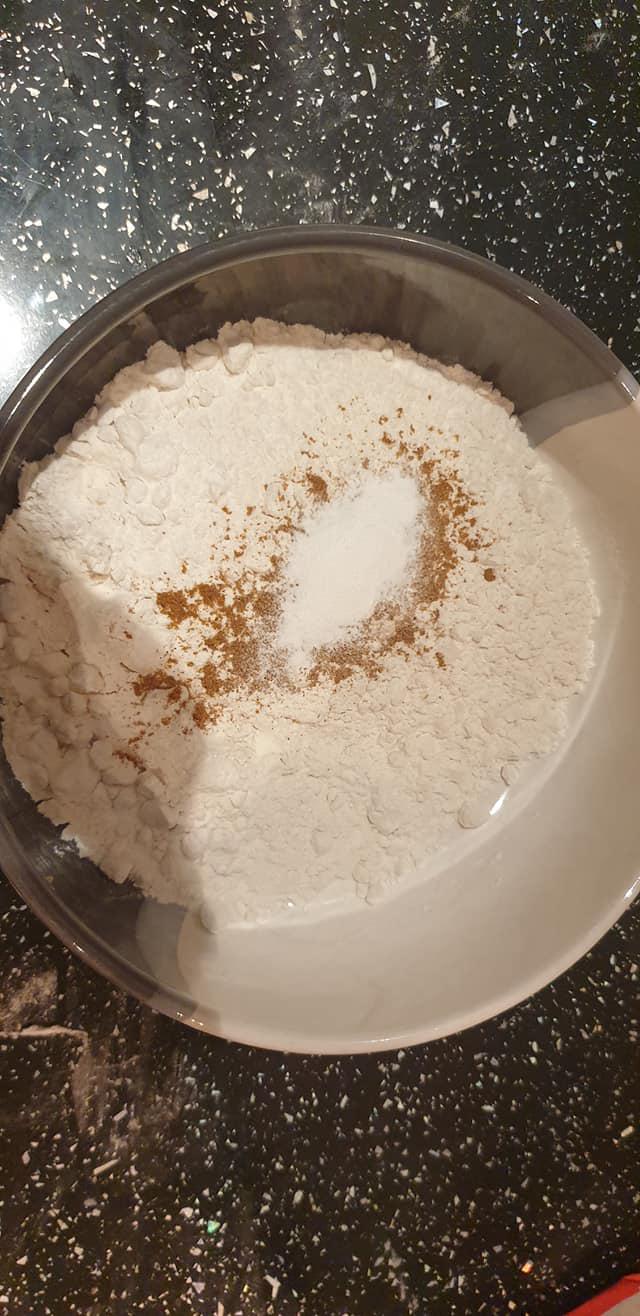 2) Pour 160mls of beer in the batter and mix until it has a runny texture.
3) Add more beer into the batter. Whisk it some more.
(Drop some curry powder in the 120 g of flour when you're coating the cod for later)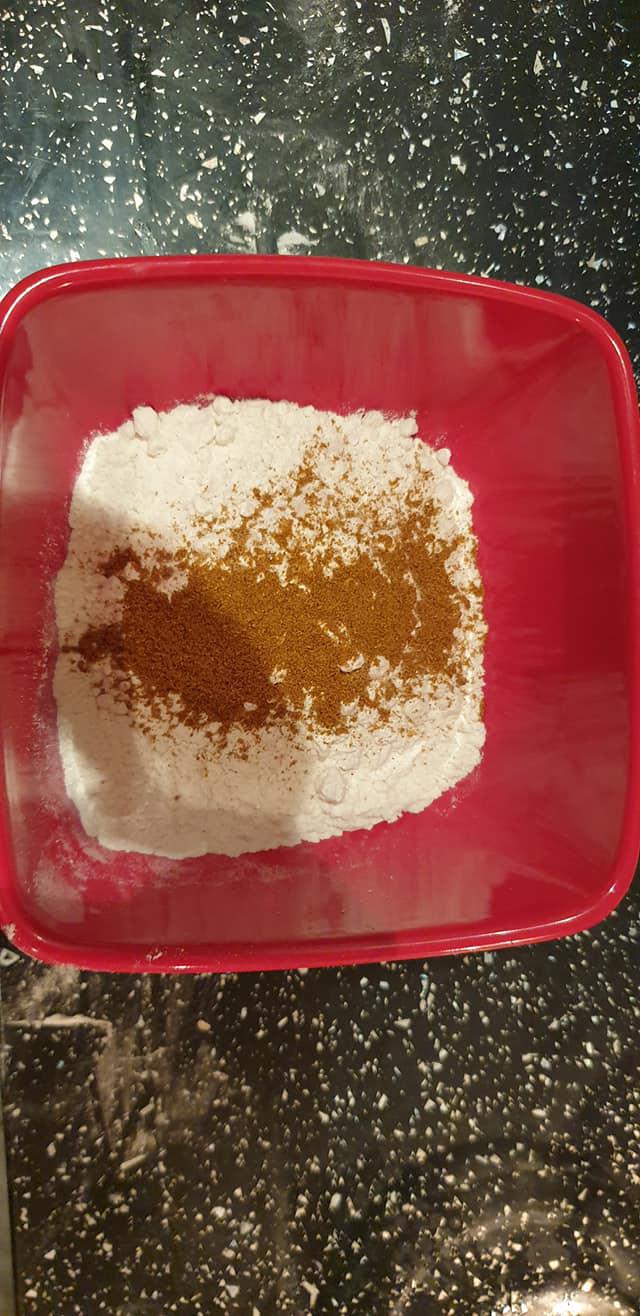 4) Whisk the egg whites and add salt after 2 minutes until stiff peaks and mix into the batter.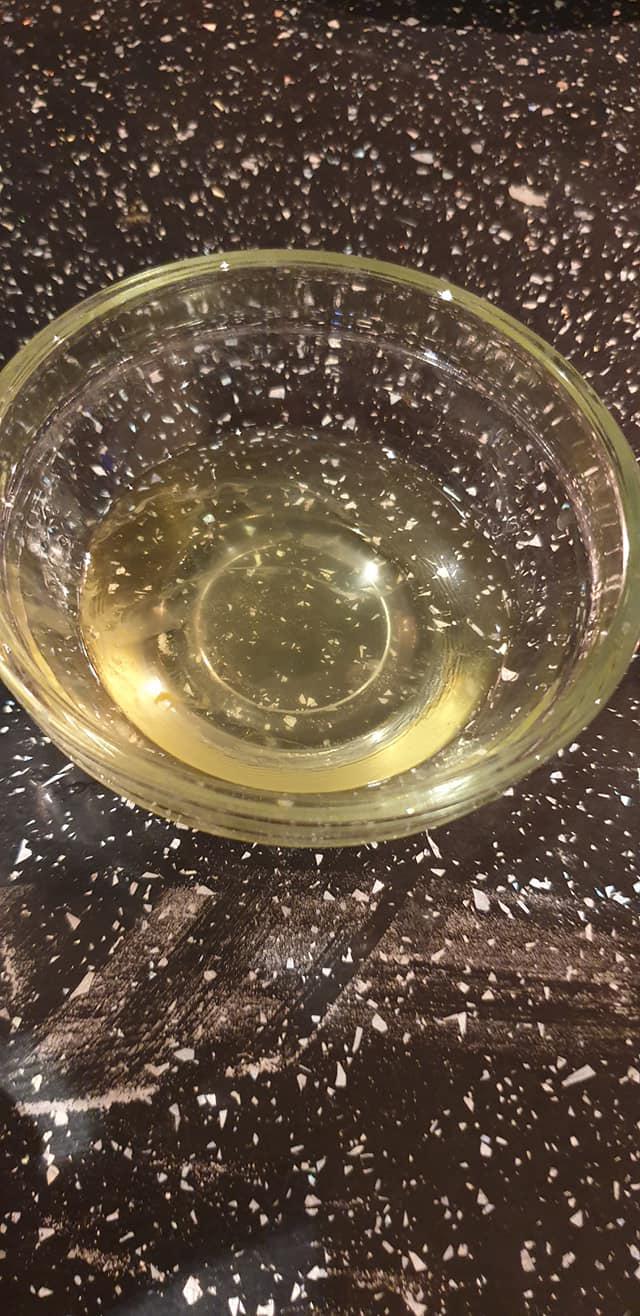 5) Add salt on the cod and coat cod into the flour and curry mixture.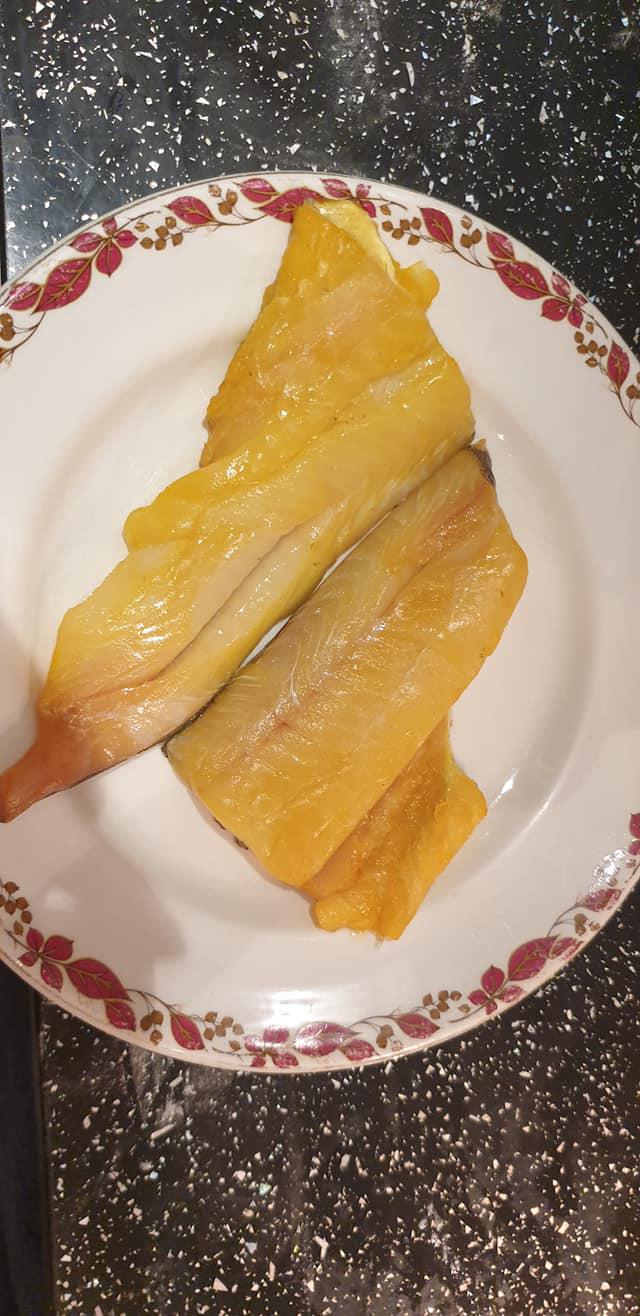 6) Drop the coated cod into the runny batter for 2 minutes and dip the tip of the cod slowly into the oil and gently let it go into the frier.
Get a spoon and splash the top of the cod with the same oil.
When the bottom of the cod becomes brown, swap side and make sure the other side of the cod is brown.
Splash the oil some more on top of the cod.
7) Cut the potato into chunks, not thin fries. Traditionally, it should be chunky.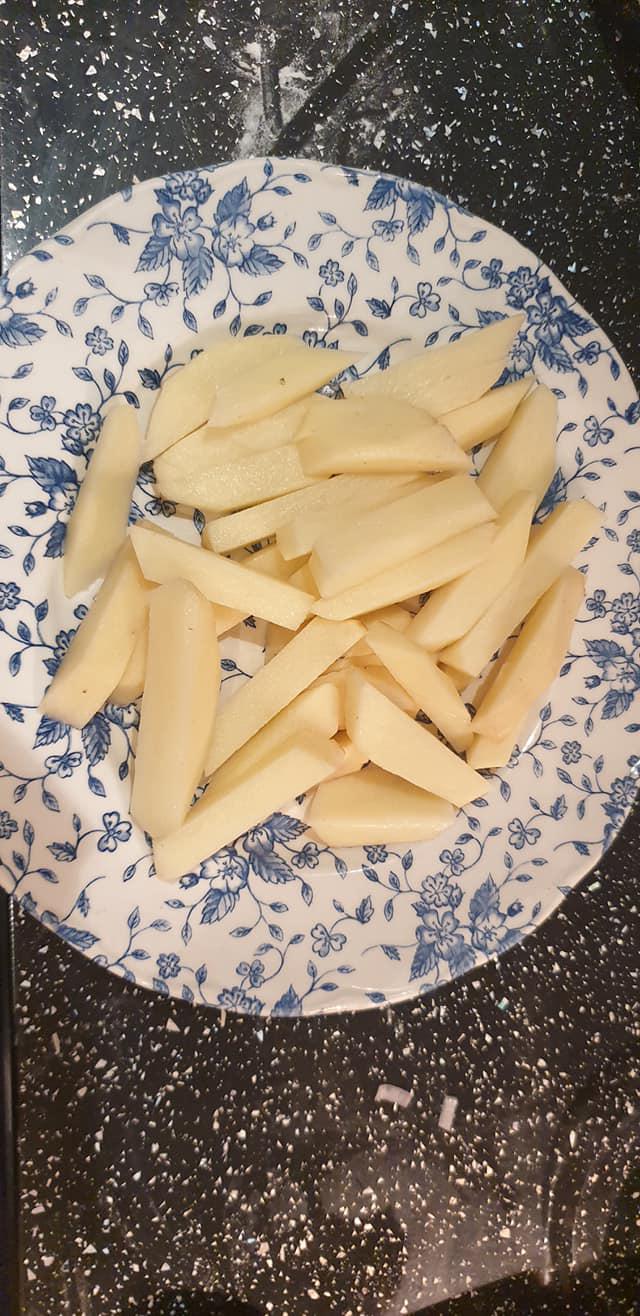 8) Pat dry the chunky chips into a tissue roll for a minute.
9) Once the fried cod is brown, put it in the oven for 2 minutes.
10) Place the chips in the same oil used for the cod until brown.
Tartar sauce
Mix 3 tablespoons of crème fraiche and 3 tablespoons of mayonnaise together. Add the chopped gherkins to the mix.
Add a touch of chili sauce and salt and chop 1 shallot into the sauce. Squeeze fresh lemon juice in the sauce.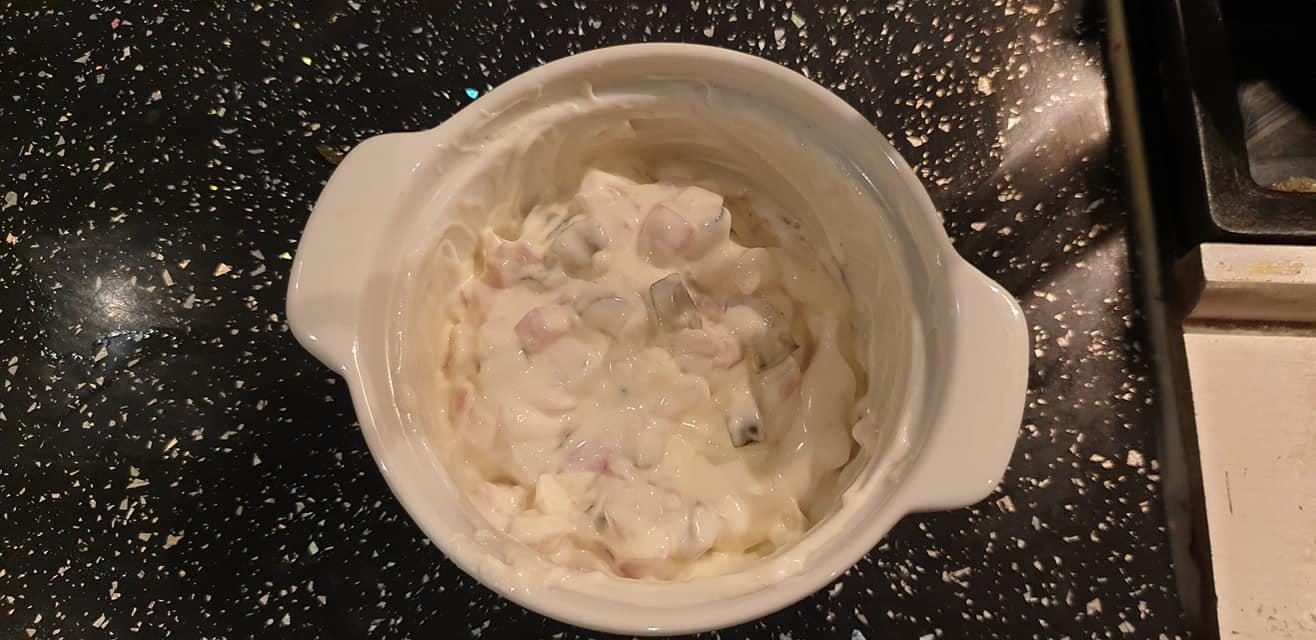 11) Take out the chips once it's brown.
12) Take out the cod from the oven when it's done, place it on a plate, and place the chips next to the cod. Add tartar sauce on the side of the plate and add mushy, garden peas and mixed vegetables if you like.
Add vinegar to the fish and chips to make it more traditional.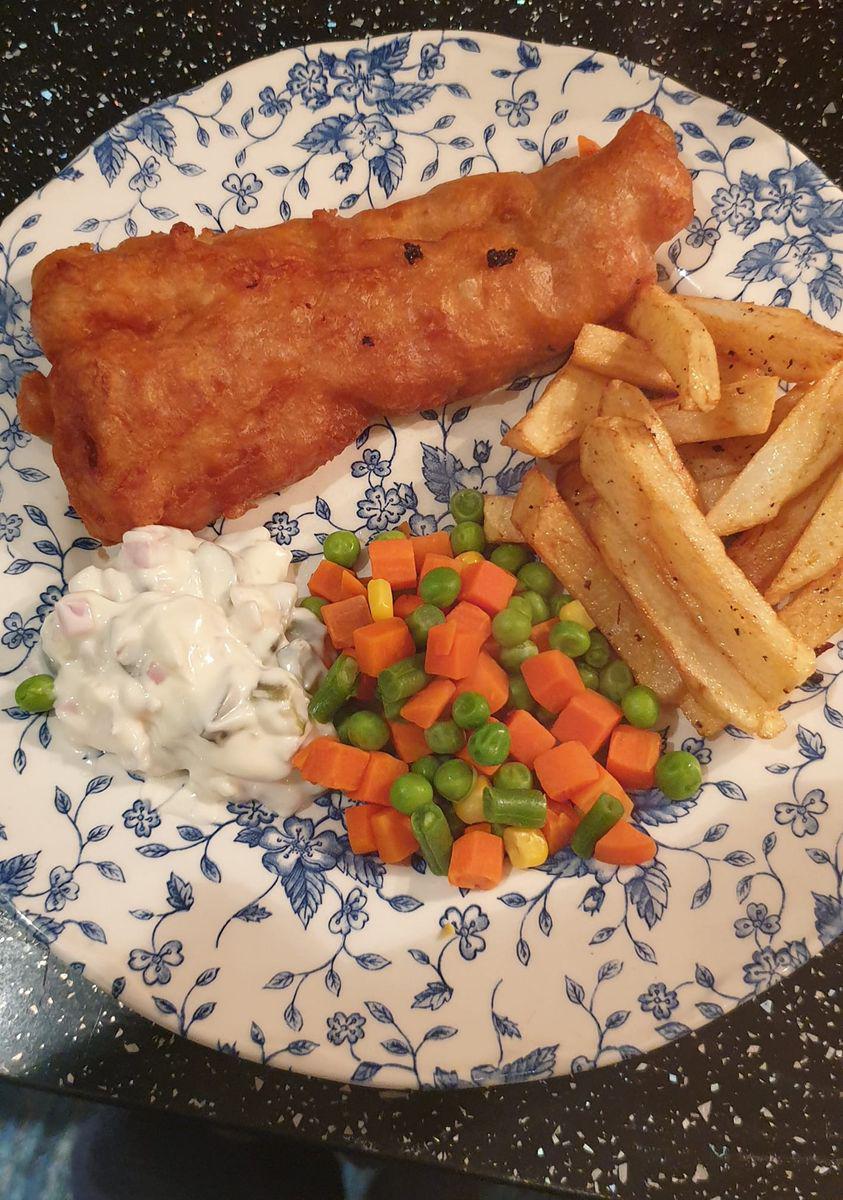 This is the traditional fish and chips recipe that you can easily prepare at home.
It takes about 45-60 minutes to make it and the complexity is easy to medium.
You can enjoy it from time to time so that it won't affect your health either.
This British beer-battered fish and chips recipe is tasty and every guest will enjoy it!
About the author:
I'm Annisa, an Indonesian national living in London since 1991. Since living here, I noticed London is rich in history and culture and I had an idea of writing about it in a blog. As a resident here, I've learned the ins and outs of London and every time visitors see London, there's always something new to see and do. It's impossible to see everything in a short amount of time, so that's why I made it my mission to write about London and give visitors tips and tricks for planning a great holiday. For more information on London Travellers, follow me on Instagram and Pinterest.