Do you only have one day in Paris and you want to maximise your time here? Here's the perfect 1-day itinerary for Paris, France!
Paris is an amazing city. I was there for only a week – so I didn't manage to see it all, but I did visit many famous landmarks and some off the beaten path locations. From all the places I visited, I realize that some are perfect for a first time visit here, so here is a travel guide: 24 hours in Paris.
To help you make the most of your first trip to Paris, here are some useful tips – tings to know before you visit Paris – as well as what NOT to do on your first trip to Paris.
This guide includes most of the famous attractions in Paris, allows you to see many things in one day, getting to know the city, understand its atmosphere, and leave with some special memories.
I took in consideration only one day of visiting it and created a guide that will give you an itinerary to follow if we have similar preferences.
Paris is a city I like – yes, it's big (France's capital), which means it is crowded and that the prices aren't really small. But you can visit Paris on a budget too – or see it in a luxurious manner, however you prefer. Make sure you know what to wear in Paris – so that you'll blend right in.
The places to visit included in this travel guide: 24 hours in Paris are from different areas and rather accessible. They do include fees (entry fees mainly), but I'd say that they are worth it taking in consideration the experience you'll have.
I chose mostly famous sights as, even though I like to go off the beaten path, I also like to see the famous attractions of a city, to form my own opinion of them.
Different people have different tastes and preferences, so its only natural that some will like some things, while others will dislike the same things.
While I do my research when traveling – to know what to expect in several places, what itinerary I could make for myself, etc. – I always keep an open mind and like to form my own opinion of a place, to decide for myself if it's worthy of a visit or not.
True, I'm always selecting places to see based on my preferences, so not only because they are famous (or unusual, or unknown), but because I think I'd like them.
But enough talking, let me get down to business – and here is the travel guide: 24 hours in Paris.
Start at Musee d'Orsay
Did you know that this is the most famous tourist attraction in Paris according to the visitors that come to this city each year?
I had no idea when I included this museum on my list, but if you don't believe me, see for yourself what a famous attraction in France is from this article on the Top tourist attraction of every country in the world (with maps).
Why I recommend (and chose) this museum? As a side note, it was the first museum I visited in Paris. Yes, before the Louvre, before Versailles Palace (next to Paris), etc.
The first attraction I saw in the city. For a simple reason: it's THE place to go if you like impressionism. And I like it. So it was a true pleasure to see those wonderful paintings by Monet, Manet, and van Gogh.
And to see all the other items the museum has to offer – impressive sculptures by famous artists (Rodin included), Austrian painters, interiors from various periods in France, etc.
My tip? Book your ticket online – to bypass the really long line. I waited in line, but for a single day in Paris, you can't afford that. In fact, read my list of useful things to know before visiting Orsay Museum so that you'll have the best time here.
Actually, this is a general tip for Paris: if you have your itinerary made, go ahead and check the websites of the places you want to visit and see if they offer the possibility to purchase your ticket online. If so, use this opportunity! You'll save so much time!
Musee d'Orsay is one of the wonderful museums in the city and, if you are anything like me, you could spend hours and hours. For a single day in Paris itinerary though, you should be here when it opens and spend no more than 2h-2h.30 minutes.
Yes, you need to leave at around 11 AM so that you can enjoy other wonderful places in Paris.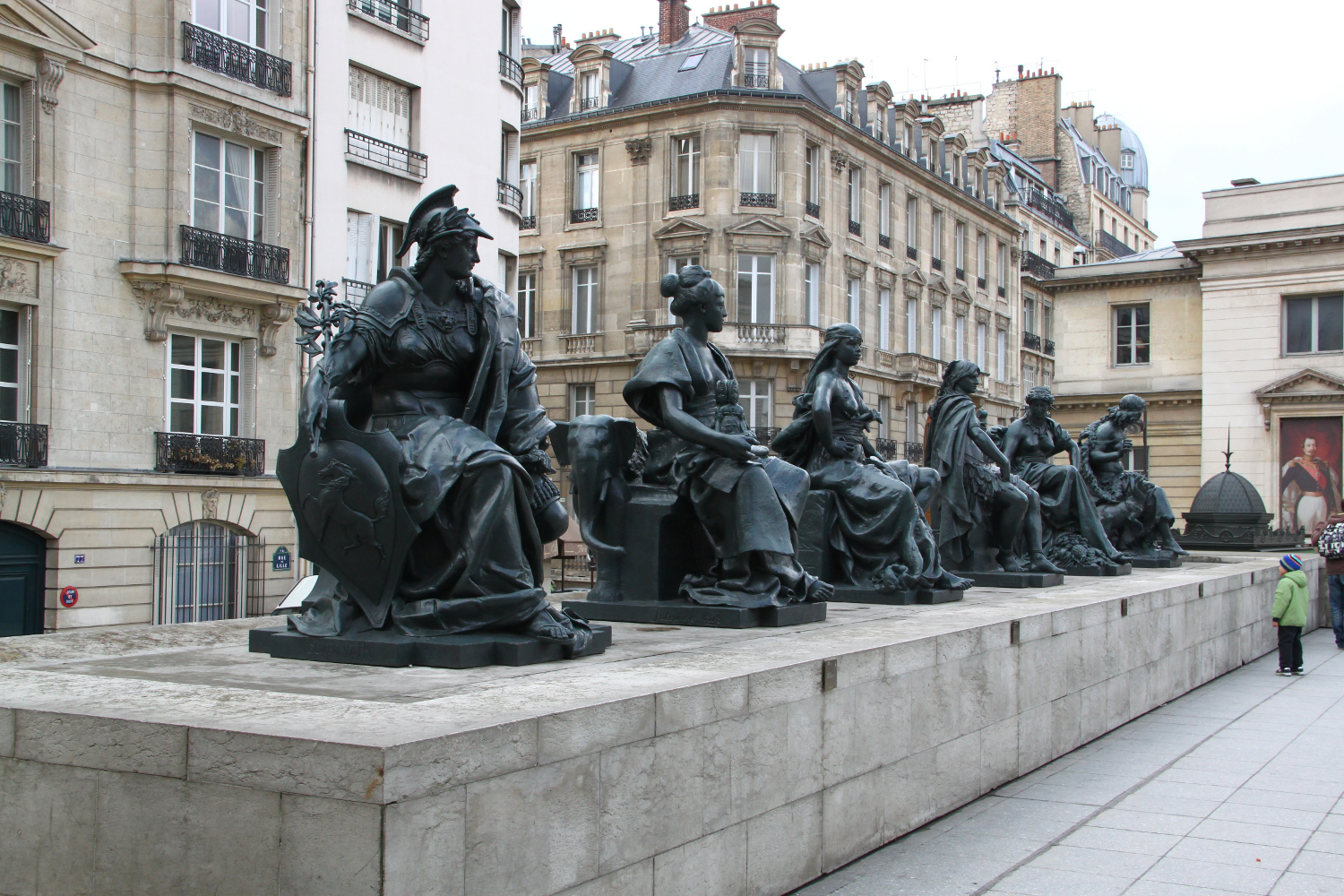 Grab a bite
As the next visit is also one that will take several hours, I'd recommend you to eat something. Now, for budget travelers there are always options – pastry shops, sandwiches from supermarkets, etc.
You can also find a terrace or small restaurant and try some pancakes with special fills so that you don't break the bank, but still get a taste of Paris.
Go to the Louvre next
I loved the Louvre Museum. I like to visit museums, and I think that the Louvre Museum is a true treasure. While I think it deserves at least a day (and you'll still see it on the run), if you like art and don't want to miss the unique opportunity to see the Mona Lisa up close.
Other amazing things to see at the Louvre Museum (which is the most visited museum in the world): the Hammurabi code, Venus de Milo, wonderful paintings, art items from various cultures, or take a trip to the old Egypt through the items exhibited here), visit this museum.
Just make a list prior to your visit as it is truly impossible to see, thoroughly, the entire museum in just a few hours. And you don't have a lot of time, as you have to be out at 5PM in order to enjoy the next attraction.
A visit based on a list will help you faster identify the places in the museums that are a must for you – and then, if you have the time, to enjoy others.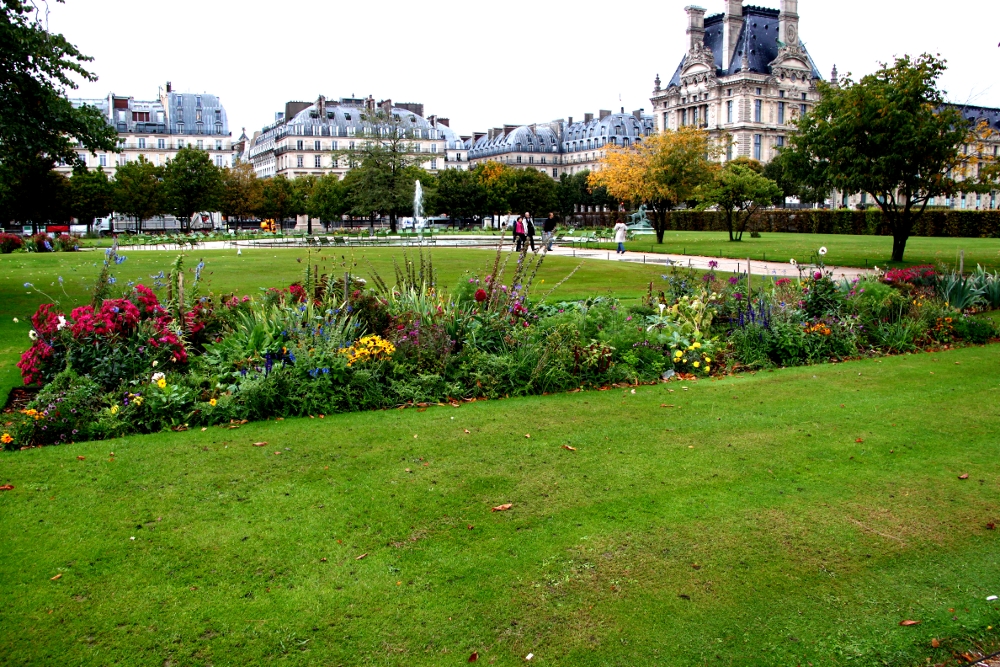 See the Tuilleries Gardens
As you've seen, I recommended above to exit the museum the latest at 5PM. There is a simple reason for that. To be able to enjoy the famous Tuilleries Gardens.
Believe or not, they are CLOSED at night. And not starting 8PM, or 9PM, but much early. So… you know what to do. I didn't – so I walked near them…
See The Luxor Obelisque (Obelisk) in Place de la Concorde
As you'll exit the Tuilleries Gardens, you'll be in Place de la Concorde. A nice place in itself, and a special one as there is a little bit of Egypt here: The Luxor Obelisque (Obelisk) – another must-see in Paris.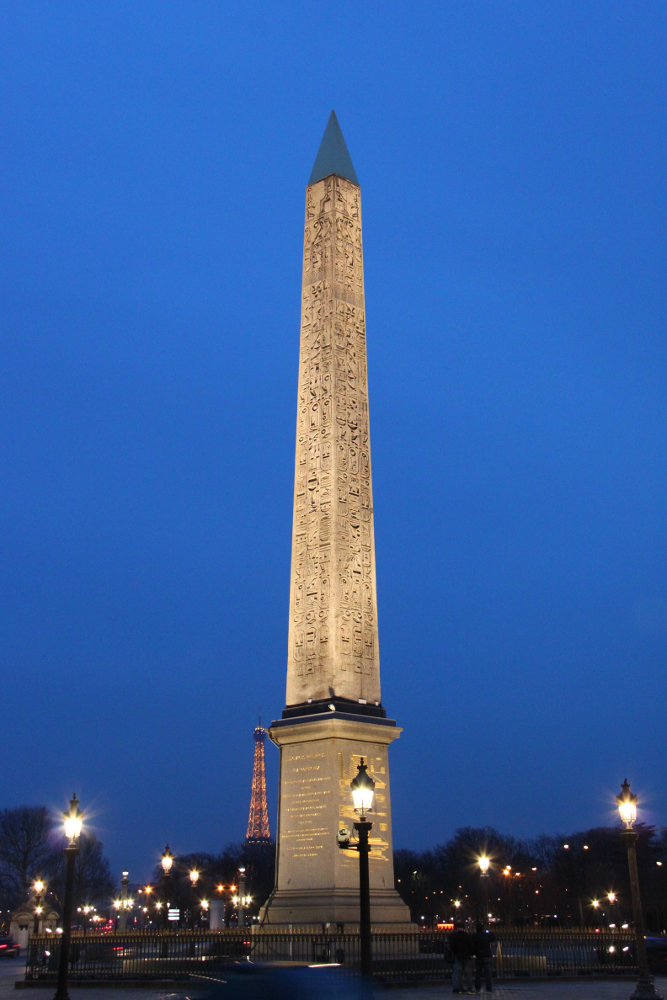 Stroll the Champs-Élysées
Famous worldwide, Champs-Élysées is a beautiful experience in itself. If you'll see it in the evening (during spring or autumn) you'll see it lit. During the summer too, but a bit later. And you'll see all the important buildings in yellow light.
Yes, Champs-Élysées is a perfect place to go shopping and for buying a souvenir from France. You have perfume shops, a Disney shop, and many other clothing and accessories magazines. Moreover, you'll see the light show of the Eiffel Tower – at night, when there is a fixed hour – 8PM, 9PM, etc.
See the Arch de Triomphe
Another landmark of Paris, the Arch of Triomphe.
Impressive, especially if you don't have a replica at home (my hometown, Bucharest, has one – and my city used to be called the Little Paris for many reasons, but that's another story.
Go to the Eiffel Tower
Take the subway from the Arch de Triomphe to the Eiffel Tower. Yes, there might be a line waiting for you.
Yes, it will be crowded. But I liked visiting it – we bought tickets to go all the way up, see the city's panorama, enjoy the view.
And there are some souvenir shops as well if you are interested.
If you can afford it, there is a restaurant that will allow you to enjoy the splendid view for a longer while – and to eat good food. We didn't stop there, I have to admit.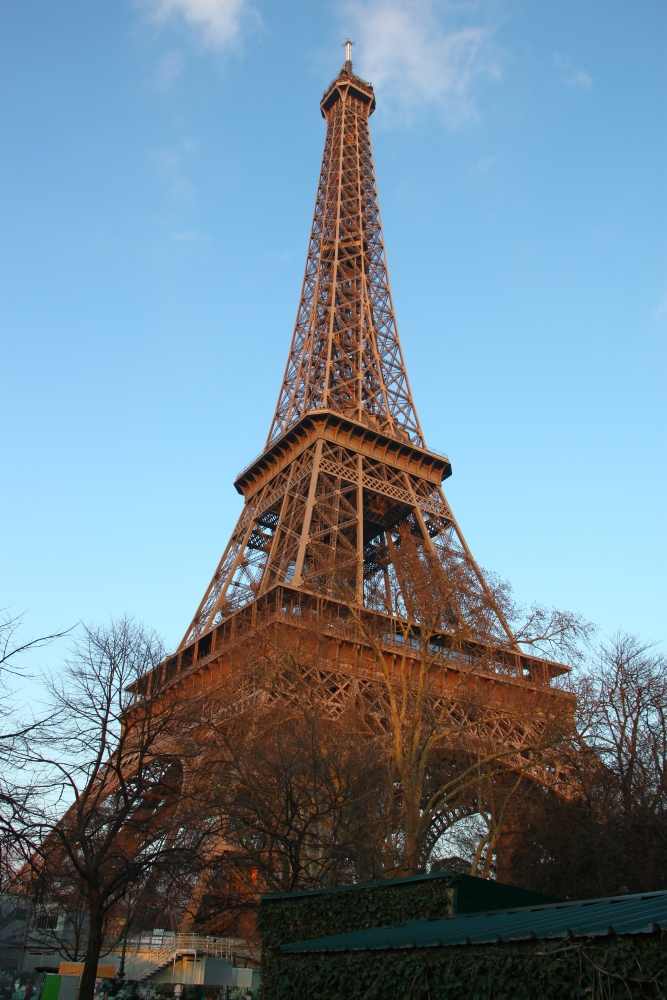 As you can see, there is a lot you can see and do in a day in Paris.
If I had only a day in Paris, depending on when you are visiting The City of Light, after visiting the city for a week, the places listed above will be those that I'd choose for a day in this city. I hope this travel guide: 24 hours in Paris will be of use to you 🙂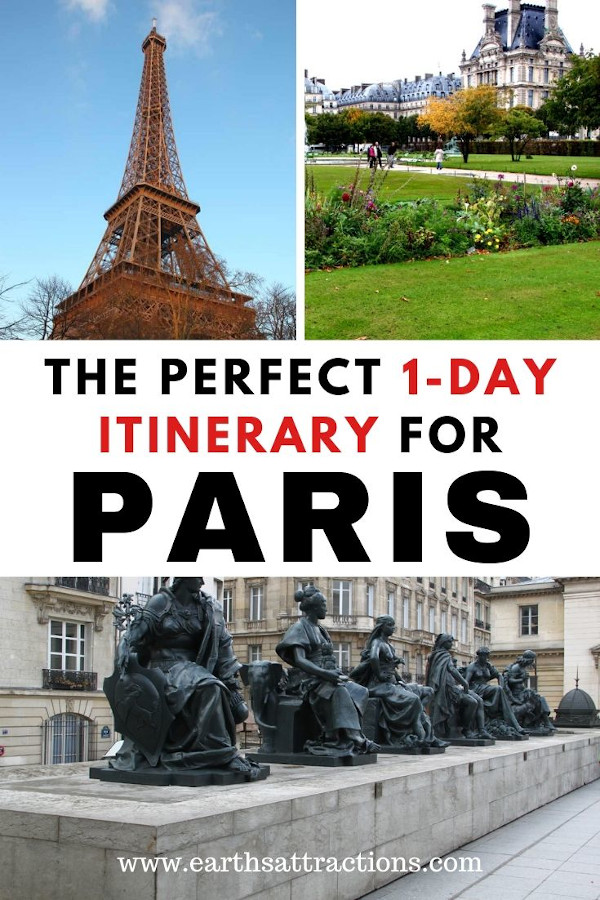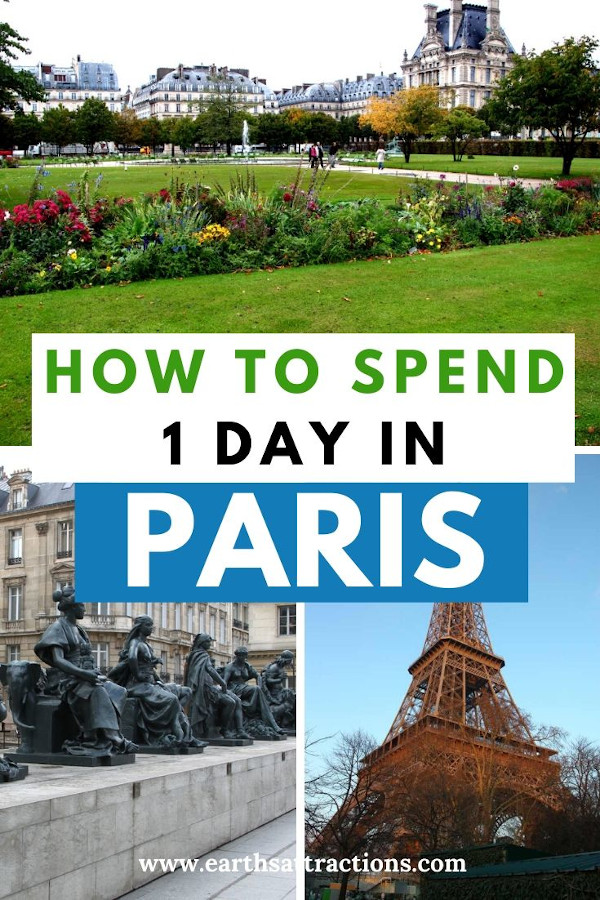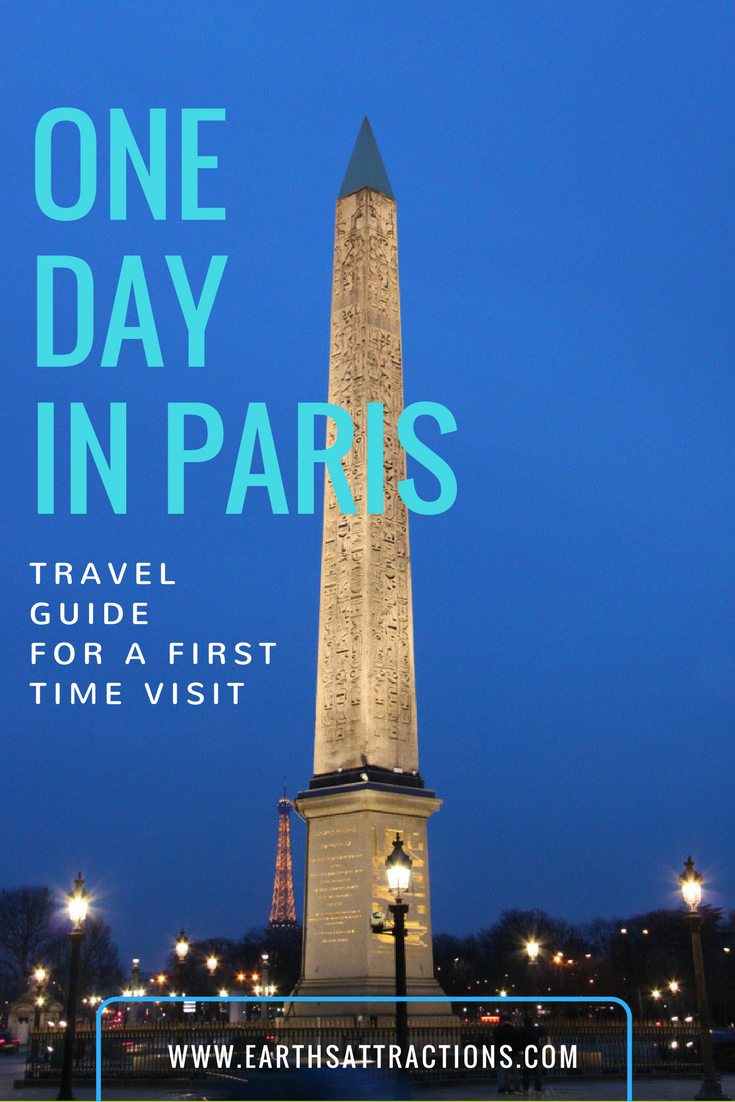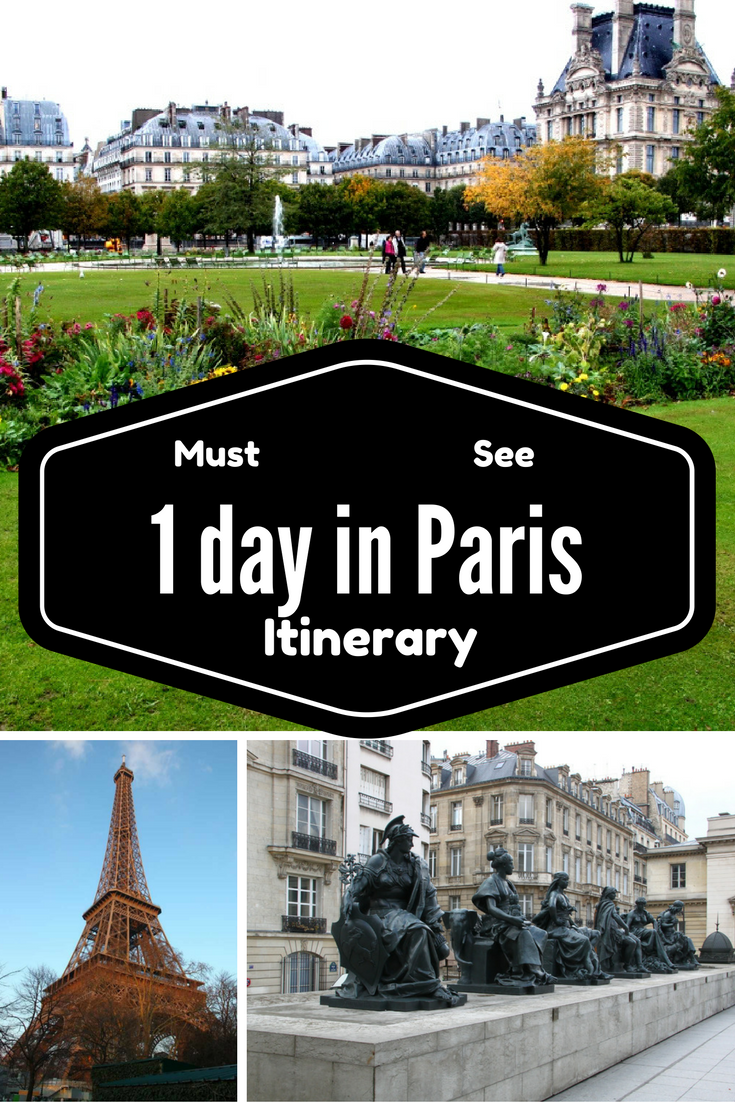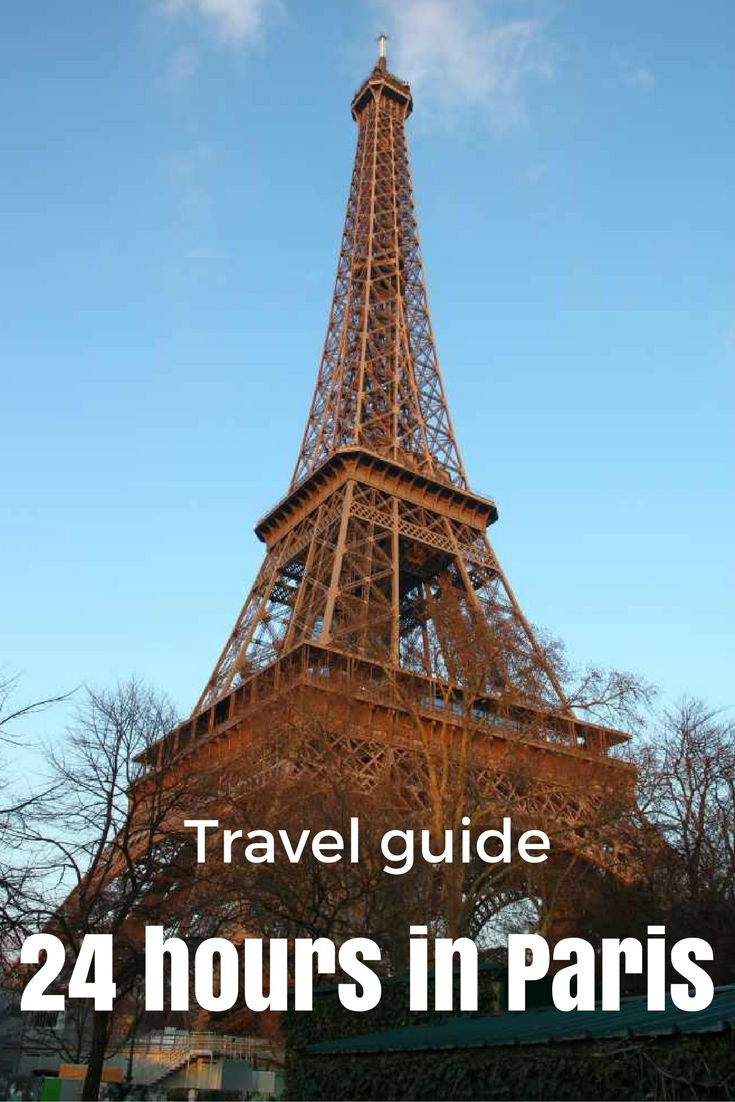 Save