Tokyo, the largest urban area in the world and, perhaps surprisingly, the safest city in the world, is a wonderful Japan destination and it'll host the 2020 Olympics. This article presents you off-the-beaten-path things to do in Tokyo, Japan that you can easily add to your Tokyo bucketlist for when you'll be visiting Tokyo.
These great lesser-known things to do in Tokyo from an insider are presented by Shannon from Dessert Highway. As you'll easily notice, these amazing secret activities in Tokyo cover many areas, so you'll definitely find at least a few of these unusual things to do in Tokyo to add to your Tokyo itinerary.
An added bonus is that many of these off the beaten path activities in Tokyo have free admission – which makes them great free things to do in Tokyo, Japan.
Read our article that covers everything you need to know before visiting Tokyo so that you won't be shocked when arriving in Tokyo!

Off The Beaten Path Things To Do In Tokyo
Home to more than 13 million people and the busiest train station in the world, it can be hard to avoid the crowds in Tokyo.
Having said that, it is still relatively easy to get off the beaten path, and in this sprawling metropolis, there is always something new to discover.
As the Rugby World Cup and the Olympics bring even more people to Japan's capital, now is the perfect time to discover some off the beaten path things to do in Tokyo. Here are some of my favourites.
Take a Japanese Drumming Lesson
One of my favourite things to do when I travel is to try to learn a new skill from a local expert. Out of all the classes I've taken in several different countries, this drumming lesson was one of my favourites.
After seeing some incredible Japanese drumming performances when I lived in Tokyo, I was really excited to give it a go myself and I was surprised at how much I was able to learn in just an hour.
Daisuke, who runs the classes, is a professional drummer and a great teacher. I was able to try out several different wadaiko (Japanese drums) during the lesson and hitting the large odaiko drum was particularly therapeutic.
By the end of the lesson, I had learned a short piece which I still remember today! This lesson is a great way to experience Japanese culture and you might just discover a new hobby while you're at it.
Cost: $38
Opening hours: classes are currently held on Mondays, Tuesdays, and Fridays.
Access: the meetup point for the classes is JR Kanda station.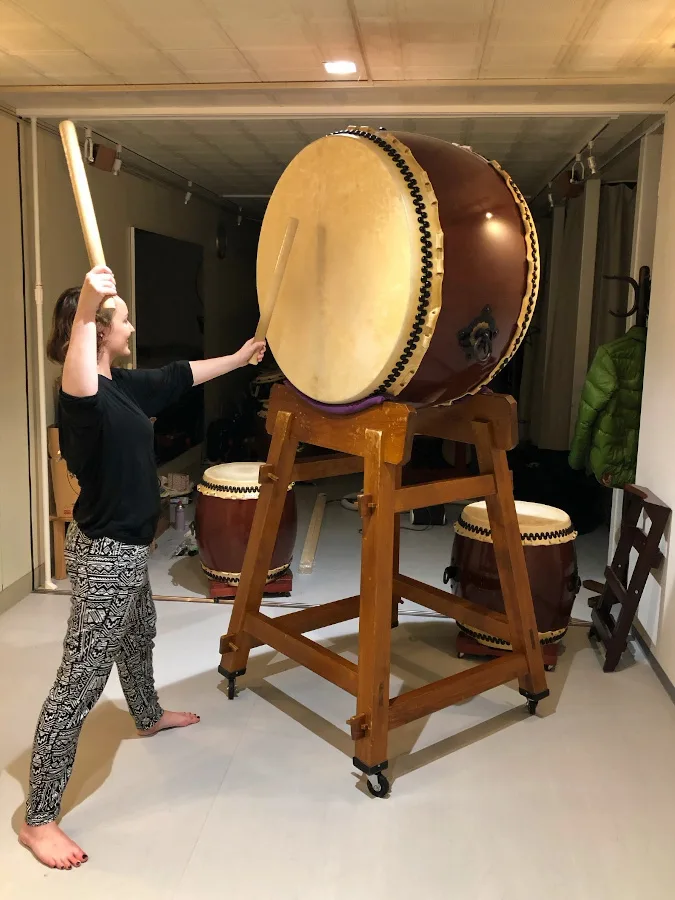 Go For a Walk in Todoroki Valley
Todoroki Valley is not the kind of place you expect to find in one of the most densely populated cities in the world and it's hard to believe that this lush green haven is only 20 minutes from the famous Shibuya scramble crossing.
If you feel like you need a bit of a break from the hustle and bustle of the city, Todoroki Valley is the answer.
The walk through the tree-lined valley is about 1km long and follows a small river.
You start at Golf Bashi, a photogenic red bridge that is so-called because there used to be a golf course nearby. The winding walkway takes you across little bridges and stepping stones, to a small shrine and a Japanese garden with a bamboo grove and orange trees. As you can see, Todoroki Valley is one of the best off the beaten path things places in Tokyo!
If you can bear to leave the tranquillity of Todoroki Valley behind, you can hop back on the train to Jiyūgaoka, a trendy neighbourhood that is full of cute shops and cafes.
Todoroki Valley is lovely any time of year, but it's particularly nice in summer when it provides respite from the heat and in autumn when the trees are ablaze with orange and red leaves.
Admission: free
Access: The entrance to Todoroki Valley is very close to Todoroki station (Tōkyū Ōimachi line, 20 minutes from Shibuya). Take the south exit and follow the signs with a red bridge on them, you will see a Seijo Ishii supermarket close to the valley entrance.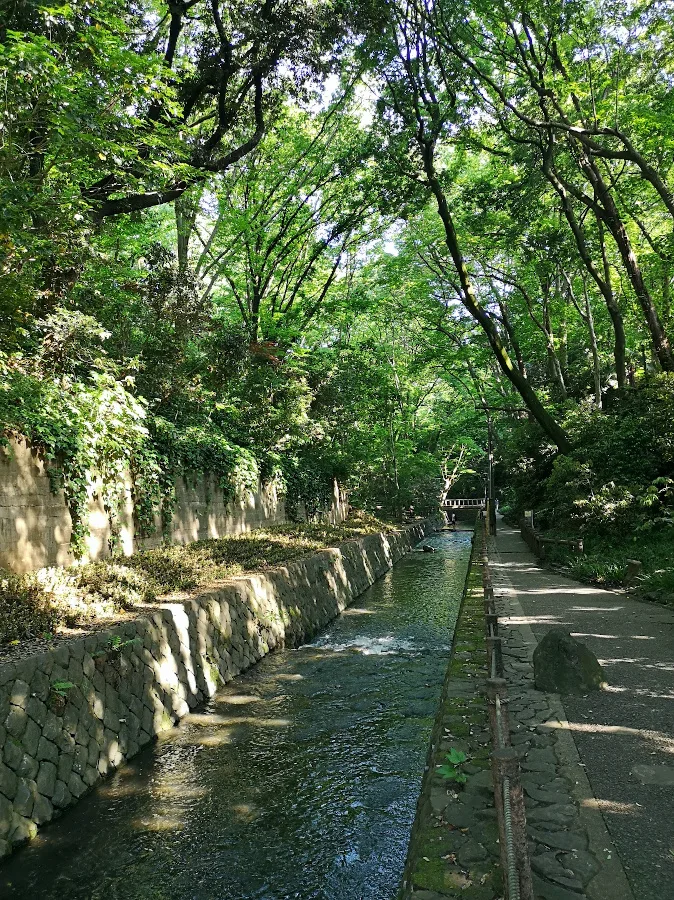 Take a Tour at Ishikawa Shuzo Sake Brewery
There are nine sake breweries in Tokyo, but only two offer tours in English. Ishikawa Shuzo in Fussa is one of them, and although it's a bit of a trek to this seldom visited part of western Tokyo, it's well worth the effort.
This sake brewery was established in 1863 and uses locally sourced mineral water to make their craft sake, Tamajiman. In the late 1800s, Ishikawa Shuzo also began a short-lived experiment in beer making, but it wasn't until 1998 that this part of the brewery was brought back to life.
Ishikawa Shuzo now brews a range of beers including a golden ale, a pale ale and a pilsner. As if that wasn't enough, Ishikawa Shuzo also makes umeshu, a plum liqueur that is one of my all-time favourite drinks. Taking a tour at Ishikawa Shuzo Sake Brewery is one of the fun things to do in Tokyo!
If you are new to the world of sake, fear not, as the tour starts with an explanation of how sake (nihonshu in Japanese) is made and there are plenty of opportunities to ask questions.
The grounds of Ishikawa Shuzo are truly beautiful and I loved learning about the history of the brewery and the significance of sake in Japanese culture. The tour ends, as all good brewery tours should, in the tasting room.
We tried three different types of sake: a pasteurised sake, an unpasteurised sake, and the umeshu, all of which were delicious.
After the tour, you are free to walk around the grounds and visit the small museum where you can see old beer labels from the Meiji period.
If you particularly liked one of the sakes you tried, you can buy a bottle at the shop which sells the full range of Ishikawa Shuzo's sake and beer. You can also pick up unique souvenirs like ceramic sake sets, beer mats and even sake-flavoured sweets.
The free tours are offered in English, French and Japanese and are easy to organise over email.
Admission: free
Opening hours: tours are held from 10.00 – 16.00, the shop is open from 10.00 – 18.00
Closed on Tuesdays
Address: 1 Kumagawa, Fussa City, Tokyo 197-8623
Access: 20-minute walk or 8-minute taxi ride from JR Haijima Station (approximately 50 minutes from Shinjuku)
Good to know: the legal drinking age in Japan is 20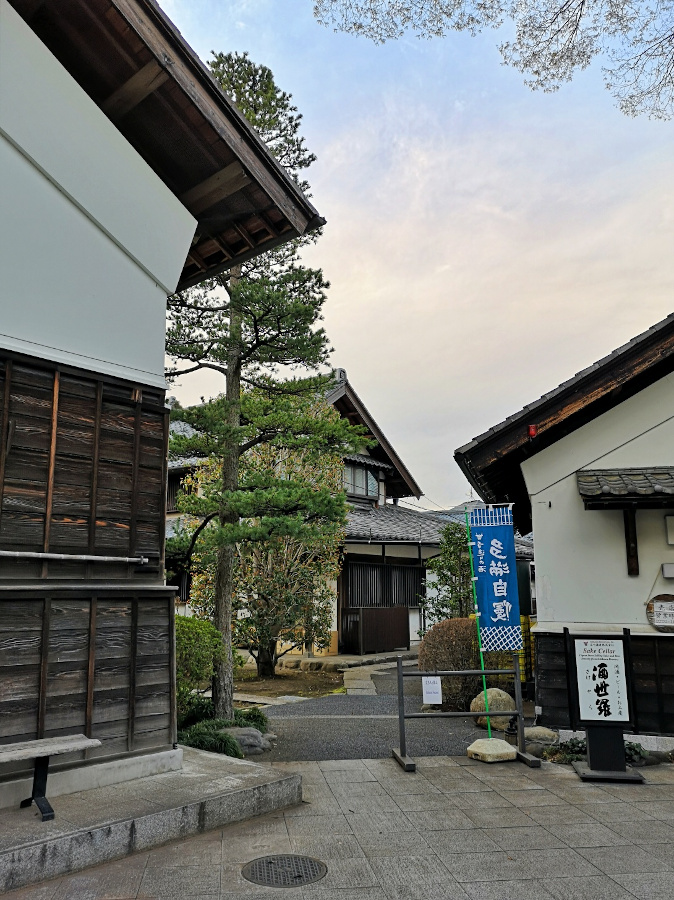 Learn About Origami at Origami Kaikan and Admire the Ema at Kanda Myōjin Shrine in Ochanomizu
If you have even a passing interest in origami, this charming little museum is for you. Actually, the museum isn't quite the right word, this is a multi-functional centre which aims to make this traditional Japanese art available to everyone.
There is a gallery with seasonal origami displays and a shop where you can buy anything from simple origami kits to elaborately decorated sheets of paper known as chiyogami.
Origami Kaikan also has an on-site paper-dying studio that supplies paper to the shop below. As long as the door isn't closed, you are free to enter the studio and watch the dyers at work. Definitely one of the unique experiences in Tokyo.
If you would like to give origami a go yourself, Origami Kaikan also holds workshops that range from beginners to advanced. If you're lucky, you may also catch a demonstration in the shop by the director of Origami Kaikan himself.
Admission to Origami Kaikan is free, but you need to pay to join the origami workshops. Check the website for details of upcoming classes.
Opening hours: 9.30 – 18.00
Closed on Sundays and National Holidays
Address: 1-7-14, Yushima, Bunkyo-ku, Tokyo 113-0034
Access: 5 minutes walk from exit 1 of Ochanomizu Station (Marunōchi subway line)
Just down the road from Origami Kaikan is Kanda Myōjin Shrine. While the shrine itself isn't necessarily any more impressive than other shrines in Tokyo, it is the ema that make this shrine unique.
Ema, usually found in Shinto shrines, are wooden plaques that people write their wishes on and hang up for the kami (gods) to receive.
Due to its proximity to Akihabara, Tokyo's manga hub, Kanda Myōjin Shrine has become popular with manga fans and aspiring manga artists who turn their ema into mini works of art.
I love checking out the ema here and I always wonder if I'm looking at the work of the next big manga or anime artist!
Admission: free
Opening hours: open all-day
Address: 2-16-2 Sotokanda, Chiyoda, Tokyo 101-0021Japan
Access: 5 minutes walk from Origami Kaikan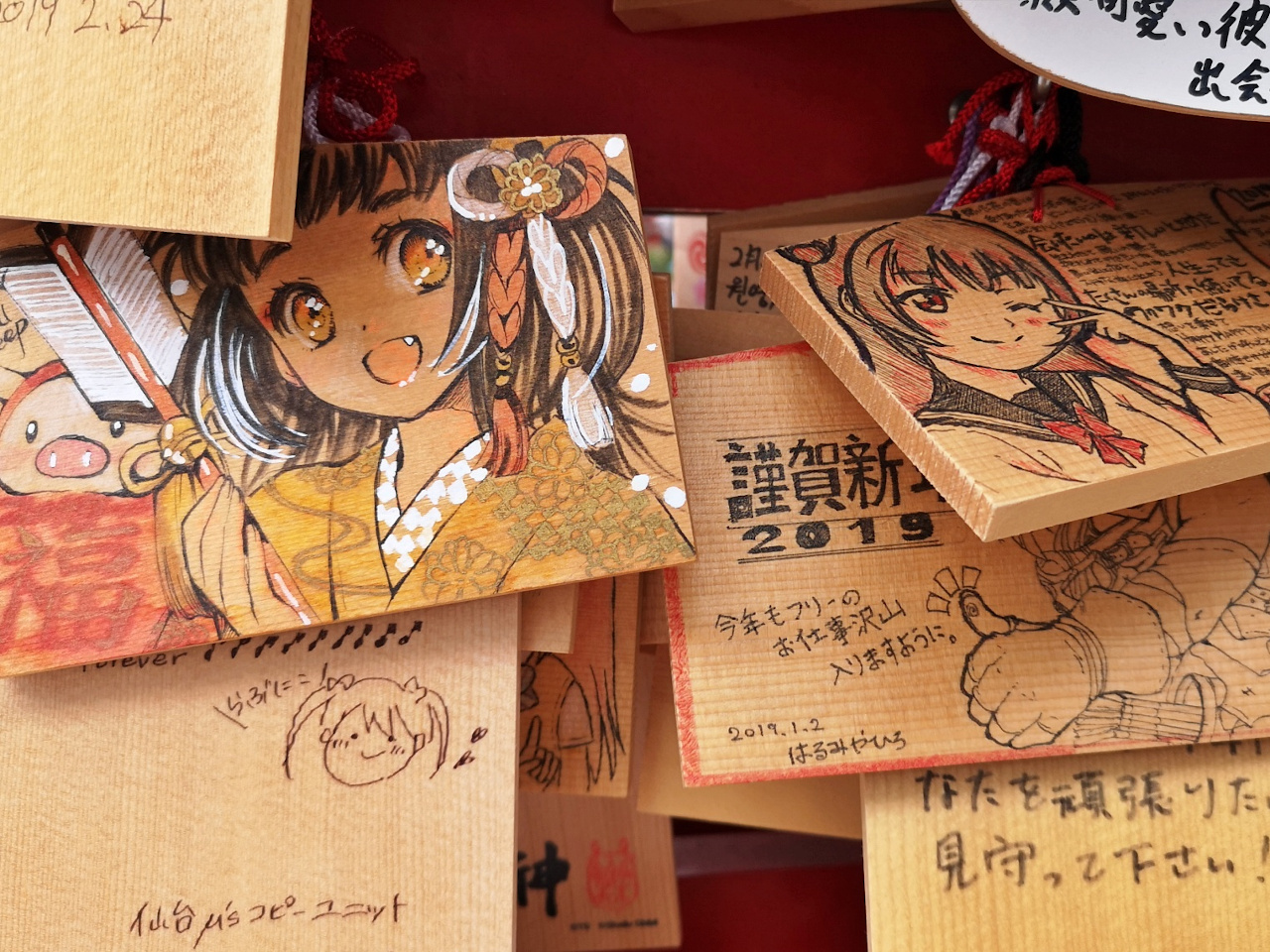 Escape the Harajuku Crowds at Tōgō Shrine
Tōgō shrine is a mere stone's throw away from Takeshita-dōri, Harajuku's famous and always crowded shopping street. You'll most likely visit it when you are taking a one-day trip to Harajuku and Shibuya.
If you take a left at Marion Crepes, about halfway down Takeshita-dōri, you will find the entrance to this small shrine which is popular with people who want to pray for success in competitions or sporting events and it is one of the top unusual things to do in Tokyo.
There is more to Tōgō shrine than the shrine itself though; walk down the stairs on the other side of the shrine and you will find yourself in a peaceful Japanese garden with a pond full of colourful koi carp.
Keep an eye out for turtles and herons as well, last time I was there I was lucky enough to see both in this oasis of a garden.
Tōgō shrine is the epitome of what I love about Tokyo – even in the busiest parts of the city you are never far away from a green space or a pocket of calm.
Admission: free
Opening hours: open every day from 6 am – 5 pm
Address: 1-5-3 Jingu-mae, Shibuya-ku, Tokyo
Access: 4 minutes walk from JR Harajuku station.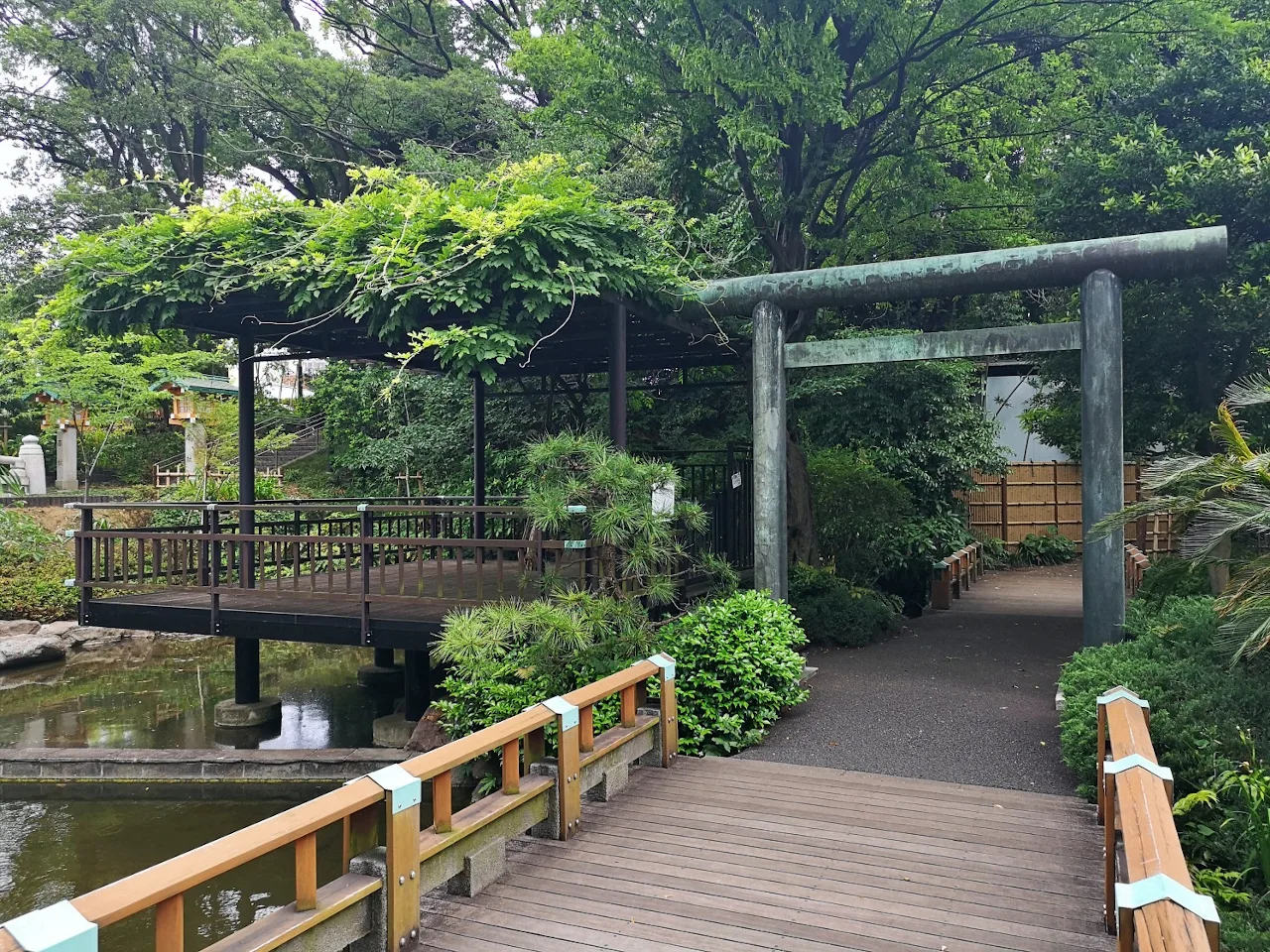 As you can see, there is a lot more to do and see in this vibrant city than the main tourist sights, and some of these offbeat experiences in Tokyo are free and allow you to get a better understanding of the local culture.
Hopefully, this list has inspired you to get off the beaten path in Tokyo!
About the author:
Shannon is a travel and dessert blogger from the UK. She shares detailed itineraries, travel stories and dessert recommendations on her blog: Dessert Highway. Shannon lived in Tokyo for three years and travels back to Japan as often as she can. Follow her on Instagram and Pinterest as well.