Planning a trip to Warsaw and you only have a few days? Here's how to spend 2 days in Warsaw, Poland so that you can see the best in the city! These are the top things to do in Warsaw in 48 hours for a complete experience!
Use this Warsaw itinerary recommended by Or from My Path in the World for your next Warsaw short trip.
2 days in Warsaw, Poland: things to do in Warsaw in 48 hours
Warsaw, the capital of Poland, is slowly gaining the attention it deserves as a city worth visiting, but it's still an underrated destination in Europe. It often has a connotation of being grey and boring, but that's not the case at all.
You'll be surprised by how many things there are to do and see in Warsaw, how diverse and full of contrasts it is, and how vibrant and fun it has become. While you can spend a lot more time than 2 days in Warsaw, it is possible to see and experience many of the city's highlights in 48 hours.
Currency in Warsaw
Poland is a part of the EU, but the local currency is Zloty (or PLN), and one zloty is equal to about 0.25 USD. You can withdraw or exchange your money in the city, but I recommend bringing some zlotys with you.
Best time to visit Warsaw, Poland
Poland is an Eastern European country, which means that the weather in most months is pretty cold so it would be better to visit from late May to early October. Even during the warmer months, it can be chilly in the evenings, so be sure to pack a few warm clothes.
Included in this 2-day Warsaw itinerary are:
Wilanow Palace and Gardens
Warsaw's Old Town including the Royal Castle, the Market Square, and the Barbican
Pawilony
Free street art tour in the Praga district
Neon Museum
University Library Gardens
Lazienki Park
Places to eat in Warsaw
2 DAYS IN WARSAW – DAY 1
Breakfast: Green Caffe Nero
Forget everything you ever thought of chain restaurants because this Polish cafe chain is a total winner. The first thing that won me over was the decor. It's modern yet so cozy that you immediately feel at home (and like you never want to leave).
The next thing that will catch your eye is their impossible-to-choose-from food display counter. From sandwiches and quiches to pastries and cakes, everything looks (and tastes) delicious. Throw in a great cup of coffee, and you've got yourself one perfect morning.
Although Green Caffe Nero is located all around Warsaw, my two favorite locations were at Nowy Świat 53 and Bracka 16. Unlike other cafes, they are open from 7 AM, so you don't need to waste your time and wait until 9 AM to start your day.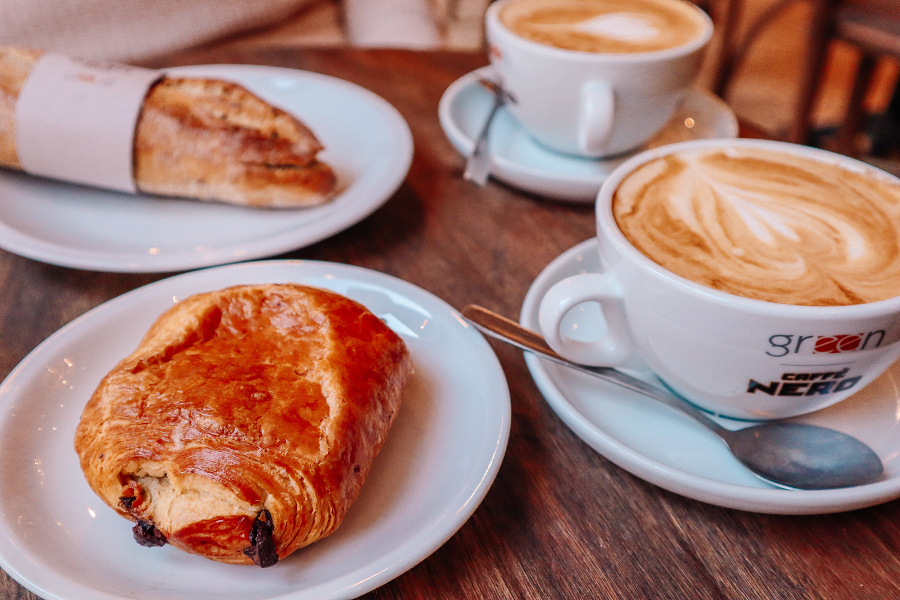 Morning: Visit the Wilanow Palace and Gardens
Since 80% of Warsaw was destroyed during World War II, most of the landmarks in the city are reconstructions. Although it was changed over the years, the Wilanow Palace is one of the few landmarks that had survived the war.
This little beauty was built in the 17th century and was remodeled throughout the years. Its interiors are impressive, but what struck me most was the stunning yellow facade. The palace's complex also includes a lake and beautiful gardens where you can stroll around and relax.
To get to the palace, take buses 116, 180 or 519 from the city center. Also, be sure to be there right when it opens so you could enjoy it without the crowds. One thing is clear: Wilanow Palace is one of the best things to see in Warsaw in 48 hours.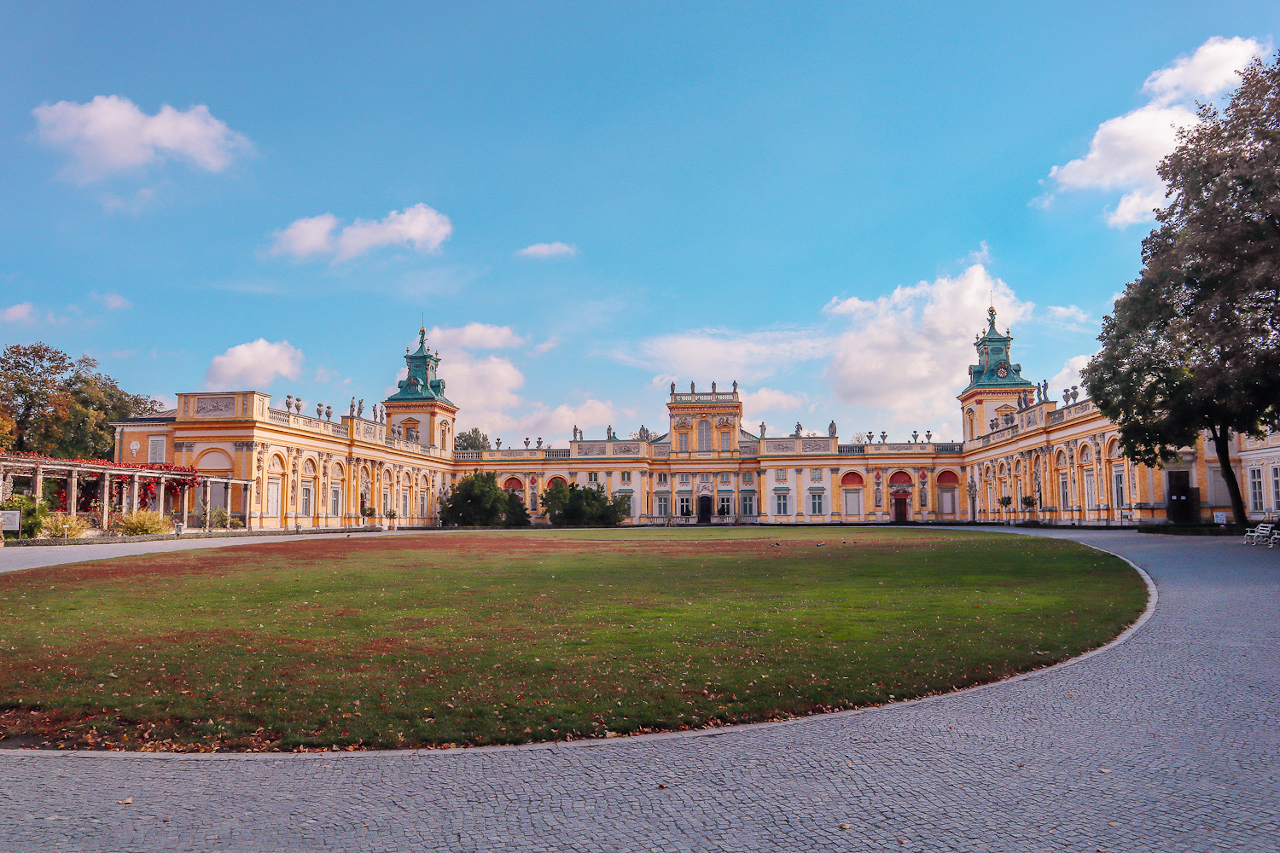 Lunch: Have some amazing Polish food at Zapiecek
Do you know how sometimes the most famous and recommended places to eat can be totally overrated? Well, I'm happy to say that Zapiecek lives up to the expectations. From soups to stews to delicious potato pancakes, they serve all kinds of hearty Polish food, but you cannot leave without trying their pierogis.
Pierogis are stuffed dumplings that can be cooked or fried and are usually served with a topping of your choice like fried onions or sour cream. At Zapiecek, you'll also find many vegetarian pierogis (as well as other vegetarian dishes) and even sweet pierogis stuffed with fruit like apples or blueberries. I have nothing else to say but YUM.
Address: Piwna 34/36.
There are several other locations in Warsaw (I particularly loved the one on Nowy Świat 64 for dinner), but head to the one in the old town so you can continue your day there. It's quite small and you might have to wait to get in, but I think the food is worth it.
Afternoon: Explore Warsaw's Old Town
Probably the most charming area in the city, Warsaw's Old Town is a paradise of colorful streets and exquisite architecture. Most of it was reconstructed after World War II, and it was declared a UNESCO World Heritage Site. The old town is actually not that big, but there's plenty to see around it, so you should take the entire afternoon to explore and enjoy it.
Start at Castle Square and marvel at the stunning Royal Castle that used to be the official residence of the Polich monarchs. You can visit the museum inside it, and if you're here on a Wednesday, the admission is free.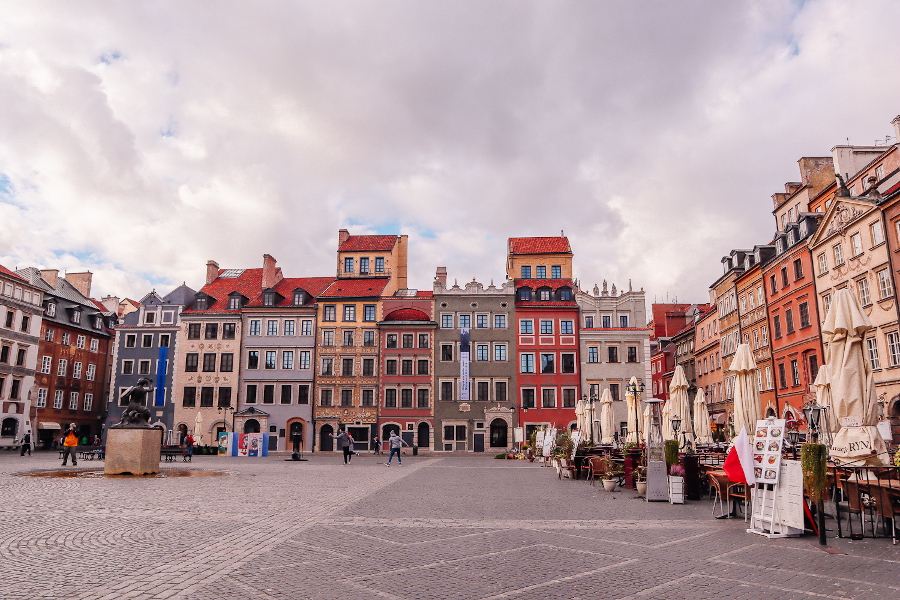 Continue to the Old Town Market Place, which is one of the most beautiful squares you'll ever see. The townhouses in and around the square have a fairytale-like quality, and I'm sure you'll want to take lots and lots of pretty pictures and lose yourself in this colorful maze.
One more thing to see in this area is Warsaw's Barbican, which is one of the few remains of the city's system of fortifications.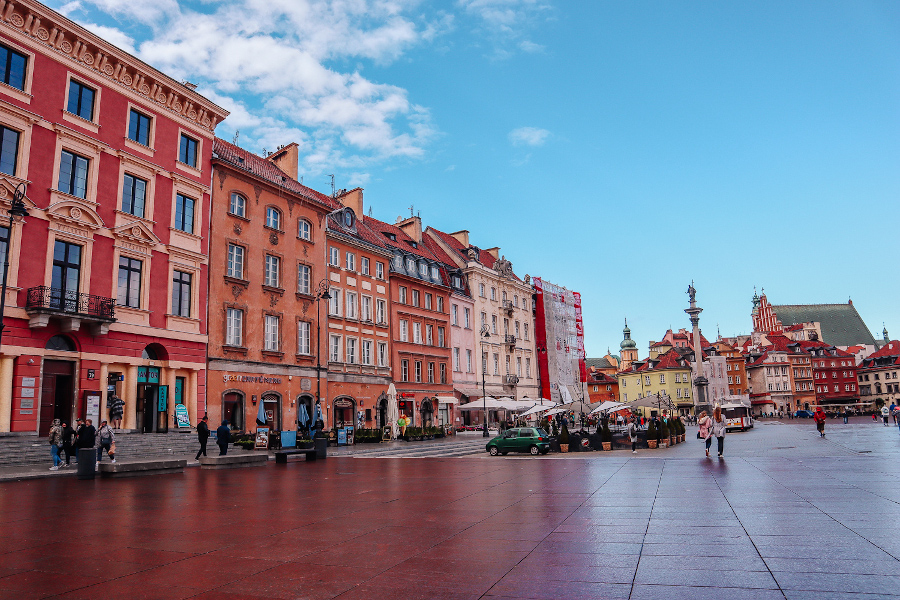 Dinner
Now that you saw many of the Warsaw's attractions on the first day of this Warsaw itinerary, it's time to relax. You can have dinner in the old town or head to Nowy Swiat street where you can find many nice restaurants of all types of cuisines.
Evening: Finish your day at Pawilony
How ecstatic would you be if I told you that you could do a pub crawl of 25 bars and pubs in only one place? That's exactly what Pawilony is – a group of 25 small bars gathered together in one small yet super cool area. From cocktail bars to craft beer pubs, this is a great (if not the best) spot to enjoy an evening out in Warsaw.
Address: Nowy Świat 22/28.
2 DAYS IN WARSAW – DAY 2
Breakfast
Nowy Swiat and its surrounding streets are also great for finding a cozy cafe or bakery to have breakfast.
Morning: Take a unique street art tour in the Praga District
Wondering what to do with 2 days in Warsaw? Then let's see what you can do on your second day in the city.
Beyond the fact that only 20% of Praga was destroyed during World War II, it is now the trendy and hipster district that's filled with cool museums, cafes and restaurants, and colorful murals. To learn about the street and urban art in Praga as well as the district itself, take a free walking tour.
It's fascinating getting to know different artists and techniques while also learning about the history of Praga and seeing all the pre-war buildings. This contrast is truly unique, and this tour is a must-have experience when you want to see the best of Warsaw in 2 days.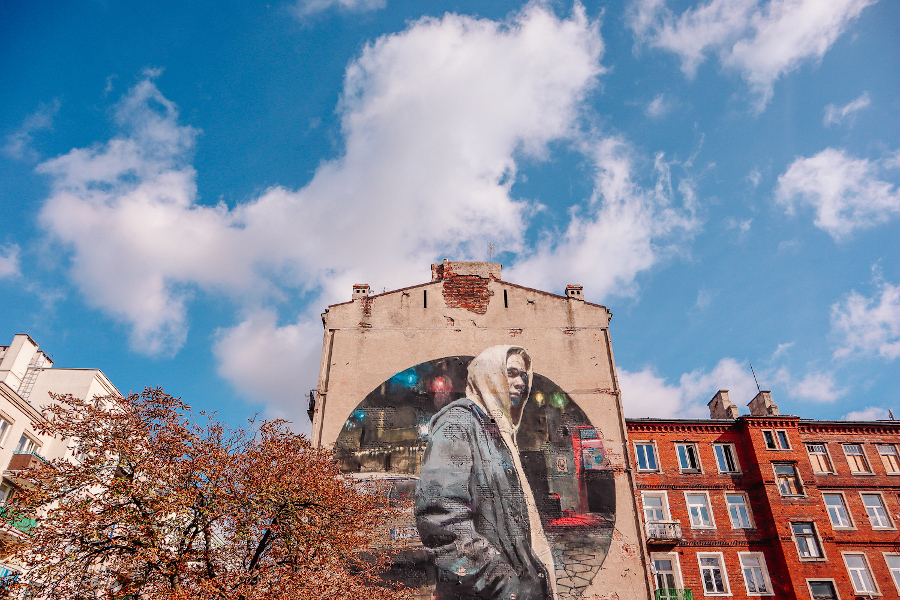 Visit the unusual Neon Museum
It looks a bit cooler in photos than it actually is, but if you're already in Praga, head to the Neon Museum. In the museum, which is dedicated to the preservation of the neon signs from the communist era, you can learn about the history of the different signs and, of course, appreciate these unique creations. It's one of the unusual things to do in Warsaw and one of the fun Warsaw activities to consider if you only have 48 hours in Warsaw Poland.
Address: Soho Factory, Mińska 25.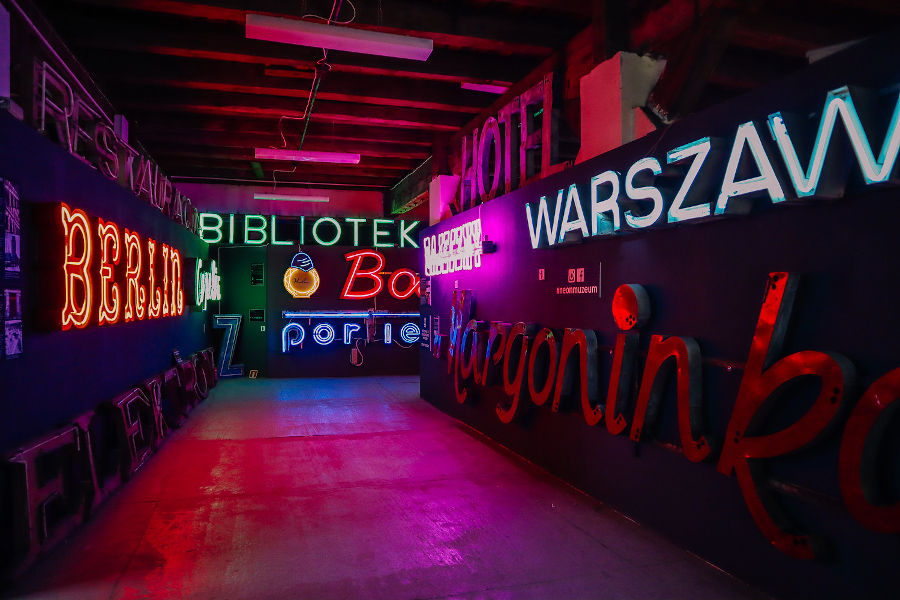 Lunch: a budget-friendly meal at a milk bar
No, it's not a place where you sit and drink milk (although that could be a cool idea). Dating back to the 19th century, milk bars are diners serving traditional Polish food at ridiculously low prices. There's no special decor. There's no music.
It's all about having a comforting good meal without spending a whole lot of money on it. Since you're in Praga, check out Rusalka. I think the most expensive main course costs 8 PLN which are equal to about 2 USD so this is the ultimate cheap eat combined with an authentic experience.
Address: Florianska 14.
Afternoon: Marvel at the University Library Gardens
With their unique layout and decor, these gardens are a must-see in Warsaw. They are located on the roof of Warsaw's University Library so you won't just stumble upon them, which makes them a proper hidden gem.
They are also a perfect spot for an after-lunch stroll, and a huge bonus is that you can visit the gardens for free.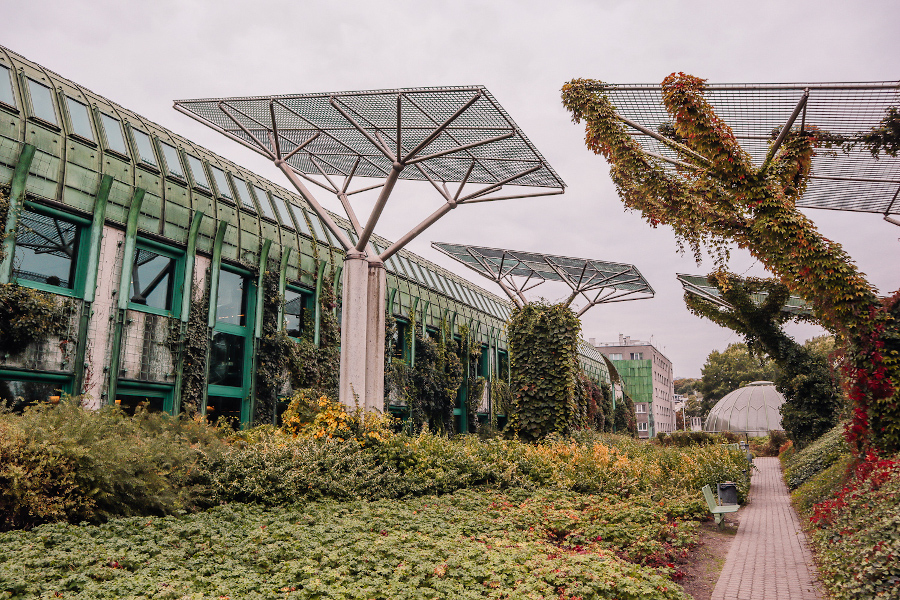 Stroll around Lazienki Park
Continue your day with some more natural(ish) landscapes, and head to Lazienki Park, which is the largest park in Warsaw. Apart from the beautiful and calming green scenery, it also houses a few landmarks.
The first one you'll notice is the Chopin Monument. The famous composer and pianist was born and raised in Warsaw, and you can enjoy free concerts that take place next to his statue on Sundays during spring and summer.
The next important landmark in the park is the Palace on the Isle, which dates back to the 17th century and is one of the few buildings in the city that have survived World War II.
Other places to visit in Lazienki park include the Old Orangery and the Royal Theatre.
Dinner
Chianti Trattoria Włoska (Foksal 17) is an amazing Italian restaurant. They're a bit pricier in terms of local dinner prices, but in comparison to other European cities, they're probably still considered budget-friendly.
With the elegant decor and the delicious food, you're also getting great value for your money.
Evening: End your trip with a cup of quality hot chocolate
What better way to end your two days in Warsaw than a cup of rich hot chocolate?
E. Wedel is a company that produces chocolates and sweet snacks, so when you find out that they have chocolate lounges in Warsaw, you have to go.
Their never-ending menu is enough to make anyone drool, and the regal decor makes you feel like you're inside a palace rather than a cafe. The classic hot chocolate was thick and delicious, but they offer so many interesting flavors and combinations that everyone can easily find something to order.
Address: Szpitalna 8.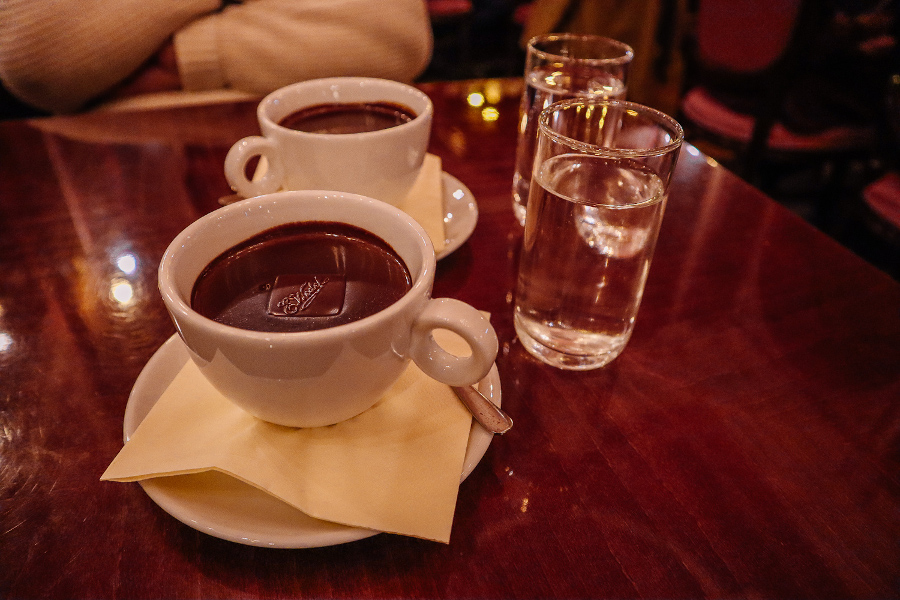 Conclusion:
As you can easily see, there are plenty of great things to do in 2 days in Warsaw. This 2-day Warsaw itinerary allows you to see the best of the city, learn more abouot it's past and enjoy the great Polish food at affordable prices.
About the author:
I'm Or, a twenty-something aspiring travel blogger at My Path in the World on a mission to help people make the most of their trips. I'm always in search of hidden gems and unique experiences in both touristy and non-touristy destinations. My biggest travel obsession is Spain, but I love exploring Europe in general and all continents are on my bucket list. Follow her on Facebook, Instagram, and Pinterest.