Buenos Aires, the capital and largest city of Argentina, has a lot to offer to any visitor. From impressive architecture to great food and restaurants, from famous tourist attractions to cool off the beaten path things to do in Buenos Aires, you'll find a lot to see and do in this city.
To help you make the most of it, here's the best travel guide to Buenos Aires. This guide has the best things to do in Buenos Aires, including off the beaten path attractions in Buenos Aires, top restaurants in Buenos Aires, and, of course, the best hotels in Buenos Aires, plus some very helpful Buenos Aires travel tips.
The recommendations are offered by Anthony from Green Mochila. Use these places to visit in Buenos Aires included below when creating your Buenos Aires bucket list and, obviously, your ultimate Buenos Aires itinerary.
As you'll easily notice, the Buenos Aires things to do included in this article are both famous tourist attractions in Buenos Aires, as well as lesser-known things to see in the city. They are suitable for any taste and preference, so you'll find some perfect ideas for you as well, no matter what you prefer to see and do on your trips.
This guide is part of the free expert destination guides series on this blog.
Travel Guide to Buenos Aires with the best Buenos Aires attractions, food, tips, and more
Buenos Aires and its attractions caught us as soon as we set foot on its soil and remains one of our all-time favourite places in South America. It definitely breathes those "good airs" ('buenos aires' means "good airs" in Spanish) that travellers seek when visiting a city.
In fact, if you visit one city on the continent, it should be Buenos Aires. We hope that this short travel guide to Buenos Aires and its attractions will convince you.
Included in this Buenos Aires travel guide – famous Buenos Aires tourist attractions:

Congress
Avenida de Mayo
Plaza de Mayo
Casa Rosada
Plaza Lavalle
El Ateneo Grand Splendid
Palermo Gardens
Palermo nightlife
Museum of Latin American Art
National Fine Arts Museum
Recoleta Cemetery
Plaza Dorrego and San Telmo
La Boca's Caminito

Buenos Aires off the beaten path – unique things to do in Buenos Aires

Museo del Tango
Parque Lezama
Free tango class
Free event in Centro Cultural Kirchner
Mothers of Plaza de Mayo

Where to eat in Buenos Aires
Where to stay in Buenos Aires
Tips for visiting Buenos Aires
Best time to visit Buenos Aires
There isn't really a best time to enjoy Buenos Aires attractions. Remember that Summer in the Southern Hemisphere goes from December to February.
The perfect weather is naturally in spring (from September to November) and in autumn (from March to May). The most beautiful time is probably in the months of October and November when the trees of the many parks are in full bloom. Take these tips into consideration when planning your Buenos Aires trip and have the best time visiting this city!
Travel Guide to Buenos Aires Attractions
Congress and its square
Out travel guide to Buenos Aires starts at the Congress, a beautiful imposing palace in the middle of the city. The square that sits in front of it buzzes with local life, children playing, business people on a break, friends sharing a mate.
Admire the stunning facades around, symbols of the rich history of this city unsurprisingly nicknamed "The Paris of South America".
It's possible to take a guided tour of the Congress building. Visits can be in English or in Spanish, on Mondays, Tuesdays, Thursdays, and Fridays. It's completely free, just remember to bring a personal document. After your tour, you'll easily see why the Congress is one of the best places to visit in Buenos Aires.
Avenida de Mayo
Buenos Aires has a gorgeous neoclassical architectural style, influenced by the French and the Italian. This comes as no surprise in a city that was literally built by immigrants. The Avenida de Mayo, the main artery of the city centre, is like an open-air museum of architecture and one of the top things to see as you continue to explore Buenos Aires.
You'll marvel at the many European fin-de-siecle buildings, such as the Palacio Barolo and the Teatro Avenida. We recommend you start your Buenos Aires sightseeing with a stroll from the Congress until Plaza de Mayo.
You will see there a pink house aptly called Casa Rosada which is the president's residence.
Plaza de Mayo
It's the political heart of the nation, and not only because both the presidential seat and the cathedral are here. The Plaza de Mayo is where demonstrations have always taken place, basically where the people gather to address their leaders.
It's also a gorgeous square surrounded by the neoclassical facades of important administrative buildings and several museums which makes it one of the top sights in Buenos Aires.
Casa Rosada
It's possible to take a guided tour of the 'Pink House', the residence of the president and one of Buenos Aires landmarks. If you don't care much about how the president of Argentina works, you can at least have a peek at the beautiful rooms and their sumptuous decoration.
The visit is absolutely free of charge anyway, so you don't risk much. They are always on Saturdays: all day in Spanish, and at 12:30 in English. There again, don't forget to bring a document of identification for the visit.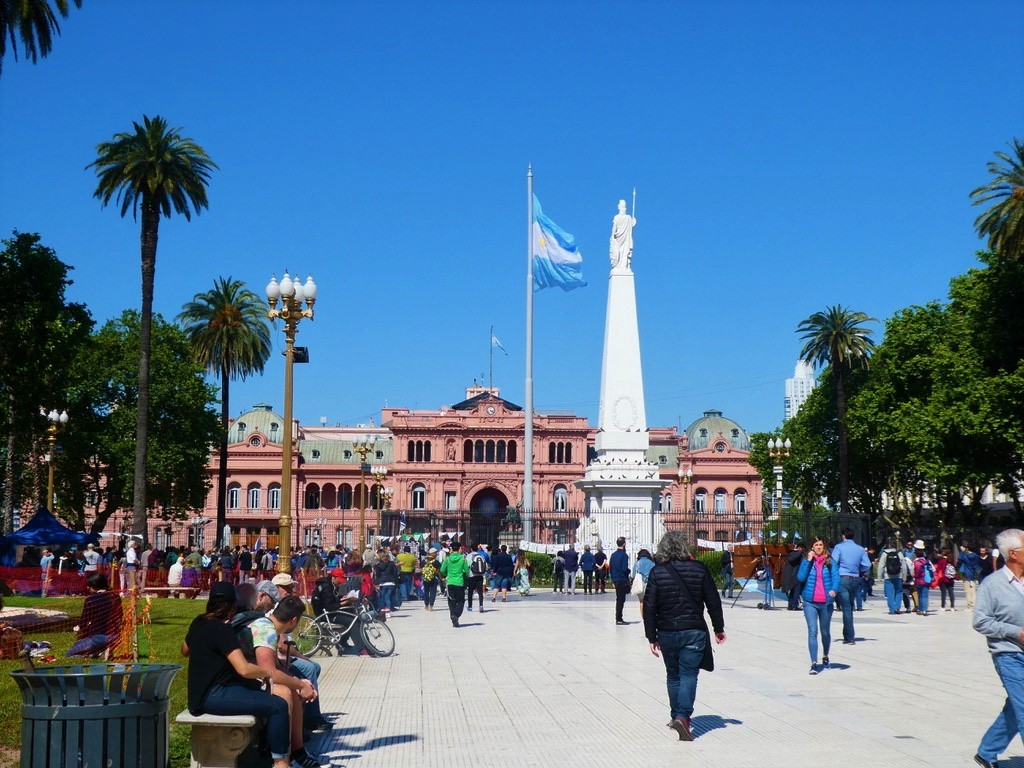 Plaza Lavalle
This is yet another of the typical neoclassical squares of the city centre. There again, there are beautiful buildings all around, but the main attractions are in Teatro Colón, Buenos Aires' main opera house which opened in 1857. After falling into decline, it was refurbished and reopened in 2010.
El Ateneo Grand Splendid
Stepping inside El Ateneo Grand Splendid is a must, as it's one of our favourite buildings in the Argentine capital. This bookshop –because that's what it is– was built in 1919 as a theatre. It is now the most beautiful bookshop in the world, according to National Geographic in 2019. The collection of books is spread on three floors and there are seats to rest and read. There are also temporary exhibitions, a cafe, and a stage, supposedly for live events.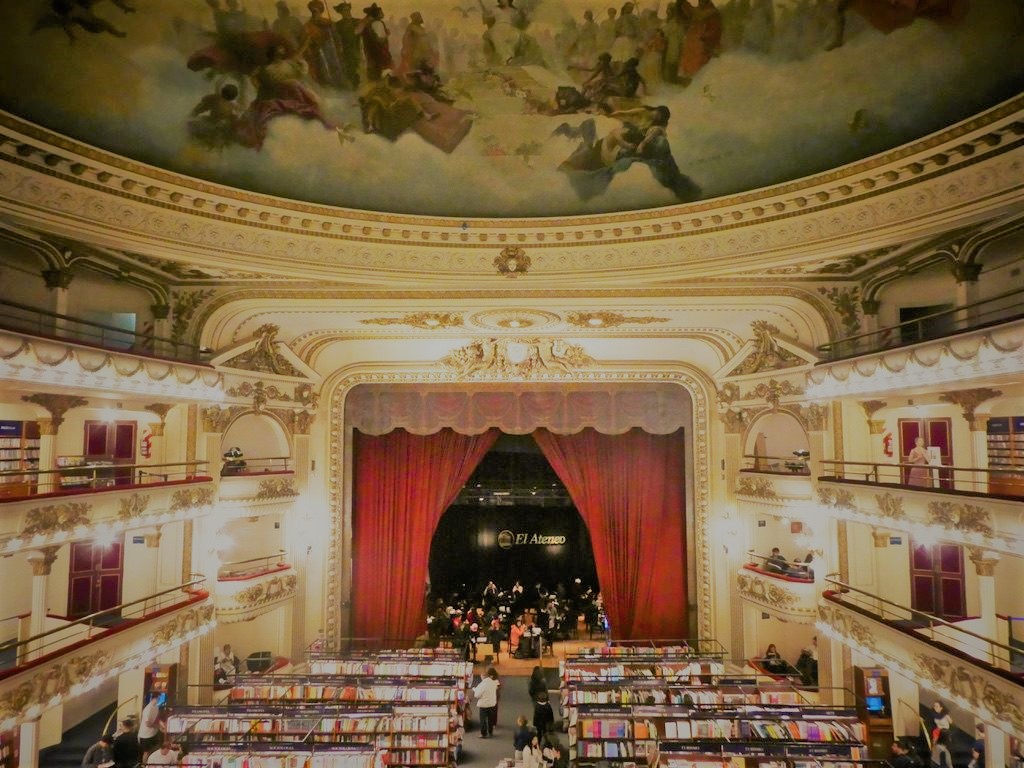 Palermo Gardens
No travel guide to Buenos Aires could dare skip Palermo. Palermo makes, along with Puerto Madero to the east, the lungs of the city; it comprises an impressive area of parks and gardens. The most important are the rose garden, the Japanese garden, and the Botanical garden.
It showcases around 20,000 roses from more than 1000 varieties, but that's not all. It's part of a large park (named 3 de Febrero Park) which also features square, fountains, monuments and a lake.
This one has a paid entrance. Of course there is here everything you usually find in a Japanese garden: landscaping, Zen areas, pond with carps, etc. But it offers also traditional Japanese activities like bonsai, origami or shiatsu. Guided tours (no additional charge; on Saturdays and Sundays at 3:00 pm) will tell you about the history of the Japanese immigration in Argentina.
This is a pretty neat garden à la française, very clean, peaceful, and completely free of charge. You will discover here many varieties of plants that are endemic to Argentina and South America.
Palermo nightlife
Palermo is the most famous going-out area in the city, both for porteños (residents of Buenos Aires) and visitors alike. Just walk along the streets of Thames and Honduras to find what you're looking for, whether it be a craft beer, some cocktails, a club for a dance or a restaurant.
Museum of Latin American Art
Art lovers should absolutely not miss the Museo de Arte Latino Americano de Buenos Aires (MALBA) in the Palermo district. It hosts the biggest collection of Latin American art on the whole continent, nothing less.
You'll find names that ring a bell, like Frida Kahlo and Diego Rivera. But besides, you can also get acquainted with other great artists' works. If you're interested in art, this is your perfect introduction to Latin American artists. The museum is privately owned and there's no free day, but on Wednesdays the entry is half price.
National Fine Arts Museum
Another great art museum is the free Museo de Bellas Artes which showcases works from Argentinian and European artists. It's extensive and will definitely require several hours of your time.
It can be a good idea to split your visit in two; have a rest in between in one of the several parks nearby.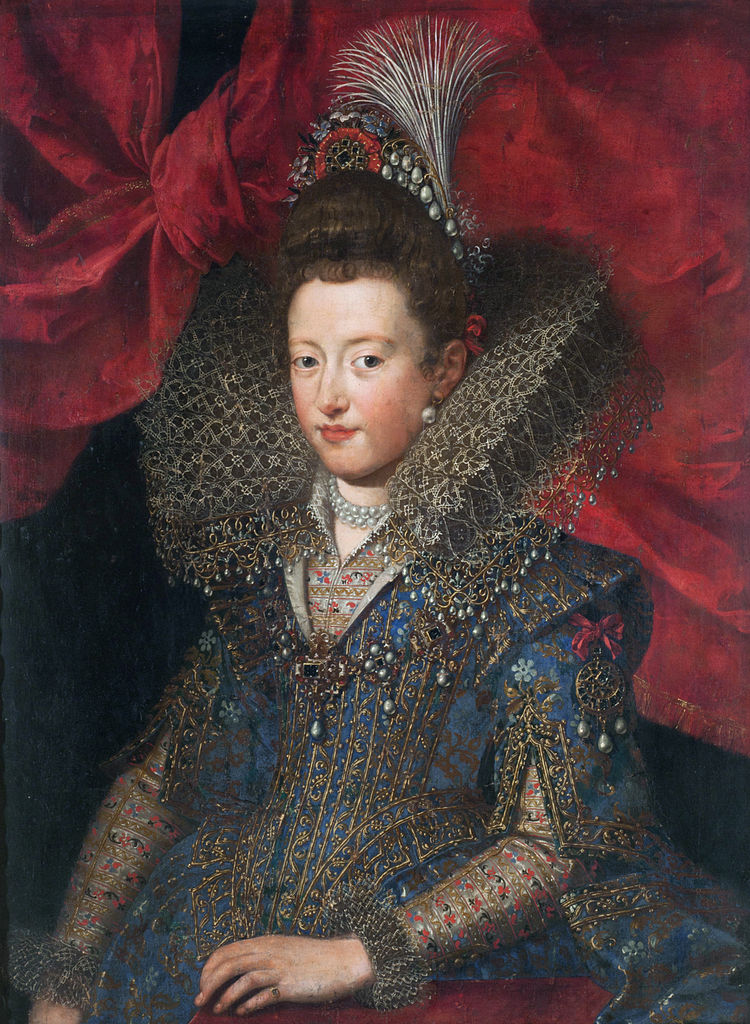 public domain photo from Wikipedia
Just behind the museum, the Floralis Genérica is a metal artwork representing a flower that opens its petals with sunrise and closes them again when night falls. Time your visit well to witness this interesting phenomenon! It is one of the best things to do in Buenos Aires – an interesting construction to admire on your way to or from the museum.
The sculpture, built in 2002, opens during the day and closes at night, so it is quite spectacular.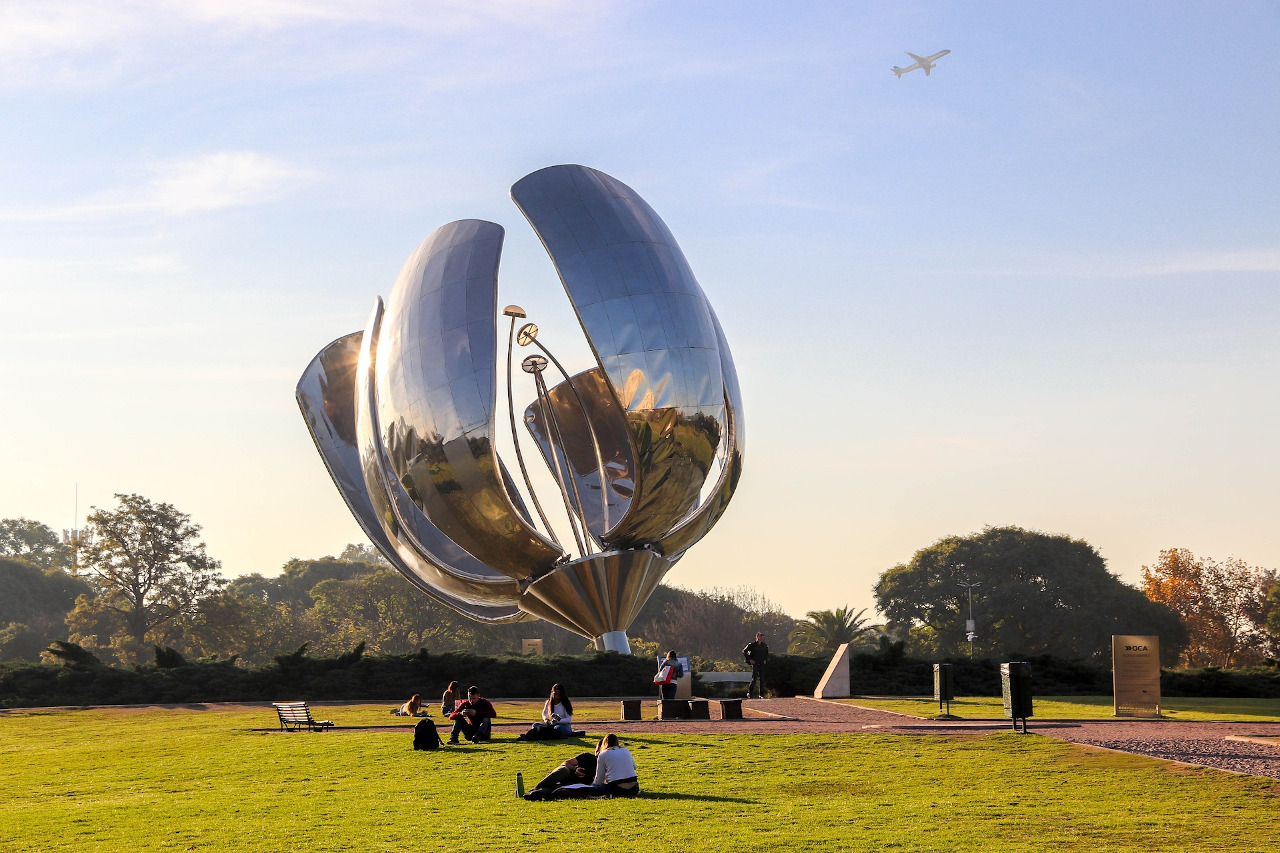 Recoleta cemetery
The elegant district of Recoleta is famous especially for its cemetery, where many well-known people are buried. It's one of the most interesting attractions in Buenos Aires and deserves its place in this travel guide. Instead of the usual gloomy gravestones, exquisite little mausoleums were built to the dead. Locals seem to have a lively social life inside the cemetery, meeting up, eating, and drinking mate.
Make sure you locate the mausoleums of the famous people you want to visit on the map at the entrance. If you're not Argentinian, you probably won't know many of them, but some names will surely ring a bell. Shall we mention Evita?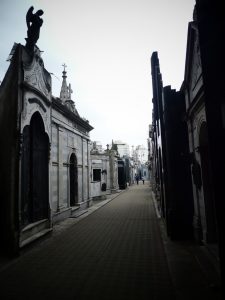 Plaza Dorrego and San Telmo
As any travel guide will tell you, San Telmo is the place for tango in Buenos Aires; and Plaza Dorrego is its heart. The atmosphere is quite alternative, with many cute shops, cafes, bars and food markets.
Here you'll see amazing donation-based tango shows directly on the square, by dancers who looked fairly professional to our amateur eyes, so you need to include this place on your Buenos Aires itinerary.
On Sundays, there's a cool flea market on the same square and all the neighbouring streets. It's a huge market where everything can be bought, or sold, or stolen. Meaning: keep an eye on your belongings.
El Caminito in La Boca
La Boca is a colourful neighbourhood on the river bank and one of the things to do when visiting Buenos Aires. The touristy part, El Caminito, consists only of a couple of streets with brightly painted wooden shacks.
It's full of tourists all the time and caters to them with souvenir shops, restaurants, and tango shows. We really don't recommend watching a tango show in that area though; you'll find much better quality for a similar price somewhere else.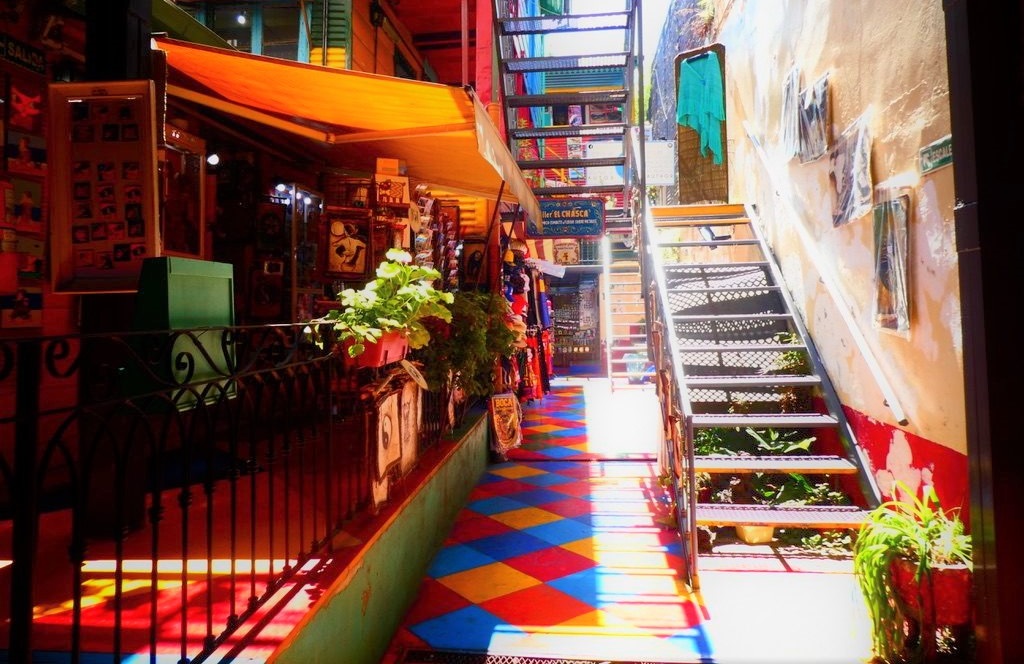 Buenos Aires off-the-beaten-path attractions
We want to complete this travel guide to Buenos Aires with a few off-the-beaten-path places inspired by our local encounters.
Museo del Tango
It might sound like a stereotype to visit a Tango Museum in Argentina. It also might not seem so off the beaten path. The fact is, most Argentinians we met, whatever their age, do love tango.
You will also hear it everywhere during your visit of Buenos Aires' attractions; in the shape of a street show, a concert, a restaurant's background music or a statue on a square.
For an insignificant price, this little museum right on Avenida de Mayo –just next to prestigious Café Tortoni– contains two rooms of tango-related memorabilia and explains the story of this legendary music, intertwined with the one of the city. It was almost empty at the time of our visit.
Free event in Centro Cultural Kirchner
Of course, there are a lot of events and attractions in Buenos Aires and surprisingly many of them are free. We say surprisingly, for a country which is constantly in crisis and could do with a bit of extra cash. A travel guide to Buenos Aires' best attractions cannot exist without tango and this is how we discovered the CCK.
This cultural centre near Plaza de Mayo offers all its events for free, including dancing classes, exhibitions, concerts. It really is a great starting point for a night out!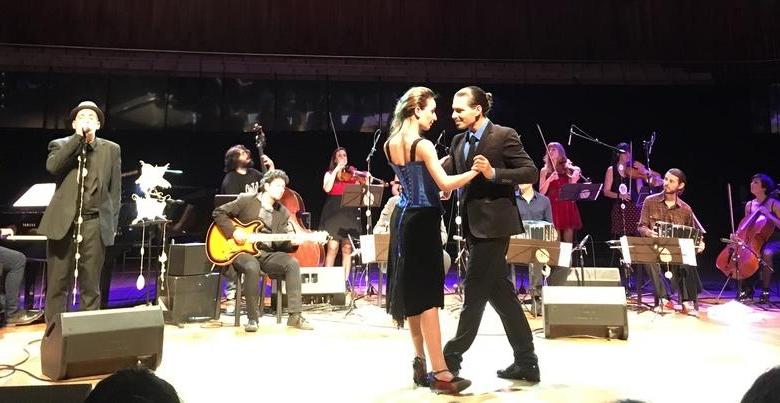 Free tango class
Once you're stoked on tango, milonga and the magical voice of Carlos Gardel, why not have a go yourself? Tango is certainly a difficult dance; but dance teachers are used to tourists trying their luck at the intricate leg job.
Most dancing schools seem to offer a first class for free. Find one for the time of your visit and in a neighbourhood near you.
Parque Lezama
This big park is at the southern tip of the San Telmo district, halfway to La Boca's La Bombonera stadium. It's a very local and social park, where residents meet up to drink mate, go jogging, attend a yoga class, etc. There's also a small amphitheatre for seasonal outdoor events. If you want to go off the beaten path in Buenos Aires, this park is a great place to go to.
Mothers of Plaza de Mayo
A different type of "event" is the march of the "Mothers of Plaza de Mayo" every Thursday at 4:30 pm on the main square. They look for and recite the names of their children, the "desaparecidos" (= disappeared); those people were most probably detained or killed during the dictatorship between 1976-1983.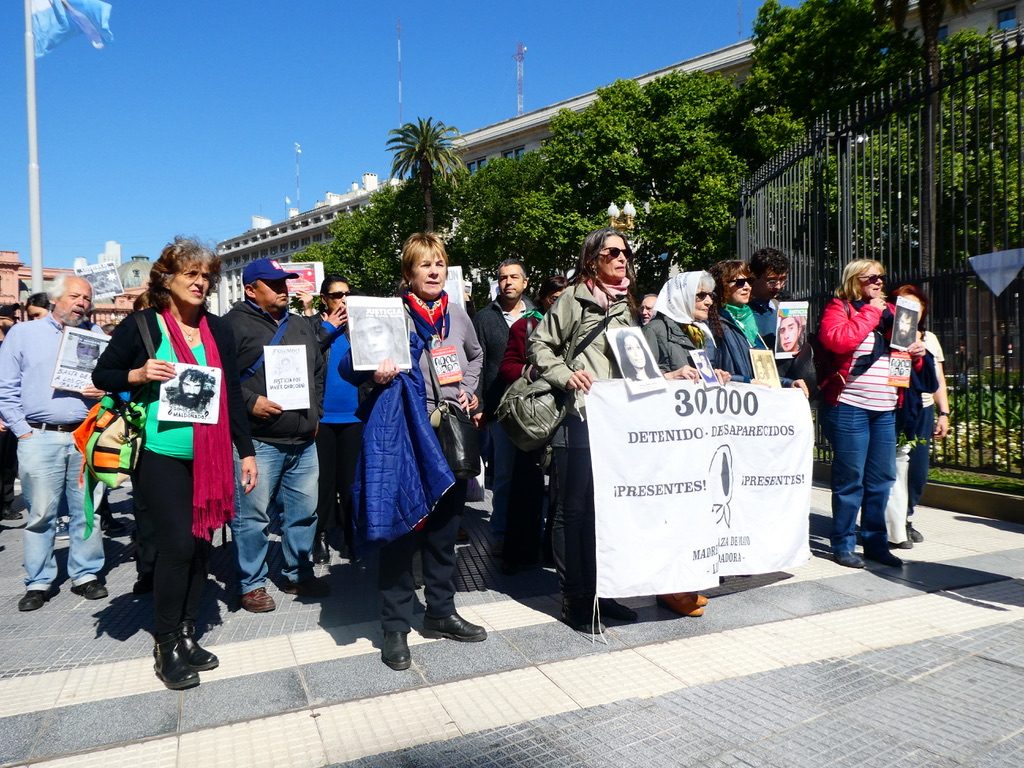 Where to eat in Buenos Aires
The Argentine capital is a real modern city; so you won't have any problem finding national, but also international restaurants in every district you might cross. As vegetarians, we were also delighted to find veggie options very easily. Here are some of the best restaurants in Buenos Aires.
If you don't mind your silhouette, pop to La Americana near the Congress. A woman prepares tasty empanadas (filled triangular pastries), including vegetarian ones, directly in front of you. Defnitely one of the best places to eat in Buenos Aires. At lunch time, it fills up with business people.
La Continental is a chain of diners à la Buenos Aires and will please backpackers with cheap greasy pizza, a speciality of the city.
Our other delight was the sweets assortment in most bakeries. The specialities here are dulce de leche (a caramel-like dip) and quince jam. Try a dulce de leche mille-feuille and tell me you don't love it!
Our favourite eating place in case of good weather is an ensemble of food trucks called "Patio de los lecheros". You'll find there hipster burgers, colourful Mexican food, delicious French crepes and more. It's a bit remote though, in the district of Caballito.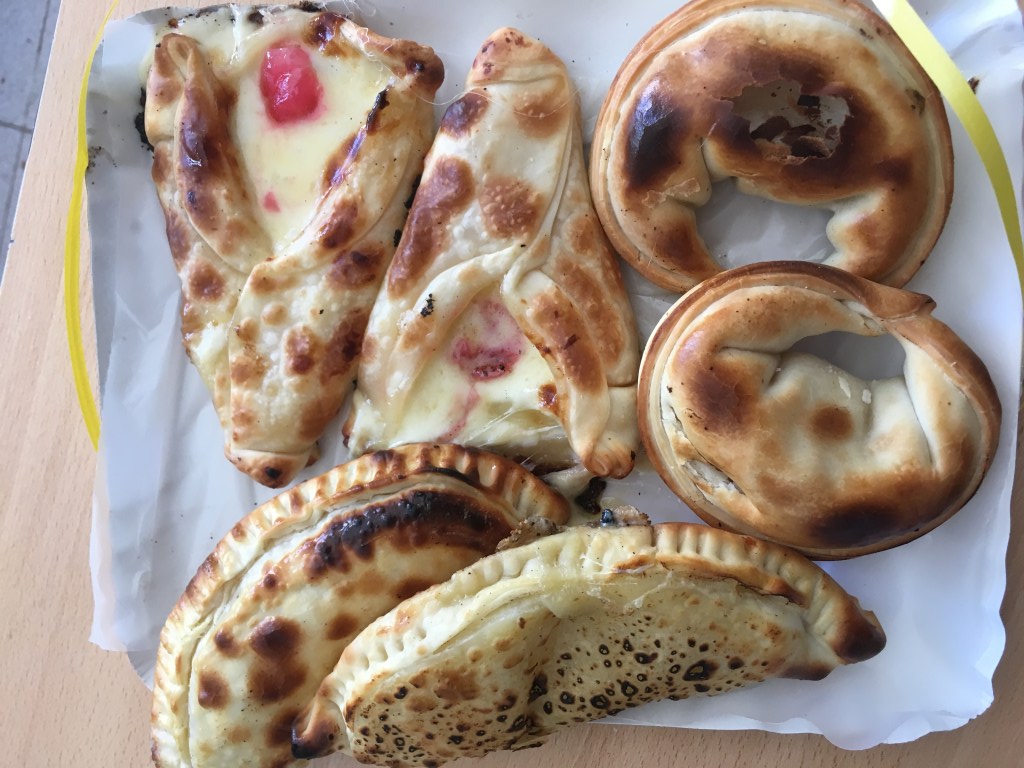 Where to stay in Buenos Aires
Most hostels and economical accommodations in Buenos Aires are in the trendy districts of Palermo and San Telmo. You won't have any problem finding a bed there, even without booking in advance.
If you want to stay in a quieter neighbourhood, we recommend looking for something in Almagro or in the centre, especially in the streets surrounding the Avenida 9 de Julio. For a fancier accommodation, look towards Recoleta or Puerto Madero.
Travel guide tips to visit Buenos Aires
Lastly on this insider's guide are some useful travel tips for Buenos Aires that will make your trip even more pleasant.
The public transportation (both busses and subways) work with a top-up card called "Sube"; you can buy one and top it up at any metro station.
The city is large and very extended; we recommend to visit it district by district. In fact, this guide presents the Buenos Aires landmarks more or less in a geographical order to help you plan your stay.
A good thing to do to better explore Buenos Aires attractions would be to rent a bike; many accommodations offer this possibility or at least know where you can do it.
Buenos Aires is relatively safe, at least in the areas you will probably visit for its attractions. Like everywhere else, it's important to stay alert and stick to common sense.
Having said that, it might be better to avoid the direct surroundings of Caminito, in La Boca; there have been many reports of mugging and petty crimes there.
Conclusion
This travel guide of attractions to do and see in Buenos Aires is far from comprehensive. This city has so much charm and so much life that you could spend your lifetime exploring it; and still discovering regularly new mesmerising attractions!
We hope that this guide will help you find your way in the metropolis. But we hope above all that we're succeeding in transmitting through our words the love we have for Buenos Aires.
About the author:
Anna and Anthony are long-time travellers, polyglots and all-kinds-of-art aficionados. They write about eco travels, nature hikes and cultural discoveries for backpackers to South America, on the travel blog Green Mochila. Follow them on Twitter, Facebook, Pinterest, and Instagram.