Thinking of visiting Lucerne on your Switzerland trip? That would be a great idea, as this Switzerland gem has a lot to offer. Discover the best things to do in Lucerne, wonderful restaurants in Lucerne, great hotels in Lucerne, and useful Lucerne travel tips from this insider's guide to Lucerne. Everything you need to know in one place!
Use this list of attractions in Lucerne and great things to do near Lucerne when creating your Lucerne itinerary. The recommendations below are offered by Smita from My Faulty Compass and you can include all the amazing places to visit she recommends on your Lucerne bucket list. This comprehensive Lucerne guide is part of the free travel guides series on this blog.
The photos included in the article are by Smita from MyFaultyCompass.
Insider's guide to Lucerne, Switzerland: the best things to do in Lucerne, restaurants, accommodation options, and tips
The charming city of Lucerne is one of the prettiest places in Switzerland and a must-visit for all travelers to Switzerland. Located just 45 minutes from Zurich, it's very easy to reach by train or by road.
Here is the complete guide to Zurich and discover 30 unique things to do in Zurich from this article.
Included in this Lucerne travel guide
Best time to visit Lucerne, Switzerland
Best places to see in Lucerne – famous Lucerne tourist attractions

Kapellbrücke (Chapel Bridge)
Lake Lucerne
Church of St. Leodegar
Lion Monument
KKL Luzern and The Museum of Art
Lucerne Old Town
Musegg Wall
Mt. Pilatus

Lucerne off the beaten path – things to do near Lucerne

Places to eat in Lucerne

Where to stay in Lucerne

Lucerne travel tips
Best time to visit Lucerne
Lucerne is a treat to visit any time of the year – see the flowers blooming and head hiking during the summer or enjoy the snow-covered town and head skiing during the winter!
Best things to do in Lucerne
Let's start this Lucerne travel guide with the best places to visit in Lucerne that will mesmerize you. As you'll easily see, there are plenty of Lucerne sights you can check out, both indoor and outdoor.
1. Kapellbrücke (Chapel Bridge)
This bridge is the most famous icon of Lucerne, the one you'll find on all souvenirs and travel brochures! Kapellbrücke is Europe's oldest wooden covered bridge, though part of it was damaged in the fire of 1993 and then rebuilt. This bridge spans the river Reuss and is flanked by a large water tower on one side which adds to the magic of this sight.
Laden with flowers during the summer and snow during the winter, it is one of the most photographed spots in the city. Inside the bridge, you'll find beautiful paintings and writings that'll leave you engrossed for a long time.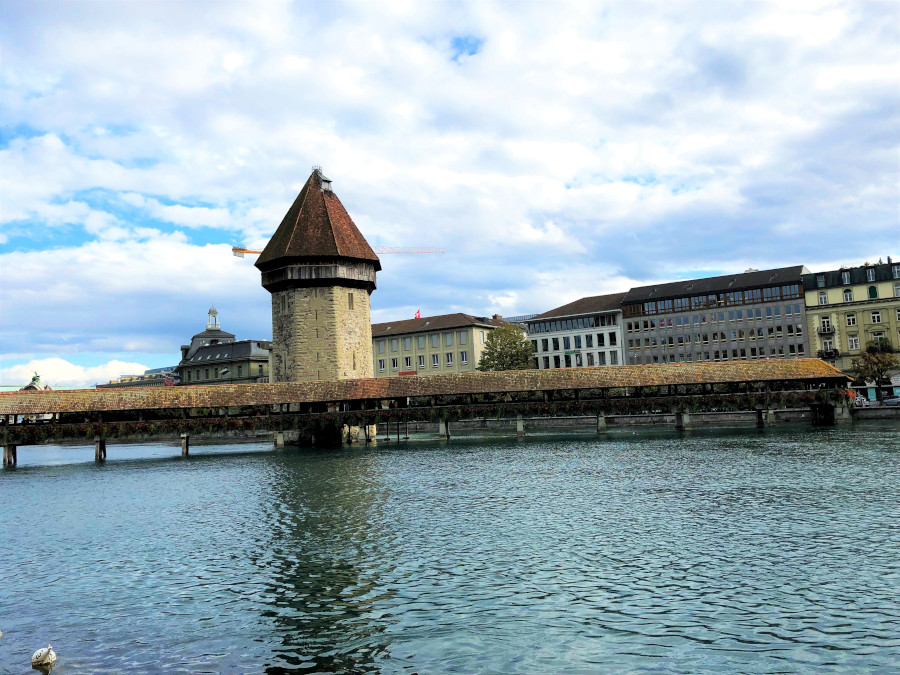 2. Lake Lucerne
Lake Lucerne is a uniquely shaped, stunning lake, with tall mountains all around it. Enjoy a dip or take a ferry to get close to the lake, or just stroll along the lake promenade with an ice cream!
There are several swimming areas along the lake – perfect for a refreshing swim during the summer. Ferries run frequently to nearby towns – head to one of them to enjoy the charms of a small Swiss village, or take a round trip ferry ride. Lake Lucerne is one of the best places to see in Lucerne.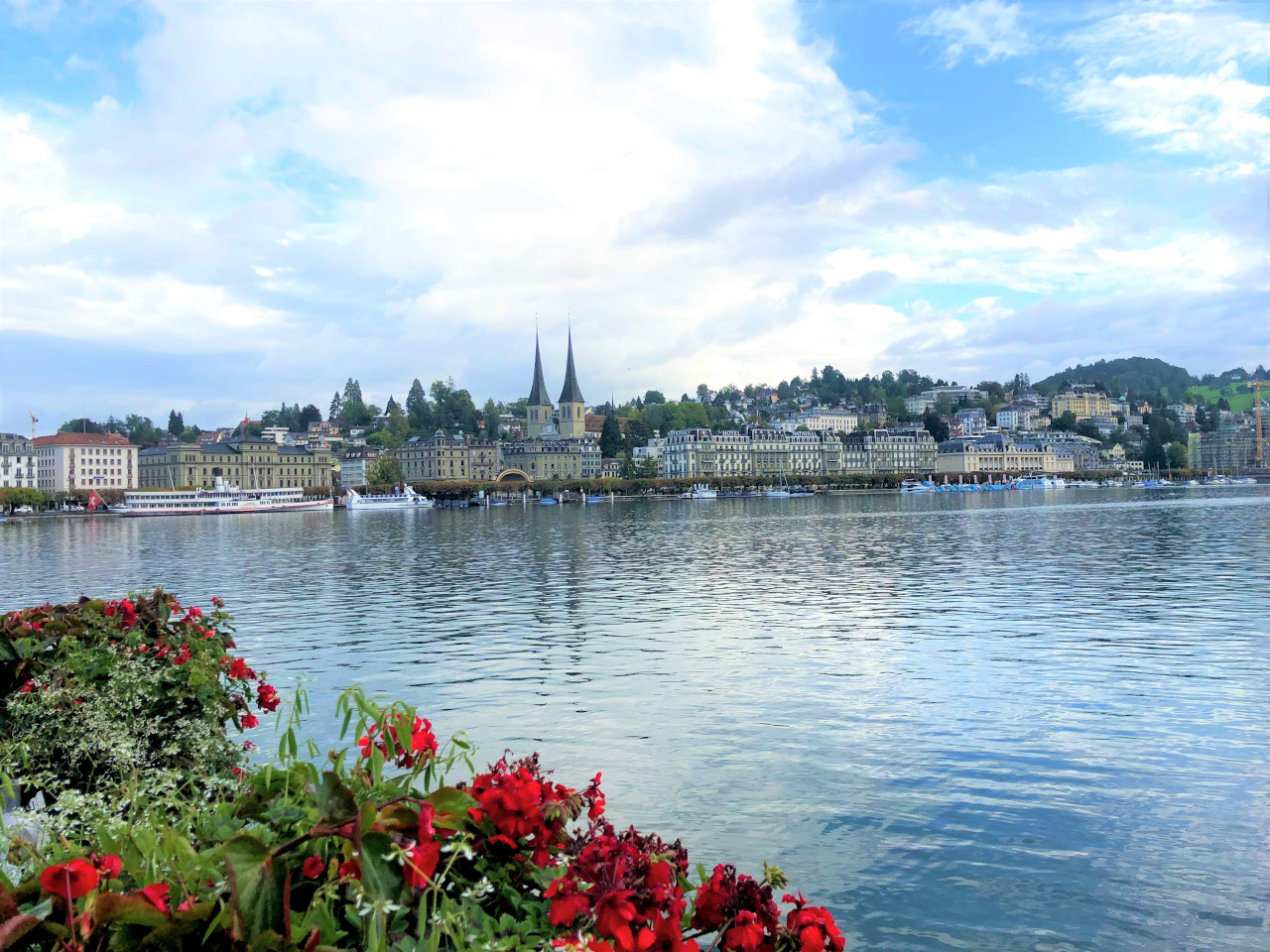 3. Church of St. Leodegar
The spires of this church are an icon of Lucerne and are visible along the lake shoreline. This Roman Catholic Church was built in the 17th century, but its history dates back to the 8th century.
This Church is one of the most important and largest art history rich churches from the Renaissance period in Switzerland and one of the best places to visit in Lucerne.
4. Lion Monument
Another Lucerne landmark, the Lion Monument is a stone carving made in the 1800s in memory of the Swiss Guards who lost their lives during the French Revolution. It's been called "the most mournful and moving piece of stone in the world" by Mark Twain.
Take a look at it and you will realize what he means and why this is one of the best things to see in Lucerne.
5. KKL Luzern
Continue to explore Lucerne and discover The Culture and Convention Centre Lucerne (KKL Luzern), an architectural masterpiece on the lakeside. It includes a Concert Hall which holds the stage for classical repertoire and is internationally acclaimed. The
KKL Luzern also includes a convention center that houses the Museum of Art.
6. Lucerne Old Town
The car-free old town area of Lucerne is one of the most picturesque places in the city. Historic, frescoed buildings and large squares make this area a delight to stroll in. Several cafes and restaurants with outdoor seating invite you to spend a leisurely day here.
One of the most important buildings in the old town is the Town Hall, a stunning building set at the shores of the River Reuss. It marks the perfect spot for you to start your exploration of the old town – and activity that is, without a doubt, one of the best things to do in Lucerne.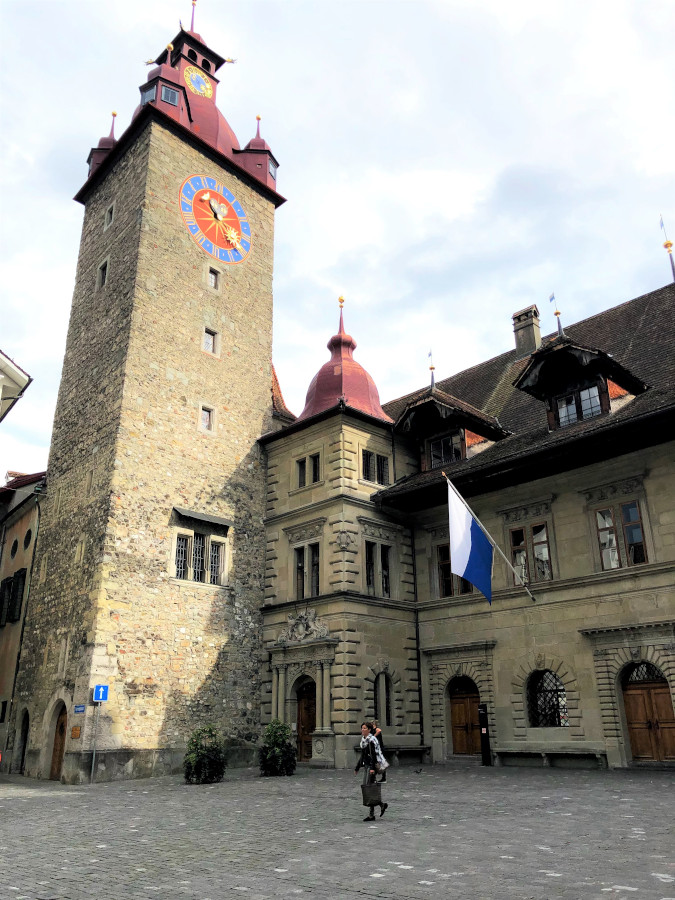 7. Musegg Wall
Part of Lucerne's historic fortifications, the Musegg wall and the nine Musegg Towers were built in the 13th century. Visitors can take a walk along several sections of this wall and climb up the towers of Schirmer, Zyt and Männli Towers for panoramic views across the city
8. Mt. Pilatus
Pilatus is a mountain overlooking Lucerne that can be accessed by a cable car from Kriens or a funicular from Alpnachstad. It makes for a fantastic day trip from Lucerne, especially if you take the Golden Round Trip route that includes a ferry from Lucerne to Alpnachstad, railway up to Pilatus then a cable car down to Kriens and finally a bus back to Lucerne.
Pilatus is a stunning place to visit in any season – its snow-covered slopes are perfect for skiing in the winter and alpine flower-covered meadows are beautiful during the summer.
Lucerne Off the Beaten Path
Apart from the famous Lucerne attractions, there are a few great off the beaten path things to do in Lucerne and places to visit near Lucerne.
1. Mount Rigi
This lesser-known mountain compared to Mt. Pilatus, Rigi is just as stunning as Pilatus and much less crowded. Visit during the summer for some great hiking trails and during the winter for fun winter sports.
Take the ferry from Lucerne to Vitznau to board the oldest funicular in Europe up to the top of the mountain, Rigi Kulm. There are several restaurants and multiple stunning viewpoints at Rigi Kulm. On a clear day, you can see 13 lakes and the mountains of the Bernese Oberland region from the top!
Read here for a detailed guide to visiting Mount Rigi.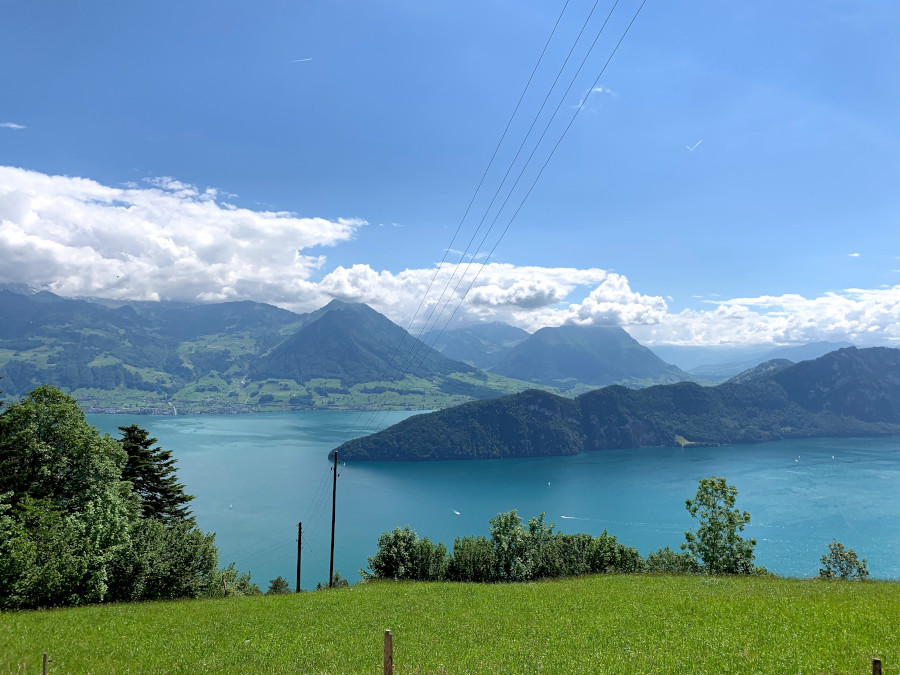 2. Stoos
Another fantastic short trip from Lucerne, this excursion boasts the world's steepest funicular to the charming village of Stoos followed by a cable car to the mountain of Fronalpstock. Stoos is a small Alpine village which is a treat to stroll through while Fronalpstock offers several beautiful hiking trails.
Where to eat in Lucerne
There are many great restaurants in Lucerne, so let's see the best places to eat in Lucerne next on this guide.
Restaurant Alexander
Serving Swiss cuisine, this restaurant overlooks the lake and Mt. Pilatus and provides a breathtaking experience both in terms of food as well as the view!
Mill'Feuille
Located in the old town next to the river, this is one of the best places in Lucerne to enjoy breakfast or brunch.
Brasserie Bodu
This French cuisine restaurant is located in the old town and is known for its magical ambiance. Head on over for a beautiful meal at this tastefully decorated restaurant.
Wirtshaus Galliker
This iconic restaurant in Lucerne has been run by the Galliker family for several generations. Enjoy Swiss cuisine at this cozy restaurant.
Rathaus Brauerei
Located in the old town close to the town hall, this restaurant is the perfect stop during your walking tour of Lucerne. A pub-like atmosphere and traditional Swiss food are the highlights of this restaurant.
Where to stay in Lucerne
When traveling to Lucerne, you'll obviously need a place to stay. Here are the top accommodation options in Lucerne for all budgets: hostels, hotels in Lucerne, and apartments.
Hostels in Lucerne
1. Hotel Rothaus Lucerne – Excellent location, 10 min walk from the train station and 5 minutes from the historic old town.
Price: 160 CHF per single private room
2. Youth Hostel Lucerne – Highly rated, located 2 km from the main train station, 15 minutes by bus.
Price: 40-50 CHF per bed in a dorm or 100 CHF per single private room
Lucerne Hotels
1. Waldstätterhof Swiss Quality Hotel – Well rated and centrally located, only 100 m from the train station.
Price: Starts from 265 CHF per double room
2. Altstadt Hotel Magic Luzern – Located in the heart of the old town and a 5-10 min walk from the train station.
Price: Starts from 169 CHF per double room
Apartment
1. Hirschenplatz Apartments – Highly rated, located 5-10 min walk from the main train station.
Price: Starts from 313 CHF for 2 people
2. Altstadt Hotel Krone Apartments Luzern – Located in the old town pedestrian area, 5-10 min walk from the main train station.
Price: Starts from 223 CHF for 2 people
Tips for Lucerne
The final item on this Lucerne travel guide covers useful tips for visiting Lucerne.
Public transportation is efficient, clean and not too crowded. It's the best way to go around the city, other than walking!
There are numerous water fountains in the city so just carry your water bottle and fill up. No need to spend money on water bottles.
Switzerland is an expensive country – try supermarkets such as Coop & Migros for cheaper meals.
So, there you have it, all you need to know for a great trip to Lucerne. Not only is it a magical city to visit in itself, but it's also a great place to base yourself at for visiting a number of nearby places, such as Mount Titlis, Zurich, etc.
About the author:
What happens when a management consultant takes up travelling itself as a project? Meet Smita, who is putting her consulting skills (read: extensive excel planning!) and travel curiosity to good use. A part-time traveller and travel writer, her travel articles aim to include meticulous details – don't be surprised to even find hour by hour itineraries – which can come as a delight for the more laid-back travellers! That's not telling you too much about her though, is it? Read more here. Follow Smita on Facebook, Instagram, and Twitter too.