Planning a trip to Vilnius, Lithuania and looking for some inspiration? Here is a 3-day itinerary for Vilnius, packed with the best things to do in Vilnius, where to stay, and numerous Vilnius travel tips and tricks. These recommendations on how to spend 3 days in Vilnius are offered by Valentina from Valentina's Destinations.
Use the itinerary below to create your Vilnius bucket list or as-is for your Vilnius trip. It will allow you to get the most of a short trip to Vilnius! Reading the article below you'll see that Vilnius is a budget destination in Europe and has a lot to offer to all its visitors which makes it a great European destination.
3 days in Vilnius, Lithuania: your perfect Vilnius itinerary
Vilnius is a charming European city with so much history & culture to experience. You only need 3 days in Vilnius to get the full experience & we'll show you exactly how. This itinerary is action-packed with all of the best Vilnius attractions, restaurant recommendations & tips from local guides.
Want a taste? On day 1 in Vilnius, you'll explore historic Old Town and eat traditional Cepelinai. During day 2 in Vilnius, you'll take a day trip to the dreamy Trakai Island Castle.
Finally, on day 3 in Vilnius, you'll visit the Chernobyl filming location & taste Lithuanian beer. Enjoy these exciting things to do in Vilnius & much, much, more!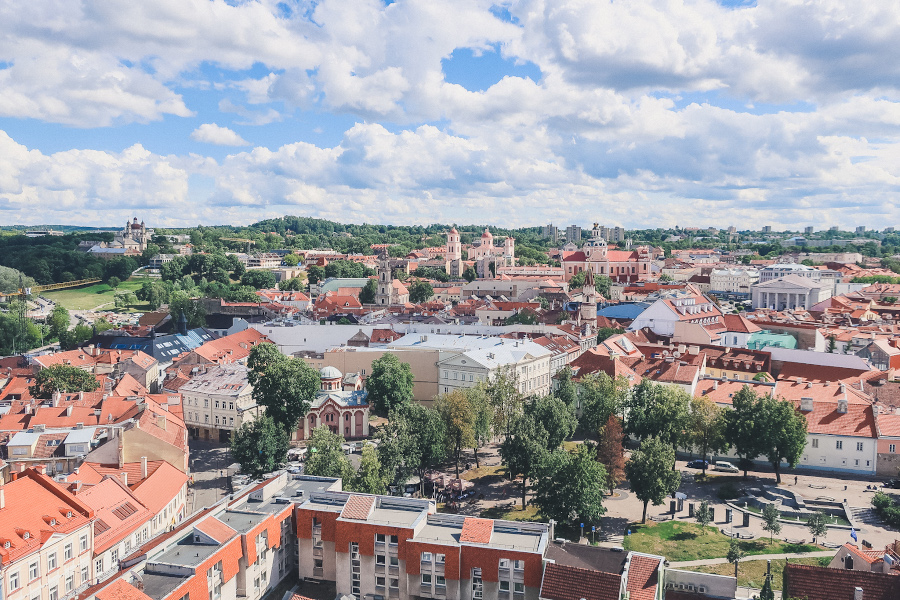 Why Vilnius?
There are so many reasons to visit Vilnius that I don't even know where to start! Vilnius is the Capital of Lithuania — a relatively young European nation that didn't become independent until the 90s. Lithuania is a tiny Baltic country with warm, welcoming, people (most of which speak English).
Since most Lithuanians speak English, it's pretty easy to get around Vilnius. You can easily reach Vilnius from its international airport. There are also relatively cheap local European flights with air Baltic.
Vilnius is also one of the most affordable European destinations. We spent $100 a night to stay at a 5-star hotel in Vilnius city center. Considering how much history and wonder the city has to offer — it's a steal!
In Vilnius, there is so much incredible history to discover. The entire Old Town neighborhood is designated a UNESCO World Heritage site. It sets itself apart with many Baroque features.
Although, there's much more to Vilnius than Medieval history. The Lithuanian nation has unique roots in Paganism and the ruling class of Grand Dukes.
Besides museums and architecture, Vilnius offers many scenic lookouts and distinct attractions.
Where to stay in Vilnius
Stay in Old Town, so you'll be within walking distance of all the Vilnius tourist attractions.
If you're looking for ultimate luxury, you must stay at Hotel PACAI. It's sophisticated & glamorous. You'll be drooling over the photos…
For an affordable luxury experience, check out the Artagonist Art Hotel or Shakespeare Boutique. We stayed at Radisson Blu Royal Astorija Hotel for $100 a night.
Looking for a more affordable option? Hotel Tilto is absolutely excellent and incredible value.
Getting Around Vilnius
Vilnius is an extremely walkable city. You can get pretty much anywhere on foot. Use this Sightseeing Map of Vilnius to navigate from one attraction to another.
On the rare occasion that you will need to drive, cabs and Ubers are very affordable. We paid close to 3 euros for a 10 minute Uber! You can easily find cabs and Ubers to take you to the airport, but there's also a bus route.
The bus departs regularly at 30-minute intervals. The Vilnius airport is a 15-20 minute drive from the city center.
Day 1 in Vilnius
Morning/ Early Afternoon
Start day 1 in Vilnius with breakfast at Sugamour. You can expect excellent coffee and healthy breakfast options in a modern dining space.
Next, head to Vilnius Town Hall Square to meet up with your tour group. You've got to book the Vilnius with Locals Old Town & Užupis Tour. It's a free walking tour of historic Vilnius & it's most unique micro-community Uzupis.
You can book online in advance, but there's no need to. Tours depart daily from the Vilnius Town Hall at 10 AM and 12 PM.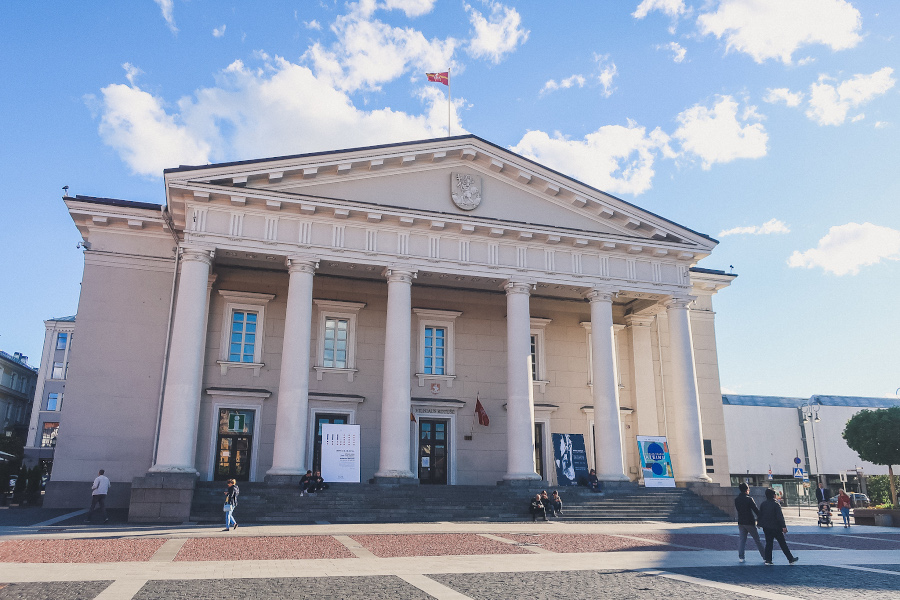 This walking tour was the absolute best thing we did in Vilnius! The guide was so knowledgeable and enthusiastic. We learned so much about Vilnius that we'll never forget. I highly recommend it to anyone. It is operated on tips, so it can fit any budget.
Užupis is one of the best places to see in Vilnius. I didn't know much about it until we went on this tour. It's quite a romantic place.
Užupis is a small artist neighborhood across the River Vilnia that considers itself an independent nation. It has its own constitution and president.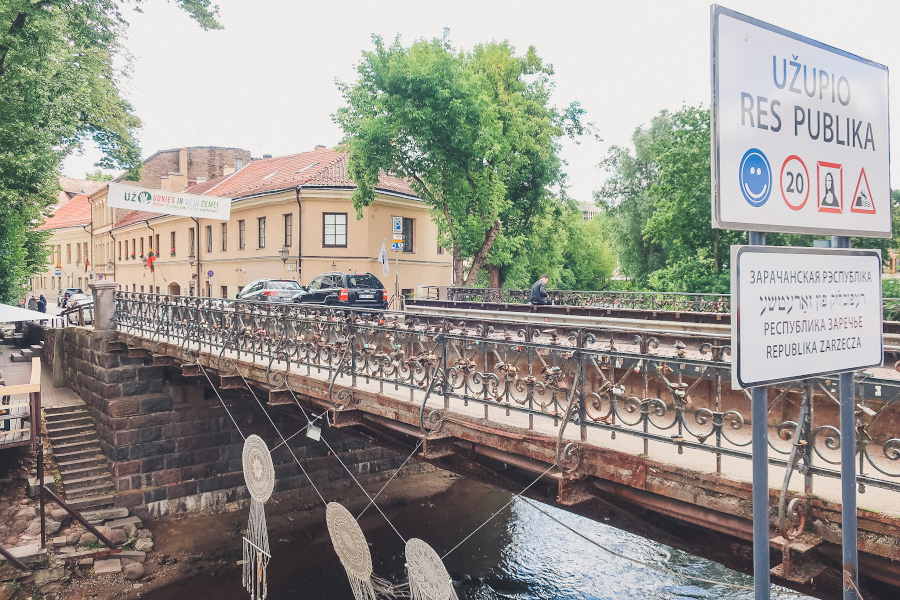 PRO TIP: Bring your passport on this tour. You can have it stamped at the Užupis Information Center! Evidence that you visited one of the world's tiny's republics. ?
Hungry for lunch?
Head to Etno Dvaras to eat traditional Cepelinai. Cepelinai is Lithuania's national dish. They are giant potato dumplings traditionally filled with ground pork.
These Zeppelin shaped dumplings are served with sour cream and bacon bits. Don't worry, you won't leave hungry!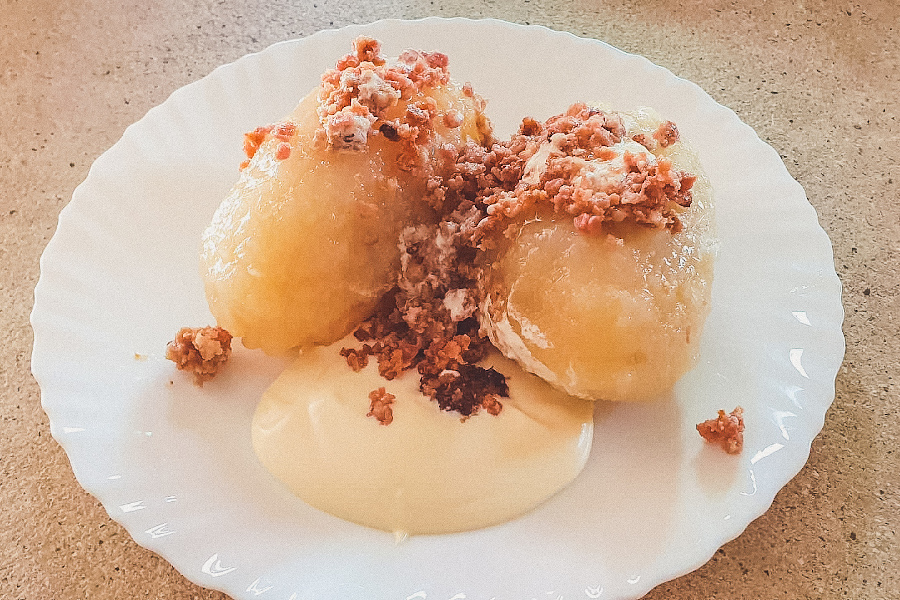 Late Afternoon/ Early Evening
After a hearty and satisfying meal, you'll be ready for more Vilnius sightseeing. Cathedral Square is one of the most dramatic places in Vilnius.
Right away, you'll notice the massive Neo-Classical Vilnius Cathedral and Bell Tower. Skip the Bell Tower climb here, they'll be plenty of other scenic lookout opportunities.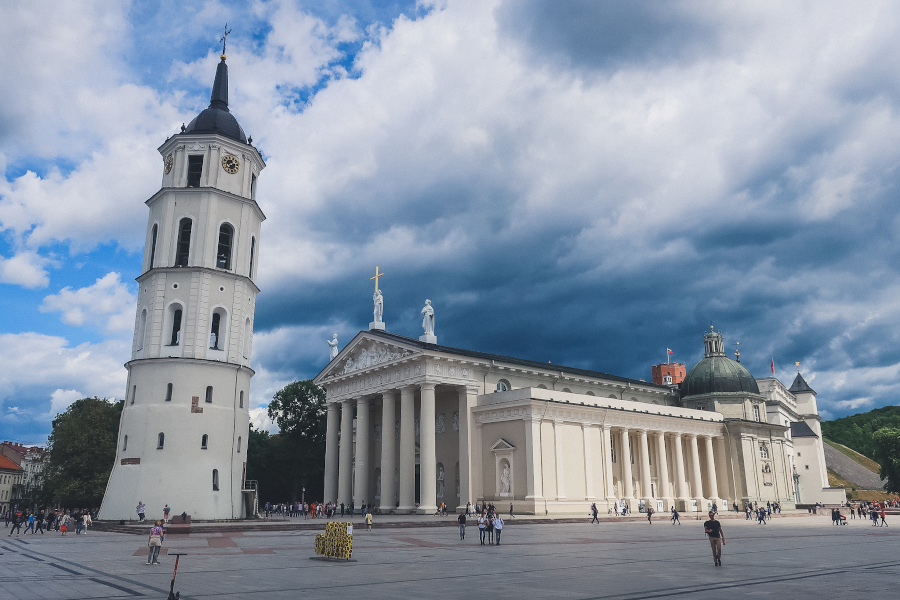 Walk around Cathedral Square and you'll notice the Palace of the Grand Dukes & the National Museum of Lithuania. The Vilnius Cathedral is also essentially a living museum. It has impressive frescoes & age-old altarpieces.
From Cathedral Square, you'll also be able to appreciate Gediminas Castle Tower. Notice it up on the hill.
Also, make sure to find the Magical Brick! This red tile in Cathedral Square grants wishes. Stand on the tile, close your eyes, turn around 3 times & make a wish.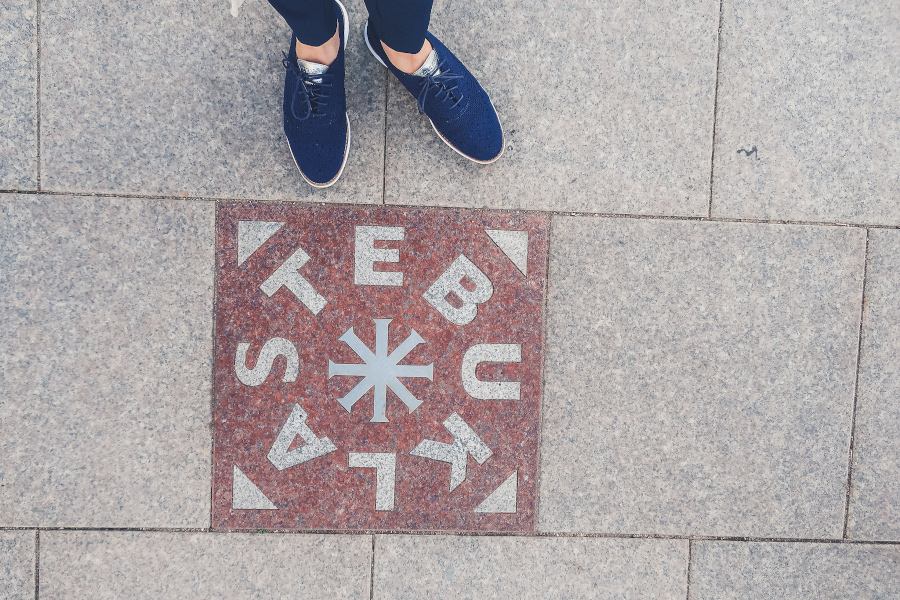 End your sightseeing in Vilnius at the Hill of 3 Crosses. You can watch the sunset or simply take in the stunning views.
There are many scenic lookouts in Vilnius, but this is arguably the most stunning panorama of the city! It's quite a climb, but well worth it. This is one of the most romantic things to do in Vilnius.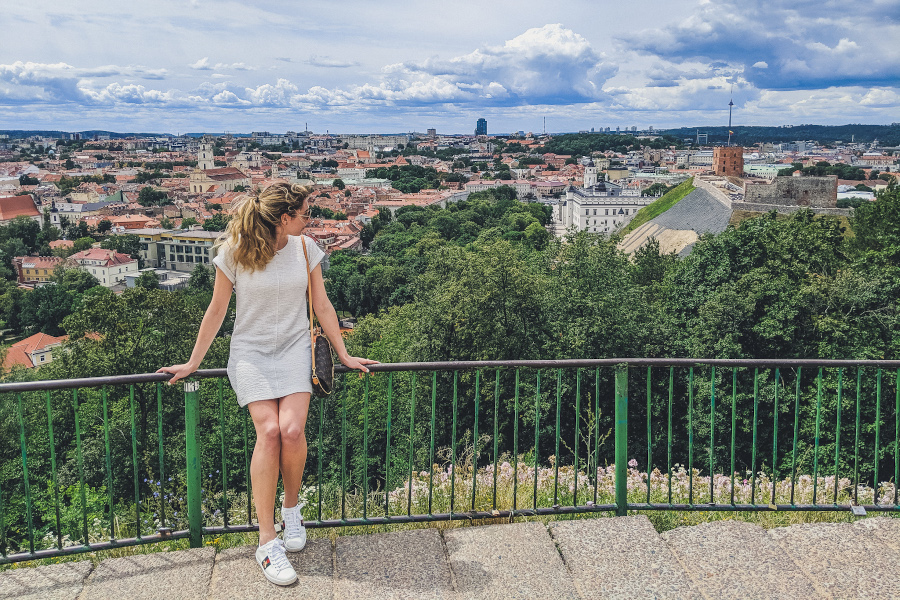 For dinner, make a reservation at Sweet Root. It's the most innovative and well-known restaurant in Vilnius. It's formal and chic.
If you are looking for a more affordable dining experience, check the schedule for Open Kitchen Vilnius. It's a community-run open-air food festival that takes place most weekends during the summertime.
Day 2 in Vilnius
Morning/ Early Afternoon
Have breakfast at Strange Love coffee shop. It's one of the trendiest cafes in Vilnius. On day 2, you'll set out on an adventure into the Lithuanian countryside.
Trakai Island Castle is one of the top places to visit in Lithuania. It's only a 30-minute drive from Vilnius. You could rent a car, but you don't have to!
The Marijampolė Bus Route takes you from the Vilnius Bus Station to Trakai (with only 2 stops).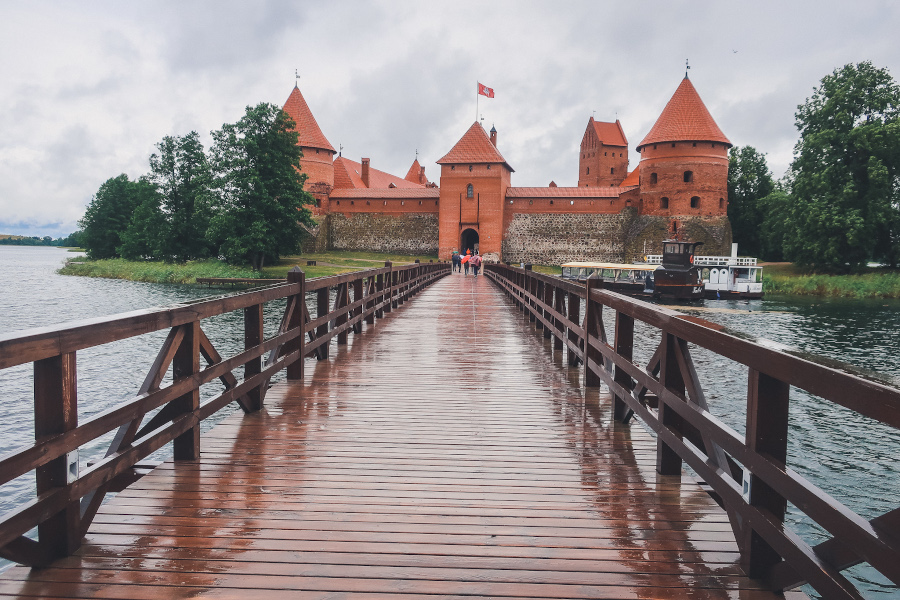 Trakai Island was home to a massive castle complex in the 14th Century. At that time, Trakai was central to the Grand Duchy of Lithuania.
After many epic battles, the castle fell into disrepair and lay barren for hundreds of years. It wasn't until after WW II that reconstruction work on the castle could begin.
Trakai castle has been beautifully reconstructed. On the grounds, there is also a museum where you can see how people actually lived in the castle during Medieval times.
When you arrive at the ticket booth, you can ask for a tour of the castle. It's only 15 euros for an English speaking guide! I'm obsessed with tours, so for me, this was particularly exciting. Also, no need to book in advance.
After you visit the castle, rent one of the paddle boats and set out into the lake. You'll get remarkable views of the castle from the water.
For lunch, visit Trakų Dvarelis for authentic Lithuanian homestyle cookin'. In Trakai, the regional delicacy is Kibinai. Kibinai are savory pastries stuffed with lamb and onion.
Late Afternoon/ Early Evening
Head back to Vilnius after your lovely day in Trakai. You can explore the grounds of Vilnius University & climb the Bell Tower at St. John's Church. Another incredible lookout point, this place directly overlooks the historic center of Vilnius.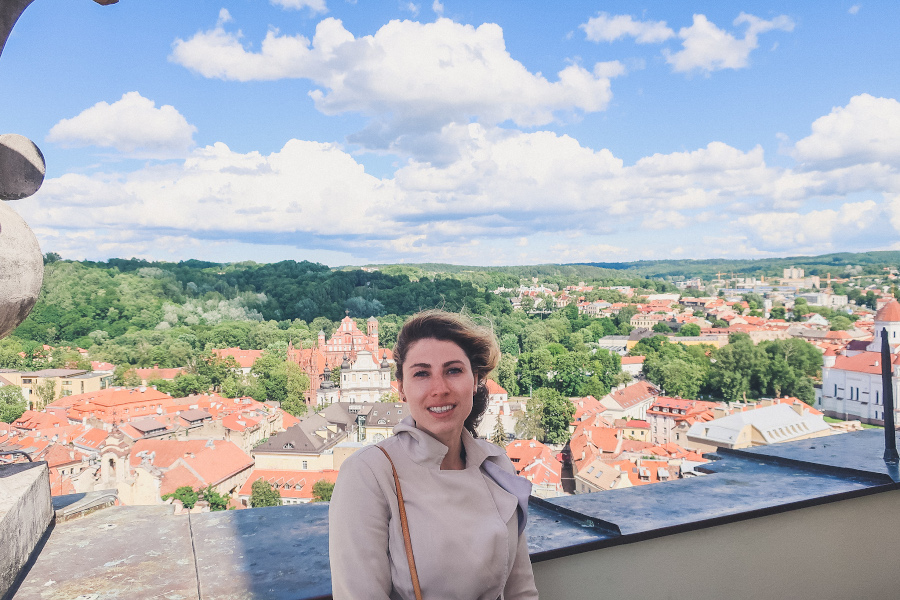 Vilnius University is one of the lesser-known tourist places in Vilnius. The campus is quite historic and impressive. It was one of the first Universities ever established in Central Europe.
If you can find the philosophy department, you'll be rewarded with a very famous fresco.
Explore Vilnius more by going on a church scavenger hunt. The most impressive include St. Anne's Church (which is right next to St. Francis of Assisi), the Church of St. Casimir & the chapel at the Gates of Dawn.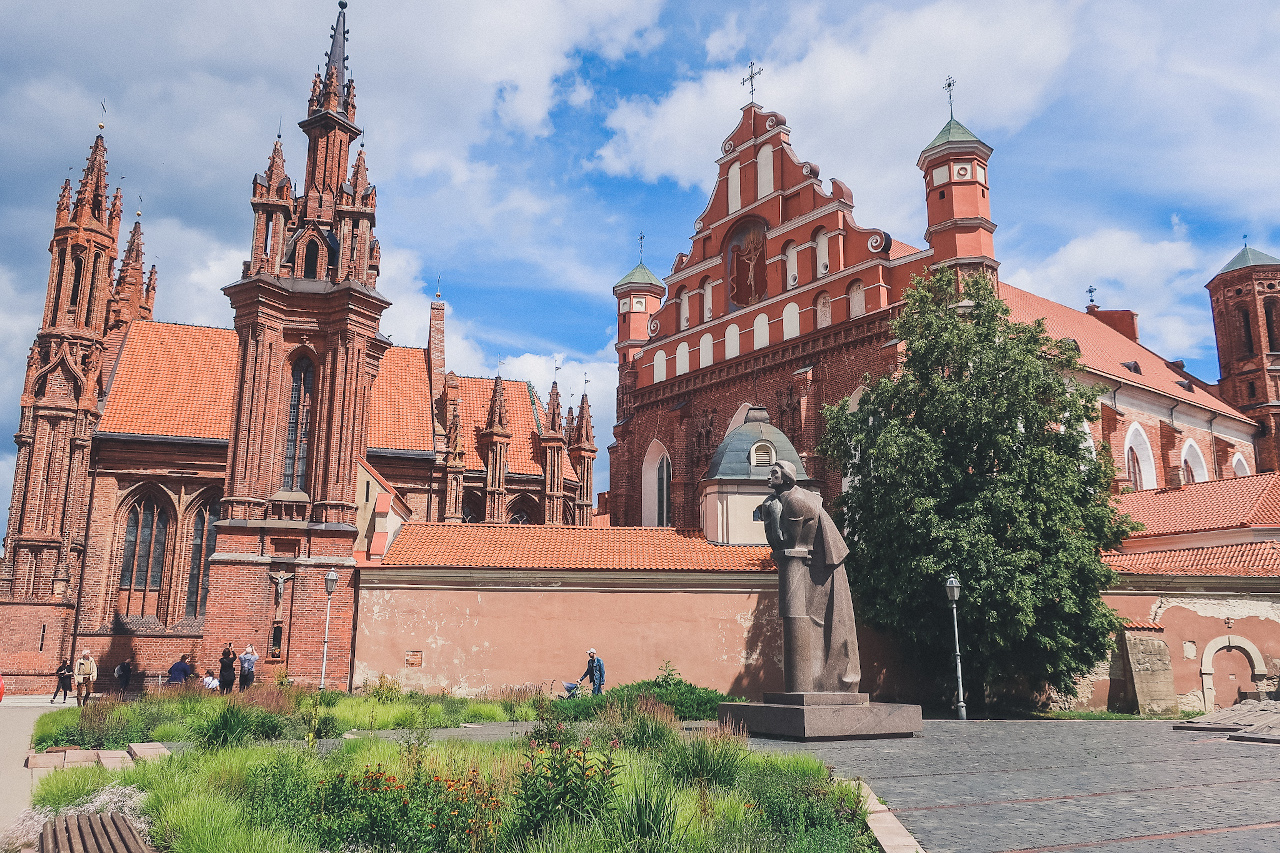 It is said that from any point in Vilnius, you can spot at least 3 churches. Lithuania's history was established in the spirit of tolerance. Evidence of tolerance today can be seen in the diversity of religions & churches throughout the city.
Finish off day 2 in Vilnius with dinner at Gaspars — a unique Indian-European fusion place! Head to Piano Man for drinks & live music.
Day 3 in Vilnius
Morning/ Early Afternoon
The coffee shop of the day is BREW. You'll need energy for another exciting day touring Vilnius. On day 3, I recommend a tour of the Chernobyl Filming Locations.
Did you know HBO's hit series Chernobyl was filmed in Vilnius? If you haven't seen it, you should! It's rated 9.5 on IMBD. Historical dramas are rarely this good. It's chilling, suspenseful & shockingly authentic. The scenes of Pripyat were shot in the Vilnius suburbs.
Another important filming location was the KGB Museum (now called the Museum of Occupation and Freedom Fights).
You'll get to tour these locations and learn about the history of Chernobyl. Also, the shared history experienced by many nations that were occupied by the Soviet Union.
Read here our complete guide to Chernobyl today – what to see on a Chernobyl and Pripyat tour.
If you are looking for a more thrilling tour consider a day trip to the Ignalina Nuclear Power Plant considered "Chernobyl's sister."
On this Travel Addicts tour, you'll get to suit up in traditional safety uniforms and tour the nuclear power plant. Visit the control room, turbine hall, and surroundings. This is also were many Chernobyl scenes were filmed!
Grab lunch back at Vilnius at the Meat lovers Pub. This is a very popular place among University students!
Late Afternoon/ Early Evening
Walk down Literature Street and appreciate the unique art installations. Every piece commemorates an important Lithuanian writer.
Climb to the top of Gediminas Castle Tower. Appreciate another amazing vantage point in Vilnius.
Have dinner at Mason Gastropub. Then, head to the Beer Library to sample local and global brews.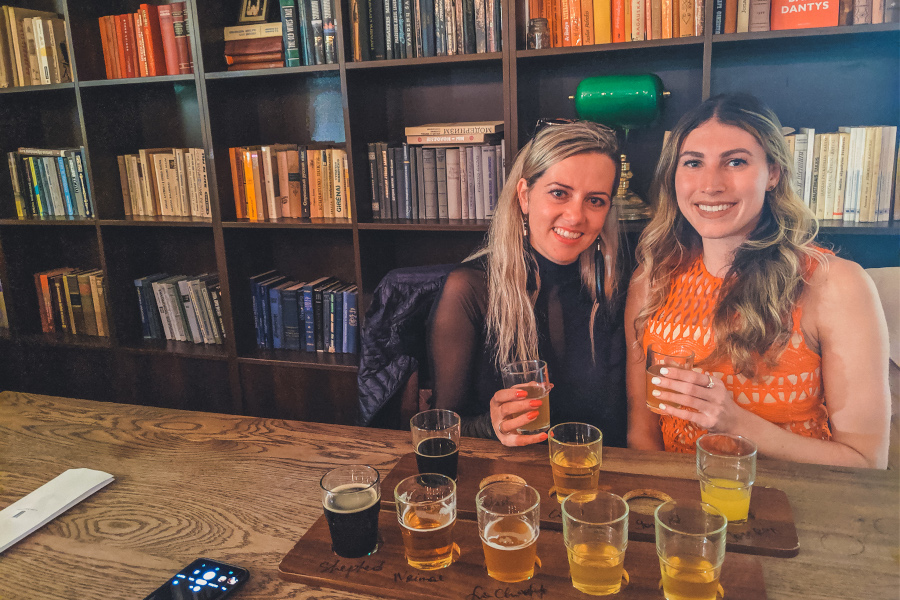 Vilnius Travel Tips
Drink Švyturys beer while in Lithuania. It's the most loved local beer! Lithuania has a rich history of beer-making. It's one of 4 European countries to have created its own brewing traditions.
If you have more time in Lithuania, spend a few days in the seaside city of Palanga. Palanga is a resort town on the Baltic Sea. You can get there by train or a few hours driving.
About Valentina's Destinations
Valentina's Destinations was born from my obsession with meticulously researching, organizing and planning my travel itineraries. I'm originally from Serbia, but I grew up in Chicago. I love hunting down local restaurants, unique experiences, and hidden gems. Follow Valentina on Social media too: Pinterest, Twitter, Facebook, and Instagram.