If you plan a trip to China, you should include Luoyang on your China bucket list. This comprehensive insider's travel guide to Luoyang, China presents you the best things to do in Luoyang, including off-the-beaten-path places to visit in Luoyang, where to stay in Luoyang, great restaurants in Luoyang, and useful Luoyang travel tips.

As you'll easily discover, there are plenty of reasons to visit Luoyang – the starting point of the legendary Silk Road, the place where Buddhism was introduced, there are UNESCO World Heritage Sites in Luoyang, amazing historic attractions in Luoyang, interesting offbeat Luoyang things to see and more.
These amazing Luoyang attractions are recommended by Stephen from China Travel Site. This guide is part of the free travel destinations guides series on this blog. Use this local's guide to Luoyang when creating your Luoyang bucketlist and, ultimately, your Luoyang itinerary.
A trip to Luoyang will show you that there are plenty of interesting and fun things to do in Luoyang, both indoor and outdoor. There are the Luoyang landmarks to see, but also secret gems in Luoyang to discover!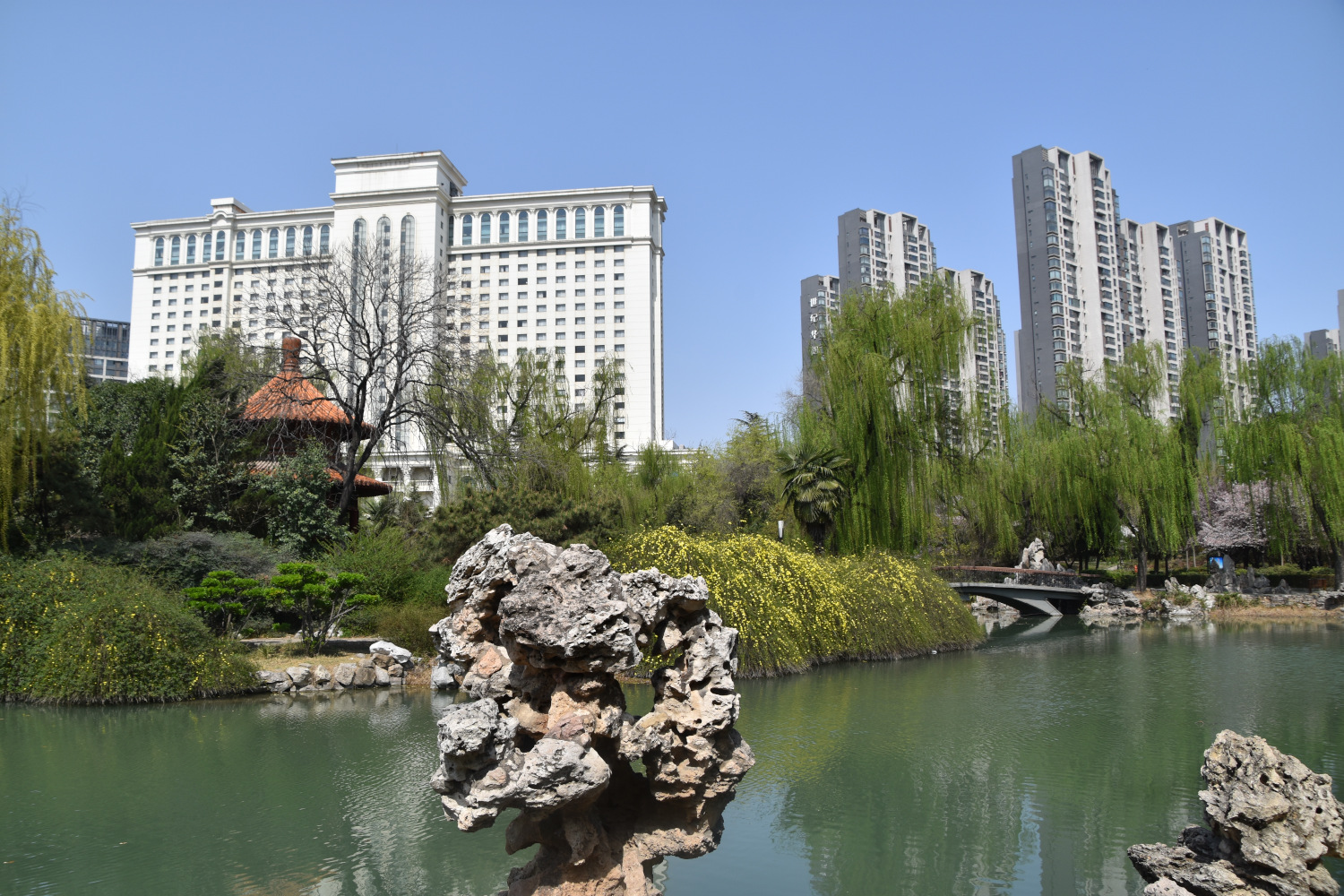 Insider's guide to Luoyang, China with the Luoyang attractions, restaurants, hotels, tips, and more
Luoyang is a small city in China's Henan Province. It is famous as the ancient capital of the Middle Kingdom and was once the starting point of the legendary Silk Road.
As such, Luoyang is full to bursting with some of the most impressive ancient historical sites in all of China.
It is where Buddhism was first introduced from India and where the martial art of Kung-Fu (Wushu) originated.
Included in this Luoyang travel guide:
Luoyang weather – The best time to visit Luoyang

Famous Luoyang attractions – things to do in Luoyang


Longmen Grottoes
White Horse Temple
The Shaolin Temple
Ancient Art & Tombs Museum
Horse & Chariot Museum
Lijiang Gate
Luoyang Old Town
New Old Town
Laocheng Food Street
Wangcheng Park
Mingtan Scenic Area
National Flower Garden
Sui & Tang Dynasty Botanical Gardens
Luoyang Museum
Peony Festival

Luoyang off the beaten path – unique things to do in Luoyang


Luoyang Fairy Village
Folk Museum
Luoyang Cemetery
Yellow River Scenic Area
Yuntaishan Geopark

Where to eat in Luoyang – great Luoyang restaurants

Where to stay in Luoyang – hotels in Luoyang for all budgets

Tips for visiting Luoyang

Luoyang weather – The best time to visit Luoyang
Luoyang has a temperate climate with short, mild winters and long, hot summers.
Spring is the best time to visit Luoyang as the city comes alive with the famous peony flower and there are many festivals and events celebrating the national symbol of China, which is inextricably linked with the city.
Autumn is another good time to visit as the heat of the summer fades away and the trees in the city's parks set the sky ablaze with reds, oranges and yellows.
Luoyang is on the main train line between Beijing and Xi'an so it makes an easy stop for those wanting to visit before going on to the Terracotta Warriors. Many people come as a day trip from Xi'an just to see the Longmen Grottoes or Shaolin Temple, but to get the most out of the city I would recommend you to spend at least two or three days in Luoyang.
Famous Luoyang attractions – things to do in Luoyang
There are plenty of wonderful Luoyang attractions to include on your Luoyang itinerary.
Let's see first the best things to do in Luoyang. These are the popular Luoyang tourist attractions and, as you explore Luoyang, you'll see why I'm recommending you to visit them all.
Longmen Grottoes
The USESCO World Heritage Site of Longmen Grottoes is a collection of thousands of Buddha statues carved into the hillside next to the Yi River.
The statues range in size from a few centimeters to 17 meters and date back to the Northern Wei Dynasty (499 to 515AD). Entrance fee is 90 RMB ($13).
It is a 3km walk from the ticket office to the entrance which is pleasant, but in the height of summer it may be better to take one of the electric buggies (10 RMB each way).
Longmen Grottoes are one of the top Luoyang tourist attractions that you should include on your Luoyang itinerary no matter how long or short your visit is.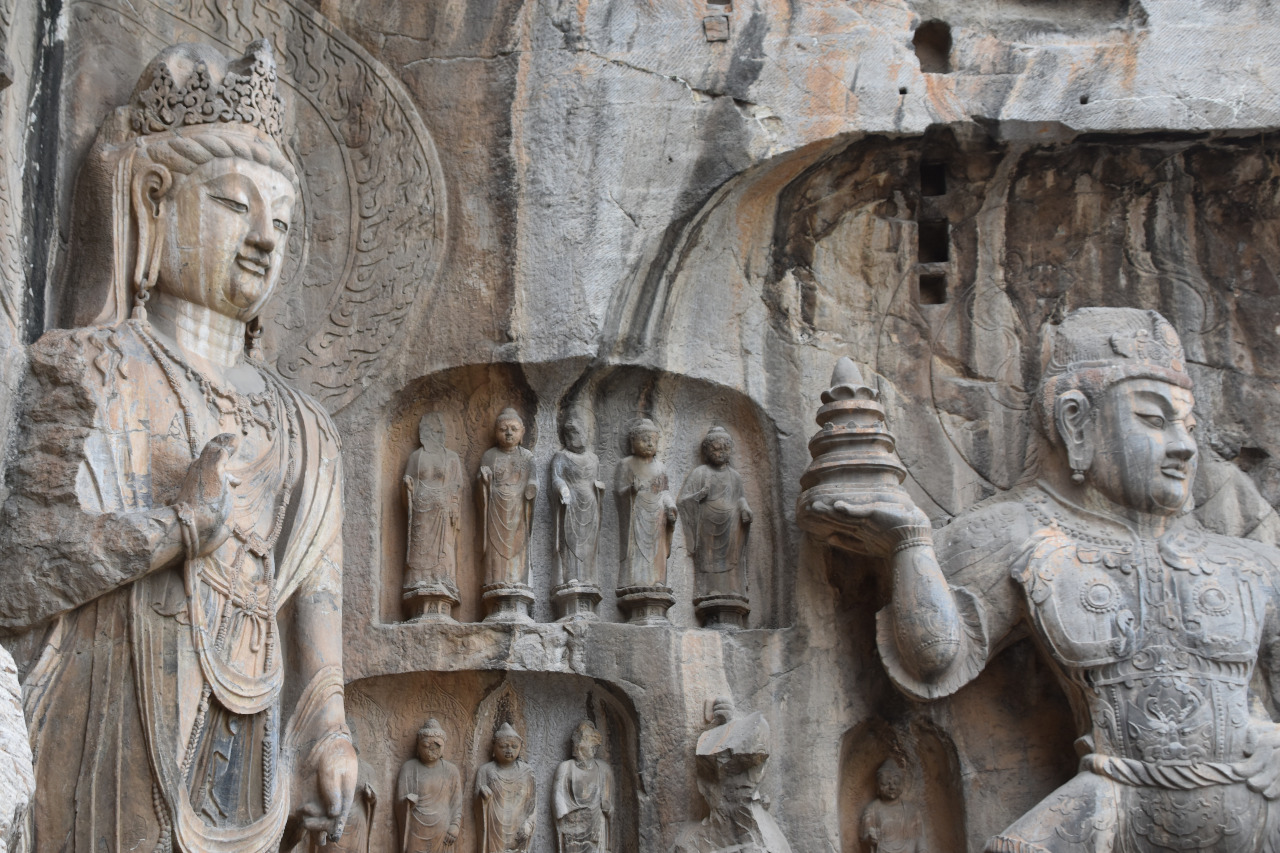 White Horse Temple
White Horse Temple is the birthplace of Buddhism in China and is the site where a Buddhist from India arrived with scriptures on a white horse.
The temple also includes more recent additions in the form of Thai, Burmese and Indian temples, making the large site truly impressive and one of the best Luoyang attractions to see.
The entrance fee is 35 RMB ($5) – totally worth it as this is an unmissable Luoyang attraction.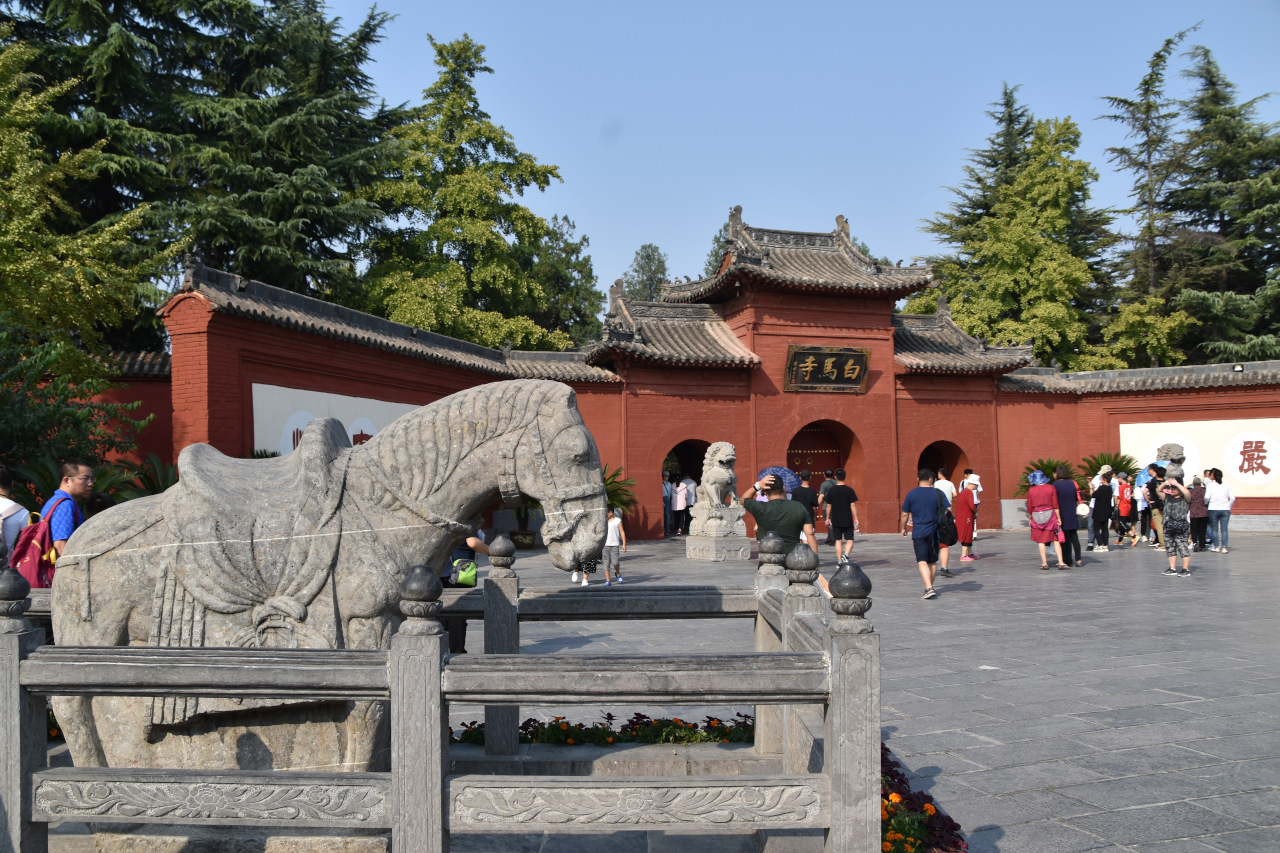 The Shaolin Temple
Another important site in Chinese culture, the Shaolin Temple is the home of Wushu, or the martial art of Kung Fu.
The Shaolin Temple is a fantastic Luoyang destination where you can not only witness daily martial arts displays, but also hike the beautiful surrounding Song Mountain National Park.
To get to the Shaolin Temple take a bus from Jinyuan Bus Station. The journey time is approximately two hours.
Shaolin can easily be done as a day trip from Luoyang, but if you wish to do some serious hiking then consider an overnight stay in nearby Dengfeng City. Definitely one of the best places to visit near Luoyang.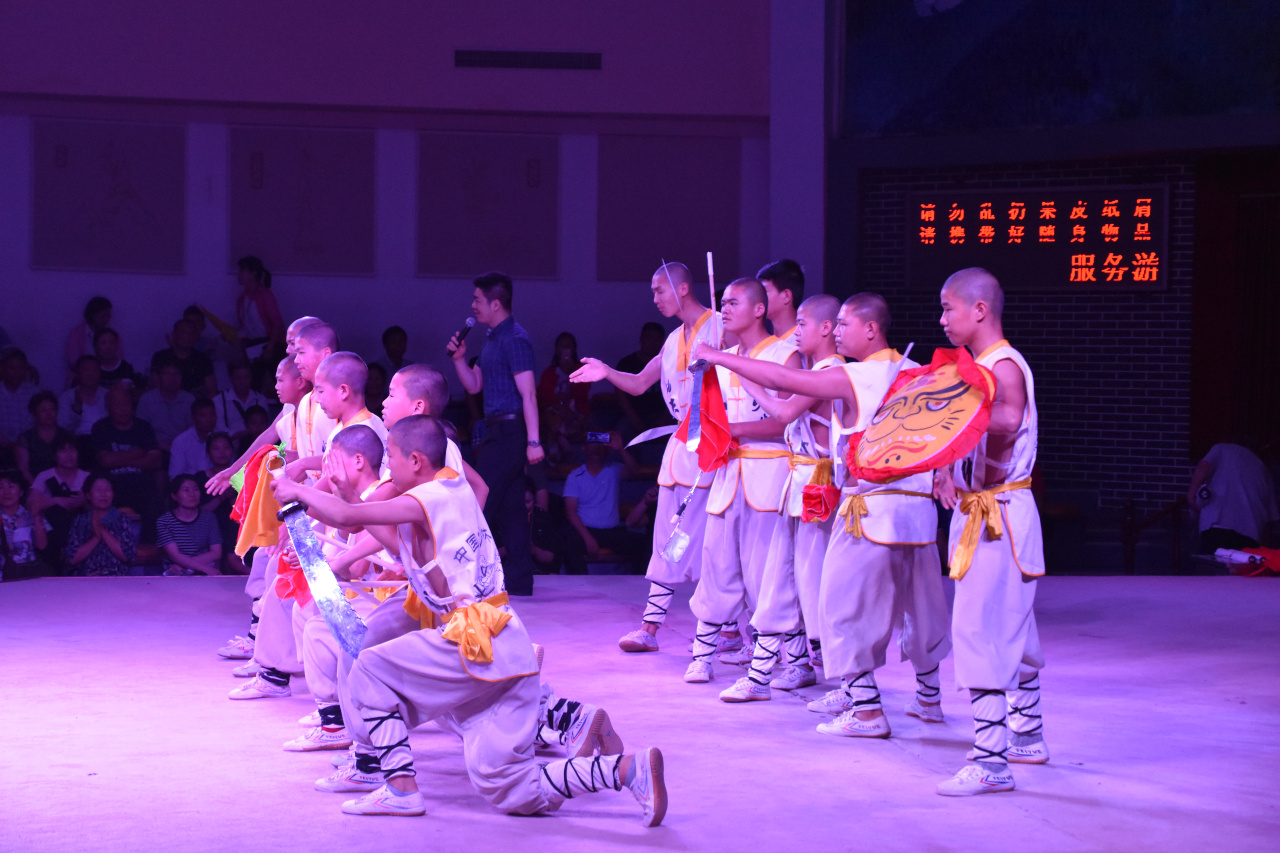 Ancient Art & Tombs Museum
Discover the final resting ground of some of China's most prominent Emperors, including Xuanwu of the Northern Wei Dynasty (499 to 515) whose grave is separated from the main museum and is located under a large burial mound.
The site includes many more tombs complete with burial objects, ancient frescoes, and a tranquil garden. Entry is free but it is closed on Mondays.
The Ancient Art & Tombs Museum is one of the best things to see in Luoyang, China.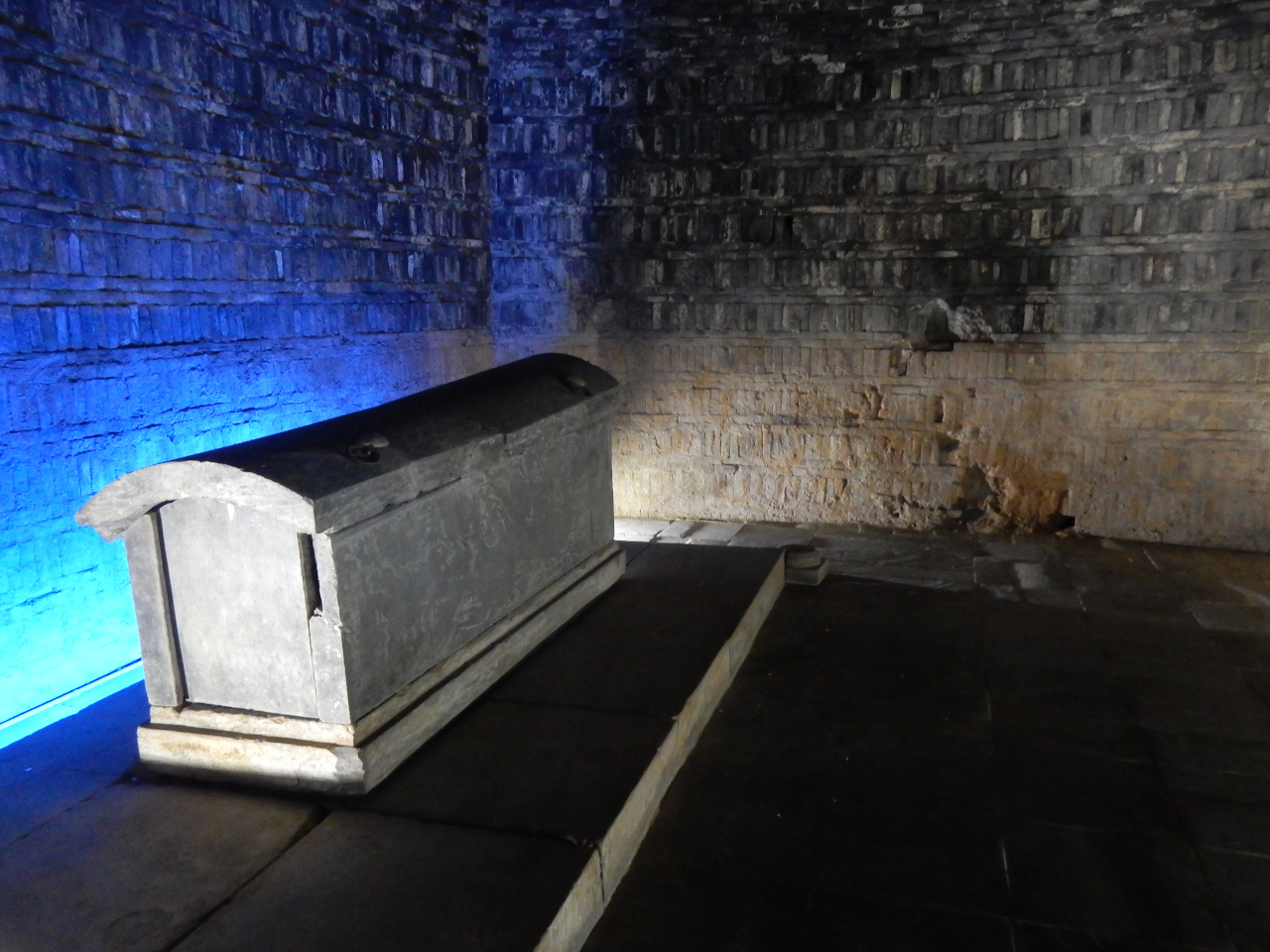 Horse & Chariot Museum
The Luoyang Horse & Chariot Museum consists of a large excavation pit containing the well-preserved remains of ancient chariots and horses.
It is a great place for lovers of history and archaeology and one of the unmissable attractions in Luoyang!
The entry fee is 30 RMB (under $5).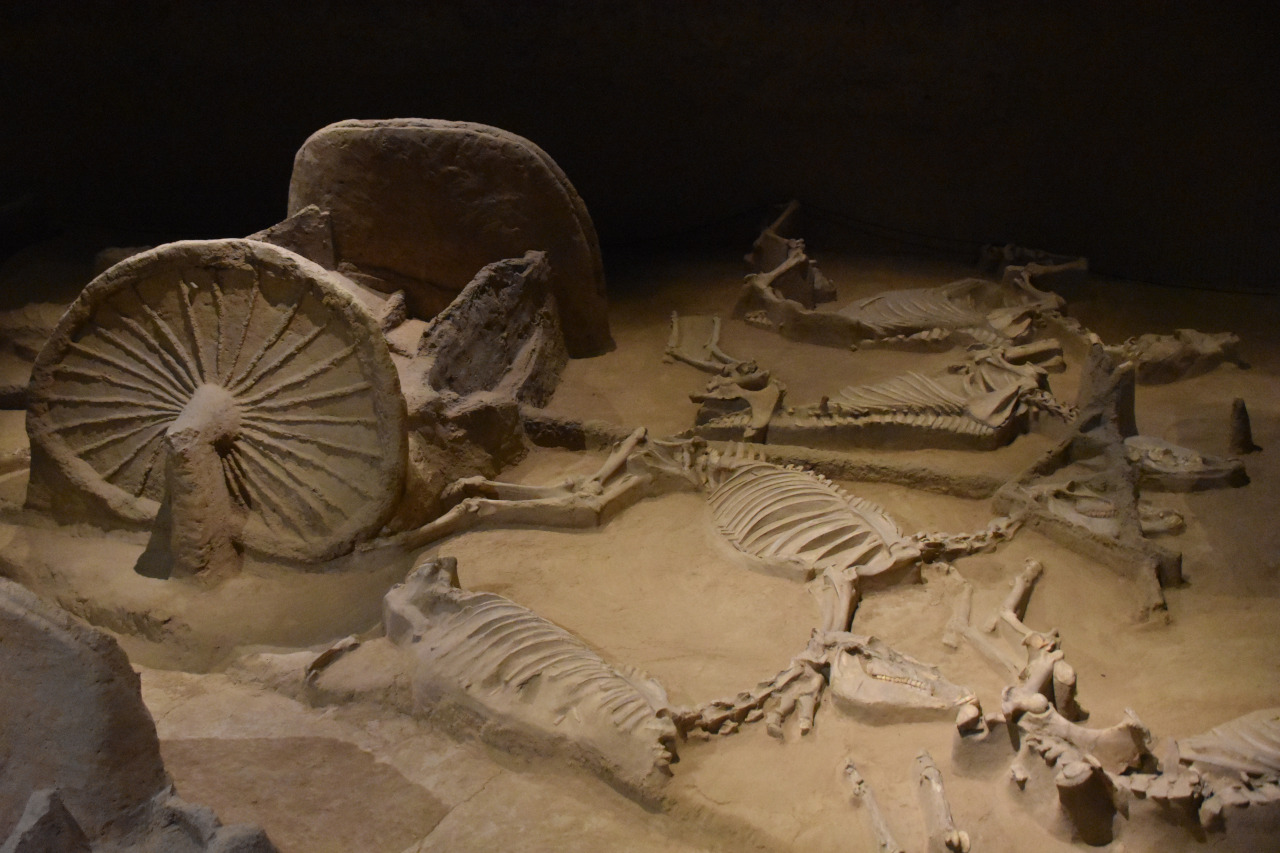 Lijiang Gate
The entrance to Luoyang old town, the Lijiang Gate is an impressive stone-walled structure that you can climb for excellent views across the city. There is also a small temple you can look around.
The entrance to climb the gate costs 20 RMB (under $3) but you can enjoy it for free from the bottom. It is one of the cool things to see in Luoyang.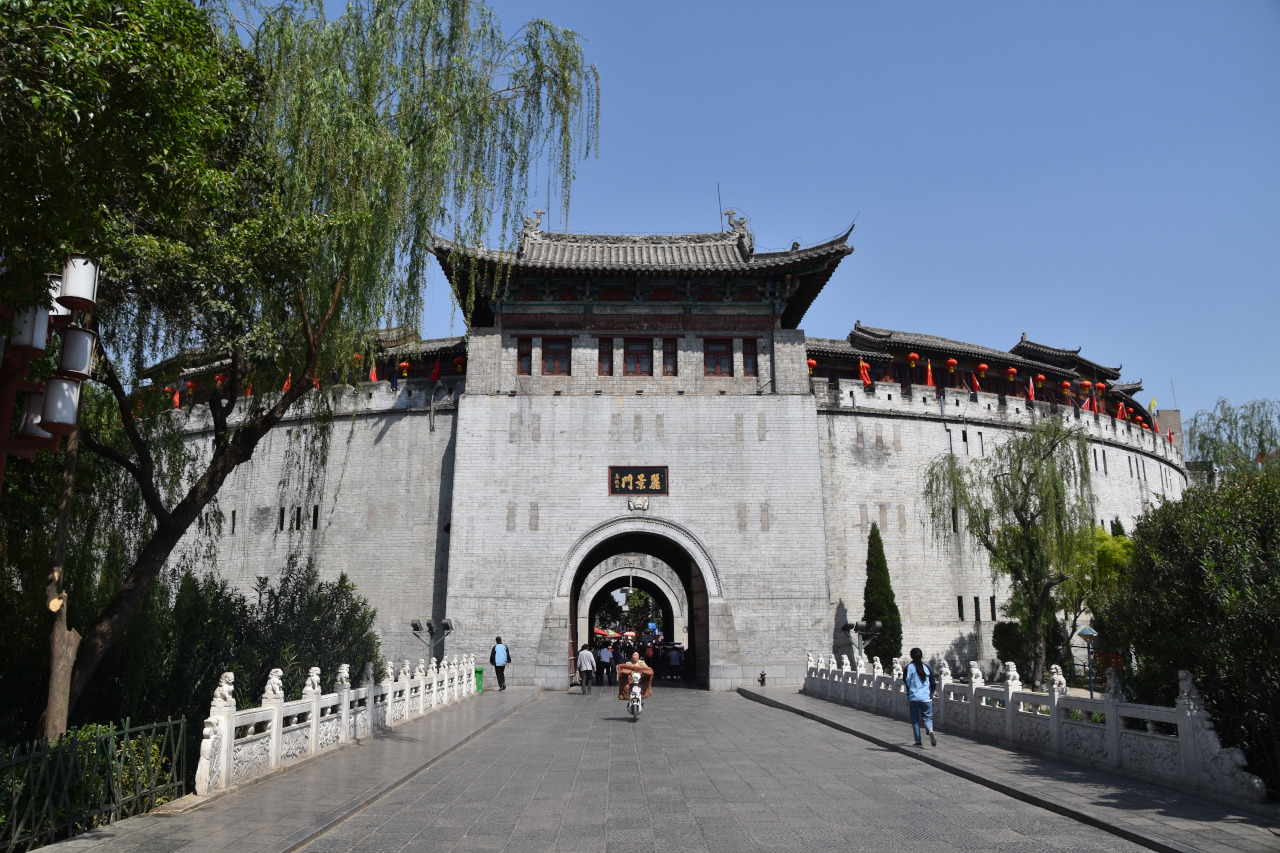 Luoyang Old Town
To continue to explore Luoyang, head to the Old Town.
The Luoyang old town consists of just one cobbled street that stretches a few kilometers; however, it is well worth a visit with its lively shops selling all manner of handicrafts and traditional Chinese art.
It's a great place to get some souvenirs for home at very reasonable prices. You can even watch the painting and engraving being done in front of you.
There are also many food stalls selling local snacks and ice creams.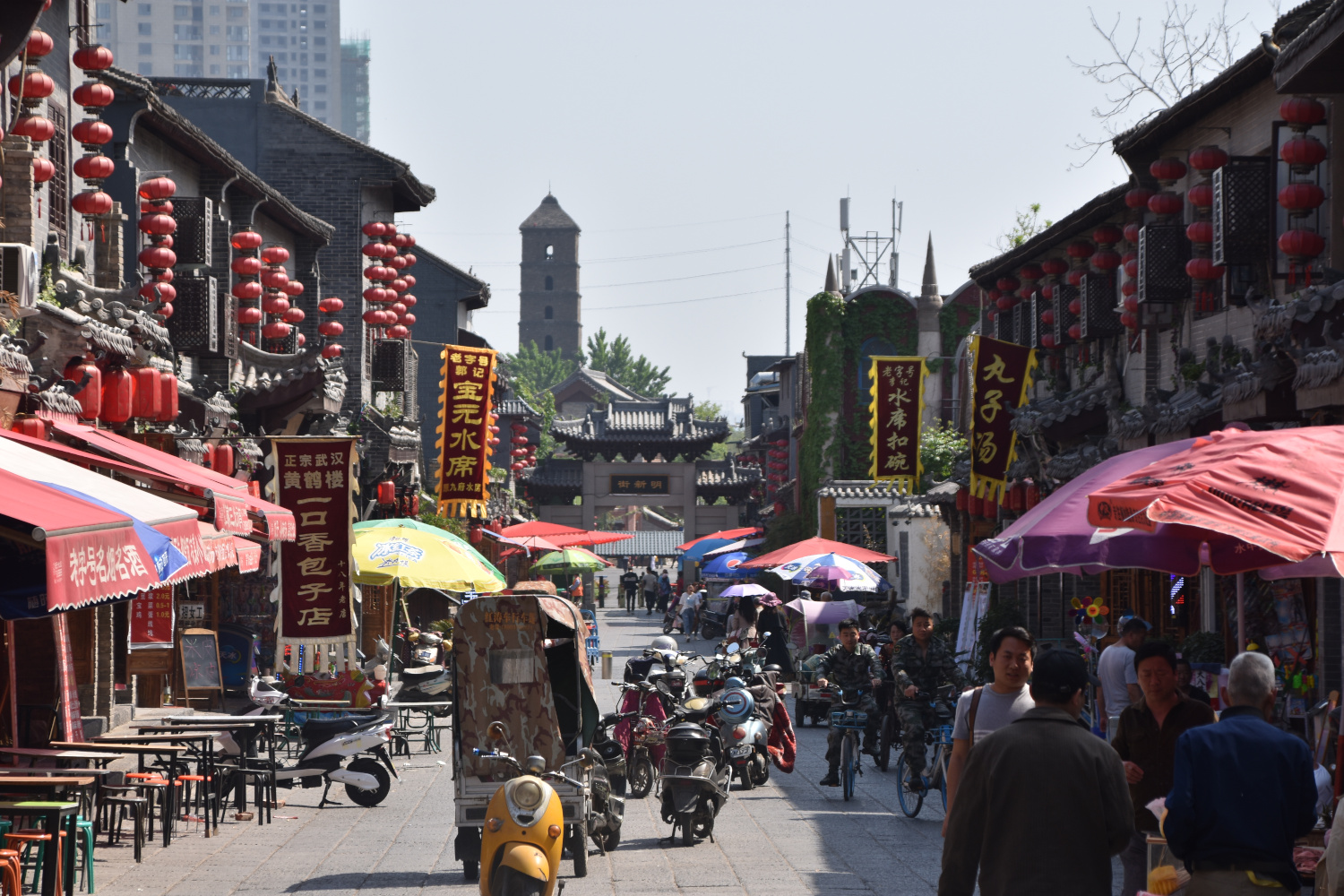 New Old Town
As you come to the end of the original old town, you will discover a newly-built scenic area surrounding a large pagoda.
The Luoyang "new old town" might be a little kitsch, but it's a pleasant place to sit at one of the café's next to the lake or walk around the small shops nestled along picturesque (though not original) alleyways. One of the relaxing things to do in Luoyang.
Free entry, but you will need your passport.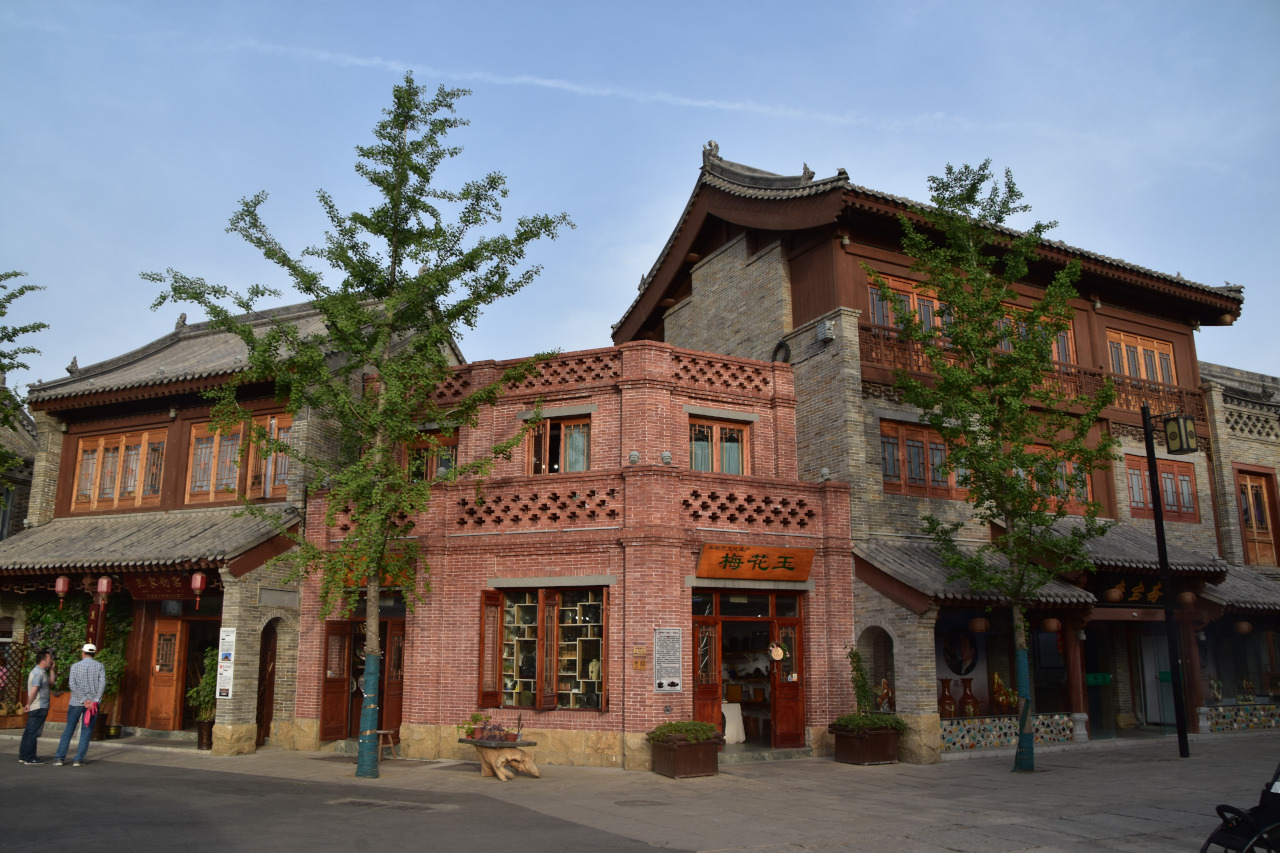 Laocheng Food Street
As you walk through the old town you will not fail to notice the red lanterns of Laocheng food street.
Laocheng comes alive as the sun sets and you will find families and tourists enjoying local delicacies from the hundreds of food stalls.
If you are brave enough you can even try a scorpion on a stick! Best visited at night!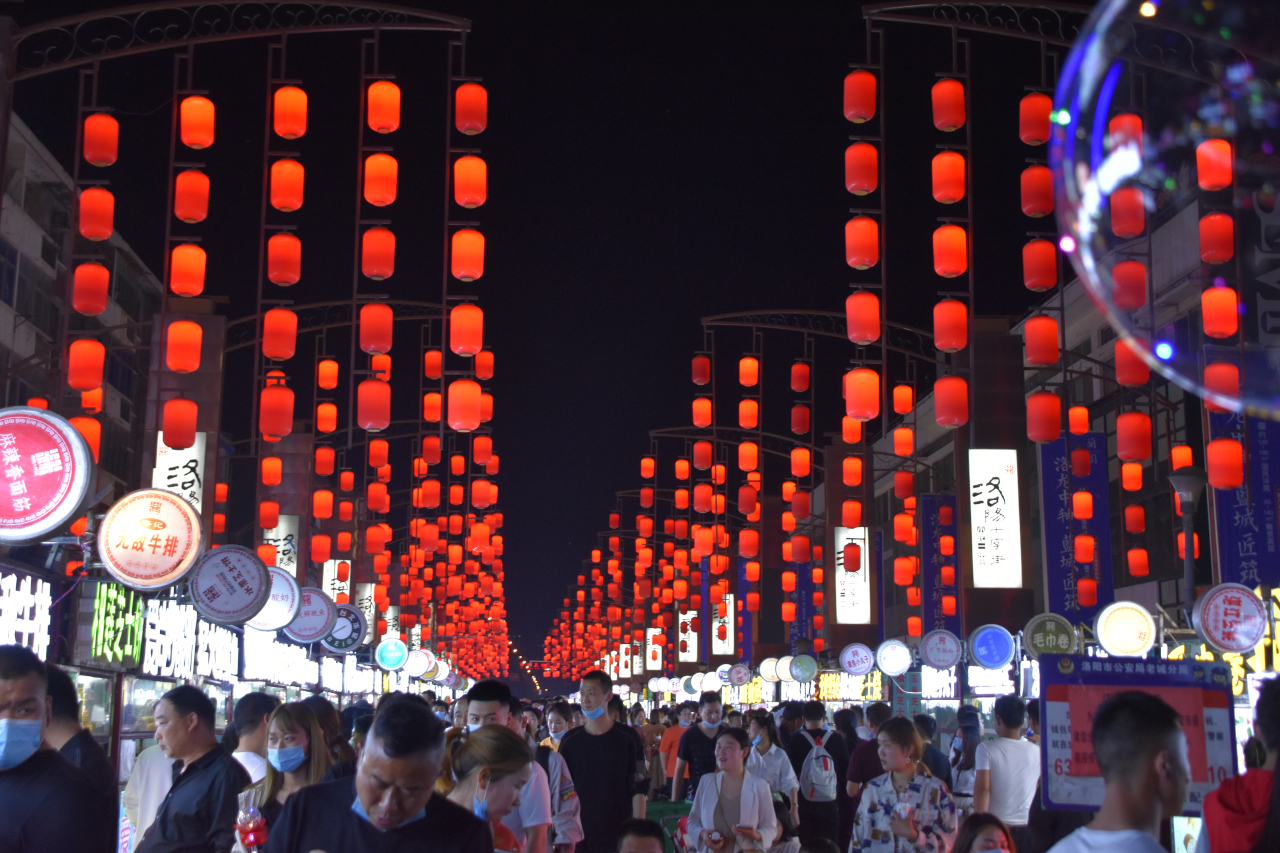 Wangcheng Park
Luoyang is full of wonderful parks and one of the most famous is Wangcheng Park. It is a pleasant place to stroll along the river all year round, but during April it comes alive with Peonies; the symbol of the city, and indeed China!
There is a small theme park attached with rides including a large Ferris wheel that can be seen across parts of the city. There is also a separate zoo, but I would urge you not to visit as zoos in China can be notoriously bad for the animals.
The entrance is free outside of holidays and festivals when a fee of 20 RMB (under $3) is charged. Wangcheng Park is one of the best sights in Luoyang.
Mingtan Scenic Area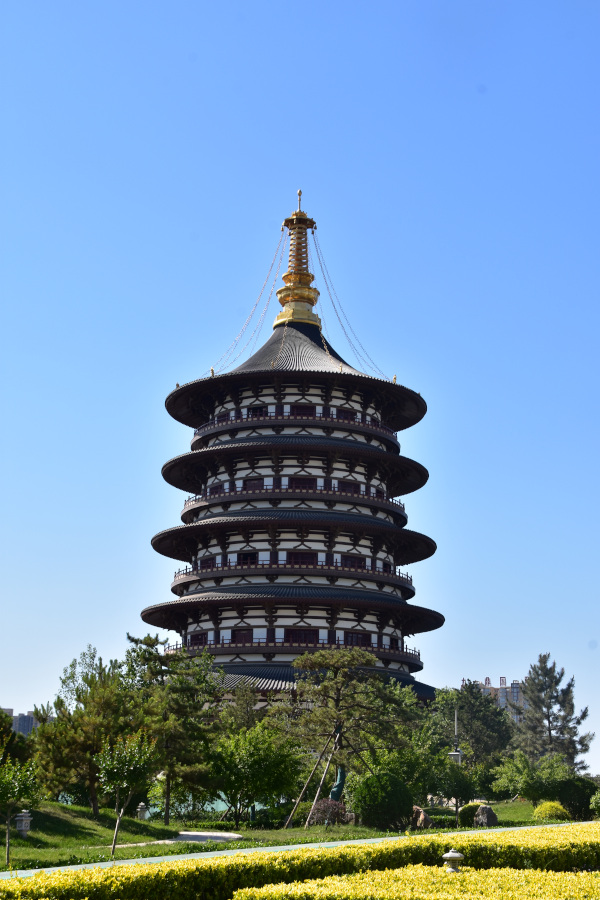 The Mingtan Scenic Area on Zhengzhou Road is a large complex including a museum with historical artefacts, small excavation pits, and a cinema with an interesting film about the city's history.
There is a large pagoda within the grounds that you can ascend for fantastic views across Luoyang.
The entrance is 100 RMB ($14) and it's one of the top things to see and do in Luoyang.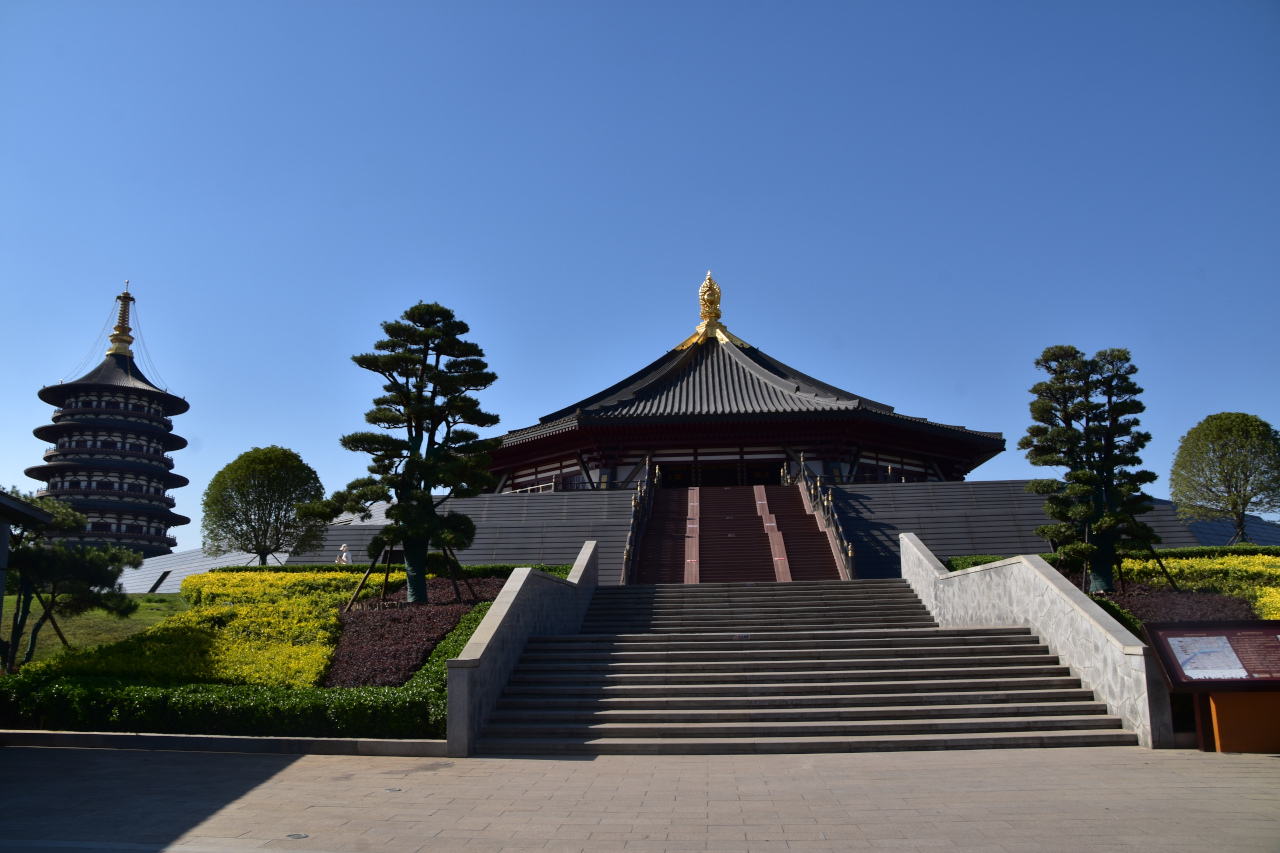 National Flower Garden
With an area of 255 acres, the National Flower Garden houses the largest collection of peonies in China.
April and early May are the best time to visit to witness these beautiful flowers in bloom. This is one of the most beautiful outdoor attractions in Luoyang.
Sui & Tang Dynasty Botanical Gardens
The largest of Luoyang's parks and gardens, this charming area is home to a large boating lake and many shaded walkways.
The garden is next to Luoyang Museum making it a great place for a picnic after discovering ancient artefacts.
Luoyang Museum
Luoyang Museum houses a large collection of artefacts from throughout China's history (including a large dinosaur skeleton, Ming vases, and much more).
The museum regularly houses art exhibitions and is free to enter making it one of the best free things to do in Luoyang.
Peony Festival
The Peony Festival runs from April to early May each year, as the national symbol of China and the flower of Luoyang is celebrated across the city.
There are events at all the major attractions and parks, with Wangcheng Park being one of the best places to see these beauties in bloom.
Most of the parks (which are usually free to enter) will charge a small fee during the festival of 20 to 30 RMB (under $5).
Luoyang Off the Beaten Path
Although the city is packed full of tourist sites, ancient temples, parks and more, if you feel like escaping the crowds then these are some of the less well known and farther afield sites.
Let's discover the best off the beaten path things to do in Luoyang.
Luoyang Fairy Village
Luoyang Fairy Village is another recreated old town area with an accompanying small theme park attached.
There are restaurants and gift shops and a large pagoda at the top of the hill. It is located close to Longmen Fast Train Station and it is one of the best offbeat attractions in Luoyang.
Folk Museum
The Luoyang Folk Museum is located near to the old town and it is one of the Luoyang gems.
It houses a collection of interesting artefacts covering the city's history, and if you are lucky you might get to see a traditional puppet show which occurs throughout spring and summer. Free entry.
Luoyang Cemetery
Luoyang Cemetery is situated near the Mingtan Scenic Area above the city and affords great views of Luoyang.
The peaceful cemetery is also home to a large Taoist Temple and behind it is a large forested park.
Yellow River Scenic Area
The Yellow River Scenic Area is located approximately 40km north of the city on the famous Yellow River.
It is easily reachable by bus from the Jinyuan Bus Station (next to Luoyang Train Station) and the journey takes around an hour.
The area encompasses a large forested parkland and hydroelectric dam. The Yellow River Scenic Area is one of the best things to see near Luoyang.
Yuntaishan Geopark
A little farther afield and would make a good two-day trip, Yuntai Mountain Geopark is a beautiful natural gorge with large red, sandstone cliffs towering above a cascading river.
There are large waterfalls, mountain paths, wild monkeys and a beautiful Temple within the national park. There are buses in summer that take around 3 hours and leave Jinyuan Bus Station at 09:00am, returning at 15:00.
Where to eat in Luoyang
Luoyang's most famous dish (or dishes) is the water banquet; a series of 24 soups and side dishes that dates back to the Sui Dynasty (581 to 618AD). Traditionally there are 16 hot dishes and 8 cold which include soups, meat, fish and vegetables.
Many Luoyang restaurants around the old town specialise in the water banquet, but one of the best places for traditional Luoyang food is Lao Luoyang (Old Luoyang) which has restaurants across the city.
The best one is just off Peony Square in Jianxi District. If you don't wish to try the water banquet there are plenty of other wonderful dishes including noodles (the staple in northern China rather than rice) cumin lamb, and sweet and sour pork.
If you want to sample Luoyang's street food, then head over to Laocheng and the food street which runs adjacent to the old town.
Here you can try anything from ice cream to scorpions on sticks and there are many restaurants behind the food stalls which serve great barbeque.
Where to stay in Luoyang
Luoyang is not short of accommodation options from budget to luxury so you'll find great places to stay in Luoyang. Let's see the best hotels in Luoyang.
Backpackers can choose from any number of hostels across the city and those looking for a little more comfort will be able to find something to suit their needs.
Once Artistic Inn (located near the Mingtan Scenic Area and close to the Old Town)
Luoyang Jujia Hostel (a pleasant family-run hostel in Jianxi district)
Luoyang as Home Hostel (close to the fast train station and Longmen grottoes but a bit far from the city)
Peony Hotel (on Peony Square and has a revolving buffet at the top)
New Friendship Hotel (also on Peony square with a selection of on-site restaurants)
Hyatt Place (good location across the road from Wangcheng Park)
Christians Hotel (one of Luoyang's premiere hotels, located close to the Horse & Chariot Museum)
Tips for visiting Luoyang
Be aware that there are three counties close to Luoyang that foreigners are forbidden to visit. These are to the southwest and unfortunately include some beautiful tourist attractions that can only be enjoyed by Chinese nationals.
You are unlikely to find any information about this and even the locals don't know that foreigners can't go, but if you attempt to visit these areas which are home to army bases of the People's Liberation Army, you will likely be turned away, and in the worst case could come up against some serious problems.
The three counties are Song County (not to be confused with Songshan Mountain near the Shaolin Temple, which is fine to visit), Luan County, and Yi Yang County.
Also, you may need to use a VPN in China to browse some of the sites you like.
Conclusion
Luoyang is a fantastic destination for those interested in Chinese culture due to the abundance of historic sites in and around the city.
For nature lovers, the parks and nearby scenic areas offer some welcome relief from the bustle of the city.
As Luoyang is not on the main tourist trail for foreign visitors you will get to sample authentic Chinese life and find it much cheaper than the more popular cities such as Beijing and Xi'an.
About the author
Stephen Rohan has lived in Luoyang for four years and works as an English teacher there. He has traveled to over 50 countries to date and prefers to explore the places few others visit (such as North Korea, Chernobyl, Turkmenistan, etc.).
He writes for the travel blogs thetripgoeson.com and https://chinatravelsite.com/. Follow him on Facebook.