Planning a trip to Bhutan? Use this article to discover all the things to know before you tour Bhutan. These travel tips for Bhutan, the 6-day Bhutan itinerary, and all the useful information are presented by Vinod from Budget Travel Plans.
Find out how to budget travel Bhutan from this article! From what to wear in Bhutan to tips for solo travelers, from a 6-day itinerary for Bhutan to the weather in Bhutan and tips for Bhutan, all is covered.
This Bhutan guide is part of our free destinations guides series.

Budget travel Bhutan – Things to know before you tour Bhutan
Introduction about Bhutan
Bhutan is situated in the eastern portion of the Himalayas and is one of the least populated nations in Asia with only eight lakh individuals throughout the country.
The Bhutan border is encircled by territory on all sides, with one side being shared with Tibet (China), and the other side being shared with India.
The capital of Bhutan is Thimpu, and it is the most populated city in Bhutan. The national language is Dzongkha, and the local currency is Ngultrum.
Most of the people in Bhutan pursue Buddhism, and we can say Bhutan as a Buddhist country. That is, 75% of people follow Buddhism, and the remaining 25% follow Hinduism.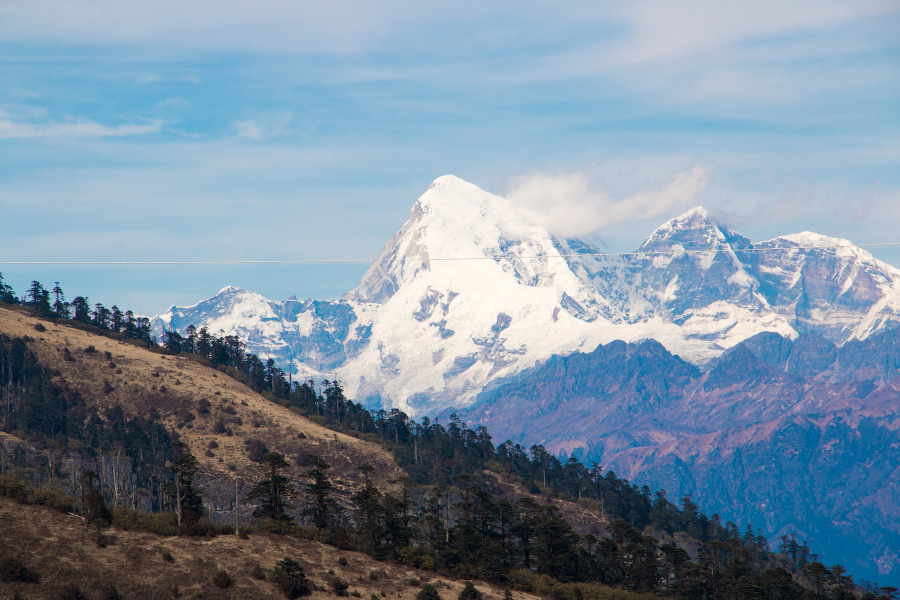 What is Bhutan famous for?
Bhutan is famous for well designed Monastries, beautiful dzongs and also for activities such as trekkings and it is one of the cheapest Asian countries for tourists! There are many places to visit in Bhutan – as you'll see below in this article.
How difficult is for Backpackers and Solo travelers to visit Bhutan?
Bhutan Government has strict policies in tourism. Unlike other countries, you cannot directly come and tour Bhutan, unless you are from India, Bangladesh, and the Maldives.
It is a strict rule that you have to contact any of the Government authorized tour operators to visit Bhutan.
Bhutan Government has a fixed standard price of 250$ per visitor per day.
There are more than a thousand tour operators available in Bhutan, and almost every operator has the same price approximately (only there will be a few dollars difference).
It may feel like the fee is on the higher side. But, for 250$ you will get 3* hotel accommodation, full-day meals, full sightseeing covered including cab, entry charges and also a government licensed tourist guide.
You have the option to customize the tour plan like you can add or remove a few places. Even after you reach Bhutan and if you don't like any of the services like accommodation, you can still change your hotel provided the new hotel also falls under 3* category. Or else, if you want to add more luxury options, you have to pay a few dollars extra.
The price of 250$ varies according to the season. During the offseason, the price may decrease up to 200$. If you are a solo traveler, you have to pay an additional fee of 30$. For kids under six years, this fee is waived off, and we have just to pay a visa fee of 40$.
Bhutan Visa
You can get the Bhutan visa for 40 USD, and you can apply it from any of the tour operators. Once you confirm the tour with the tour operator, you have to make the payment online, and you will receive the letter of visa clearance within a couple of days.
During immigration, you have to provide the visa clearance letter, and then your visa will be stamped to your passport.
Visitors from India, Bangladesh, and the Maldives can enter Bhutan without a visa. All they have to provide is a valid National Identity card.
Best time to visit Bhutan?
You can visit Bhutan anywhere between November to June, as this is the peak season where a lot of tourists tend to visit Bhutan. And yes, you can budget travel Bhutan during this time. During off-seasons, there will be a lot of rains, and it is better to avoid the monsoon time.
Flights to Bhutan
Paro International Airport is Bhutan's only international airport. Bhutan Airlines and DrukAir are Bhutan's two major airlines. You can take straight flights from major cities such as Delhi, Kolkata, Bangkok, and Kathmandu.
If you want to come from other cities, you have to reach any of the above cities and get a flight to Paro international airport.
You can enjoy the beautiful sights of Mount Everest and Kanchenjunga during the flight journey. To travel cheap to Bhutan, try to book flights in advance or to fine last-minute deals.
Bhutanese Food
Next on this Buthan guide is the Bhutanese food. Bhutanese people love spiciness in their food, and they won't like the food if their meal is not spicy. Almost in every menu, they will add red chilies.
Rice is their main dish. They eat two types of rice, one is red rice, and the other is white rice.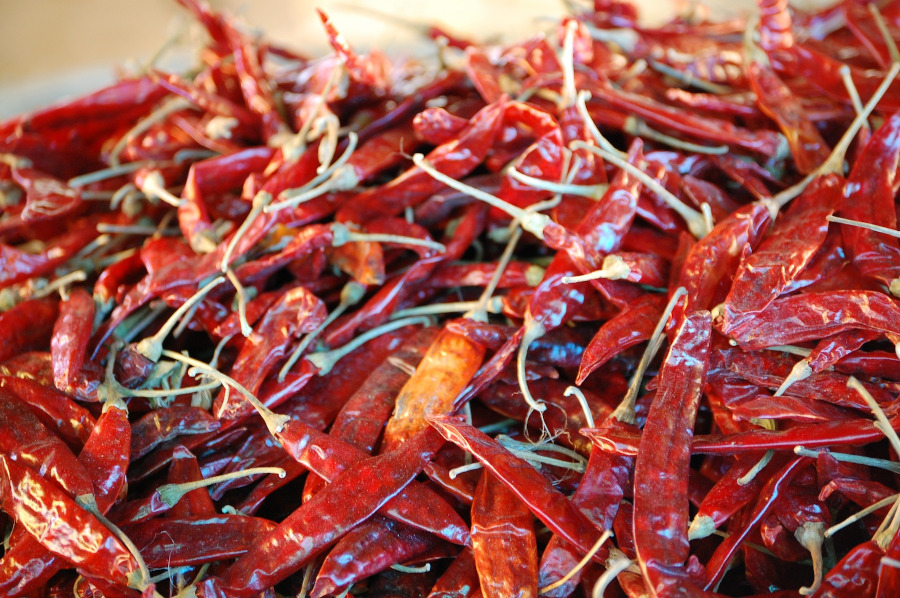 Along with the rice, they take pork, beef, and chicken (yes, Bhutanese people consume a lot of meat in their food) and vegetable curries.
Potato is one of the most consumed vegetables in Bhutan, and it is widely cultivated in Bhutan along with Paddy crops.
Bhutanese traditional wear
People of Bhutan still wear scarfs while entering administrative centers. According to the locals, scarf colors signify the distinct status of people. Men wear "Gho," a knee-length robe outfit attached to a belt, and females wear "Kera."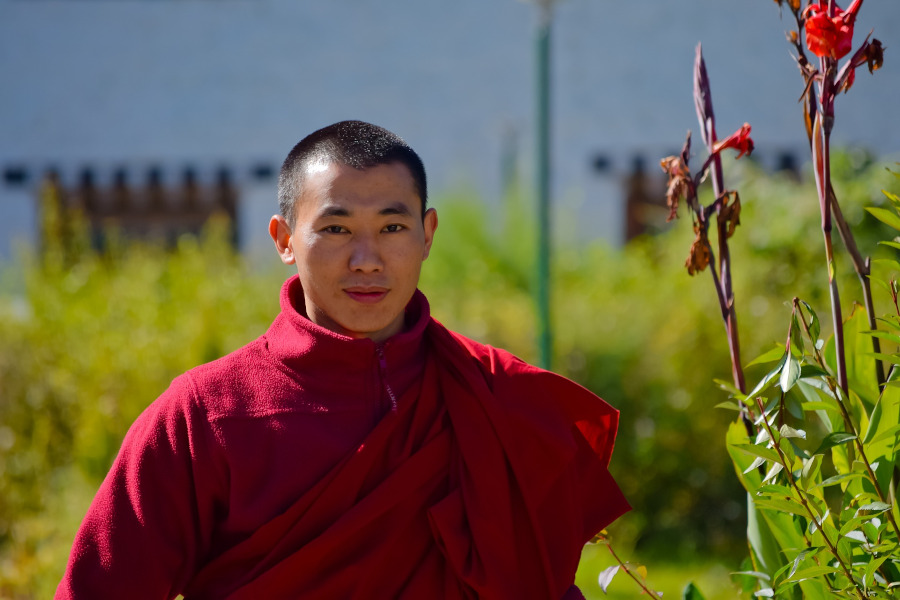 Currency value?
Another thing to know before visitin Bhutan is that 1 USD = 68 Bhutanese Ngultrum. Note, Bhutan currency has the same value of Indian rupee.
Unknown facts about Bhutan
Let's go through some unknown facts about Bhutan next on this list of things to know before your Bhutan trip.
Bhutan is the only country without a single traffic signal lights in its capital city.
More than 60% of Bhutan is covered by forest. Even the government is trying to increase it by 72%.
Bhutan is the country where you can make your own stamps with your custom photos. You can do this at the National post office in Thimphu.
Bhutan is one of the safest countries for tourists to travel. The crime rates are almost zero.
Sim Card
I suggest that you acquire a local sim card either from the airport or from local stores. The recommended one to get is from either Tashi Cell or B-telecom.
Bhutan Tour plan
Here is an example of a Bhutan itinerary – how to spend 6 days in Bhutan. This Bhutan itinerary will give you a very good idea of all the things to do in Bhutan.
Day 1:
As Paro is the only international airport in Bhutan, mostly you will be arriving in Bhutan unless you are coming from India. If you are an Indian citizen, you have the option of traveling by road and train. Most of the tour operators start their tour from Thimphu
So, start your day and your trip to Bhutan by getting from Paro to Thimphu. The travel time would be around 45 minutes to 1 hour.
Take Bhutanese lunch in the afternoon at Thimphu – you can end your day in the hotel.
Day 2:
Reach Cheri Monastery after a short ride in the cab. Note, you have to walk for 30 minutes to reach the top.
Then, the Thimphu paper factory,
The National Memorial Chorten (one of the most religious spots in Bhutan), then Tashichho Dzong ( fortress) and then you can head to see archery practice.
Day 3:
Start your travel from Paro to Punakha, and it will be for a distance of around 70 km, and you will be climbing over a mountain area, it will take about 2 to 3 hours.
On the way, you can plan to see Buddha Dordenma (world largest Buddha statue), Dochu La Pass – a high mountain pass with an altitude of 10000 ft.
After reaching Punakha, you can plan to see Punakha Dzong (another beautiful Dzong in Bhutan), Chimi Lhakhang – ( the temple of Mad Saint) and then back to the hotel in Punakha.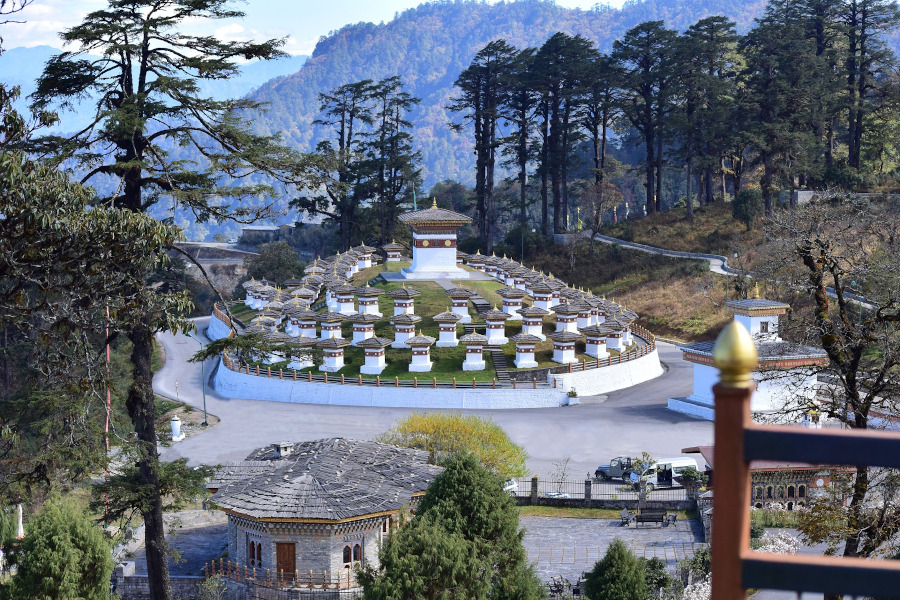 Day 4:
Start your day with a visit to Khamsum Yulley Namgyal Temple, where you have to cross paddy fields and then move to Mo Chhu river, which is famous for river rafting. After that, take a long drive to Paro.
Day 5:
National Museum in Paro, one of the famous museums in Bhutan, then Paro Dzong, Kichu Lhakhang (one of the ancient temples in Bhutan), Drukgyel Dzong and night stay at Paro.
Day 6:
Travel to Tiger's Nest Monastery, and it is one of the most famous tourist spots in Bhutan. Almost every tour operator in Bhutan will have this in their itinerary. This hike will take an entire day to cover, as you have to hike around 3000 ft from the ground.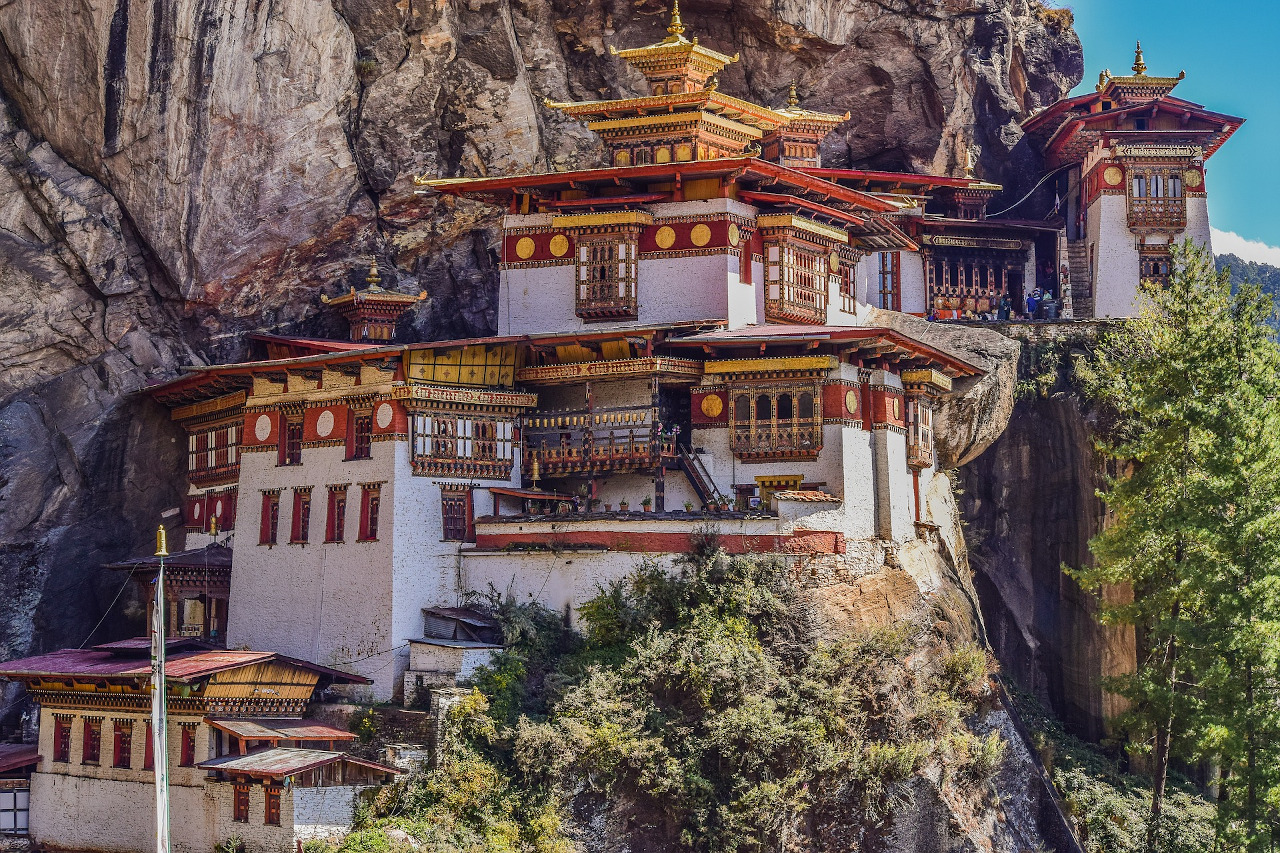 Then, return to Paro Airport to return back to home!
Tips for Solo travelers in Bhutan
For Indian travelers, Bhutan is a cheap travel destination. A five-day trip can be accomplished within 5k rupees.
Visa is not required for Indian travelers, but you need to get the permit to enter into Bhutan. You can get the permit earlier by applying at the consulate office in Kolkata, or you can get it on arrival to Phuentsoling.
Do note that the office in Phuentsoling will be closed on Sundays and National holidays. So, if you are coming here on these days, you may have to wait. Better check the holidays before or get the permit earlier.
Note that Aadhar cards are not accepted as a valid identity card!
The cheapest option to travel Bhutan from India is by train. From Kolkata, you can reach the Hasimara station, and from there you can taxi to Phuentsoling. Read our complete Kolkata guide.
You can get a decent hotel stay for 1000 rupees per day and also you can get meals for around 250 rupees.
Take enough currency with you before entering Bhutan. Credit cards are very rarely accepted and that too only in big restaurants and hotels. Indian currency is also accepted in Bhutan (except 500 and 2000 rs notes)
Alcohol drinks are very cheap in Bhutan. You can find bars attached even in small restaurants. But, do note that cigarette smoking is forbidden in Bhutan.
Bus transport is cheap, like in other Asian countries. You can get taxis if the buses are not available. Note: Buses, hotels, and restaurants will be closed around 9 to 10 pm throughout Bhutan.
Bargaining is not that common in Bhutan, unlike India. Mostly you will see fixed prices.
What to buy before leaving Bhutan? – Bhutan souvenirs
Would you like to buy some Bhutan souvenirs to remind you of the trip – or to offer them as a gift to your friends and family? Here are a few ideas of what to look for when shopping in Bhutan.
The best thing to buy from Bhutan tour is textiles like hand made clothes, wallets, and purses.
Also, you can get Bhutanese stamps customized with your family photo as souvenirs. You can do this in Thimphu post office.
The Bhutan Sandalwood incense sticks are famous. You can buy them as well.
Final Bhutan tips – Conclusion
Dress code is compelling in Bhutan. Use long sleeves and pants, i.e., cover your knees and shoulders. Otherwise, you won't be allowed to enter Dzongs and temples.
Weather will be frigid at night, and it will be around 10 degrees. Make sure to pack suitable clothing to withstand cold weather.
Bring good trekking shoes with you. Reaching the top Tiger's Nest Monastery will test your vitality!
If you want to buy something, get it in Thimphu as you'll find more shops than any other place because Thimphu is the capital city and prices are going to be relatively lower.
Try to combine your tour to India, if you have more days to spend. You can save much on your flight ticket.
About the author
Vinod & Divya, parent of a three year old kid, are Software Techies by profession gradually driven towards travel by passion. They are the founder/editor of the travel blog 'Budget Travel Plans' and are based in India. They have travelled across exotic destinations including Mauritius, Singapore, Malaysia, Thailand, Sri Lanka, Bhutan and the Middle east. They aim to share their budget travel experience,Travel tips & tricks and also advice on travelling with little kids. Follow them on Facebook and Twitter as well.