disclaimer: this post contains affiliate links, which means I may earn a small commission (at no extra cost for you). Read our Terms and conditions for more details.
Planning a trip to Maui, Hawaii, USA? Then use this Maui travel guide to discover the best things to do in Maui, where to stay in Maui, great restaurants in Maui, and useful travel tips.
The 15 amazing Maui attractions are recommended by Brittany from We Get Around Travel. This guide is part of the free travel guides series on this blog. Use this insider's guide to Maui, Hawaii USA when creating your maui itinerary.
Maui travel guide: 15 amazing Maui attractions you simply have to see
Maui is a gorgeous island in Hawaii that has something for every type of traveler. It has amazing beaches for relaxation or snorkeling while the other half of the island is more jungle-like with many adventure and hiking opportunities.
Maui weather
Wondering what is the best time to visit Maui? Here are my insider tips.
Maui is great to visit year-round with the weather staying pretty much the same at about 80's degrees.
The summer does have less ocean breeze and a bit more humid which can make it feel hotter. The water is always warm, making it perfect for swimming and snorkeling.
I love going December-March to be able to see the breaching Humpback whales.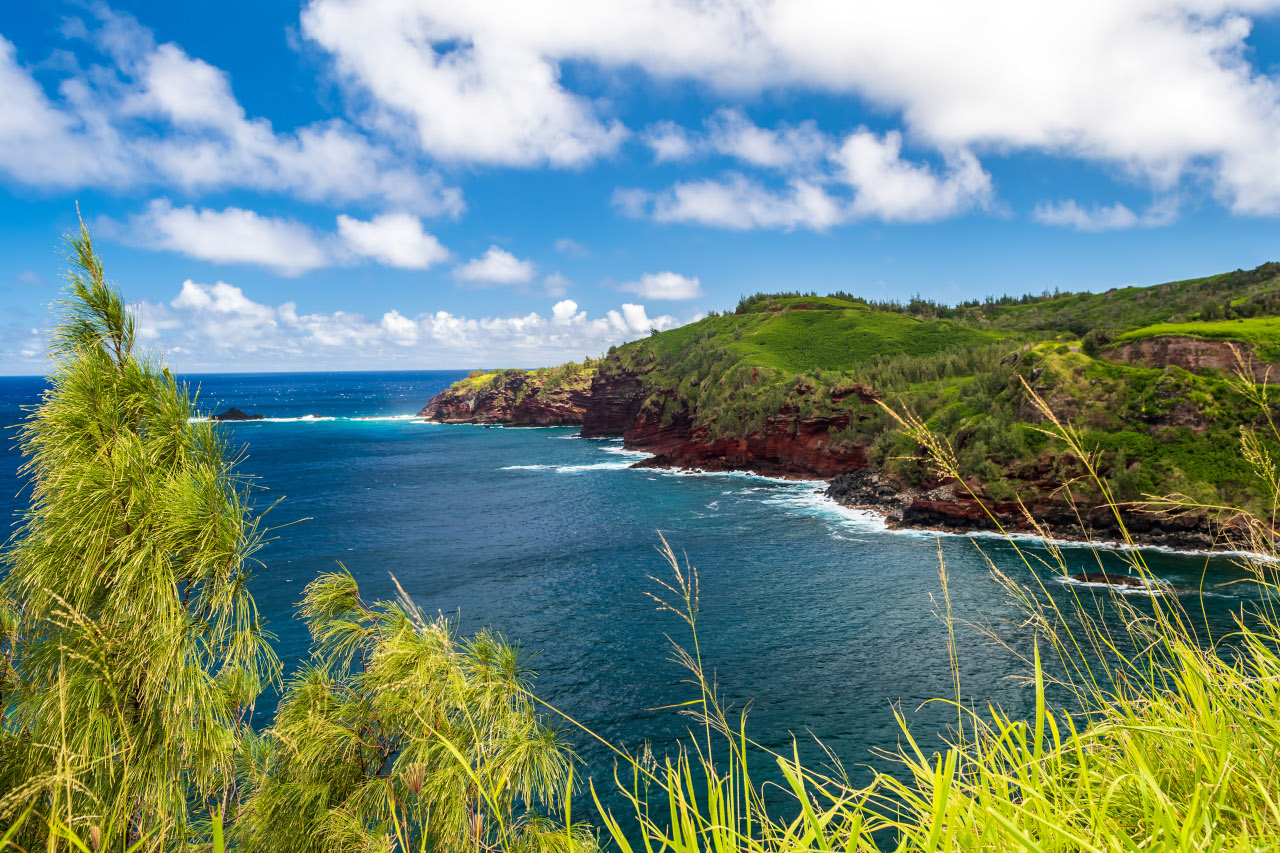 Included in this Maui travel guide
Maui attractions – 12 best things to do in Maui


Haleakala sunrise
Pipiwai Trail
Seven Sacred Pools aka 'Ohe'o Gulch
The Road to Hana
Nakalele Blowhole
Dragon's teeth (Makalua-puna Point)
Kaanapali Beach
Whale Tours
Iao Needle hike
Snorkeling Molokini
Whaler's Village
Banyan Tree

Maui off the beaten path – unique things to do in Maui


Makena Surf
Haleakala Crater
Bamboo Forest

Where to eat in Maui

Where to stay in Maui

Maui travel tips
Famous Maui attractions to see – 12 best things to do in Maui
You'll be amazed by how many great Maui attractions that you can include on your itinerary are there. Here are the 12 best things to do in Maui in my opinion.
As you'll see, many of these are amazing Maui hiking trails, while others include adventures of all sorts or stunning things to see in Maui. I hope you'll be able to see them all on your Maui trip, and here you can find more tips for your trip to Maui.
Haleakala sunrise
Seeing the Haleakala sunrise is a great way to start your Maui vacation.
It is breathtaking and you really appreciate that beauty for the island from 10,000 ft at the Haleakala Crater.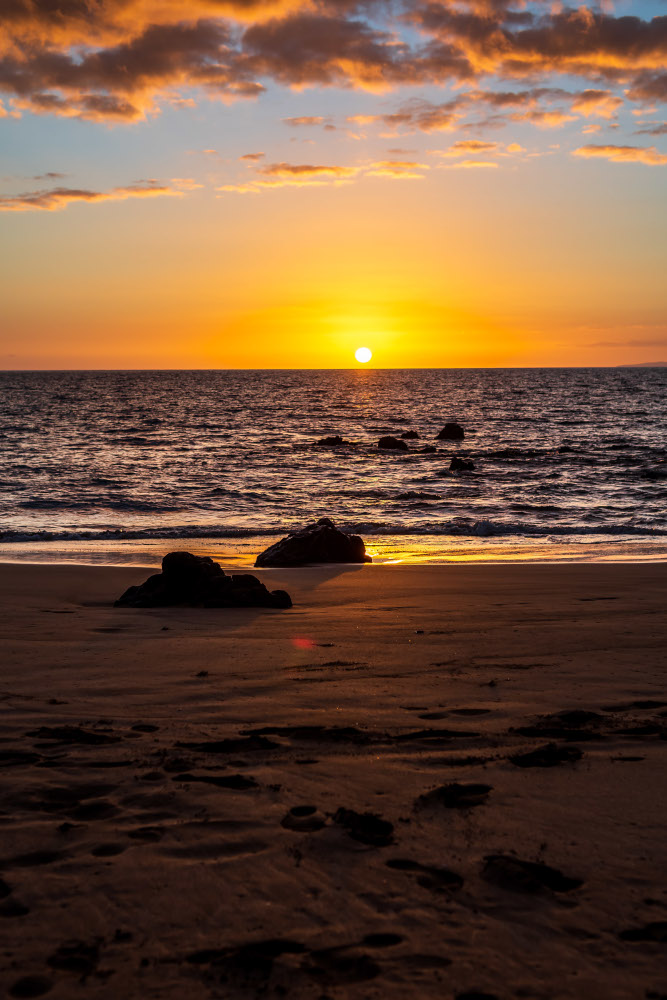 Pipiwai Trail Maui
The first recommendation on the Maui hiking trails list is Popiwai Trail Maui. This hike is on located on the East side of Maui in the Haleakala National Park.
This 4-mile roundtrip hike features a banyan tree, bamboo forests and ending at Makahiku waterfall. It's a wonderful hike that you'll be glad you took!
Seven Sacred Pools aka 'Ohe'o Gulch
The pools are located in the same area as Pipiwai Trail and should be on your Maui bucket list.
This is an easy 1/2 mile trail to beautiful pools so make sure you include the Seven Sacred Pools – 'Ohe'o Gulch – on your Maui itinerary.
The Road to Hana
An all-day adventure of waterfalls, hiking, ocean, and more! This is an amazing experience unlike any other. The Road to Hana is definitely one of the best places to see in Maui.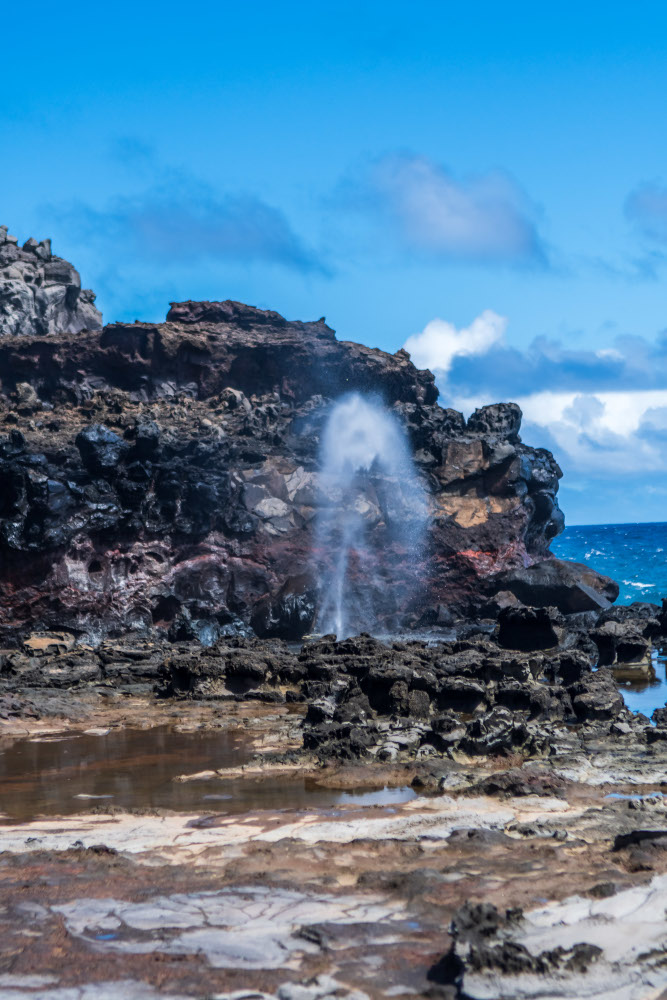 Nakalele Blowhole
The drive is scenic and beautiful on your way to the blowhole.
I recommend driving to the blowhole first and then on your way back driving south pulling over to lookout points to view the rock cliffs. Make sure you see the heart in the rock down by the blowhole.
One thing is clear: this is one of the unmissable places to visit in Maui.
Dragon's teeth (Makalua-puna Point)
This small hike has unique rock formations that you won't want to miss and it's one of the top things to do in Maui.
Kaanapali Beach
You can't visit Maui and not go to the beach. And you are in luck, as there are many gorgeous beaches in Maui awaiting for you! The Kaanapali Alii Resort is the perfect base for your stay.
One of the most beautiful beaches in the world, the Kaanapali Beach will enchant you! Definitely one of the top attractions in Maui.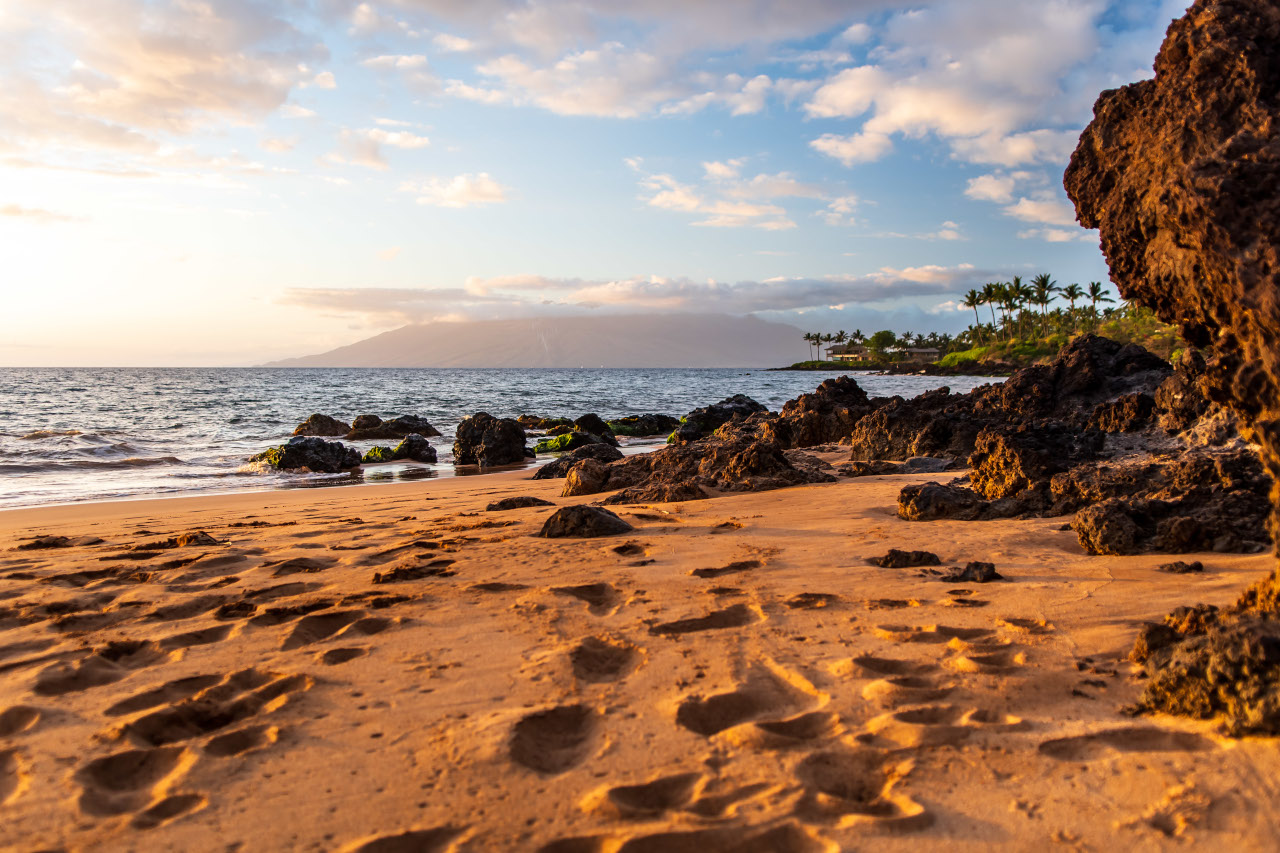 Whale Tours
Still wondering what to do in Maui? How about taking a whale tour?
Whale season in Maui is from December-May and is a must-see if you are visiting during these times. During this time you will often spot the whales breaching while you are relaxing on the beach.
Iao Needle hike
This hike provides amazing lush jungle views.
Snorkeling Molokini
When here, you should definitely consider snorkeling in Maui.
Molokini is one of the most amazing snorkeling experiences. You take a tour boat our the Molokini where you are sure to see amazing sea life.
Whaler's Village
If you want the answer the "What should I do in Maui next", then you have to visit Whaler's Village.
This is an old whaler's village with great shopping and restaurants right on the beach should be next on your list. This is one of the unmissable things to do in Maui for first-timers.
Banyan Tree
A unique attraction in Maui, the Banyan tree is an amazing tree that is connected to 16 different trunks. You simply cannot miss this during your trip to Maui, Hawaii.
Maui Off the Beaten Path
Apart from the famous tourist attractions in Maui, there are some lesser-known things to see and do here. Here are my top three off the beaten path things to do in Maui.
One of my favorite less busy beaches in Maui is called Makena Surf. It is one of the smaller beaches that is usually not very crowded but is absolutely beautiful which makes it one of the perfect Maui off the beaten path places to see.
One beautiful thing to do that is underrated in Maui is exploring the backcountry of Haleakala Crater. There are many hikes and things to see that are so different than the rest of the island.
One hidden gem that is outrageously beautiful is the Bamboo Forest which is on mile marker 6 on the Road to Hana.
This trail is an amazing journey through a bamboo veil, which opens up into the lush jungle, freshwater swimming holes, and 4 amazing waterfalls.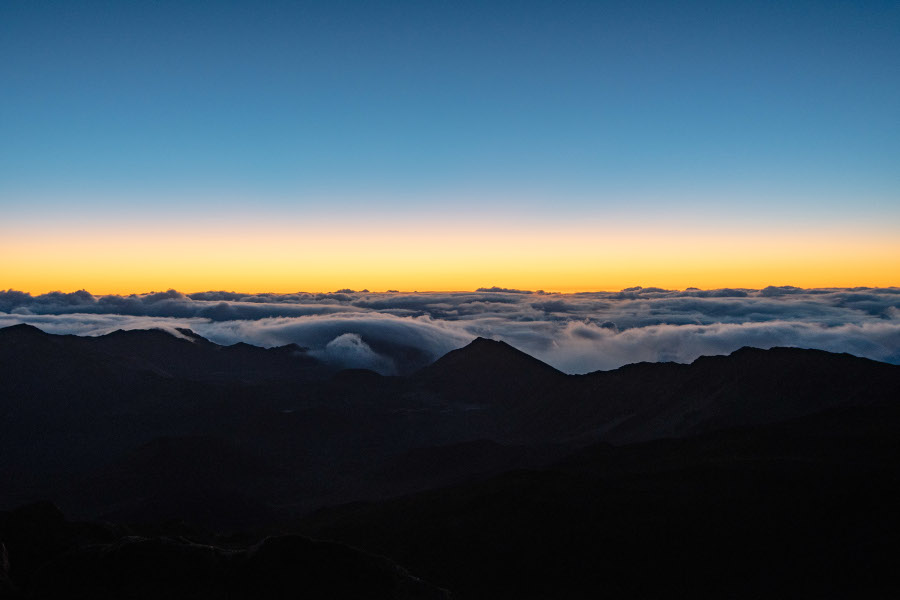 Where to eat in Maui
During your Maui trip, you'll most likely want to enjoy the best food. So, next on this insider's guide to Maui is the answer to where to eat in Maui. Listed below are my favorite restaurants in Maui. You'll definitely find some interesting ideas for your trip!
One of the most famous restaurants in Maui is Mama's Fish House. This restaurant is so romantic and located right on the beach. It is so popular you need to make a reservation 6 weeks in advance.
Paia Fish Market is a delicious fresh fish restaurant. I highly recommend their fish tacos.
Monkeypod is a great restaurant with great views located in Whaler's Village.
Aloha Mixed Plate offers delicious traditional Hawaiian food.
Pro tip: Don't miss out on the many fresh fruits and banana bread stands throughout the island.
Where to stay in Maui
Wondering where to stay in Maui? There are three locations I like to stay in Maui. I'm including them below along with the best Maui hotels for you.
The first is Kaanapali. Home to the most famous beach in Maui there are great resort and condo options.
The Westin Maui Resort and Spa is a good choice as is Marriotts Maui Ocean Club
The next area to stay is the luxurious part of the island – Wailea. You will find great beaches like Big Beach, Makena Surf and more in this area.
Stay at the amazing Grand Wailea Maui Resort or for an adult-only resort try Hotel Wailea.
The most affordable and centrally located area to stay would be Kihei. There are tons of condos to rent in this area that are right on the beach.
Travel Tips for Maui
This travel guide to Maui is almost done, but I couldn't leave you without some insider's tips for Maui regarding what to see, what to avoid in Maui and safety tips for Maui.
While the island is small, the lack of roads makes going from one part of the island to the other slow.
I highly suggest renting a car as there is not really public transportation.
I really recommend trying out many different beaches across the island and not just visiting the one by your hotel. Maui has so many beaches to offer, each one good for different things.
Some bloggers recommend visiting the Olvine Pools. I do NOT recommend this. They can look like a calm place to take a swim but when the ocean crashes over, which it can do at any time, you could be dragged out to sea. Many people have lost their lives here.
Another safety tip is not getting too close Nakalele Blowhole, doing so can make you slip and fall in.
And as with any beach vacation, pay attention to warnings and flags and know that the ocean is a powerful force.
Maui is such a beautiful place that has something for everyone. It is no wonder that people who visit once, tend to always want to come back.
The crystal clear blue waters against the black lava rocks, the amazing snorkeling opportunities, and gorgeous jungle hikes make for the perfect vacation. I hope this insider's guide to Maui will help you plan an unforgettable trip to this amazing place.
If you plan a longer trip to Hawaii and want to visit more Hawaiian Islands, then we've got you covered:
About the author
Brittany Morazan, is the author at We Get Around Travel. She is a travel addict who loves making traveling more accessible to others by sharing her tips, guides, and itineraries. She has been to Maui many times and can't wait to go back! Follow her on Instagram, Pinterest, and Facebook.