Palermo is one of the best places to visit in Italy. It is the largest city in Sicily and it has a lot to offer. But there are also amazing things to do near Palermo and this article presents you with the top 5 day trips from Palermo, Italy.
Taking these Palermo day trips you'll be able to learn more about history, architecture, and culture. These great day trips from Palermo are suited for all tastes as they will allow you to admire beautiful temples, relax on sandy beaches, admire amazing buildings and their architecture, enjoy amazing food, learn more about the mafia, and more!
The recommendations of things to do near Palermo are presented by Darah from Where Food Takes Us and you'll enjoy every single one of them! Make sure to include all of these great day trips from Palermo on your Palermo itinerary for your next trip to Italy, Europe.
5 Great Day Trips From Palermo
Palermo is the perfect base for anyone traveling in Sicily for many reasons. However, one of the best reasons to stay in Palermo is awesome day trips. You can visit ancient Greek temples, have a day at the beach, taste some wine or learn about the mafia on your excursions from Palermo.
Trust us, Palermo can get pretty hectic and you'll be itching for something to do outside of the city. That said, we loved our stay in Sicily's largest city and were able to discover a lot of the island from there. So, in this post, we mention some great day trip ideas from Palermo and how to get there!
The Best Way to Get Around Sicily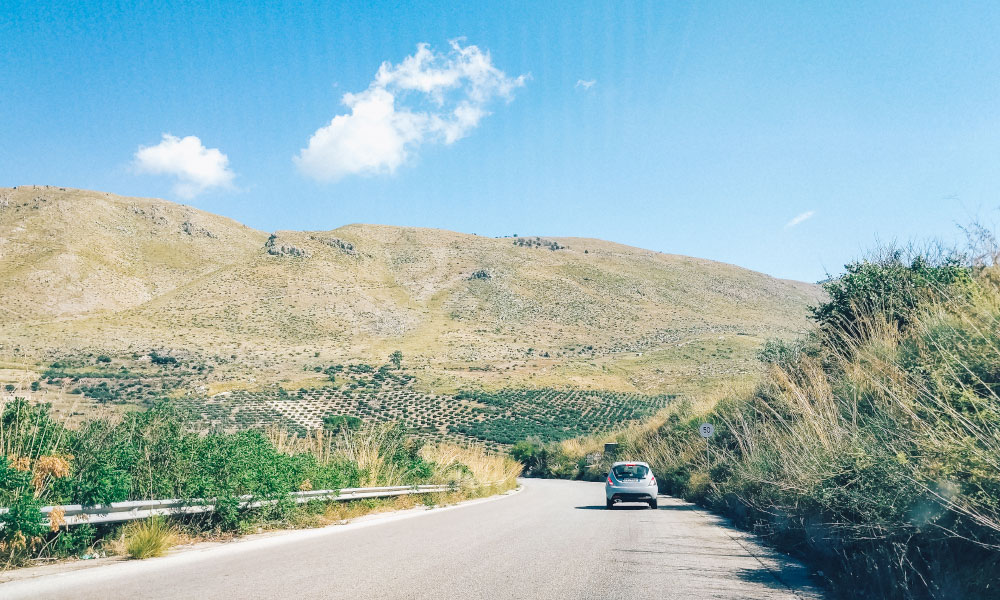 Trains are common and very accessible in Sicily but to really explore the island we think it's best that you rent a car. This way you're not constrained by timetables and schedules and you can explore Sicily at your leisure. A couple of day trips from Palermo that we mention aren't easily accessible by public transportation.
Of course, if driving doesn't sound appealing to you then there are public transportation options for these day trips. They just won't be as convenient and you might be a bit rushed.
If you decide to rent a car then we recommend you get the smallest car possible. You'll save money on gas and since most of Sicily has narrow roads and parallel parking is the norm you'll have an easier time driving a small car around.
We did a fair bit of traveling by car while on the island and we have some great tips for driving in Sicily. Hint: we loved it and highly recommend it!
Agrigento and the Valley of the Temples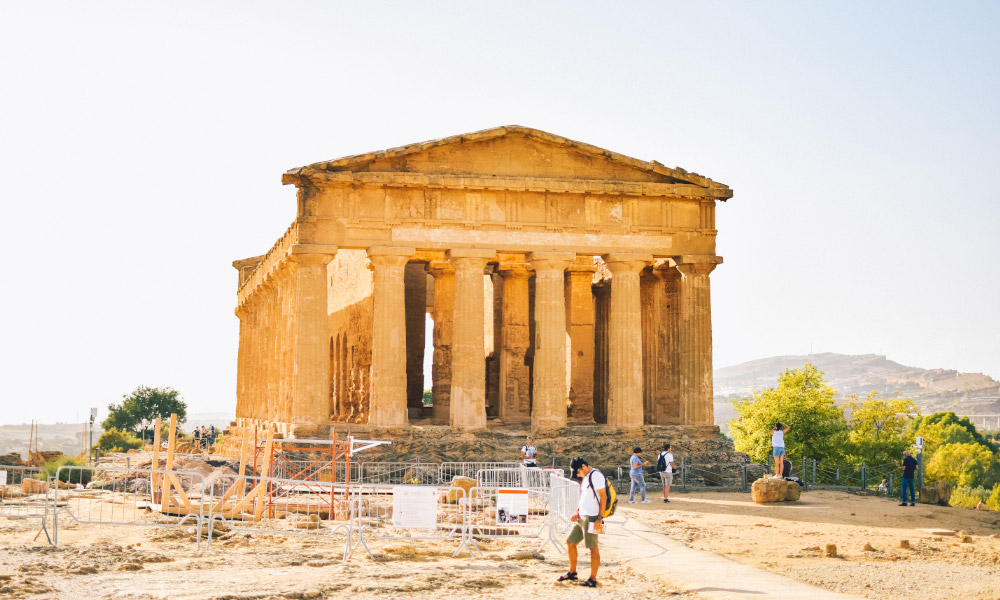 Sample the southern coast of Sicily by heading to Agrigento. If you love history, beaches, and getting lost in the old town then this is a spectacular day trip from Palermo and it's easy to do.
Agrigento is most known for the Valley of the Temples, which is a huge archaeological park that boasts some of the world's most intact Greek temples outside of Greece!
Some highlights from the Valley of the Temples are the Temple of Concordia, which is the most well-preserved temple in the entire park and the "atlases" laying around the rubble of the Temple of Zeus. These "atlases" were stone men that replaced alternating columns on the temple and they give you a good idea of just how massive this temple was going to be once finished when it was being built (never completed) in 480 B.C.
Tickets start at 12 Euros for adults (audio guides are sold separately) but it's free to visit on the first Sunday of the month.
While the Valley of the Temples gets all the credit here, don't forget about the city of Agrigento itself. Its Duomo is from the 11th century and definitely worth a visit. It's always a good idea to wander around the old town. Grab a piadina and enjoy!
How to get from Palermo to Agrigento
Trains for Agrigento leave frequently from Palermo Centrale. If you wish to visit the Valley of the Temples then from Agrigento's central train station you can take bus no. 2 to "Fermata Tempio di Giunone".
Alternatively, many tour companies offer day trips from Palermo to the Valley of the Temples but we think it's more fun on your own. That said, look into renting a car and discovering Sicily for yourself!
Cefalù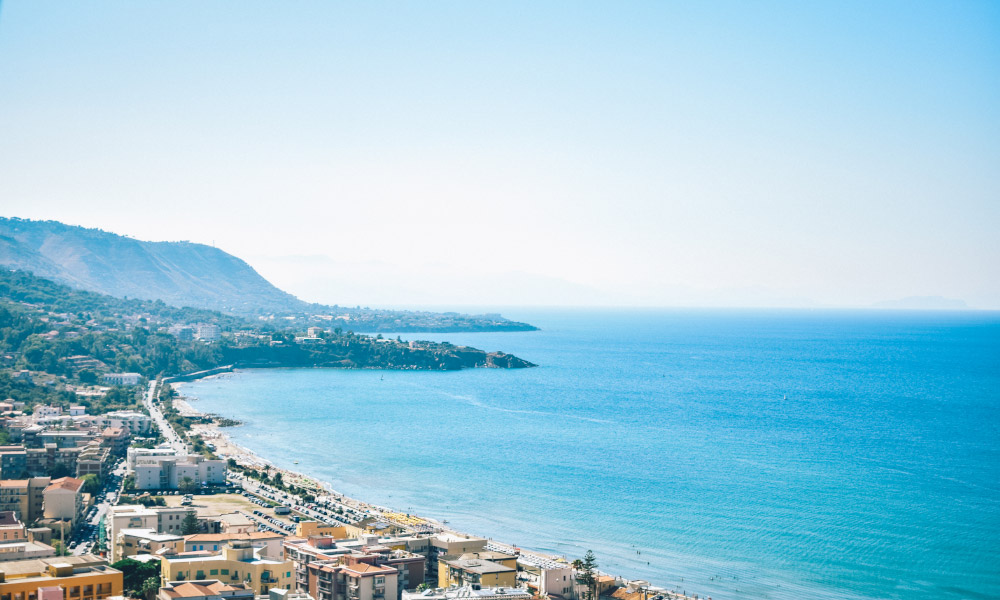 What's the best part about Cefalù? It's really hard to beat the view that overlooks this historic town and its pristine waters but there's more to this ancient Greek gem than just that.
Unfortunately, most of the Mediterranean is made up of rocky shores, which makes water shoes and cushions a must-bring to the beach. Not in Cefalù!
The sand is so soft and just begging you to stake your claim for a day in the sun. Add the backdrop of picturesque Cefalù and its Norman cathedral and you've got one of the most popular destinations in Sicily.
If you're spending some time in Palermo, you'll quickly understand the urge for something else than the loud and busy city life. So, it makes sense why travelers flock to this destination near Palermo, especially during the peak travel season.
But the beach isn't the only thing Cefalù has to offer travelers from Palermo. For those looking for more than just a day at the beach you can tour the city center and its cathedral but that won't take you too much time.
Instead, bring some good shoes and plenty of water for a short but tough climb up to the observation deck above the town. Here, you can find the ruins of the old Norman castle, the walls of an ancient Greek temple, walk next to herds of sheep and goats, and get some of the most amazing views of the Sicilian coast contrasted with that mesmerizing blue sea.
The only con to this tough but rewarding climb is that you have to pay 4 euros to enter. We're not the biggest fans of paying to exert ourselves but there's so much to see up there that it's worth it.
The walk up can take you anywhere from 15-30 minutes depending on your speed. There are spots to rest along the way but bring water!
The best time to make the climb is before sunset or early in the morning. You'll find less crowds, better weather and great lighting for any views you want to stick your eyes on.
How to get from Palermo to Cefalù
Cefalù is easily reachable by car but you'll have to mess with the infamous Palermo traffic. However, it's just under an hour to Cefalu on four wheels so it's not too bad. Just be prepared for some parking mayhem in peak travel season.
Or, if you'd rather not mess with the stressful roads and parking then you can take a train. TrenItalia will have you there in around an hour and for a very affordable price. Check out the Trenitalia website for times.
The only downside is it's a 10-minute walk from the train station into town. It's not that bad! But if you're bringing things for a beach day, try to pack light and carry it all in a backpack.
Marsala (and Islands)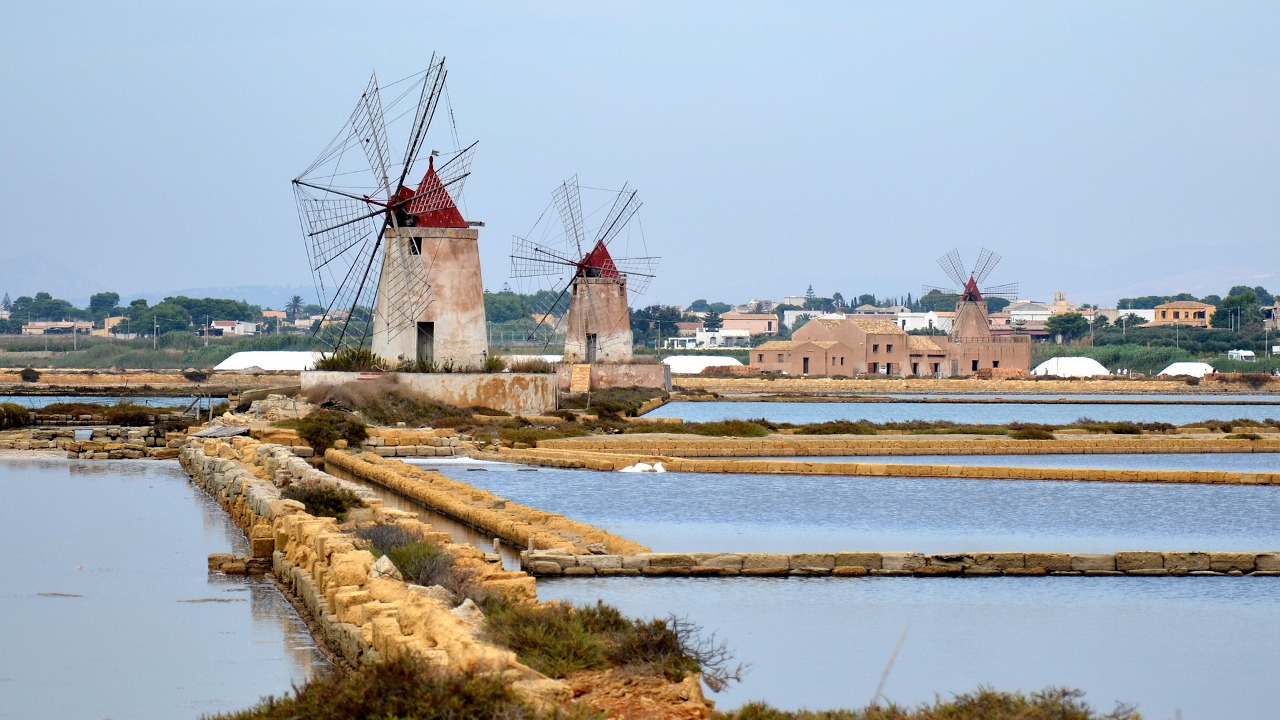 Marsala is a city of huge significance when it comes to Italian history. This is where Giuseppe Garibaldi, an important figure in the unification of Italy, landed in 1860 and began his campaign.
But Marsala touches on history much older than 1860. Ruins, an ancient shipwreck from the first Punic War, fortified wine, you'll find lots of treasures in Marsala – all of them great things to do in Marsala.
While the city itself offers a lot for visitors to fill their itinerary, day-trippers may want to look out to the sea and venture to one of the pristine islands nearby. Your time is limited if you're just there for the day from Palermo but we think these islands are one of the best reasons to go!
Isola Favignana, Isola San Pantaleo, and Isola Grande: these three islands are all within reach of the city of Marsala (Favignana is the furthest) and make for a fantastic day of beaches, cave exploring, snorkeling, or just simply sightseeing.
Isola Grande is especially worth mentioning because of its lagoons. You'll find the water in these lagoons to be a fascinating tint of red, which is very cool to witness. Go for yourself and find out why!
Of course, the seafood in Marsala is going to be fantastic! After you've spent some time on an island or two then stop by Port Garibaldi for a photo before heading out to dine. And yes, try the famous fortified Marsala wine. It's not a bad idea to buy a bottle to take home! Marsala is for sure one of the best day trips to take from Palermo!
How to get from Palermo to Marsala
A train from Palermo to Marsala will take 3 and a half hours. Since the earliest train leaves Palermo at 10:08 and the latest train leaves Marsala at 18:49 (may change depending on the season) then you should plan on 5 hours in Marsala. It might be hard to fit an island trip in if you take the train.
Again, driving is the winner here. Driving to Marsala from Palermo takes just under 2 hours and will give you the freedom to come and go as you please.
Corleone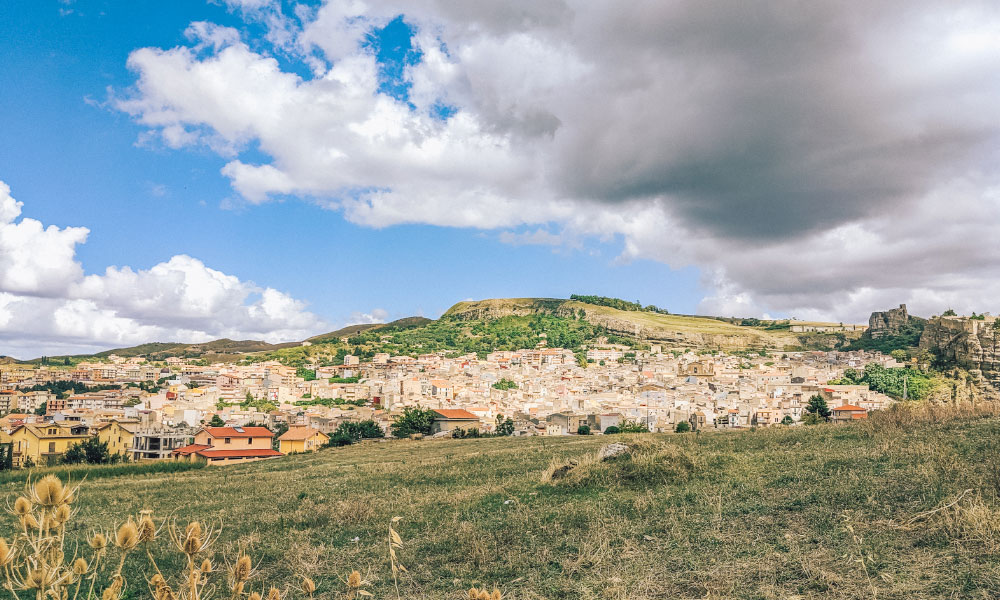 Does this one sound familiar?
Anyone who has seen The Godfather movies will recognize the name Corleone as the name of the fictional Corleone family. For anyone interested in learning about the Italian mafia and those who brought them to justice, there's the CIDMA: Mafia and Anti-Mafia Center.
This museum has received high praise for its exhibits, educating its visitors on what life was like when the mafia was at its greatest and those people who worked hard at taking down the mafia families.
But there's more to Corleone than just the mafia. This small town tucked away into the hills of Sicily, has countless beautiful churches and Due Rocche Waterfall is a short hike away. You'll easily see that Corleone is one of the best things to do around Palermo and that there are plenty of things to do in Corleone.
Keep in mind, if there hasn't been much rainfall lately then Due Rocche Waterfall may not be as magnificent as it looks in the guidebooks.
Corleone is just a short drive from Palermo and you'll find yourself in the Sicilian countryside. Find out more about our afternoon in Corleone and see why you should check it out on your day trip!
How to get from Palermo to Corleone
Corleone is another destination we would recommend renting a car for. Our drive from Palermo to Corleone was beautiful and we had the freedom to arrive when we wanted; we took our time and left when we were ready.
There are buses that will take you to and from Corleone but be sure to check the bus schedules before embarking on your journey. As always, have a backup plan when dealing with Italian buses!
San Vito Lo Capo and Riserva Naturale Orientata Monte Cofano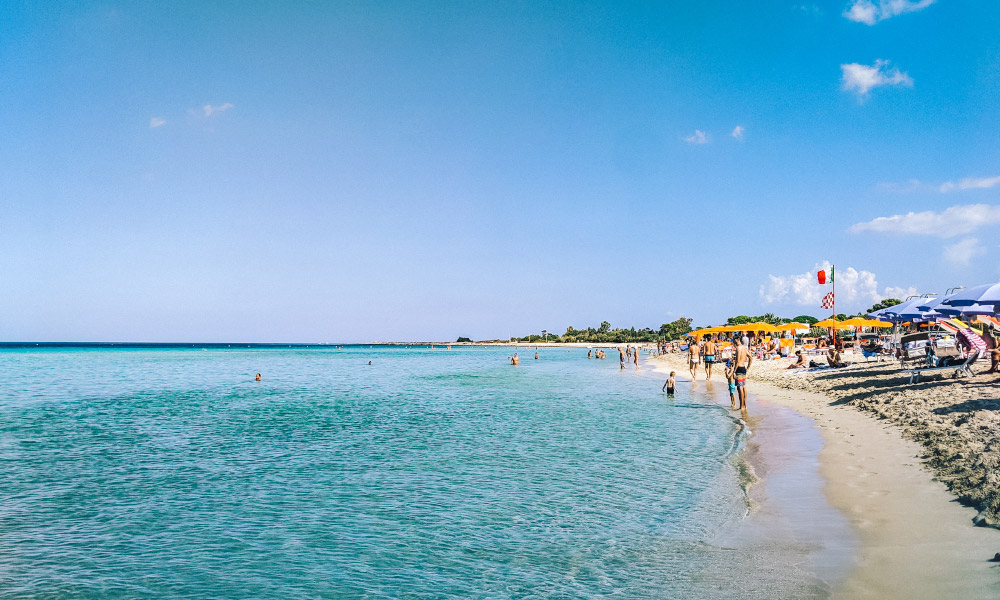 Cefalù doesn't have the only sandy beach on Sicily. San Vito Lo Capo was our favorite beach on the island and its huge sandy strand has plenty of room to relax for a day of paradise. San Vito lo Capo is definitely one of the best places to visit near Palermo.
This small town is on the northwestern side of Sicily and is just an hour and 40-minute drive from Palermo. On your way there make a stop at Riserva Naturale Orientata Monte Cofano.
This riserva naturale (nature reserve) offers many hiking trails with incredible sea views and Tonnara Tower, which was built as a defense tower by the Spanish in the 16th century.
The water at San Vito Lo Capo is clear blue and refreshing. While the waters will cool you off from the Sicilian sun, we advise bringing an umbrella for shade. We were lucky to have an umbrella and beach towels provided by our Airbnb host but if you're not as lucky as us then you can easily buy anything you need from local vendors for cheap.
You can also rent chairs and umbrellas for 5 euros per person (great deal). If you're looking for more than swimming then there are paddle boats, paddleboards, and other water sporting activities for rent.
How to get there
To reach San Vito Lo Capo you'll need a car. Luckily, San Vito Lo Capo isn't very far from the airport, just over an hour by the highway. We found a rental car for $12 USD for two days!
That's an incredible deal and you should definitely look into rental cars from the airport. Palermo has a train running back and forth to the airport many times a day so it's easy to reach!
While you should take the highway if you're in a hurry to soak up the sun at San Vito Lo Capo, we recommend taking as many backroads as you can while in Sicily. The views are incredible and it will be a mini road trip to remember.
When heading to San Vito Lo Capo don't forget to pack some snacks! Travelers can find eateries along the shore but with all your beach supplies it may be kind of a pain. There's nothing like a bottle of Sicilian wine and some sandwiches with the clear, cool waters at your feet.
How to get there: The quickest and most convenient way to get to San Vito Lo Capo and the nearby riserva naturale is by renting a car. There are buses from Palermo but they are infrequent and at inconvenient times (late afternoon).
Wineries in Sicily
Italy is known around the world for its wine and Sicily is no exception. There are many wine tastings offered in Palermo and Cefalu but for those who want to learn a little more about the winemaking process and sample some of the countrysides then visiting a winery is a great option for you!
The website Winery Tasting Sicily, makes it easy for travelers to locate wine tasting experiences and wineries in their desired region. Many wineries offer multiple packages and almost all of them include local foods to pair with the wine.
How to get to the wineries in Sicily
This is more difficult to decipher since it depends on which winery you decide to book with. If you're renting a car then any winery is within reach. If not, then be sure to reach out to the winery before booking and inquire about if it's possible to reach them via public transportation.
Summary of Day Trips from Palermo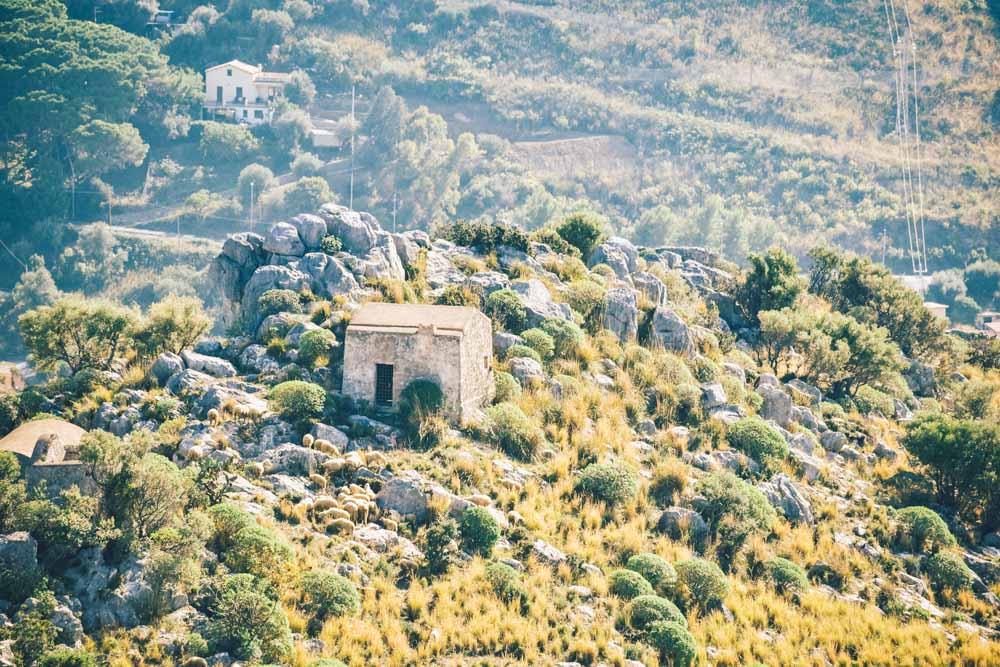 Settling down in Palermo allowed us to see all the city has to offer and it served as a great base for day trips. From the beaches to the ruins to the little villages nestled in the hills, we saw a lot on our Sicily adventure and hope these day trips give you some ideas on what to do during your visit to Sicily!
Happy travels!
About Where Food Takes Us
We're Darah and Garrett from Where Food Takes Us, two mistake-prone wanderers with a mad love for food. We quit the 9-5 life to move abroad. Now, unexpectedly, we're digital nomads who teach English online. Life is full of surprises!
We believe in sharing budget-friendly advice and seek to offer a unique point of view on travel destinations around the world. We hope our fellow wanderers can find our words useful and in turn feel inspired to travel and eat the world! Follow them on Pinterest and Instagram too.