Planning a trip to Whistler, British Columbia? Then you need to know that there are great things to do here year-round. This Whistler travel guide shows you what to do in Whistler in summer and what to do in Whistler in winter! Yes, we've got you covered: the best things to do in Whistler, when to visit Whistler, amazing activities in Whistler, the best restaurants in Whistler, top hotels in Whistler and incredibly useful travel tips for Whistler.
This local's guide to Whistler is written by Rachael from A City Girl Outside and included everything you need to know before visiting Whistler. From where to eat in Whistler to where to stay in Whistler, from the cool outdoor activities in Whistler in winter to fun things to do in Whistler during the summer, and from seasonal events in Whistler to Whistler off the beaten path things to do, and tips, everything is covered!
Use this insider's guide to Whistler, Canada when planning your trip or when creating your Whistler itinerary. This article is also perfect to help you create your Whistler bucket list. This guide is part of the free expert destination guides series on this blog.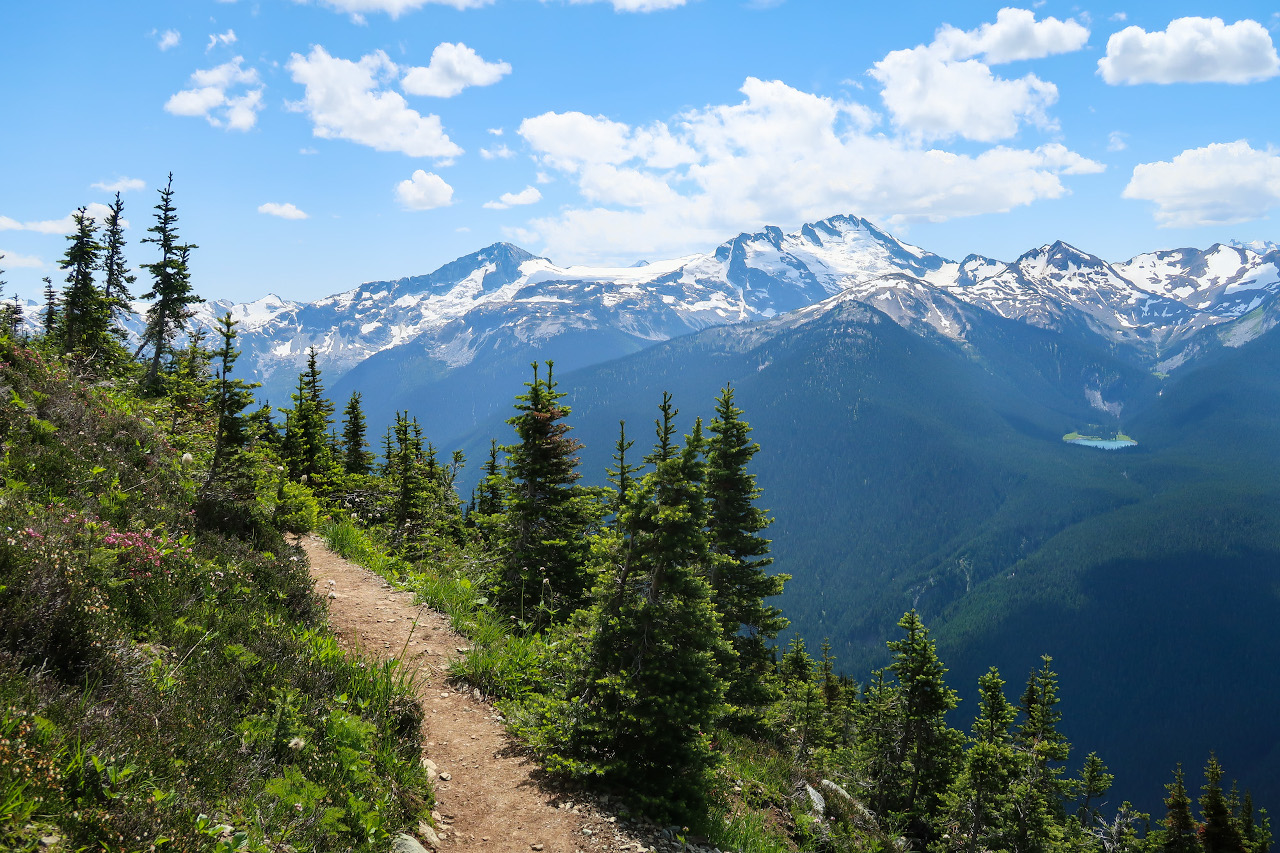 The Ultimate Whistler travel guide: What to do in Whistler, BC, where to stay, eat, and tips
Come rain or shine (or snow!) Whistler is a beautiful place to visit all year round. The ultimate destination for winter sports, mountain biking and outdoor enthusiasts, this little mountain town in British Columbia offers something for everyone.
When I first moved here, I'd never seen so much snow before. I was vastly unprepared for the winter (tip: bring thermals!) and I'd never skied in my life. I was used to city life but I wanted an adventure. And I got one, right here in Whistler, British Columbia! This guide to Whistler will cover you for all seasons and help you find out which time of year is best for you.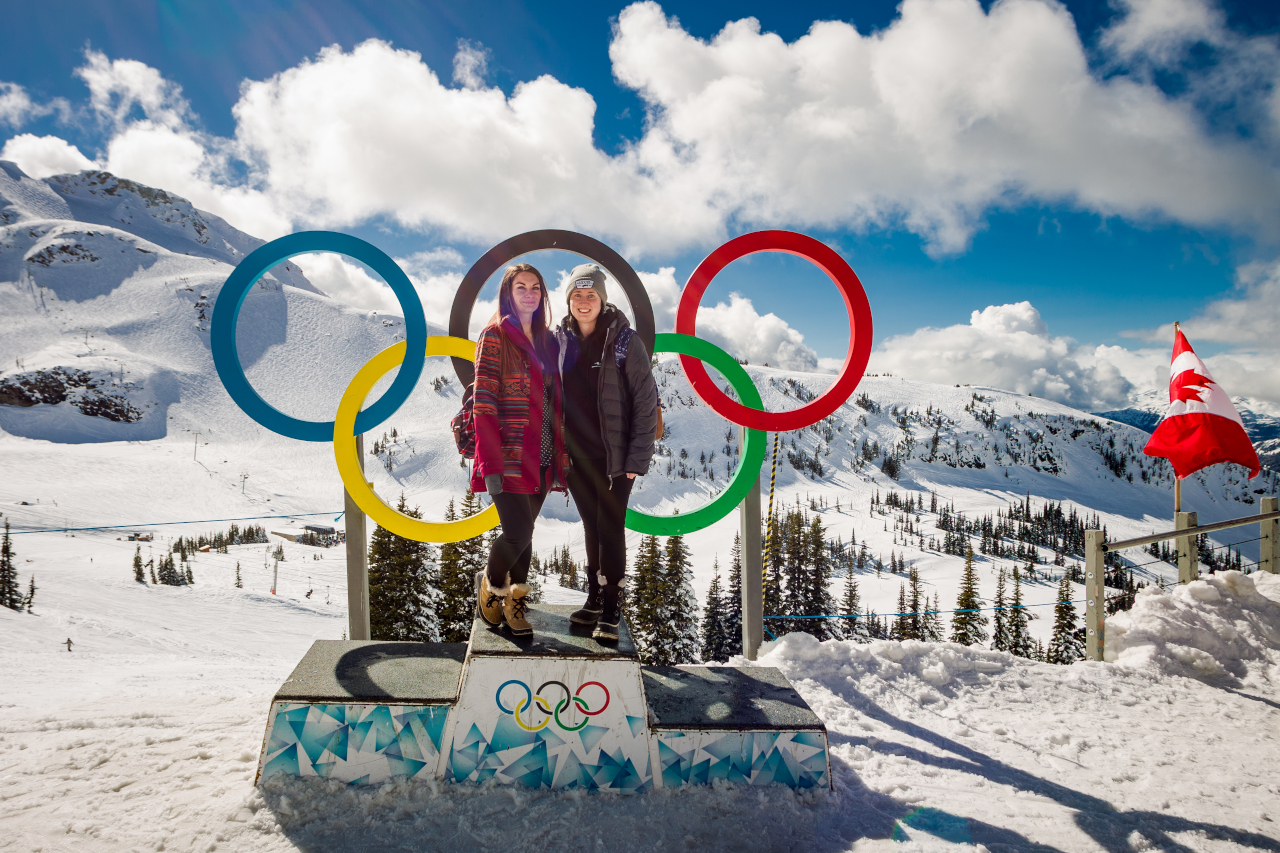 When Is The Best Time To Visit Whistler?
This is a question a lot people ask before visiting. Depending on what you like to do, this will vary for everyone. Whistler changes with the seasons, therefore the activities change with it. Do you like to ski or snowboard? Are you into mountain biking? Do you like to hike? Are you just here to sightsee?
The Winter Season in Whistler general runs from mid-November all the way through to mid-May. Summer is far shorter starting in July and running through to mid-September.
From November through to New Years is the busiest wintertime. If you want to come for Christmas time I'd recommend booking as soon as you can. Even the affordable hotels skyrocket in price and every hotel will be at full capacity.
After Christmas, things start to die-down somewhat, all the way through to April. Weekends get very busy still with people from Washington and Vancouver visiting. Spring skiing can be some of the best here in Whistler, blue skies and fewer crowds!
And the early summer season is great for hiking as there are fewer people on the trails! One good thing: you can visit Whistler on a budget so read on to discover the best things to do in Whistle and then plan your Bristish Canada trip!
The Dead Seasons
Dead season in the spring is fairly short, lasting from May to mid-June and then from mid-September to mid-November in the Autumn/fall. The good thing about the dead seasons is, there are very few tourists and therefore hotel prices are substantially cheaper.
The bad part is the mountain closes, which is the biggest attraction in Whistler. In the spring it's not too bad as you can still do a few hikes. Dead season in the fall rains a lot and some businesses will close for a few weeks.
What To Do In Whistler?
Don't Ski or Mountain bike? Visiting with kids? Never been hiking? Not a problem!
Whistler really does have something for everyone, and for all abilities. I'd only done a handful of hikes before I moved here and now I'm climbing mountains! Let's see the best things to do in Whistler, Canadam grouped by seasons.
Summer Activities in Whistler:
There are many activities in Whistler during the summer. I've included them all below – and you find tons of ideas of things to do in summer in Whistler.
Hiking
Whistler is a mecca for hiking and there are an abundance of hikes for every level. Let's see the places where you can go hiking in Whistler based on your preferences and abilities.
Family Hikes/ Easy Hikes:
Whistler Train Wreck
The Whistler Train Wreck is situated inside the Whistler Interpretive Forest in the neighbourhood of Cheakamus. You can take the bus here if you don't have access to a car.
The Train Wreck is famous in Whistler as its history goes back to the 1950's before Whistler was Ski Resort.
The freight cars derailed and were placed in the forest, since then they've become a place people can come and graffiti over. Turning this part of the forest into a colourful woodland.
Ancient Cedars Trail
The Ancient Cedars are another important part of Whistler. This is where you'll be able to see the oldest living trees in Whistler.
My biggest tip for this trail is to bring a strong bug spray because mosquitoes love this area.
Cheakamus Lake
Cheakamus Lake is a stunning Glacial Lake high up in the mountains of Whistler. To access this trail you'll need to have 4×4 or car that can withstand dirt roads.
The drive up is some-what lengthy but more than worth it. The drive is the hard part. The trail to the lake is fairly flat and easy. Camping is also available to book here.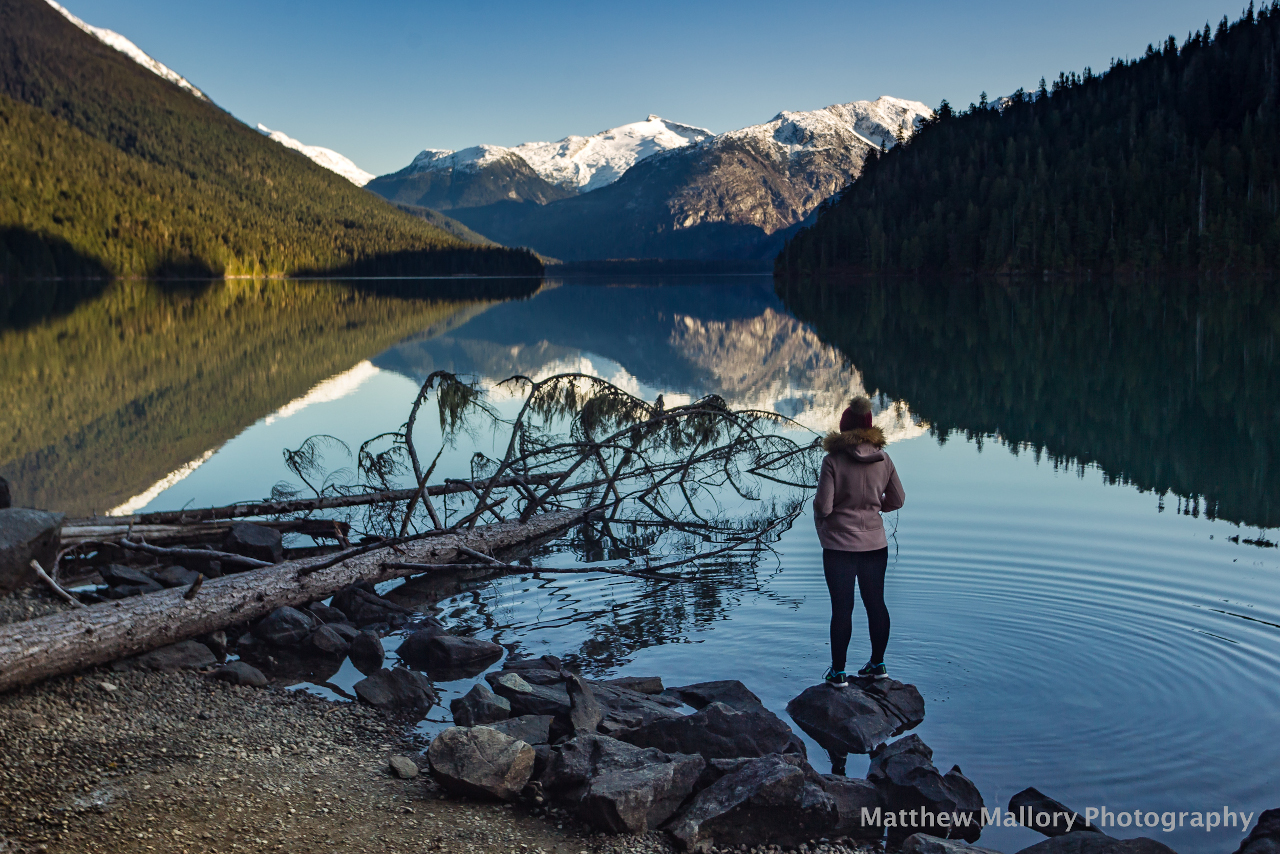 Intermediate Hikes:
The High-Note Trail
The High-Note trail is probably my favourite hike in Whistler. This trail is located in the alpine on Whistler Mountain; therefore a sightseeing lift pass is required. But the views you'll see here are more than worth the price.
The main lookout here is Cheakamus Lake from above, and on a sunny day looks beautiful. Don't forget to take the time to appreciate the wildflowers that grow here too!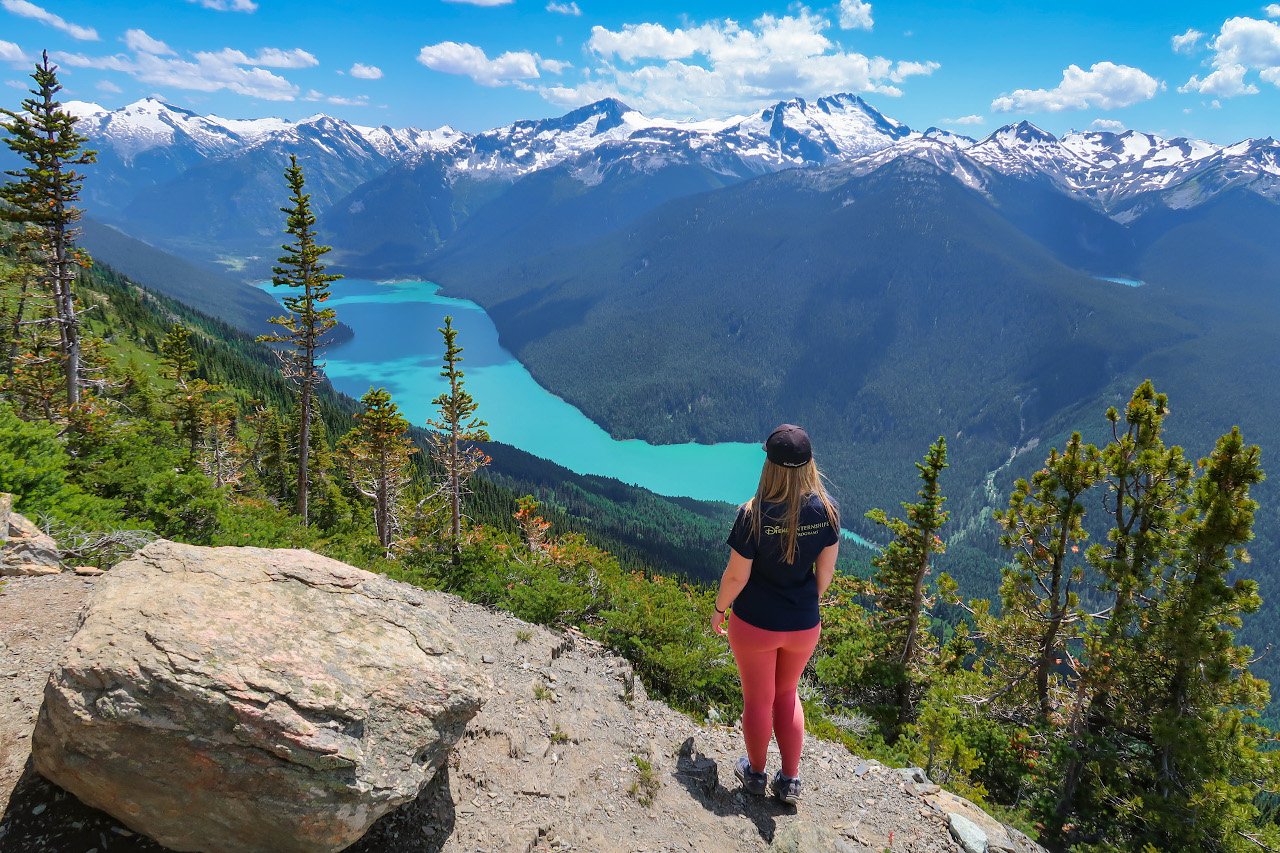 Stawamus Chief
The Chief is an iconic hike here in BC. Located in the town of Squamish, you will pass the Stawamus Chief on your way into Whistler.
There are three peaks you can hike to here, the third being the longest. If you'd prefer to take the easy route, the Sea to Sky Gondola offers panoramic views of Howe Sound without the lengthy hike!
Joffre Lakes
Joffre Lakes is another stunning hike close to Whistler. The drive there takes around an hour from Whistler. This isn't for beginners unless you are in good physical shape. It's not the hardest hike but also not the easiest. Camping is available at Joffre Lakes.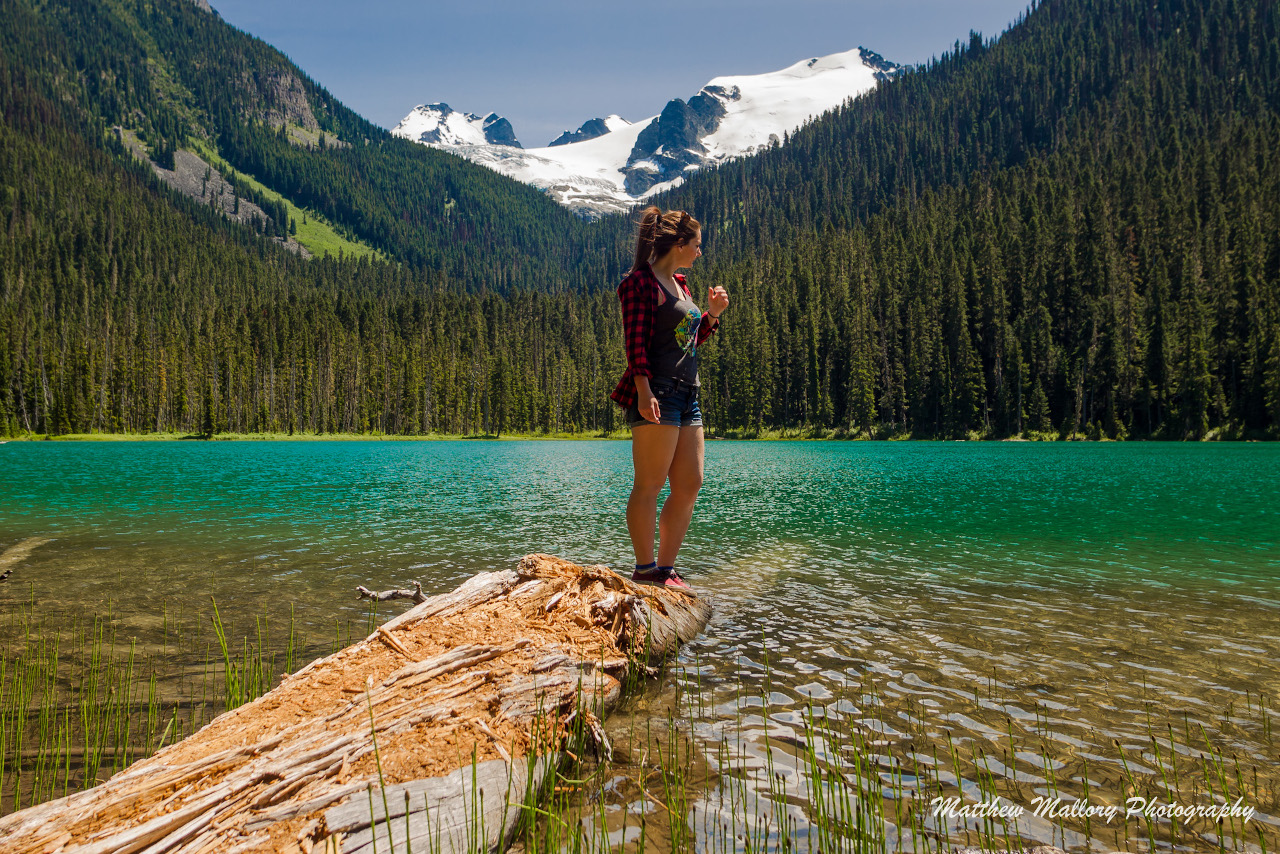 Difficult Hikes:
Garibaldi Lake
Located in Garibaldi Provincial Park, Garibaldi Lake is another stunning glacial-fed lake. The hike up takes around 2 hours but can be steep for beginner hikers. The end result of this hike is more than worth it! Camping is available to book here but sells out quickly!
Panorama Ridge
Imagine Garibaldi Lake but from the top! Panorama Ridge is a very popular hike in Whistler and there's no guessing why. Phenomenal views of Garibaldi Lake and Mountains for miles.
Panorama Ridge can take anywhere from 10-12 hours in a day, so camping at Garibaldi Lake overnight is a good alternative – making this a 2-day hike.
Wedgemount Lake
Wedgemount is one of the harder hikes here in Whistler, taking approximately 12-hours round trip. It's less popular than that of Garibaldi but still fairly busy in the summer. Another hike that offers camping!
(Please keep in mind, when hiking that you take out what you take in! Any rubbish you have needs to be disposed of correctly. Some trails have had to close since they have become too popular with tourists)
Visit A Waterfall
There are numerous waterfalls in Whistler that will mesmerize you. Next on this local's guide to Whistler, let's see what fantastic waterfalls you can visit.
Brandywine Falls – The most popular Waterfall in Whistler! You'll find Brandywine Falls on the drive into Whistler with several lookout points. Hiking to the bottom is possible but technically off-limits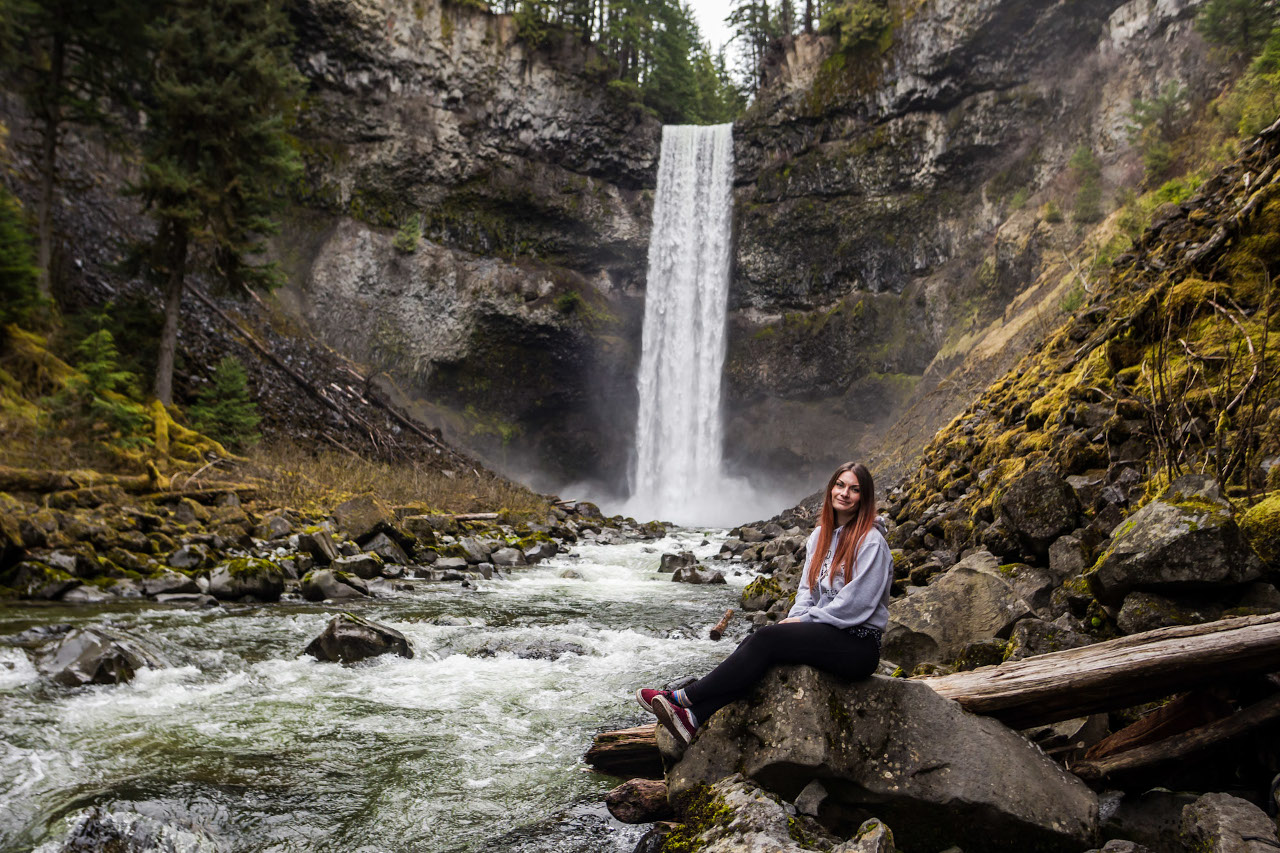 Alexander Falls – An easy drive up to Whistler Olympic Park is Alexander Falls, as you pull into the parking lot you'll see the lookout point!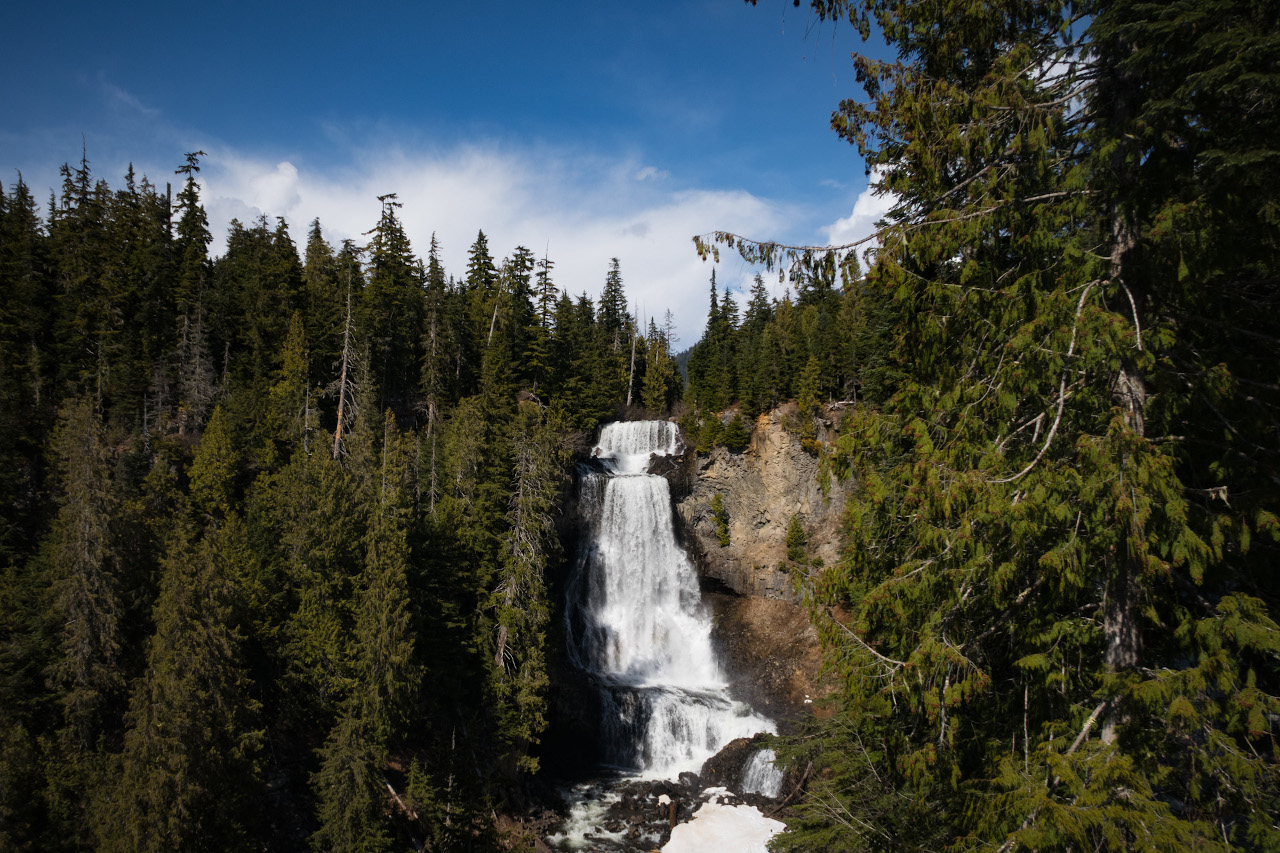 Nairn Falls – Nairn Falls is located between Whistler and Permberton. The hike to get to Nairn Falls is pretty flat all the way and kid-friendly. There is camping offered here too.
Rainbow Falls – A short easy hike in Whistler, suitable for kids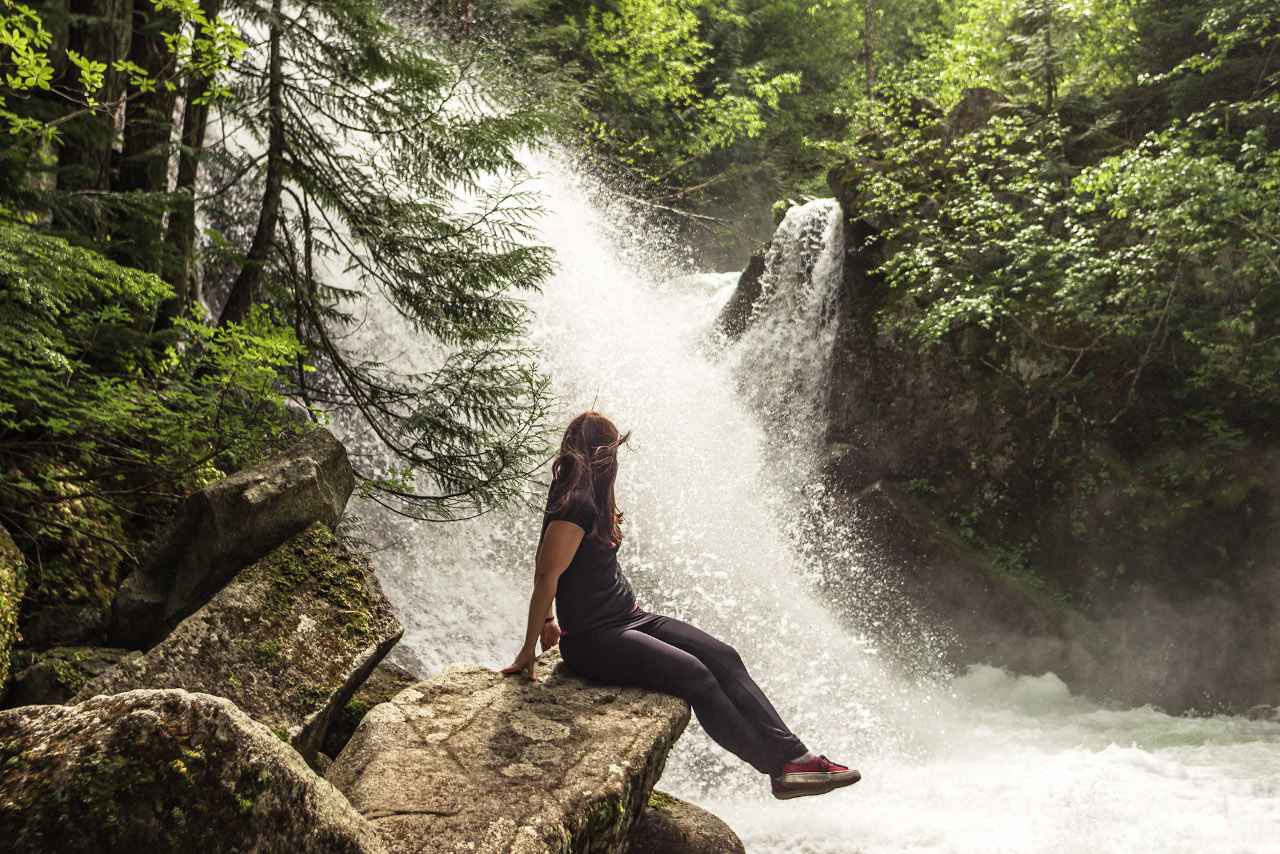 Shannon Falls – Shannon Falls is the 3rd tallest waterfall in BC. You'll see signs for Shannon Falls on the drive into Whistler, just next to the Sea to Sky Gondola. It's a short walk from the parking lot and it's one of the best waterfalls in Whistler, so it's no surprise that it is included as one of the top Whistler attractions in this Whistler travel guide.
Other Summer Activities in Whistler
As mentioned, there are plenty of places to visit in Whistler. Let's see more summer activities in Whistler – as you'll notice, these are suited for a wide variety of preferences. Let's see what to do in summer in Whistler.
Cloudraker Bridge – A new addition in 2017 is the Cloudraker Bridge on Whistler Mountain, a suspension bridge connecting two peaks.
This is super fun in the summer and doesn't sway a whole lot; it's actually pretty sturdy! This is included with the price of a 1-day sightseeing pass.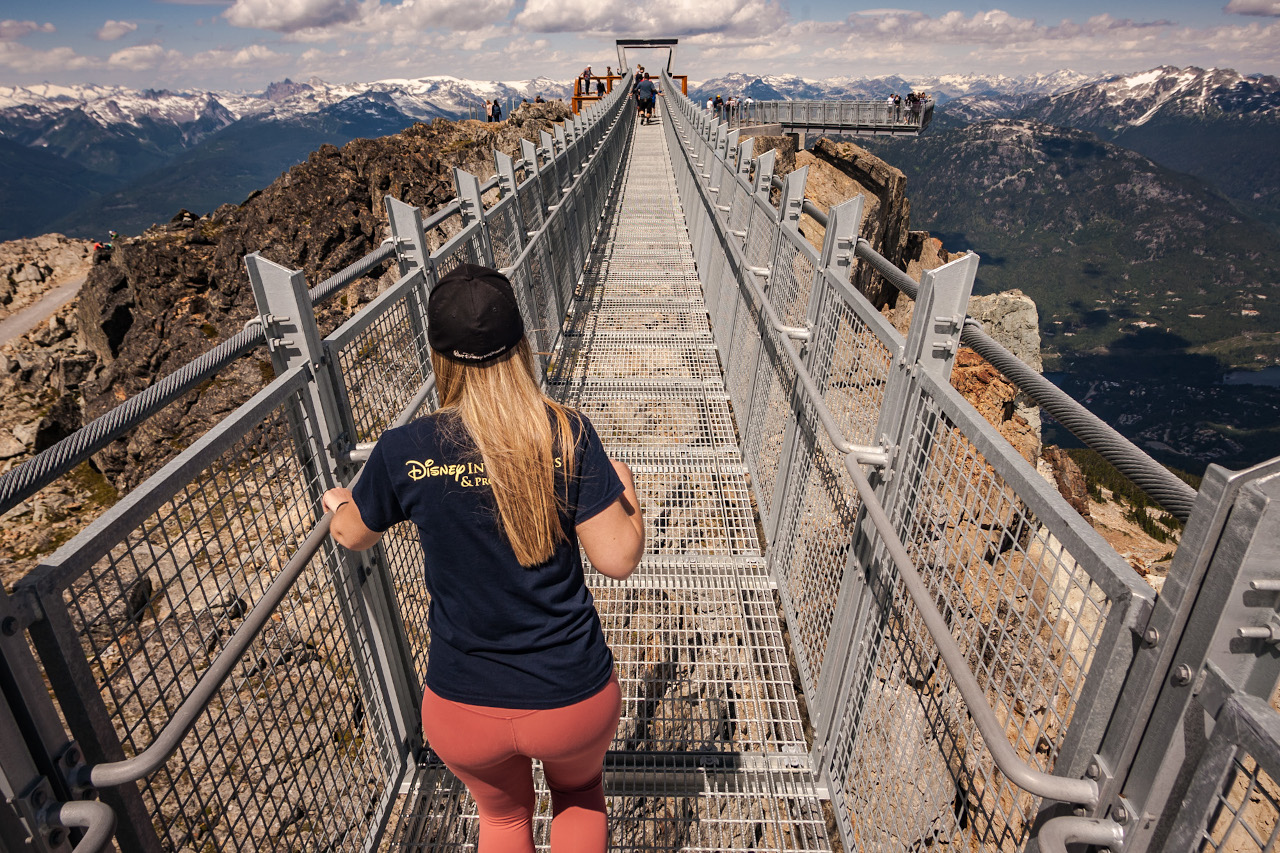 Mountain Biking – Whistler is one of the best destinations for Mountain Biking in the world! – Purchase your tickets at the Whistler Backcomb website to avoid the lines at the ticket booths!
Canoeing/ Paddleboarding/ Kayaking – Canoes, Paddle boards and Kayaks can all be rented from the Backroads Whistler booth at Alta Lake. This is one of the best ways to cool off in the Summer months.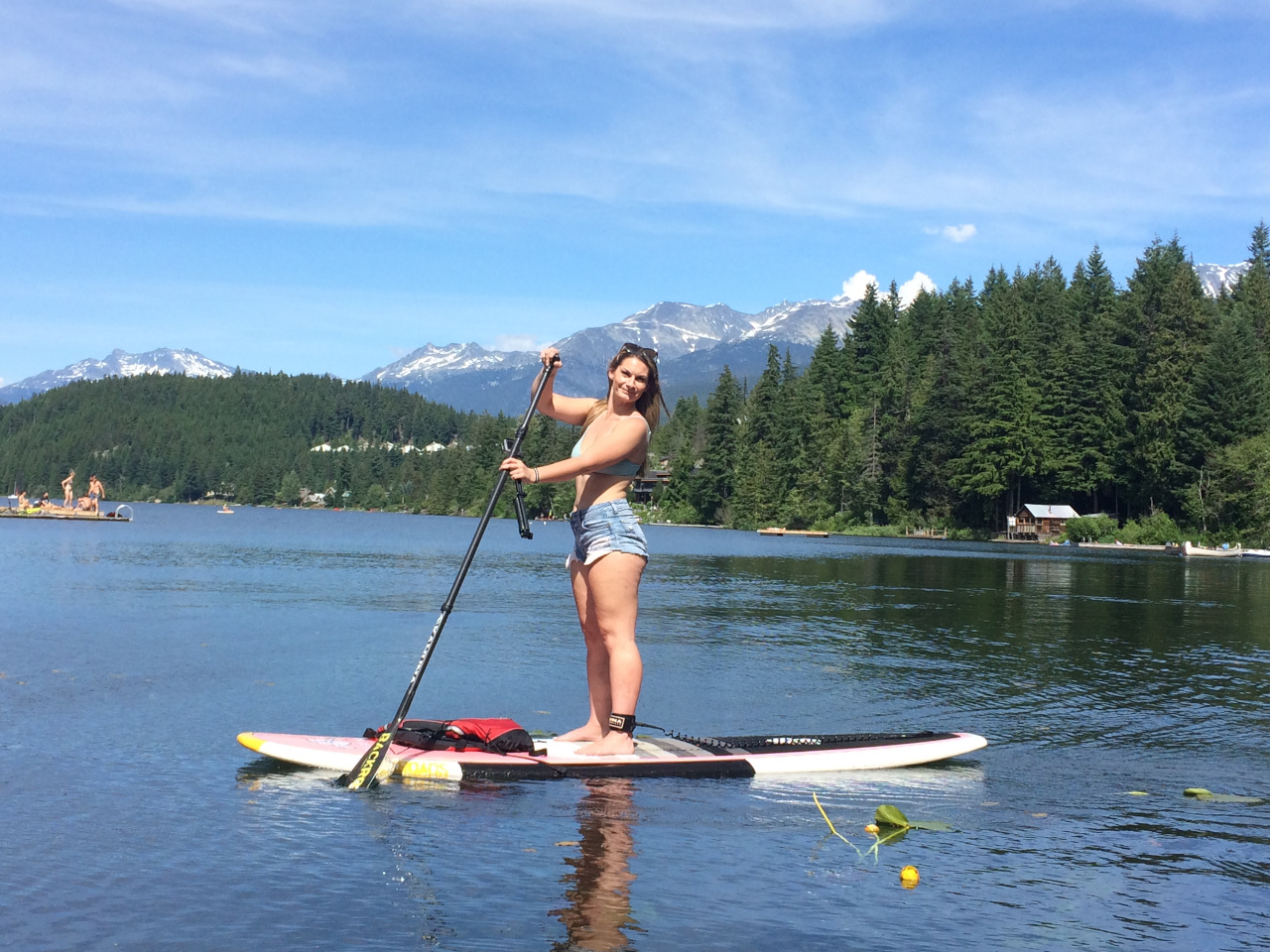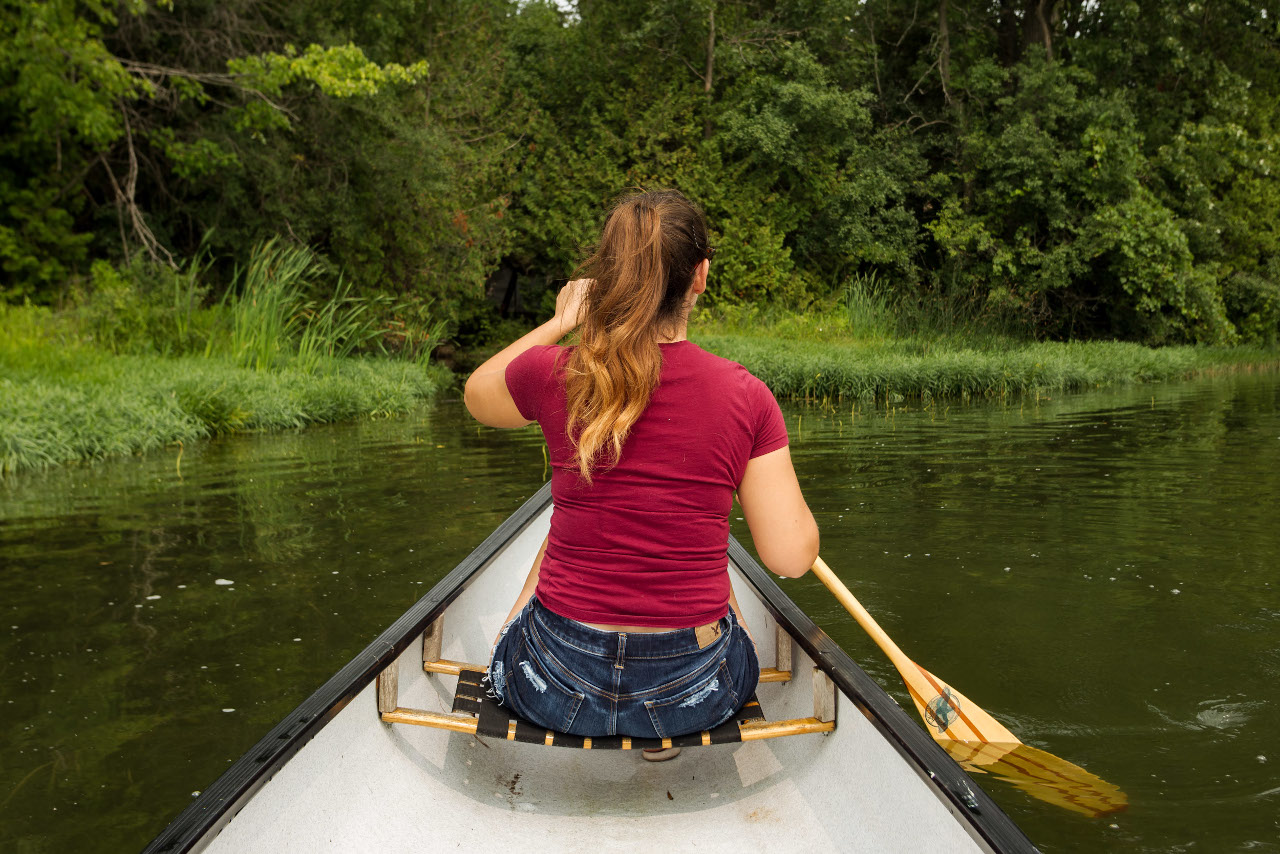 ATV-ing – Explore Blackcomb Mountain on an ATV, with stunning views of the valley below and the Coast Mountain Range! Beginner tours for ATV-ing can be booked through Canadian Wilderness for $139 per person and last approximately 2 hours. The cost includes hotel pick up.
Bear Spotting – If you have a car you can venture around Whistler yourself and see if you can spot any of our wild friends. Alternatively, you can book a guide with a local who knows the best areas. Please also remember to respect our wildlife, and never leave food in your car or outside. Bear spotting remaines one of the fun things to do in Whistler so it couldn't have been omitted from this Whistler travel guide.
Zip Lining – Zip Trek tours are the main company in Whistler for Zip Lining. The Sasquatch is the longest Zip-Line in North America and runs from Whistler Mountain to Blackcomb. If you want to save some money Zip-Trek offers cheaper prices if you book a tour after 5pm. (The Sasquatch is excluded from this offer)
Winter Activities In Whistler
Next on this ultimate Whistler travel guide, we'll concentrate on the winter activities in Whistler. There are numerous winter sports opportunities in Whistler. You'd have to try as many as possible – and enjoy each and every single of these things to do in Whistler during winter.
Ski/Snowboard – If visiting in the winter, Whistler Blackcomb is a must for hitting the slopes! The largest Ski Resort in North America, it's also some of the best pow you'll get here in Canada!
Lift tickets can be purchased online through Whistler Blackcomb or at the ticket booths. Booking online in advance can save you time so you don't have to wait in line!
Snowmobiling – Snowmobiling is one of the most fun things I've done here in Whistler. Canadian Wilderness Adventures offers tours for all abilities. Tours last 3-hours and are $199 for a single rider or $159 if sharing a snowmobile.
Snowshoeing – Another activity offered through Canadian Wilderness Adventures is Snowshoeing. Snowshoeing is great to do when the snow is fresh! Tours cost $89 through Canadian Wilderness and last 3-hours.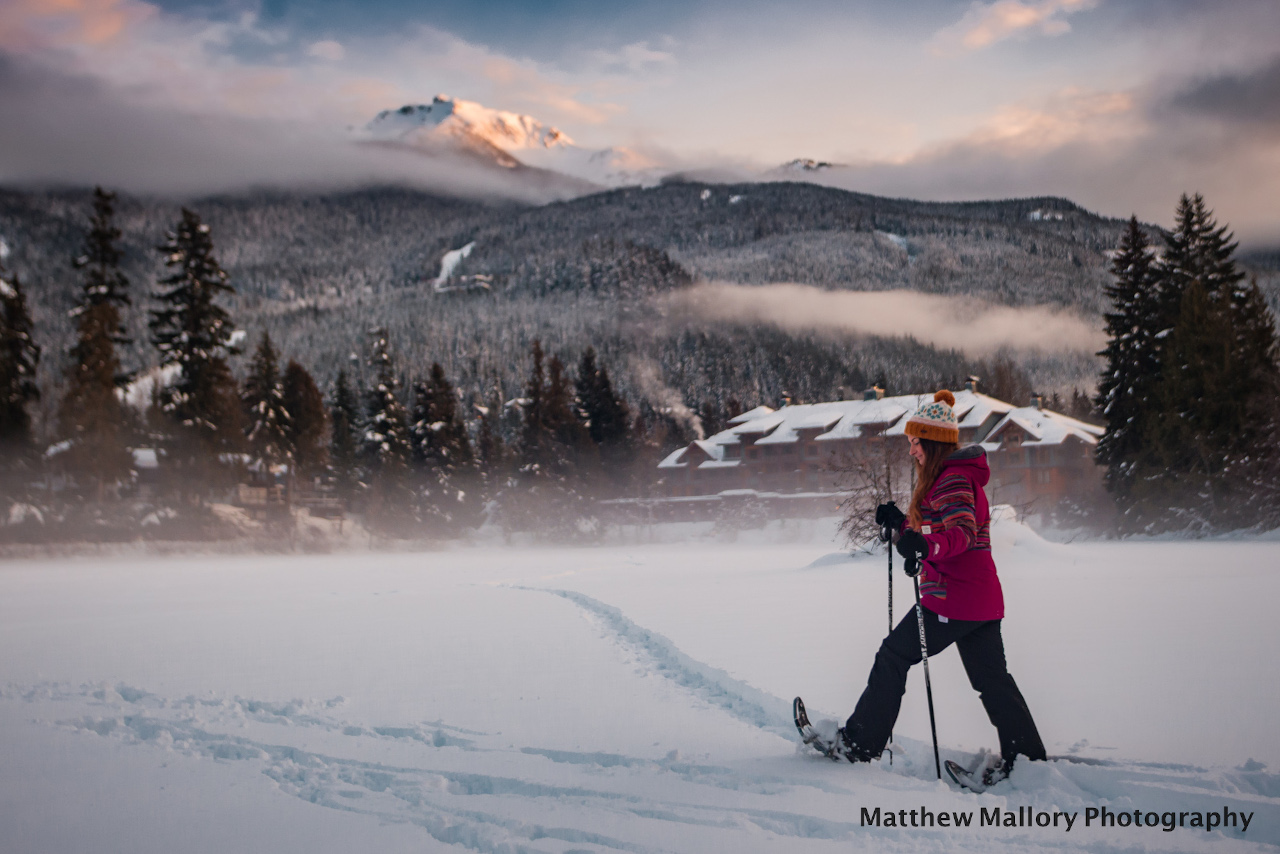 Cross-Country Skiing – If downhill skiing isn't your thing, you can always opt to try Cross-Country Skiing at Lost Lake Park. Entry to the Lost Lake trails is ¢22 per day. Ski rentals can be purchased at the PassivHaus Day Lodge.
Ice Fishing – If you love fishing in the Summer, you'll love fishing in the Winter! Whistler Year-Round Fishing offers 3-Hour Ice Fishing Trip for $159 per person
Dogsledding – Not the cheapest activity, but definitely one of the most memorable! Dogsledding tours take you through the Callaghan Valley and are offered through Canadian Wilderness Adventures. Tours last approximately 3 hours and cost $458 for two people to a sled.
Peak 2 Peak Gondola – The Peak-2-Peak Gondola is an amazing way to see the town of Whistler from above in both summer and winter. In the Winter the views are simply magical with the trees in the valley below dusted with a sprinkling of snow.
Scandinave Spa – The Scandinave Spa is the perfect place to relax after a day on the Mountain. The spa uses hydrotherapy pools to eliminate toxins. This is one of my favourite places in Whistler as it's so calm and tranquil. You can opt to book a massage or simply buy an entry pass to the baths.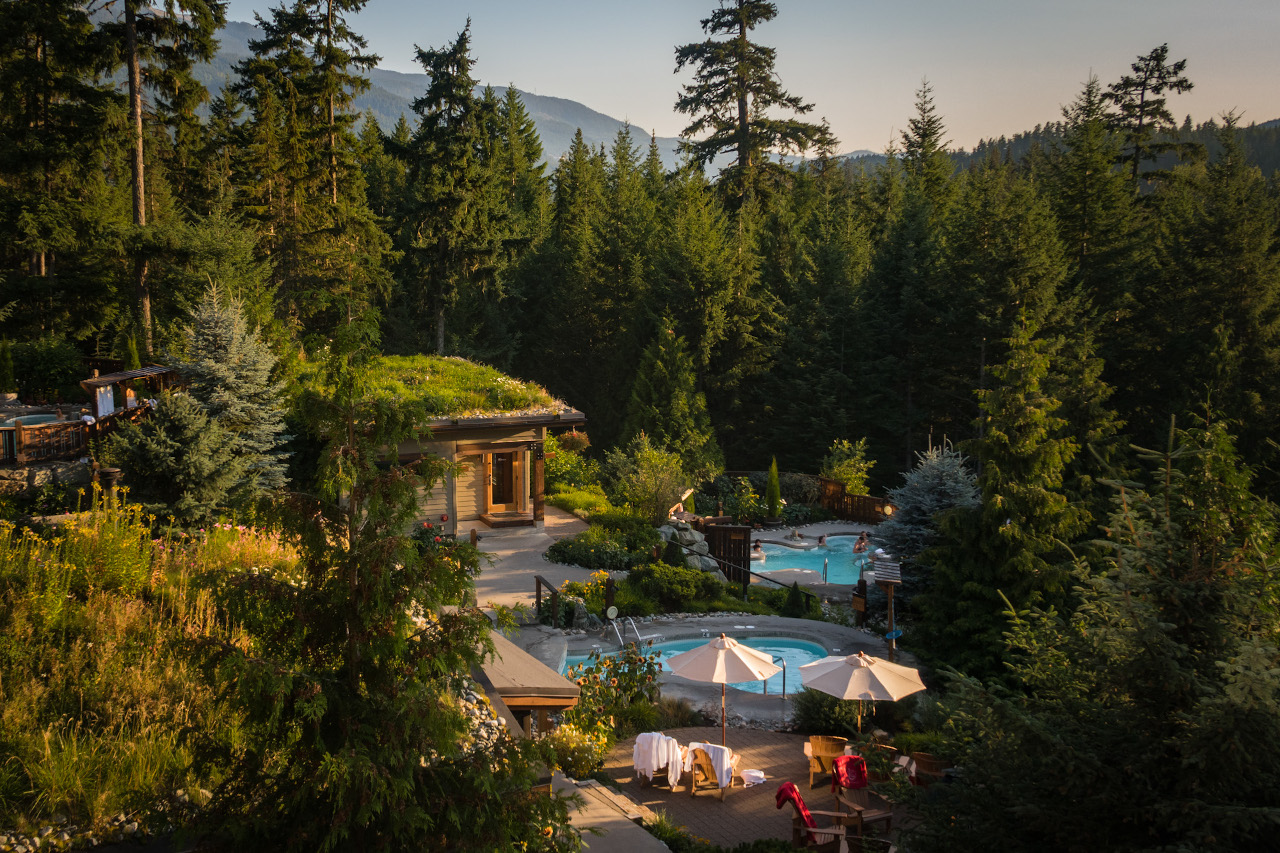 Coca Cola Tube Park – The Whistler Tube Park is a great place for families to hang out. Located on Base2 on Backcomb Mountain, the Tube Park is open during the winter months from 11am – 6pm and ticket prices start at $25.50 for a 1-Hour Adult Pass. You can save 10% off Tube Park tickets if you purchase online 3 days in advance.
The Squamish Lil Wat Cultural Centre – Located in the Upper Village is the Cultural Centre. This unique museum celebrates the First Nations history of Whistler. The native territories of Squamish and Lil-Wat crossover in Whistler, making it the perfect place for this museum. A fun place to visit when the rain hits! Entry is $18 per person.
Seasonal Events in Whistler
Crankworx – Crankworx is a mountain biking festival that comes to Whistler every year. Even if you're not into mountain biking, this is such an amazing event!
People travel from all over the world to see Crankworx. This year I was lucky enough to watch the Red Bull Joyride and check out the amazing photography at Deep Summer Photo Challenge – Both events are completely free!
Ski & Snowboard Festival – Another yearly festival is the Ski & Snowboard festival. This is North America's largest festival of snow sports, music, arts and mountain culture.
While you'll need to purchase tickets to most of the events, the Outdoor Concert Series offers live music and it's free to attend!
Whistler Off The Beaten Path Things To Do
North Arm Farm
North Arm Farm is located in Pemberton and a great way to explore further afield. Entry to the farm is free however you are welcome to make a donation.
The restaurant onsite is farm to table and their breakfast is so fresh! You're free to wander the farm on your own and can feed the sheep and pigs too. In the fall they also have a cute pumpkin patch!
Parkhurst Ghost Town
Hidden away in the forest is the Ghost Town of Parkhurst, this used to be a logging town with a very low population, but was abandoned in the 1950's.
All but one house has collapsed over the years and you'll find several burnt out cars and household wares scattered nearby. To access Parkhurst the easiest way is to walk along the train tracks just behind Green Lake. Since this isn't the easiest place to find, it's generally very quiet.
Where To Eat In Whistler
Whistler is famous for it's array of restaurants. If you happen to be visiting in the dead seasons, then you're in luck!
Most of the fine dining restaurants in Whistler feature set menus for a fraction of the price you would normally pay. I've taken advantage of this and eaten at many of Whistler's find dining establishments.
The Rim Rock is, and always will be, my favourite restaurant in Whistler. It's independently owned and the dining room is relatively small. They only have around two sittings per night so if you want to dine here it's recommended to make a reservation months in advance!
Il Caminetto is the place to come for an Italian inspired menu. They offer everything from hummus, mushroom risotto (which is amazing!) to freshly cooked Halibut. If visiting in peak times, you'll need to make a reservation.
My favourite place for cheap eats is El Furniture Warehouse, where all meals are $5.95 all day every day. There is no option to reserve a table here it is first come-first served.
How To Get To Whistler
There are several ways to get to Whistler. Skylynx and Whistler Connection both offer services from Vancouver International Airport directly to Whistler. Prices for both companies are:
If you're already in Vancouver and heading to Whistler next, Epic Rides picks up downtown outside the Hyatt Hotel on Burrard and offers direct services to Whistler.
A one-way journey is £25 while a return is $35. Alternatively, you can rent a car and drive yourself, the upside to driving is you aren't limited to times and can stop along the Sea to Sky Highway.
Where To Stay In Whistler
There is an abundance of Whistler Hotels to choose from ranging from budget to luxury.
If visiting on a budget, the HI Hostel and Whistler Lodge Hostel will be your cheapest options. Alternatively, the Pangea Pod is Whistler's newest budget hotel and the first pod hotel in Canada.
Prices are slightly higher than a hostel but the location of this hotel is in the middle of Whistler Village. Meaning the Whistler Village Gondola is but a two-minute walk away!
If you're looking for luxury, then the Upper Village is where you'll want to head! Both the Fairmont Chateau Whistler and Four Seasons Whistler offer a 5-star experience, complete with ski in-ski out rooms.
Tips For Visiting Visiting
Here are some Whistler tips to help you plan your visit.
Buy lift tickets in advance to skip the lines
Bus fares are $2.50 each way
In the summer buses are free
Some hotels offer a free shuttle service
Consider booking an Air BnB with free parking if renting a car
Make sure you make reservations at your desired restaurants
Pack in-Pack out when hiking
Whistler is the safest place I've ever lived – but still, take caution as always
Whistler is such a diverse place, and with so many activities on offer it's easy to get overwhelmed. Think about what activities and which season best suits your needs and plan ahead to make the most of your time!
About the author
I'm a travel blogger originally from London, England, now living in the mountains of British Columbia, Canada. When I first moved to Whistler I wanted to see somewhere new, and try something new! Over the years I've gone from city living to exploring the wilderness. I've since experienced things here I never thought I could! Everything from fishing to falling off snowmobiles to hiking to glacial lakes. Even backcountry camping – which before moving here I never would have done! If you'd like to follow along with my travels you can find me on my blog, A City Girl Outside, and on Twitter, Instagram, and Pinterest!