Planning a trip to Vietnam and wondering what you should know before visiting Vietnam? Here are 15 things to know before going to Vietnam.
These Vietnam tips will help you stay safe in Vietnam, save money and time, and will give you an idea of what to expect to avoid cultural shock.
These 15 essential tips for your first trip to Vietnam are presented by Delilah from Our Travel Mix.
As you know, we already presented you a comprehensive guide to Hanoi, Vietnam, and now it's time to take a step back and see what you need to know before traveling to Vietnam.
Things to Know Before Visiting Vietnam
Although Vietnam is a country that is so new to tourism (only 20+ years), it has quickly become one of the fastest-growing countries to visit.
From the rice fields of the north to the colours of the central and coastal suburbs, and to the hustle and bustle of the south, Vietnam sure has a lot to offer.
Best time to visit Vietnam
So when is the best time to visit Vietnam? Springtime is the best time to visit Vietnam. This is during the months of March and May when the countryside is in bloom, rainfall is at its lowest, and temperatures are moderate.
Visiting during autumn (August to October) is also a great time to visit, with similar weather conditions.
Regardless, there is no wrong time to visit Vietnam. We last visited during the rainy season in December and January.
Southern Vietnam was very hot, but bearable. We were caught in heavy downpours now and then, but they were only brief (and albeit, refreshing).
Northern Vietnam gets quite chilly during this time of the year, but it's a nice contrast from the hot weather.
To the western world, Vietnamese culture is significantly different and can be a bit of a culture shock to first-time travellers. This blog post will help you out with your first trip to Vietnam.
There are some things you need to know before visiting, so you spend more of your holiday enjoying yourself, rather than trying to figure out how the country works. Here are fifteen things to know before visiting Vietnam.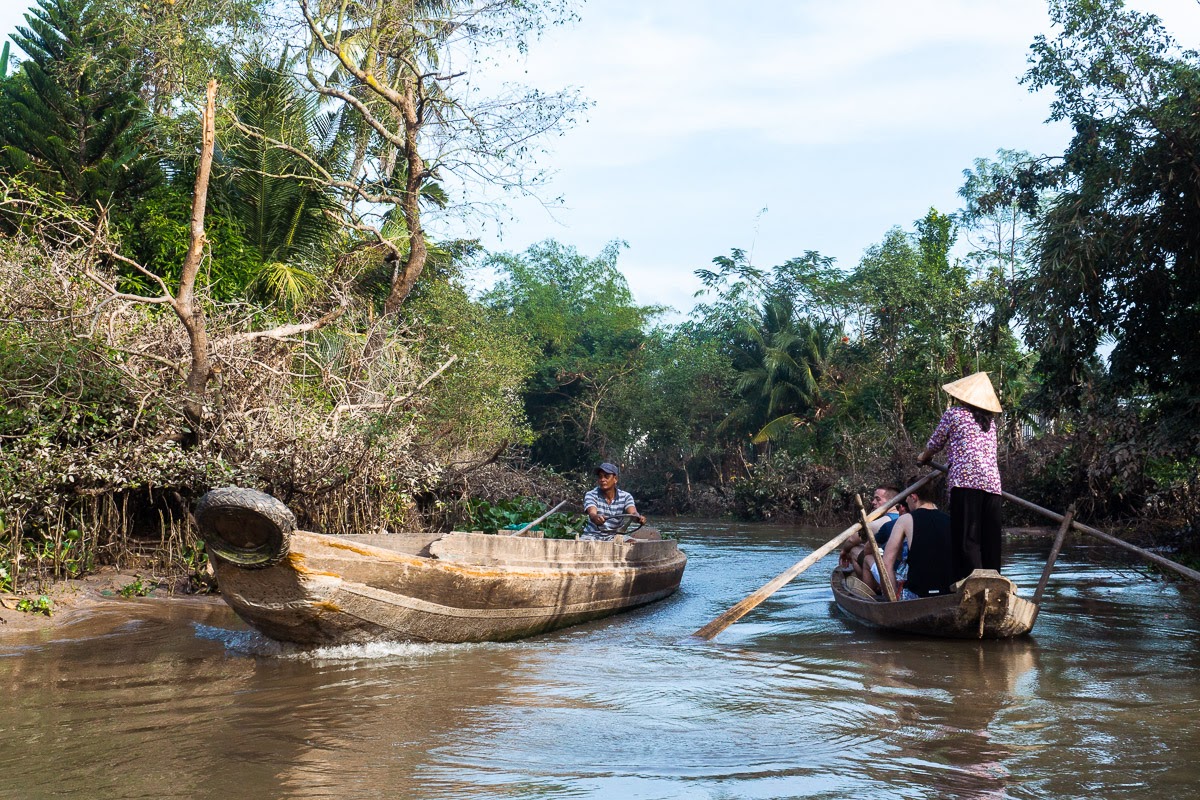 You may need a visa
Don't make the mistake of landing in the country without researching whether or not to get a visa for Vietnam.
You may be lucky enough to be on the short list of countries exempt for requiring a visa. If not, the options are either an eVisa or a Visa on Arrival (VOA).
An eVisa will cost you $25 USD payable online. The visa is applicable for 30 days – just remember to apply at least three days or more before leaving your country. If you are staying in Vietnam longer than 30 days, or are looking for a multi-entry visa, you will require a VOA.
For the VOA, you will need to book using an online travel agent not based in Vietnam. The difficult part is figuring out which ones are legitimate.
Then when you enter Vietnam, you will need to queue to pick up your visa before going through immigration. So, the first tip on this list of things to know before going to Vietnam is to research the visa requirements prior to your trip.
Cross the street slowly
Crossing the road in Vietnam isn't easy. There are few traffic lights, so you have to cross the street on your own.
Thankfully, drivers try to anticipate your movements, and since traffic is heavy, vehicles drive slower than back home.
The best recommendation on this list of things to know before your first trip to Vietnam is that, as you cross the street, you should keep a slow, predictable pace so drivers can avoid you.
Try to cross when there is less traffic, or the traffic is at a standstill, but this may not be the case at all times.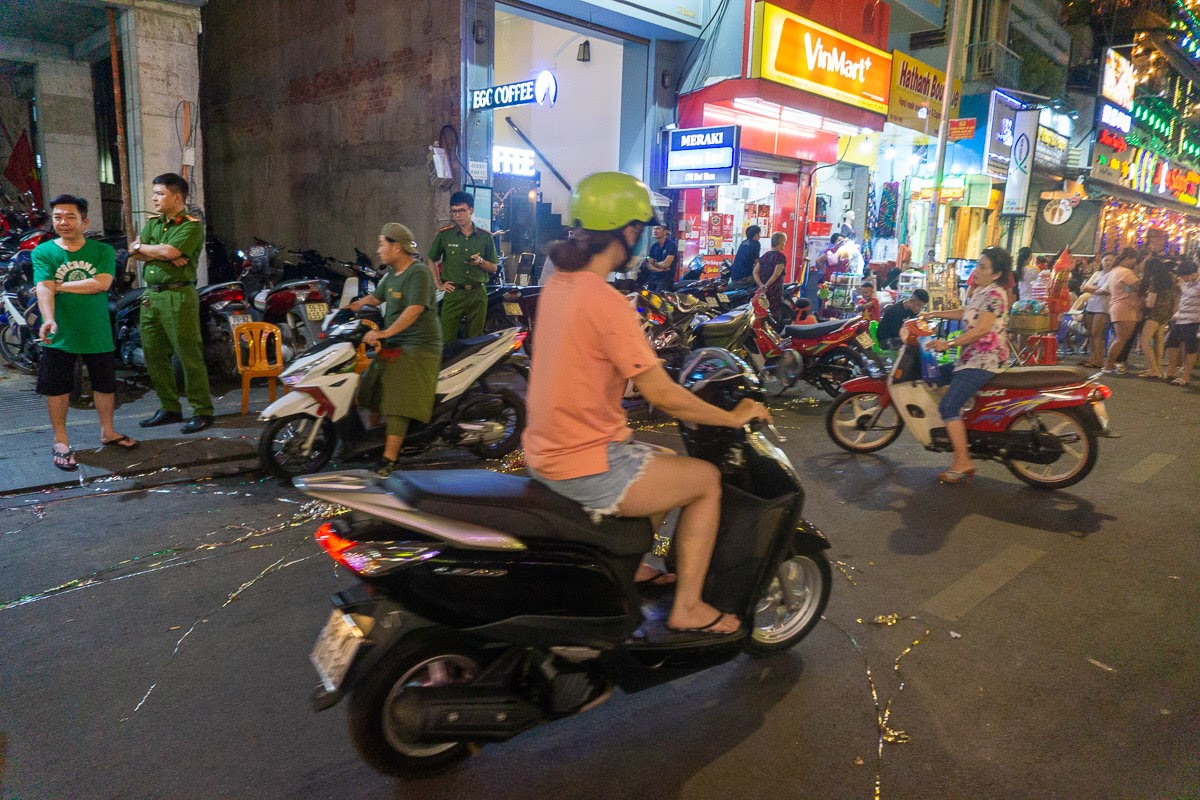 Learn how to barter
Shopping in Vietnam should be considered a sport in itself! Prices are inflated three or four-fold for tourists, so unless you want to pay exorbitant prices for your purchases, you need to learn to haggle and this is one of the incredibly useful travel tips for Vietnam you need to know.
Start at around 20% of the original price, and work up from there. You should aim to pay 40% of the original price, otherwise, you've likely been ripped off.
You can also try the walk away trick. When you walk away from a stall, vendors may shout out a lower price.
Just remember, many of the stalls sell the same products, so hunt around and if you can't get a good price, just find another stall and start the haggling process again.
This technique works very well in larger, tourist markets such as Ben Thanh Market in Ho Chi Minh City.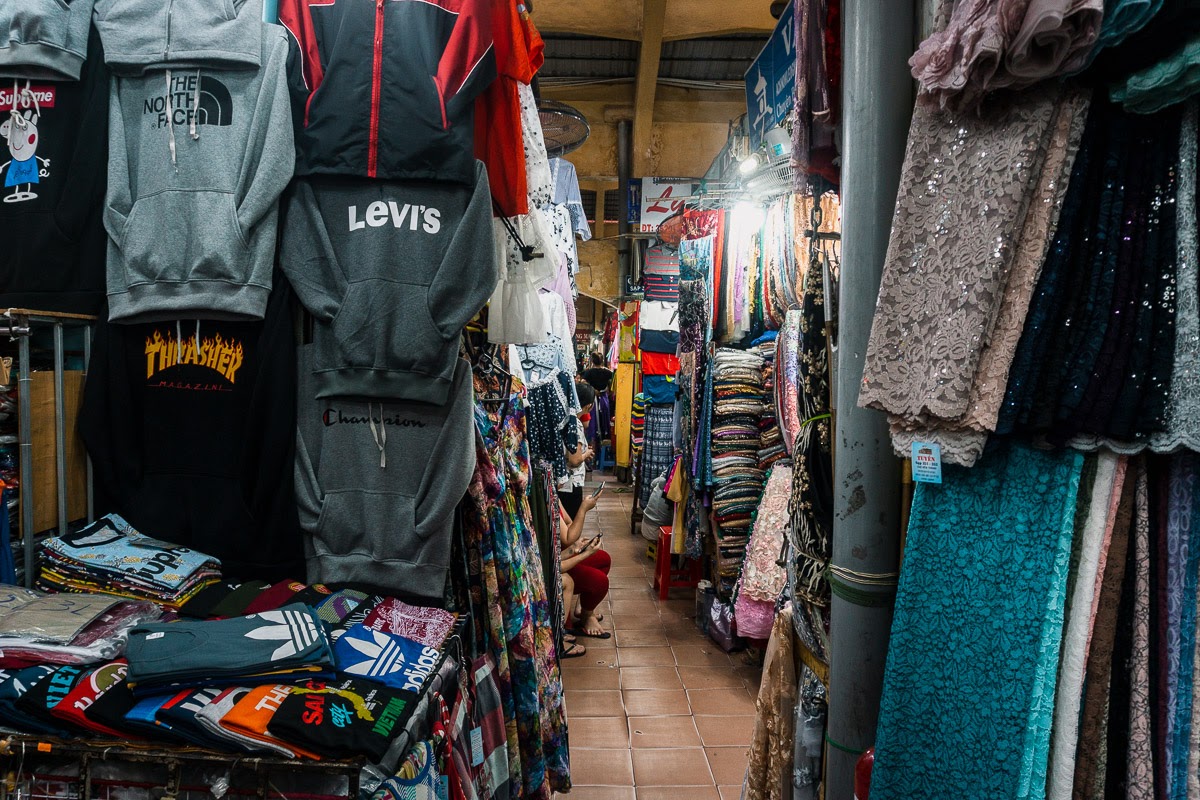 Only use Vinasun or Mai Linh Taxis (or Grab and Gojek)
Taxi companies in Vietnam are notorious for scamming. So, next on this list of things to know before traveling to Vietnam is how to use the taxis and what not to accept.
Don't get into a taxi if they say the meter is broken, because they will charge you a high price and will not negotiate a rate better than a taxi that uses the meter. Some companies may a faulty meter that jumps high increments.
One way to avoid scams is to use the two reputable taxi companies in Vietnam; Vinasun or Mai Linh. Some companies may try to pose as these companies so make sure the spelling on the cab is correct before entering the taxi.
Ride-sharing apps are also great and in my experience, seem to give a better rate than a taxi. They also allow you to pay by card which is so much more convenient than counting out correct change.
Keep your phone and wallet out of sight
Unfortunately, there is a lot of petty crime in Vietnam. Ho Chi Minh City especially is ill-famed for petty theft. Generally, the bigger the city, the easier it will be to pickpocket.
Stay vigilant at all times and keep your phone and wallet out of sight would be the nest essential item on this list of Vietnam travel tips. Putting your wallet in your back pocket or your phone in the front pocket of your bag is not a good idea.
Wear your handbag across your body, wear your bag on your front or lock it, and never leave your belongings unattended.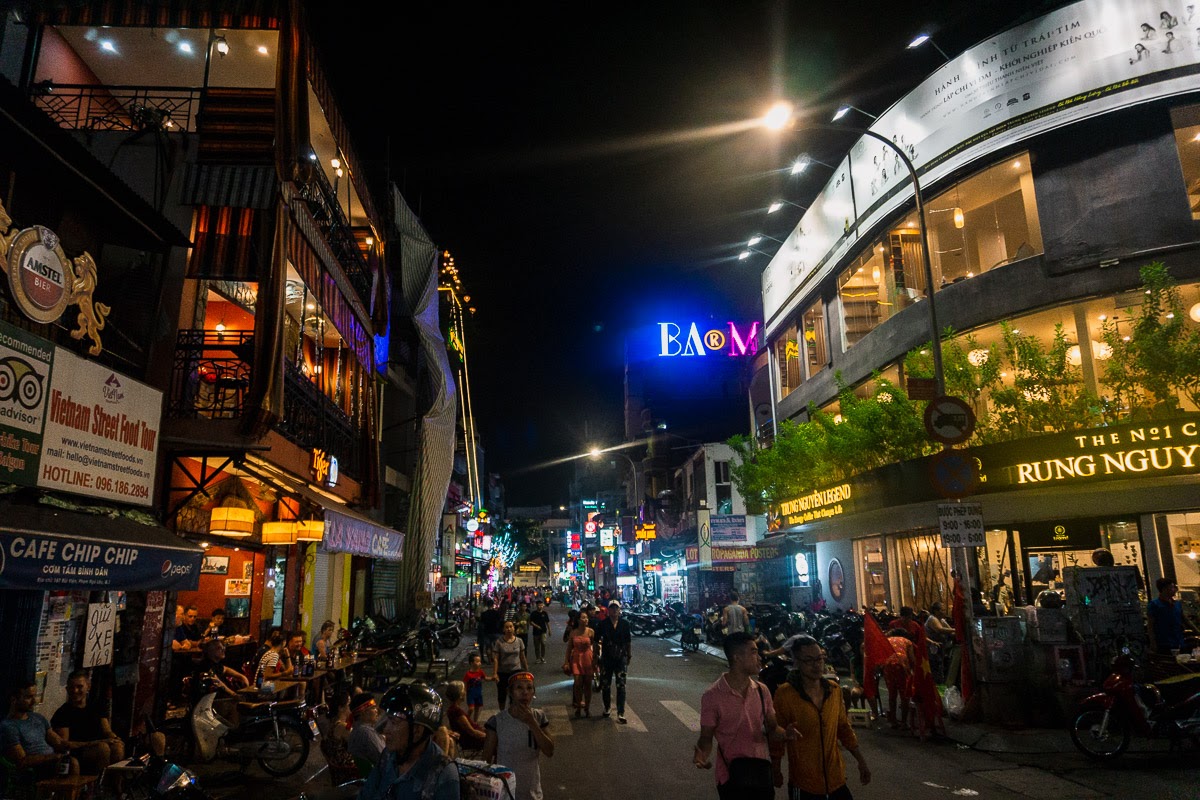 Keep emergency money elsewhere
If you do end up in an unfortunate situation with your wallet stolen, having emergency money can be a real lifesaver.
There are many places to keep some extra cash. Keep it in your shoe, tucked into your sock, or rolled up into the coin pocket of your jeans.
Nowadays, there are many travel-safe products that can come in handy. These include clip-on bra pouches, pockets to sew inside your clothes, scarves with a secret pocket, and money belts (although these aren't recommended as they are obvious to thieves).
Some people even carry a fake wallet. They'll put a small amount of money (maybe 100,000 VND) into a wallet and if they are threatened, they'll throw the wallet in one direction, and escape in the other direction. That way, they'll only lose on a little money.
Get your vaccinations ahead of time
If you were born and brought up in a first world country, you may be lucky enough to only require one combination vaccination (Vivaxim) for Hepatitis A and Typhoid.
Otherwise, you may also require measles, mumps, and rubella (MMR). Travellers to remote parts of Vietnam may also require the vaccination for Japanese Encephalitis and Malaria pills.
Bear in mind the Japanese Encephalitis vaccine is costly and requires two doses over a one-month period, and antimalarials will need to be taken two days prior to travel up to four weeks after your return.
So, another item on this list of travel tips for Vietnam is to remember to sort this out ahead of time. It is recommended to get your Vivaxim vaccination at least two weeks prior to travel. As well as this, your GP practice will likely have to order in the vaccination which may take up to a week.
Be aware of food hygiene
Another thing to know before visiting Vietnam is that food hygiene in Vietnam will be a little more lax than back home. You should generally be safe with cafe and restaurant food.
This doesn't mean you should avoid all street food – some of the best food in Vietnam is street food. Just be wary of their food hygiene, otherwise, you could get sick.
Have a look at how their food is prepared before buying, then make a call. A rule of thumb is to go to places with large lines.
Always, always drink bottled water. We usually buy a large bottle, then fill a smaller one each day to avoid excessive plastic waste.
For this reason, you may want to avoid street food that includes salads and peeled fruits, as they may have been washed in water that was not bottled.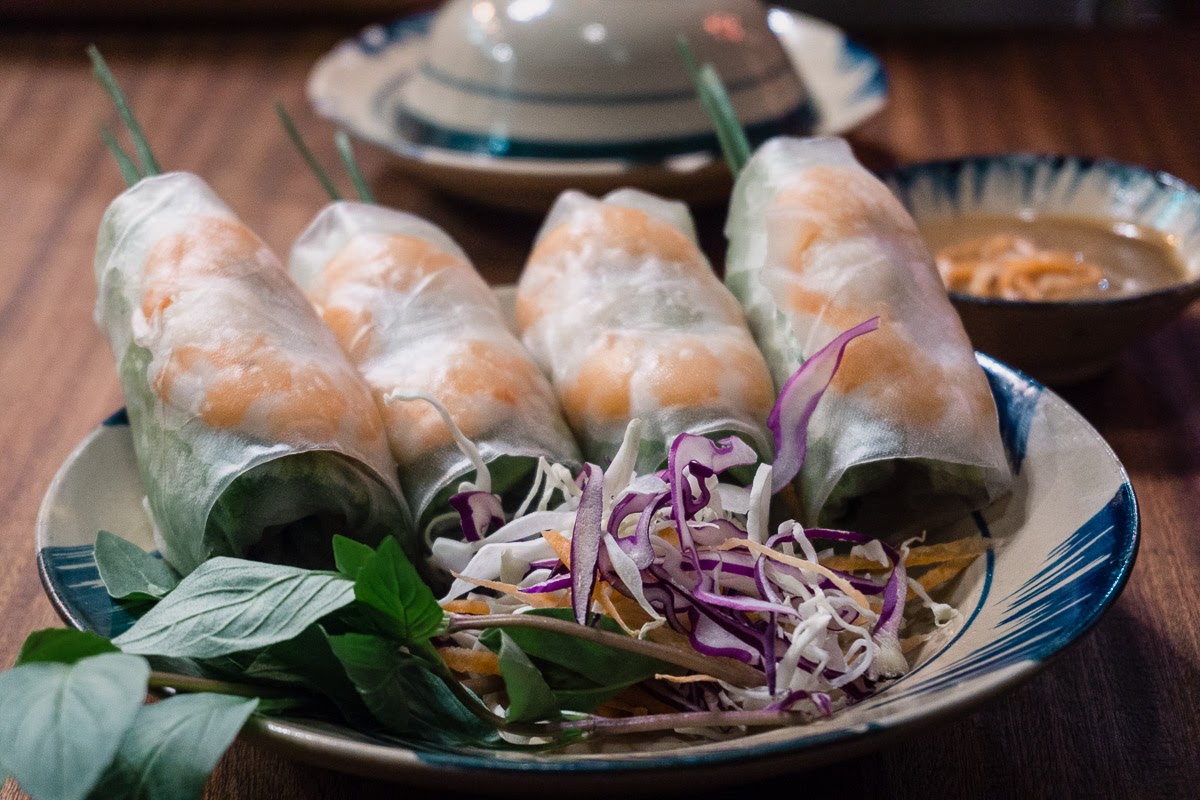 Bring a light rain jacket during the rainy season
Vietnam has a tropical climate, meaning they do have a monsoon season. The wettest months are May to October, which also happen to be the hottest months.
Downpours are heavy but brief, so they shouldn't cause much upset to your plans. But, if you do get caught in a heavy downpour, a light rain jacket will definitely come in handy so include one on your packing list for Vietnam.
Otherwise, you'll be able to buy ponchos at the markets for very cheap.
Keep your eye out for motorbikes on the sidewalk
Yes, you did read that correctly. Motorbike drivers in Vietnam often resort to parking on the sidewalk, and some drivers use the sidewalk as a shortcut in busy traffic.
Drivers are often quite vigilant and will look out for you, but it can come at quite a shock when you have to share the sidewalk with a motorcyclist for the first time.
Parking space for motorbikes in Vietnam is at a premium and some pavements have become de facto parking lots.
What you need to know about Vietnam before you go is that sometimes this means that pedestrians have no option but to share the road with traffic. In this case, be on high alert and get back to the sidewalk as soon as possible.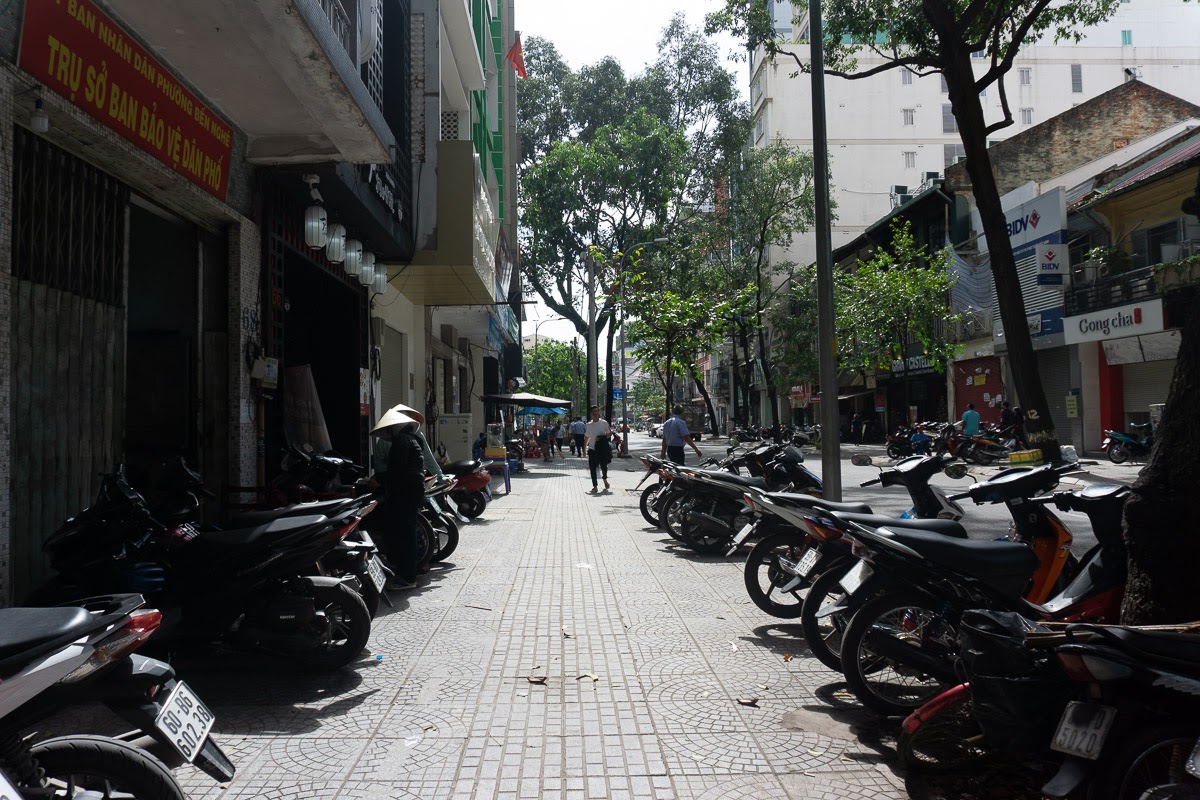 Take precautions on a motorbike
Driving or taking a motorbike taxi is very different from getting into a car. There are a few extra safety precautions to take.
Always wear a helmet, and don't get into a motorbike taxi (like Grab and Gojek) if the driver cannot offer you a helmet.
Avoid jewellery and scarves that could get caught to things, wear your handbag across your body instead of on one shoulder and try to wear sandals or shoes if possible, as you may lose a flip flop.
Keep your international driver's license on you
Many tourists choose to rent a car, but it's more popular to rent a motorbike, especially in the less chaotic areas of Vietnam.
It's super easy to rent a motorbike for 100,000 VND per day and some places won't even ask for your license to do so. That doesn't mean you don't need an international driver's license – you definitely should have that on you.
If you look like a tourist, the local police may be inclined to pull you over and check your license. You'll need to present both your international license and your license from your country. Otherwise, you could face a large fine.
And on another note, make sure you're insured to drive a motorbike. Some countries only insure drivers up to 50cc.
Bring cover-ups to the temples
Another tip on this list of practical tips for first-time visitors to Vietnam is that, when entering a temple of a place of worship, alike other countries, it is appropriate to cover up. Women should have their shoulders and knees covered.
Some temples may provide sarongs for rent, but it may be more convenient to bring your own along with you, or some elephant pants to cover up.
While the dress code for men is less strict, a t-shirt and shorts reaching the knee (or long pants) are more suitable than a singlet and shorter shorts.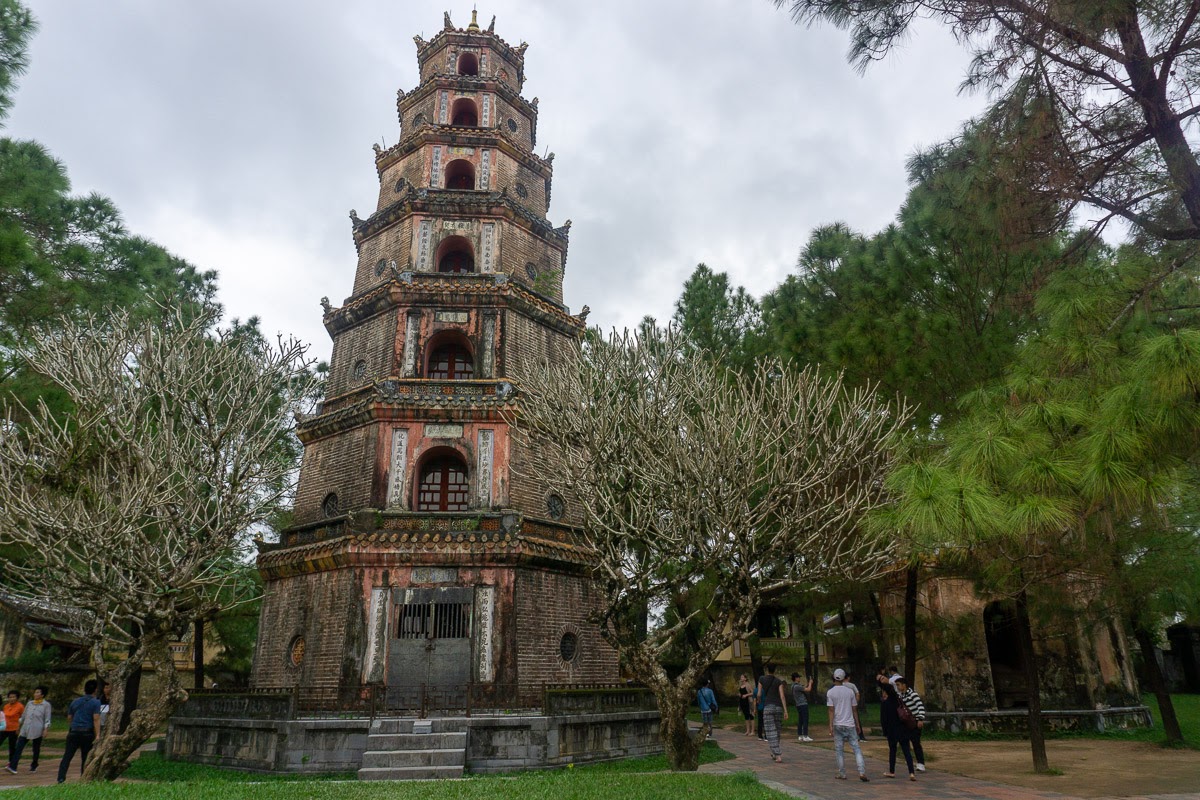 Try Vietnamese coffee
When you get to Vietnam, put down your cappuccino or soy caramel latte. Vietnamese coffee is worth a try, especially at the price of 20,000 VND – less than $1 USD!
Believe it or not, Vietnam is the second-largest producer off coffee in the world. These Robusta beans are drip-brewed through a Phin filter.
For those who can't palate the bitterness of coffee, Vietnamese coffee may be what you need!
The bitterness of the Robusta beans is sweetened with condensed milk. This combination is amazing – and this is coming from someone who isn't normally a fan of coffee.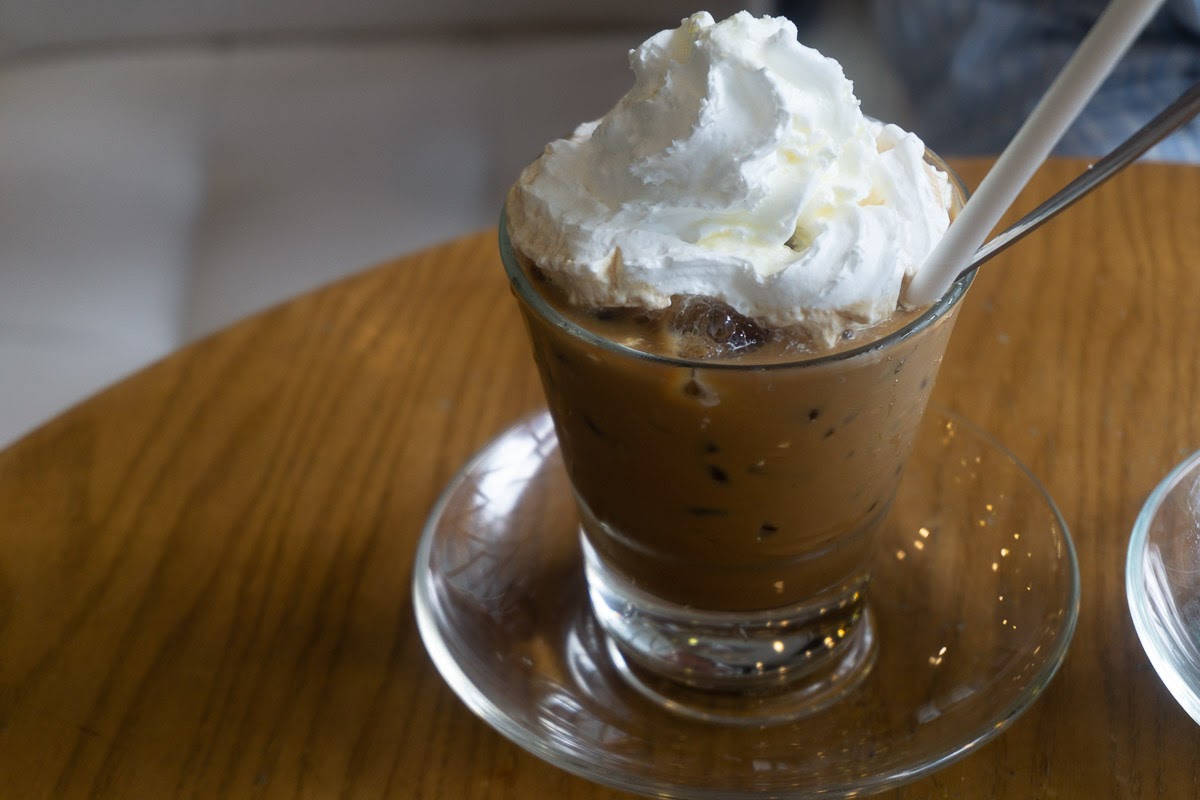 Learn a few phrases in Vietnamese
With its tourism boom, the Vietnamese have become great at conversational English. Most of the locals working in tourism, whether it be a taxi driver or souvenir stall owner, should be able to hold a conversation in English.
Regardless, a few words in Vietnamese will go a long way. The Vietnamese will also appreciate you learning and using their language. When travelling, we always learn how to say hello and thank you in the local language.
Here are the translations for hello and thank you in Vietnamese:
Hello: xin chào (pronounced sin jow)
Thank you: cảm ơn (pronounced gahm uhn)
In addition, we learned how to say "too expensive". This was usually followed by a laugh when bartering for an item! In Vietnamese, too expensive is đắt quá (pronounced dah kwah).
Use these Vietnam travel tips to make the most of your trip. Take all these things to know before visiting Vietnam in consideration so that you are prepared and so that you'll be able to have the perfect Vietnam vacation!
About the author:
Delilah Hart left New Zealand to embark on an adventure around the world. She has a seemingly endless bucket list of destinations that she writes about on her travel website, Our Travel Mix. You can follow her adventures on Instagram or Pinterest.