Queens – one of the five boroughs of New York City. Made famous by TV series or movies, Queens is an interesting place to visit in New York. This local's guide to Queens New York presents you the Queens points of interest, top attractions in Queens, off the beaten path things to do in Queens, where to eat in Queens, where to stay in Queens, and tips for Queens. This guide is presented by Nathalie Allen from A Pair of Travel Pants and is part of the free travel guides series on the blog.
What to see in Queens, New York? Here's your complete list:
Included in this local's guide to Queens, New York, USA are:
Places to go in Queens:

The Museum of the Moving Image
The Unisphere
Citi Field
MoMA PS1
The Noguchi Museum
Theaters

Queens NY off the beaten path

The Louis Armstrong House
Spa Castle
Gantry Plaza State Park
The Oldest Hindu Temple in the USA

Where to eat in Queens
Where to stay in Queens
Tips for Queens
Local's guide to Queens New York with Queens points of interest
Welcome to Queens, NY!
I grew up in Manhattan and when I was a kid, we'd always think of New York City as only in Manhattan and then there would be those boroughs out there that we'd never venture to unless we really needed a good Indian curry.
Times have changed and New York City has outgrown the Hudson and East River, spilling its spicy, sarcastic, cultural and traditional juice all over the place. So, basically: if you only stick to Manhattan when you come, you're only seeing a part of the bigger picture.
Named after the Queen of England, Catherine of Braganza – from Portugal – Queens originally consisted of only five towns and a lot of farming land.
Over the centuries, Queens grew in population and officially became a part of New York City in 1898.
Today, Queens is the second most populated county in New York State (Brooklyn being number one), with about 48% of residents being foreign-born.
You know what that means?
Food. Lots and lots of good food.
But, before I tell you about all the outstanding places to eat in Queens, let me give you a chance to work up an appetite. It's time for Queens sightseeing!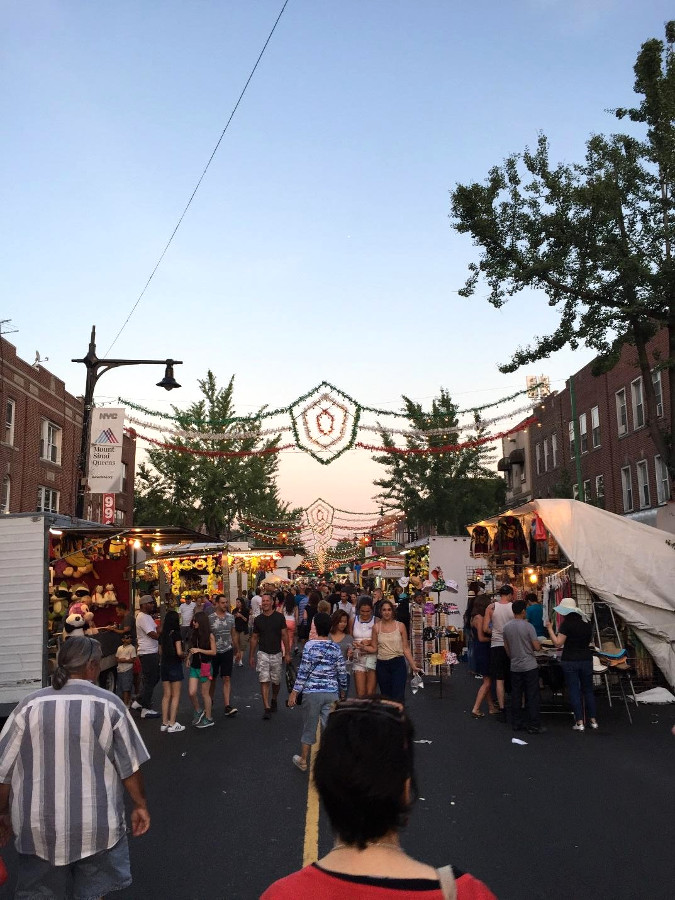 Queens points of interest
The Museum of the Moving Image
I love this museum – and it's one of the most interesting Queens New York tourist attractions. It covers the history of Hollywood, but then goes beyond that, talking about the internet, YouTube, gifs and more. There are permanent exhibitions and special exhibits that go deeper which make it one of the loveliest places to see in Queens.
My favorite part of the Museum of the Moving Image is the permanent collection of props and set pieces they have from very famous movies. It's a lot of fun to go in there are see some of this really famous stuff for yourself. Definitely one of the best things to do in Queens NY.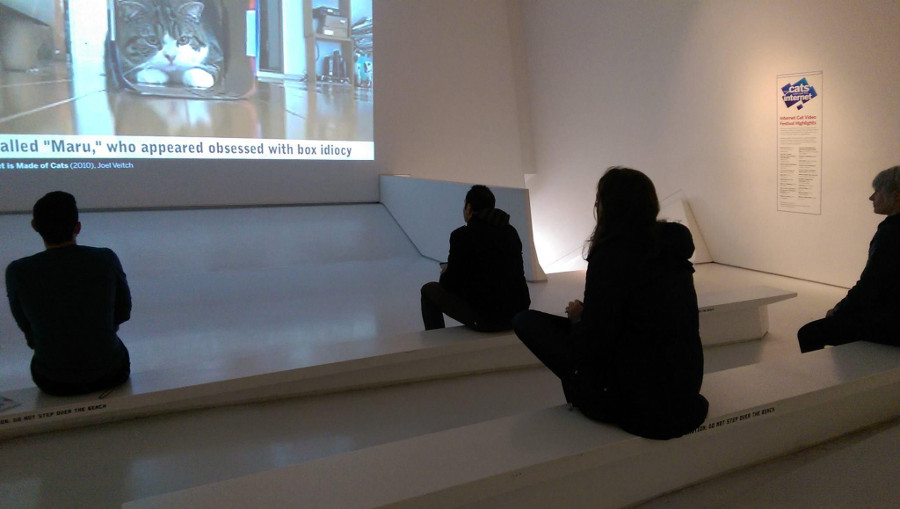 The Unisphere
This is about the most iconic image you can take in Queens. Located in Flushing Meadows-Corona Park, this is a stainless steel earth set in a massive fountain. It's really pretty, and it's a great place to take a bunch of pictures.
The Unisphere is one of the best Queens attractions as well as one of the best free things to do in Queens, New York (read along as you'll discover more free things to do in Queens!)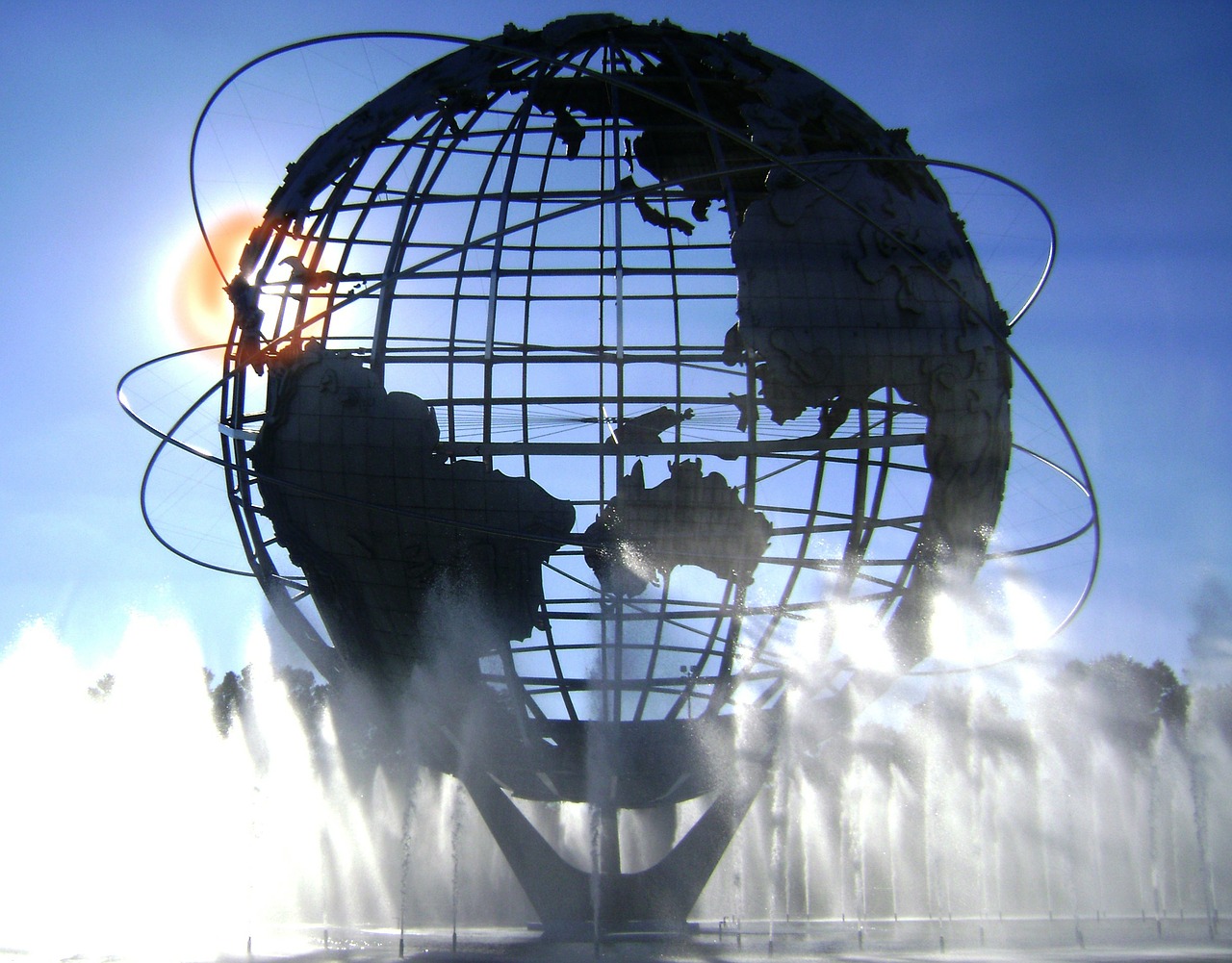 Citi Field
Come see the Mets play at Citi Field! Baseball is a New York City classic and a great way to spend an evening. If you are ever looking for a place full of locals cheering for the home-team: this would be the place to go.
There are tours that are offered at the field if you are inclined to see more than just a baseball game.
MoMA PS1
The Museum of Modern Art (MoMA) is also in Long Island City, Queens! Why go into the MoMA's crowded branch in Manhattan when you can go in Queens and get an opportunity to have so much more space and time to see modern art?
PS1 has indoor and outdoor installations and is located in a massive Victorian brick building in downtown LIC. It's a great place to wander and one of the most interesting museums in Queens so make sure you include it on your Queens itinerary.
The Noguchi Museum
Totally strange, iconic pieces of sculpture done by Japanese-American artist Isamu Noguchi. This is a really special place to see and one of the best places to visit in Queens New York.
I love the story the sculptures tell and you move from inside to outside. Admission is free every first Friday of the month.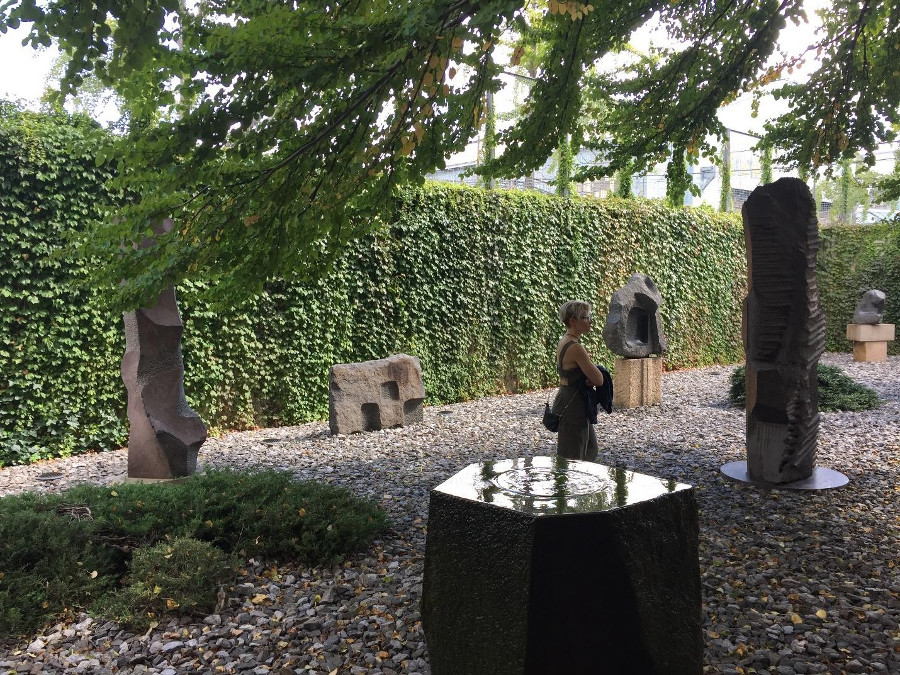 Queens Off the Beaten Path
Still wondering what to do in Queens? How abut some lesser known attractions in Queens?
I think of the entire borough of Queens as a more off the beaten path location for New York City, but if you really want to go places that'll give you a slice of New York City like nowhere else, there are a few spots I would recommend. So here are the most interesting off the beaten path things to do in Queens!
The Louis Armstrong House
Come see a slice of history at the well-preserved Louis Armstrong House, where the jazz legend lived.
It's chuck full of Jazz history and a lot of information about one of it's most famous players. A great place to go for music enthusiasts and one of the fun places to go in Queens.
Spa Castle
Looking for a chance to relax? Spa Castle is a massive spa and sauna building with floors and floors of saunas and chances to relax and one of the Queens, New York attractions.
There are pools on the rooftop and plenty of places to drink, eat, and get a massage. You can buy a ticket for a whole day pass and spend the hours sitting under a waterfall.
Gantry Plaza State Park
Wondering what to see in Queens?
This updated addition along the East River bank is a lovely area to chill out. There is a massive walking platform with views of the city, benches to rest on, and on the weekends there are big markets you can go and eat in. (Hello, LIC Flea and Food Market!).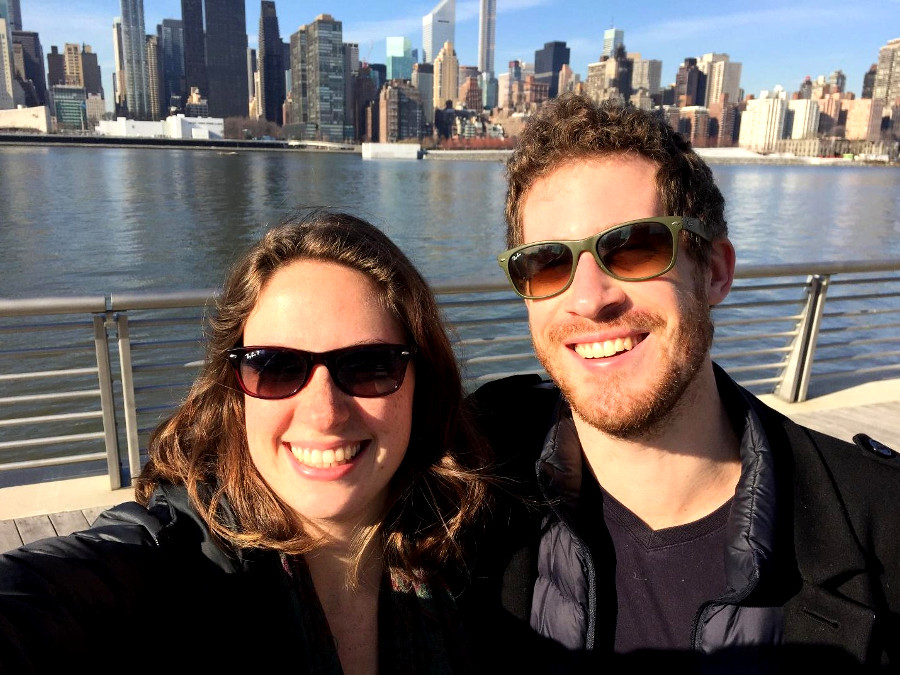 The Oldest Hindu Temple in the USA
Ganesh Temple is a short walk from the Flushing-Main street stop on the 7 Train. This temple was built in the 70s- so by world standards, it's not that old! It is a Hindu temple with all the bells and whistles, though.
I like this place because it also serves delicious, authentic, cheap Indian food in the basement. They also host events around the year that you can attend and get a chance to soak up a really interesting culture.
The people who work there are very generous and sweet, eager to share their knowledge with anyone who cares to learn more.
Where to Eat in Queens
Like I promised in the beginning of this local's guide Queens, here are some places I would send people to eat. This is in no way a comprehensive list because Queens is massive and has so many wonderful things to try.
Other than the list of places I recommended to eat around New York City, I think you could spend at least a week in this borough tasting hundreds of different cuisines at so many different price points. So here are the best places to eat in Queens. The best restaurants in Queens NY are:
SriPraPhai
Authentic Thai food that is delicious, cheap and fast. This restaurant is located in a tiny Thai area of Queens (right down the street is a Thai market where you can find galangal, thai basil and red chilis!).
The restaurant is closed on Wednesdays, but is a really popular place to go and you'll often have to wait for a table. Cash only. Vegan and vegetarian friendly.
NY Food Court
Hosting a ton of different food stalls, this food court in Flushing is a great stop to go try all sorts of different flavors and textures. Vegetarian, vegan and seafood lovers alike.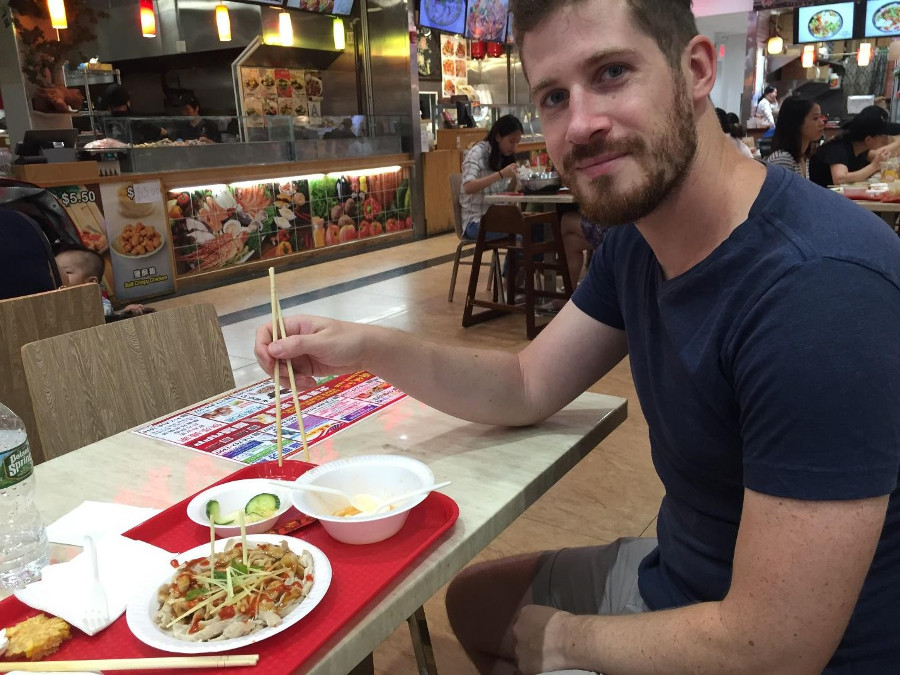 Taverna Kyclades
Delicious Greek Seafood in Astoria, Queens. Every meal I've had here has been outstanding. The secret is out, though: you'll have to wait for a table.
It's so worth the wait, though. The service is fast, the fresh bread is delicious, and you'll likely get a glass of house wine while you wait- making it much more bearable!
Come here as a group, it's quite a bargain. Very affordable.
Jackson Diner
The Jackson Diner is in the Indo-Pakistani neighborhood of Queens. Here, you can go for their lunch or dinner all-you-can-eat buffet. It's delicious and for $11 per person, it's a great deal.
The neighborhood is fun to walk around in because everything is very Indo-Pakistani. They have a ton of vegetarian options. Definitely one of the good restaurants in Queens!
Kimganae
No trip to Queens is complete without a trip to Flushing. This bustling neighborhood is bursting with a TON of places to stuff your face. Chinese, Korean, Japanese… you name it.
Kimganae is a Korean BBQ restaurant where you should go with a massive group of friends and fill up. It's expensive it's a dinner for two, but with a group, it's a real bargain.
Where to Stay in Queens
Unfortunately, hostels are not common in New York City and there are none in Queens. Most hotels are located in LIC. That said, there are some affordable options:
The Local NYC – an affordable hotel in Long Island City.
AirBnB – there are a ton of listings online and are far cheaper than they would be in Manhattan. You can find a room or a whole apartment.
The Q4 Hotel – this is the cheapest hotel I could find, starting at $54/night. That's a real bargain.
Tips for Queens
Queens is, overall, a very safe borough to explore. It's definitely not as polished as Manhattan, but if you like a "real" side of New York City, Queens will deliver.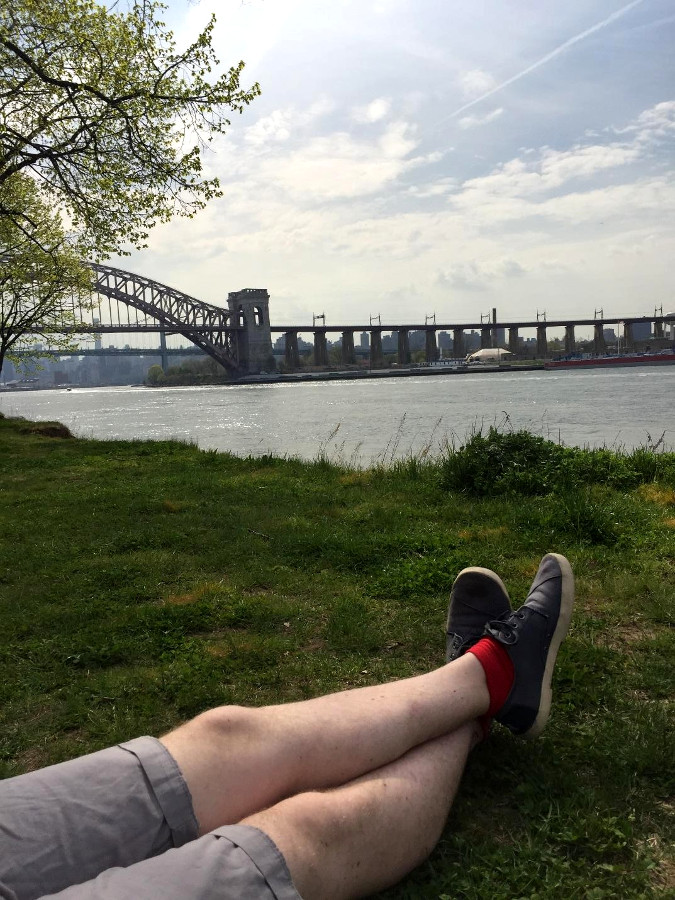 I think the best way to explore this area is to walk along the 7 Train and experience the changes in neighborhoods as you do. Irish, Colombian, Indo-Pakistani, Korean, Chinese, Nepalese, Mexican, Thai… these are where the immigrants are still settling in New York City and their communities are alive and well. The 7 Train is the artery to these places.
The neighborhoods to avoid: Ozone Park, and the neighborhoods around JFK airport. These areas are still quite rough and I wouldn't recommend a jaunt around there.
Otherwise, this borough is massive and very welcoming. It's quite safe.
Queens is diverse, varied, unapologetically itself, and full of so many different people and experiences.
I've come a long way from my Manhattan routes and biases: I love this borough!
Come to Queens for a side of New York that you won't see in Mid-town, you can't experience at the Empire State Building, and a place to get away from the bustle and stress of the city. Flushing Meadows Park, MoMA, the food, the diversity… all of this makes Queens so unique and wonderful; and a place I am proud to call my home.
So, consider either including Queens in your NYC itinerary or, better yet, plan a visit to Queens alone and discover this borough and all it has to offer!
About the author
Natalie Allen is a born and raised New Yorker. She is a writer and traveler for A Pair of Travel Pants, a blog about off-the-beaten-track travel, road tripping, and exploration around the globe. Natalie lives in Queens, NY with her Kiwi husband, Jackson. Follow their Facebook page as well.