The food in Singapore is a treat! While visiting Singapore – and there are plenty of things to see and do in Singapore – you should try these Singaporean dishes.
Wondering what to eat in Singapore? Read along and find out the best food of Singapore! As you'll see, the Singapore national dish is included, as well as other tasty Singaporean dishes that will make your mouth water!
You'll find the best Singapore dishes to try and you'll find out where to eat in Singapore (the best Singaporean restaurants for each dish are recommended).
These tasty Singaporean dishes are recommended by Shang from Zip Up and Go. You'll find delicious Singaporean desserts, interesting breakfast dishes in Singapore, and great ideas for lunch in Singapore or for when going out for dinner in Singapore.
As Singapore is one of the safest cities worldwide, you can come here as many times as you like. In this way, if you don't have time to try all the savory Singaporean dishes mentioned below, you can add them to your Singapore bucket list for your next visit!
Food in Singapore: 8 tasty Singaporean dishes to try
While Singapore is well known for being a clean and green city, mixed in with modern architecture and soaring skyscrapers, the thing that connects its citizens the most is food.
Yes, we are a foodie city, and very often you will find us scouring the island for the best food that it can offer. Be sure to make this part of your Singapore itinerary when you visit!
The food scene in Singapore is highly sophisticated, as you will find cuisines from all over the world here. This is thanks to Singapore being an international hub for travellers and migrants, plus the multicultural society adds to its unique flavors.
Today, we will focus on some of the best local eats and where you can find them! This is the quintessential Singapore food to try on your trip!
1. Hainanese Chicken Rice
Not sure what to eat for lunch in Singapore?
To most Singaporeans, chicken rice will likely be the go-to answer.
Chicken rice is considered the national dish of Singapore, and we take it seriously. Go to any food centre or hawker centre and you are guaranteed of finding one.
It was adapted from a recipe in Hainan China, where throngs of migrant workers came from back in the early days.
Aromatics are stuffed into a chicken and poached, before covering it in salt and sesame oil. The star of the show, depending on who you ask, is the rice.
Everyone has a secret recipe, but the end result is the same: fluffy steamed rice that smells heavenly. Pair it with homemade chili sauce and you have a winner!
Where to eat: Tian Tian Hainanese Chicken Rice, Maxwell Food Centre.
2. Chili Crab
While we don't eat this everyday, the chili crab is the king of seafood here in Singapore.
You will mostly find them in Chinese style restaurants or food centres, sold by the kilogram. At some places, you get to view them in aquariums and pick them out on your own.
They are then prepared in the kitchens, and although there are many flavors to choose from, such as black or white pepper, steamed, or with salted egg yolk, the chili crab is the one that reigns supreme.
It is cooked in a mix of chili and tomato sauce, a bunch of aromatics, and thickened with a starch solution.
Pro tip: 1kg of crab can typically serve 2-3 persons, and will cost around $70 – $90 per kg for Sri Lanka crabs, in my opinion, the best type.
Always order a side of "man tou", deep fried buns that are the perfect way to dip and savour the sauce. Chili Crab is one of the best dishes of Singapore.
Where to eat: Jumbo Seafood Restaurant, various locations.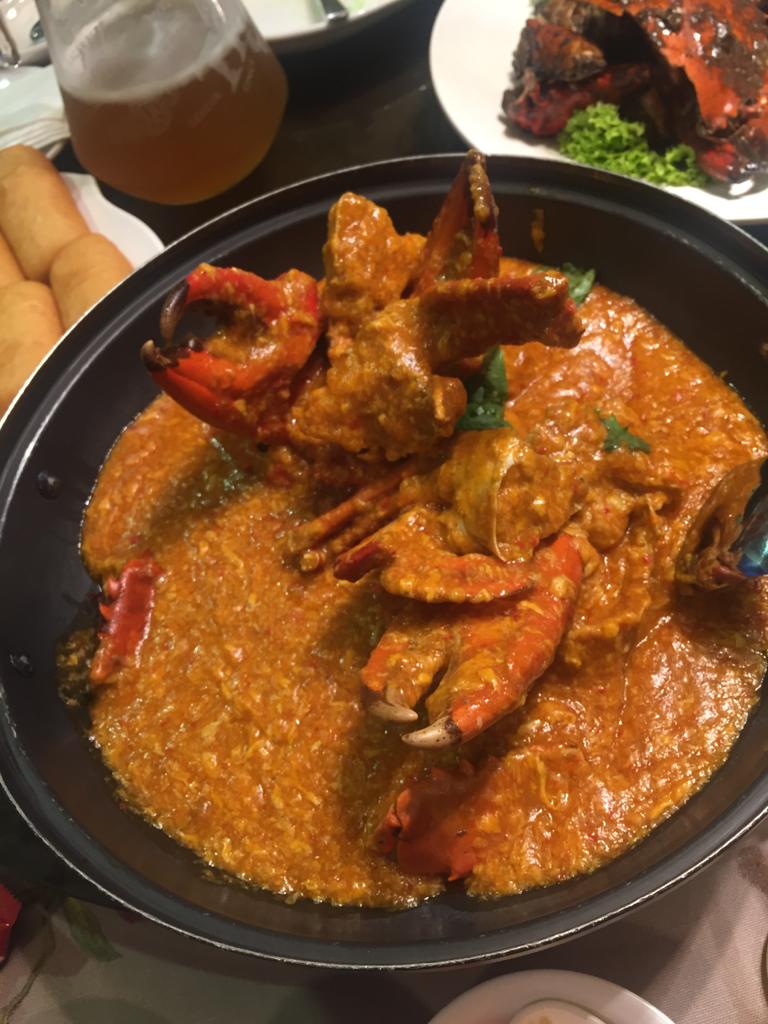 3. Lor Mee
Most commonly enjoyed for breakfast, Lor Mee (braised noodles) is a favourite among locals for a hearty, savoury and filling meal.
The origins of this dish came from Hokkiens, and you can count on it to be flavor-packed! It is one of the best things to eat in Singapore.
Although it looks like a simple dish to prepare, it is incredibly difficult to get it right. Lots of ingredients go into the preparation of the dish, and you will find it mostly in hawker centres only.
The stall owners usually start work in the wee hours so that we can enjoy it when we awake. In a bowl of Lor Mee, you will find ngoh hiang (pork rolls), fried meatballs, and braised meat, slathered with a generous amount of thick sauce.
Pro tip: if you are not visiting our recommendation, be sure to research first. There are lots of stalls selling Lor Mee with pre-made sauce. Obviously, they won't be as good.
Where to eat: Yuan Chun Famous Lor Mee, Amoy Street Food Centre.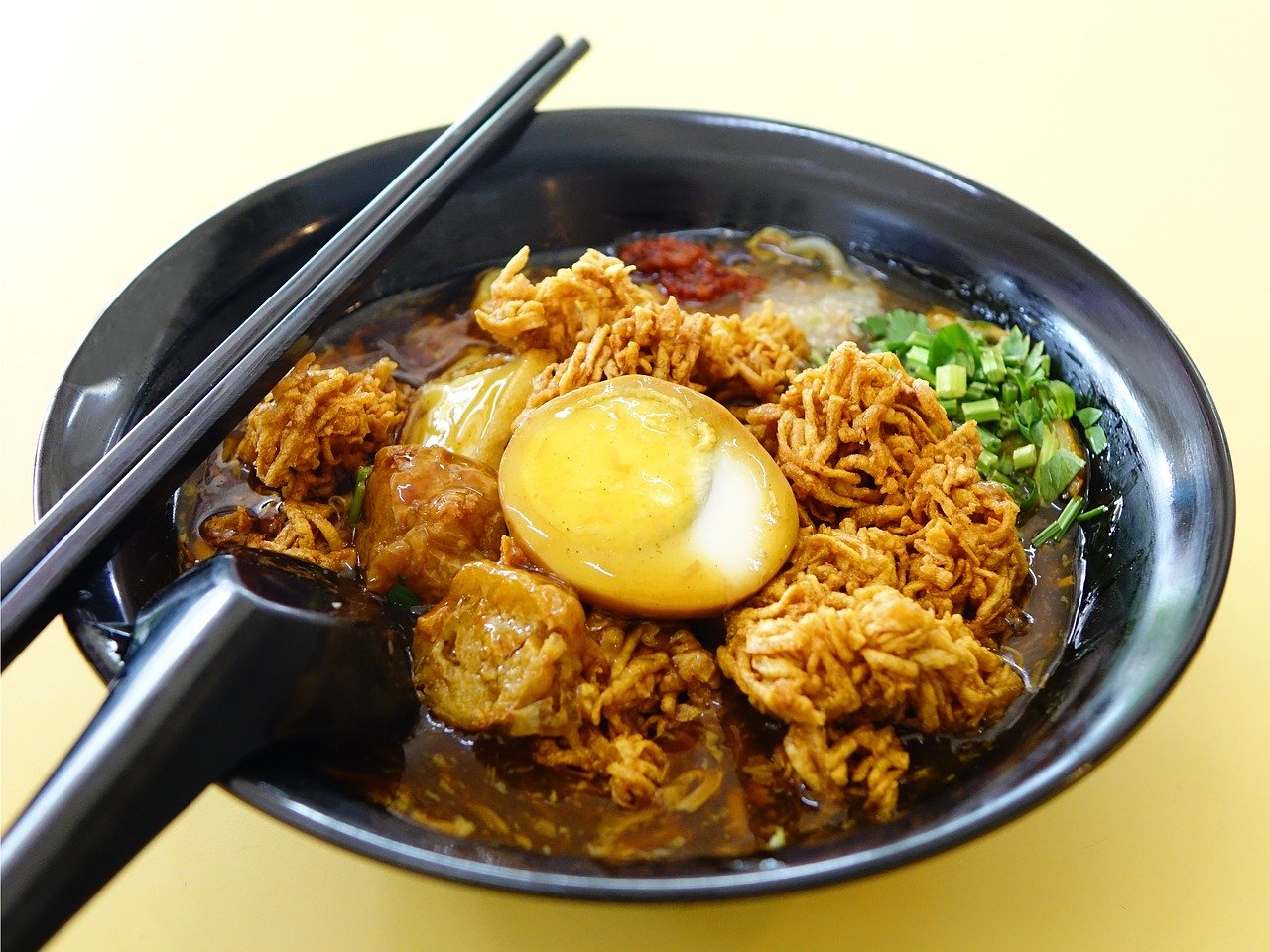 4. Kaya Toast, Soft Boiled Eggs and Hainanese Kopi (coffee)
Another favourite Singaporean dish for breakfast. It is simple yet fulfilling.
Adapted from the Hainanese as well, it has a long history in Singapore. Back in the days of the early 20th century, workers from the region came to Singapore to find work in the hopes of a better life for themselves and their families back home.
The enterprising ones set up roadside stalls to serve the coolies that were working along the river. As this was over a hundred years ago, people made use of charcoal fire rather than gas-powered stoves.
The bread was toasted over it and the result is stunning. The smells were intoxicating too, drawing workers to the stalls.
Together with soft boiled eggs and coffee, they were the perfect energy boost. This humble dish has lived on till today and is an essential part of local lives now.
Where to eat: Ya Kun Kaya Toast, various locations.
5. Char Kway Teow
Noodles are a staple here in Asia, and Char Kway Teow is one such variation that is extremely popular in Singapore.
The word "Char" means fry, while "Kway Teow" refers to the white flat rice noodle used in the dish. It is a really uncomplicated dish but so full of umami, as it is stir-fried over a strong fire, giving it "wok hei", literally meaning breath of fire.
The ingredients are simple, kway teow, yellow noodles, bean sprouts, cockles, and a generous splash of lard, mixed together beautifully with dark soya sauce.
These days, fanciful ingredients such as prawns or squid can be found added into it, but the traditional way is still the best.
Where to eat: Hai Kee Teochew Char Kway Teow, Telok Blangah Crescent Food Centre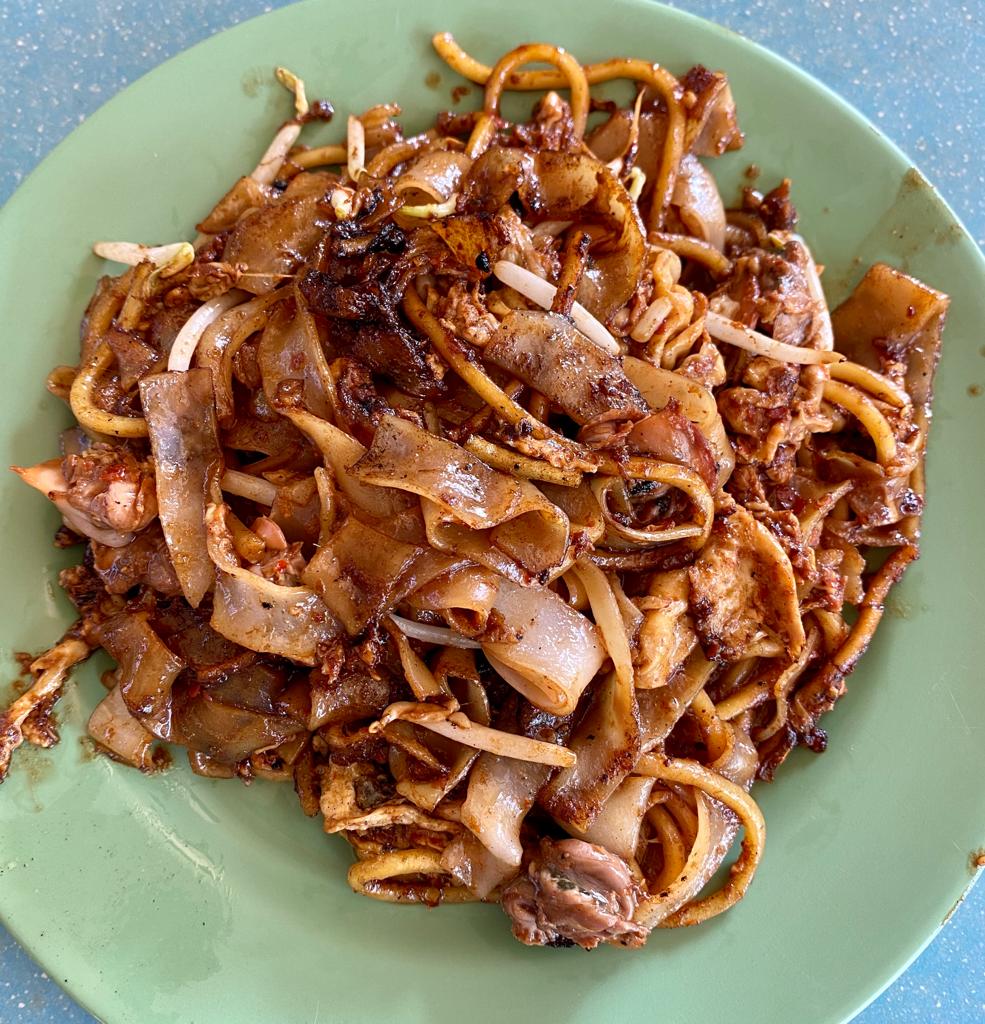 6. Carrot Cake
To most Westerners, carrot cake is a dessert topped with cream cheese, or maybe ice cream. However, in Singapore, carrot cake is a beloved dish that curiously does not contain any carrots at all!
Originating from South China, the carrot cake is made of radish (which is termed white carrot, hence the name), and flour. The preparation is backbreaking work, as the preparation takes hours.
The mixture of flour and radish is steamed, which then becomes the "cake" that is stir fried over high heat. There are 2 types available: black or white.
The black version is simply made with dark soya sauce, and tastes sweeter compared to the white version. Some stalls will offer a mixture in one plate, but why not order 2 plates to try when you are here!
Where to eat: Fu Ming Cooked Food, Redhill Food Centre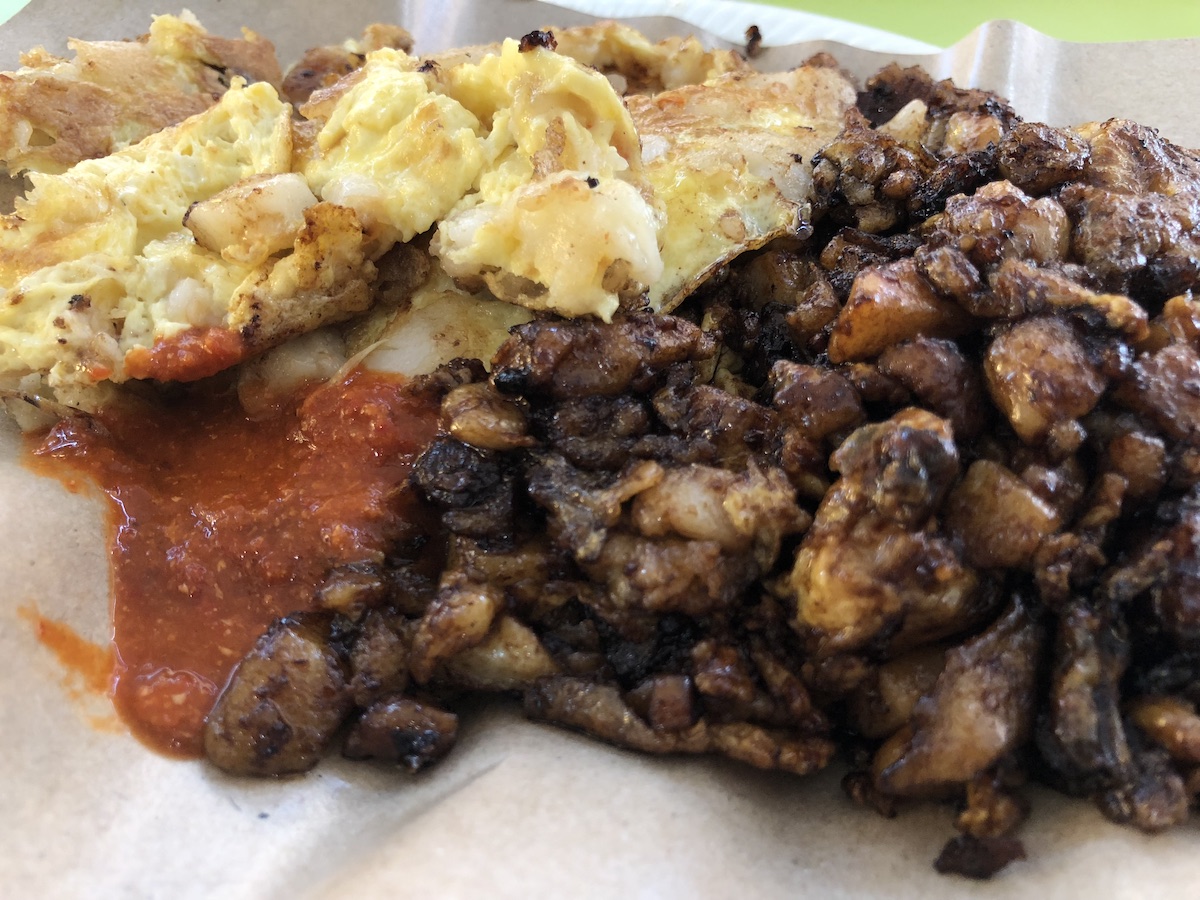 7. Satay
This humble dish has made it into CNNGo's best food in the world before, so you know this is no lightweight. Satay is a Malay word, which was derived from a Tamil word "flesh", and that's what Satay is, skewered meat grilled over charcoal fire to perfection.
It is then served with cucumber and onions, and most importantly, peanut sauce. This dish had a huge impact on Singapore, and back then there was even a Satay Club.
These days, you can still visit Satay Street, where an entire road is closed solely for Satay vendors to serve up these delicious slivers of meat to their customers.
Where to eat: Lau Pa Sat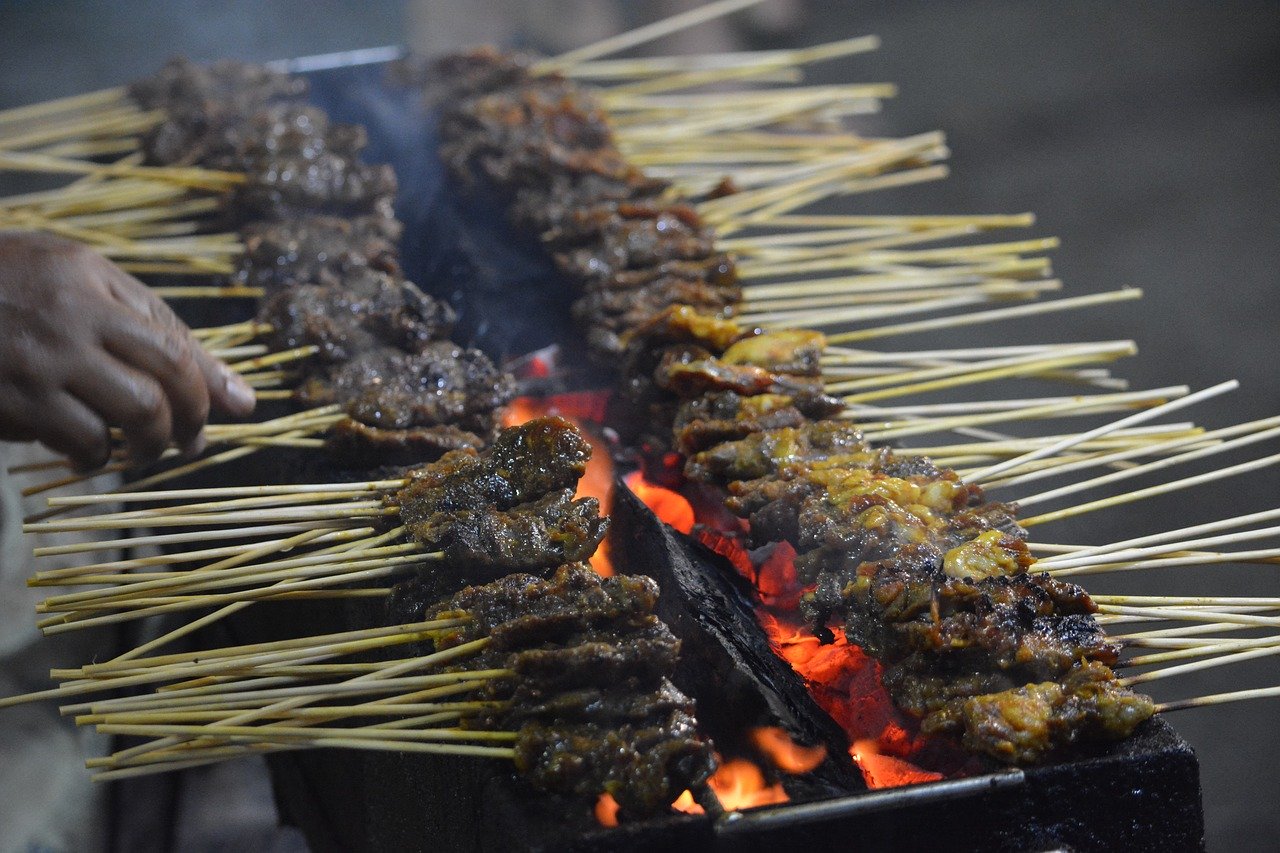 8. Indian Rojak
And to sum up this list of the best dishes to try in Singapore, we take a closer look at Indian Rojak. The word rojak is possibly one of the best ways to describe our cuisine, as it means mixture.
There are several styles to it, but whether it is Chinese, Malay or Indian style, each possesses a unique taste and method of preparing. The Indian Rojak is significantly different from the others, from the way it's made to the ingredients.
When you visit an Indian Rojak stall, you will need to pick out your food from the display counter, with ingredients such as cuttlefish, eggs, vegetable balls and potatoes.
They are then deep fried and served with a sweet peanut sauce. Each ingredient provides a different texture and taste, and the variety is huge, making this the perfect sharing dish.
Where to eat: Siraj Indian Rojak, Albert Center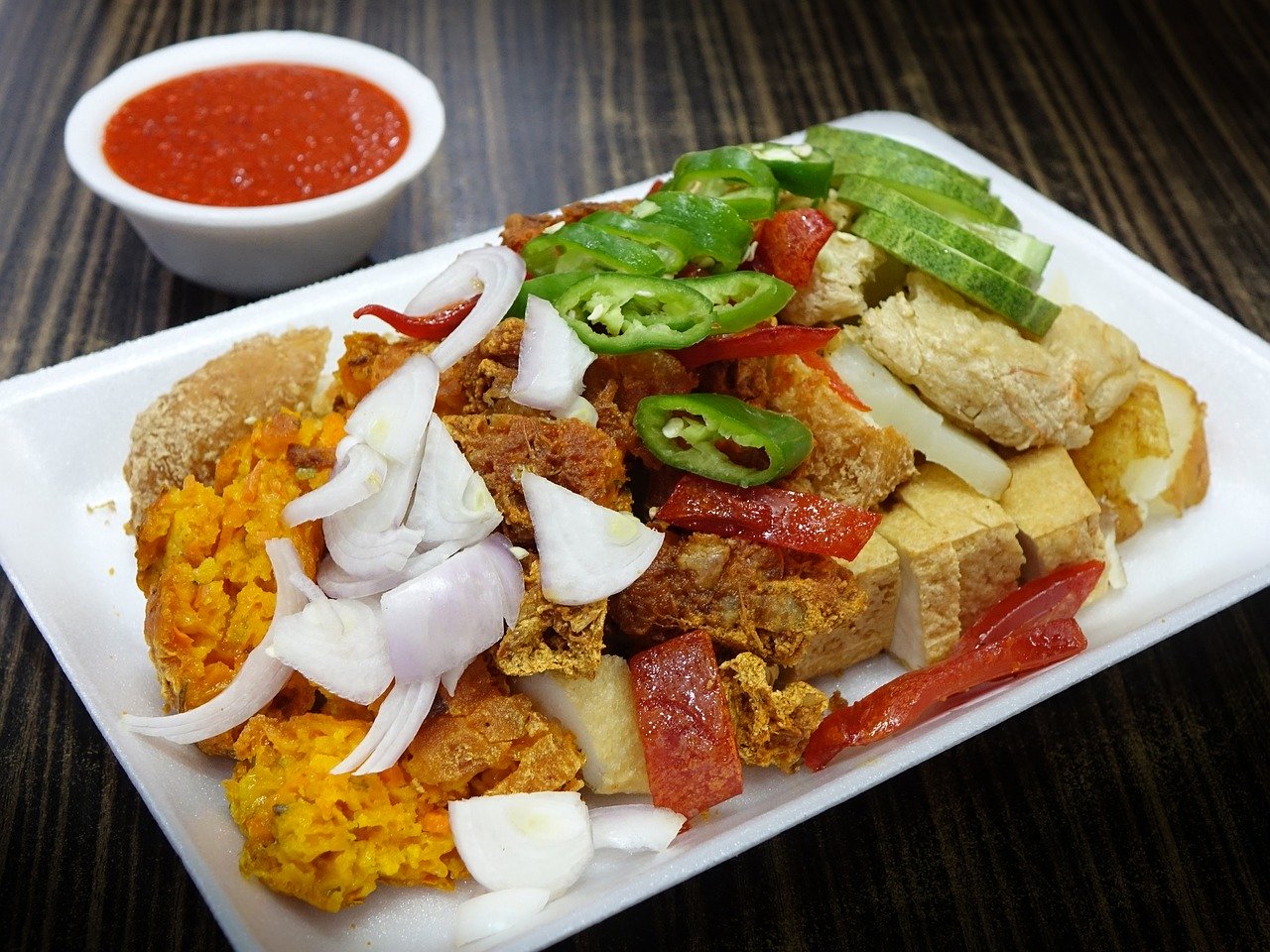 These are the best Singaporean dishes to try on your visit here! Enjoy them!
About the author
Shang is one half of the couple behind Zip Up and Go, a travel blog that takes you to explore the best nature spots, food places, and watering holes. She's a travel addict and refuses to admit she's addicted to wine too. You can find us on Pinterest, Facebook, and Instagram too.