Many people take a one-day trip to Nusa Penida from Bali as this island, lesser-known, offers amazing activities. Find out what to do in Nusa Penida in 24 hours from this comprehensive Nusa Penida itinerary.
Discover where to stay in Nusa Penida: accommodation options for all budgets, the best time to visit Nusa Penida, and the things to do in Nusa Penida in 1 day, both famous attractions and off-the-beaten-path Nusa Penida activities.
This Nusa Penida itinerary for 1 day is presented by Vaibhav Mehta from The Wandering Vegetable and is part of our free destination guides and itineraries series.
If you've never been to Indonesia before, we recommend you to read first this article focusing on things to know before visiting Indonesia.
Explore Nusa Penida – 1 Day Nusa Penida Itinerary
Nusa Penida is a gorgeous off-the-beaten-path island destination located on the southeast of Bali island.
It offers you the best "sun & sand" experience you can possibly imagine. Nusa Penida is the largest of the three Nusa Islands, the other two being – Nusa Lembongan and Nusa Ceningan.
Since it is a fresh inclusion in the Bali itinerary, the tourist infrastructure on the island isn't great but it is growing fast. You won't find plush beach clubs, fancy restaurants, and urban cafes on the island.
But what you will find on Nusa Penida is unprecedented raw natural beauty in the form of pristine beaches, caves, waterfalls, and mountains. If you're visiting Bali, then you cannot miss visiting this gem of an island.
In this blog, I'll share the ultimate 1 day Nusa Penida itinerary with you, discussing the best things to do in Nusa Penida in a day.
We'll also be discussing other important things like – the best time to visit Nusa Penida, what essentials to bring when visiting the place, how to get to and move around the island, and Nusa Penida accommodations.
Best time to visit Nusa Penida
Nusa Penida has to feature in your Bali itinerary if you're an outdoor person and like indulging in hikes and treks.
Quite a few attractions in Nusa Penida require challenging treks to get to the final destination. So it's a no-brainer that the dry season would be the safest time to explore the island.
Therefore, the best time to visit Nusa Penida is from April-October.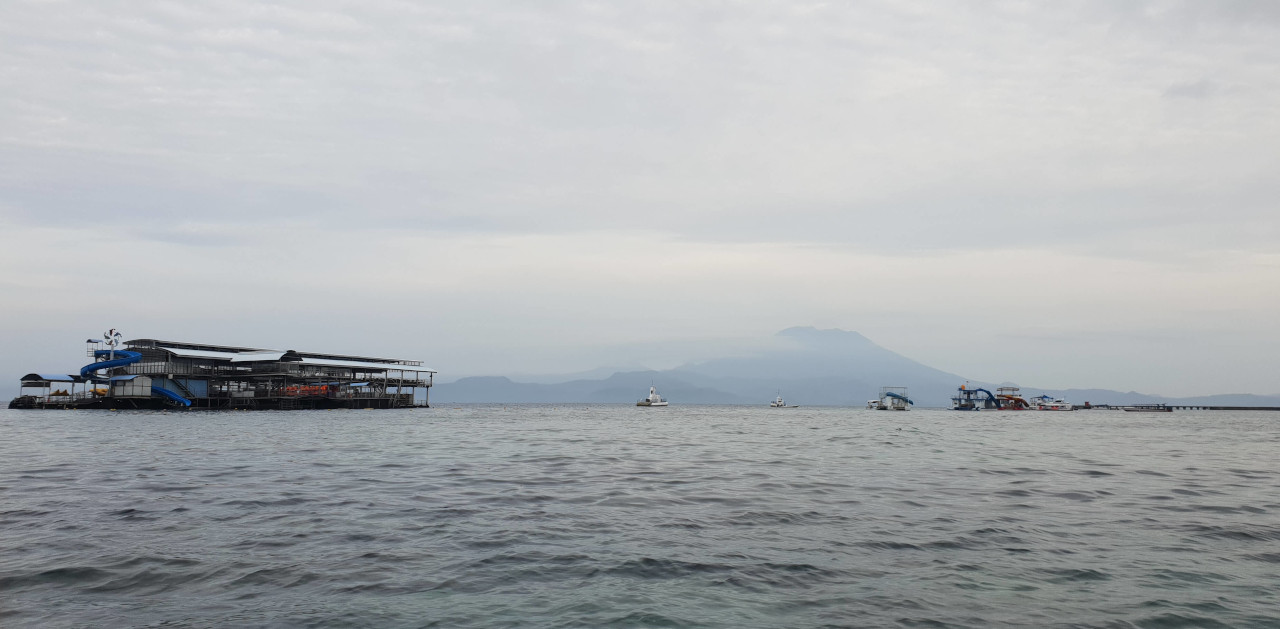 During this time, there's more sun and less rain. You'll relish this beach weather as humidity is at it's lowest. Also, what plays in your favour is the fact that April, May are low season months and June, September, and October are shoulder-season months.
So these are the times when not only there are lesser tourists on the island but also the costs of food, transportation and accommodation are on the lower side.
What essentials should you have when visiting Nusa Penida
There are certain essentials that you need when you're planning to visit Nusa Penida and they are:
Enough Cash
There are hardly any ATM's that you'll spot on the island. Also, a majority of the places are newly established and don't accept debit/credit cards.
So it would be advisable to carry enough cash that can last you the whole day and can take care of all the activities you choose to do. Remember that Nusa Penida is more expensive than Bali.
Appropriate footwear
This is extremely important if you wish to do any form of sightseeing. Since visiting several attractions requires trekking, you need proper trekking shoes with a firm grip.
Do not carry flat-sole shoes, sneakers, and sandals because they are ineffective. Besides the trekking shoes, carry a pair of flip flops so you can wear them at the beach.
Beach mat and towel
Carry a towel and a beach mat as you won't find any sunbeds on the beaches. If you don't have a beach mat, then you can also use a scarf or a traditional sarong that you typically wear when visiting Balinese temples.
Sunscreen, Sunglasses, Hat, and Bathing Suit – A sunscreen lotion (preferably SPF 50), a hat, and a pair of sunglasses are essentials you need to carry to have a good time on the lovely beaches of Nusa Penida.
Additionally, carry a skin-tight bathing/diving suit if you plan to snorkel, swim, or go scuba diving.
Medicines
Bring your medicines, even if basic, with you. Do not depend on the medical stores in Nusa Penida as the tourist infrastructure is still developing.
Local 4G SIM Card
A 4G SIM card is an absolute must. Purchase it while in Bali and download an offline map of Nusa Penida for safety. Though Google Maps navigation works smoothly with mobile data, it can be a bit dodgy at some spots.
Adaptor
Bali uses a Type C adaptor in general but you'd be advised to carry a good universal adaptor so you can charge all your electronic items. Also, bring a power bank (10000mAh minimum) in case of an emergency.
How to get to Nusa Penida
1. From Sanur
Get to the Sanur beach port. Several ferries/speedboats leave from Sanur port to Nusa Penida during the entire day. You can purchase your ferry ticket from any of the ferry company offices at the port.
An average one-way ticket from Sanur to Nusa Penida costs 11-15 USD per person and the return ticket costs 22-30 USD per person, depending upon the type of boat you choose. The ferry trip duration is 30 minutes.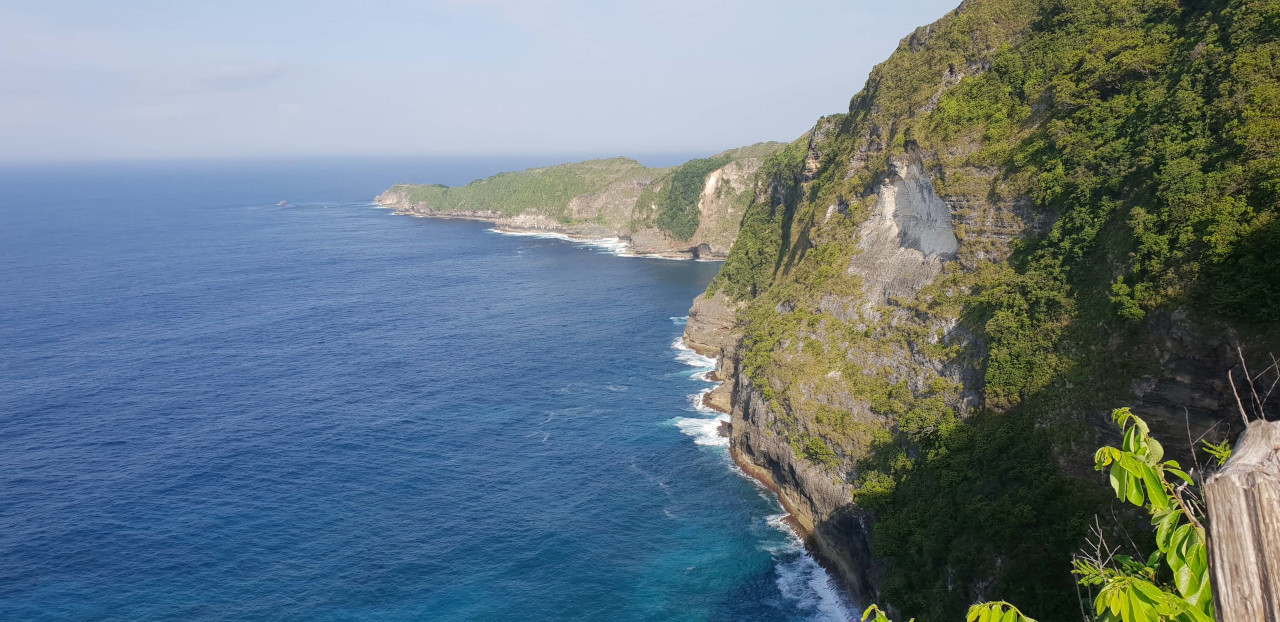 You can also book your ferry tickets online and avoid the hassle of haggling at the beach port. Online booking provides you with a free pick-up and drop from your hotel in Bali (Ubud, Sanur, Canggu, Seminyak, and Kuta) and is much more convenient.
2. From Nusa Lembongan
A public boat service runs ferries all day between Nusa Lembongan and Nusa Penida. All you have to do is get to the Yellow Bridge and purchase your return ferry ticket from a small (and only) building near the bridge.
It is a 20-minute journey approximately, with a one-way ticket per person costing 60,000 IDR (4-4.5 USD) and a return ticket costing 1,20,000 IDR (8-9 USD).
NOTE – Check the timings of the last return ferry of the day in advance so you're aware and don't miss your ferry amidst all the sightseeing.
Getting around Nusa Penida
You can either rent scooters or hire a private car with a driver for the entire day.
The former option is cheaper but since the road conditions are poor, I'd advise you to hire a private car as it's much safer. Besides safety, the knowledge of the local driver saves you navigation time.
Renting a scooter for the entire day costs you anywhere between 60,000-75,000 IDR (5 USD). Hiring a private AC car with a driver costs you 6,40,000-7,00,000 IDR ( 45-50 USD).
Explore Nusa Penida in 24 hours – Nusa Penida 1-Day itinerary
Pick the earliest boat from Sanur/Nusa Lembongan to Nusa Penida for the day so you get a head start to your journey. This way you can cover maximum sights without rushing and at the same time avoid huge tourist crowds at popular attractions.
Here's the ultimate 1-day Nusa Penida itinerary in which you'll be exploring the following places:
Kelingking Beach
Peluang Temple and the Panorama Viewpoint
Seganing Waterfall
Broken Beach
Angel's Billabong
Crystal Bay
Kelingking Beach
Kelingking Beach
If there were an award for the best beach in Bali, then the Kelingking Beach would win it hands down. This is one of the most popular spots in Nusa Penida and a paradise for beach lovers.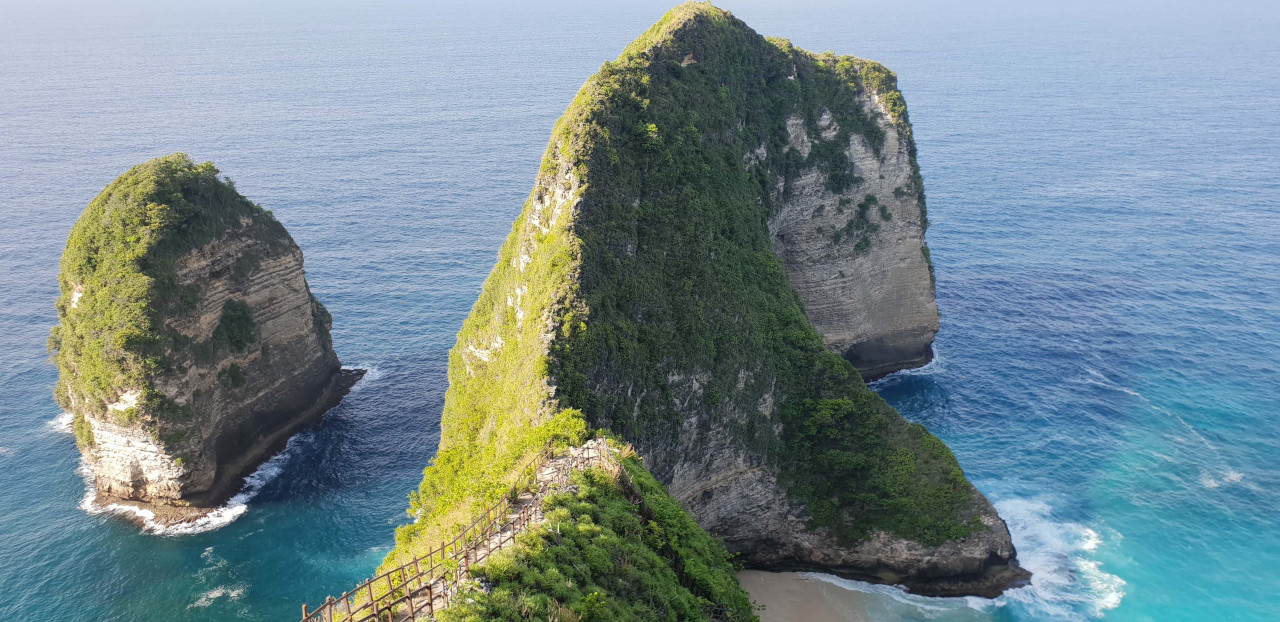 The entrance fee for Kelingking Beach is 5000 IDR. A small walk from the parking area gets you to the Kelingking viewpoint. Here you can see the famous cliffscape tracing the shape of a T-Rex at Kelingking Beach.
A stunning panoramic view of the blue waters kissing the base of the green cliffs welcomes you. The feeling of the breeze hitting your face as you enjoy the surreal natural landscape can't be described in words.
You can see a white-sand beach on the bottom right of the main cliff and that spot is called the Kelingking Beach. A 30-minute trek down the cliff gets you to the beach.
The trek requires a certain amount of fitness as the trekking path is steep, narrow, and even slippery at a few places. So if you've got knee/back issues or don't have proper hiking shoes, then I'd suggest you avoid going to the beach. But if you're physically fit and have appropriate footwear, then the trek shouldn't be too challenging.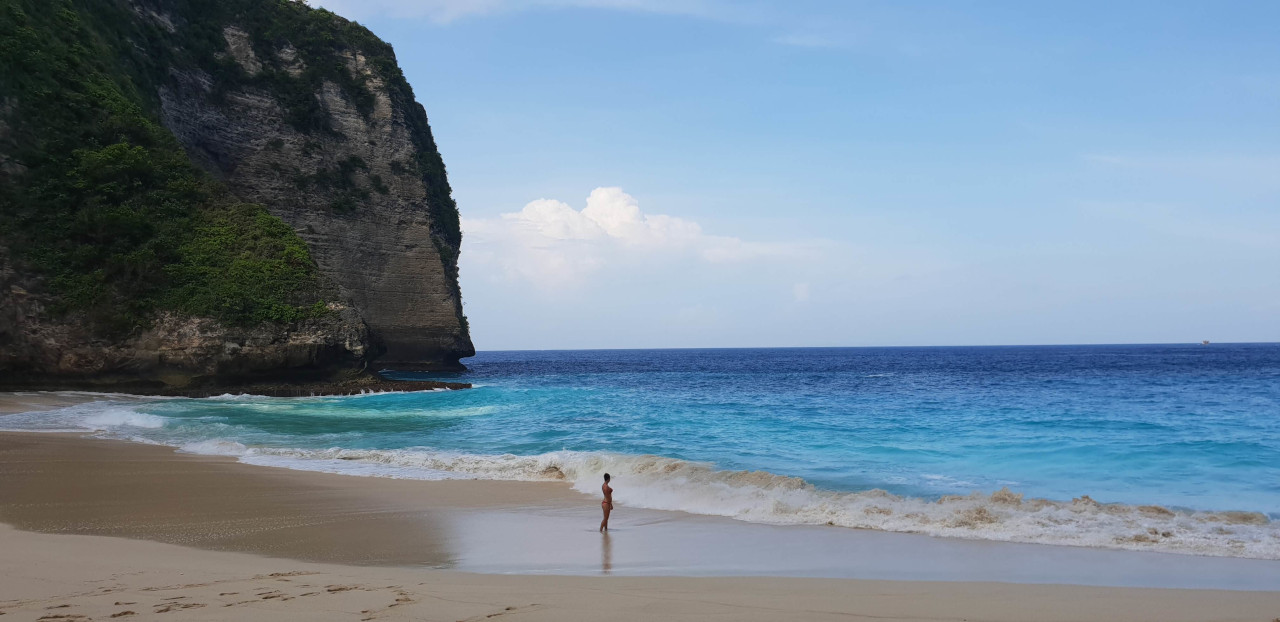 When you reach the beach, you'll see pristine white sands and turquoise blue waters inviting you for a swim. The water current can be a bit strong as be aware if you're heading for a swim.
The beach is a sight to behold for nature lovers. You can easily spend an hour or two here before deciding to climb back up the cliff.
Peluang Temple and the Panorama Viewpoint
Just 650 metres towards the west of the Kelingking beach is one of the most unique temples in Bali. Overlooking the beautiful Indian Ocean and the limestone cliffs, Pura Peluang is a sacred Hindu temple located close to Bunga Mekar and one of the best things to see in Nusa Penida.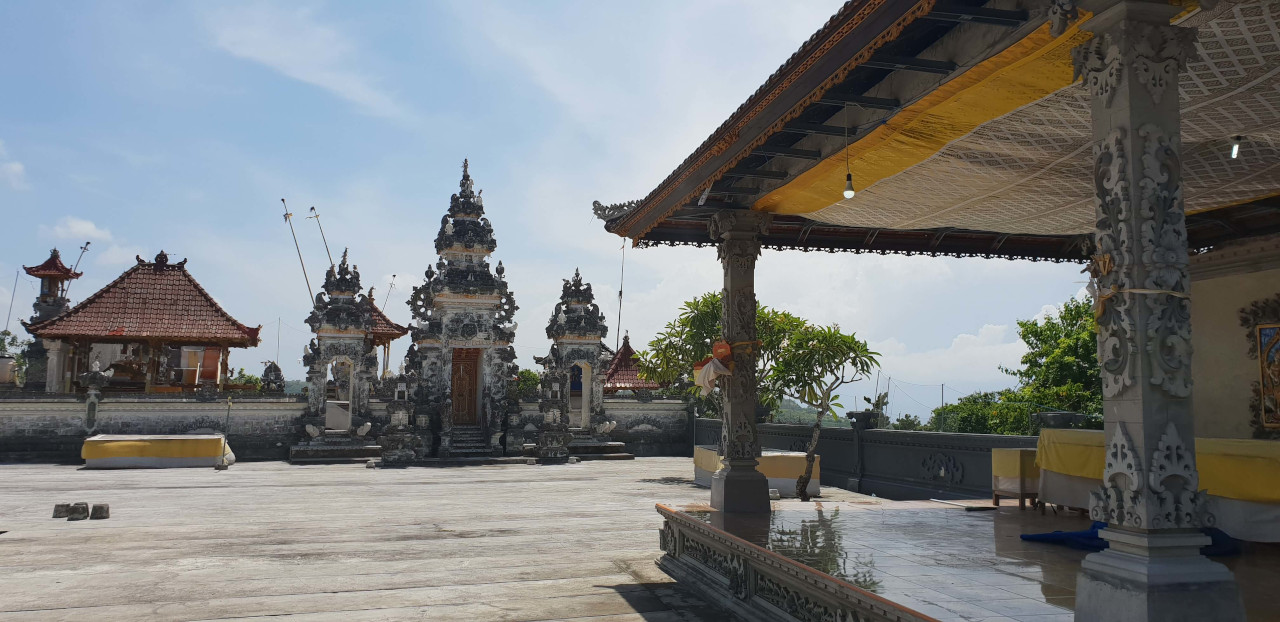 What makes the temple unique is the main shrine that's built to resemble a house between two cars – a Volkswagen Beetle and a Jeep.
Because of this strange choice of sculpturing and chiseling a mode of transport to be a holy shrine, the temple is also called "Pura Mobil" or the "Car Temple". Definitely one of the best places to visit in Nusa Penida in 24 hours.
Apparently no one knows much about the origin of the temple but some locals claim to hear car engine noises from the temple at night. You have to pay a small fee and wear a traditional sarong to enter the temple.
Not far away from the Car Temple is the Kelingking Panorama Viewpoint. This is one of the best Instagrammable spots in Nusa Penida that not many know about. The viewpoint is basically a wooden boat-like structure placed on rubber tyres at the edge of the cliff.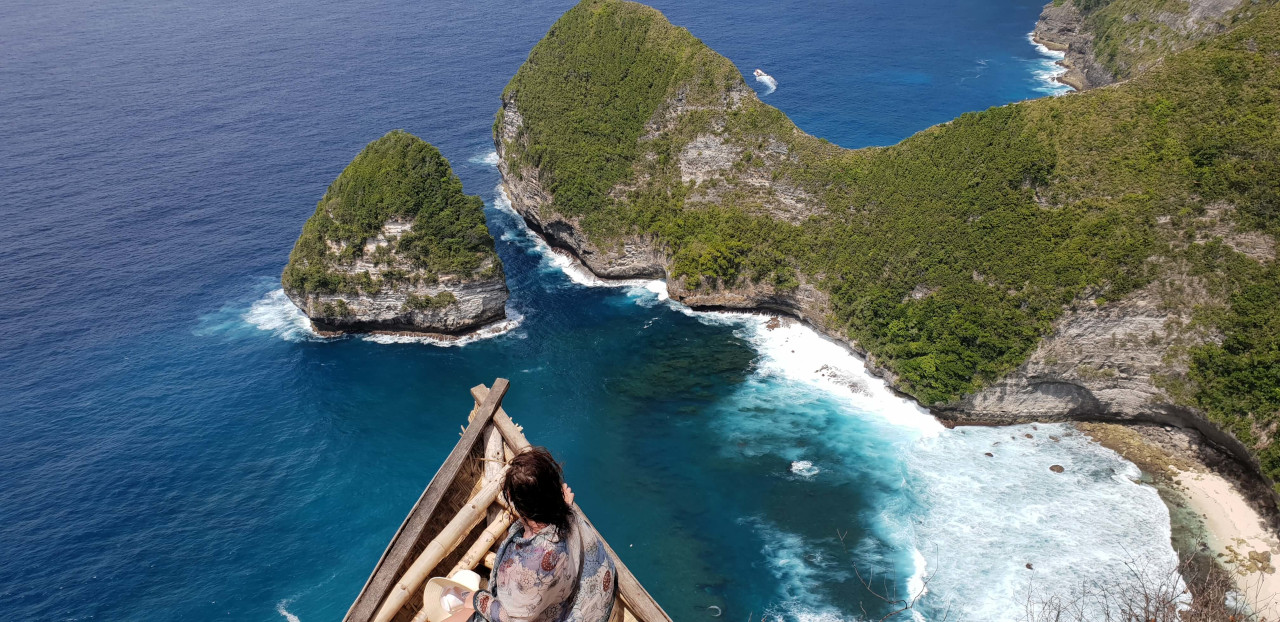 There is also an elevated structure that your travel partner can climb on and click pictures of you in the wooden boat towering over the legendary Kelingking cliffscape view.
It is a bit risky so just don't jump or shake too much inside the boat and stay calmly seated when enjoying the view.
Seganing Waterfall
This waterfall is a well-kept secret of Nusa Penida. However, I must warn you that getting to this wonderful little waterfall requires one of the most difficult and risky treks. It is however one of the top things to do in Nusa Penida in one day.
There is no well-defined trekking path. In fact, at some places, you'll literally have to hold on to rocks for support while getting down the steep, rough path.
The bamboo fence isn't all that strong and stable, so take each step carefully and slowly.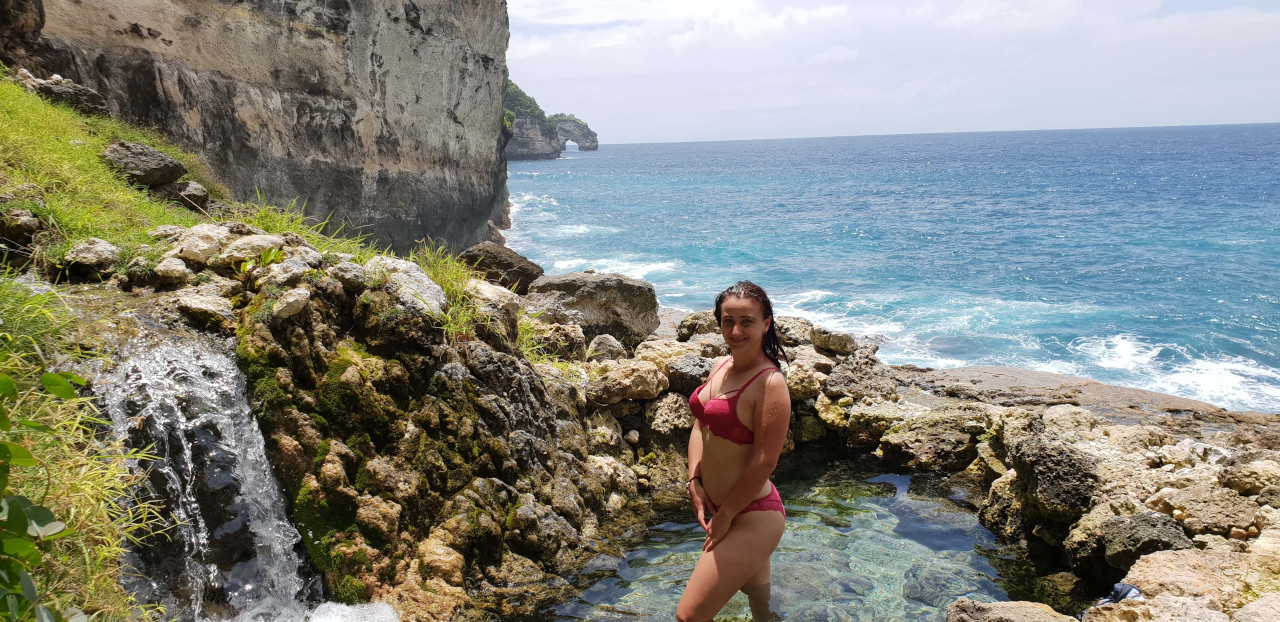 The dangerous zig-zag man-made path finally ends at the sight of a small cascading waterfall and an alluring rock pool.
Enjoy a dip in the pool while staring at the breathtakingly beautiful Indian Ocean. The place feels like your own private nature bath. You might also be greeted by an occasional whirling wave trying to kiss the base of the cliff.
Climbing back up the cliff is just as strenuous as getting down. Only people with a penchant for adventure are advised to visit this exclusive location.
People with inappropriate footwear, knee issues, and a fear of heights should avoid doing the trek to the Seganing waterfall.
Broken Beach
Next on this Nusa Penida itinerary is a special beach. From the secret Seganing Waterfall we move to a not-so-secret Nusa Penida attraction – the Broken Beach.
Also known as the Pasih Uug beach, Broken Beach is situated 10 km away from the Seganing Waterfall. It is a part of almost every Nusa Penida itinerary and rightly so.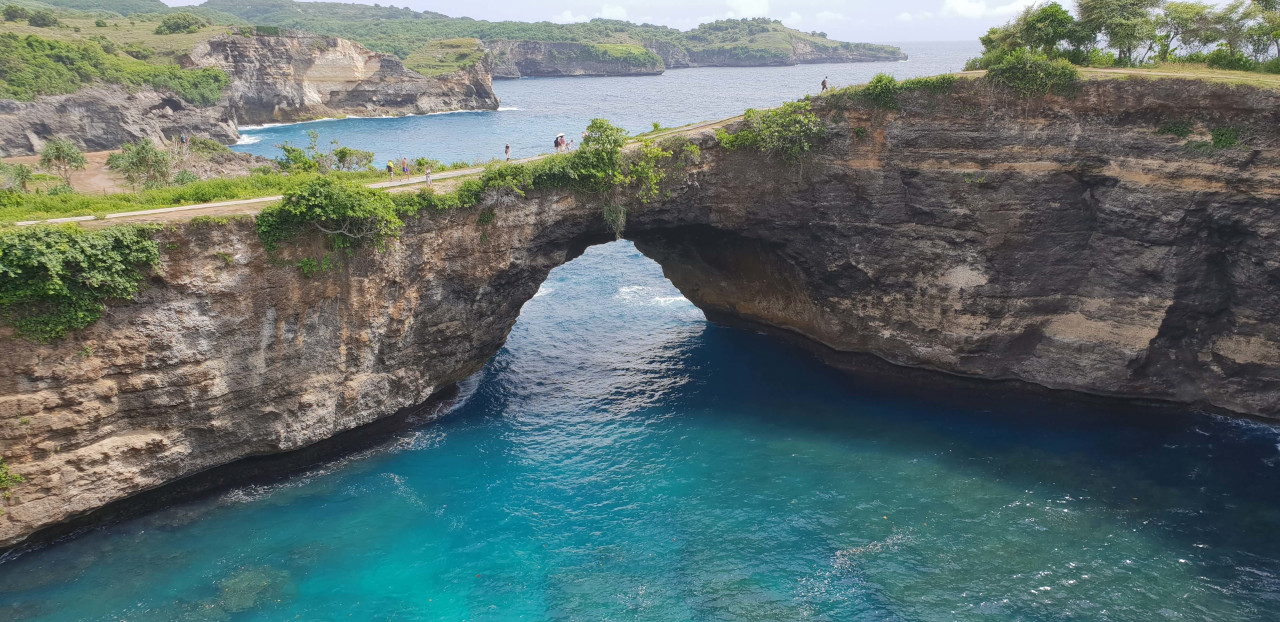 Here you'll see a natural arched cliff tunnel that allows water to flow from the ocean into a secluded little pool with a small bay. Because the beach is separated from the ocean by a rocky tunnel, the beach is called "Broken Beach".
You can walk across the tunnel yourself and soak in the jaw-dropping view of the ocean. There is also a food stall/warung nearby where you can grab a bite or sip refreshing coconut water.
Entry to the site is free but a parking fee of 5000 IDR for scooters and 10,000 IDR for cars is applicable.
Angel's Billabong
As you continue to explore Nusa Penida, barely 400 metres away from the Broken Beach is the Angel's Billabong. It is a famous natural landscape formation of Nusa Penida and a must-do if you're visiting the island.
The place gets its name from a mythical tale where the actual site was once "a bathing spot for an Angel".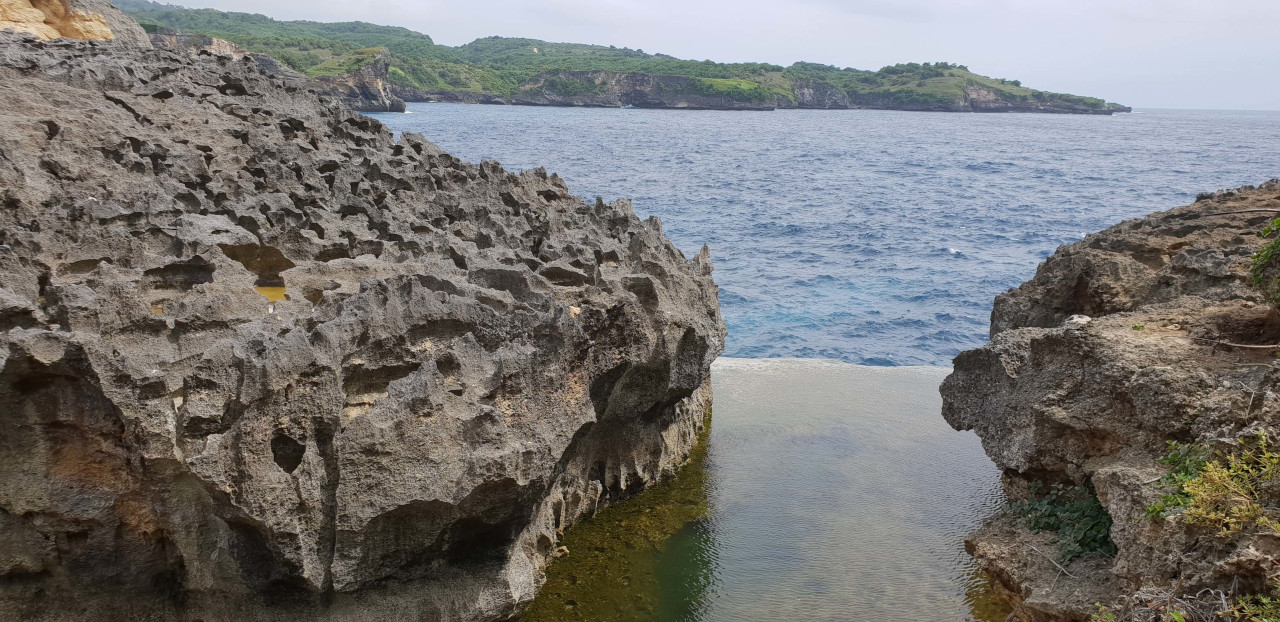 Angel's Billabong is basically a lagoon formed by the natural rock formations that overlook the Indian Ocean. The green hues of the seaweed-covered rocks merge beautifully with the blue colour of the ocean waves. You can get into the natural rock infinity pool and enjoy a dip in the warm crystal clear waters during low tide.
However, avoid getting into the pool during high tide as it's unsafe and extremely risky. Admission to the site is free.
Crystal Bay
A 40-minute drive from Angel's Billabong gets you to the last spot in your Nusa Penida itinerary – the Crystal Bay. Crystal Bay is a white-sand beach located in the Sakti village of Nusa Penida.
Since the water here is warm and the visibility is great, it is an ideal location for swimming, snorkelling, and scuba diving. You can also enjoy mesmerizing sunset views at the beach.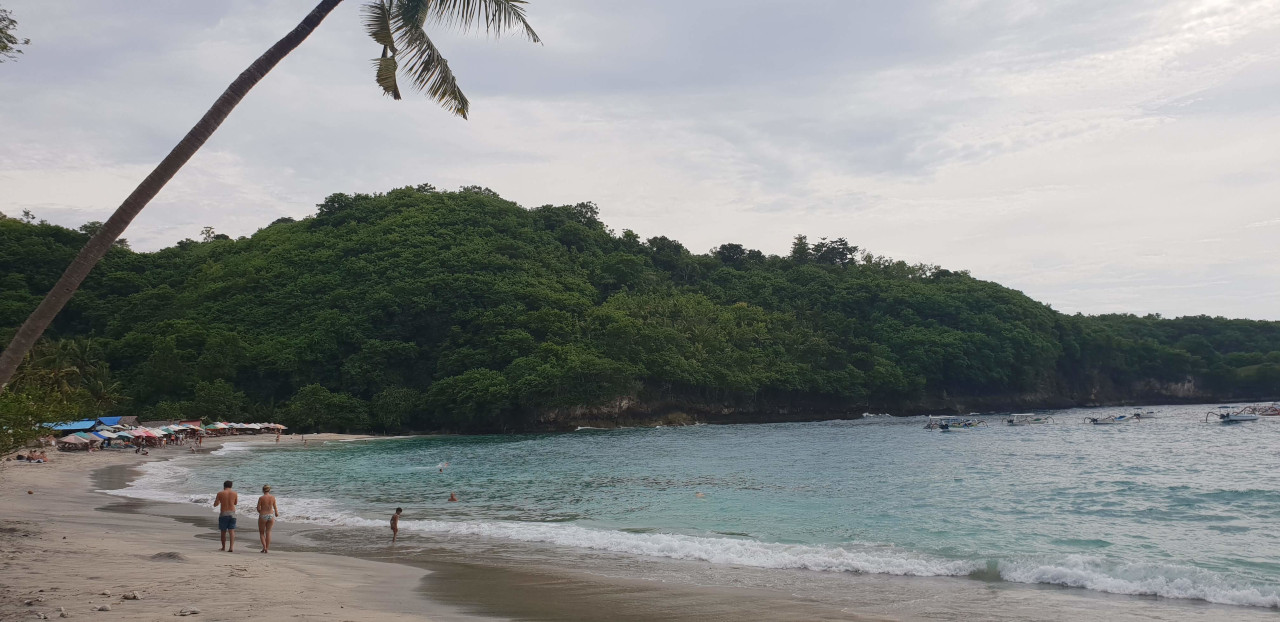 You can rent beach beds for a nominal fee if you wish to chill. The beach is lined with restaurants, toilets, and snorkelling equipment vendors.
The marine life in the bay is incredibly diverse and spectacular, so don't miss an opportunity to explore the waters. It's one of the best places to savour a tranquil evening on the island.
Nusa Penida Accommodations
There are some good accommodation options in Nusa Penida if you wish to stay on the island for a day or more. Here are some hotels in Nusa Penida that you can consider based on your budget –
1. Budget accommodation in Nusa Penida – For those that want an economical home stay or cottage accommodation, there are several options like Nusa Penida homestay, Petak Cottage, D' Artha Cottage, and Pudja Nusa Cottage.
2. Hostel accommodation in Nusa Penida – For those on a shoestring budget, there are cheap hostel stay options to choose from like Bukit Sangcure hostel, Happy Penida hostel, Nushe hostel, and Kanca Familia Hostel.
3. Mid budget accommodation in Nusa Penida – If you want a value for money luxury accommodation, then you can choose from mid-budget stays like Ogix Cliff Paradise, Mertasari Bungalows, Road Beach Premier, Saka Boutique Hotel, and Singabu Bungalows.
4. Luxury accommodation in Nusa Penida – If budget ain't a concern, then you have quite a few luxury accommodation options like Semabu Hills Hotel, Ocean Terrace Suite And Spa, Villa Argia, Reynten Hill, and Abasan Hill Hotel and Spa.
About the author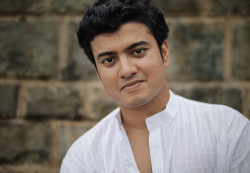 Vaibhav Mehta is an actor, travel-blogger, and personal growth writer from Hyderabad, India. He is a traveler who inspires people to explore the world in an offbeat, fun, and adventurous way. He took his first solo trip to Spain to break the monotony of working as an actor in a Bollywood musical in Dubai and has not looked back since. His life is a constant juggle between 'Lights, Camera, Action' and 'Let's Go Somewhere'. Living by the mantra "Have Money, Will Travel", he aims to explore every country on the planet and host his own travel show in the future. You can find more of his inspiring travels and slice of life blogs at The Wandering Vegetable. You can also check him out and follow him on Instagram and Pinterest.