Planning to visit Seville, Spain and wondering what to see in Seville? Look no more, as this insider's Seville travel guide by Laura from Travel To The Beat presents you what to do in Seville, Spain. From the top things to do in Seville to off the beaten path attractions in Seville, from where to eat in Seville to where to stay in Seville, and useful Seville travel tips, everything is included so that you can easily plan your trip to Seville and create an itinerary that will include your favorite activities. This Seville city guide is part of the free travel guides series on this blog.
Discover the city's history, the amazing Seville points of interest, and more below!
Seville travel guide: what to do in Seville, Spain
Seville is an exceptionally romantic city in the South of Spain filled with flamenco music and passion. The vibes here are soulful and carefree.
In the 19th century, Seville was a stop on the Romantic Grand Tour of Europe. Unfortunately for Seville, they chose the year 1929 for a grand exposition. The stock market crashed along with their expo. In 1992, Seville got another chance at a world's fair.
This expo was a huge success, and this left the city with a new airport, train station, bridges, and the AVE bullet train, which makes for a 2.5 hour trip from Madrid.
Today, Seville is Spain's fourth-largest city, and it is filled with festivals, street life, tapas, and orange trees. It is also home to Spain's largest cathedral, and a stunning royal palace, The Alcazar (you may recognize it from HBO's hit series Game of Thrones!).
Whether you have a couple days or are taking a day trip from Madrid, in this guide you will find some of the best things to do in town. If you would like to check out some more stunning pictures of our trip to Seville, head here. Here's what to do when in Seville.
Included in this insider's guide to Seville, Spain:
Top attractions in Seville, Spain

Cathedral and Giralda Bell Tower
Royal Alcaraz (Real Alcazar)
Museo de Bellas Artes
Plaza de Espana
Maria Luisa Park
Barrio Santa Cruz
Metropol Parasol
Triana
Torre Del Orro
See a Flamenco Show

Seville off the beaten path

Plaza Del Cabildo
Visit Iglesia El Salvador
Mercado de Triana

Where to eat in Seville
Where to stay in Seville
Seville travel tips
Top Attractions in Seville, Spain
I'm starting this Seville travel guide with the top attractions in Seville, Spain. These are truly the Seville points of interest and seeing them will allow you to discover the city's great architecture, history, and atmosphere. These top things to do in Seville are also the most famous tourist attractions in Seville. They are perfect places to visit in Seville for first timers.
Cathedral and Giralda Bell Tower
Seville's cathedral is the third-largest church in Europe and the largest Gothic church in the world and definitely one of the best places to see in Seville.
In addition, Christopher Columbus is said to be buried here (he has been moved so many times I don't really know if he is inside or not!) Tickets are 9 Euros, and there is usually no wait to enter. Make sure to check out the Giralda Bell Tower as well for some wonderful views of the city.
Royal Alcaraz (Real Alcazar)
No Seville city guide would be complete without including the Real Alcazar in it. This building is the oldest in Europe that still functions as a royal palace.
The core of the palace was done by Muslim workmen for the Christian king, Pedro I. There are lush gardens, Islamic style floors, and elaborately decorated halls.
I loved the Alcazar much more than the Alhambra, and it was less crowded. For crowd-beating tips, it is less crowded late in the day, but the Royal Apartments can only be visited before 13:30.
There is also free admission on Monday, but the line is absurd so I wouldn't recommend it.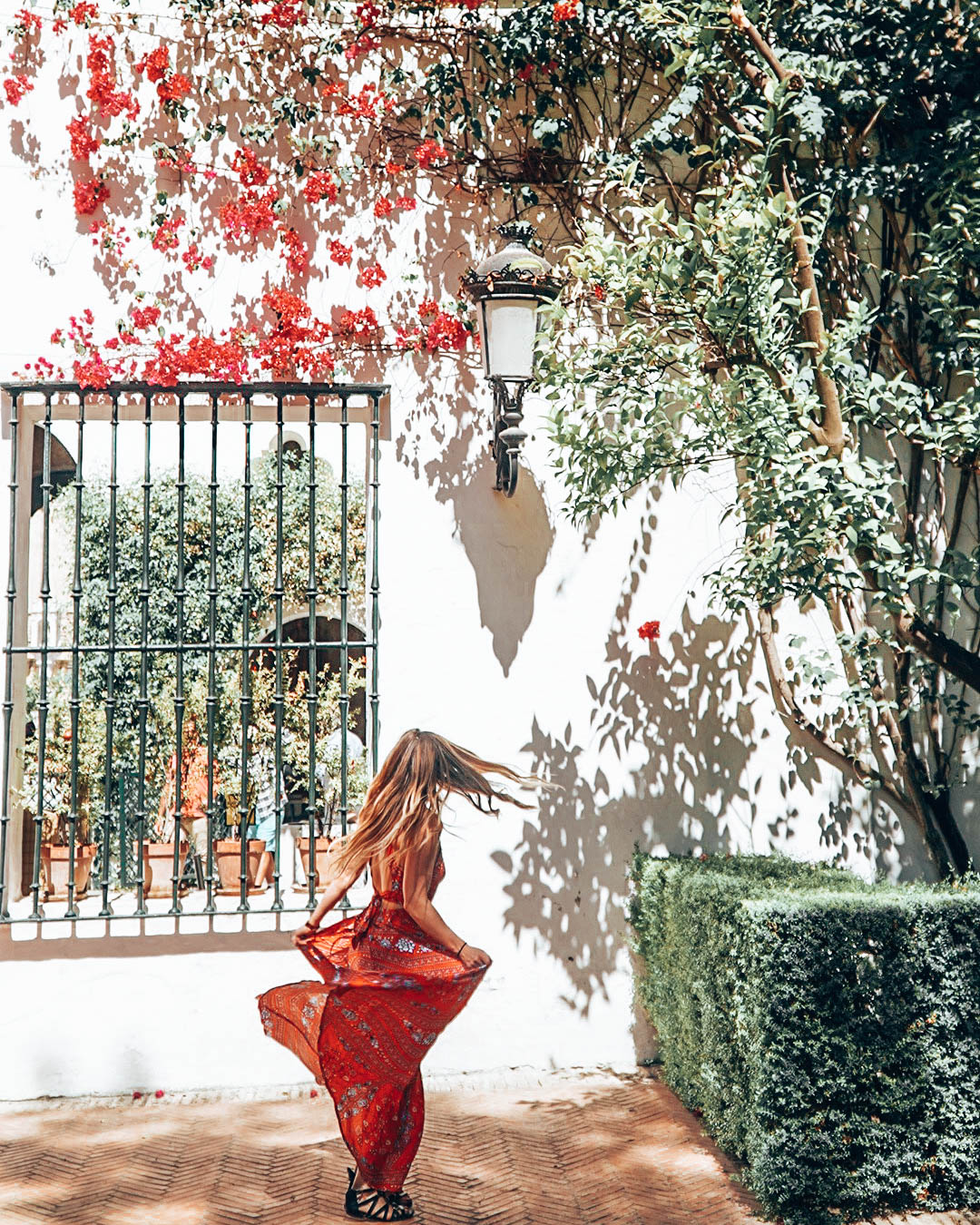 Museo de Bellas Artes
This museum is pleasantly enjoyable and features the art of other, less-appreciated Spanish artists. It's one of the best places to visit in Seville, Spain.
It is closed Mondays year-round, and open from mid-September to mid-June Tuesday-Saturday 9:00-20:30, Sun until 15:30, in summer Tuesday-Sunday 9:00-15:30.
Plaza de Espana
This square holds the remains of the 1929 international fair, where for an entire year the Spanish-speaking countries of the world had a fiesta.
Come to this stunning square as the sun is setting for the perfect ambiance. You can also opt to row cute little boats around the moat.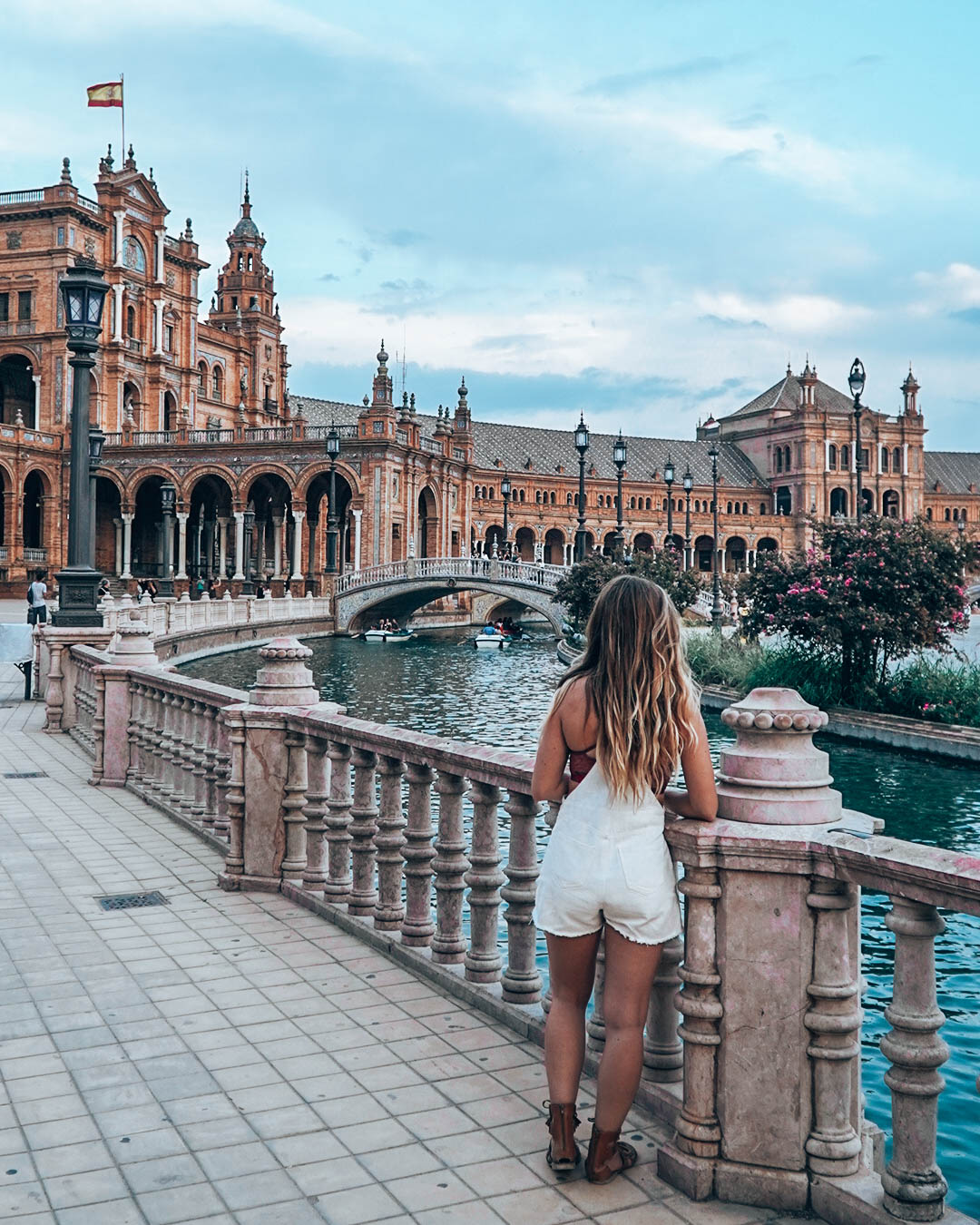 Maria Luisa Park
Like the plaza, this park was also built for exhibition at the 1929 World's Fair. You can take a stroll, ride a bike, or opt to be pulled by horse-drawn carriage. I recommend giving yourself an hour here to relax!
Barrio Santa Cruz
Barrio Santa Cruz is another one of the most wonderful places to visit in Seville (Spain). This is a narrow maze of small plazas, patios, orange trees, shopping and tapas.
I recommend getting lost here in the early evening when all of the tour groups are gone.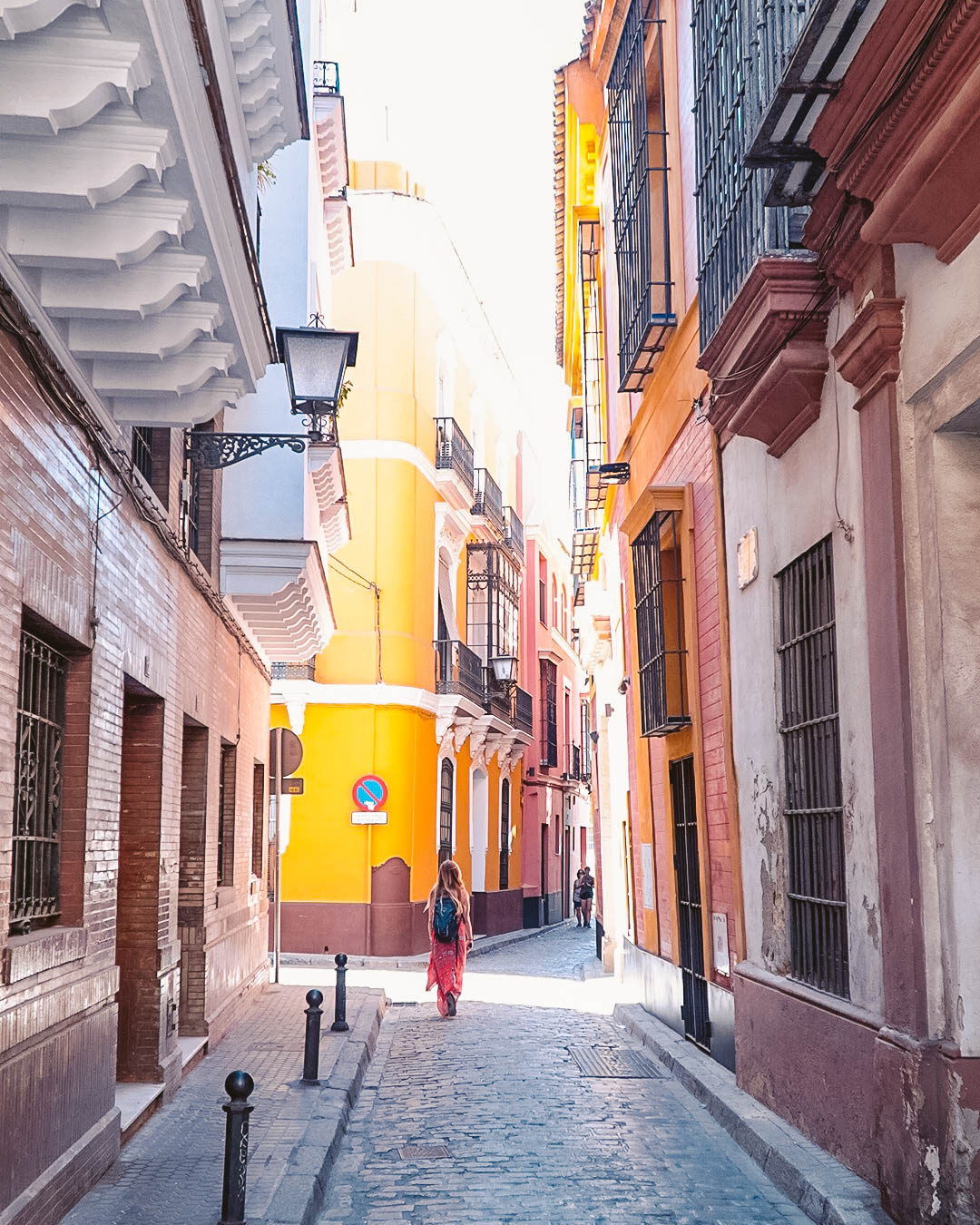 Metropol Parasol
Nicknamed "The Mushroom," this landmark of Seville is the best place to catch the sunset in Seville.
Make sure to give yourself adequate time to arrive before the sunset, as there is a line to buy tickets, which are 3 Euros.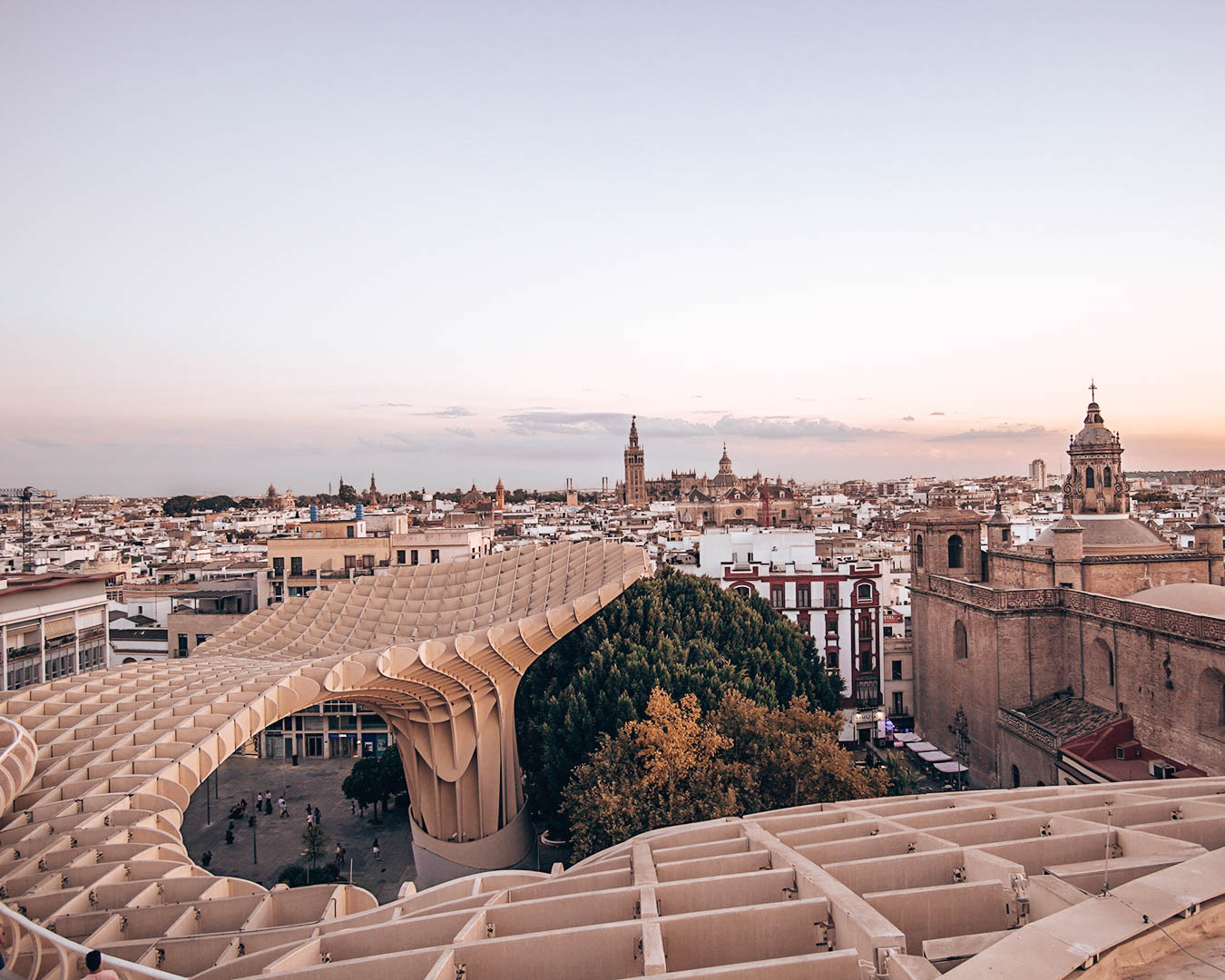 Triana
This neighborhood in Seville is known for its bullfights, flamenco dancing, and tapas. Walk by the river for a beautiful view of the neighborhood, and head to Taberna Sol Y Sambra for an authentic bullfighting atmosphere.
Torre Del Orro
The "Golden Tower" was built as a military watchtower during the 13th century. Located on the banks of the Guadalquvir River, it is definitely a must-see while in Seville.
See a Flamenco Show
Are you asking yourself what to see in Seville? I recommend a tablao because there are live musicians, and either a bar or restaurant service.
Check out Tablao El Arenal, with two performances a night (each lasting 90 minutes) and a choice of tapas or full dinner.
Seville Off the Beaten Path
If you are still wondering what is there to do in Seville, how about some lesser known attractions? Here are the best off the beaten path things to see in Seville.
Plaza Del Cabildo
On Sundays, people from everywhere gather to sell, buy, and exchange collectors such as stamps/coins/stickers. Even if you aren't in Seville on a Sunday, but are near the Cathedral, look for the entrance here through a passage at the Avenida de la Constitucion. You won't regret it!
Take a Tour of La Maestranza Bull Ring
La Maestranza Bull Ring is a beautifully designed place that is only accessible by guided tours. These leave every half hour and cost 7 Euros. I highly recommend taking a tour! I am against bullfighting but the history itself was fascinating.
Visit Iglesia El Salvador
Iglesia El Salvado is a huge pink church that you can enter with your Seville Cathedral ticket. It's definitely one of the gems of Seville and one of the good instagrammable places in Seville.
The interiors are stunning, and the coloured lights streaming through the windows make it very special.
Mercado de Triana
Cross the beautiful bridge to the historic market and you will absolutely fall in love with this historic market. Mercado de Triana is large, colorful, and has lots of fresh produce, meat, cheese, and sweets.
There are even ruins underneath the market, which have ties to the Spanish Inquisition. As you can notice, there are many things to see in Seville, both famous and non-touristy!
Where to Eat in Seville
Seville is home to the cheapest and most delicious tapas in Spain. There are many great places to eat in Seville, so you'll have plenty of options while vising the city.
A tapas crawl can be a very fun way to try many different dishes. I highly recommend Devour Tours, or you can opt to do your own tour. Our favorite dishes were patatas bravas, chipirones (deep-fried baby squid), and pulpo (octopus).
Seville has countless tapas bars to choose from, here is a selection of the best tapas in Seville, Spain:
La Brunilda (Calle Galera, 5) I recommend going around 2010 as the restaurant opens at 2030 and there will be a wait. This places serves tapas with a twist, and was one of my favorite meals in Spain.
Los Escobas (Calle Alvarez Quintero 62) This is the oldest tavern in Spain, with excellent service and Sangria!
Santa Marta (Calle Angostillo, 2) If you're looking for authentic Spanish tapas head here! We had the tuna and tomatoes. You also must try the dish of the house: Flamenquin.
Where to Stay in Seville
There are many great places to stay in Seville suitable for all budgets and preferences.
In general, the busiest and most expensive months are April, May, September, and October. I recommend staying in the charming Barrio Santa Cruz. Here are a few hotels in Seville and hostels in Seville to choose from when visiting:
Hotel casa 1800: Elegant and centrally located in the Barrio Santa Cruz, this 33 room hotel is accessed via a stunning chandeliered patio lounge and also hosts a daily free afternoon tea for guests. There is also a rooftop terrace and swimming pool.
Hotel Alcantara: This is where we opted to stay as the price was less than the other hotels we found. It has all the basics you need for a great stay – outdoor patio, A/C, and breakfast (not included but at a small extra price).
El Rey Moro: Has a spacious, colorful patio with Andalusian character, welcome drinks, and a private rooftop. You also receive free breakfast if you reserve on their website.
Hostal Plaza Santa Cruz: This charming spot has thoughtful touches with 17 basic rooms, a bright courtyard and is located deep in the Barrio Santa Cruz.
Samay Hostel: Located on a busy avenue a block from the edge of the Barrio Santa Cruz, this is a younger hostel with 80 beds in 17 rooms. There is a shared kitcher, A/C, laundry, and rooftop terrace.
Useful Seville Travel Tips
Here are my useful Seville travel tips to help you make the most of your Seville trip.
We fell hard for the rosemary scam! Near the cathedral we encountered a women who thrusted sprigs of rosemary into our hands and we had no idea what she was saying.
She then grabbed our hands and read our fortune. She was super aggressive and demanded a tip. I recommend not making eye contact, not accepting the rosemary sprigs, and saying firmly, "No, gracias."
Seville is meant for strolling. The paseo thrives at night throughout the Barrio Santa Cruz and Plaza Nueva, even well past midnight. If you head to the Triana side of the river you can really take in the nighttime views of Seville. This is one of the best things to do in Seville at night!
For the best views of the Cathedral at night, I recommend the trendy EME Catedral Hotel (Calle Alemanes 27). The drinks are pricey and service is mediocre, but worth it for the views!
I recommend renting a bike to get around Seville. BiciBike rents bikes at the Santa Justa train station and will deliver them to your hotel at no charge. The pricing is 8 Euros for 3 hours, 10 Euros for 6 hours, and 15 Euros for 24 hours.
If I could describe Seville in one word, it would be ambience. The entire stay I felt as if I was drifting away in a fairy tale. This was absolutely my favorite city in Spain for the nightlift, the vibes, and the sheer romanticism of it.
Conclusion
This travel guide to Seville includes all you need to know about Seville in order to plan a perfect first time visit in Seville. Make sure to create an itinerary that includes all the famous Seville things to do: the wonderful buildings to admire and visit, the splendid views, the Seville points of interest, the offbeat Seville attractions, and the best places to eat tapas in Seville. Open your soul and let yourself be charmed by Seville!
About the author
Laura is a pediatric nurse, blogger, and Air BnB host at Travel To The Beat. She took her first adventure to Thailand in January of 2018 and has been finding the time to travel as much as she can ever since. She managed to grow her Instagram from 900-20K followers in four short months, and has created her own Instagram course to help others grow their pages and explore their creative passions. You can follow her travels on Instagram and Facebook.