Lake Atitlan, Guatemala is simply amazing! There are numerous hiking opportunities, stunning views, impressive villages to discover, and more, and this 7-day Lake Atitlan itinerary presents you the best things to do at Lake Atitlan in one week.
There are plenty of villages to visit on your trip to Lake Atitlan, Guatemala and all of them will give you the opportunity to learn more about the Mayan culture, to relax, and to spend more time outdoor. In fact, there are many reasons why you should visit Guatemala!
There is also a village that's perfect for nightlife – so on your Lake Atitlan 7-day itinerary will have it all: relaxation, adventure, breathtaking views, cultural enrichment, and fun!
Discover what to do in 7 days at Lake Atitlan from Dean and Laynni's of Routinely Nomadic Lake Atitlan itinerary packed with tips and tricks to make your Lake Atitlan vacation an unforgettable one!
You'll also have recommendations for great restaurants and hotels in Lake Atitlan, as well as costs so that you can better prepare for your trip! This is the ultimate Lake Atitlan guide!
This itinerary is part of our free destinations guides and itineraries series on this blog.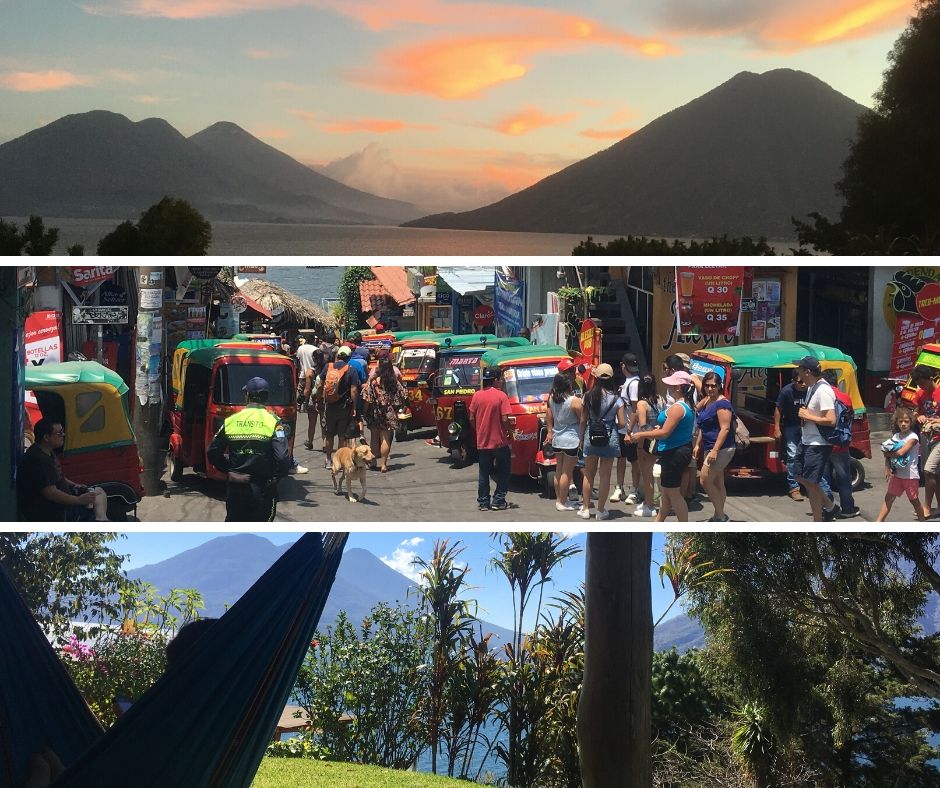 7-day Lake Atitlan itinerary: things to go in one week in Lake Atitlan, Guatemala
Lake Atitlan – a stunning crater lake surrounded by hills and volcanoes that looks amazing from every angle.
It is located in the highlands of Guatemala and because of its mild year-round temperatures is often referred to as "the land of eternal spring". It's, therefore, no surprise that you can spend an amazing week in Lake Atitlan!

Lake Atitlan weather – the best time to visit Lake Atitlan, Guatemala
The first element on this Lake Atitlan guide is the best time to visit the place.
The rainy season runs from April to November and brings colourful flowers and amazing sunsets, while the more popular dry season is from December to March and features consistently sunny days.
How many days to visit Lake Atitlan, Guatemala
You will need at least a week at the Lake Atitlan to really do it justice. It is best to spend time in the different Mayan villages, each with their own individual flavor and culture.
The local Mayan women take pride in their traditionally embroidered skirts, tops, and belts, and each village has its own specific colours and patterns.
There are three different Mayan languages spoken around the lake, while everyone also learns Spanish in school as their second language.
This Lake Atitlan Guatemala itinerary for one week includes the following:
Santa Cruz la Laguna – 2 nights

San Marcos la Laguna – 3 nights

sunrise paddleboard
hike to Rostro Maya
village boat tour
Cerro Tzankujil Nature Reserve
San Pedro la Laguna
climb Volcan San Pedro
village of San Juan la Laguna
Santa Cruz la Laguna
The pretty little village of Santa Cruz is a great place to start your week in Lake Atitlan.
It is half-way between Panajachel (Pana) and San Marcos la Laguna and can only be accessed by boat (there is a small road that comes in from the top of the crater but it is inconvenient and rarely used).
The boat ride from Pana should cost 10 quetzales (also known as "Q", roughly $US1.30) and boats (called "lanchas") leave every 20 minutes. It is always best to have exact change.
The views from Santa Cruz's picturesque bay are among the best on the entire lake, with unobscured looks at all three volcanoes looming on the far side (San Pedro, Toliman, and Atitlan).
While the bulk of the town is farther up the hill, almost all the buildings along the lake are owned by long-term expats who went looking for someplace beautiful, quiet, and secluded and found all three in Santa Cruz.
There are only a couple restaurants and hotels in Santa Cruz la Laguna which makes sense as this is a nice, quiet place to relax for your first two nights.
Iguana Perdida is a great, affordable place for a room and a meal.
There is a weekly market and Santa Cruz is the only place on the lake where you can scuba dive (although the sites are considered fairly mediocre).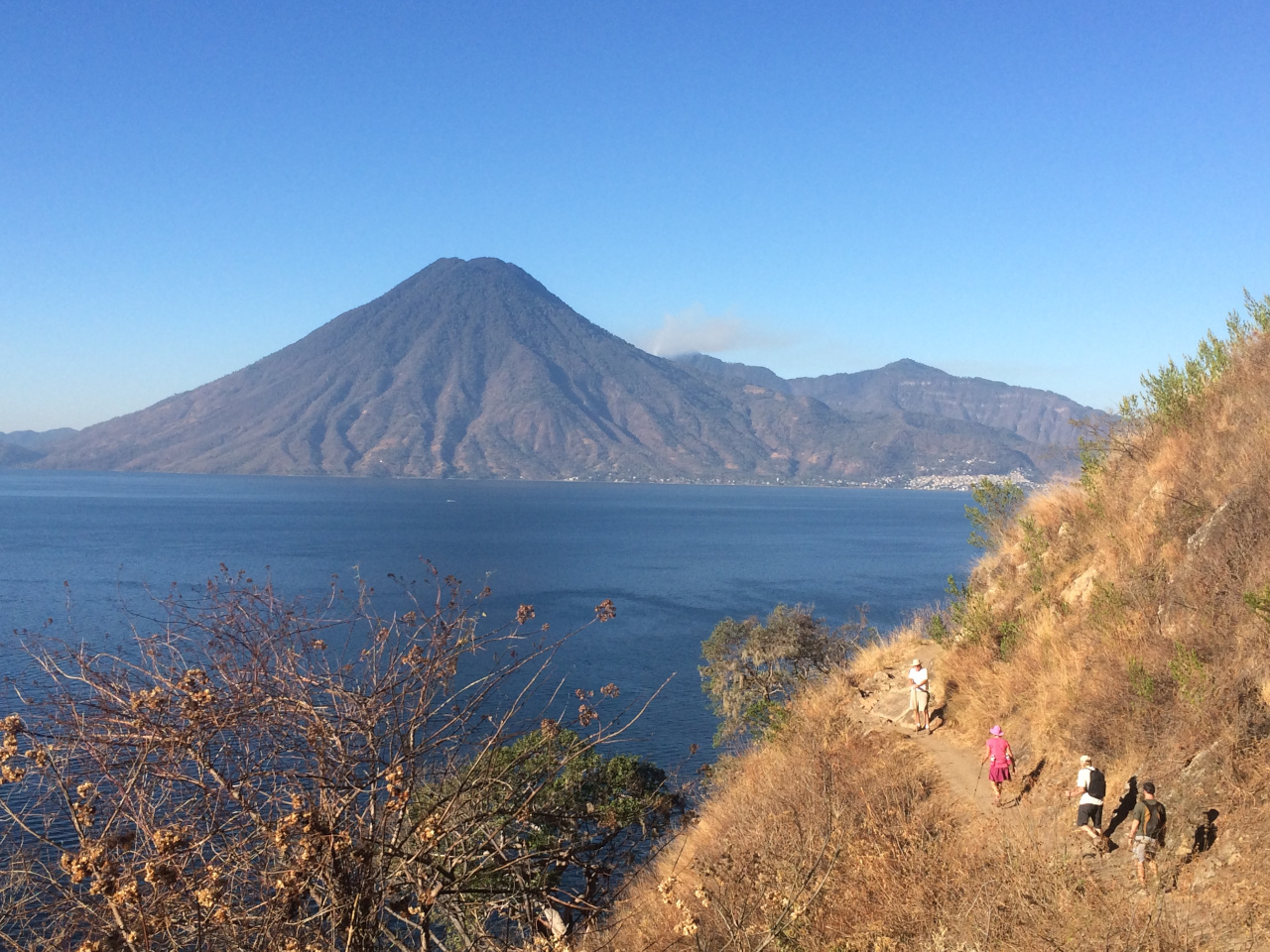 A must-do for your one full day in Santa Cruz is the popular hike from there to Tzununa. It follows old paths along the lake between villages that are still used by locals.
The trail has amazing views of the lake and its volcanoes but be aware that there are some steep drop-offs so you need to be steady on your feet. It can easily be done without a guide although there is an unfortunate history of armed robberies along this trail.
You can either hire a guide or simply travel in a group and avoid carrying any valuables. The hike should take around 2 hours and has a couple of steep ups and downs.
You can easily catch a boat back to Santa Cruz from the Tzununa public dock for 10Q. Avid hikers can find the details of this and 15 more hikes in our guide to hiking on Lake Atitlan.
San Marcos la Laguna
After 2 nights in Santa Cruz it is time to move on to San Marcos for the 3 nights of your 7 days at Lake Atitlan. As it can be quite noisy in the village we would recommend one of the gorgeous apartments at Pasaj-cap Rentals.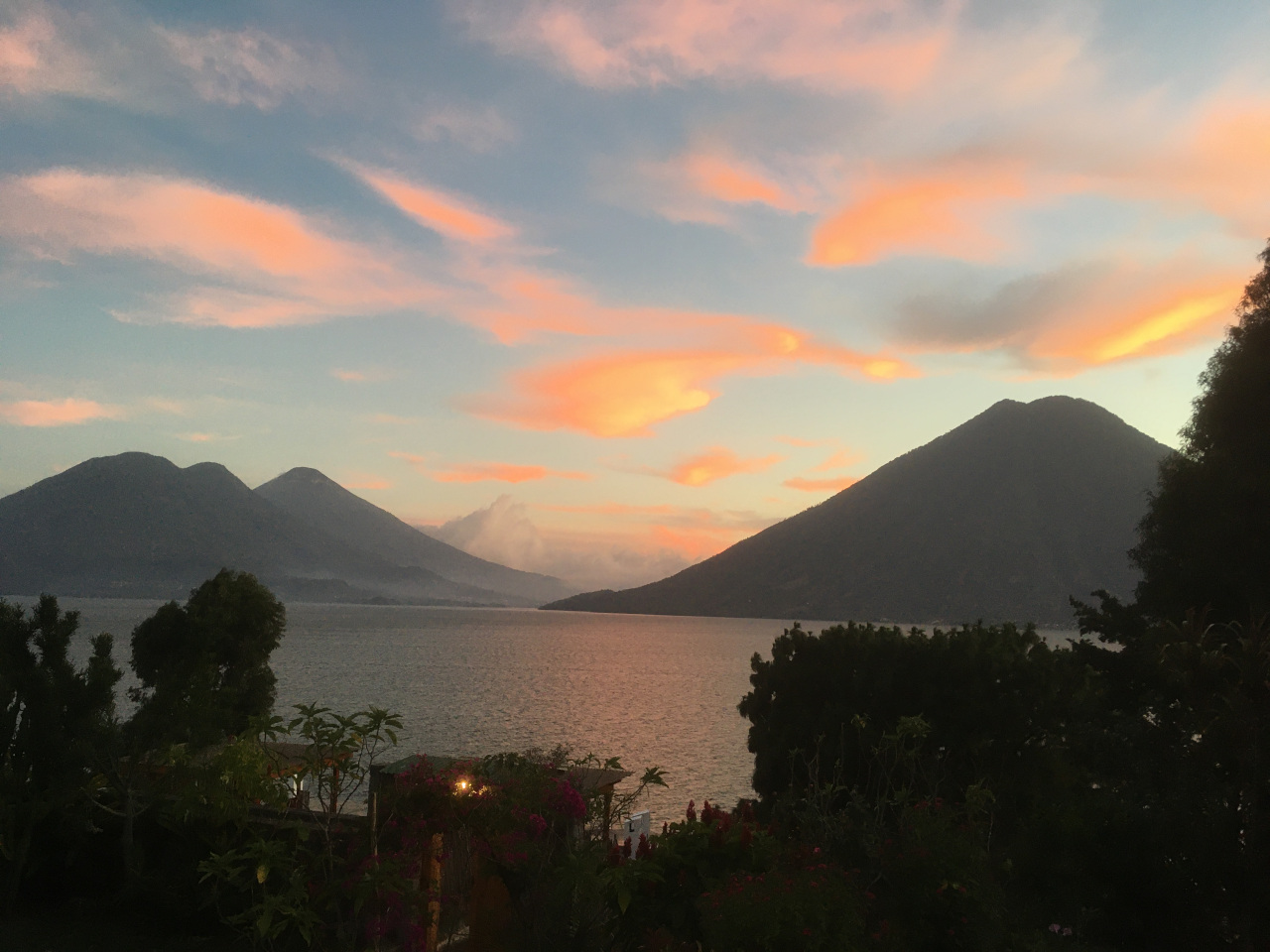 A 15-minute walk or 10Q tuk-tuk ride from San Marcos, it features commanding views of the volcanoes and lush, expansive grounds.
If you are coming by boat from Santa Cruz you can be let off at their private dock for 15Q. And if you want to stay longer they offer excellent monthly rates.
The village of San Marcos is renowned for its hippie culture but the overall vibe remains very friendly and welcoming, with people of all spiritual and hygienic persuasions co-existing comfortably.
There are a number of good restaurants, a bevy of friendly vegetable vendors, and several small shops where you can pick up most of the main staples.
Don't come here for the nightlife, however, as most restaurants won't serve food after 9:30 pm, and outside of the occasional special event (i.e. live music, midnight seance), your late-night options are basically non-existent.
If you are a morning person, the best thing to do in San Marcos is a sunrise paddleboard with Venga Atitlan Outdoor Adventures. This is one of the best things to do in San Marcos and you'll see why I'm recommending it in this 7 days itinerary for Lake Atitlan.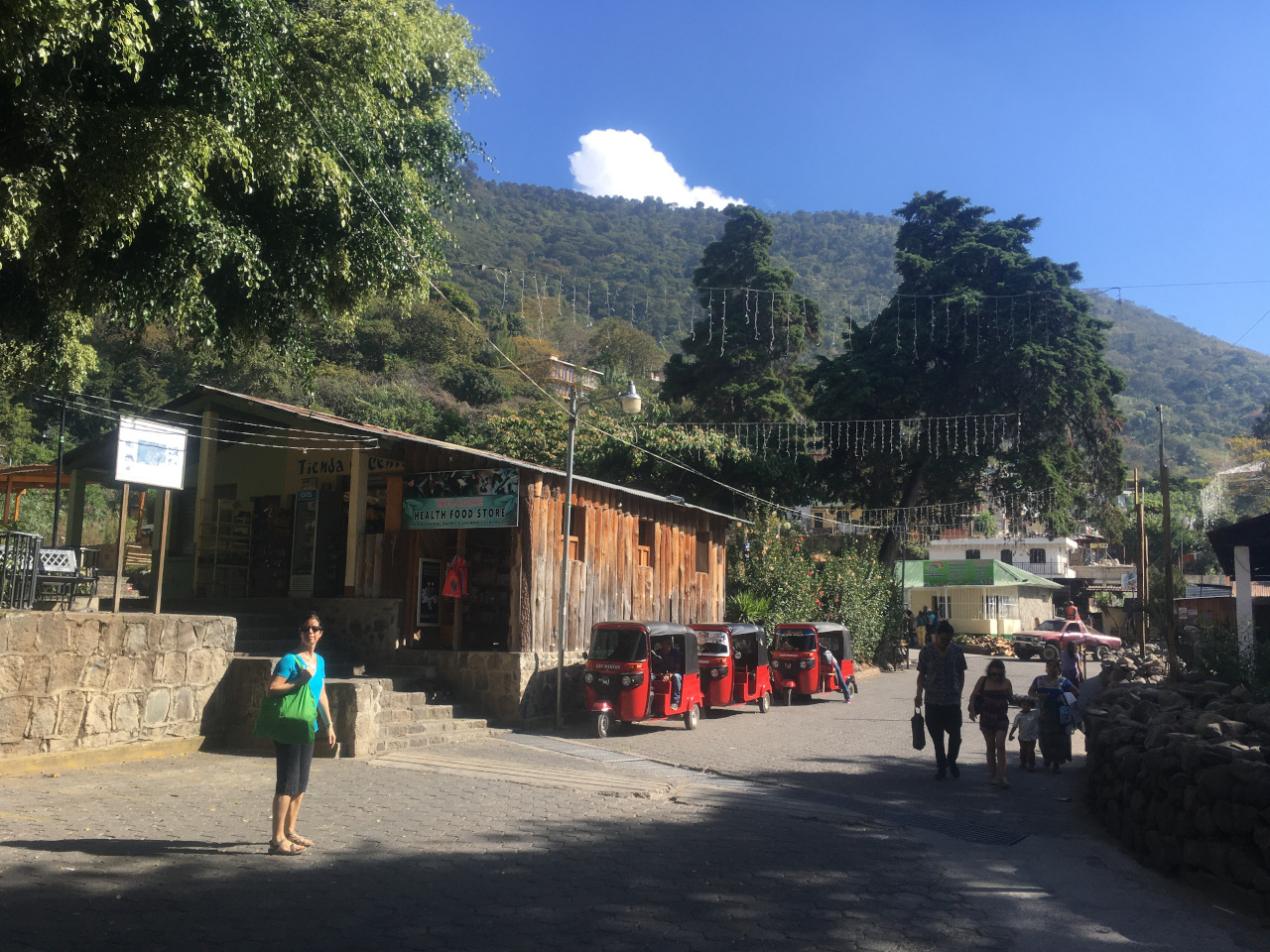 Floating on the calm water watching the sun come up to illuminate the volcanoes is a truly memorable experience.
And even if sunrise is too early for you there are a couple of places that rent kayaks and paddleboards throughout the day. A tip is to go as early as possible as the lake tends to get rougher by the afternoon.
Another early morning excursion is the hike to Rostro Maya. This is a hike up to the ridge of the caldera with views overlooking the whole lake. It's one of the best things to do in San Marcos la Laguna on your trip to Lake Atitlan in Guatemala.
This hike starts in the village of San Juan la Laguna and takes most people between 1 1/2 to 2 hours to reach the top and slightly less to get back down.
However, this trail is mostly exposed, which means that unless you go at sunrise expect it to be very hot.
Guides don't cost much and will help you avoid the entrepreneurial farmers charging access fees along the way (in addition to the official 20Q fee to enter the park).
If you don't want to hike the whole distance you can take local transport up to the top and have a short hike from there, or join a tour that will arrange the transport and guide for you.
Another good excursion is a village boat tour.
Along with scenic views cruising around the lake, you will also get a chance to see some of the less popular but still fascinating locations such as Santiago Atitlan, San Lucas Toliman, pottery-haven San Antonio Palopo and colourful Santa Catarina Palopo.
The rest of your two days in San Marcos of your week in Lake Atitlan Guatemala can be filled with any of the various options for yoga, holistic medicine, massage, spiritual gatherings, meditation, and enlightenment training. There are notice boards around the village showing all the possibilities.
Another option is to go to the Cerro Tzankujil Nature Reserve on the edge of the village that has a few trails and, more importantly, is a good place to access the lake for swimming.
It is not a good idea to swim near the docks of any of the villages as the water isn't as clean and there are boats constantly coming and going with drivers who may not see you in the water. The reserve, on the other hand, is slightly out of town and has specific sunbathing areas and jumping platforms.
San Pedro la Laguna
This is the most popular place to stay on the lake and is justifiably considered backpacker central and one of the best villages to visit on your Lake Atitlan vacation.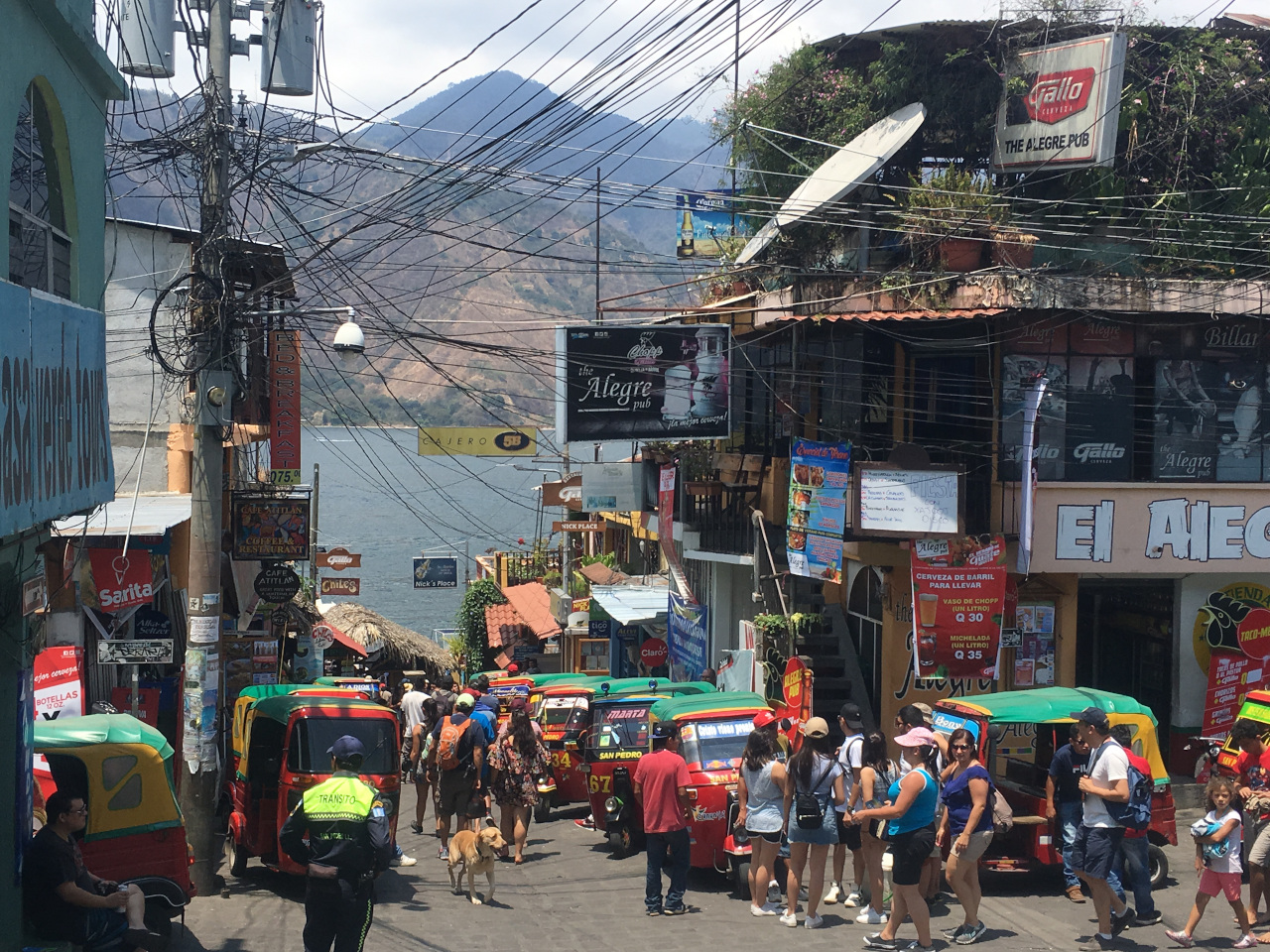 It has countless excellent restaurants of all types, from Italian to Mexican to Israeli to Scottish (not to mention a few Guatemalan places). Most of these also double as bars.
Both the hotels and restaurants tend to be cheaper in San Pedro thanks to both the competition and the budget-conscious nature of their main clientele. It is also the place to be if you like socializing, nightlife and just generally staying busy.
Movies, sports, poker tourneys, weekly BBQs, trivia nights – there is no reason to be bored in San Pedro. Some recommended restaurants are Idea Connection for Italian food, The Fifth Dimension for vegetarian, El Barrio's weekend brunch, and Smoking Joe's Sunday BBQ. Also, while you can easily procure a Spanish tutor in any of the villages, San Pedro is definitely the most popular and affordable place on the lake to improve your Spanish.
If you are up for a physical challenge, the most popular thing to do in San Pedro is to climb Volcan San Pedro, which stands sentinel directly above the town.
Most people take a tuk-tuk to the park where the hike starts (at around 1,800 metres altitude). There you must pay a 100Q entry fee (roughly $US13), which sounds a bit pricey for Guatemala but does include a guide provided by the park.
Hiking times vary greatly, but on average most people take around 3 hours steadily climbing to reach the top (at about 3,000 metres), spend half an hour there enjoying amazing views of the lake and volcanoes Toliman and Atitlan, then another 1 ½ to 2 hours to get back down.
Take a jacket as it can be cold at the top and it is best to go early as clouds often gather around the top of the volcano by late morning, reducing your chance of perfect views. It is a good idea to get the phone number of a tuk-tuk to call when you get back to the trailhead or you might find yourself having to walk back down into town as well.
Altogether, a difficult hike, but not bad in the scheme of volcanoes and most of it is mercifully shaded.
The neighbouring village of San Juan la Laguna – only a 10Q tuk-tuk ride away – is perfect for a short visit as the centre of arts and textiles on the lake.
There are guides at the dock that offer tours of the village with stops in various Women's Cooperatives where you can see how the textiles are traditionally made and know that your purchases are supporting the local community.
In general, San Juan is a clean, friendly place that many repeat visitors describe as their favourite on the lake.
Summary of your Lake Atitlan 7-day itinerary
Lake Atitlan has enough to keep you busy for at least a week and many find themselves staying longer then they planned.
The scenery, temperature, Mayan culture, variety of villages, and the wide range of things to do in Lake Atitlan make this an amazing place to visit in Guatemala.
And no visit to the lake would be complete without some quality hammock time since, despite all the opportunities to get active, ultimately, Atitlan is all about relaxation.
The beauty, slower pace of life and relaxed atmosphere are what most travellers love most about it.
Whether you are perched out over the water with panoramic views or lying quietly in a secluded spot of shade under a large jacaranda tree, stretching out in a hammock with a good book is still the essential Lake Atitlan experience.
As you can see from this article, there are plenty of Lake Atitlan attractions to include on your Lake Atitlan itinerary!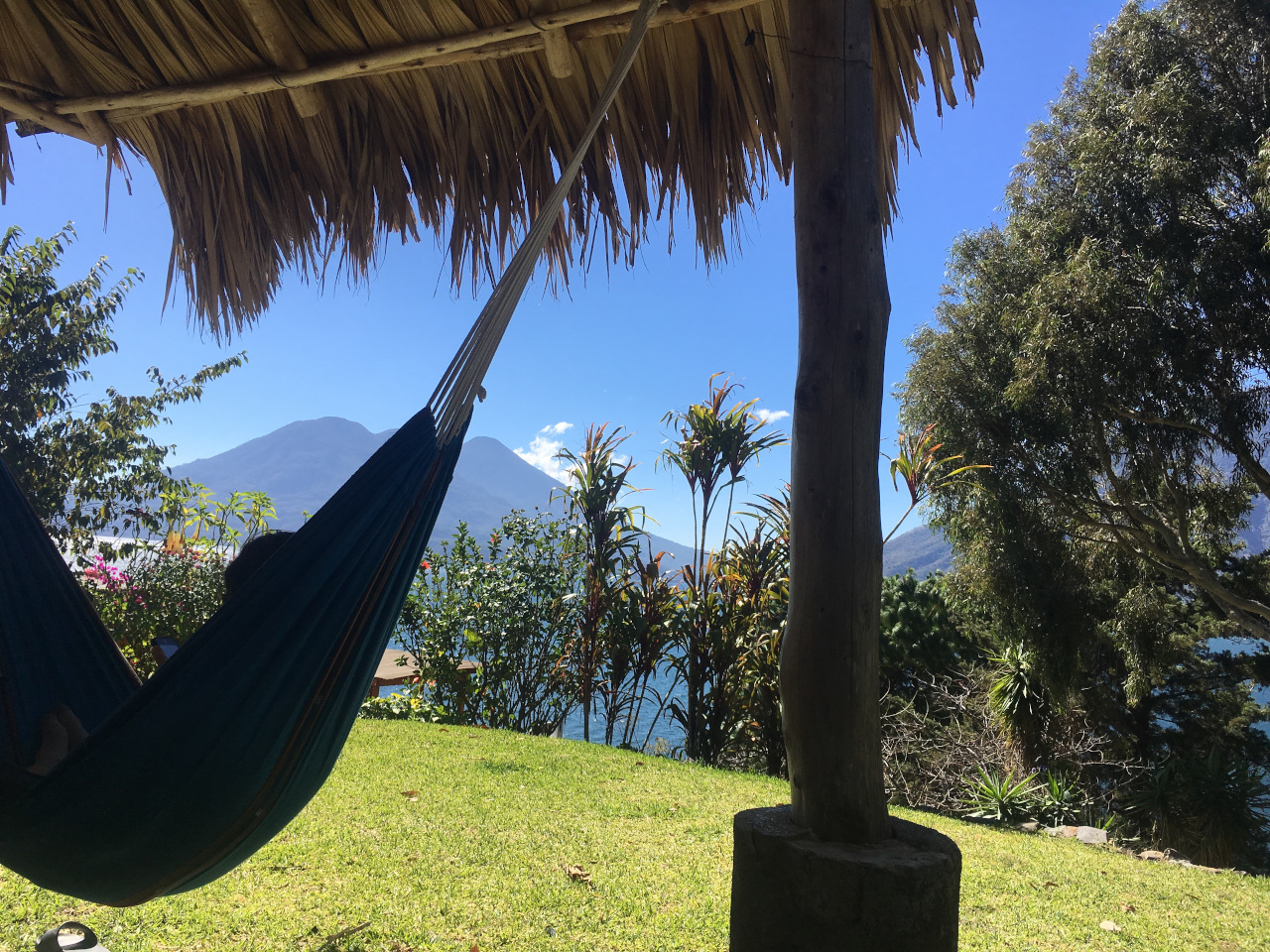 About the author
Dean Johnston and Laynni Locke of Routinely Nomadic have visited every continent and 76 different countries but have still found the time to return to Lake Atitlan at least once every year since 2010. Follow them on Instagram, Facebook, and Twitter too.