Some airports are small and don't offer any special experience. But they do their job, and that's the most important thing. Other airports, however, usually those with intense traffic, provide numerous entertainment and shopping opportunities.
Some even display unique art works, as is the case of the Changi Airport in Singapore which is home to the Kinetic Rain – aka the biggest and most complex kinetic sculpture of its kind in the world.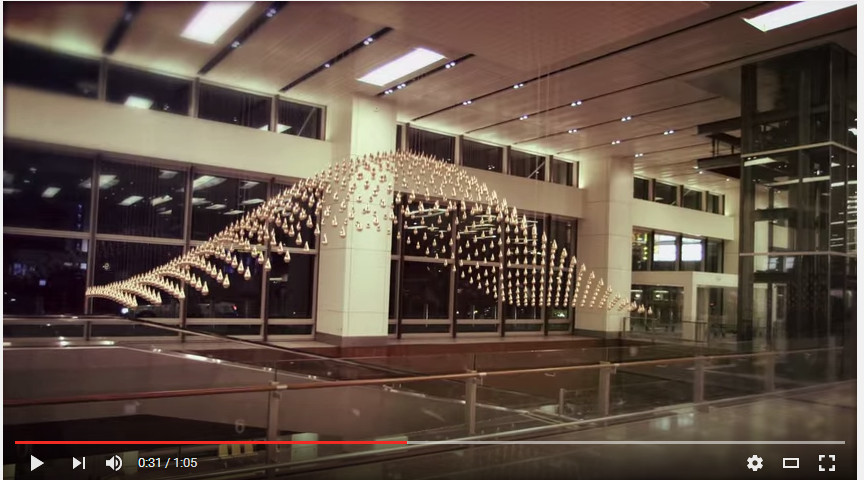 The structure was commissioned by the airport in an effort to help passengers calm down and it was a nice surprise ever since its installation.
There are in fact two Kinetic Rain sculptures in the Departure Check-in Hall, Public Area of the Changi Airport, measuring 9.8 metres by 4 metres.
Each sculpture can form 16 different shapes – from an airplanes to a kite, and from abstract shapes to a dragon no less. The "show" is in fact an about 15-minutes loop and it does have the desired calming effect.
It took 20 months for the Kinetic Rain to be created. The sculptures have droplets that weigh 180 grams and are made of lightweight aluminum with a hollow centre.
Even if you haven't been to the Changi Airport in Singapore and don't know if you'll be there any time soon, you still have a chance to admire these Kinetic Rain sculptures. True.
On-line, via videos, but it is still better than nothing and it's great that nowadays we have the chance to admire these amazing art works, monuments, sights, etc. across the globe, even if only virtually.
I admit I watched the video below many times – and I do hope to see the sculptures live one day!
So, until you'll visit this airport, enjoy the Kinetic Rain in this video: