If you're planning to visit Ljubljana, then you definitely need to read this comprehensive local's guide to Ljubljana, Slovenia. In it, you'll discover the best things to do in Ljubljana, where to stay in Ljubljana, great restaurants in Ljubljana and numerous off the beaten path attractions in Ljubljana.
This Ljubljana city guide is presented by Petra from Erratic Engineeress and includes both famous places to visit in Ljubljana as well as hidden gems ready to be discovered.
All the places recommended will allow you to learn more about the city, its past and its present, while also discovering the local culture and food. You'll find included many outdoor and indoor things to see and do so that you can experience all the city has to offer.
You can use this guide to Ljubljana to create your ultimate Ljubljana bucket list and, eventually, your Ljubljana itinerary.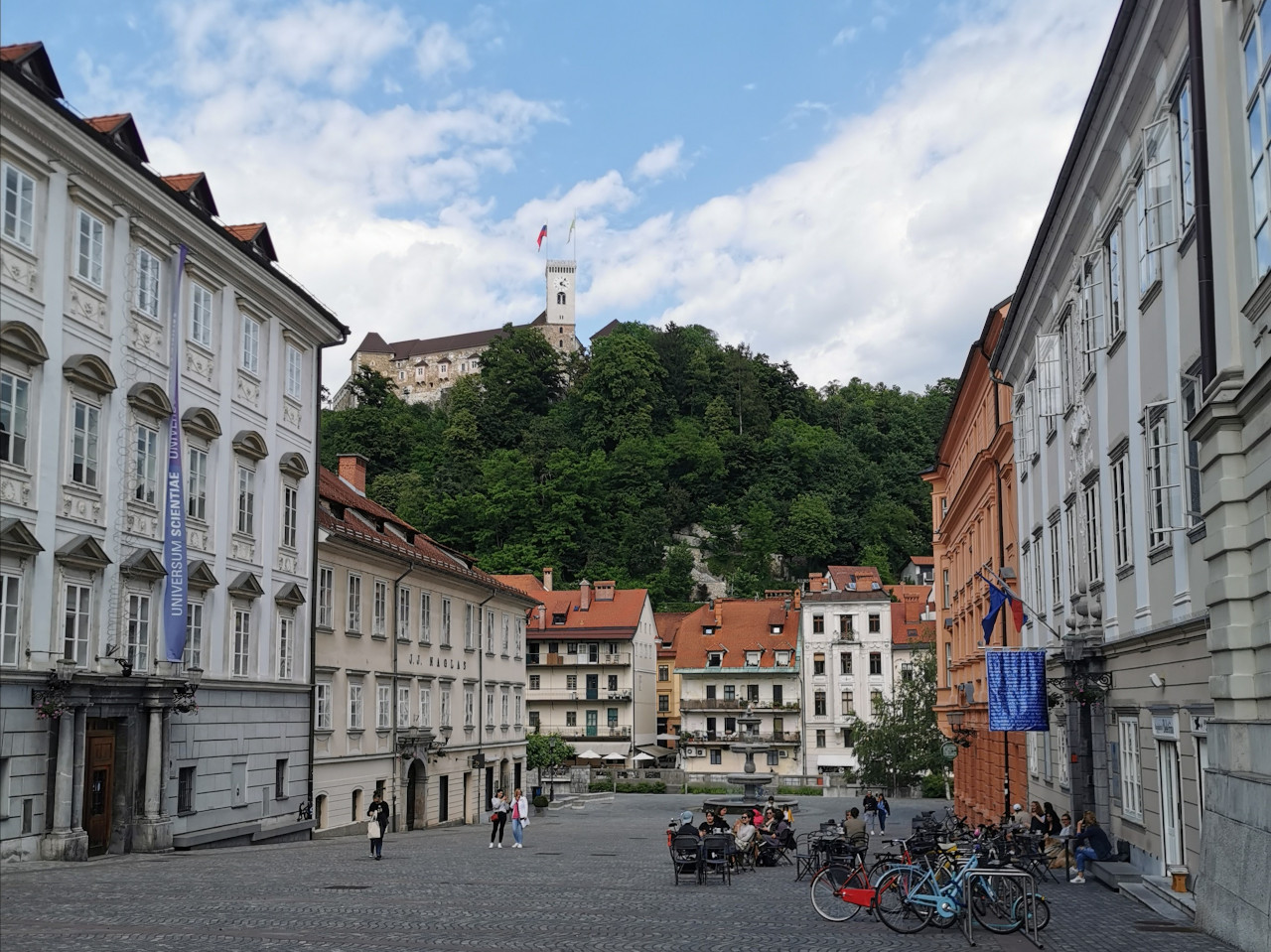 Local's guide to Ljubljana, Slovenia with the things to do in Ljubljana
Ljubljana is the capital city of Slovenia, a small, chicken-shaped country on the edge of Central Europe. With a population of about 280.000 people, Ljubljana is one of the smaller capitals in the world, which is a major part of its charm.
The city dates back to Roman times when it was called Emona, and, like most European cities, it has a beautiful historic Old town and a castle. Additionally, Ljubljana is known as the city of dragons, so there is a green dragon in its coat of arms.
A popular legend also claims that Ljubljana was founded by Jason, the mythological Greek hero, during his quest for the Golden Fleece. Jason and his group of adventurers supposedly fought and killed a dragon on the spot where Ljubljana is now located. Whether it is true or not, Ljubljana and its inhabitants are pretty proud of their dragons and there's even a Dragon bridge.
Included in this Ljubljana travel guide:
Ljubljana weather – The best time to visit Ljubljana

Famous Ljubljana attractions – things to do in Ljubljana


The Dragon bridge
Prešeren's square
The Triple bridge
Central market
Ljubljana castle
Old town
Townhall
The City Museum
The Skyscraper
Tivoli
The National Gallery
NUK Library
The Church of St. Nicholas
Republic square
Union Brewery

Ljubljana off the beaten path – unique things to do in Ljubljana

Park Špica

Metelkova city
Cyanometer
Stara elektrarna
The House of Experiments
Šmarna gora
Ljubljansko barje

Where to eat in Ljubljana – great Ljubljana restaurants

Where to stay in Ljubljana – hotels in Ljubljana for all budgets

Tips for visiting Ljubljana

Best time to visit Ljubljana
Ljubljana has a lot to offer for even the pickiest visitor, no matter the season. There are plenty of outdoor events and festivals happening in the summer and most of them are free.
During winter the city is full of twinkling lights and the smell of mulled wine, with a Christmas market dominating the banks of the Ljubljanica river.
Even rainy days are fun in Ljubljana, as you can escape into one of the many museums or indoor activities, or just kick back and relax in a quaint cafe.
Ljubljana attractions – things to do in Ljubljana
This Ljubljana local's guide starts with the famous attractions in Ljubljana. As you'll see, they are from various areas, so, no matter what your preferences are, you'll enjoy at least some of these Ljubljana landmarks if not all of them.
Make sure you take the time to enjoy the city – as there are plenty of things to see in Ljubljana that speak of the present and of the past.
The Dragon bridge
Since Ljubljana is the city of dragons, it's only appropriate that we start with the Dragon bridge one of the landmarks of Ljubljana.
The Dragon bridge is exactly what it sounds like, a bridge with 4 imposing dragon statues.
Since they are made of bronze, the dragons are now just the right shade of green after years of weathering and oxidation.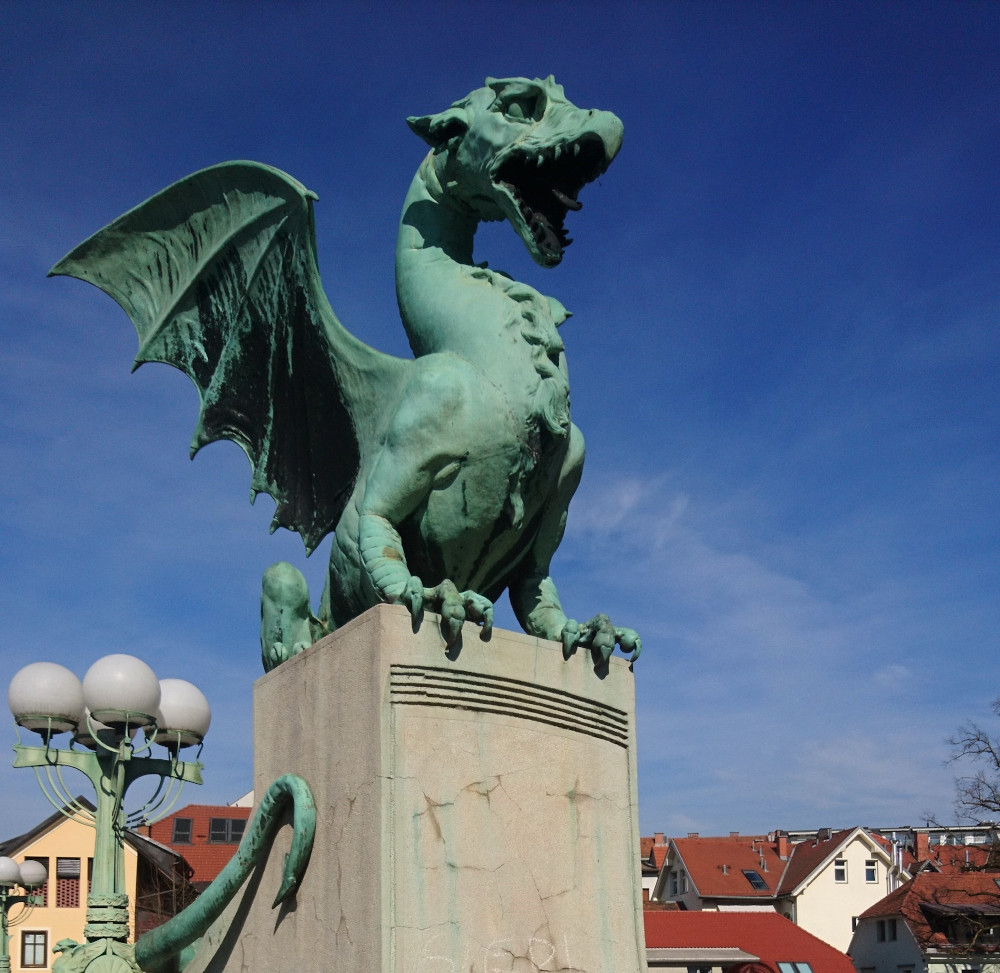 Prešeren's square
Prešeren's square is the centre of the city and one of the best things to see in Ljubljana.
Dedicated to France Prešeren, Slovenia's most famous poet who also wrote the national anthem, it features a large statue of him with a muse.
On the street across from his statue, you can find a small statue of Julia, his unrequited love.
The Triple bridge
Next to Prešern's square, you'll find the iconic Triple bridge. It is a bridge composed of three parallel bridges, built by Slovenia's famous architect Jožef Plečnik, who designed most of Ljubljana's city centre.
Central market
Plečnik also designed the arcades at the Central market, a large space, which hosts the local farmers' market every day. It is a bustling hub of food, flower, and trinket stalls, and there are also plenty of cafes and bistros nearby.
It's the best spot to try some local produce and during the summer it also hosts the Open kitchen, a food festival where all the restaurants have a stall with their best dishes. The Central market is one of the best places to visit in Ljubljana.
Ljubljana castle
The 12th century Ljubljana castle sits on top of a small hill in the centre of Ljubljana and dominates the cityscape.
You can climb the view tower for a lovely view of the city, check out the exhibitions, or enjoy a meal at the high-class restaurant Strelec in one of the towers.
The castle can be reached via a short uphill walk or with a funicular and visiting it is one of the best things to do in Ljubljana.
Old town
No visit to Ljubljana is complete without a stroll through the historical Old town, a picturesque area on both sides of the Ljubljanica river.
It is full of cafes, restaurants and small handcraft shops nestled in narrow medieval streets with cobblestones.
You'll see lots of baroque buildings with beautifully renovated fronts and several interesting fountains which make it one of the must-sees in Ljubljana.
Townhall
One of the notable buildings in the Old town is the Townhall. It was built in the late 15th century and you can visit the inside for free.
It usually also hosts free exhibitions by local artists so make sure you include it on your Ljubljana itinerary.
The City Museum
The City Museum was recently renovated and takes you through the history of Ljubljana, from the Prehistoric era to today which makes it one of the best things to see and do in Ljubljana.
You'll see the remains of the world's oldest wheel with an axle, medieval swords, Yugoslavian pop culture, and lots of old postcards of Ljubljana.
They also organize a tour of the Roman Ljubljana, which includes all the main points of Emona which was the Roman name for Ljubljana.
The Skyscraper
The Skyscraper, or Nebotičnik in Slovenian, was the first skyscraper in Ljubljana and it's the next stop on this Ljubljana city guide.
Built in 1933, it was the tallest building in the Balkans and the ninth tallest in Europe at the time. With a bit over 70 meters in height, it is no longer the tallest, but there is a bar with a terrace on the top, which gives you a gorgeous view over Ljubljana. You can even visit the terrace for free if you want.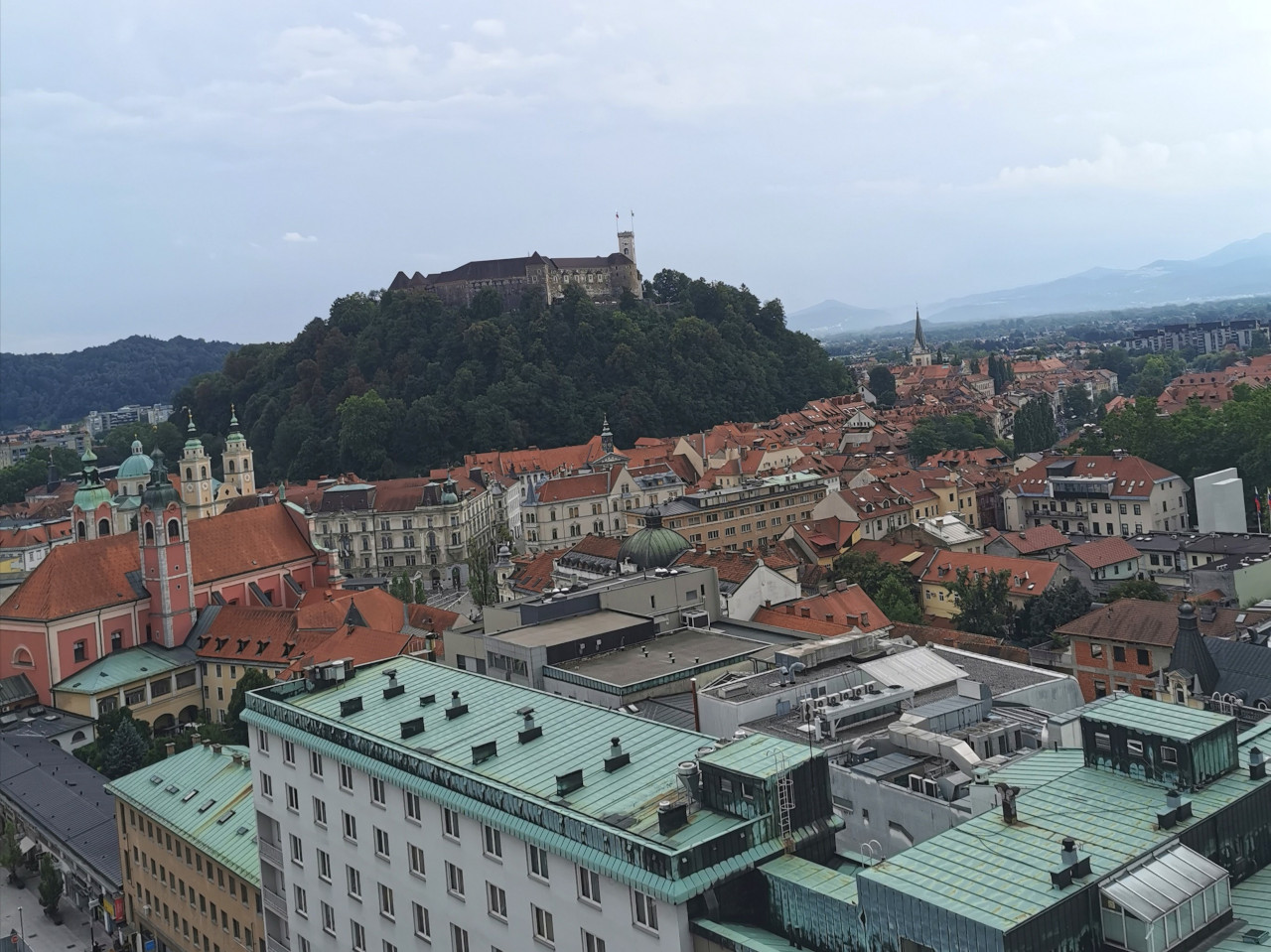 Tivoli
Tivoli is Ljubljana's largest park. It is an open green space where you can take a break from the business of the city and relax with a cup of coffee by the small pond.
You can walk up the central Jakopič promenade, which is known for its changing large-format photography exhibition and friendly squirrels, or hike up the Rožnik hill and take advantage of the various exercise stations there.
The National Gallery
The National Gallery is located close to Tivoli and houses all the most important works of Slovenian artists.
It's well worth a visit for its impressionist section alone, as Slovenia had 4 major impressionist painters and I promise you, they were really good.
NUK Library
NUK or the National Library was also designed by Plečnik and it is intriguing both inside and outside.
On the outside, it is a red-bricked building with horse heads on the main doorknobs, while the inside features a marble entrance hall and a domed reading hall.
There's also a café with a very bookish vibe and a nice atrium. Definitely one of the cool Ljubljana places to visit.
The Church of St. Nicholas
The Church of St. Nicholas is the closest Ljubljana has to a cathedral.
It dates back to the 13th century, although it has been renovated several times, and features some beautiful baroque frescoes and sculptures.
Republic Square
Designed in the classic socialist-style, the Republic square is a large open space in front of the Slovenian parliament.
It is the largest square in Ljubljana and also the spot where the independence of Slovenia was first proclaimed in 1991.
Union Brewery
Ljubljana also has its own brewery, which makes one of the two Slovenian favorite beer brands, Union beer.
It is located quite close to the city centre, so you can take a tour of the brewery, learn all about making beer and get a taste of it too. They have a very nice pub with great food for affordable prices.
Ljubljana Off the Beaten Path
You've seen the famous tourist spots in Ljubljana. Now it's time for off the beaten path attractions in Ljubljana.
Park Špica
Park Špica is Ljubljana's unofficial beach, located a bit further downriver from the Old town. It is usually not on the tourist radar, but it really should be.
During the summer it's a lovely place for a walk along the river and you can either sit down in the café there or have a picnic on the riverbank.
It is possible to get a picnic basket full of local goods at the Ljubljana tourist office and if you're lucky, you'll encounter some coypus (a species of giant rodents), ducks, and swans hanging around the park.
Metelkova city
If you are into alternative culture, then Metelkova city is a must-see – and it's why I'm including it on this list of off the beaten path things to do in Ljubljana.
What started out as a squat in former Yugoslavian army barracks, is now a vibrant autonomous community with all sorts of concerts, clubs, arts, and cultural events and there's even a gallery.
The place itself is visually interesting as well: the buildings are full of graffiti and curious details and there are sculptures and larger constructions everywhere. You can read more about Metelkova city here.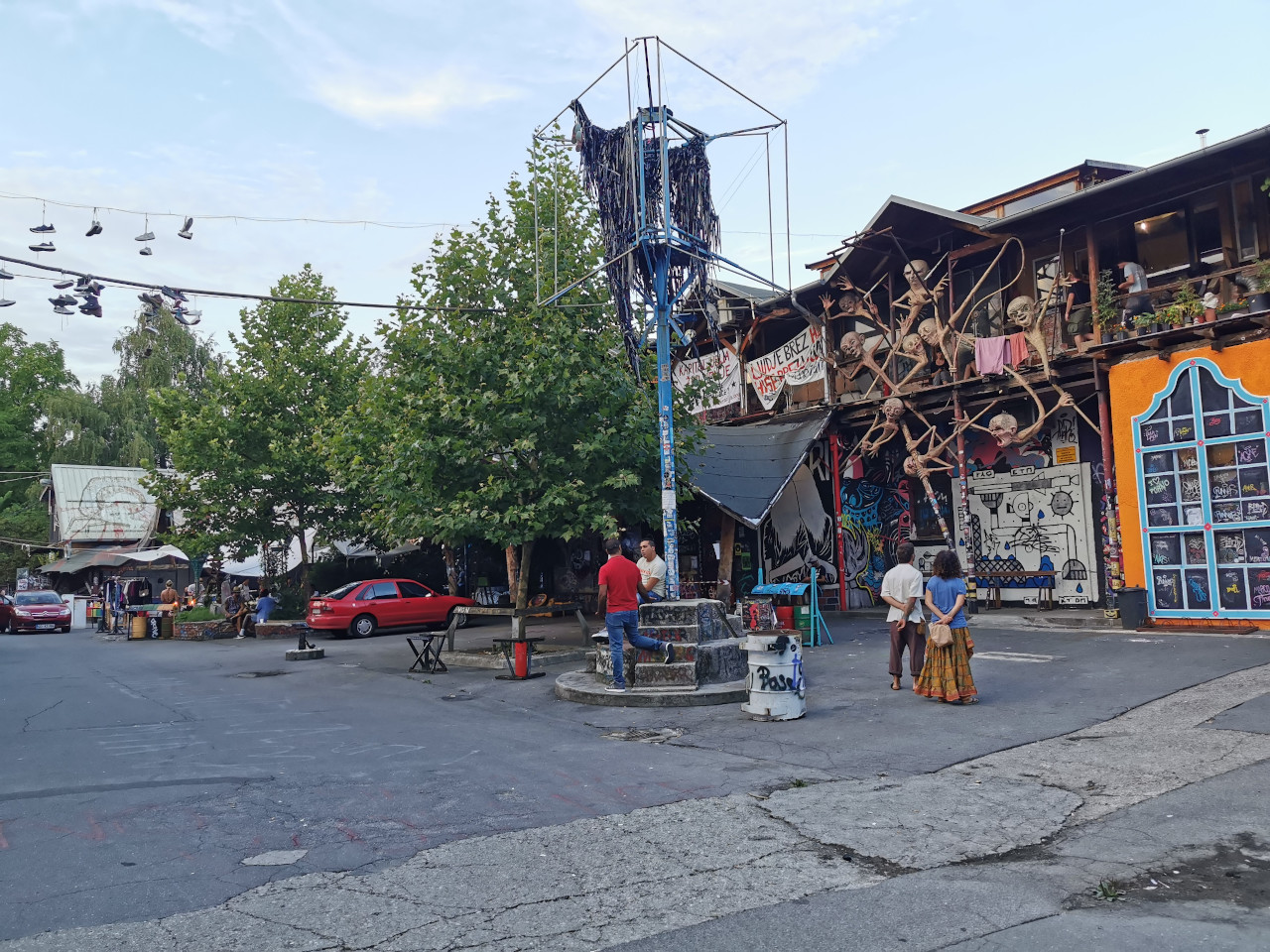 Cyanometer
Another curiosity of Ljubljana is the Cyanometer, an air quality art installation, which measures the blueness of the sky. Images of the sky are taken every day, along with weather, temperature and air quality measurements, and translated in one of 53 shades of blue.
You can find it next to the Ajdovščina bus station in the city centre and you'll immediately see why this is a great offbeat attraction in Ljubljana.
Stara elektrarna
Stara elektrarna means the old power station in Slovenian. It is in fact an old power station, which now houses various art performances and is defined as a technical monument and it's one of the best unique things to do in Ljubljana.
The House of Experiments
Hiša eksperimentov or the House of Experiments is a small interactive science museum located on Trubarjeva street. It is based on the principle of trying everything by yourself, so you can do all sorts of fun experiments and learn about how science works. The experiments are really well designed, so it's not just fun for kids, but for adults with younger hearts too.
As you walk down Trubarjeva street, also keep an eye out for shoes hanging down from the electric wires.
People have been tossing shoes and leaving them up on the wires for a few years now and the municipality decided to keep them in some parts. Definitely one of the quirky attractions in Ljubljana.
Šmarna gora
If you're looking for a more active day out in Ljubljana, you can hike up Šmarna gora. It's a small hill a bit outside of Ljubljana, which is quite popular with local hikers.
The path up is quite easy, clearly marked and takes about 20 minutes for anyone who is reasonably fit. It's a wonderful outdoor attraction in Ljubljana.
Ljubljansko barje
The whole city is actually located in a marshland area called Ljubljansko barje. Due to its biodiversity and historical importance, it is a protected national park, which you can visit by taking the city bus no. 19.
The Ljubljana marshes are crisscrossed with walking trails, so you can either walk or rent a bike and explore as much as you want.
The world's oldest wheel with an axle and remains of Bronze Age pile dwellings were found there, so the area is on the UNESCO World Heritage list and you can learn a lot about history from the signs along the trails.
Where to eat in Ljubljana
There are many great restaurants in Ljubljana – so let's see the best options for you.
If you would like to try traditional Slovenian food, your best picks would be Klobasarna, a small snack space serving all types of Slovenian sausages near the Town hall, or Slovenska hiša.
They serve proper Slovenian dishes with quality ingredients sourced from local farms and offer a selection of Slovenian wines and cocktails in a rustic, inviting environment.
If you are just stopping by for a coffee, breakfast or a snack, go to the Slovenska hiša bistro on the river banks, but if you're after a full meal, walk a bit further to the nearby Slovenska hiša – Figovec restaurant.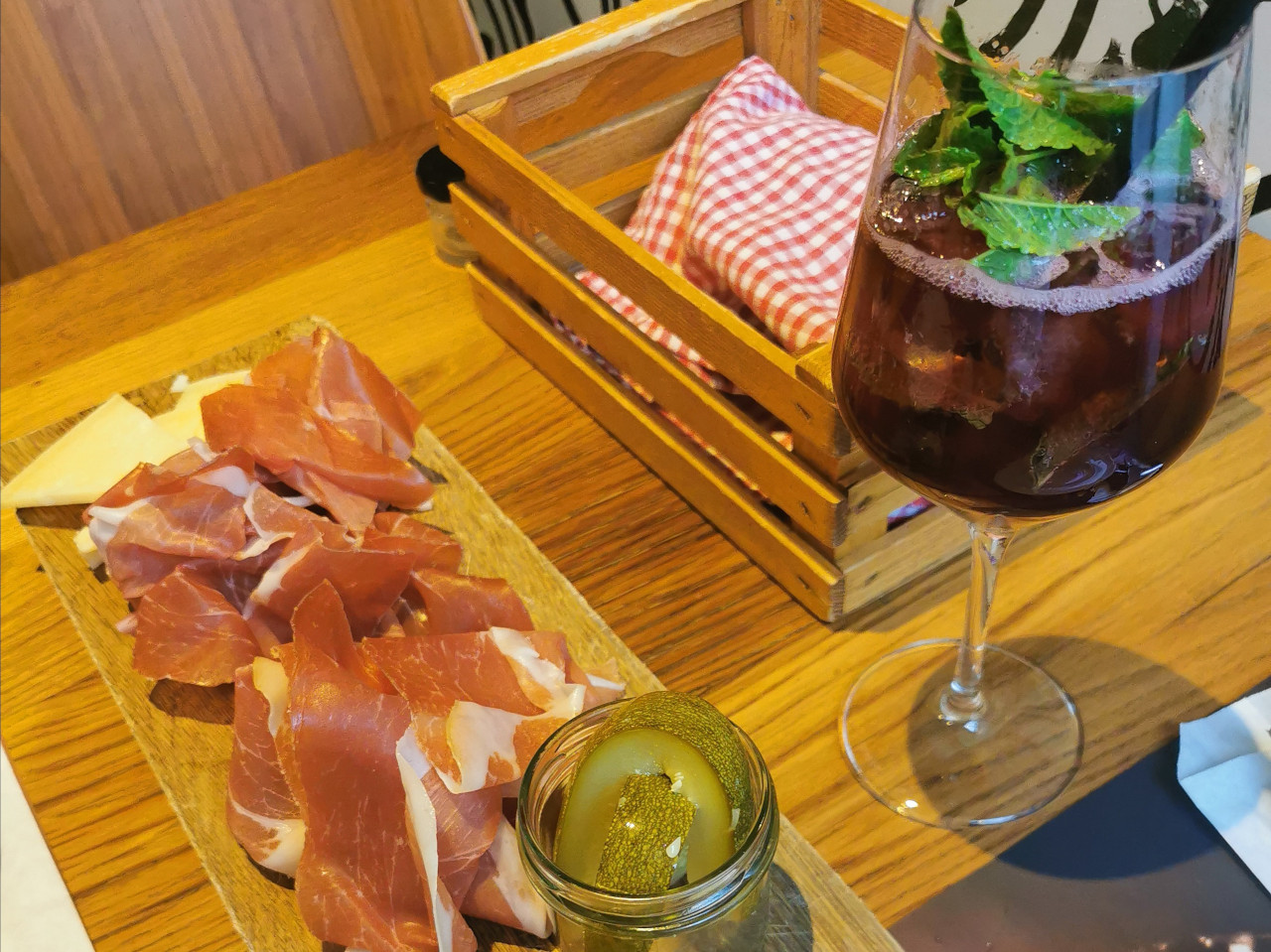 Other popular food options include Emonska klet, a large, historical basement space serving various lunch options, from pizza to pasta and local dishes, as well as Romeo, a Mexican inspired restaurant with great pancakes, and Lars & Sven, a Slovenian fast-food burger chain with locally sourced quality burgers.
As for vegan options, there is the Barbarella juice bar with snacks and smoothies, and Kucha, a conceptual vegan restaurant, which serves amazing, innovative food made with seasonal local ingredients.
If you are looking for a cup of coffee or tea with a snack, check out Tozd or Čajna hiša. Both are located in the Old town and have a great atmosphere.
Tozd is a small café bar with a younger, hipster vibe and a great view over the river. They serve really good coffee and a selection of sandwiches and tapas snacks, while Čajna hiša is a classic, cozy tea house.
Čajna hiša has a large selection of teas and seasonal drinks, as well as tasty light lunches and desserts. It is also my pick for a rainy day.
And finally, for the best ice cream in Ljubljana, head to Vigo or Cacao. Both are located right next to the central Prešeren's square, on the opposite banks of the river. You can also find Nabrežje 15, a bar with crazy Instagram worthy cocktails nearby.
If you are looking for a more in-depth guide on where to eat, drink and party in Ljubljana, you can find one here.
Where to stay in Ljubljana
You'll find accommodation for every budget in Ljubljana so next on this Ljubljana guide are the best places to stay in Ljubljana, both hotels and hostels.
If you're looking for something very fancy, you can book the Vander Hotel with a small rooftop infinity pool or check out the newly built 5-star Intercontinental hotel.
If your budget is a bit smaller, the Atelier, Art or Adora hotels offer cozy 3-star rooms in great locations.
As for hostels, the three best and most interesting ones are the Celica Art hostel, a renovated former prison in the center of Metelkova city, the Tabor hostel, a large, affordable hostel, which houses students during the school year, and the Tresor hostel, a renovated bank vault right in the heart of the city center.
Tips for Ljubljana
Last, but not least on this Ljubljana guide are some useful things to know before visiting Ljubljana and useful tips.
As a lifetime local, I can promise you that Ljubljana is completely walkable – so make sure you wear some comfortable shoes. Almost everything you could be interested in during your stay can be reached via a short walk and you'll get to enjoy the city atmosphere as you walk through it too.
In fact, most of the city center is a traffic-free zone. Ljubljana is also incredibly safe compared to other capitals, so you should not feel uncomfortable walking around, even if you stay out past midnight.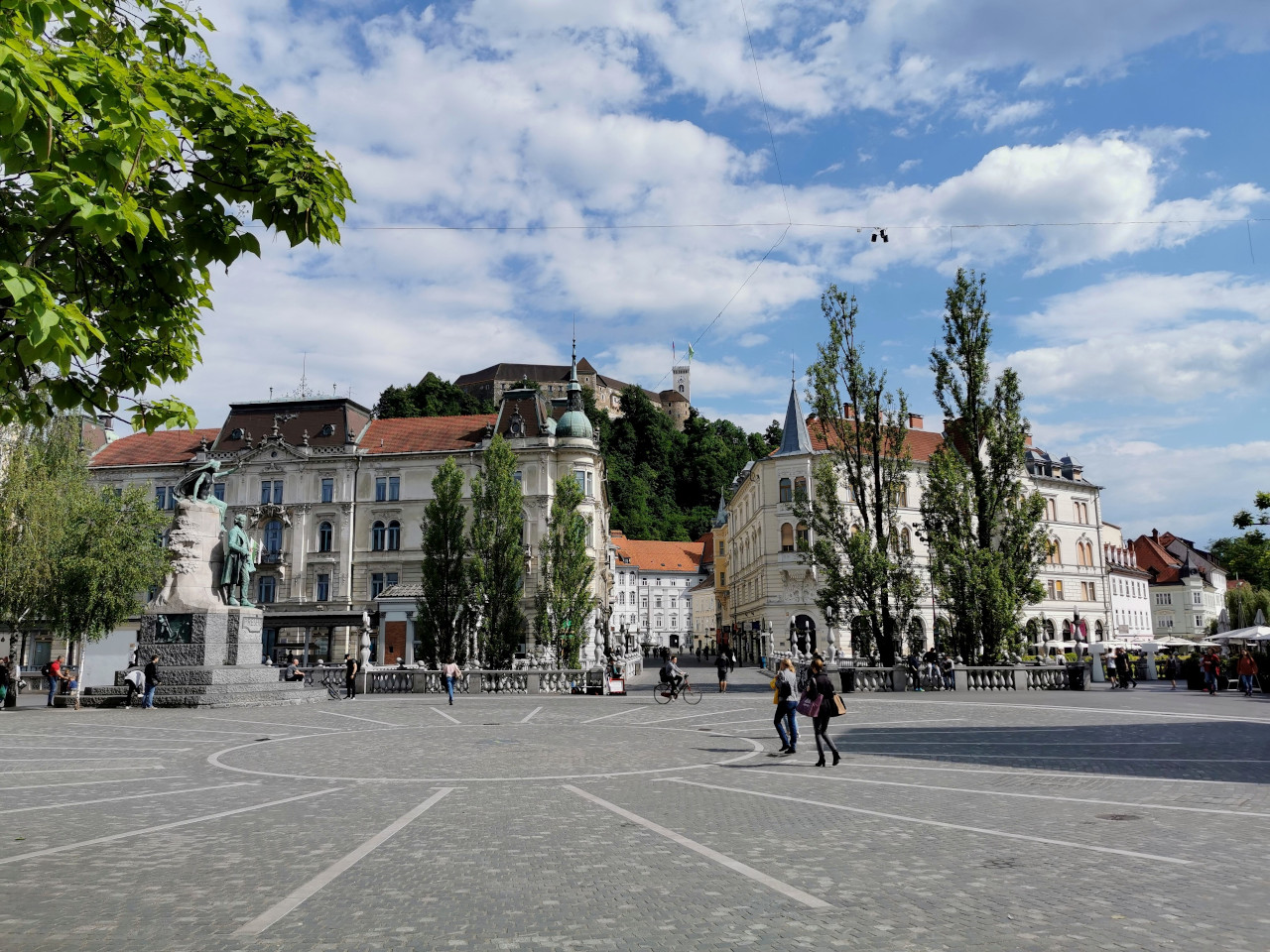 If you're not a fan of walking, you can take the LPP city bus, where a single ticket is valid for 90 minutes, or one of Ljubljana's city bikes.
City bike stations are located all over Ljubljana and you can check out a bike for an hour for free and return it at a different station.
The bike rental scheme is part of the city's efforts towards sustainability and Ljubljana was named the European Green Capital in 2016. On the whole, Slovenia has invested quite a lot of money and effort into the development of green, sustainable tourism in recent years, which makes it the perfect green destination for your bucket list.
To make it even more appealing, Ljubljana's central location makes it a great base for exploring the whole country. Since Slovenia is so small, most other interesting spots around Slovenia can easily be visited as a day trip from Ljubljana and you could be swimming in the sea or hiking in the Alps within the span of an hour. So, make sure you add Ljubljana to your travel list and take your time, don't rush through it in a day.
About the author:
This guide is written by Petra, a mechanical engineer from Slovenia, who still believes in dragons and goodness. She writes about her travels, food, sustainability and other topics on her unpredictable travel blog Erratic Engineeress. Follow her on Facebook, Instagram, and Pinterest.