If you plan a trip to Beijing, China, then you need to read this comprehensive insider's travel guide to Beijing. You'll discover the best things to do in Beijing, including off the beaten path places to visit in Beijing, where to stay in Beijing, great restaurants in Beijing, and useful Beijing travel tips.
Beijing is one of the largest cities in the world and home to the second most visited museum in the world!
These amazing Beijing attractions are recommended by Jade from Two Tall Travellers. This guide is part of the free travel destinations guides series on this blog. Use this insider's guide to Beijing, when creating your Beijing bucketlist and, ultimately, your Beijing itinerary.
The best travel guide to Beijing: things to do, tips, restaurants, hotels
Beijing is a fast-paced, exciting city that has somehow yet to become overrun by international tourism.
Now is the perfect time to visit Beijing before it loses all of its traditional charms and historic appeal.
The capital of China has some fascinating history dating back over 3000 years. From the famous Great Wall and Forbidden City to the lesser-known CCTV tower and local markets, the city is yearning to be explored. It might not be on the standard tourist trail, but you won't regret your trip to Beijing!
We've put together a full guide to Beijing, preparing you for things to know before you go, essentials to organise before your visit, accommodation suggestions, local food tips and more!
Included in this Beijing travel guide:
Best time to visit Beijing
Famous Beijing tourist attractions:

The Great Wall
Forbidden City
Tian'anmen Square
Temple of Heaven
Sanlitun
Nanluoguxiang
Houhai Lakes
Olympic Park
Wangfujing
Lama Temple

Beijing off the beaten path – unique things to do in Beijing

798 Art District
Chaoyang Park
Happy Valley
Panjiayuan Market

Where to eat in Beijing – great Beijing restaurants

Where to stay in Beijing – hotels in Beijing for all budgets

Tips for visiting Beijing
When To Visit Beijing
Located in the north of one of the most populated countries in the world, Beijing has some very contrasting weather and seasons. The best time to visit Beijing is either spring or autumn, but these both only last around 1 month!
April is around the time of year that the city begins to warm up, the flowers bloom and there might be a little rain. The temperatures range from around 10 to 20 degrees Celsius, but this is perfect weather for hiking, sightseeing, and exploring.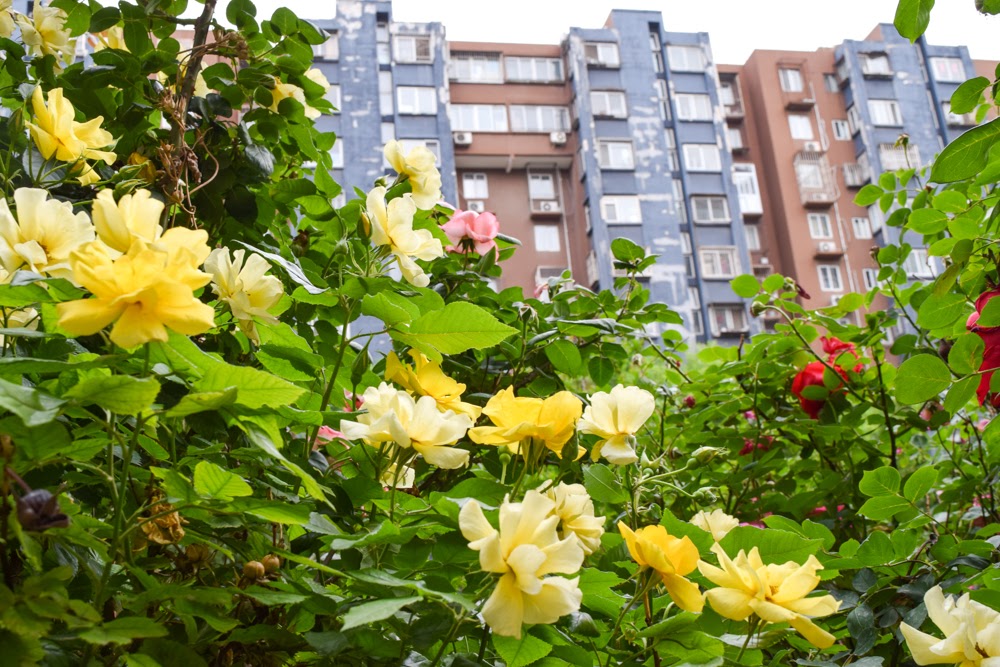 September starts cooling down slightly, with an average maximum temperature of around 25 degrees Celsius, but October is also a good month to visit (except for the first week – more about that below!).
The main reason that the summer isn't a good time to visit is that temperatures can reach 40 degrees Celsius, and there are some insane thunderstorms. As there is no beach nearby, it can get a little stifling to stay in such a busy city in the heat.
Winter is extremely cold – you might experience -20 degree day and even colder nighttimes. It's also incredibly dry (you're unlikely to see rain or snow at this time of year) so your skin won't thank you for coming in December!
Insider's tip for visiting Beijing: The main thing to remember about visiting Beijing is to avoid coming during a national holiday.
The most famous ones are National Week, which falls on 1st – 7th October every year, and Spring Festival (Chinee New Year) which is in January or February depending on the lunar calendar.
In National Week, millions of domestic tourists come to see their capital and celebrate the country's founding. This means that the main attractions get insanely busy, and the traffic in the city is just horrible!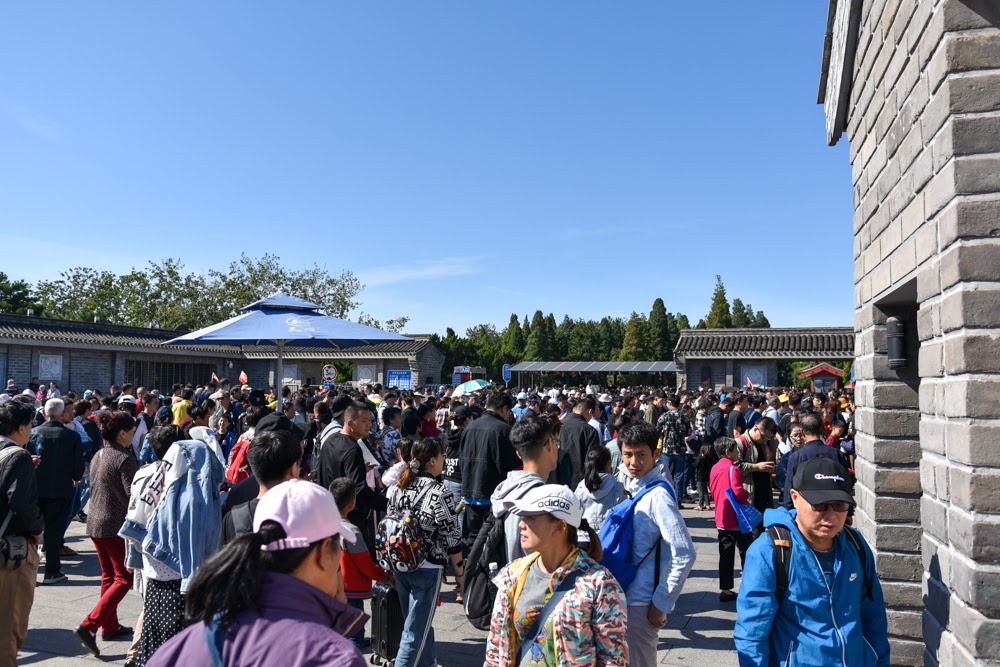 During the Spring Festival, Beijing has the opposite problem. Many people who live here weren't actually born in the capital, so they go to their home towns during this holiday.
This means that lots of places close down for about a week, which might hinder your trip a little
Famous Beijing Tourist Attractions
No trip to Beijing would be complete without seeing the top Beijing landmarks. I'll start this travel guide to Beijing covering these best things to do in Beijing.
Make sure to include as many of these places to visit in Beijing on your Beijing itinerary as possible to have the chance to see the most of this incredible city.
The Great Wall
This is usually the main attraction for Beijing's visitors, and it's not difficult to understand why.
Sprawling an astonishing 21,000km, the wall winds proudly through the northern provinces of China until it reaches the eastern waters.
Despite being almost 3000 years old in some parts, the wall still stands and you have so many choices of which section to climb, hike and admire.
You can take a tour, hire a driver (who will take you there and wait for you to take you back to the city) or take the local bus yourself. The prices of your day will vary according to which one you choose – but you should definitely see the Great Wall as it is one of the best places to visit in Beijing.
A tour might set you back $30, and you'll have to stick to strict timings to accommodate everyone else on the tour.
A driver might charge $100 but that means that you can go and leave whenever you want, plus 4 people can fit in one car which works out well if you are travelling in a group.
Getting the bus yourself might be daunting, but if you are comfortable doing it, it's by far the cheapest and best if you're solo or in a couple. The bus will only cost around $7 each way, depending on which section you choose.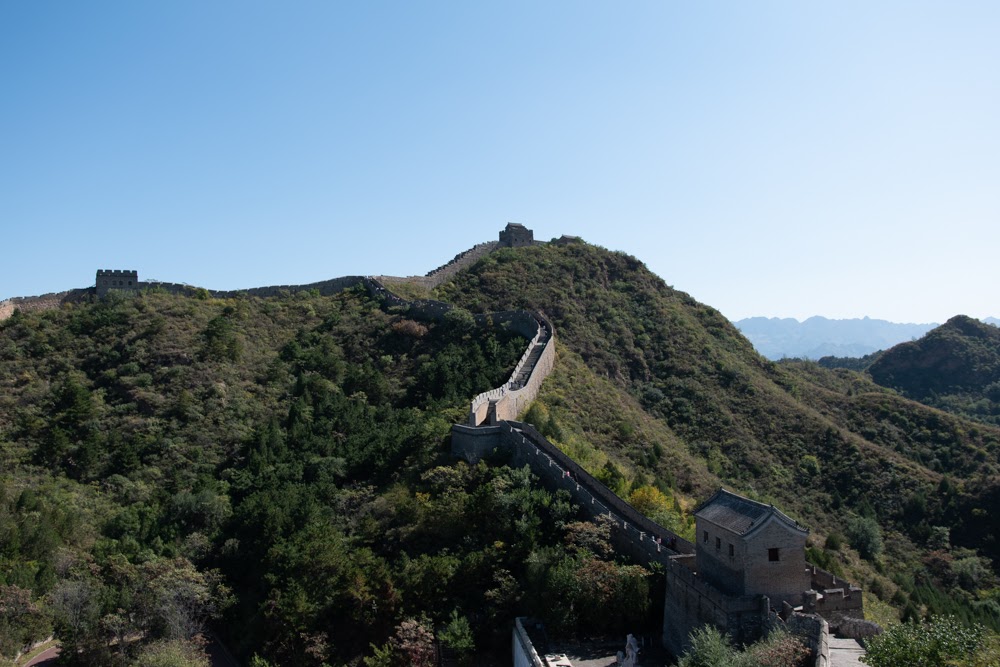 There are 2 main parts of the Great Wall that I would recommend visiting, and these depend on your fitness ability, who is in your trip party and what kind of wall you want to see.
Jinshanling (pictured) is a beautiful part of the wall that has been partially restored. You can climb for hours and see less than 10 people (even if you ignored my above advice and come during National Week!).
For some reason, tourists seem to avoid this section but this is good news for you if you don't want to be surrounded by selfie sticks.
Mutianyu is a busier section, but it's much better preserved and therefore safer for those less steady on their feet. There is a lot of wide, smooth space for wheelchairs and pushchairs, as well as a toboggan and a cable car if you get too tired!
Forbidden City
Situated in the heart of Beijing, the Forbidden City is a captivating and extraordinary example of ancient Chinese architecture and one f the top things to see in Beijing.
It used to be the imperial palace for the emperors of China, and it has only been open to the public for less than 100 years!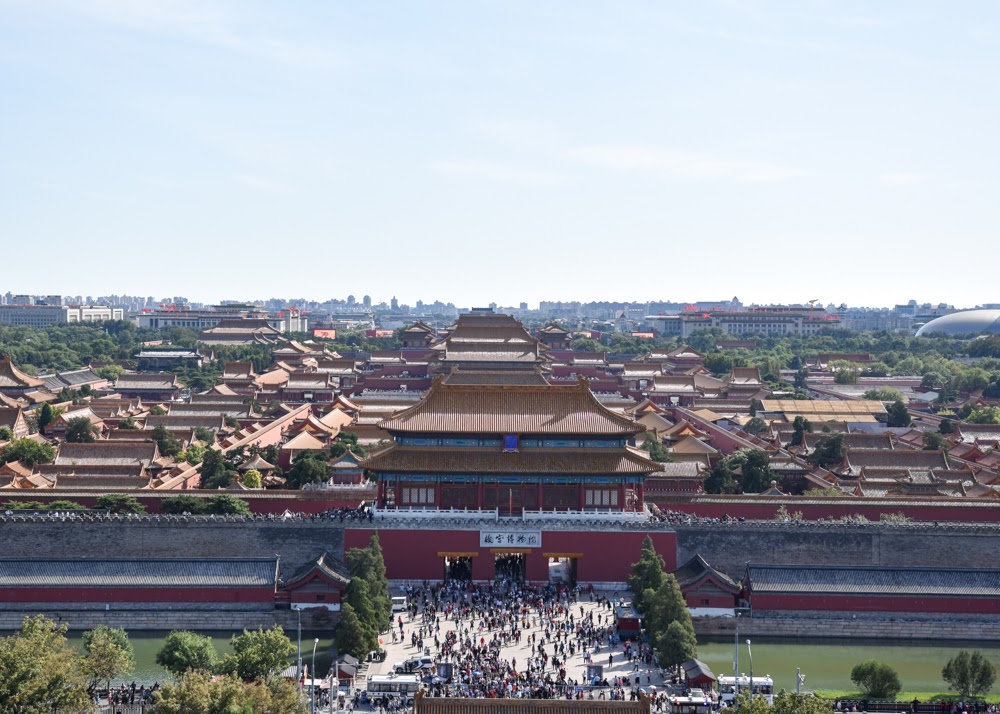 There are almost 10,000 rooms in the compound, and obviously, you won't see them all, but it means that there is plenty to explore here!
When you've finished with the City, leave via the north gate entrance into Jingshan Park. You can climb the hill and view the Forbidden City and much of Beijing from the top.
Tian'anmen Square
Tian'anmen Square sits opposite the Forbidden City so when you come, make sure you leave enough time to see both.
There isn't a lot to do on the Square itself but there are museums (including Mao's Mausoleum) a monument to the Peoples Heroes, Tian'anmen Tower and a flag-raising ceremony is held here every day, that is why Tian'anmen Square is one of the best places to visit in Beijing for first timers.
Temple of Heaven
This huge complex of religious buildings is a must-see when visiting Beijing.
The temple itself is impressive enough, but there are many historic halls, altars, pavilions and gardens to explore too.
Take in the fascinating designs and the elaborate building work that has stood here for over 600 years!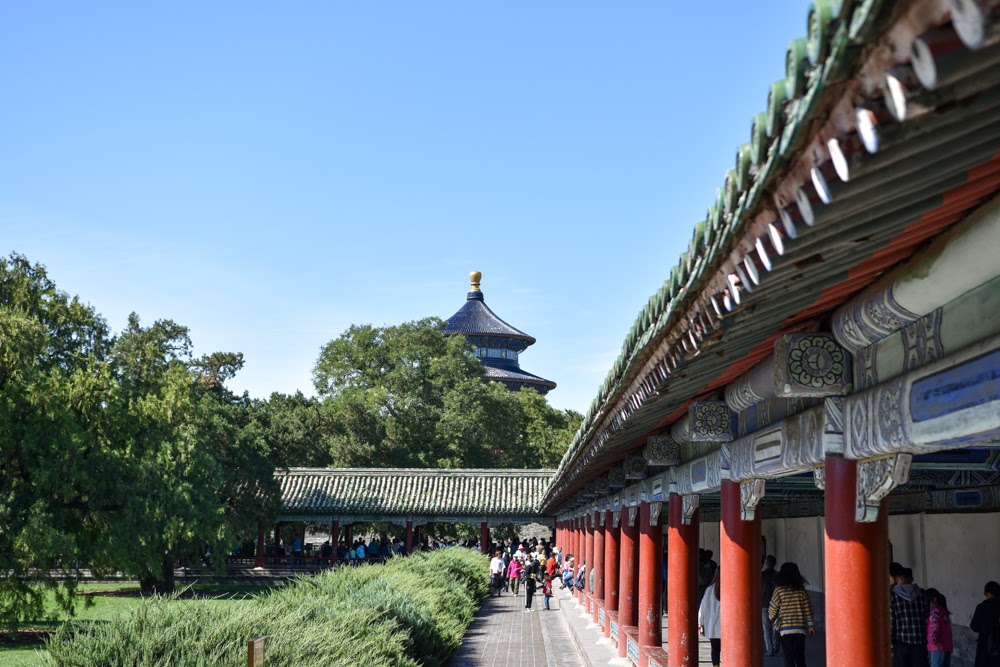 Sanlitun
If you are looking for a bit of retail therapy, come to Sanlitun for all of your international brand needs! Here you'll find official stores including Nike, H&M, Hollister, Mac, and Apple.
You won't find fakes or rip-off stalls here so you can rest assured your money is safe!
There are also plenty of restaurants, bars, and cafes in this area which makes it perfect for a relaxed evening after all your sightseeing!
Get off at Tuanjiehu on Line 10 and take Exit A.
Nanluoguxiang
A hutong is a narrow alleyway found all across Beijing.
Nanluoguxiang is one of the most famous hutongs, and it's definitely worth a visit and this insider's guide to Beijing would not be complete without recommending this hutong.
Many people live along these lanes, but with the slow increase in tourism, many hutongs are now bustling shopping streets.
You'll find small, Chinese boutique stores, cosy bars, and interesting eateries along the way. Once you have finished browsing Nanluoguxiang, one of the top places to visit in Beijing, make your way down to the nearby Houhai lakes!
Houhai Lakes
Lined with enormous trees, the manmade Houhai Lakes are pretty and inviting and one of the best things to see in Beijing.
You can rent a pedal boat in the summer, or ice-skates in the winter when the water freezes over! There are quite a few rooftop bars here that make a good spot for casual people-watching.
You can also find some unique shops and snacks around this area.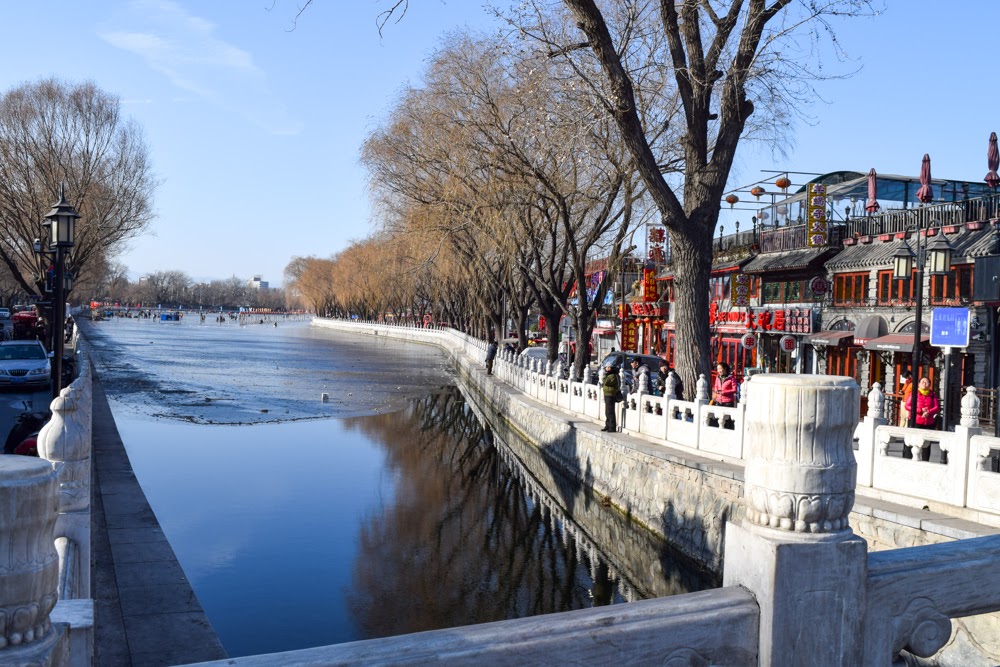 Olympic Park
Beijing held the 2008 Olympic Games, so the venues are still available for public use.
You can visit the National Stadium – it's famous structure gave it the nickname 'The Bird's Nest' – and the Aquatic Centre (Water Cube).
This building lights up in the evenings and is pretty spectacular to look at! You can also enjoy a waterpark, spa, restaurants, and bars inside. There are plenty of things to do at the Olympic Park, one of the cool places to visit in Beijing.
Wangfujing
Next on this Beijing city guide is Wangfujing. This was once famous for its crazy snack street.
Tourists would flock here to eat scorpions, tarantulas and even seahorses on sticks, to claim that they had eaten like a local in Beijing.
However, this was a huge tourist trap – you'd be really hard-pressed to find a Beijinger who eats that kind of food! Luckily, the food market has been closed down for renovations, so hopefully, when it is open again, more authentic and delicious food will be available.
I still recommend visiting Wangfujing Pedestrian Street if you like shopping. It's a huge area with plenty of interesting tea houses, shops, malls, and restaurants.
Lama Temple
Yonghegong Lama Temple is located in the northern area of Beijing, directly next to the subway of the same name.
It's an interesting place to visit because of the Buddhist history surrounding the area – thus making it one of the best things to see and do in Beijing.
There are a lot of different halls and courtyards to explore and learn about, and you are also given some incense when you arrive for you to burn on your journey.
The Confucius Temple is also nearby so if you have time, it's worth taking a look at that too.
If you follow a vegan or vegetarian diet, you're likely to find suitable food in this area, as there are a lot of Buddhist restaurants who don't serve animal products (strict places don't even serve onion or garlic as they are believed to be strong flavours that contradict the calm Buddhist meditation).
Beijing Off the Beaten Path
Let's continue this Beijing travel guide with the best off the beaten path things to do in Beijing. These will allow you to complete your understanding of the city and its culture.
798 Art District
This art district is the perfect place to visit if you want to find a quirky exhibition, unique souvenir or fun street art.
There are shops, museums, galleries and tattoo parlours galore, scattered around the pedestrianised area and that is why it's one of the top offbeat attractions in Beijing.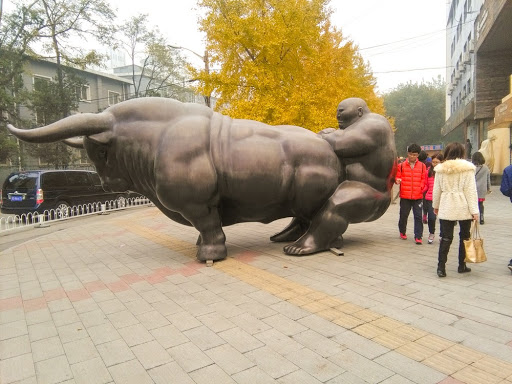 Chaoyang Park
If you want a bit of downtime away from the tourist attractions, Chaoyang Park is a fantastic space to come and relax, play some sport or even go swimming. Keep in mind that relaxation is one of the top reasons why people love to travel.
With 288 hectares of park, man-made beach and gardens, you'll be able to find a quiet spot to spend an afternoon and you'll enjoy one of the coolest offbeat places to visit in Beijing.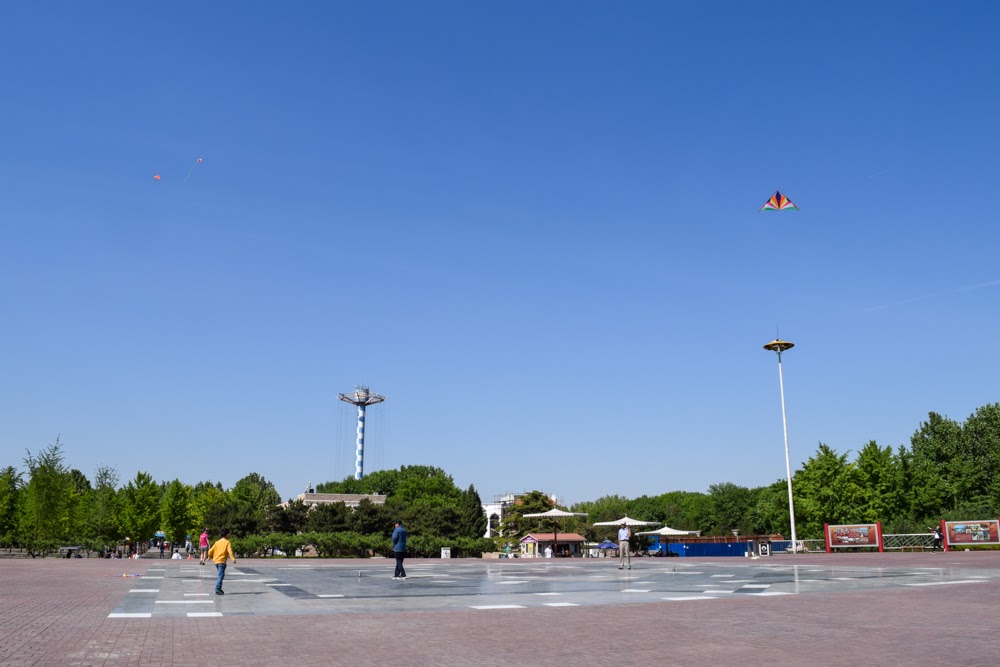 Happy Valley
It's no Disneyland, but Happy Valley is a strong contender for one of the top theme parks in China! There are 7 different themed areas, over 30 rides and rollercoasters and numerous food and drink outlets.
The park is located on Line 7 in the southeast of the city, but it's super easy to get to – the subway station is situated directly outside! Definitely one of the top Beijing off the beaten path experiences to have!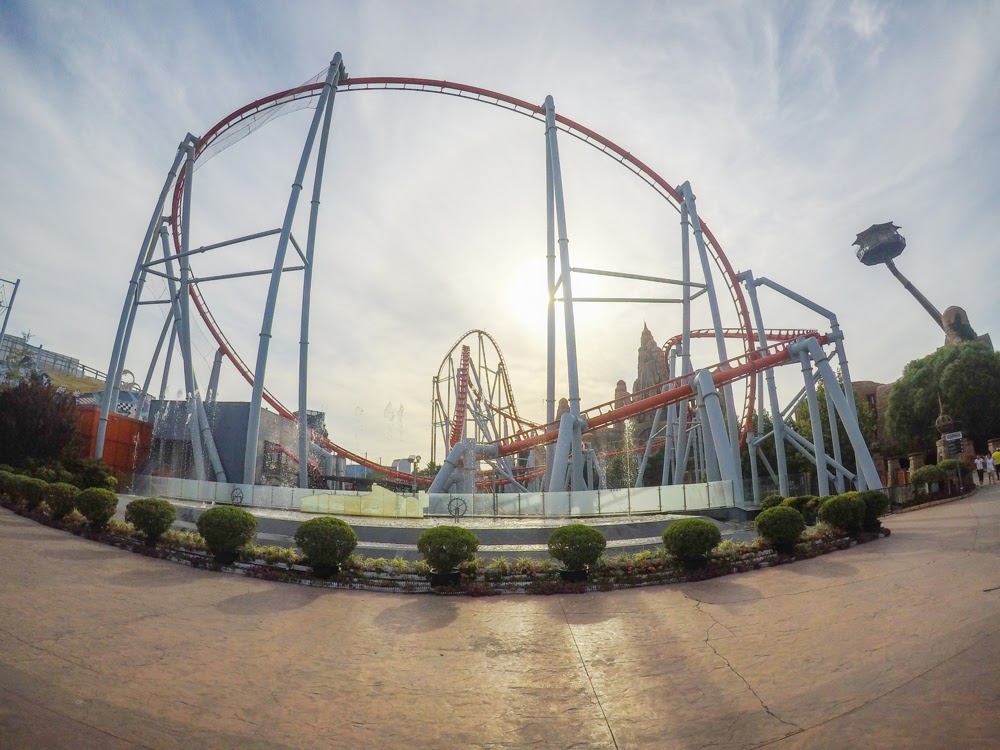 Panjiayuan Market
This antique market is the perfect place to visit if you're looking for beautiful unique souvenirs from Beijing to take home. Tourists rarely make their way to this part of the city, despite it being extremely accessible on the subway.
You'll find gorgeous paintings (some of which you can watch being completed!), intricate jewellery, unusual ornaments and even some traditional clothing!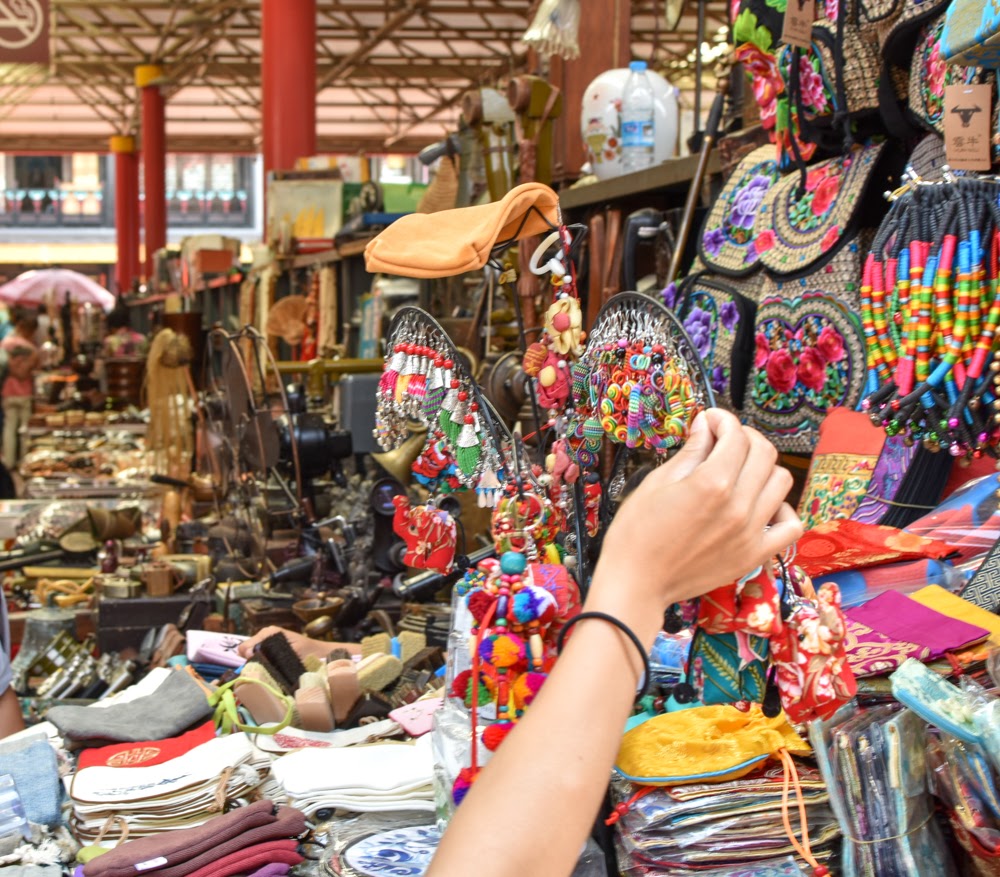 It's also not the type of market you might have come to expect from Asia – you'll rarely get hassled and although you can haggle prices here, generally people charge both locals and visitors the same fair rates.
Where to Eat in Beijing
When you are visiting a new place, it's always great to try the local food. So, let's see the best places to eat in Beijing! I've included below the top Chinese restaurants in Beijing that are a not-to-miss while in the city!
I also included great restaurants in Beijing serving international food – including Vegan food in Beijing – so that you have plenty of options to choose from!
Chinese Food
Qian Jude Roast Duck
This is a Chinese chain restaurant, famous for its Peking Duck. I recommend that you go here once to try Beijing's national dish.
It's easy to navigate as the staff speak English and expect foreign tourists. It's not always the best idea to visit a touristy restaurant but for a meal so specific and important, I wouldn't hesitate to recommend here.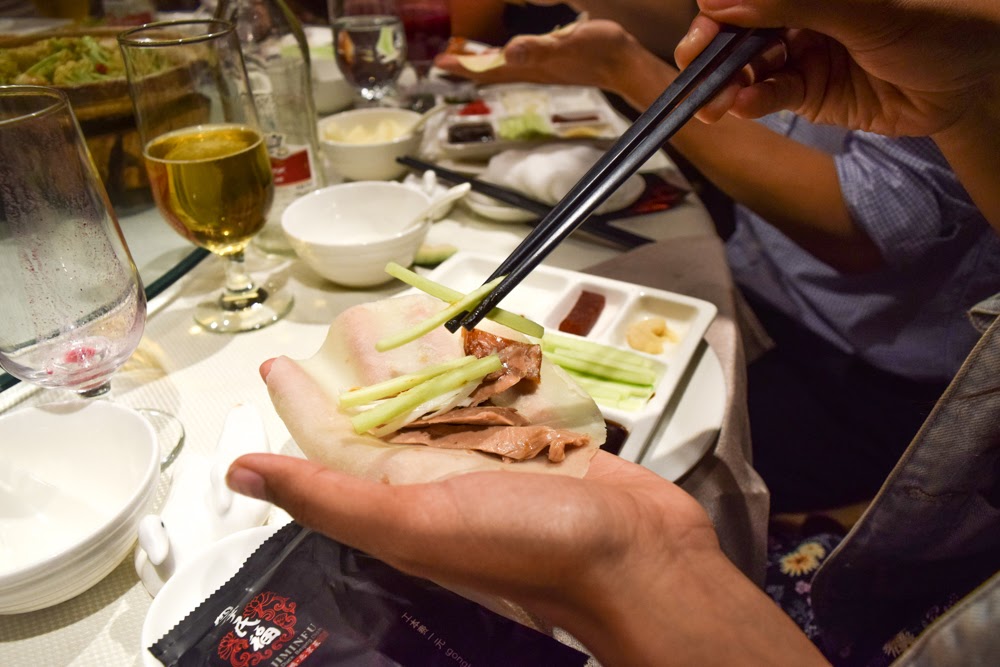 Vege Tiger
If you're vegan, you might assume that China is going to be a difficult place for you to find good food. Don't get me wrong, in some restaurants you won't be able to avoid animal products, but there are also some dedicated plant-based places that are great!
Vege Tiger is an all-you-can-eat buffet restaurant offering mock meats, vegetable dishes, soups and dumplings, all for the super low price of 68RMB ($10)!
There are multiple branches, but the one in Qian'men is the most central and easily accessible.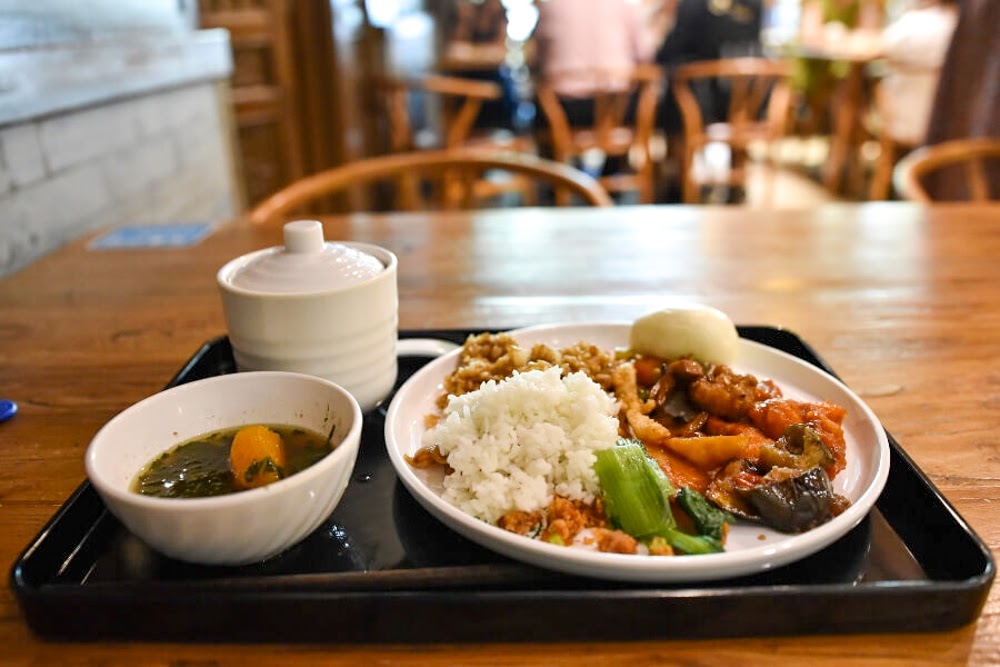 Local Chinese Places
There are thousands of independent, locally owned Chinese restaurants in the city, so it would be impossible to recommend particular ones.
However, our advice would be to find the places with the plastic chairs outside with groups of people drinking cheap beer.
Some of our favourite meals have come from these places so you won't regret it.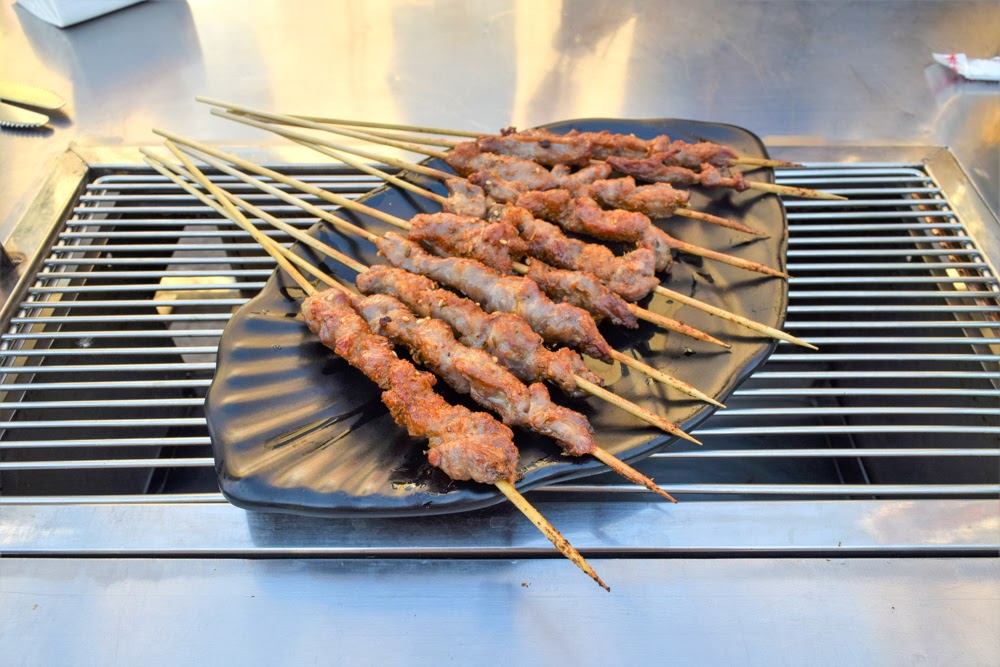 The only thing you really need to make sure of before you sit down is if there is a menu with pictures. The chances are there will be (along with some funny translations!) so pick a few dishes and enjoy the evening.
If you see or smell someone barbecuing – 100% go in! The famous lamb skewers are TO DIE FOR and they are incredibly cheap at around 3RMB per stick.
Mr Shi's
This is a great place to start trying some Chinese dumplings! They have an easy to read English menu, and there is so much choice!
You can have your dumplings fried or boiled, there are both vegetarian and meat options, and you can even try surprising combinations like strawberry or cheese fillings!
They serve cheap beer, as well as plenty of other dishes if you wanted something other than dumplings.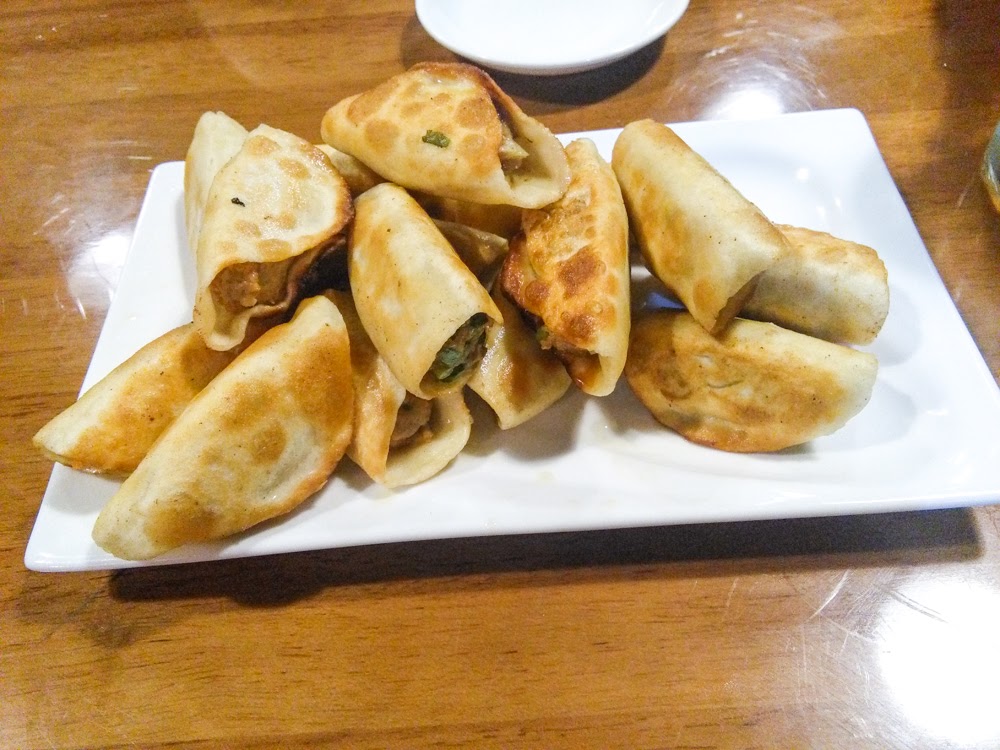 International Food
Blue Frog
Fancy a few cocktails during a 4-hour long Happy Hour?! Blue Frog is the place to come! You can get all kinds of western foods – pasta, burgers and steak, plus they do brunch meals on the weekends.
Side Street
Side Street is an Indian owned restaurant, so they have plenty of delicious dishes created with curry spices and flavours! Their burgers are fantastic, and they have a decent range of vegetarian options too.
Q Mex
This is our favourite Mexican restaurant, and while I'm sure the food doesn't match up to Mexican standards, the quality is still pretty high!
There are branches all over the city and the menu is in English. We love the bean burritos, and the pizzas are good too!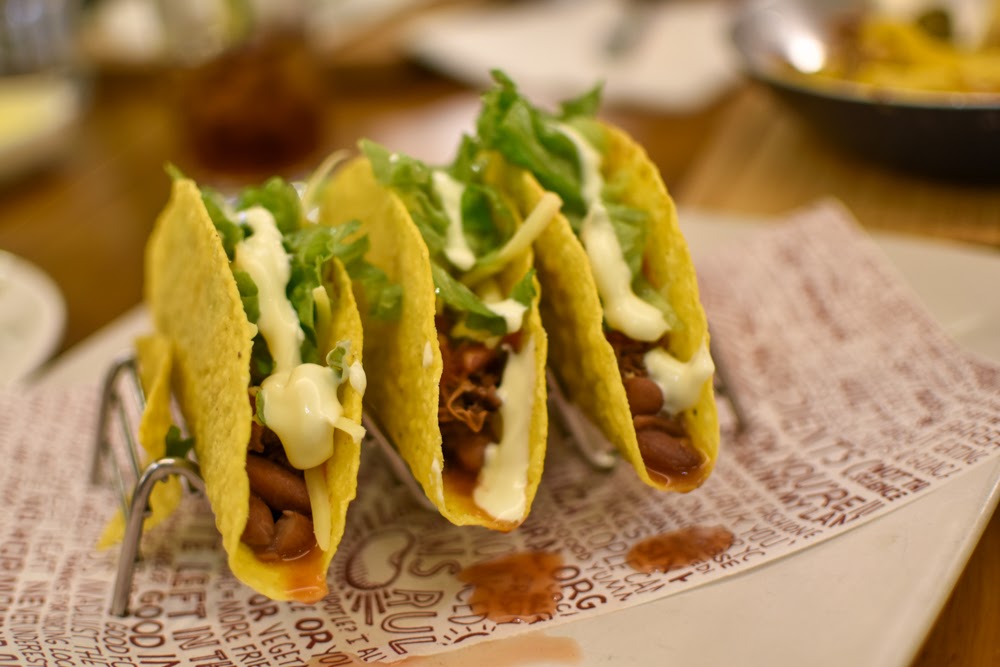 Arrow Factory
Come here if you're looking for a chilled pub-style meal, a few beers and a rooftop seating area.
They have good vegan choices too – the veggie burger, 'fish' and chips and the sticky toffee pudding are all great!!
The Cheesecake Factory
Located in Wangfujing, The Cheesecake Factory is probably the same anywhere you go in the world!
Decently priced for a foreign establishment, the menu is extensive and the desserts are just perfect.
Where to Stay in Beijing
There are some awesome accommodation options in Beijing, from high-end hotels to quirky hutong rooms.
Here are a few top picks of accommodation in Beijing that we think you'll enjoy during your stay in the capital! We have chosen places with central locations, good amenities, and high reviews!
Beijing Hostels:
Beijing Drum Tower International Youth Hostel
With free WiFi, on-site restaurant and air conditioning in every room, this hostel offers great budget accommodation located in Xicheng, nestled in the hutongs.
It's only 200m from the nearest subway station, but there are also plenty of attractions within a ten-minute walk.
You can book a dormitory bed or a private room here.
The One Hostel Beijing
Located right in the middle of the action, this hostel is a great choice if you want to meet new people on your trip.
There's a shared lounge and garden, and the owners organise movie + games nights regularly!
You also have access to a kitchen if you wanted to save some cash by cooking for yourself, and WiFi is included in your room price.
Mid-Range Hotels in Beijing:
Jinjiang Inn – Beijing Guangqumen
Close to Beijing Railways Station, this hotel offers suitable facilities for those wanting a little more privacy than a dorm room.
You can have breakfast at the hotel before a big day of sightseeing, and then relax in your clean and spacious room when you're back.
The hotel is close enough to the city centre and some cool attractions, as well as being far away from the loud bars and clubs so you can be sure of a good night's sleep!
Beijing 161 Drum Tower Hotel
Stay here if you're looking for somewhere close to the traditional hutongs and plenty to do nearby.
There's a terrace to relax on, and the shared lounge and kitchen make it easy to socialise here.
They do offer private rooms and bathrooms though if you'd prefer to retreat on your own after a long day!
Luxury Hotels in Beijing
The Orchid Hotel – Old Town & Drum Tower
This beautifully restored residence mixes traditional decor and modern amenities to provide a perfect place to stay in Beijing.
Breakfast is included in your room price, and toiletries are also complimentary.
Spend your time in the local area, enjoying the hutongs, bar and restaurants that Gulou has to offer.
Shichahai Sandalwood Boutique Hotel Beijing
If you're looking for a friendly and traditional hotel, then the Sandalwood Boutique should be on your list of places to stay in Beijing.
The hotel offers courtyard rooms with a minibar, delicious complimentary breakfast and even a teahouse. You can also take part in their regular dumpling-making classes to learn about famous Chinese food and culture.
The amenities here include a bathtub in some rooms, a shared library and an on-site Chinese restaurant.
Tip: Most Airbnb apartments are off-limits to tourists. This is because foreigners are required by law to register where they are staying with the local police station within 24 hours of arrival.
Usually, a hotel will do this for you so you don't have to worry, but most Airbnb hosts aren't authorised to do this. If they don't register you, and the police come and check, you'll get in trouble and possibly be fined.
So, do your homework on your Airbnb host if you decide to go down that route!
Here's my 30-minute hotel workout routine perfect for all health issues – because no matter where you are, you need to take care of your health.
Tips for Beijing
The best piece of advice for anyone visiting Beijing is to organise yourself with the most useful apps before you come! Here are the top 3 that you'll need almost as soon as you land: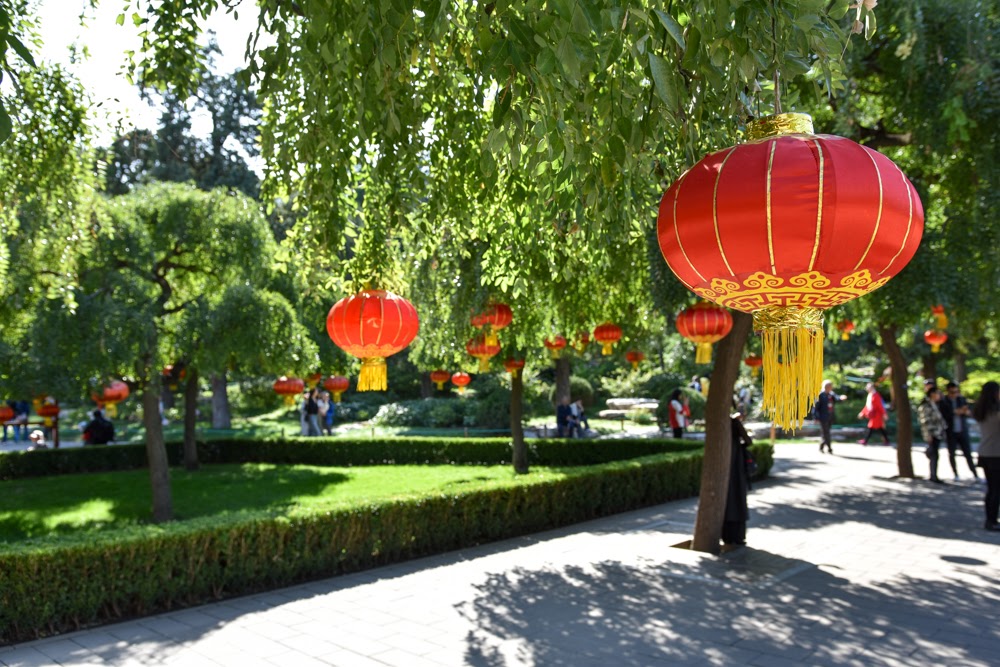 A VPN
The first thing you need to do once you've decided to come to China is to download a decent VPN.
If you want access to foreign social media (Facebook, Instagram, Twitter, Snapchat, YouTube etc.) or news sites, Netflix, and anything related to Google, you'll need to bypass the Great Firewall of China.
We have been using Astrill for the past 3 years and have no complaints. It's a paid programme, but in our experience, the free apps don't work as well.
Many people use ExpressVPN, so you might want to try that one first as they have a 30-day money-back guarantee.
Didi
You've probably used Uber before, and Didi is the Chinese equivalent. The fares are cheap, the drivers have passed security checks and there are options for different comfort levels.
Download the app (it should be in English but if not then you can change it) and link it to your WeChat account.
WeChat
This is a social media, messaging, file sharing, money exchanging app and more all rolled into one. If you're only visiting for a short while then you might get away with not using it but any longer than a week or two then you'll be missing out on so much!
Many places prefer WeChat payments, offering up their QR code for a quick scan. Since late 2019, WeChat has allowed foreign tourists to temporarily connect their international bank cards to WeChat, which means you won't need to use cash very often, if at all.
Most shops and restaurants don't accept Visa or Mastercard, so be aware that you'll either need to take out cash or just use WeChat to pay for things.
If you meet someone and want to stay in touch, they'll take your WeChat too.
Beijing Tips
Pollution
It's a very well-known fact that Beijing has some of the worst pollution levels in the world.
The particles that are the most harmful are called PM2.5, and if you get a mask you need to make sure that it filters these out.
Check the Air Quality Index regularly, but the levels do vary throughout the day. Beijing's numbers often reach over 100 but take this information with a pinch of salt as they might not be entirely accurate.
You will be able to see the sky turn to grey, yellow or even brown on the worst days so use your own judgement too!
The pollution gets worse in the winter (it's not a great time to come anyway as the temperatures plummet!) so try to plan your visit for spring or autumn.
Subway system
Beijing's subway system is relatively new, with more lines and stations being added every year. It's super simple to use, the trains are efficient and clean, plus each journey is incredibly cheap!
The Chinese language will most likely baffle you, but luckily they also use pinyin, which is the Romanised version.
The subway stations all have pinyin signs and maps, so the stress of navigating a foreign transport system is dramatically reduced!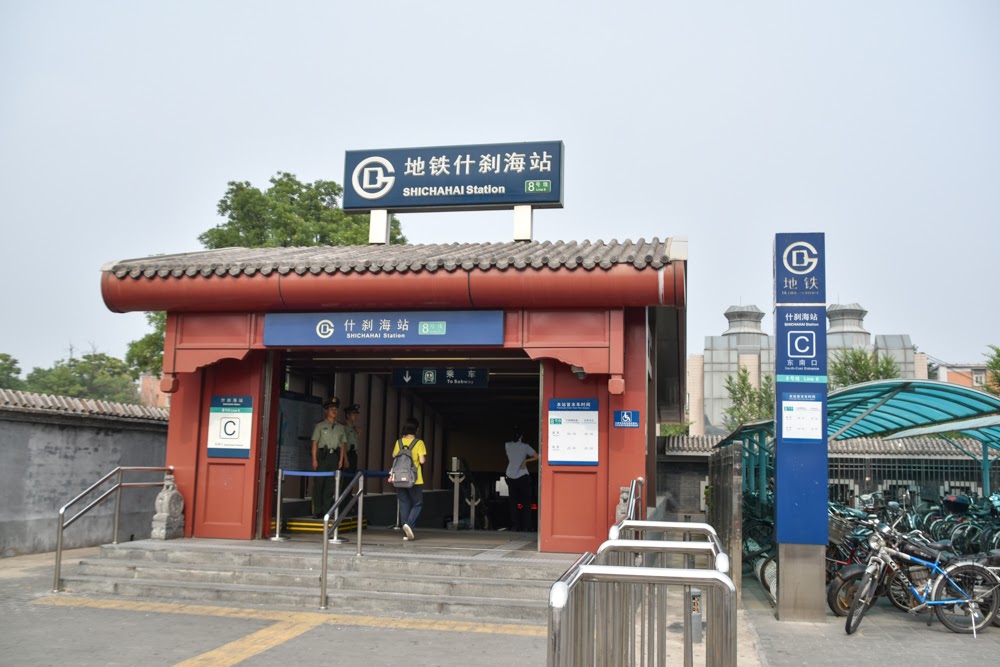 The lines are all colour and number coded, and there is an extremely helpful app called Explore BJ which tells you exactly how to get to a certain station and how long it will take you.
It also only costs 3RMB for most journeys, which is roughly $0.45! That price is for rides up to 6km, and the next bracket is 4RMB for 6 – 12km.
I highly doubt you'll be taking journeys this long but at least it won't break the bank if you do!
You can buy a transportation card (you'll need to put a 20RMB deposit on) or you can just buy tickets whenever you get to the station.
The card doesn't save you any money but it is more convenient to just load it up on day one and then tap through the barriers without queuing.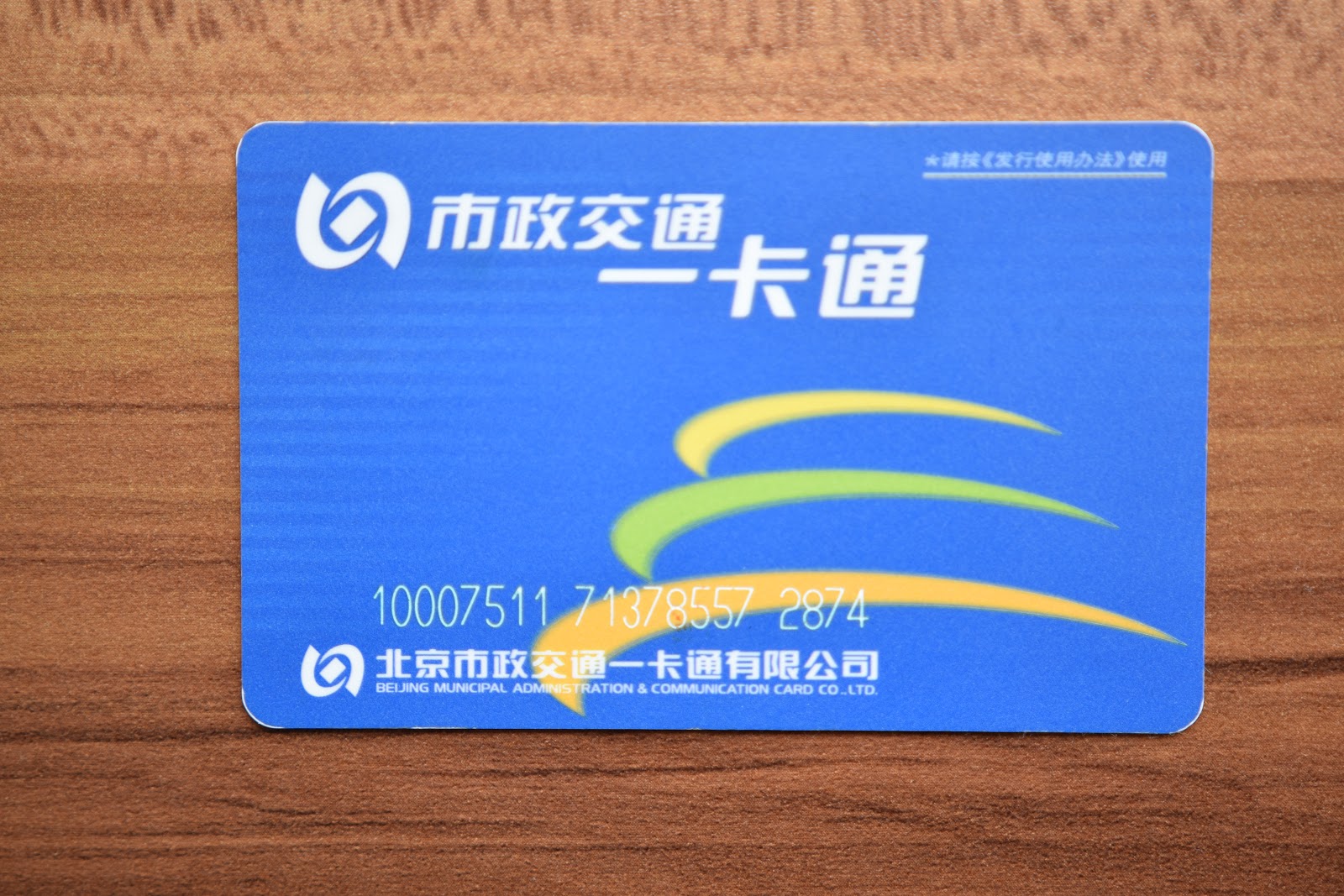 Language Barrier
Unless you're on a guided tour for your whole trip, you'll likely run into some situations where you wish you'd studied Mandarin for the past five years!
A decent amount of people speak good enough English to help you, but don't expect them to be brave enough to actually do it!
In restaurants, the staff may or may not speak English, but most places have picture menus so it's easy enough to order food.
Like I mentioned before, the subway system is easily navigatable in English (don't try the buses though as they are not!) and if you order a Didi, the driver shouldn't need to ask you any questions.
If you do find yourself in a language pickle, use the Google translate app to help you. If you're looking at a sign or something written down then WeChat also has a translate function in the scan section. Read our list of 25+ free travel apps you'll use on your trips.
Conclusion
Beijing is such a cool mix of traditional and modern lifestyles, technology and culture that it should be on everyone's bucket list.
Come here for the food, history, and structures, and leave with insider knowledge that will help you tell stories of the city in years to come.
About the author:
Two Tall Travellers – Jade and Kev have been working and travelling around the world since 2015, finding jobs wherever they go to fund their adventures! Follow their travels on Instagram, Facebook, and Pinterest too.