Tucking into a plate of Iberian ham and watching the waves lap softly against the Mediterranean shore, you feel as though you're relaxing on a secret beach.
In fact this is Playa de Los Locos in Torrevieja– a seaside city 30 miles south of Alicante. The climate is hot, the locals are friendly and the location is beautiful.
Find out why so many Brits are flocking to Torrevieja and plan an affordable break to the Costa Blanca this summer.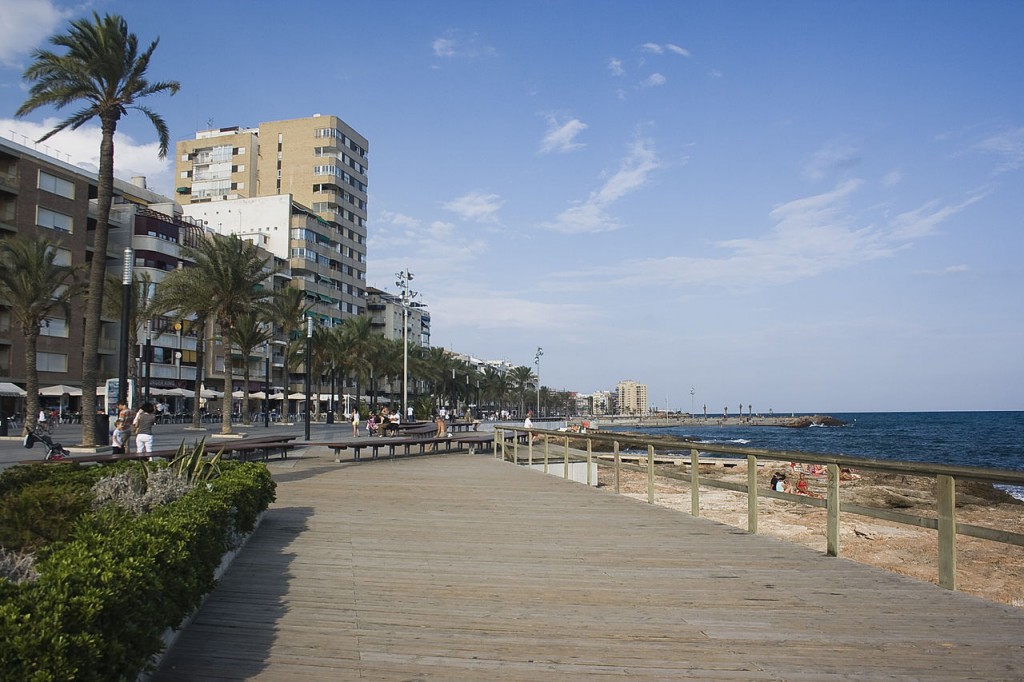 General view of the Juan Aparicio seafront, in Torrevieja, photo by TioRuben on Wikipedia
Creature Comforts and Local Cuisine
Fancy a fry up in the morning and a plate of authentic tapas washed down with sangria for lunch? The beauty of Torrevieja is that it caters for creature comforts while also offering a huge choice of Spanish cuisine.
And the fun doesn't stop there. You'll find everything from backstreet pizza vendors to seafront sushi.
Dine with a view at Sunset Beach where Canadian lobster thermidor is the signature dish, tuck into traditional tapas at El Patio Chico and enjoy the best waffles in the world (probably) from a tiny stall called Gofres Manneken Pis.
Adventures Big and Small
For those who crave more adventure on holiday than lazing on a sun lounger, Torrevieja offers a huge selection of water sports including kayaking, wakeboarding and water-skiing.
Beach wise, there are plenty of rich pickings to choose from. La Mata tops review sites for its family friendly appeal, local amenities and picturesque boardwalk but we prefer Punta Prima- a small cove atop a rocky peninsula.
The views are spectacular and it never gets too crowded.
If its new adventure you crave, take a boat trip to Pirates Island for a day of exploring, culture and delicious Spanish grub. The hour cruise journey will take you to the historical home of pirate Captain Jack Ward and other buccaneers.
The boat even has a submarine level for you to observe wild fish as you travel.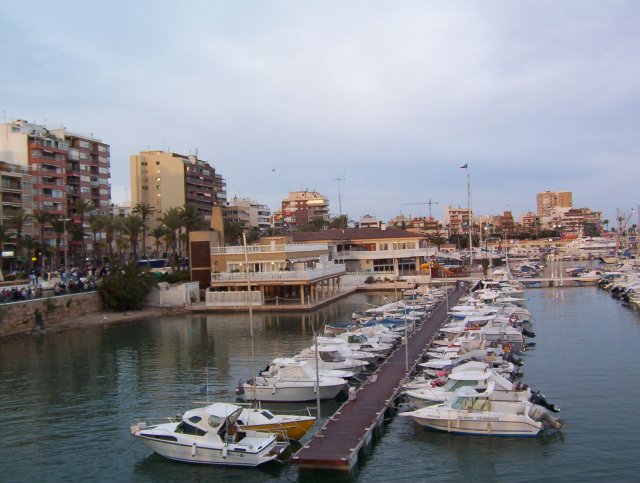 public domain photo by Deran
Perfectly Situated for Day Trips
The bustling metropolitan city of Alicante is just a 40 minute drive away from Torrevieja and a must-visit. Whether you want to paint the town red on a stag or twirl on the dancefloor with your girlfriends, the city has a huge variety of pubs, clubs and bars to whet your appetite.
Alicante isn't reputable for its nightlife alone; the harbour city is full to the brim with inspiring architecture, delicious cuisine and astonishing views.
While you're in the neighbourhood, take a trip to Guadalest Valley and climb all the way to the top. The expansive view might just take your breath away.
Also be sure to check out the village castle where you can go back in time to the 18th century. Enter through a tunnel and can take a tour of the interior and grounds.
Has this article tempted you to holiday in Costa Blanca this year? Los Locos Beach offers a range of spacious self-catering Torrevieja apartments which are situated right on the beachfront. Visit the website to see what's available on your selected dates.